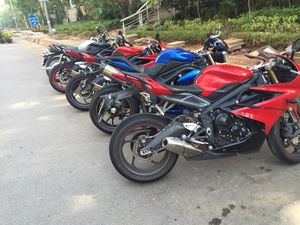 Places to stay near
Manesar
Airport Motel / Aapno Ghar Resort
Anand House Homestay Manesar
Reviews of
Manesar
•
3
This secluded township at a distance of 55 km from Delhi is dotted with incredible holiday resorts and accommodations built in typical Rajasthani Style. In this list of places to visit near Delhi within 200 km, Manesar is the most accessible spot on the map. You can visit this place with the whole family on a weekend and spend two lovely days pampering yourself. Spend some much needed time with your family and make the best of your weekend at a luxury resort in Manesar.Distance from Delhi: 55km Read More About Manesar Gurugram Tourism Guide ...
Head to Manesar, if you have been looking for tourist places near Delhi within 50 kms kms that can offer a relaxing retreat by the pool as well an adventure getaway with friends and family.Distance: 54 kmAttractions: An adventure getaway to Golden Turtle Farm, Damdama Lake, Brahmrishi Geetanand Lake, Mata Sheetla Devi TempleApprox. cost for two: Rs 3,000-5,000Stay under Rs 2,500: Hotel RBS Inn
On the GFR Road, you can find a few awesome Biker Cafe's where you can grab a bite at. Perfect for the biker on the move.