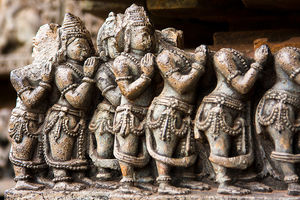 Places to stay near
Hoysaleshwara Temple
KSTDC Hotel Mayura Shantala Halebeedu
Reviews of
Hoysaleshwara Temple
•
3
There are Hoysala Temples at Mosale, 34 Kilometers from Hassan. And then there is Gorur Dam at a distance of 21 kilometers and Ranganatha Temple and Ramanthapur Temples.
Hoysaleswara Temple complex is a paragon of stones sculptures studded with a plethora of beautiful carvings. The temple is dedicated to Lord Shiva and is considered to be one of the largest temples for Shiva in South India. The array of intricate sculptures depicts Hindu gods, the scenes from Ramayana and Mahabharata, animals engaged in a war, decorative floral patterns and much more. The temple is also famous for exhaustive jewelry elements on sculptures. To fuel further astonishment, no two sculptures within the entire complex are the same.
If suggesting an alternative to the Taj Mahal felt blasphemous, even talking about parallels to Hampi feels like a betrayal to our own love for the rumbling, dilapidated former capital of King Krishnadevaraya and the many stories it whispers through its wise old sandstone. It is a sweeping landscape of poetic history lessons lying on the banks of the mighty Tungabhadra, a sunset over which is a humbling experience that leaves you quite speechless. However, Hampi is no longer a well-kept secret, and each of these views will need to be shared with several other people, making the experience of soaking in the history a little elusive.A little more than three hundred kilometers to the south of Hampi, in the quaint district of Hassan, lie the remains of the Hoysala kings, another great Kannadiga empire. While the remains are mostly in the form of temples scattered across the district, hardly recreating the feel of actually walking through the empire, the temples themselves are in a beautifully preserved condition, allowing you to get lost in the intricacy of every exquisite soapstone facade for hours on end. While Belur and Halebidu were the two capitals of the empire and house the most popular of these temples, the other ones – all within shooting distance – are equally fascinating, and offer fewer crowds.
Attractions near
Hoysaleshwara Temple