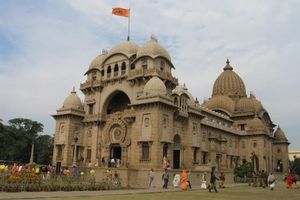 Places to stay near
Belur Math
OYO Rooms Howrah Railway Station
Reviews of
Belur Math
•
3
So we started at 11 in morning, took an uber and landed up in Belur Math, a place well known after Swami Vivekanand(I'm a big fan of his and this place was on the top in my list). Beautiful, peaceful place, everyone meditating, hardly thought of seeing such calm place right in the middle of the fast moving crowded city. It took us about 30 mins to reach there. Just by the side of Belur Math was river hugly flowing. It was indeed a magnificent site. I have shared the picture.
A place where you can get a lot of information about Swami Vivekananda and his guru Swami Paramahansa.
This place was started by Lord Ramakrishna Dev's disciple, Swami Vivekananda. This place is not only a place of worship, but it's an admirable piece of art if it's viewed from the eyes of an artist. The main temple, has been constructed quite beautifully with minute detailing to every nook and corner of the structure. The place where Lord Ramakrishna Dev's idol is placed, is made in such a way that devotees can get a clear view from the corners as well. There are shrines of Goddess Sharada Devi and Swami Vivekananda. You could even think of spending the night there as there are clean and well maintained guest houses and delicious food (veg though.) served to guests. Also, you might get to witness the 'Arti' at the temple at dawn. Now this might sound quite petty a thing, but it does instil a lot of inner peace and tranquility. Local's tip: please keep your gadgets in your bags, switch off your cell phones and please don't try clicking pictures from any corner of the campus. This is considered to be punishable. Also, if you want to take a dip in the river Ganga, you are gladly welcome, but make sure you carry spare clothes with you. Try not littering the place, not because it's punishable, but you don't want to carry around the guilt of littering a place that's clean and beautiful as Belur Math, which has maintained this reputation for over 200 years.
Attractions near
Belur Math