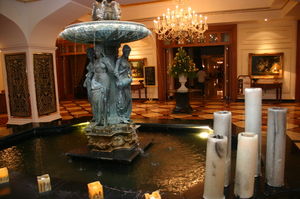 Best time to visit
1:00 AM - 3:00 PM and 8:00 PM - 10:00 PM
Open hours
12:00 NOON - 5:00 PM and 7:00 PM - 12:00 AM
Sarvi Restaurant & Banquet Hall
When you are in search of some yummy, authentic Hyderabadi cuisine, this is the place to Stop. Sarvi Restaurant is known to serve some of the best biryanis and kebabs in the city. They offer dine- in as well as take away but the latter is preferred more due to many reasons. First of all the space inside is small and for comfortable eating a take away is better. Again the take awy prices are cheaper and the quantity is more too. As it is their quantity is enough for two hungry souls but take away is even better. A visit to this place is a must on your trip.
Places to stay near
Sarvi Restaurant & Banquet Hall
OYO Premium Hyderabad Secretariat
OYO Rooms Hyderabad Secretariat
OYO 2635 Hotel Balaji Residency
OYO 983 Hotel Surya Residency
Reviews of
Sarvi Restaurant & Banquet Hall
•
2
The ambience is airy, well-lit and the biryani is FANTASTIC! on rest of the menu is mostly Hyderabadi, Mughlai and North Indian. For desserts, there is Khoobani ka Meetha, but you would be better advised to try their special Faluda on your way out, at their fresh juices counter next to their takeaway.
Attractions near
Sarvi Restaurant & Banquet Hall