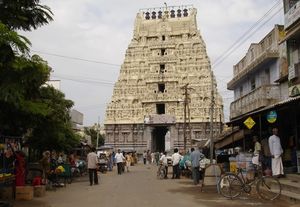 Sri Kanchi Kamakshi Amman Temple
This temple dates back to 65 years and is dedicated to a form of Goddess Parvathi. According to local tales, once the Goddess had playfully blindfolded Lord Shiva from the back and during this time the whole world was covered with darkness. Parvathi got cursed because of this and she was born on Earth as Kamakshi. Kamakshi Devi started practising sacrifice with a Shiva Idol in her hand to seek his hand for marriage. To test her Lord Shiva appeared in the form of a mighty river and Kamakshi Devi clasped to the Shiva Linga to prevent it from eroding. She even performed meditation on the tip of a needle surrounded by Panchagni or the 5 fires. During this heranger destroyed some village people but at the end Lord Shiva was pleased and offered to marry her. The second legend says that due to the increase of torture of a demon, all the gods and Goddesses of heaven came down on Earth and started living on a Champak Tree as parrots and they prayed to goddess Kamakshi. The Goddess later killed the demon called Bhandakasur and on this spot is the present Kamakshi Devi Temple.
Places to stay near
Sri Kanchi Kamakshi Amman Temple
Regency Kanchipuram by GRT Hotels
Hotel Nalaas Aappakadi-Kanchipuram
Reviews of
Sri Kanchi Kamakshi Amman Temple
•
1
A shrine of goddess Parvati, the wife of Lord Shiva. She is considered to be the person who reigns power over the land of Kanchipuram.
Attractions near
Sri Kanchi Kamakshi Amman Temple