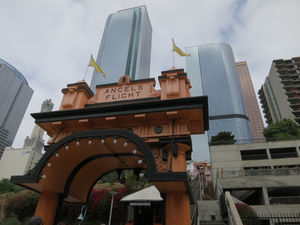 Traveller Types
Couples, Friends, Families, Solo
Rank
89 out of 476 attractions in Los Angeles
Places to stay near
Angels Flight Railway
WoW! Center Los Angeles Deal!
Reviews of
Angels Flight Railway
•
1
Later, I hurried across the street to glide up the shortest railroad in the world, Angel's Flight. Built in 1901 as The Los Angeles Incline Railway, this place is a 298 foot-long funicular, bright and colorful part of Downtown LA. It begins at Hill Street and costs 50 cents one way. It's a nice experience to ride in this cable car, especially since it has been linked to the life of the people here for years now. It has two funicular cars- Sinai and Ovilet. This teeny tiny railway shuttled wealthy citizens in the then fashionable Bunker Hill neighborhood, up and down the steep slope between Hill and Olive streets. The ride obviously short, but provided a great view of the area, and I loved the adorable cars, ticket booth, and station.
Attractions near
Angels Flight Railway