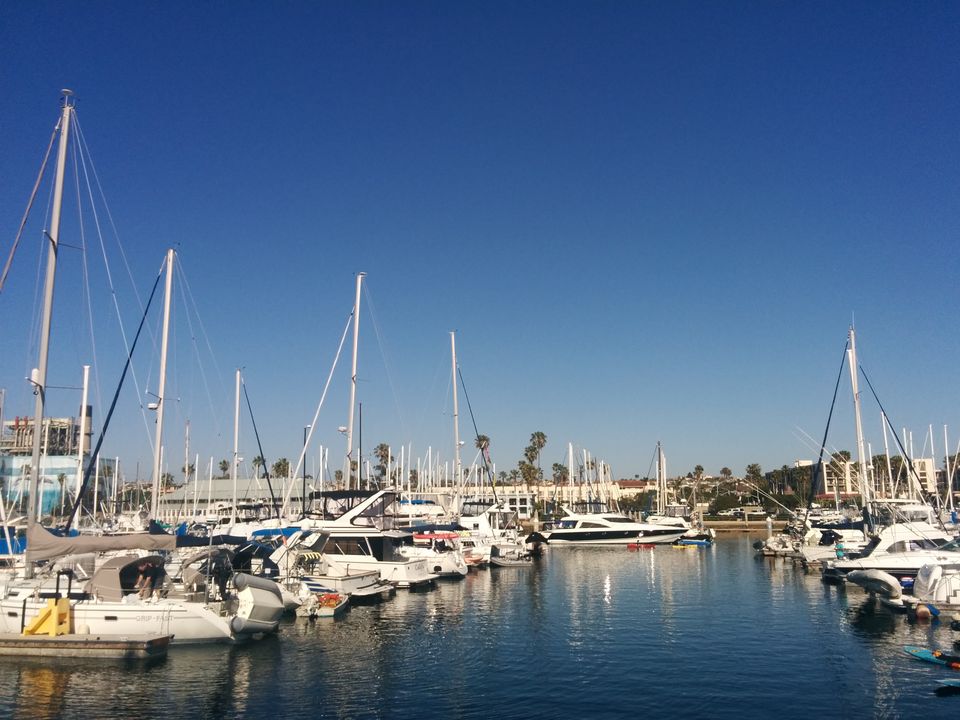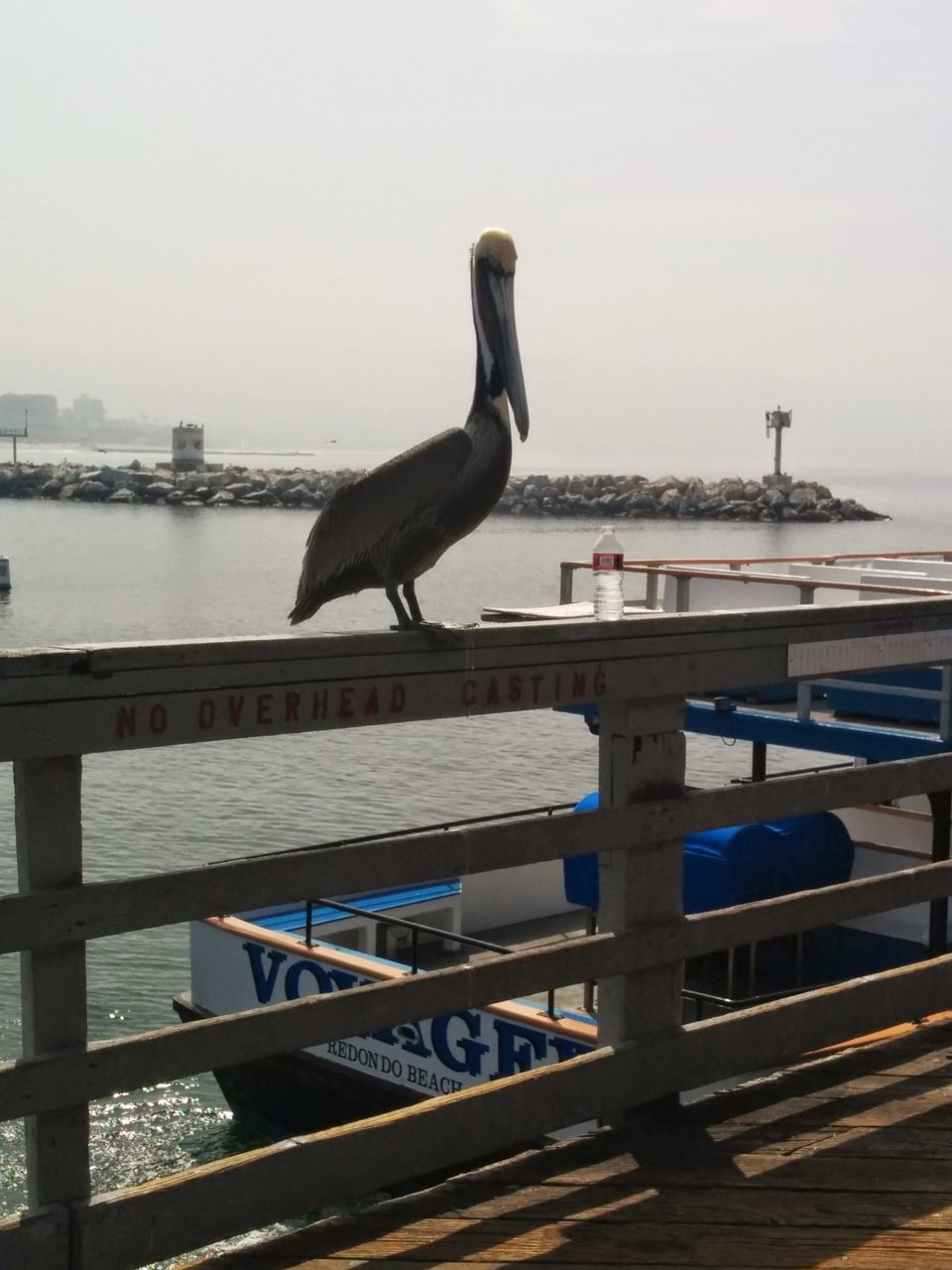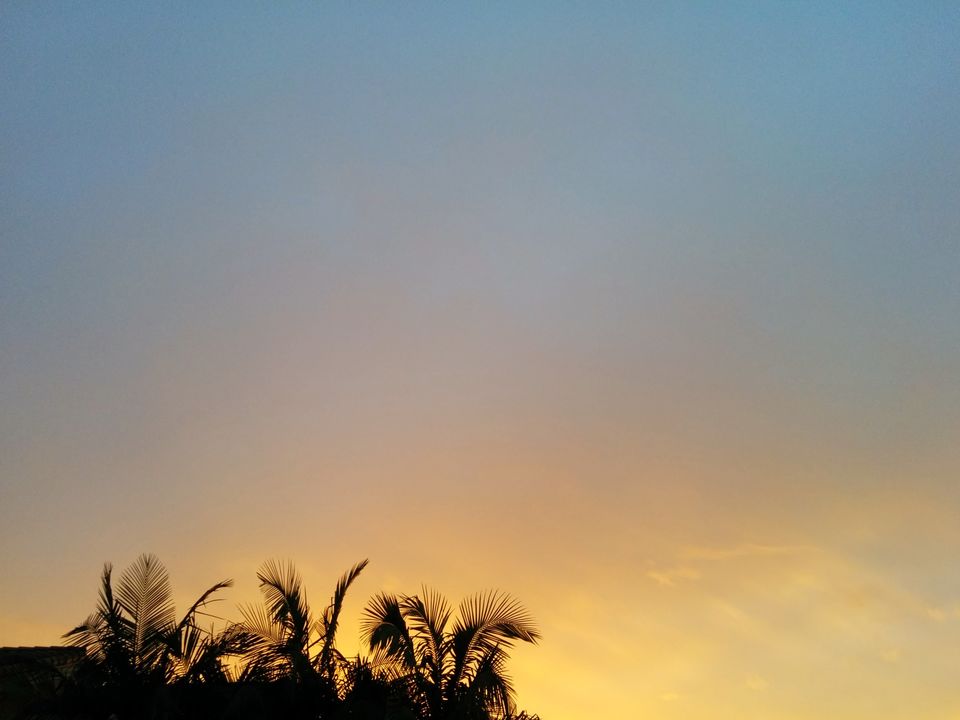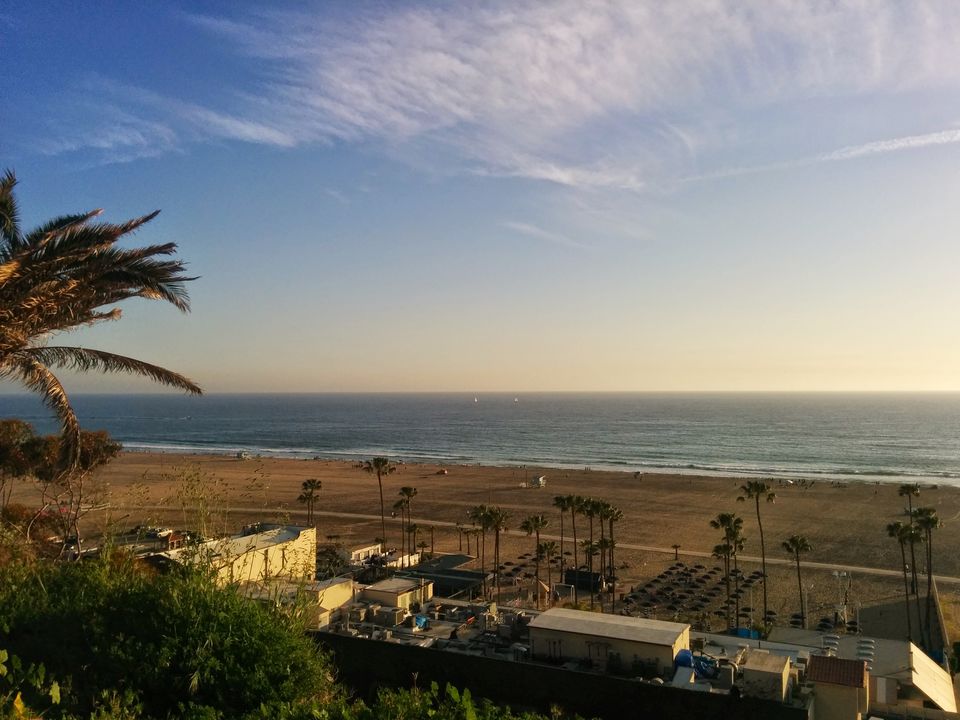 The first thing you notice about Los Angeles is the blue of the sky. Not a lazy blue - you will see a rich, alive, mesmerising blue that the skies truly deserve. What follows is the breezy silhouette of tall palms against this glorious hue, an iconic sight that captures the very soul of California's favorite insouciant city.
As I wake up on the morning of 7th March, I prepare to attend what would be my first rendezvous with both a beach wedding and the Pacific. Three days into living here and I quickly realize that in America, the weather in every city has a story of its own. LA's finicky weather reminds me of a Dickensian quote - 'It was one of those March days when the sun shines hot and the wind blows cold: when it is summer in the light, and winter in the shade'.
On that Saturday morning, I make my way through blithely swaying palm trees on the streets to the Redondo beach in LA County, a quiet, underrated respite tucked away in the South Bay region. Just as I am about to write off the city's horizontal landscape, Redondo's serenely azure sky greets me, a lofty blue ceiling telling me that this is all the vertical that LA would ever need.
And if that isn't enough, a few seconds later I am greeted by the even bluer Pacific ocean that swells each moment in romantic motion to unite with the sky. That's another thing with LA, and I suppose with most of California. Just when you are about to be struck by ennui in a city with a pace as lazy as the motion of the waves, you only have to look up.
The sky changes colour every interval of the day, every day - while one sunny morning welcomes you with an expansive vault of cerulean smiling down beatifically, the same evening reveals incandescent streaks of molten amber, traipsing across the skies...not unlike a sultry sorceress putting on a show. Romantic or not, you want to be lost forever in that moment, wishing the sun never goes down.
That morning, my friends wed each other in a splendidly simple ceremony on the beach, the only ornate decoration being a heart made of petals - while they stand revelling in their recent union, the clementine waves of the Pacific perfectly compliment the mood of the day.
Apart from its beautiful waters, Redondo beach boasts of a pier that houses cozy breakfast joints - one of them being Polly's on the pier. Allowing a beautiful view of the ocean, it is the perfect place to enjoy a light brunch with friends and family. Not further away is Hermosa beach, another one of LA's quietly affluent beach cousins offering oodles of sunshine and relaxation.
When talking about beaches, the beautiful Santa Monica can't be far behind. Santa Monica proudly displays one of the most memorable sunsets LA has to offer. As you look over the pier to the city swathed in the sublime light of sundown, and the gentle evening wind whispering to keep you company, it guarantees inexplicable peace. It's true what they say, about the ocean calming the soul.
While evenings can be spent sinking into cool sand-dunes and reflecting on life, mornings can be spent cycling along a specially drawn path from Santa Monica to the Redondo beach.
While in LA, I spent quite a few days basking in sunny-cool mornings, and drinking wine in the comfort of my friends' home in Lawndale at night. The night before I left this beautiful city, my kind hosts took me to an utterly cozy restaurant in Marina Del Rey near Venice beach, where LA's nightlife twinkled like fireflies in the night.
The C&O Trattoria with its laidback al fresco atmosphere is one of the many gastronomical outlets that line the Venice beach, complementing the latter's famed culturally diverse quirkiness. The restaurant is a delightful replica of Italy, catering to intimate couples as much to big family dinners. Free-flowing wine (a delicious red wine prepared by the house) and mouthfuls of shrimp ravioli are enough to transport you to the charms of la Italia and dreams of dolce vita. Just as you are about to slip into a food coma thanks to the trattoria's light Venetian fare, you are woken to the strains of Dean Martin's Amore and the resounding chorus sung by the patrons - and you have no choice but to chime in.
Now that I am back in the humid throes of Mumbai, I miss the striking golden sunsets as much as I miss the gently gilded skies of dawn in California, aching everyday to glimpse similar sights through hazy grey clouds - but I comfort myself with memories of a blissful sky, and I am back there again.
Fact file:
Rent-a-bike: Most establishments on any LA beach have a variety of bike options. Couples can rent a tandem bicycle for $12 an hour at Santa Monica beach. Single bikes cost you anywhere between $8 to $10 dollars for an hour's ride.
Where to eat:
Breakfast: Enjoy some bird-watching as you dig into your biscuits and gravy at Polly's on the Pier. Meet local celebrity pelican Dirty Harry and if you're lucky, he'll pose for a picture. Polly's on the pier, 233 N Harbor Dr, Redondo Beach, CA 90277
Lunch: The Baleen Kitchen at Hermosa beach overlooking the marina provides for an elegant lunch setting. Enjoy some delicious Fish 'n' chips with a DIY bloody mary.
Baleen Kitchen, The Portofino Hotel & Marina, 260 Portofino Way, Redondo Beach, CA 90277
For dinner: Enjoy the delicate red wine at The C&O Trattoria. For $6 a glass, it is worth every drop. Pair it with a scrumptious Shrimp ravioli or classic Fettucine Alfredo pasta.
C&O Trattoria, 31 W Washington Blvd, Marina Del Rey, CA 90292