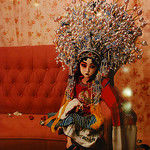 Museum of Contemporary Art
Places to stay near
Museum of Contemporary Art
WoW! Center Los Angeles Deal!
Reviews of
Museum of Contemporary Art
•
1
Address: People's Park, 231 West Nanjing Road, Shanghai Metro Station: Line 1,2 & 8, People's Square Timings: 10:00-18:00 Admission: 30 CNY/person A 10 minute walk from the Shanghai Museum, bang in the center of People's Park, the Museum of Contemporary Art (MoCA) is the first non-profit, independently operated contemporary art institution in Shanghai. Housed in the park's former greenhouse and spread over 4000 square meters MoCA is the brainchild of founder Samuel Kung. The museum has showcased exhibits by Antoni Gaudi and Salvatore Ferragamo among others. It's glassy façade is easily spotted within the park's lush green. MoCA also has one of my favorite rooftop bars in Shanghai. Visit in early evening and walk around until it closes.
Attractions near
Museum of Contemporary Art