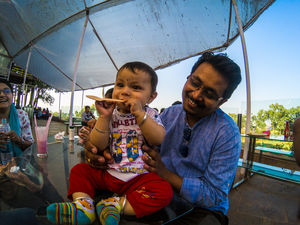 Best time to visit
10:00 AM - 4:00 PM
Open hours
8:00 AM - 8:00 PM
Things to do
Nature lovers, photography
Rank
3 out of 36 attractions in Mahabaleshwar
Mapro Garden
This is a garden park on the beautiful hill station of Panchghani, Maharashtra very close to Mahabaleshwar. It is a popular tourist destination mainly because of the Annual Strawberry Festival that is organized here. During this time tables are lined up with varieties of juicy strawberries which people can have for free as much as they want. A cultural programme is also arranged each day such as the traditional dance and music. These shows are performed by people who are invited from other places.
Places to stay near
Mapro Garden
Reviews •
2
3) Mapro Garden:Mapro Gardens is a garden park in the hill station of Panchgani, Maharashtra, India, situated close to Mahabaleshwar, known for their strawberry produce. It has also now become a tourist destination. Mahabaleshwar contributes to 85% of the total Strawberry produce in India and about 80% is consumed fresh.
Mahabaleshwar produces one of the best strawberries in all of India. So it came as a no surprise to find out that Mapro company was started from this place. Mapro company has a particular place in the form of a factory cum restaurant cum selling garden in Mahabaleshwar. It sells fresh whole strawberry and other whole fruit products. The restaurants serves magnificent dishes from fresh ingredients. The garden serves well for people of all ages.
Attractions near
Mapro Garden