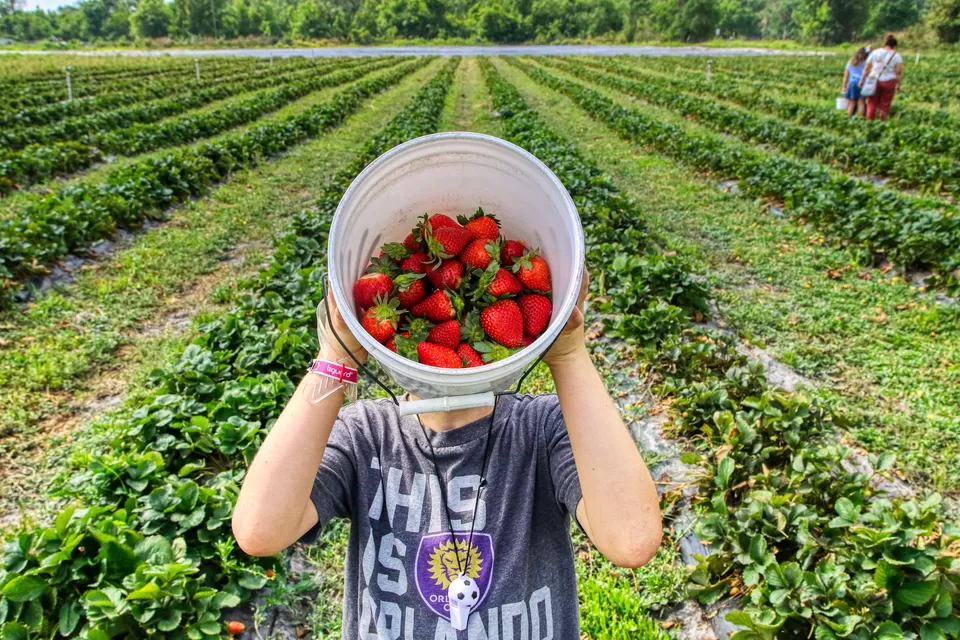 Red, juicy, and oh-so-sweet! Mumbaikers, if you're on the lookout for the perfect strawberry-picking paradise, your search ends here. Dive into the enchanting strawberry fields of the quaint villages and nurseries around the city and re-discover the wonders of nature at its sweetest.
As you take a stroll through the farms, you can take your pick (literally!) from the vast ranges of strawberries – from the smaller, ripe ones to the bigger, juicier ones, hand-picks sure to tantalise even the pickiest of palates. Gently caress the soft strawberry fruits as you walk around the aromatic orchards, creating memories to last.
So here's a list with the berry best farms, nurseries, and strawberry villages near Mumbai for a memorable weekend of adventure, exploration, and of course, sweet treats!
1) Laxmi Strawberry Farm
For over four decades, Laxmi Strawberry Farm has been providing visitors with the heavenly opportunity of enjoying freshly-picked, red-hued strawberries. A farm representative is always present to show newcomers how to pick the strawberries carefully, leaving the stems intact for even more. But this is no ordinary strawberry farm - here, you can count on pesticide and chemical-free produce, including a selection of veggies and greens preserved naturally and sourced locally.
2) Bhilare Farms
Experience nature at its sweetest. At Sunil Bhilare's farm, visitors are invited to pick fresh, juicy, red strawberries sure to delight even the most discerning of palates. You'll be given a brief introduction and cardboard boxes to start your picking adventure before being escorted to the designated area. Then, throw off any concerns and embrace the opportunity to enjoy reaping, savour the sweet goodness of the freshly-picked strawberries and create lasting memories with your loved ones.
3) Green Valley Farm
Embrace the beauty of nature and spend an unforgettable day in the picturesque Green Valley Farm! Dive into the lush, sun-kissed strawberry fields and let nature's sweet treats tantalise your taste buds. Here, you can hand-pick and savour the ripest strawberries, as well as the many other berries and exotic vegetables waiting for you to take home.
4) Mapro Gardens
When the days get longer and warmer, Mapro Gardens is abuzz with joy and anticipation of its highly anticipated and much-loved strawberry festival. For four days in March/April, Mapro Gardens celebrates the delicious and sweet fruit of the season. With an expansive orchard farm, visitors are welcomed to pluck their own strawberries, indulge in jams, jellies, desserts, milkshakes, and other inventive creations made of the beautiful red fruit.
5) Shivsagar Farm House
Strawberry fields stretch out in front of you, a vibrant red tempting you to take a basket and start picking. As you wander through the farmhouse, you can hear the friendly conversations of farmers and guests alike, and the sweet scent of ripe strawberries drifts through the air. The farmers here welcome you with open arms, eager to show you what their farm has to offer. The day is spent among the fields, picking succulent strawberries with your own hands to take home and enjoy. At night, the farm hosts a strawberry festival that celebrates the bountiful harvests of the season—a place where the joy of strawberry picking can be shared with all!
6) Parthawadi Strawberry Village
Hiding in plain sight, Parthawadi in Maharashtra is your very own strawberry paradise! Lined with lush strawberry farms, the peaceful village will take you to simpler times, with its dung walls and sloped tiled roofs. Take a stroll down the lanes and observe the locals collecting their cattle at dusk as you relish on the fresh and juicy strawberries. The villages will also be more than happy to share the intricate details of the plantation and irrigation process that enables them to grow such an abundance of berries.
So, Mumbaikars, the secret to your perfect strawberry-picking weekend getaway is finally out. These strawberry farms have something for everyone. So take your pick and start your journey at any of these farms, your taste buds will thank you for it!
If you have an exciting travel news to share with us, feel free to drop your inputs in the comments below. Or write about it here on Tripoto and earn Tripoto Credits! You can also follow me on Instagram to stay on top of my updates.