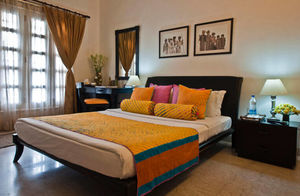 Places to stay near
Colonel's Retreat
OYO 2705 Hotel Preet Palace
★☞ The historical Center of Delhi !
A/C Private Room + Living + Kitchen
Reviews of
Colonel's Retreat
•
1
If you're stuck somewhere between the idea of a no-frill experience yet don't want to compromise on the luxury factor, Colonel's Retreat is the perfect home-away-from-home property you'd want to step in. The official website of the property describes it as South Delhi's best kept secrets and one look at the Colonel Retreat's picturesque rooftop dining area and the quaint bedrooms and you'll know why it's completely true! The unique B&B also offers some unique experiences including the famous cooking classes by in-house legend Mrs. Meena Khanna! And if you think those aren't enough reasons, have a look at the pictures and I bet you'll be on to booking your staycation right away!
Attractions near
Colonel's Retreat