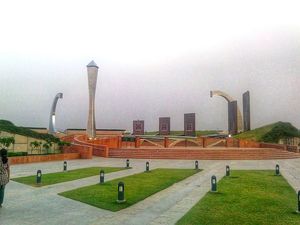 Guru Tegh Bahadur Memorial
Places to stay near
Guru Tegh Bahadur Memorial
Well connected in Kundli NH1,
Cozy & Comfort Homestay on NH1
Reviews of
Guru Tegh Bahadur Memorial
•
1
Guru Tegh Bahadur Memorial: This memorial is a tribute to the the ninth Guru of the Sikhs Guru Tegh Bahadur, who sacrificed his life for all Hindus of India. This memorial was constructed with a thought to beautify all the entry points of Delhi and hence Government of NCT of Delhi decided to set it up near Singhu Boarder (G.T.Karnal Road) National Highway-1. It is presently being maintained by Delhi Tourism, Government of Delhi.
Attractions near
Guru Tegh Bahadur Memorial