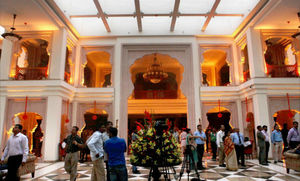 Places to stay near
Maharashtra Sadan
Superior Double AC With Breakfast
★☞ The historical Center of Delhi !
Stay in a true Delhi neighbourhood
Bnb room 4 near metro and airport
Reviews of
Maharashtra Sadan
•
2
this place is famous for Maharashtrian, North Indian, Asian, Pizza, European cuisines. quite near to India gate with the nice dining space . Talking about the food ,it was a well cooked and served meal with the ethnic maharashtrian taste.
Attractions near
Maharashtra Sadan