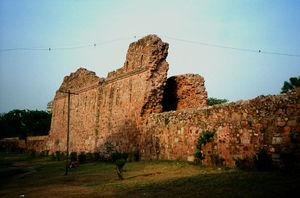 Best time to visit
9:00 AM – 2:00 PM
Things to do
Shop, hangout
Shahpur Jat Village
Also termed as the Royal Town of the Jats, this place was built by Alauddin Khilji in the year 1303. After a few years later, Dagar farmers from Haryana started settling down over here and soon became established due to their expertise in farming. This is still like a hidden secret of Delhi. The place is just near the famous Siri Fort and the Hauz Khas Reservoir. Both of these historic structures are now in ruins along with the typical havelis of this narrow lane. The place is now taken up as the fashion nook of the bustling city. This place is filled with fashion boutiques selling everything from designer clothes to other trendy garments and accessories. There are also a few cafes with a cool ambience including those under shady trees and outdoor dining facilities.
Places to stay near
Shahpur Jat Village
Reviews of
Shahpur Jat Village
•
3
This lovely enclave became the trendy place in Delhi. You can see many graffiti while your walk.
Shahpur Jat: a lovely enclave in South of Delhi where you can see many graffiti. It the area of designers and artists.
Located amidst the ruins of Siri, the second city of Delhi (14th century), Shahpur Jat village is on its way to becoming the next Hauz Khas village, and is already now referred to as 'the other village'. A familiar trope greets us – amidst ruins from bygone eras, creativity and enterprise is thriving. Low rents, easy availability of artisans and skilled labour, and friendly locals have made this a hub for design practitioners, publishers, NGOs, and now even restaurants. Along with these, our walk will also explore the Ruins of Siri Fort and Tohfe Wala Gumbad in Baradari along with some famous design stores. Mode of Commuting: Walk Meeting Point: Customized Timings: Customized
Attractions near
Shahpur Jat Village