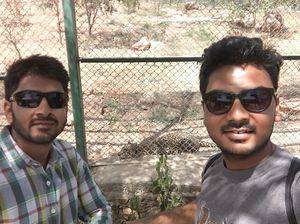 Sajjangadh Biological Park
Places to stay near
Sajjangadh Biological Park
Hotel Hanuman Ghat & Cafe Helsinki
Reviews of
Sajjangadh Biological Park
•
3
I planned for the visit to Sajjangarh fort on the second day with one of my friend who is a local guy. Due to maintenance reasons the fort was closed so I went to see the Sajjangarh Zoo. The zoo was well maintained with all species of Wild cats. There were, bear, fox, wolfs, white tiger, tiger, wild cat, and the king of Jungle Lion!! It was a great fun. After that we trekked on a nearby hill to see amazing sunset views.
A fort atop the hills overlooking all the lakes. You can get their by a car or unleash your adventure junkie and enjoy a wonderful trekking experience to the fort entrance. You will be able to spot some glorious views of the city and other heritage sites from the fort. I never got the chance to visit the fort but like every Indian fort has, it is also associated with some haunted stories and thus the fort is closed as soon as the sun sets.
Sajjangadh Biological Park and Sajjangadh Fort are the epitome of magnificence. Unfortunately, due to time constraint, I had to opt out of visiting the Sajjangadh Fort. So I decided to take a stroll around the Sajjangadh Biological Park. Upon entering the Park, I was given a choice of going around the park in a golf cart which I opted out of. It is a huge park with a lot of scenic beauty. The view of the Sajjangadh Fort and the hills from the park is simply breathtaking. IF you are a sucker for a good stroll amidst nature, Sajjangadh Biological Park is the spot for you. There are park benches spread across beneath huge lush trees. I sat down at one such bench, simply taking in the natural beauty of the place and wrote it all down in my journal later. As I sat there writing, nothing felt more relaxing than that. Sajjangadh Park and Fort's natural beauty are worth exploring.
Attractions near
Sajjangadh Biological Park