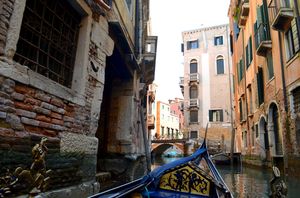 Rank
1 out of 339 attractions in Venice
Places to stay near
Grand Canal
Reviews of
Grand Canal
•
3
Grand CanalGrand Canal which is two and half miles long and sixteen feet long is a canal you HAVE to tick off from your list. Venice has umpteen number of canals and bridges but Grand Canal as the name suggests is the largest and the most important canal. It connects all the various district of Venice and gives way to 60-70% of the water transportation traffic.
Grand Canal is the main waterway of Venice in reverse-S course that divides the city into tow parts. With construction going on at Rialto Bridge, it is not surprise to say that the Grand Canal will be affected too. So we can only see views like photos below at both sides of the bridge.
Amazing gondola ride here!
Attractions near
Grand Canal