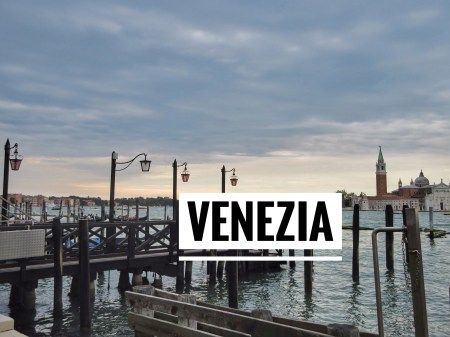 Trust me, I felt like I was inside a postcard when I first saw Venice.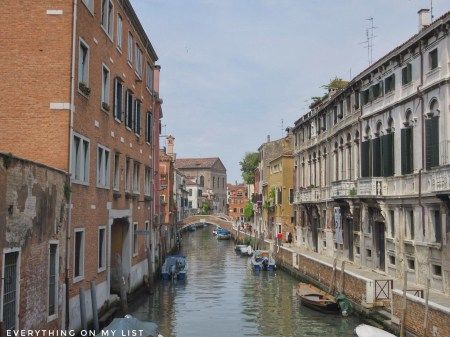 I wanted to see Venice and none of my friends could make it during the time I decided to go. Some were busy, some had already been to Venice and some didn't want to go. There I was, sitting in front of my laptop and thinking, huh should I go to Venice, one of the most romantic place on Earth, all alone? Then my brain said, why not? Don't you love yourself? So I booked my air ticket to Venice and planned out a nice romantic getaway for myself by myself.(hehe self obsessed)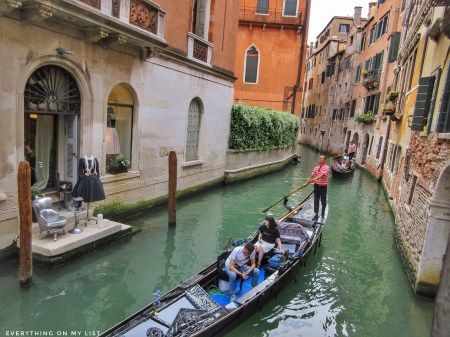 Venice is said to be an upside down forest with 180 small islands connected by canals and bridges. If you look at the map of Venice, it looks like a fish. Isn't that interesting? A fish in a huge ocean. This fish might also die soon because the rising sea level everyday. Visit Venice, before its too late. However I do not wish for Venice to ever go away. The people in Venice know that their home will be under water someday but they focus on the present and take out their motor boats for a ride everyday, singing and drinking the Venetian Spiritz. Never judge a place by the tourist places, go to the unexplored parts, see their lifestyle, how they shop, how they stay and you'll know not everyone wants you to buy things. Some just want a smile, maybe.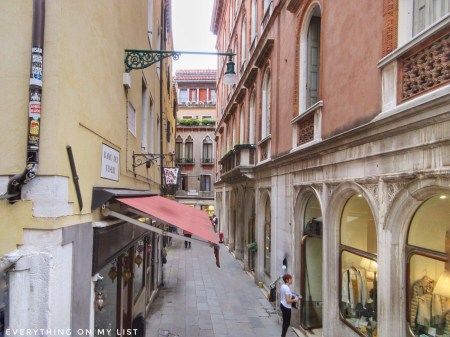 What did I do in Venice?
Free Walking Tour
Walking Tours are my favorite. They are super easy, fun and we explore a lot. Especially for someone like me, who loves walking and is alone in a foreign country, also this is usually the place apart from hostels where you make friends. This walking tour was different.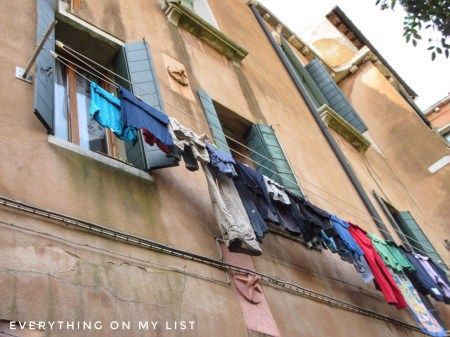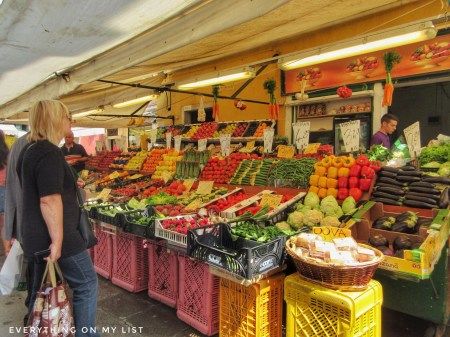 Traditionally, all walking tours would show you St.Mark's square, Bridge of sighs, Doge palace, Rialto market,etc. Which according to me, anyone can go and see without having a guide, because there's so much information available about those destinations on the internet. ( at least that's what I did)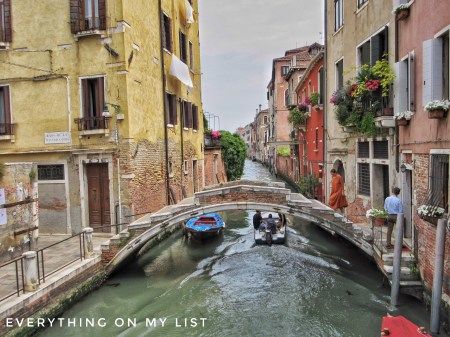 The walking tour which I chose showed me the "Other side of Venice". We were away from the tourists, the crowd, the square, vendors and all the popular sights. It was like a getaway from my getaway( getaway inception, get it? No? Not funny? Ok, ill try next time)
See the lego square, the oldest bridge in Venice, church, 'n' number of boats, undiscovered places, hear the story of development of unsupported bridges to supported bridges, the jewish quarter and understand how the life of Jews was so different than all the other residents of the Island.
Grand Canal
Grand Canal which is two and half miles long and sixteen feet long is a canal you HAVE to tick off from your list. Venice has umpteen number of canals and bridges but Grand Canal as the name suggests is the largest and the most important canal. It connects all the various district of Venice and gives way to 60-70% of the water transportation traffic.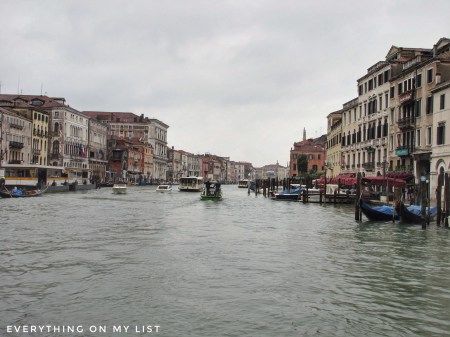 The grand Canal has almost 200 houses which were built years and years ago and are still standing strong. The Grand Canal now also has various restaurants serving authentic, exotic Italian food (I ate in one of them, see the next point) along with some retail therapy options.
Tourist with lots of money take a Gondola ride for 80 euro to experience the Grand Canal as well as Gondola ride. Being a solo traveler, I obviously couldn't spend 80 euro on that. Hence, I kept it for the next time and enjoyed the Grand Canal with my water bus ticket.
Had Pasta For Lunch
Come on! If you go to the land of Pasta and Pizza, having lunch by the canal overlooking the Grand Canal is a must. I took my sweet time to figure out where to eat, because you know budget travelers gotta do what the gotta do. I settled down for the restaurant which had a nice view of the gondolas in front of me ordered a seafood pasta with some home white wine to go along with it. I let the waiter decide which wine I should have with my pasta, and he suggested the home white wine. Do you ever say no to a charming guy asking you to try their home wine? Umm no ????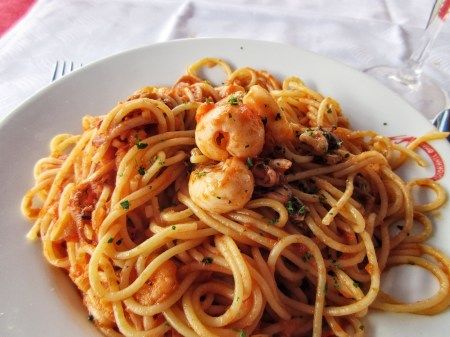 Price for a lunch in the busy touristy area can come up to 20 euros. Yup, burned my pocket.
Walked around Rialto Market
Existing since 1907, this market is a popular destination in Venice. Started off as a fresh goods market, this place now has many souvenir shops as well.
Rialto Market was one of my favorites in Venice apart from the walking tour because it had fresh fruits and probably the best I had in a long time. I ordered my favorite fruits, Strawberry and Pineapple combo just for 2 euros. (you see that? 20 euros for lunch but only 2 euro for the freshest fruit ever)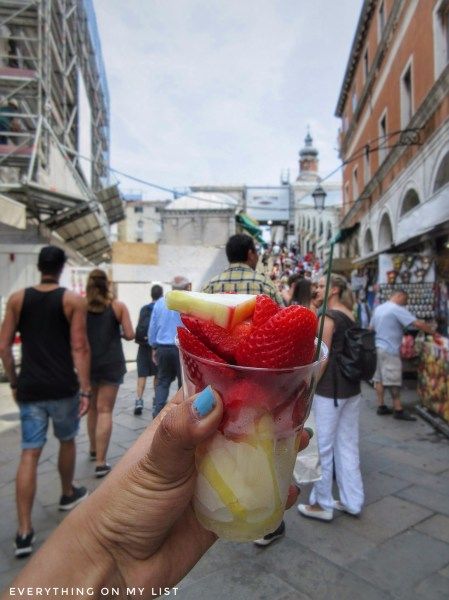 As mentioned earlier apart from fruits and all kind of edibles, Rialto Market is also home to many souvenir shops which will sell you Murano Glass at a price higher than the original Murano Glass. Wait till you go to Murano and shop from the island. If you're a Hard Rock Cafe person, Rialto Market is the place you should go.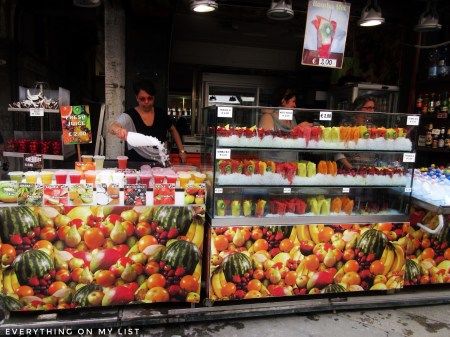 Starting from masks, Murano glass, food, clothes,lace,beads to Italian wine, this market has everything for you. For budget conscious people, let's settle down for window shopping. The prices are not what I would call economical.
St Mark's square
St Mark's Square or Piazza St Mark is considered to be one of the most finest squares in Europe and the drawing room of the Europe. Surrounded by history and architecture, this square has a lot of human traffic all through the day. The square is usually filled with music, tourists and pigeons. Yes, pigeons are everywhere. Locals have seen this as a great opportunity to make business out of this, by selling corn to feed the pigeons or taking pictures of the tourists with pigeons.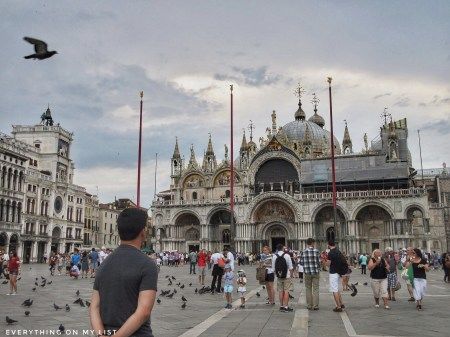 This prime attraction is surrounded on three sides by public buildings and by Basilica di San Marco and the 100 meters high St. Mark's campanile.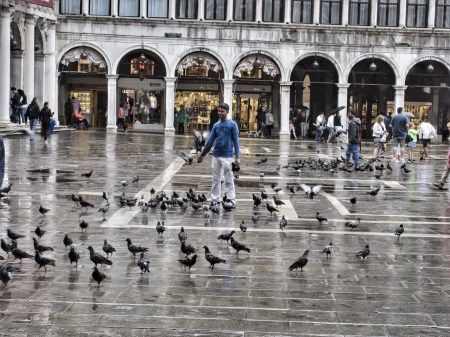 Take a seat and listen to the music playing, see all the chaos, and take it all in. Or simply do whatever you want to do.
Bridge of sighs
When the prisoners for common crime were being moved from the ground floor of the Doge's Palace to a building across a narrow canal from the palace, they would usually let out a sigh looking at how beautiful Venice is. That would be the last time they could see Venice from the tiny windows, and hence the name Bridge of Sighs.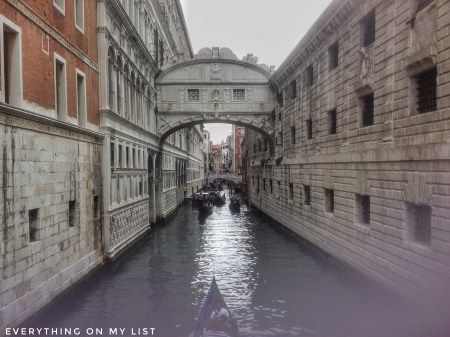 This bridge is again one of the most pictured places of Venice. And trying to take a picture without 4 people nudging you from each side is impossible. I say, go around sunrise to get that solitude because sunset is when everyone is out to take the perfect Instagram worthy shot.
Ate a Gelato
I am sorry, I don't mean a Gelato. Eat as many as you want to. You're in Italy!
The most difficult part about eating a Gelato is deciding which flavor to eat. When you see red velvet cheesecake, nutella, unicorn fart (mixed rainbow), what do you choose? Well, I chose Nutella. And I ate only one. It was raining heavily the day I was in Venice and couldn't afford to get sick. But not you. You eat as many gelato you want to. Kapische?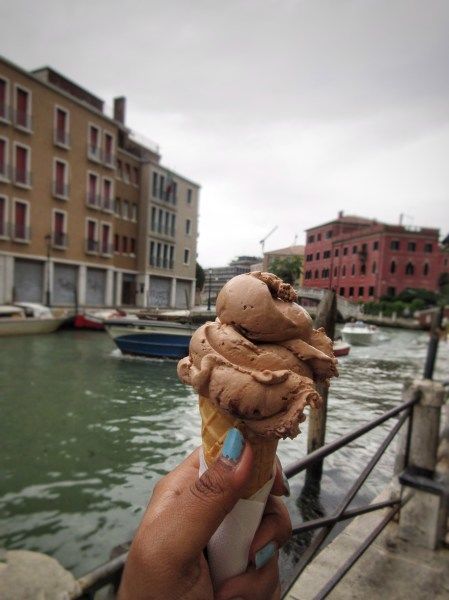 Tried the Venetian Spritz
If you go to a local bar or a street vendor, you will see almost everyone with an Orange drink in their hand and you will wonder what on earth is that. Don't you worry my friend, I'm Here to tell you all about that drink( which my walking tour guide told me, hehe) The Venetian Spritz is a classical Venetian drink, a mixture of white wine, Aperol(sweet) or Campari( bitter) and some sparkling water to go along.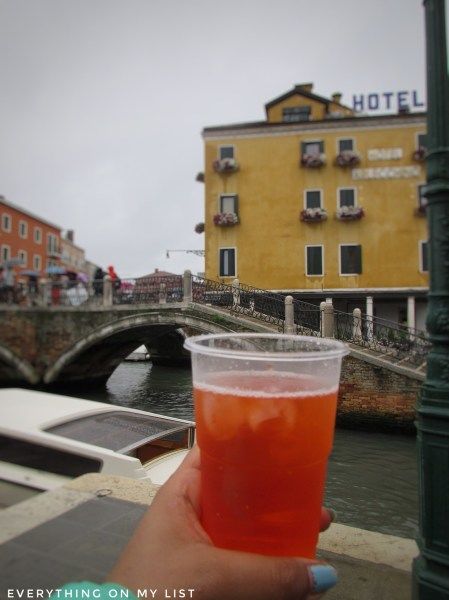 Now that you know what the Venetian Spritz is, let me tell you how do you order it. Usually, you will be given a choice between Aperol or Campari to decide if you want it sweet or bitter. I, personally went with the Aperol and it was still hard for me. But no doubt, I enjoyed each and every sip of it and I didn't stop with just one. Oh don't forget to order some Chicheri or tapas( finger food) to go along.
Where did I stay in Venice
-An airbnb Bed and Breakfast place known as Chiocciola Venice B&B. Located in Spinea, almost 45 minutes to an hour away from Venice. This was a great deal because hostel bed in the main island were priced higher than a personal room in Spinea.
I told you this was a romantic getaway and hence I spent some money getting a decent room rather than a hostel bed. The room was something I needed from my usual dorm life, it had a balcony and an AC which I took the full advantage of. I remember writing my first ever blog post that night in Spinea while sipping on some Corona and having my pizza, and hence Spinea will always be special to me. Man! I love me time!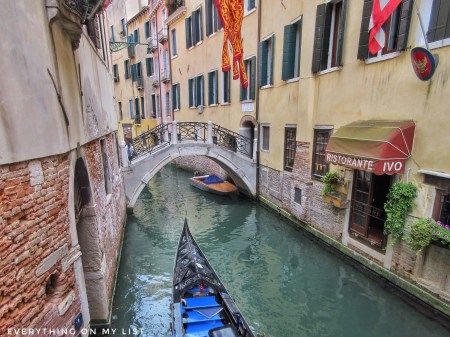 Let me know if you enjoyed reading this and I will be back with another post which will show you the day trip which has to be taken from Venice. (Clue: Island of Murano and Burano)
Want some more wanderlust? Head over to my blog and follow for more sprinkles of life.