Last year I went to Venice with my 2 friends from France, when we found unbelievably cheap bus ticket from Milan to Venice, thanks to Flixbus.
We reached Venice in Tronchetto bus stop at 12:30 in the afternoon. Tronchetto is in the Island of Venice and from there you can take 'People Mover' (electronic train) to Piazzale Roma, or even walk there. From Piazzale Roma you can start to walk in the narrow streets and alleys of Venice with bridges over the canals and start to explore the magical world of Venice.
But the best and cheapest way is to travel by Vaporetto or water-bus, which is the most used public transport of Venice. We bought 20 euro ticket for 24 hours. It is a very good deal because with the 24-hours Vaporetto pass you can travel not only in the canals of Venice bus also you can go to other beautiful islands near Venice like Murano, Burano, Mazzorbo, Lido (beach) etc. I'll talk about all these islands soon. Here is the routes in which Vaporetto travels, www.actv.it/en/movinginvenice/waterbusservicetimetable
From Troncetto stop Vaporetto number 2 took us directly to Piazza San Marco, which is the main city square of Venice and holds most of its tourist attractions.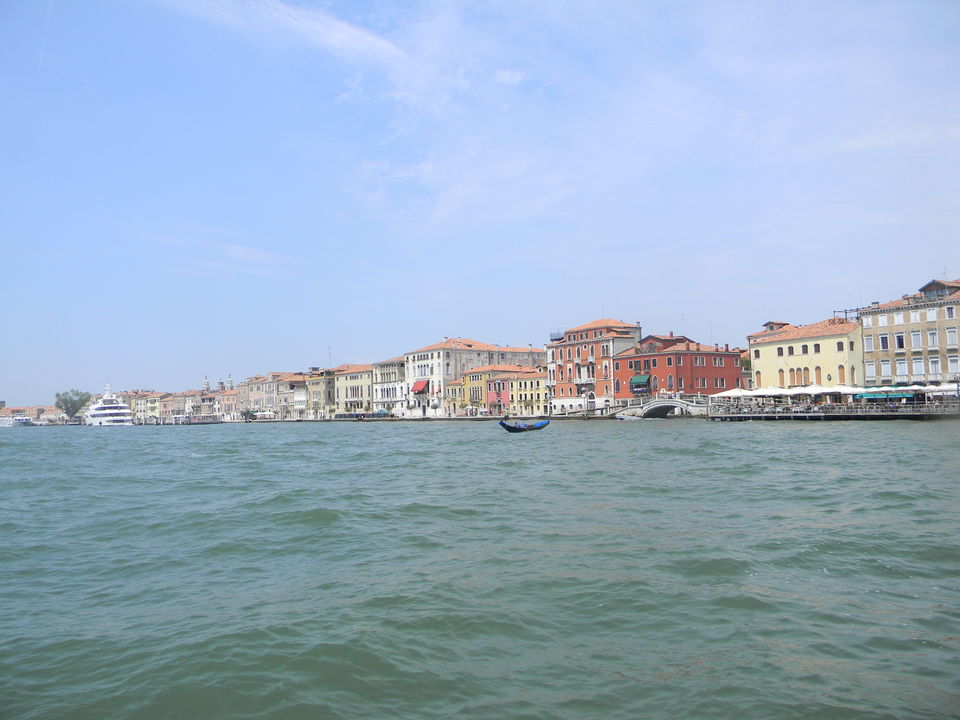 San Marco or Saint Mark's square is where you will find the Saint Mark's Basilica, Doge's Palace, St Mark's Campanile, Clock Tower Venice and the beautiful Piazza itself full of people walking, sitting or dinning in the outdoor area of the nearby restaurants.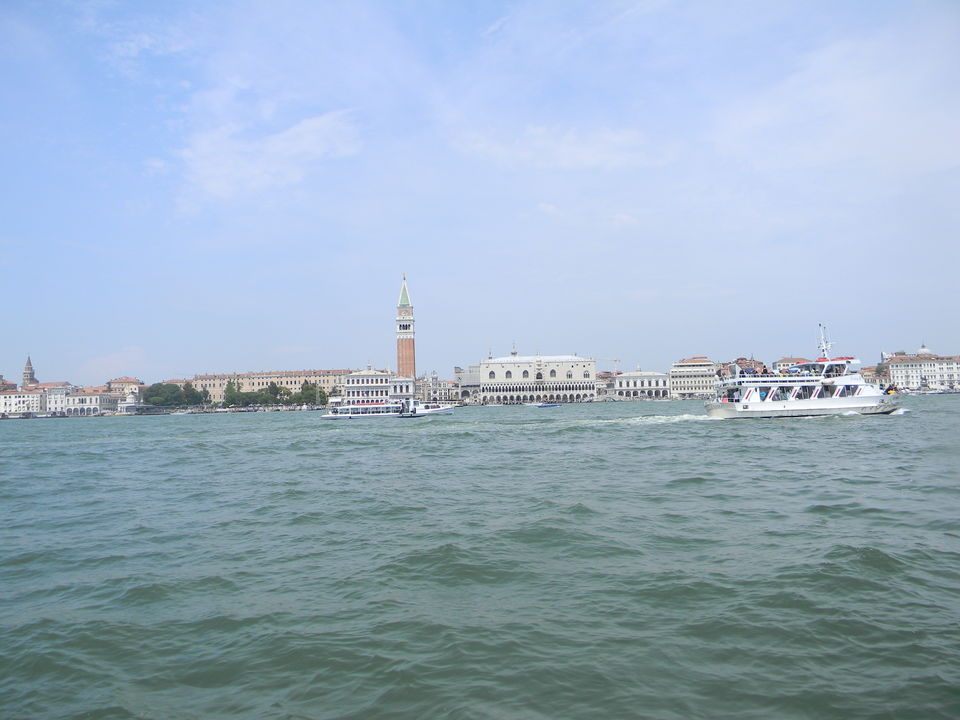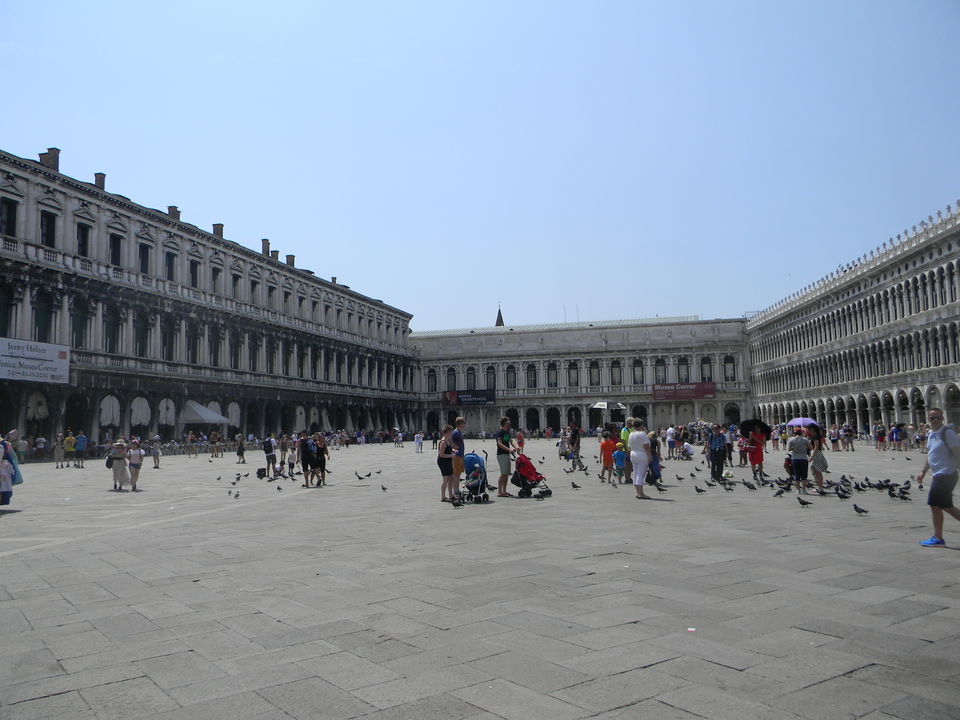 From the piazza we then went on walking in the narrow streets which were full of tourists but with careful selection of streets, it is very easy to get away from the crowd within 5 minutes and enjoy the authentic Venetian neighbourhood with houses over small narrow canals and cute little bridges over the canals. Also you will see a lot of dead-end streets ending right on to a Canal where you can notice other tourists taking a Gondola boat ride. Gondola ride, however romantic and authentic it may seems, can be quite expensive and I would suggest to stay away from it if your budget is very tight like us, and use the Vaporetto instead to get the feeling of canals.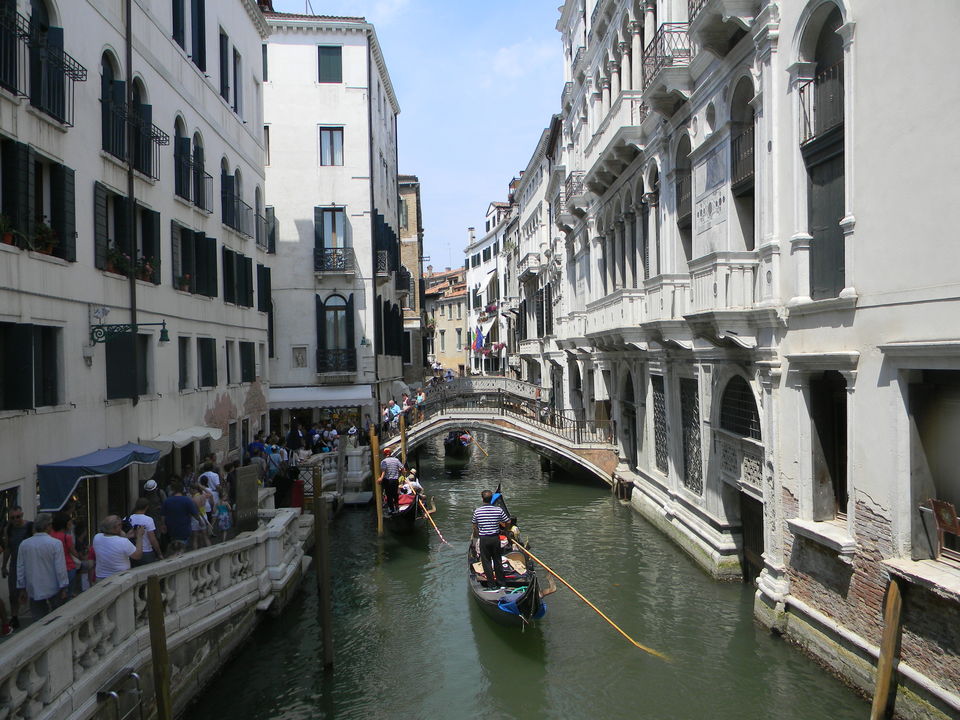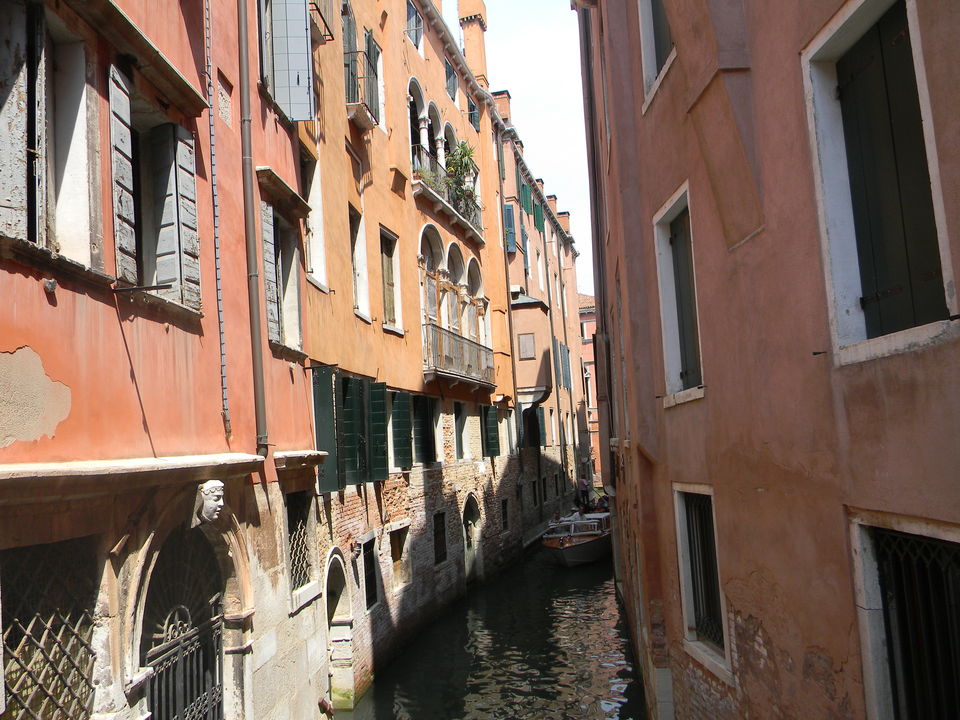 According to me, it is foolish to use a map while roaming around in Venice. It's only an island and it's almost impossible to get lost there. Actually getting lost is part of the charm of Venice. You can find beautiful courtyards and small hidden gardens tucked behind narrow streets, canals and houses, which other typical tourist would never bother to explore. We just had a compass with us to get a rough idea of the directions we were heading to.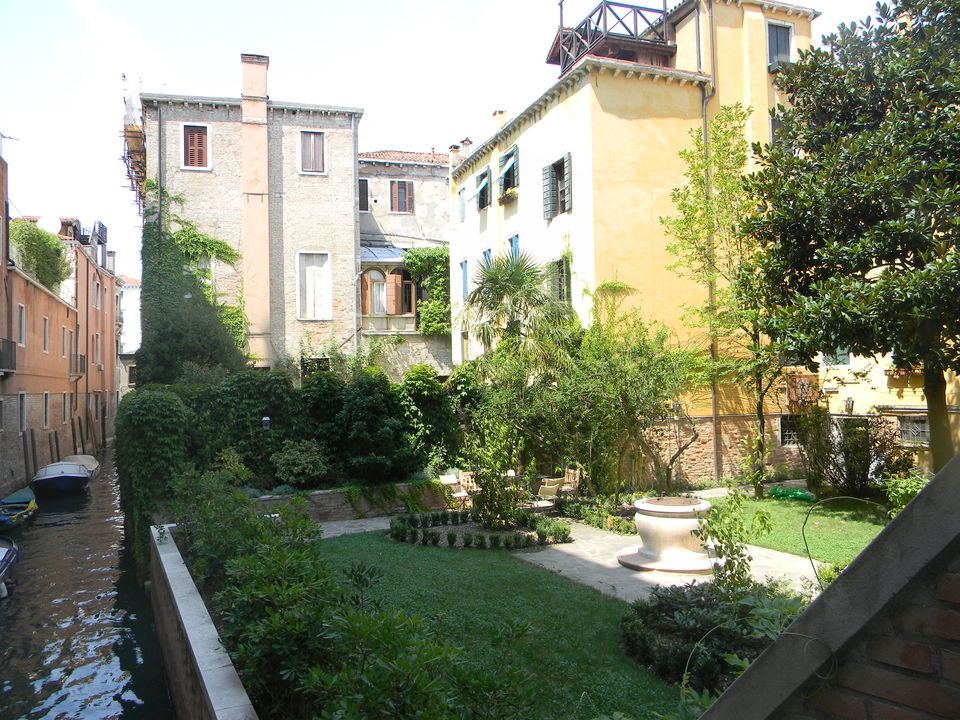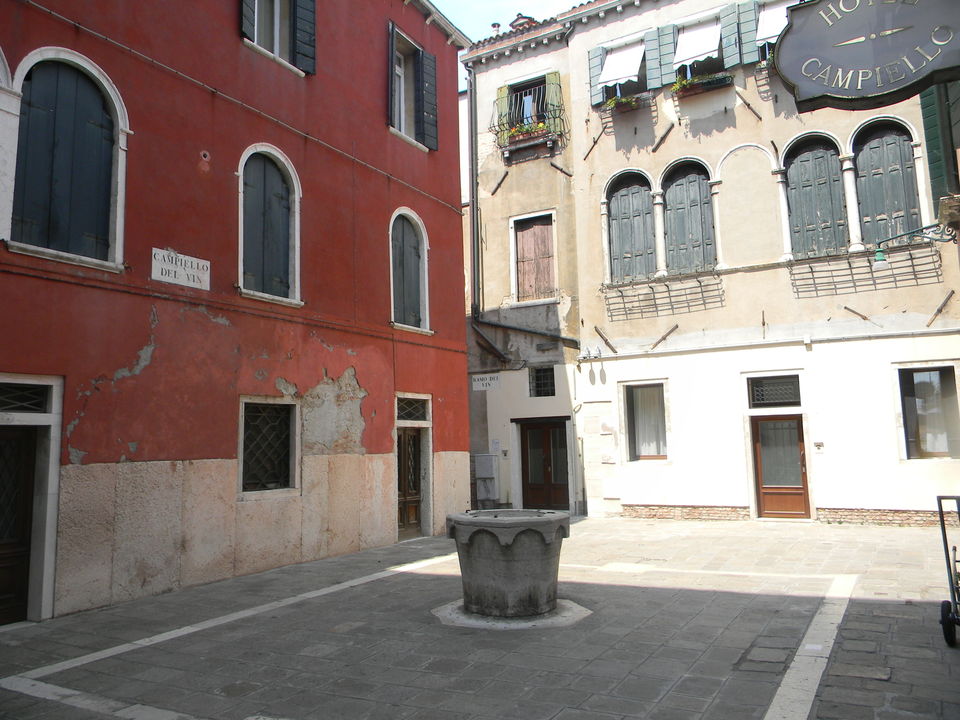 In several courtyards you can find free cold drinking water which is really a life-saver in hot summer days.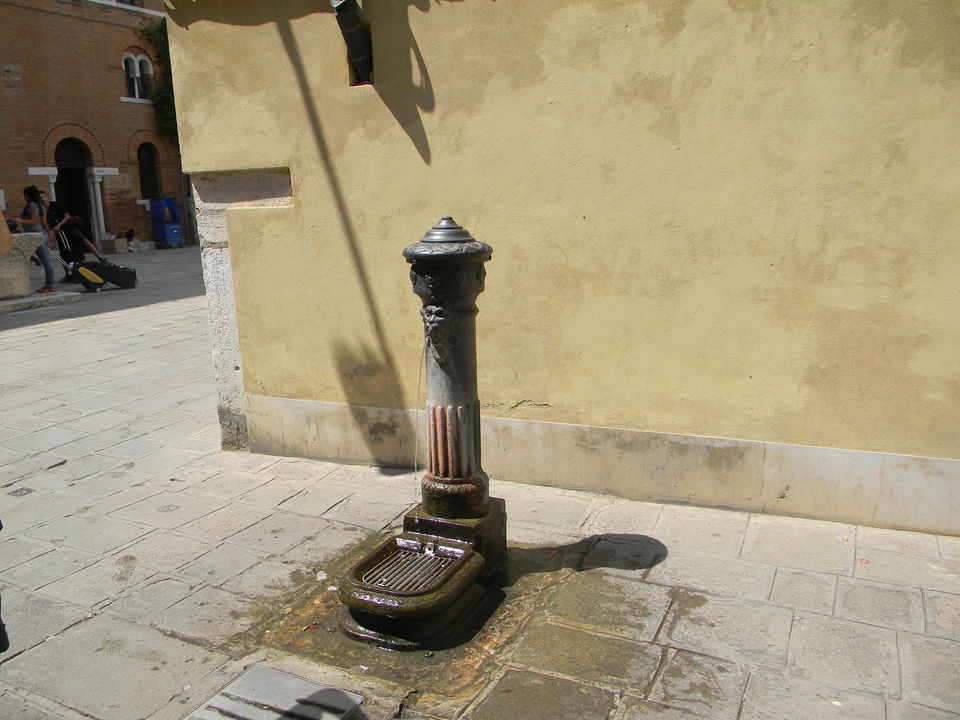 After walking for an hour or so in the narrow alleys and having a small lunch that we took from Milan, we hoped on in Vaporetto-12 which goes to the island of Murano. Murano is famous for its traditional hand-made glass works. If you're lucky you can also witness in the glass workshops how the glass items are prepared by the artists.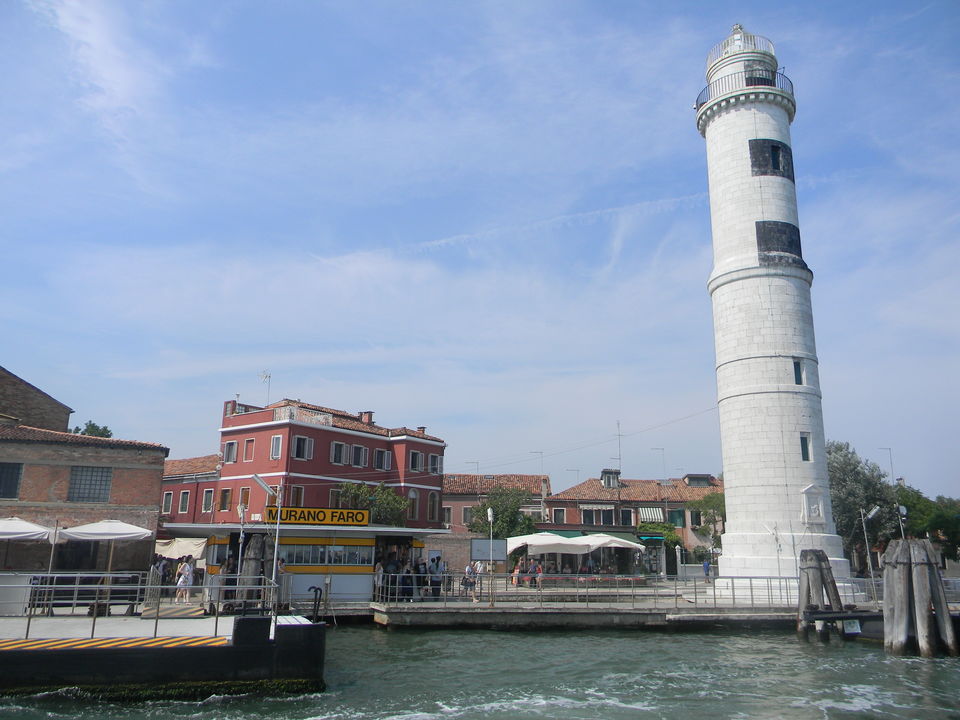 After that we took the same Vaporetto-12 to the island of Mazzorbo which is connected by a wooden bridge with the island Burano. Mazzorbo is a small island with some housings and beautiful seaside walkways. We started to walk towards Burano and suddenly came across a vineyard. So we entered there and we could see grapes already grownup and soon to be plucked and used in the process of making wine.
Getting out of the small vineyard, we found a great place near the wooden bridge connecting two islands with shade and cool breeze. It was an amazing place to lie down near the sea, enjoying the cool wind blow in the hot summer day and watch the boats go by. La dolce vita!
Crossing the bridge we reached to the beautiful small island of Burano. Burano is a lovely island which has very colourful facades in all the houses. It was like a completely different world there. Small cananls with smooth water and boats on it gave it a picturesque look. The beauty of that place is really difficult to capture in photos. Such was the ambiance of Murano.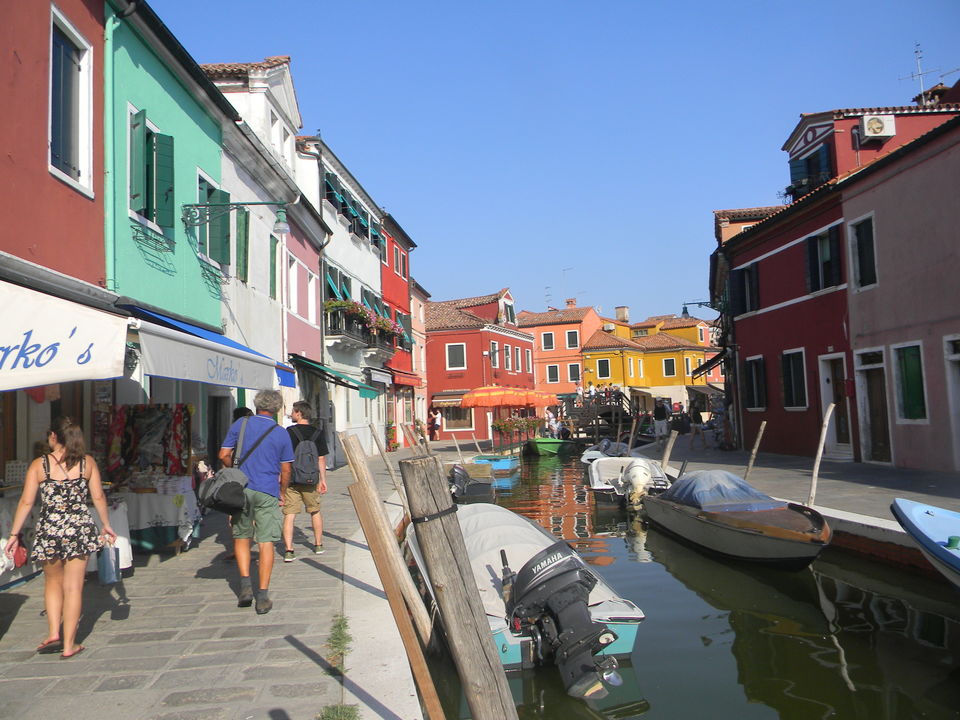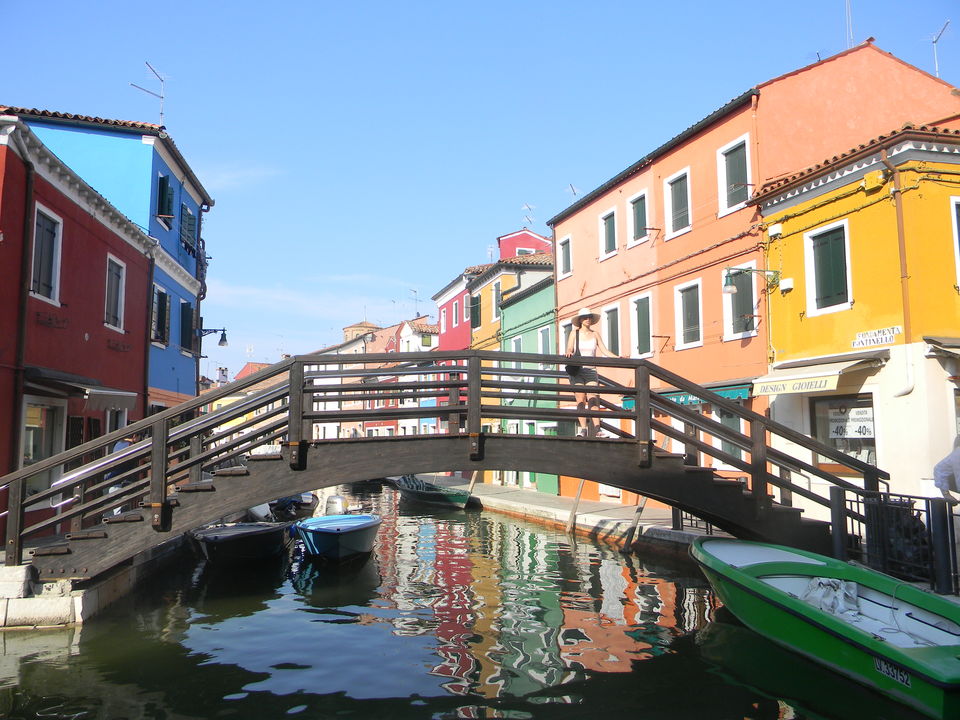 The town square has a small shopping streets with beautiful shops on the sides. We bought some wine and dinner in a shop nearby. The shopkeeper was extremely helpful and made Panino (sandwich) for us with Prosciutto (ham) and Mozzarella (cheese) and it was not expensive at all.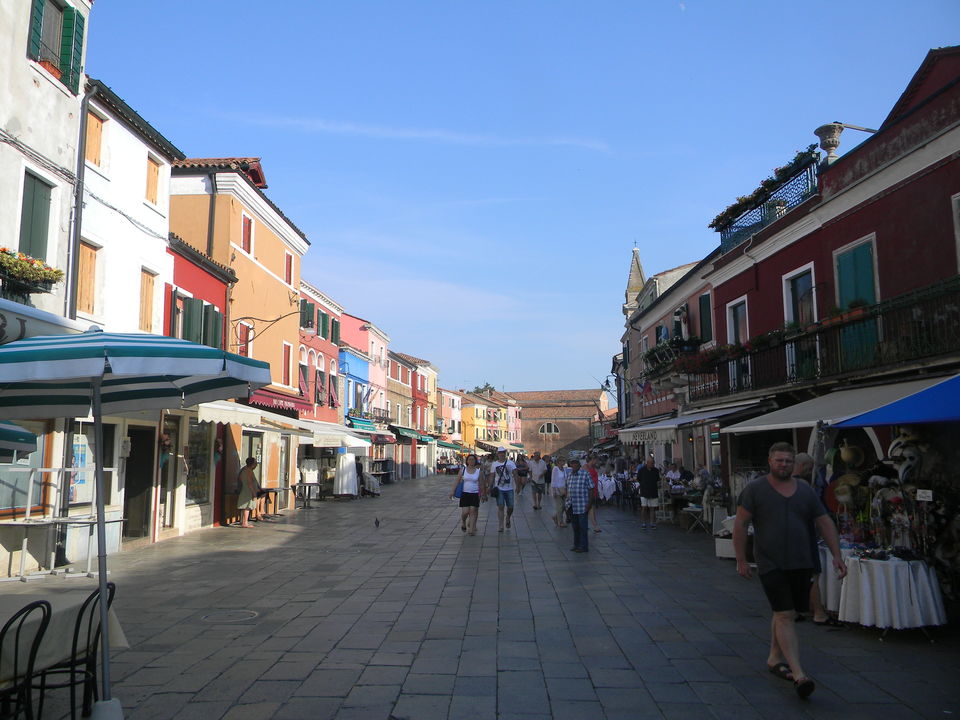 After just walk of one or two minutes, we reached near the open sea, sat on the grass under the shade of a tree, opened the bottle of Venetian white wine and enjoyed our Panino. One of the best dinner I ever had.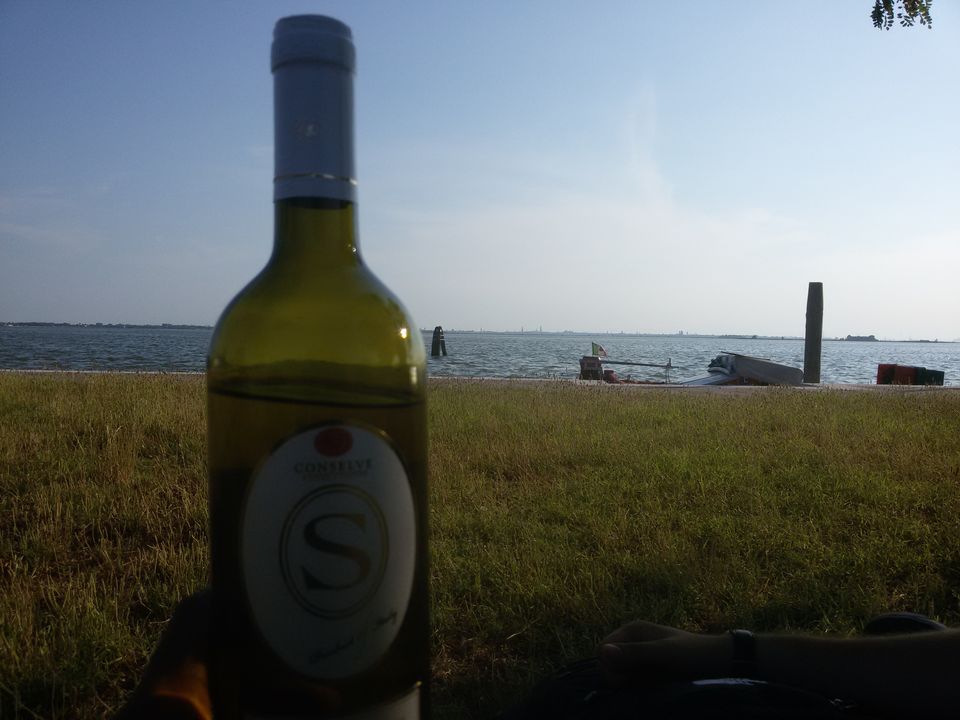 After dinner we started to walk back back to the square, and suddenly we noticed the "crocked" church tower of Burano. "Leaning tower of Burano" I guess!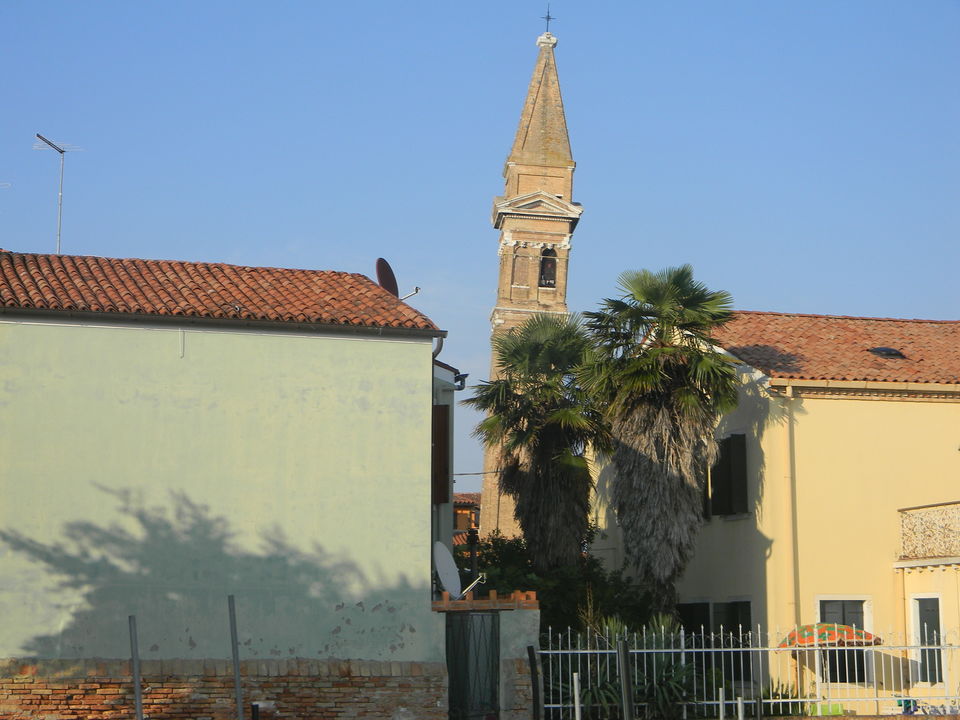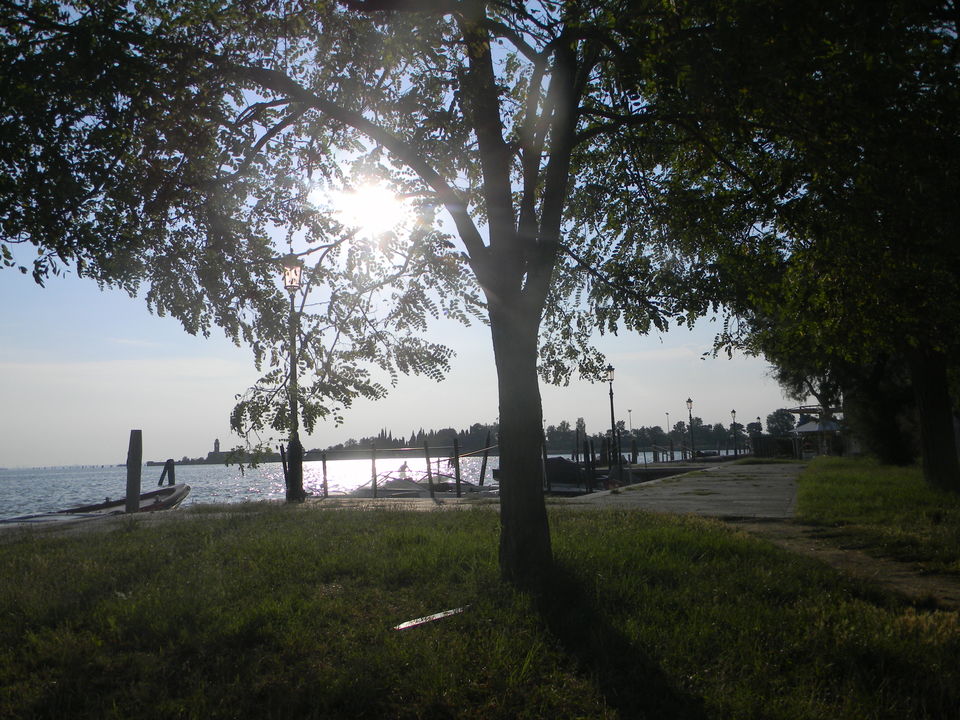 I could only imagine how lucky the people living here are, by imagining them sitting next to the sea every evening till it gets dark and enjoying lovey glass of wine. What else do you want from life! I really envy the people living here.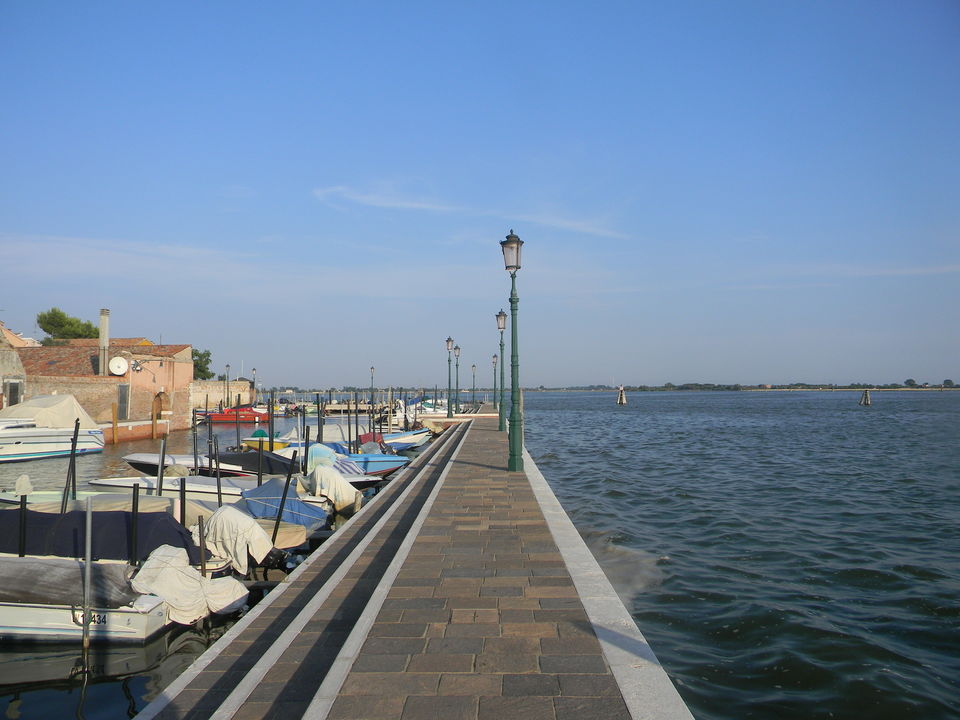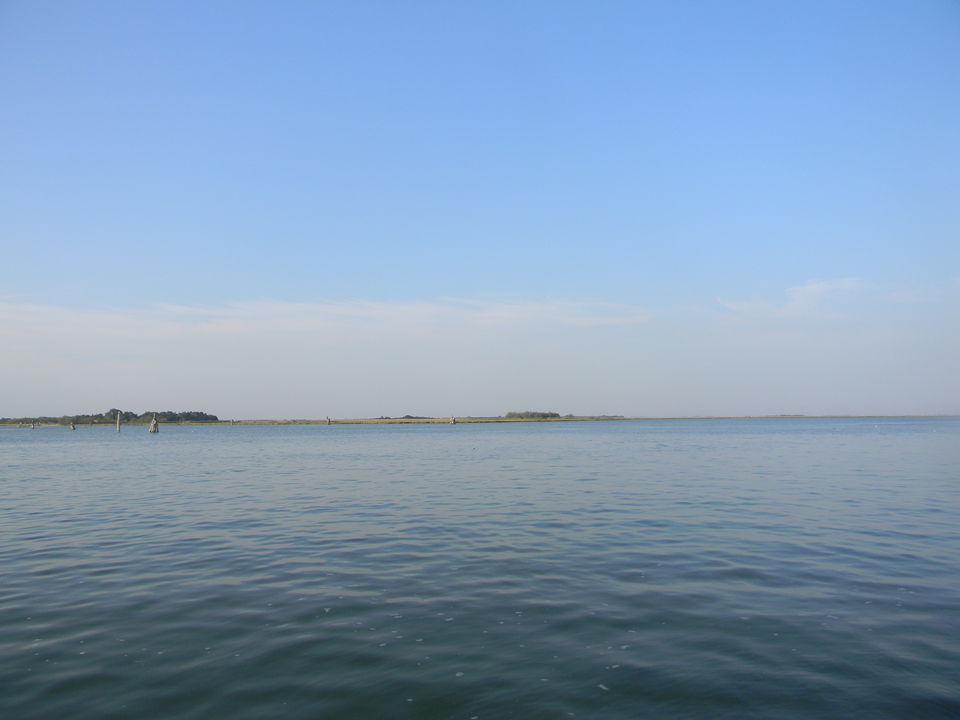 On our way back through the lovely streets near canals, we found a supermarket and bought some ice-cream as desert and enjoyed it while watching the sunset.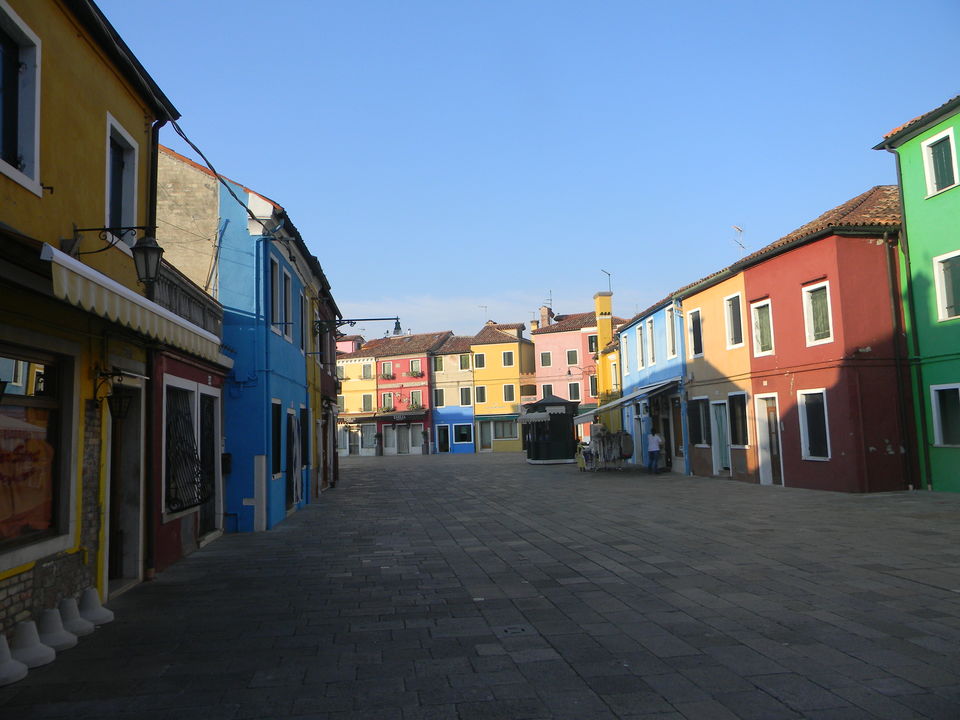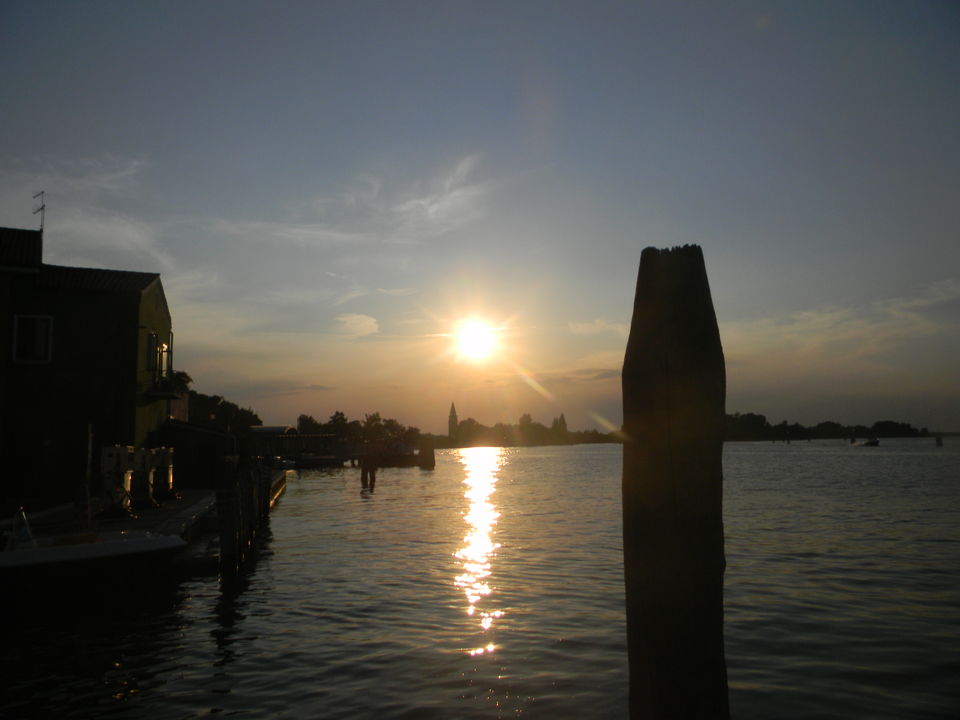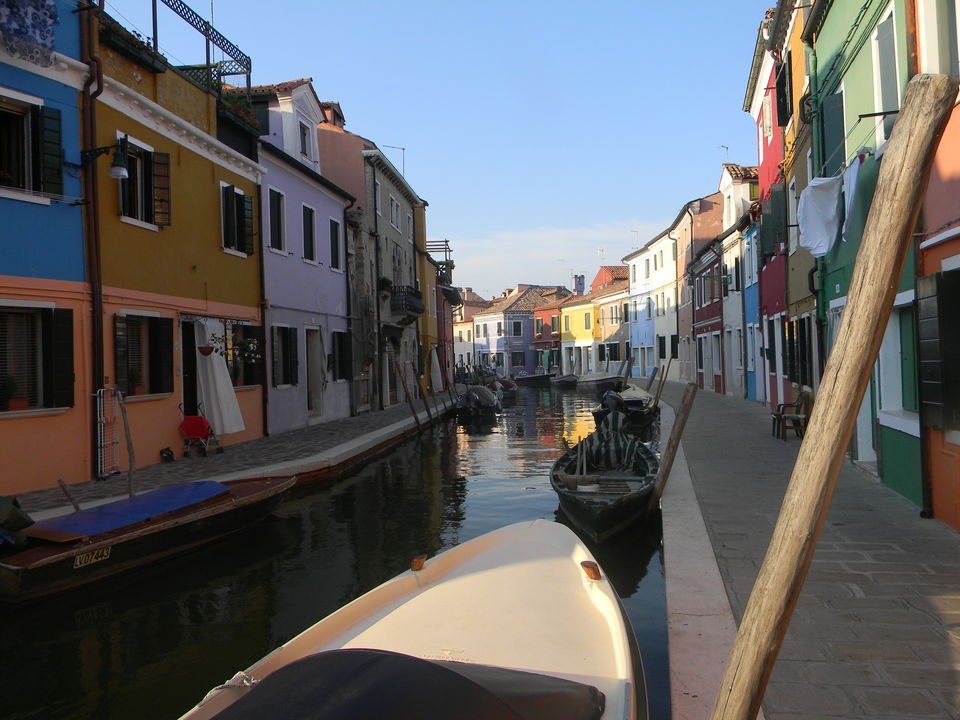 Such a lovely walk near the sea in the summer evening with cool wind from the sea. It was perfect in every way.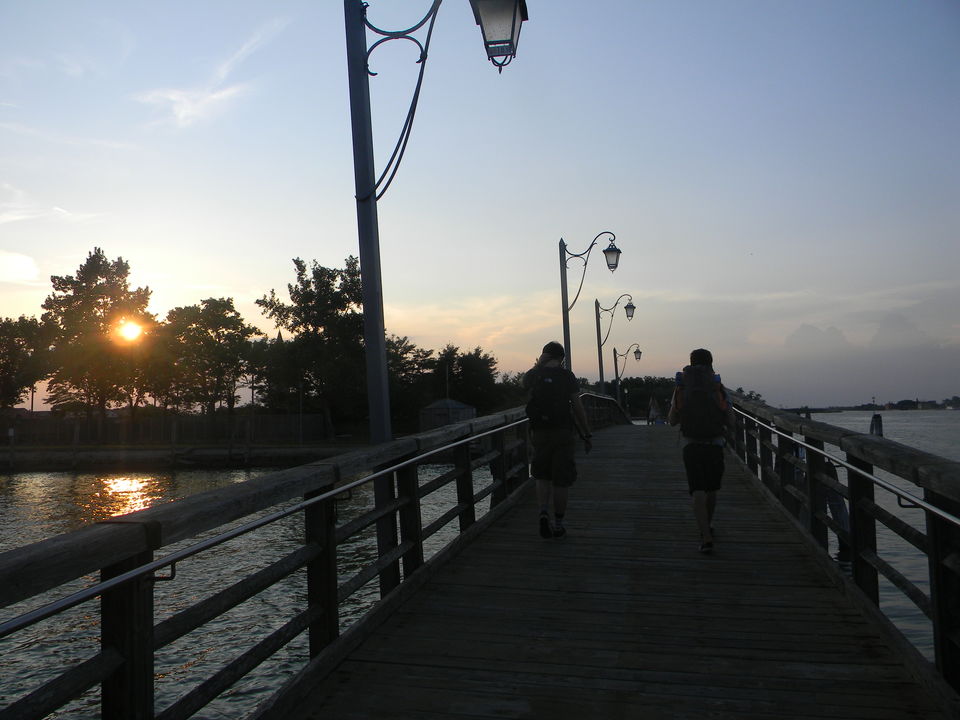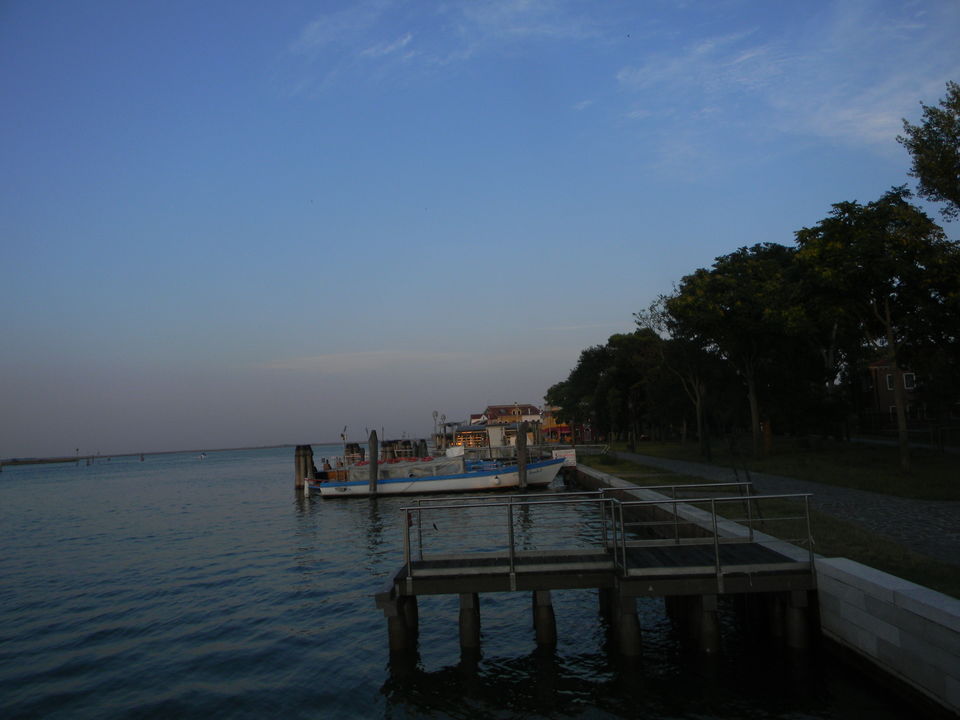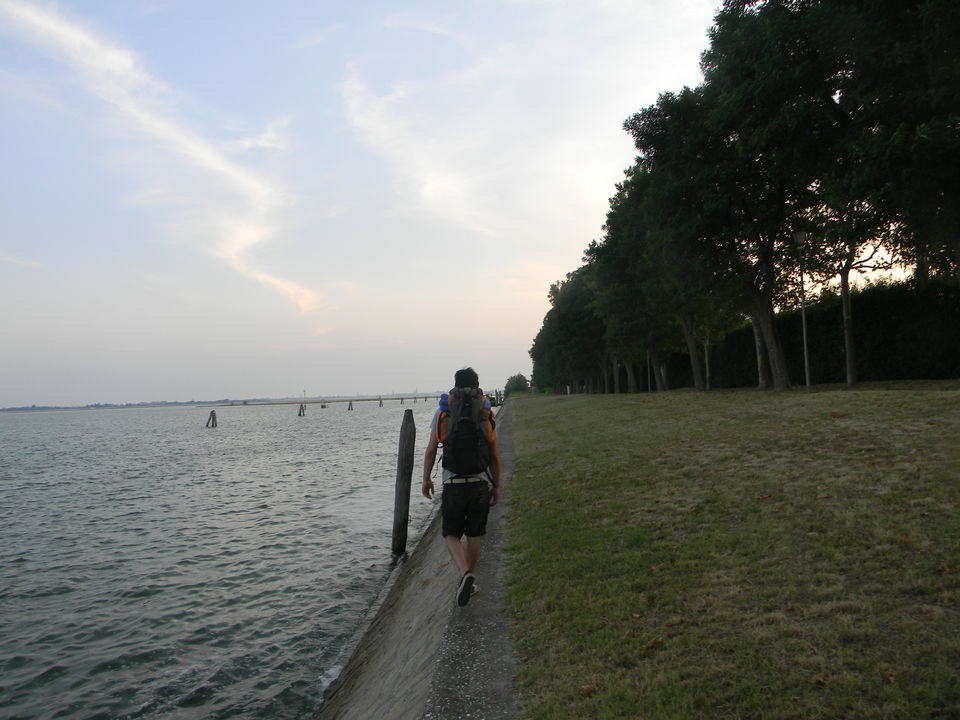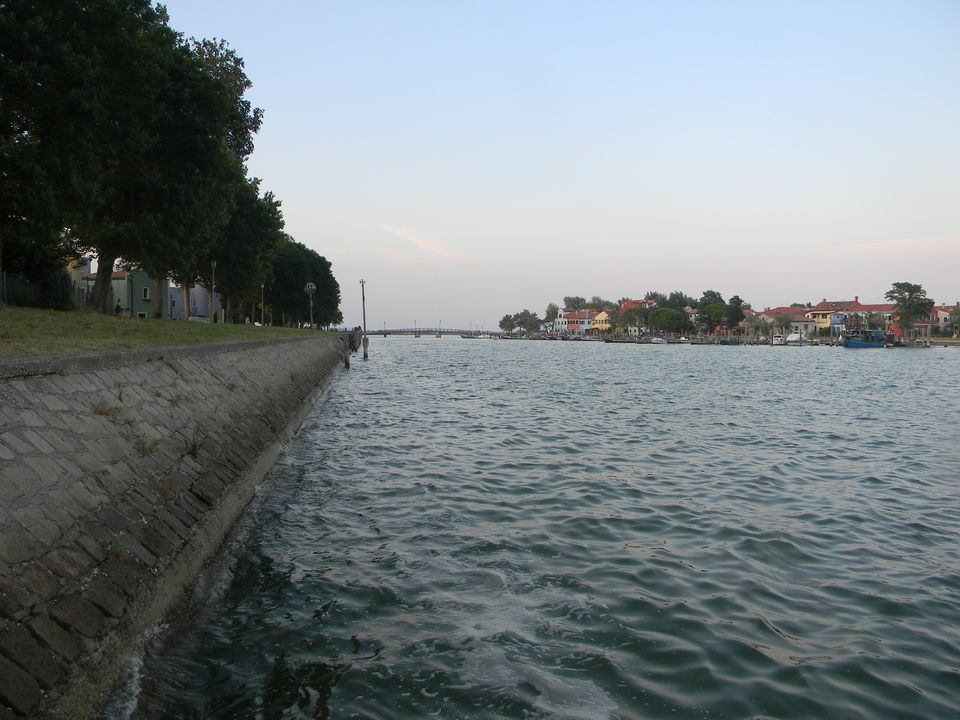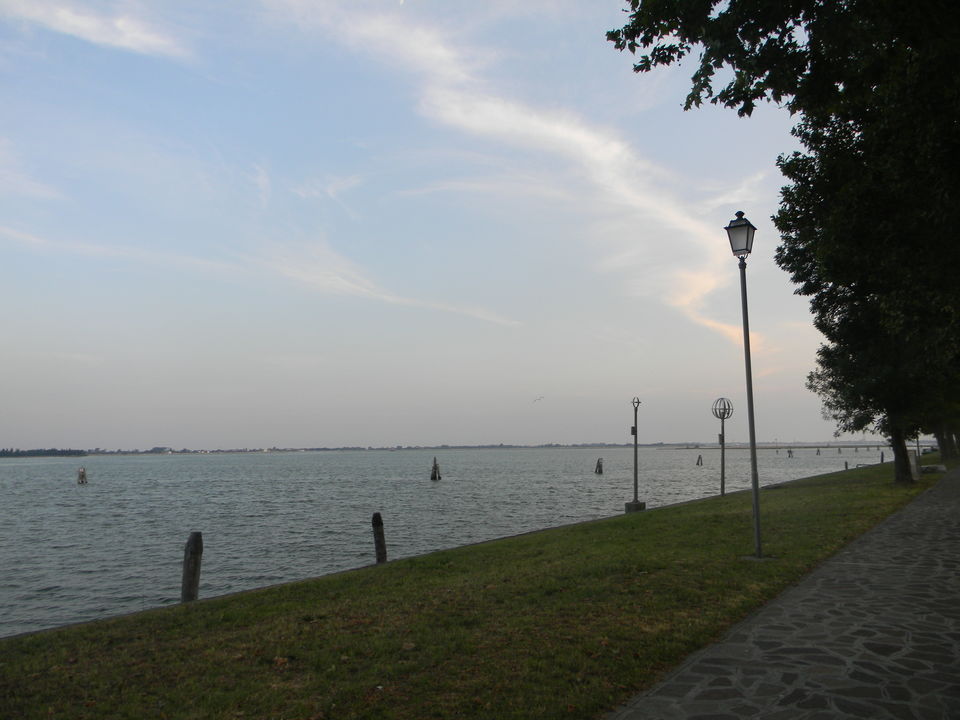 We took Vaporetto back to Venice to spend have a evening walk there in the Venetian alleys and to enjoy the night view of Venice.