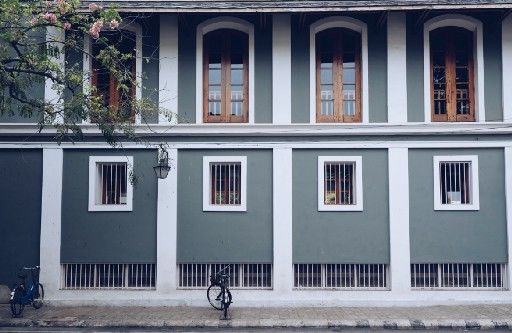 There is an infinite reason why we call India an Incredible India. Besides numerous festivals, God and Goddesses, languages, architecture, and faith, India still has foreign lands such as British, Portuguese, and French, which has been preserved for many years.
Puducherry, previously known as Pondicherry (locals call it Pondy), and if you are from 90's you still call Mumbai as Bombay and Kolkata Calcutta cities name change, emotions doesn't.
Puducherry is appx 160 km from Chennai, around 3 hours drive. You can take a train as well from Chennai to Puducherry.
Ang Lee's film Life of Pi's opening scenes of the hero's early life are set in Puducherry.
The best way to see Puducherry and its surrounding areas is by renting out a bicycle or two-wheeler. Walking is a great option within the city as many sights are within 2–3 kilometers of each other. Believe it or not, one can complete Puducherry in 3 days. Yes! You read that right 3 days!!
The architecture here is French, the road signs are in French (along with English and Tamil), many people speak fluent French, and most restaurants serve steak and wine!
Britishers left their major traces in (south) Mumbai and Kolkata. Goa inhabitant still has Portuguese touch. While in Pondi, you will find French have left an entire mini town, beautiful Bordeaux in India.
There is another experimental township where religion, politics, and money don't exist – Auroville. Auroville believes in the service of truth beyond religious conviction. There is a temple at the center of the township called "Matrimandir." It is of spiritual significance for those who practice Integral yoga and don't belong to any particular religion or sect.
Constitutionally, Puducherry is a collective name given to Puducherry, Karaikal, Yanam, and Mahe. Colonized by the French East India Company to set up a trading center. Having made Puducherry their home over the years, the French have infused South Indian culture with their own unique heritage. Puducherry did not merge with Madras (now: Chennai in Tamil Nadu) but instead remained a Union Territory.
LIST OF ALL THE THINGS YOU CAN DO IN PUDUCHERRY:
White Town: A little French Quarter in India, where the French laid out a formal grid pattern streets.
Raj Niwas: The official residence of the Lieutenant Governor of Puducherry.
Promenade Beach: Do not miss the breathtaking sunrise. Walk along the seafront (practically, a long walk which never makes you tired). Witness the vintage Light House.
Serenity Beach: Catch the wave! Learn surfing here.
Paradise Beach and Chunnambar Boathouse: Slow sea gazing and thrilling water activities. Go boating in the backwaters; take a boat to Paradise Beach, an island beach ideal for relaxing, and enjoy a picnic surrounded by waters. Chunnambar also offers treehouses for overnight stays and a restaurant for meals and snacks.
Ousteri Lake: The ultimate place for bird watching.
Botanical Garden: This is where many scenes from 'Life of Pi movie were shot. That aside, it is a very well-maintained park. A flower show is conducted every year, attracting large crowds.
Temple Adventures Centre: One place shot in Pondi to experience the thrill of Scuba Diving.
Sri Aurobindo Ashram: Spiritual community. Meditate in the calming surroundings.
Auroville: The experimental town — meet with your inner soul here.
Temples and Churches: Seek blessings. Marvel architecture will trick you.
Sita Cultural Centre: Discover through various classes and workshops the arts and culture with a specific emphasis on South Indian Arts.
Best Cafés/Restaurants: Villa Shanti, Café des Arts, Café Xtasi, Le Dupleix, Tanto Pizzeria, La Marée, Surguru, La Villa, Le Chateau, Les Chef, Carte Blanche, Bay of Buddha, Rendezvous, Blue Line.
This town's spirit lies in its humility to welcome people with warm embraces and treat them like their own. The aura of Pondi drifts around, striving to capture the attention of its visitors. Puducherry is famous for its spiritual culture, which reflects in the way of life of its inhabitants. Clearly, after 09:00 PM, the only lively place is the Promenade.
I stayed at LE DUPLEIX.
An old fashion unique French boutique heritage stay, Le Dupleix is located in the White Town area and 10. mins walk (400 meters) to the Rock Beach beach promenade. It is an 18th-century French colonial villa, originally built for the "Maire" Mayor of Pondicherry.
Now restored and modernized, the hotel is an architectural masterpiece showcasing the life of the 18th century French Governor Marquis Joseph-Francois Dupleix.
To be believed, there is an old big mango tree here in the center of the place, probably 100+ yrs old and still standing tall, still produce fruit.
This place was a gem found! Managed by Sarovar Hotels, each corner has such beautiful details that you never wish to leave the place. I still miss the cozy seating verandah, indoor mini water fountain, which was soothing relaxation, a zen moment.
Le Dupleix Courtyard Restaurant has an attentive service. Serving authentic yet sumptuous down-to-earth food and cherish experience reminds us that eating is an essential element of a journey.
The first Bar in town, the Governor's Lounge in Le Dupleix, is an exciting place to spend some time catching up with people as you enjoy some of the best wines and cocktails served. With an energetic ambiance and charged-up style, the place is ever refreshing.
WHITE TOWN
This is where the vibe of the city lies. This part of the city is very contrastingly different from the other side of the city. The architecture of the entire town is a breath of fresh air. Just take a walk around here.
The Boulevard is one of its kind, series of shaded cobbled streets lined with colonial houses. Most of them in the hues of white, grey, and yellow surrounded by the promenade on one side and typical bustling streets of south India on the other.
I witnessed a spectacular sunrise here!
TEMPLES
Pondy, the former French colony's association with temples, goes back a long way, and some of these temples trace their origins to the 10th century AD.
This small town with an interesting blend of French and Indian heritages is sprinkled with magnificent temples known as much for their religious significance as for their architectural beauty.
Amidst the colonial era vibe and bohemian chic, these shrines paint a very different picture of Puducherry.
IMMACULATE CONCEPTION CATHEDRAL
Constructed almost 300+ yrs ago, Immaculate Conception Cathedral is the mother cathedral church for the Roman Catholic Archdiocese of Puducherry and Cuddalore. It is also known as "Samba Kovil," which is a phonetic corruption of "Saint Paul's Kovil," where "Kovil" means church.
This church has breathtaking architecture. Built-in the Portuguese style and the residence of the Bishop.
OUR LADY OF ANGELS CHURCH (EGLISE DE NOTRE DAME DES ANGES)
Our Lady of Angels Church is the fourth oldest church in Pondy. You can also call it the church of Our Lady of Angels; the church is beautifully situated at the peaceful corner of two famous streets - Surcoof and Dumas Street.
The original structure was built in Greco-Roman architecture by Napolean III in 1855, with Louis Guerre's architect. It is the only church that offers mass prayer every Sunday in French, Tamil and English. This church is the best example of Greco-Roman style architecture, with two tall towers seen from the front and a dome over the main altar.
The structure of the church bears a likeness to the Basilica at Lourdes (southern France). It is simply awe-inspiring. Before you enter the church, pray to the Mother Mary holding young Jesus in her arms. Inside the church, marvel at the architecture.
VILLA SHANTI
Hidden behind a discreet façade in the old French town's heart, Villa Shanti is a 15 rooms and suites boutique hotel with a restaurant, a café bar, and The Little Big Shop. Additionally, room guests can enjoy the Well Being Hut for well-deserved massages.
The rooms are built around an inner courtyard with a vertical garden, and all have natural light. They fit perfectly into the building's architecture, mid colonial, mid modern, located in the new wing.
The restaurant offers fresh, simple, and original recipes from India and elsewhere. The menu consists of vegetarian and non-vegetarian dishes and chef's daily new creations for every taste and pallets.
One must try some signature dishes like tuna tart, grille fresh barracuda, Dhal Mezaz. The products are availed from the local farms and freshly procured by the chef himself daily.
One can dine under a minimalistic ally-covered restaurant area or in an open space under the stars beside the lush vertical garden. The bar is well stocked with the choicest of liquors & wines.
SHRI AUROBINDO ASHRAM
The ashram was founded by Sri Aurobindo in 1926 when he decided to withdraw from public view and continue with his spiritual growth. The place is now visited by thousands of spiritual seekers from all over the world. If inner peace is what you seek, this is where you should visit.
The ashram gives a lot of importance to yoga as it helps in transforming the body and mind. The ashram is also responsible for founding the concept of peaceful co-existence in a township, Auroville (read next!).
Photography is not allowed here. Visit the library to know/read more about it. They have huge collections of postcards to take back.
AUROVILLE - THE CITY OF DAWN
Transcending money, politics, and religion, welcome to Auroville, the City of Dawn.
Mirra Alfassa (born Blanche Rachel Mirra Alfassa), known to her followers as The Mother, was the spiritual partner of Aurobindo, philosopher, mystic, guru, and leader of the independence movement.
Throughout, their work together had been to uplift humanity to a further level of consciousness. For this, they envisaged the setting up of an ideal town. The Mother was 90 when she started work with architect Roger Anger to chalk out a city plan for 50,000 people.
Auroville must be at the service of the Truth, beyond all social, political, and religious convictions. The 'universal town' would not be just a development project but an evolutionary experiment.
Finally, on February 28, 1968, over 5,000 people from across the world clambered up the dusty plateau and gathered in an open amphitheater next to the banyan tree.
The Mother read from The Auroville Charter, and the city of the future was born. "Auroville belongs to nobody in particular. Auroville belongs to humanity as a whole. But to live in Auroville, one must be a willing servitor of the Divine Consciousness."
People who inhabit Auroville come from around 50 nations, hailing from all age groups, social classes, cultures, and backgrounds. In short, Auroville represents humanity as a whole. Its population currently stands at close to 2,400 people.
This place is pure bliss! Hard enough to drag yourself out of here. The vibe here is so good, strong, and full of miracles.
Auroville runs without a hierarchical order. It is controlled by an assembly that comprises of every adult resident. Imagine a township being run by an assembly of 900-odd members, hailing from different cultures, who sometimes do not even understand one another! Despite the community's internal struggles, it flourishes almost as an independent nation!
"There won't be any exchange of money in Auroville. It is only with the outside world that Auroville will have money relations. Money will be no more the Sovereign Lord; individual value will have a greater importance than the value due to material wealth and social position." - The Mother.
Aurovillehas its own architecture and town planning bureau. It has archival facilities, research institutions, an auditorium, 40-odd industries, restaurants, farms, guesthouses, etc.! It even has a high density of computers, a dedicated e-mail network (auronet) for the residents.
MATRIMANDIR - BANYAN TREE: Some 50+ years ago, on a vast, barren plateau north of Puducherry, alone, young banyan tree stood guard. It seemed to be waiting for something. Then one day, someone hammered a nail into its trunk to hang up an advertisement.
Lore has it that the banyan tree sent out an SOS and the Mother received it in Sri Aurobindo Ashram. She immediately sent someone to check, and the place she had been looking for was found. Soon she would start a city near that banyan tree.
AUROVILLE GUESTHOUSE: Auroville has plenty of guesthouses you can stay at during your visit. They're cheaper than staying in a hotel, and because the residents of Auroville run them, you get a chance to see what Auroville is like as a local. Stay under a canopy of trees and flowers. You can book it HERE.
IMP: Auroville guesthouses need to be booked in advance because they are always in demand!