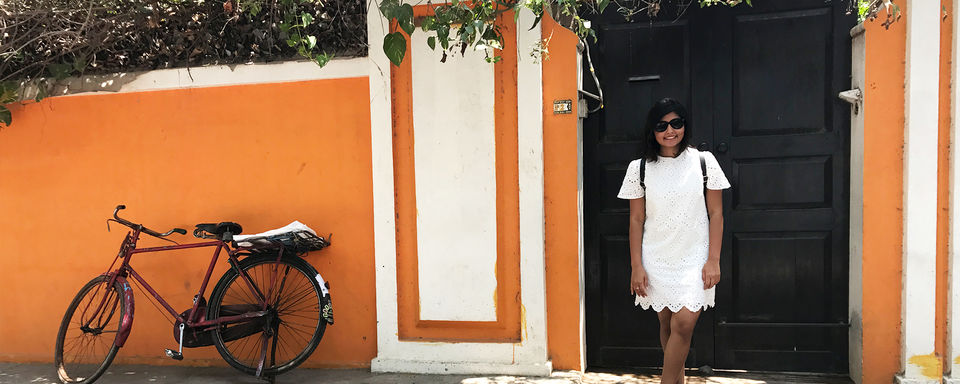 Pondicherry, or Puducherry, is famously known as the French Riviera of the East, and is one of the most mesmerizing and charming places in South India. A former French colony, this quaint little town has retained its old-world French charm. 8000 kilometers away from France, Pondicherry comes very close to giving you a feel of the French culture and the French influence is very obvious in the city right from the food to the architecture.
A couple of weeks ago, I spent a weekend in Pondicherry and had an incredible time. It was a very impromptu trip and having already visited Pondy a few times before, we didn't quite have an agenda for this trip.
Where We Stayed?
Le Dupleix is a hidden gem in a quiet part of White Town (The French quarter of Pondicherry). Originally the residence of the last French Mayor of Pondicherry, Le Dupleix is a quaint and charming designer heritage hotel by Hidesign (a brand known for its leather goods) that seeks to strike a balance between tradition and modernity.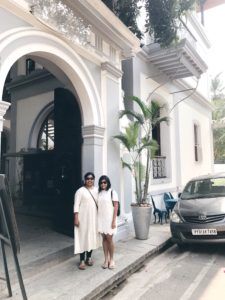 The hotel has 14 unique rooms nestled in an 18 th century French colonial villa and it transports you back in time right from the moment you step through the massive wooden gate. We had made a booking for two rooms and were lucky to be upgraded to the luxury suites. Both our rooms were duplexes and as we walked to our rooms, we admired how the interiors of this property were a beautiful blend of old-world charm and modern luxury.
Both our rooms were spacious and had some stunning wooden furniture and art pieces. Our rooms had the cutest European style balconies overlooking the tranquil streets of White Town. The corridors were warm and cozy and the swing bed right outside one of our rooms was the perfect spot to lounge during the day.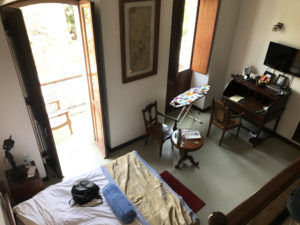 The hotel is named after the French governor - Dupleix. Who was Dupleix, you ask? Here's a quick history lesson for you. Marquis Joseph Francois Dupleix was a French general who was one of the key figures in bringing Pondicherry into the French trade map as a part of the French East India Company. He was appointed as the Governor-General of French India and was the rival of Robert Clive. He went on to Marry Jeanne Albert, a widow of the ex-advisor to the Superior Council of the Company. Being born of a French father and an Indo-Portuguese mother, Madame Dupleix was of Hindu faith, spoke several languages including Tamil, and played an important role in Pondicherry's history by heavily influencing her husband's political decisions. There is a statue of Dupleix currently located on the end of Beach Road, but it used to be where Jawaharlal Nehru's statue now is.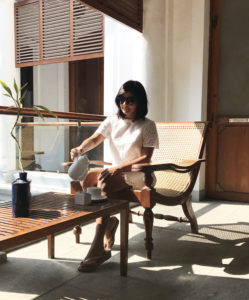 I would be remiss if I didn't mention the charming Hotel Manager - Mr. Adam Oberoi. Right from when we checked in, Adam was extremely hospitable, courteous and made us feel very welcome. During our stay, he went out of his way to make us feel comfortable and gave us a lot of fun facts about the history of the hotel and the city. His impeccable manners really stood out to us and he epitomizes good hospitality.
The entire staff in the hotel was very friendly and courteous, making the overall experience so much better. My only complaint with the hotel is that the WiFi connectivity could be improved, but to put a positive spin to this, I ended up spending lesser time on my phone and more time enjoying the place so it worked out okay.
We also had the chance to check out their sister hotel - The Promenade, and go swimming there.
What We Saw?
As we'd already been to Pondicherry before, sightseeing wasn't our focus for this trip but we did manage to see a few tourist attractions.
Auroville is a peaceful and tranquil area, a few kilometers from the main town of Pondicherry. It is an experimental township with the purpose of realizing human unity. Auroville is kind of a hippie paradise and gives you the feel of Goa.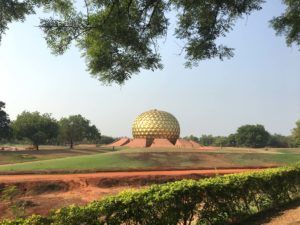 You can't speak of Auroville without mentioning the Matrimandir (the golden dome), which means "temple of the mother". Standing in the middle of a beautiful garden, Matrimandir witnesses a large number of tourists every year. To go inside the temple, you need to get a pass in person at least 2-4 days in advance. Also, the booking counter is only open till 3PM so make sure to go there in time to get a booking. We reached at around 3:15 PM thinking it's open till 4PM and missed our chance to get a pass. Nonetheless, we did a 1 km hike to see the temple from outside and it was outstanding.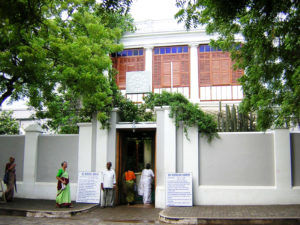 The Aurobindo Ashram is a spiritual community that is located in the French quarters of Pondicherry. The ashram has a beautiful display of exotic flowers and even ten minutes in this place can really help you quiet your mind and find peace.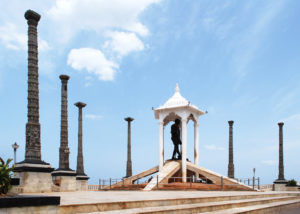 When I think of Pondicherry, a picture of the promenade along the Rock beach is what comes to my mind. Rock beach or Promenade beach is located in the heart of the city and is one of the top tourist attractions in Pondicherry. It is about a 1.2 km long stretch that starts from the War Memorial and ends at the Dupleix Park (after whom our hotel is named) on Goubert Avenue. Right in the middle of the promenade is the magnificent statue of Gandhiji. This four-meter high statue made of black stone is surrounded by 8 granite pillars, which were supposedly brought from a small fort near Pondicherry, Gingee. The space in front of the statue plays host to various cultural and musical activities throughout the year. The promenade is a no-vehicle zone from 5 in the evening to early morning, making it the perfect place to spend your evenings.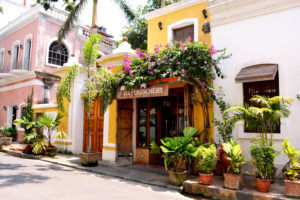 White Town is home to some of the cutest looking buildings and the whole place seems like it is stuck in a time. As the name suggests, this area was reserved for the white (French) people back in the day. It is a very well planned area and this is where you can find the bright yellow and white walls, arched gates lined with bougainvillea, and clean European-style streets. It is also home to some of the best restaurants and cafes in Pondi and taking a stroll through White Town is a must for any person visiting Pondicherry.
What We Ate?
Pondy is renowned for the good food that it offers and a lot of restaurants serve authentic French cuisine. During our weekend there, we tried to indulge in different kinds of food and here are the restaurants we tried out: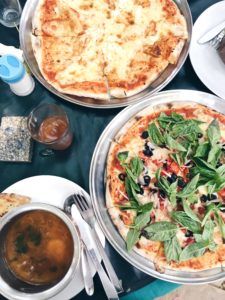 Tanto's is an Italian restaurant and pizzeria in Auroville that specializes in wood-fire pizzas. Their pizzas are some of the best you'll find in Pondicherry and the place is very affordable. They also serve soups, salads, pastas and seafood, and their iced tea is to die for.
As we were put up in Le Dupleix Hotel, we had two meals in their eponymous restaurant - dinner on our first night in Pondy and breakfast the day after. The restaurant offers both indoor (The Governor's Lounge) and outdoor (The Courtyard) seating. For dinner, we preferred dining outdoors under the stars and an old mango tree, enjoying the relaxing ambience and the live music. The restaurant is a little pricey but is definitely worth visiting to check out the beautiful and quaint hotel.
We had breakfast at The Governor's Lounge and though the spread wasn't very extensive, we had a lovely breakfast there.
Located at the end of the Promenade, GMT offers super authentic Italian style gelato in various flavors like melon, guava, pineapple and mango. I tried the melon ice cream and it was delightful. Also, these ice creams are apparently gluten-free, lactose-free and sucrose-free so that's another plus!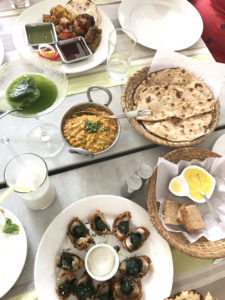 One of Pondy's hottest dining spots, Villa Shanti was the only restaurant we were very keen on visiting during our trip and it didn't disappoint. The high ceilings and the white courtyard make for a very pleasing sight and the restaurant was a gastronomic delight.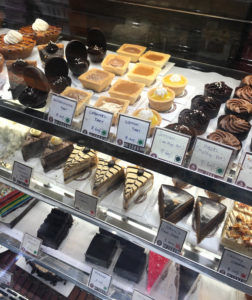 Zuka is the perfect destination for all chocolate lovers and everything over here is made of chocolate, including the life-size statue of Rajnikanth. While I'm not a big fan of chocolate, I did enjoy their brownies!
Where We Shopped?
Auroshika is a wellness store with an endless array of items like incense sticks, essential oils, scented candles and potpourri. What's amazing about this store is that you get the same things that you can buy at the Aurobindo ashram but they sell at a much cheaper price here.
Kalki is an exclusive retail unit of Auroville products in Pondicherry where you can find clothes, candles, oils, incense sticks, and footwear. All their products are made in eco-friendly manufacturing units but the store is a bit expensive.
Pondy is one of the best places to go street shopping and due to the lack of time, we only covered two spots but I think that was all we needed as we managed to do quite a bit of shopping. The first spot is right outside the Manakula Vinayagar Temple, where you'll find a ton of shops lining the street. The second spot was right outside Kalki, where I also picked up a bunch of stuff from. Be sure to put your bargaining skills to use while street shopping in Pondicherry.
Although we only spent a weekend in Pondicherry, it was an eventful trip and we managed to see, eat and shop quite a bit. I also vlogged during this trip and would love for you to check it out. Do subscribe to my YouTube channel for more such videos.
If you enjoyed reading this post, you could check out more of my travel posts.
Frequent searches leading to this page:-
pondicherry to mahabalipuram group tour cost, best time to visit pondicherry, pondicherry 2 days city tour packages, pondicherry 3 day family tour package, pondicherry solo travel guide, pondicherry beach travel trips, pondicherry tour from kolkata, pondicherry tourism guest room, pondicherry museum, pondicherry to mahabalipuram tour