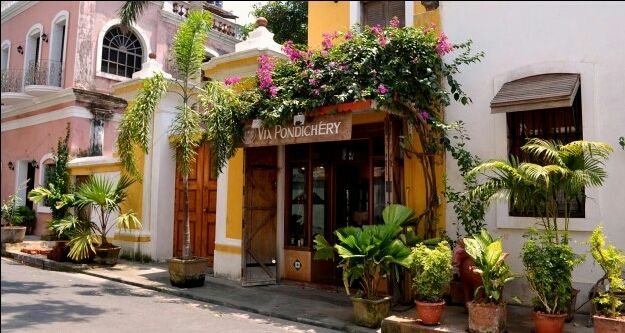 History. Culture. Art. That is what Pondicherry is all about.
For a long time I wondered, what was all the hype about? All I knew was that there were some strangely colourful buildings along its coastline that was its trademark. But one long weekend in this rich, colourful city and what I figured out was this - It is the New Orleans of the East! New Orleans is world famous for its french quarters; people from all around the globe flock to experience its french tradition and culture. And now, Pondicherry is too!
Usually frequented by visitors from southern India, Pondicherry is now rapidly gaining reputation as an exotic travel destination for people from all over the country. It is "exotic" because it was a french colony too and as people are becoming more aware of it, they are getting more curious to explore this quaint little town.
Exploring The City -
So I decided, the very first thing I want to do in Pondicherry was to learn all about it! So this is what I did -
Activity - Heritage Trail
Time taken - 1.5 hours
Cost - Rs. 1500 (for a group of 3 people)
About Intach - The Indian National Trust for Art and Cultural Heritage (INTACH) is India's National Trust for the conservation of India's unprotected heritage. It's vision is to create heritage awareness and conservation in India in the image of much older National Trusts of other nations. It is today the largest membership organization in the country dedicated to conservation.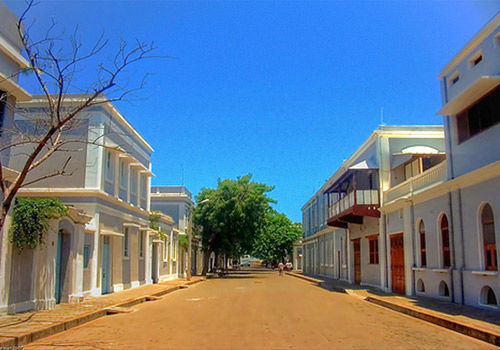 About the Heritage Walk - Pondicherry has two distinct parts - the French and the Tamil. The French quarter has structures in the classical European style whereas the Tamil quarter has structures in the vernacular style of Tamil Nadu. Both these quarters are systematically divided by a canal. To experience the spirit of Pondicherry, it is essential to walk through the old town and observe its architectural traditions.
My Experience -
There was something very warm and welcoming about Intach when I made my way through Aurobindo Street. I had only vaguely heard that they had designed a customised DIY (do it yourself) heritage walk for which they also provide a guided tour. We were arranged to meet our guide, Mr. Ashok Panda whom we spent the next 1.5 hours with.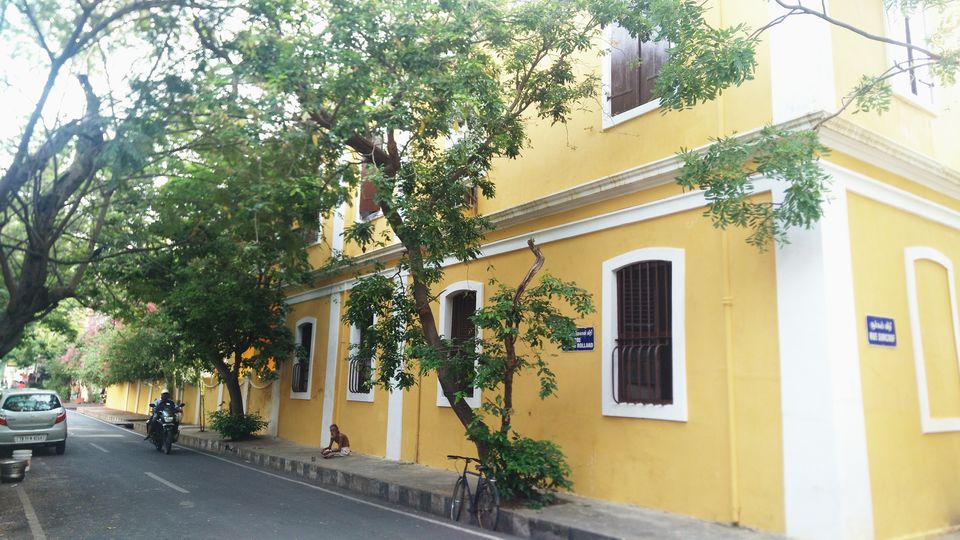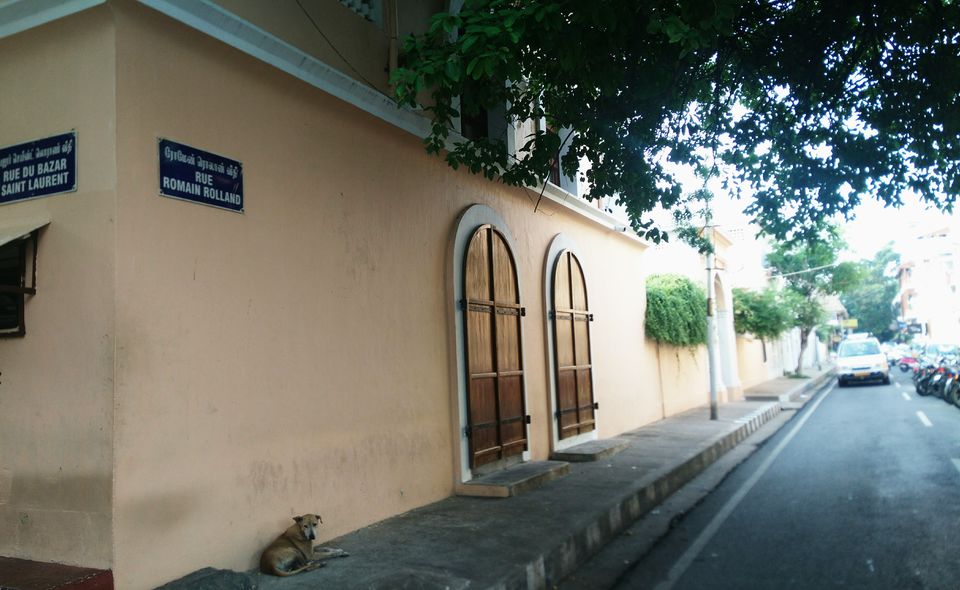 We walked around the french quarters and drove through the tamil quarters. Mr. Ashok was extremely knowledgable; he showed us some very old photographs and maps of Pondicherry which is on display at Intach and he told us that the heritage walk would be all about the history, culture and architecture. We were not disappointed in the least. Highly recommend this to people visiting Pondicherry for the 1st time.
Highlights of the walk -
1. Learn about Pondicherry's history - how it went from being a small fishing village on the east coast of India to being a french settlement with continuous power struggle between the French and the English, with the French finally acquiring the town in 1815 until 1954, when they willingly gave Pondicherry to Independent India.
2. Learn how french style of architecture is different from the Indian one. (I swear I can now recite the basics of french architecture without a second thought!)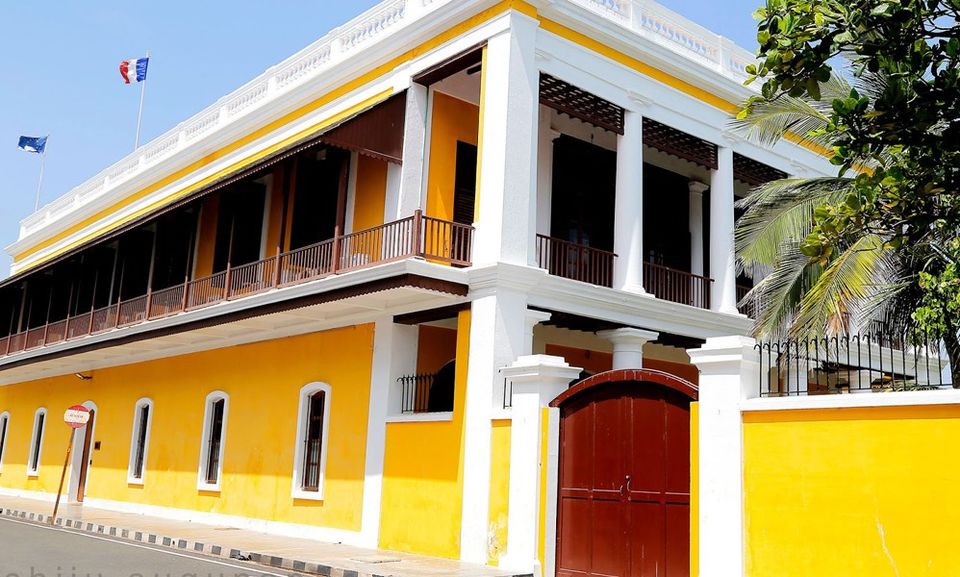 3. See some very beautiful buildings that were restored by Intach such as - Hotel De L'Orient owned by the Neemrana hotel group, another popular hotel called Le Dupleix, a beautiful 160 year old church called Eglise de Notre Dame des Anges, the French Consulate and both schools of Alliance Francaise that are stunning!
4. Get educated on the present scenario of Pondicherry's architecture and how it is now being protected by private initiatives only and the unsystematic growth of construction in the recent years.
5. Even see a project halfway through construction! (I was lucky enough to see a half restored residential french house and the materials being used for the same).
The Gastronomy Experience -
Food is Art! And a lot has been said about food in Pondicherry. The culture of Pondicherry is a beautiful medley of Indian with French. One can explore plenty South Indian restaurants and Bakeries serving french delicacies some of which are as follows-
Head to this place for some hands-on experience of traditional south-indian food! They have a wide range of veg. dishes and unlimited thalis for so less that I felt I practically made money on it! (Recommended - lunch thalis)
This place is situated inside a beautifully restored courtyard style french property. It is beautiful at night with dim lights and candles lit all over the place. It has an open, breezy feel to it, perfect for a casual candlelight dinner. It serves a delicious fusion of french and tamil food and has some interesting items on the menu. (Recommended - creole soup and curries)
Highly recommend all freshly baked takeaway items from their bakery. (Recommended - freshly baked croissant with butter and freshly made jam)
Some other places to visit -
Disdis & Co - Cool, happening and a cozy place to hang out near the Promenade with good, tasty food. Serves both Indian and continental cuisines. Comes alive in the evenings with music and romantic lighting all over the place.
Le Cafe - Grab a quick coffee and some titbits in this heritage building overlooking the Bay on the Promenade (it was a former port office during the french rule).
Bread & Chocolate - Another bakery serving delicious items in Auroville.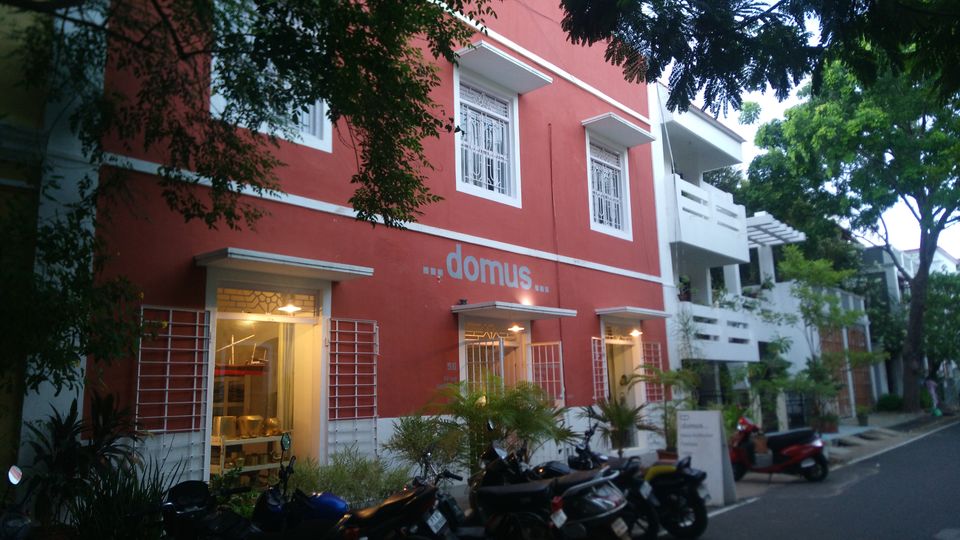 Cafe Domus - If you're looking for something healthy and diet friendly then don't hesitate to head to this place on Suffren St. They even have a boutique store inside their beautifully restored french house cum cafe.
GMT Ice-creams - Take a lovely stroll on the Promenade and stop for some ice-cream at this gelateria serving unique flavours of ice-creams.
The Religious Experience -
Pondicherry has become an important destination for spiritual seekers as well as tourists. The main Ashram is another heritage building surrounding a tree-shaded courtyard, at the centre of which lies the flower-covered "Samadhi". This white marble shrine holds, in two separate chambers, the physical remains of Sri Aurobindo and the Mother (earlier known as Mirra Alfassa). Thousands of visitors from all over the world come to the ashram.
Prior booking for meditations is mandatory (except on birthdays, one can just visit without prior notice).
The Matrimandir (Sanskrit for Temple of The Mother) is an edifice of spiritual significance for yoga practitioners situated at the centre of Auroville initiated by The Mother of the Sri Aurobindo Ashram.
The edifice is something of a wonder and an art in itself. It took 37 years to build and has a specific model for its structure. Visitors are allowed without prior permission and for free to the viewing point of the Matrimandir where they are shown a video on the formation and history of the Matrimandir after which they can either walk till the viewpoint or take a shuttle.
However, visits to the inner chamber for meditation requires prior permission.
Other touristy things to do in Pondicherry -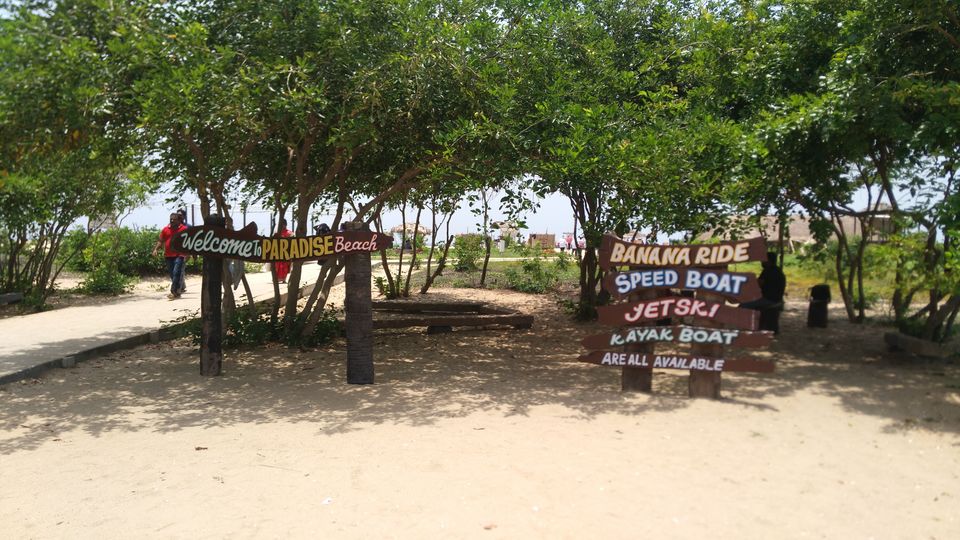 1. Have a beach day - Heading to Paradise island is a absolute must if you enjoy clear white sand and swimming in the sea. You can reach this island by a boat from the Chunnambar Boat House.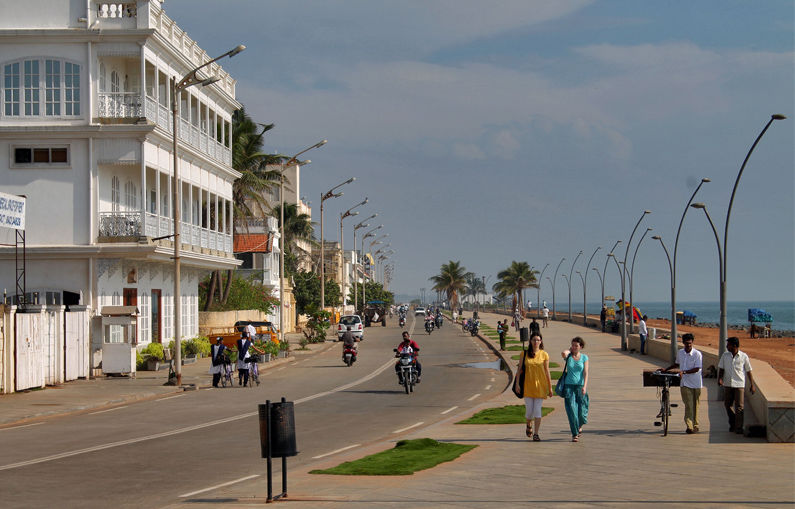 2. Stroll on the Promenade (a.k.a Goubert Avenue) housing the statues of Mahatma Gandhi on one end and the French Governor Dupleix on the other end.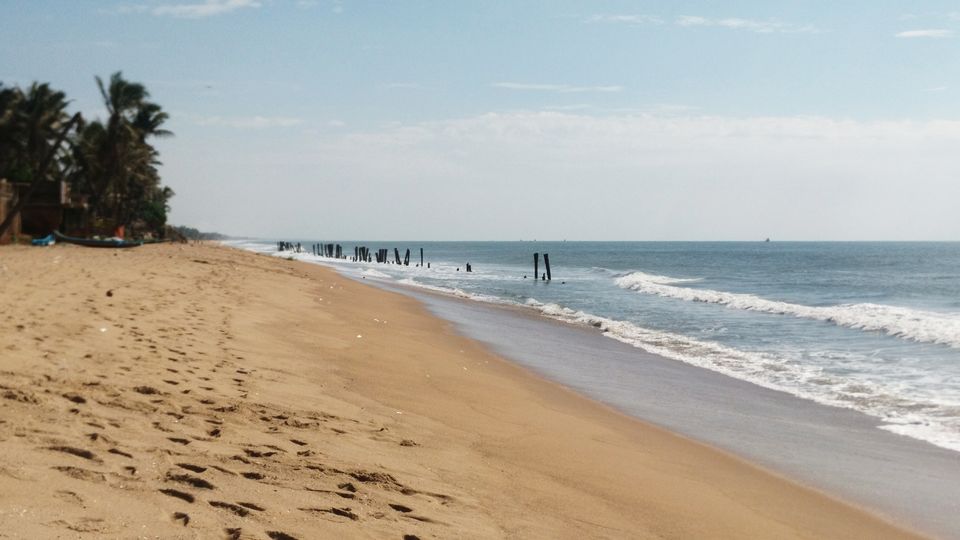 3. Spend a morning with the fishermen - At Auroville beach, pick a spot and observe the local fishermen prepare for their daily morning hustle.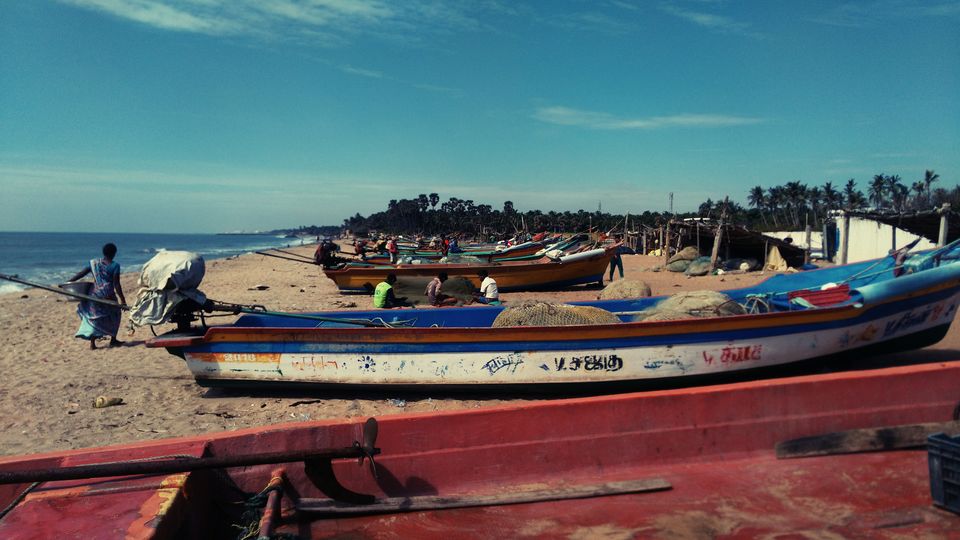 4. Learn to surf - Learn surfing for cheap at Kallialay Surf School at Serenity beach.
5. Shopping - Head to Casablanca for some authentic items from Pondy and Auroville.
6. Take a day trip to Mahabalipuram - See the majestic cave temples and the shore temple on Mahabalipuram beach. Explore and shop for stone sculptures unique to this area.