Beer, bridges, hipsters, bikes, veganism…some of the many things one associates with Portland. Of course, the city's also famous for being the headquarters of the globally known brand Nike. Fun walks, activities and shopping…All this and much more makes Portland a lovely stop for a weekend break while in the west coast of the US.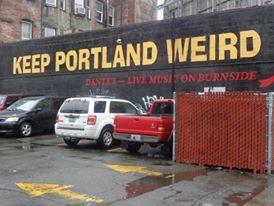 How to reach: Multiple airlines fly directly to Portland from India—United, Delta, American Airlines, Etihad, All Nippon, etc. You could also book a cheap domestic flight from any other US city. Portland is also conveniently well-connected to nearby cities in the Pacific Northwest (Seattle, Los Angeles, San Francisco, etc.) by the Amtrak Cascades train. You can also reach Portland from most American cities via the reliable local Greyhound bus service.
Trip duration: When I was travelling in this part of the world, I had just about a weekend to spare—but with the help of friends who live in the city and the super tips they gave me on what to see, eat and do, I was able to maximize my visit. Moreover, the city is small, and so everything is close by—making it much easier to see.
Transport tip: The city's public transportation system is very well connected and user-friendly. All visitors need to do is purchase a day pass that's valid for use on all city buses, MAX (TriMet), WES as well as Streetcars.
The Amtrak train got me smoothly to Union station, located in the heart of the city. One of the first places I went to as soon as I reached the Portland train station was to Voodoo Doughnut. An independent shop that's open 24 hours a day, it's known for its unusual doughnuts and iconic pink boxes featuring the company logo and illustrations of voodoo priests. The shop accepts only payments in cash and its tagline aptly reads "The Magic is in the Hole."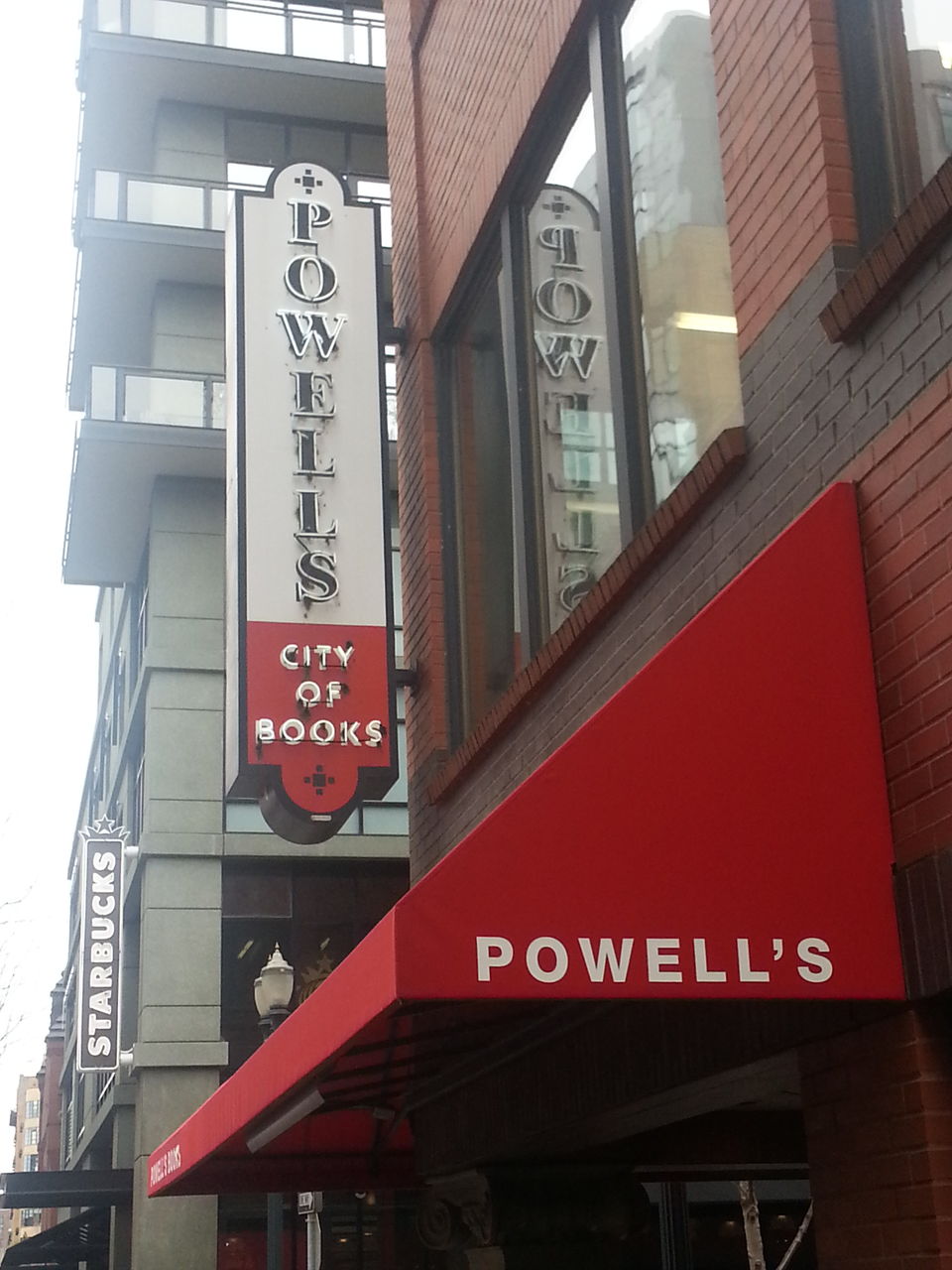 Next, I headed to another famous city landmark, Powell's City of Books. Located in Pearl District, it claims to be the largest independent new and used bookstore in the world. Housed within four different floors, the multi-level store is a maze of new and used books and other little knick-knacks.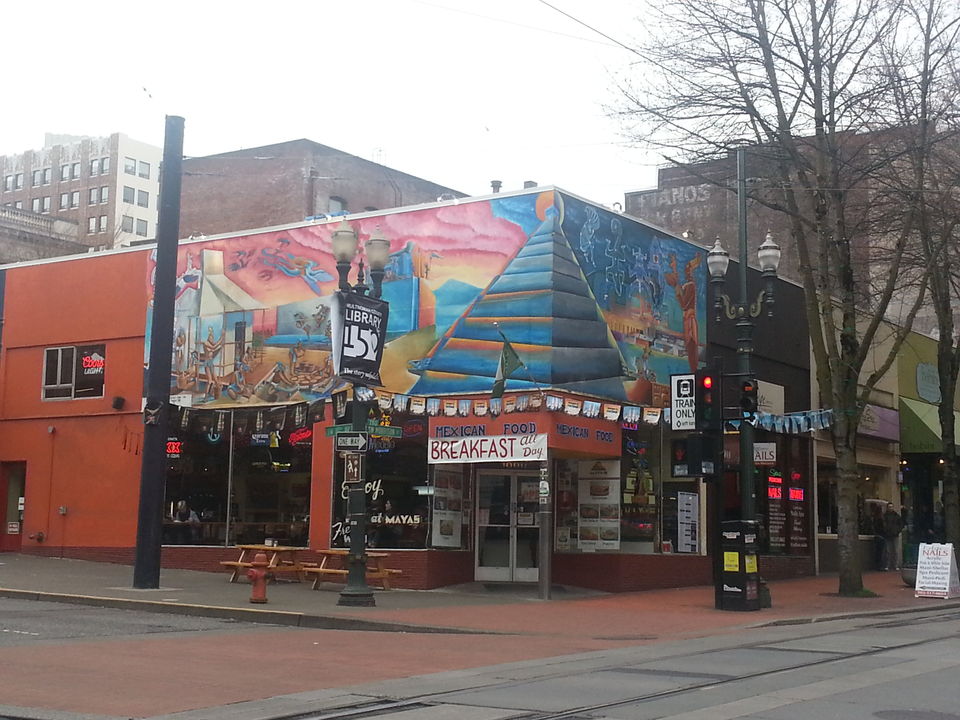 Eating out: Portland has a number of interesting food cart pods spread all across the city. Offering diverse cuisines ranging from Mediterranean, Ethiopian, Greek, Korean, Lebanese, Mexican, Thai, Eastern European, Italian, Japanese, and Indian—it's the best way to experience the flavours of this fun city!
Some of the other really good eateries to try out in town (if you like experimenting with Thai and Mexican ciuisine) are Pok Pok and Por Que No.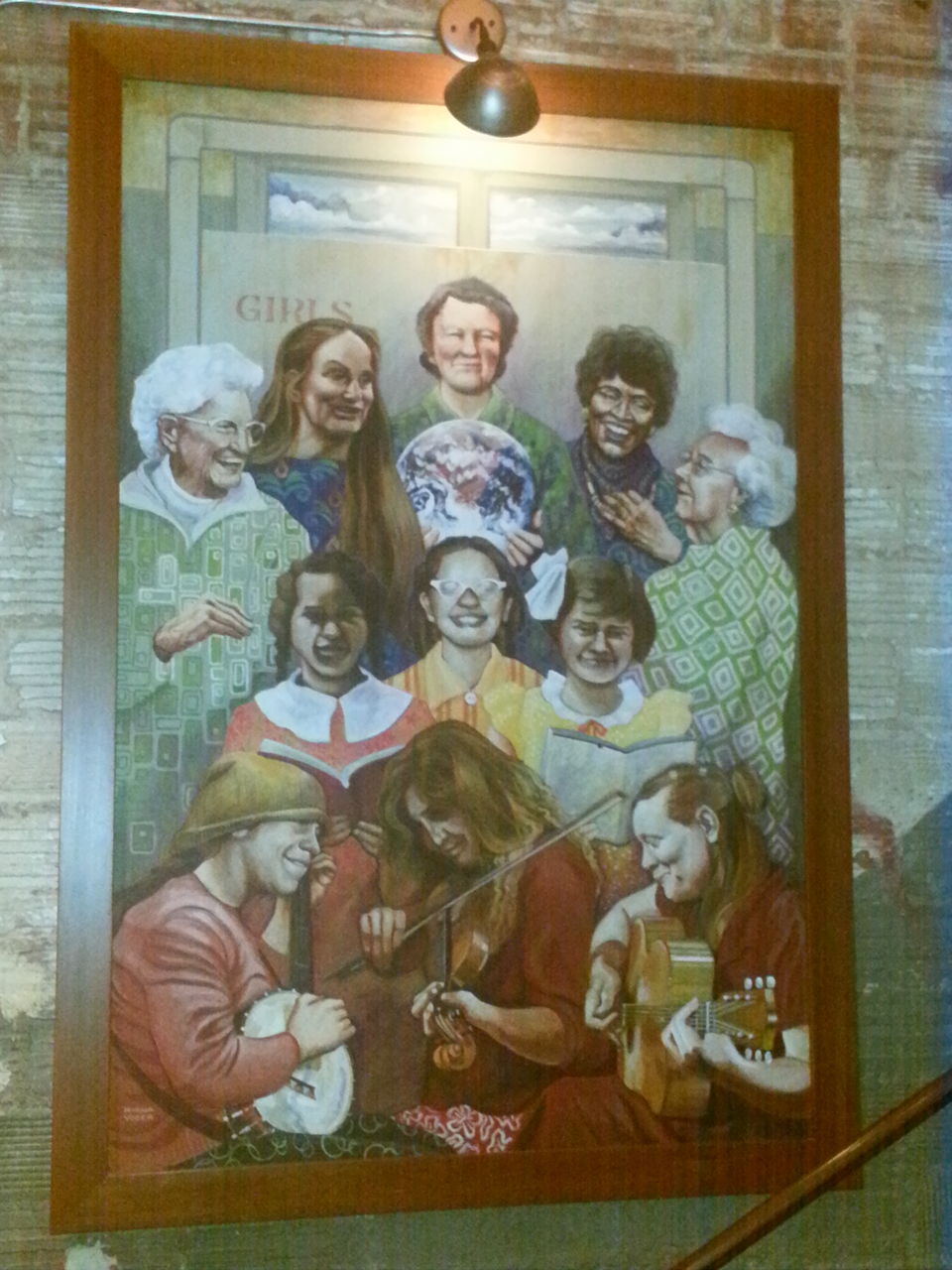 In the evening, my friends took me out for what turned out to be another interesting experience in the city, a movie brewpub. The one we went to was called McMenamins Kennedy School. Situated in the Northeast neighborhood, it is essentially an old school building complete with heritage décor and former classrooms, library, auditorium, and gymnasium. Almost a century later, the rooms have now all been converted into restaurants, bars with pool tables, a movie theatre, brewery and heated swimming pool. It serves as a unique backdrop for an evening out with family or friends. The building also offers rooms for lodging, and guests can check in and rent rooms for days.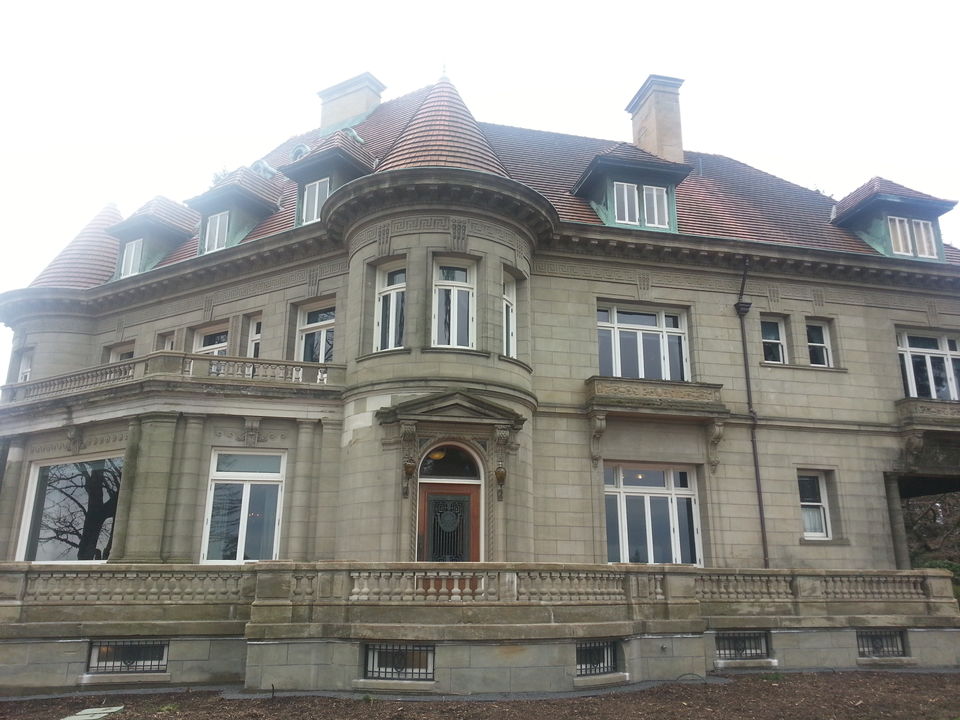 The next morning, we ventured out to explore the heritage of the city. The first place we went to was the French Renaissance-style château called Pittock Mansion. Belonging to the family that owned The Oregonian newspaper, the house which was built in 1914 creatively incorporates English, French and Turkish designs. It also features several progressive inventions such as a central vacuum system, intercoms, an elevator and indirect lighting that were in use almost a century ago.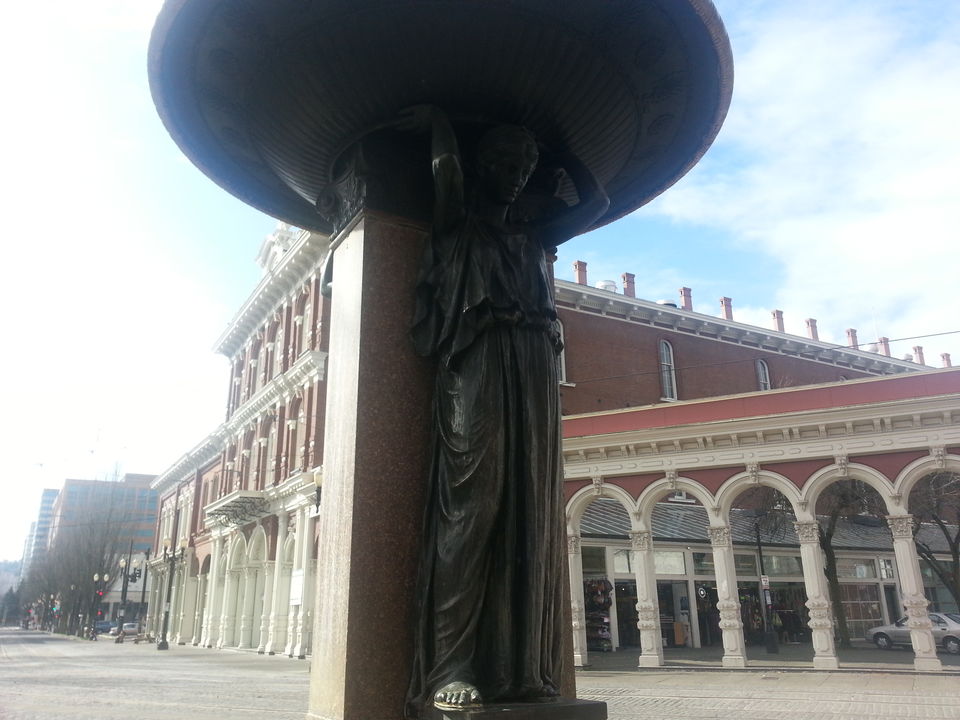 Next, we walked around some of the city's other interesting little neighborhoods. The Portlandia Statue in Downtown is a famous city landmark. The Old Town in the Northwest part of the city was also a pretty area to walk around with lots of quaint little shops.
Portland has some quirky neighborhoods with some of most eclectic vintage shops I've ever seen. To experience some of the artistic counter-culture, we headed to Alberta Street in the Northeast area.
Here, we had lunch at an interesting Indian restaurant with a complete dhaba-like feel, called Bollywood Theater.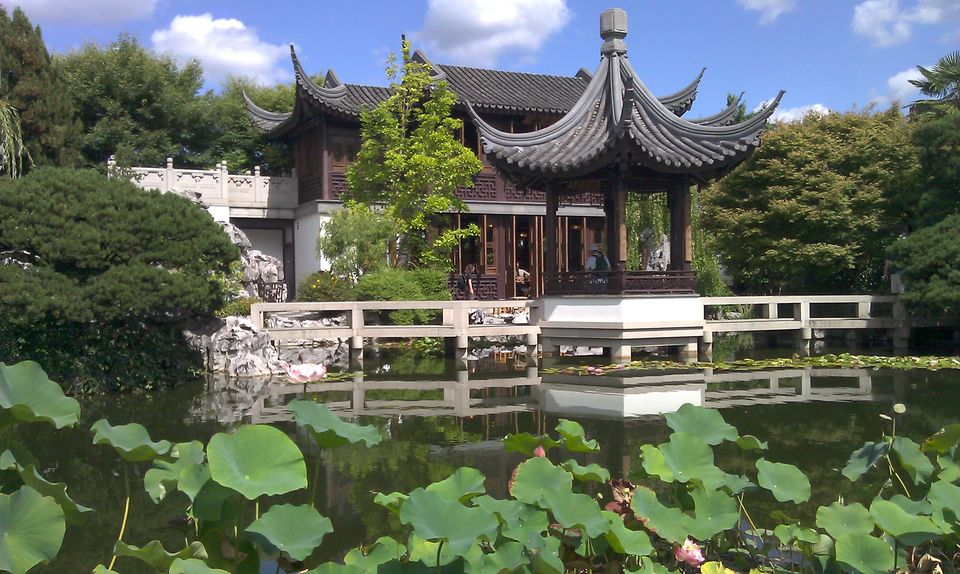 We next went to Old Town Chinatown in the same area, which has some interesting Chinese shops and restaurants. It also houses the beautiful Lan Su Chinese Garden. One of Portland's greatest treasures, it is like a window into Chinese culture, history and way of thinking. It is also the most authentic Chinese garden outside of China. The garden has its very own teahouse called The Tao of Tea, where we gorged on a variety of soothing teas and snacks while gazing at the magical garden.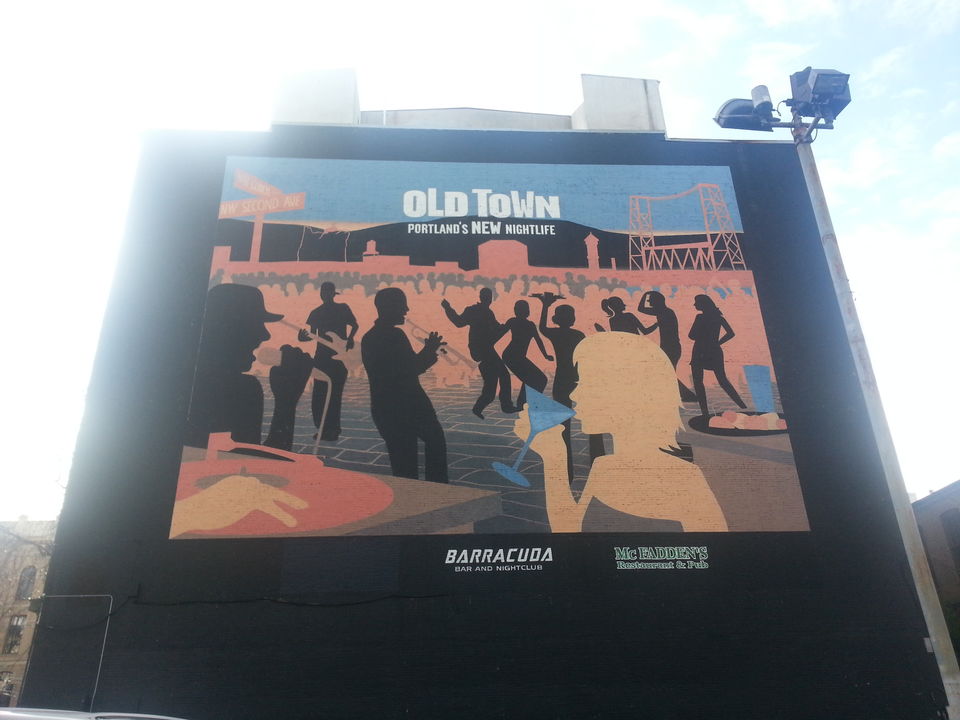 The nightlife in Portland is great fun. With a number of hip bars, bustling strip clubs and live music venues, people here are always up for a good time. Barrel Room proved to be a great address as we were looking forward to a night of dancing. Located in the heart of the city's entertainment district, it offered the largest outdoor dance space in all of Portland.
That evening, we also had some of the delicious freshly made salted caramel ice cream at one of the city's famous joints called Salt & Straw—an absolute must-do for anyone who goes to Portland!
The next morning, I headed to the train station once again, preparing to say goodbye to the charming little city of Portland.

Sightseeing tip: If you're in the city during the summer months on a Saturday, make sure you go see the beautiful Saturday market.
Shopping tip: Portland is known for offering zero sales tax, a reason that gets many people here to shop.