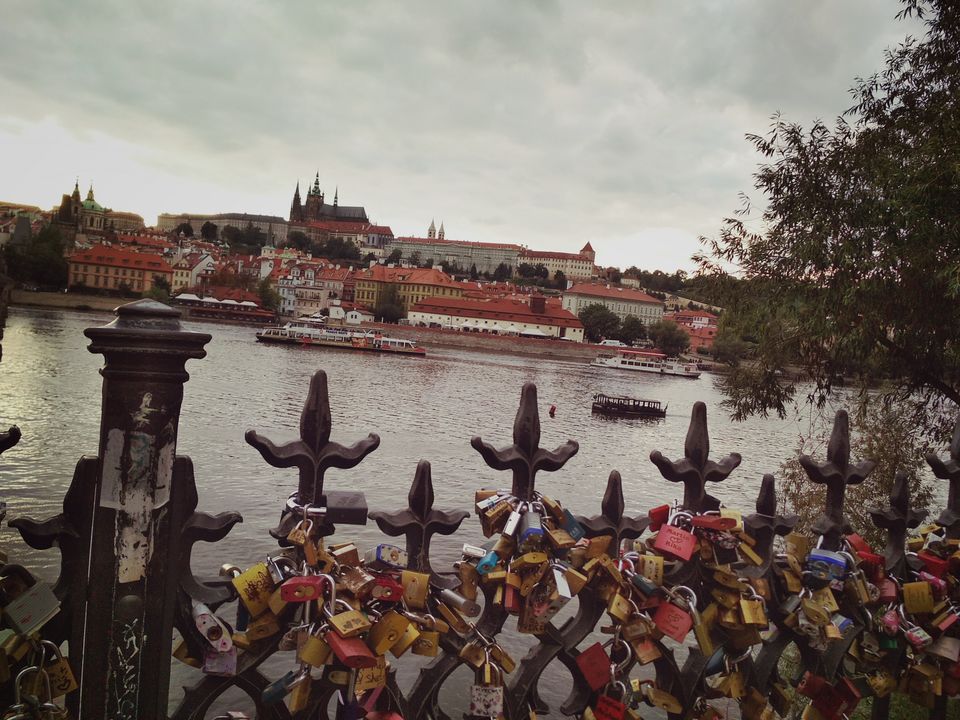 This Travelogue is in continuation to following travelogues wherein Salzburg, Hallstatt, Innsbruck, Budapest and Vienna have been covered as part of 9-day trip to Eastern Europe.

We had booked our accommodation through Airbnb. Our apartment was located at Stepanska Street, just off the Wenceslas Square. It was at walking distance from both Railway station and old town square. Wenceslas Square has many restaurants, cafes, showrooms of top brands and nightclubs lined along its main avenue. It has historical and political relevance in Prague. On the day of our arrival, a grand and colorful LBGT rally was on procession.
We had lunch at Café Boulevard in Wenceslas square. Average food. Infact most of the restaurants located along main avenues of Wenceslas and Old town squares do not offer tasty food, plus they are very touristy and expensive. To have authentic local cuisine visit restaurants located in bylanes. One such place was café Milani, situated right behind Footlocker showroom at Wenceslas.
Day 1:
Post having lunch we went back to our Airbnb apartment, freshened up and slept. In evening, we went for leisure walk around Old town square and Charles bridge. Enroute we came across this farmer market which goes on till 6-7 PM daily. You will find fresh fruits, magnets, souvenirs and other local things at very reasonable prices. Metro/tram stop of Old town square is called Staromestska.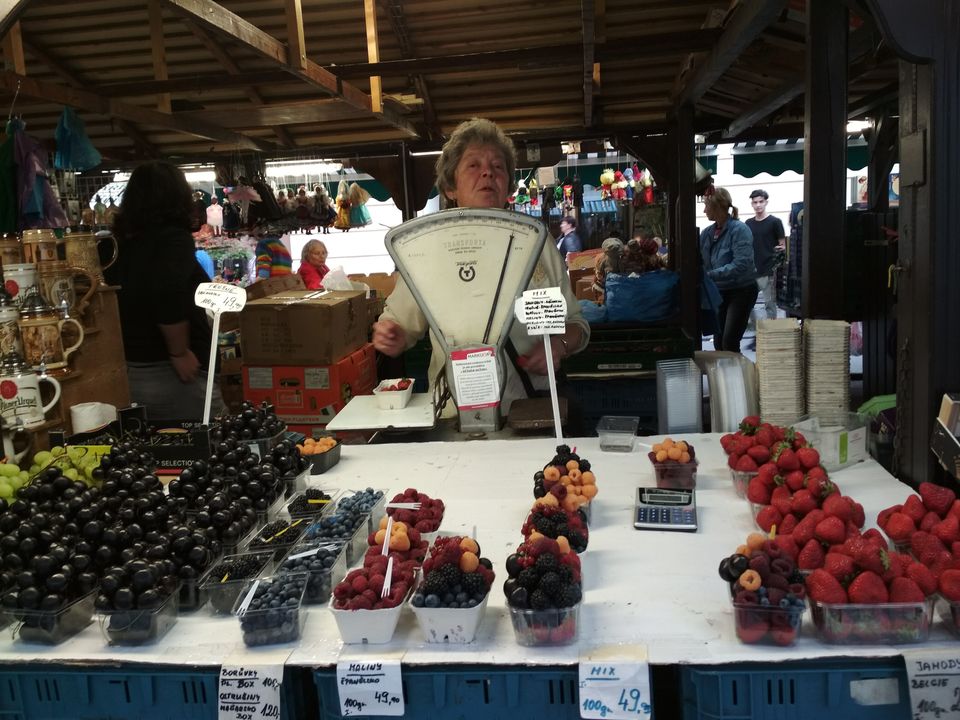 Day 2:
We had breakfast at Starbucks and straight away rushed towards Sky Service tandem jump's office located in Old town square. Yes! We were going to sky dive today! Make sure to book an early morning slot otherwise almost entire day will be gone in Sky diving. Also, reach their office atleast half an hour before your time slot so as to complete the initial formalities otherwise you will be sent in next slot and others will be preferred over you. They are very time punctual!! We booked our package on their website atleast a month before and paid half of the amount.
For skydiving you will be transported to a small town located outside Prague. It's a 1.5-hour journey. Enjoy the scenic countryside views of Czech enroute! Bring along some snacks or lunch. The whole experience was absolutely out of the world and full on adventurous. If you are prone to motion sickness then do not forget to bring suitable pills along as you might feel dizzy or vomit post diving.
With every skydive package taken from this company you get to choose one complimentary offer from Hop on Hop off coupons, pub crawl passes or some restaurant's food coupons. We chose HOHO coupons since we had already booked Pub crawl tickets.
Well, to board a HOHO bus you will first need to redeem these coupons for tickets which can be done from a company specific HOHO bus ticket counter only and not just any kiosk located in Wencelas square (there are a few companies running their own HOHO buses and tours). Finally, on getting our tickets post much struggle, we hopped on to one such bus. But we did not find it much useful. Buses are not open therefore you are not able to see most of the places being talked about on audio guide.
Post covering New town (Prominent places in New town are Wenceslas Square, The National Museum which was getting renovated, Jan Palach Memorial Cross, The Beer Factory and The Dancing House – overly hyped place) in HOHO bus, we got off at Malastrana (Little Quarter). It is nestled underneath the Prague castle, on one of the ends of Charles Bridge, opposite Old Town Square. Its cobblestone streets are lined with picturesque buildings, restaurants, cafes and churches. It's busy square is always bustling with people. Its metro/tram stop is called Malostranska.
We visited St. Nicholas Cathedral, small beautiful church in Malastrana. While walking towards old town square we accidentally stumbled upon Wallenstein Palace Gardens. The grounds are peaceful and well maintained. I saw white peacocks for the first time in my life wandering around freely.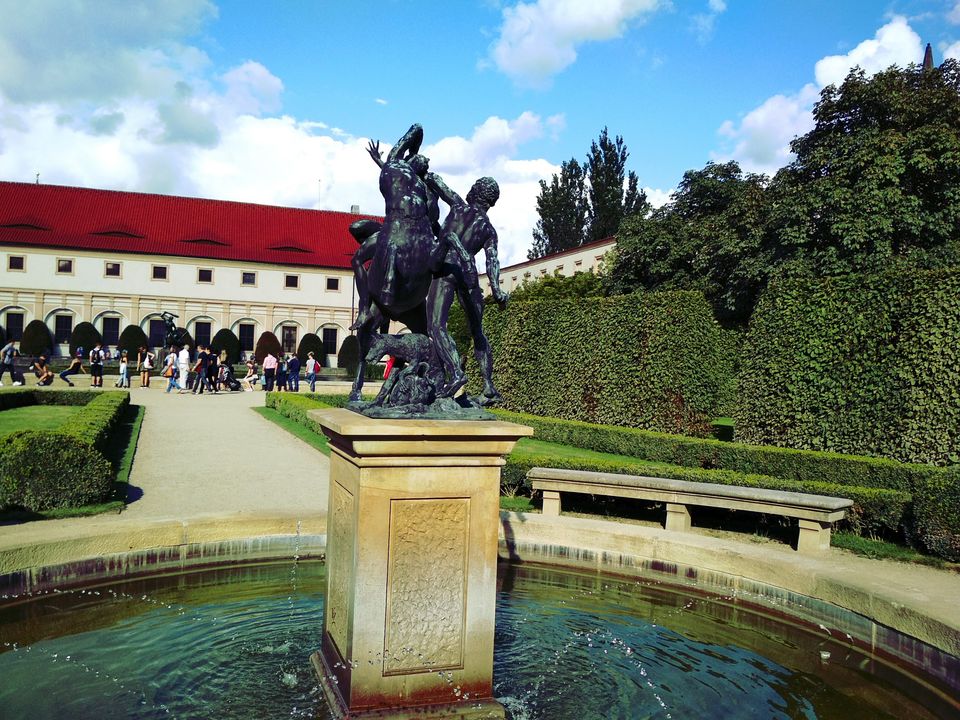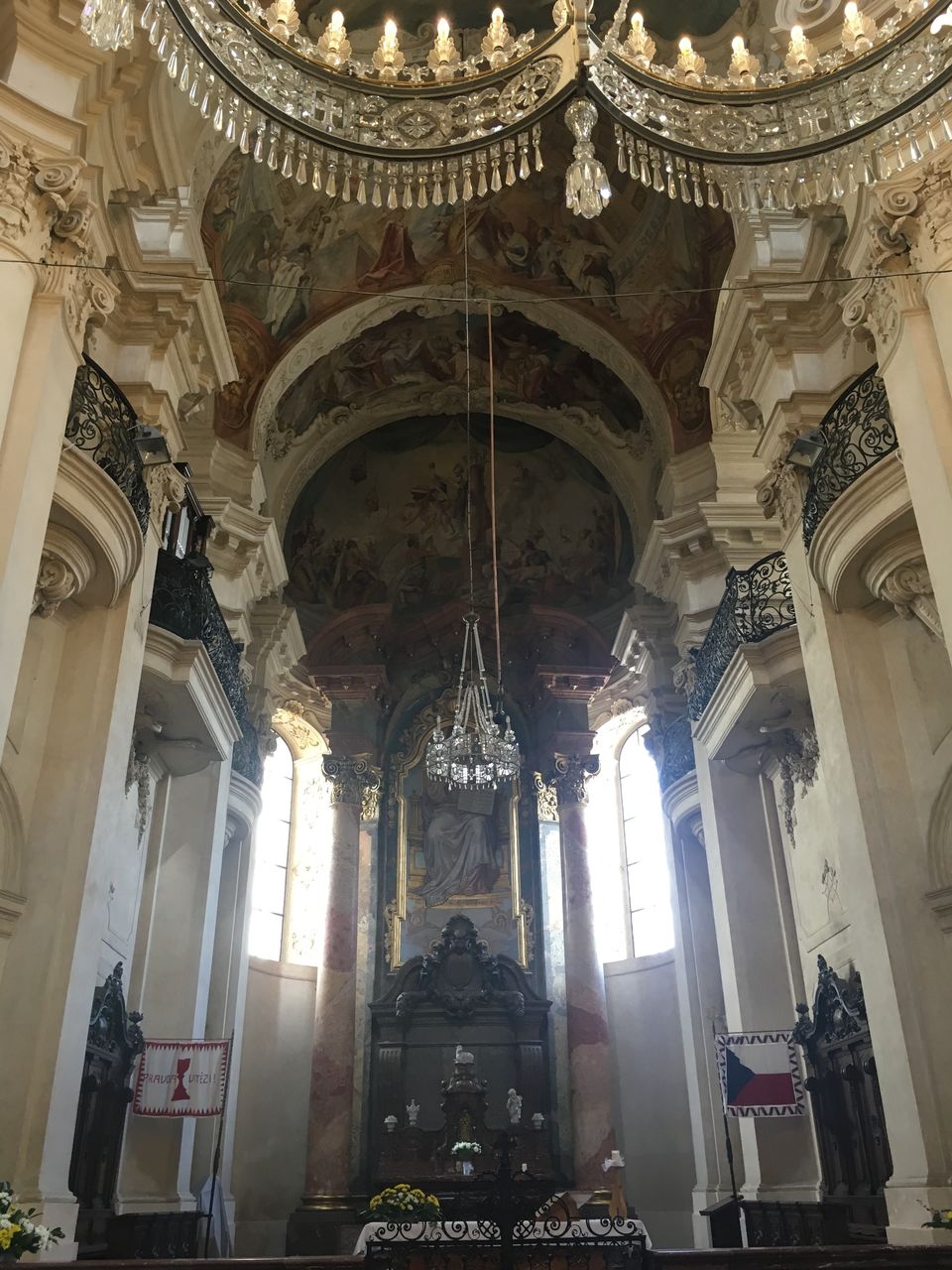 Day 3:
Our 1st stop of the day was Prague castle. Bought 30 min ticket and took metro from Mustek to Malostranska and tram 22 further to Prazsky hrad (Czeck for Prague castle). The metro/tram stop is just infront of entrance to Castle. It is the easiest way to reach here. Be at Castle's entrance maximum by 9 AM to avoid long queues for security check and maddening crowds. Castle District consists of St. Vitus Cathedral, St. George's Basilica, Rosenberg palace, Golden Lane, Royal palace where president still resides sometimes, Lobkowicz Palace, vineyards and South gardens. Access to castle district is free of cost, therefore we did not feel any need to buy tickets unless you want to see above mentioned churches, palaces (which are actually museums now and towers from inside). Entry to Golden Lane is free post 5 PM. It is a long sloping cobblestone pathway lined with tiny, charming and colorful dwellings. It has been preserved in its original form and not to be missed at all! Tickets are priced at 250 CZK onwards. St. Vitus Cathedral is accessible till certain point without tickets. Its architecture is magnificent. It has beautiful stained glasses inside and wonderful Gothic appearance outside which I felt is more admiring.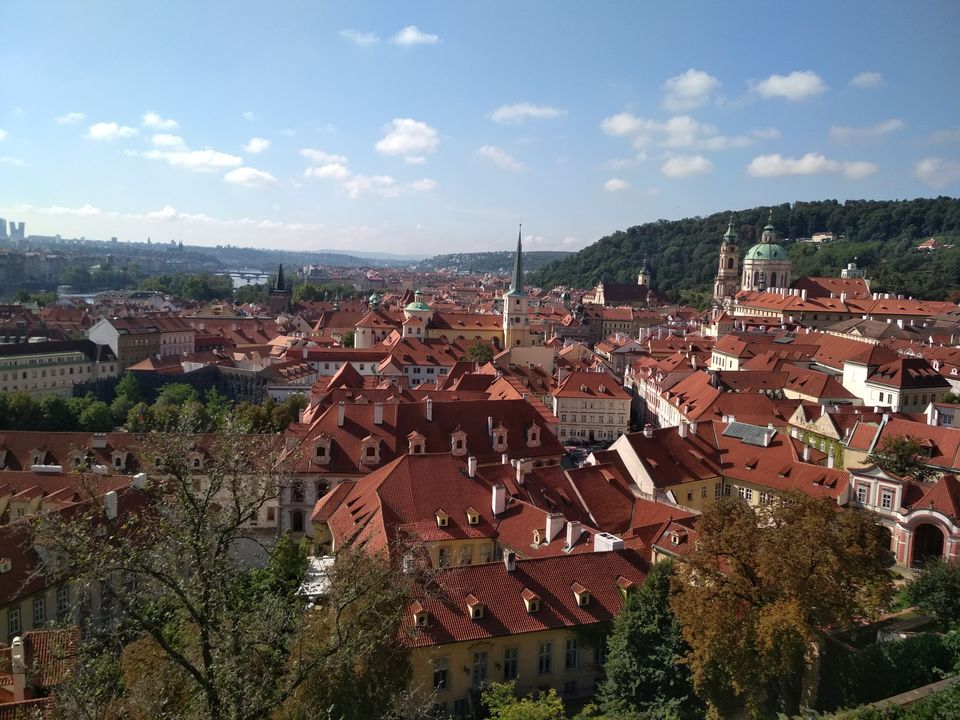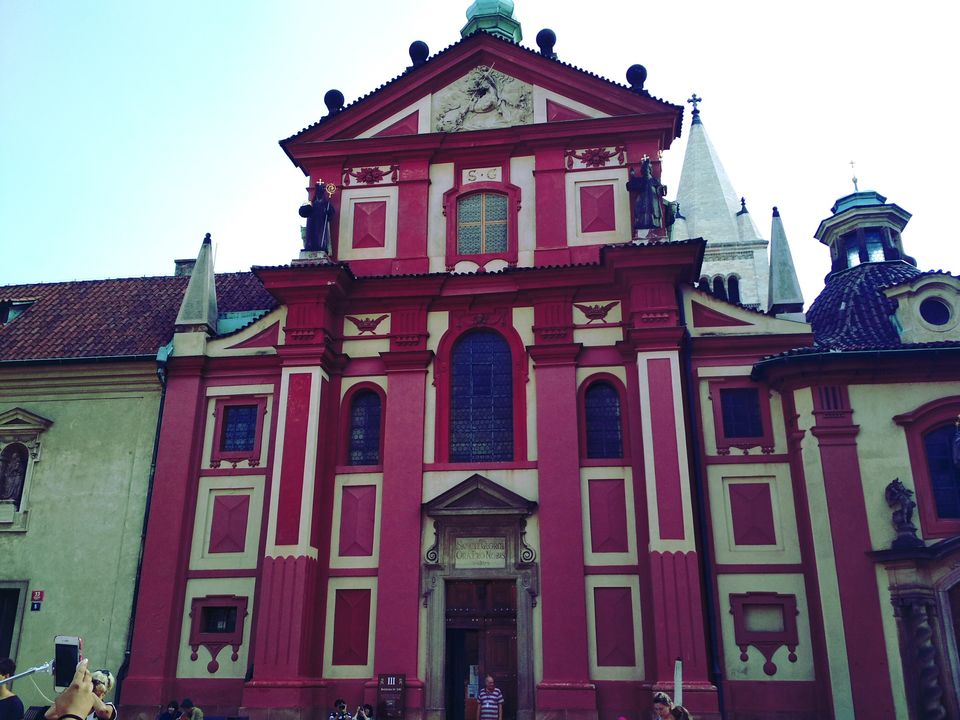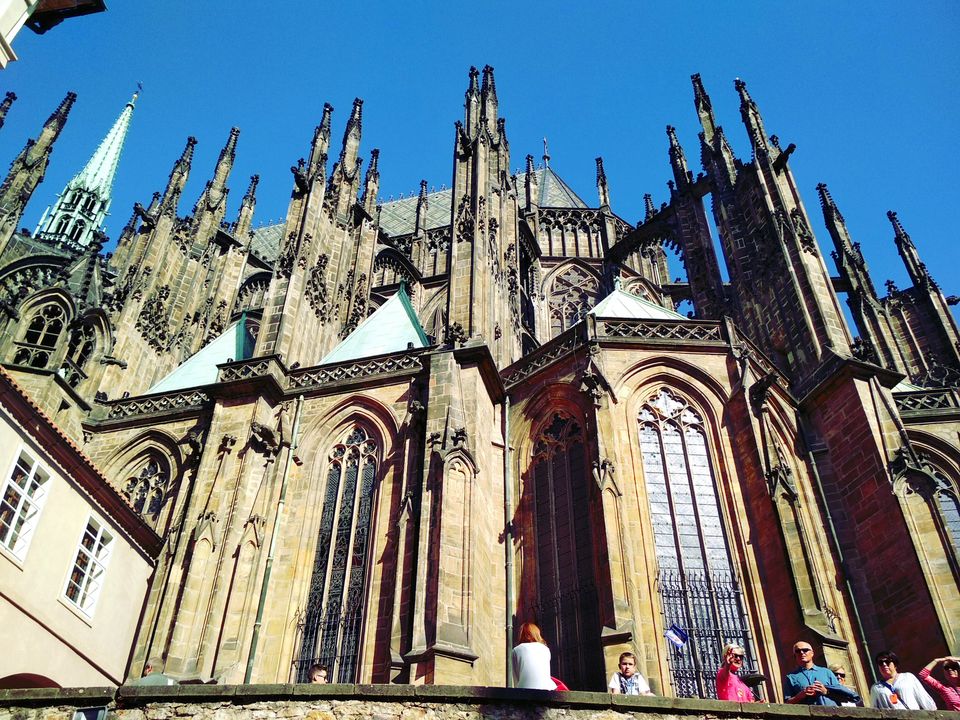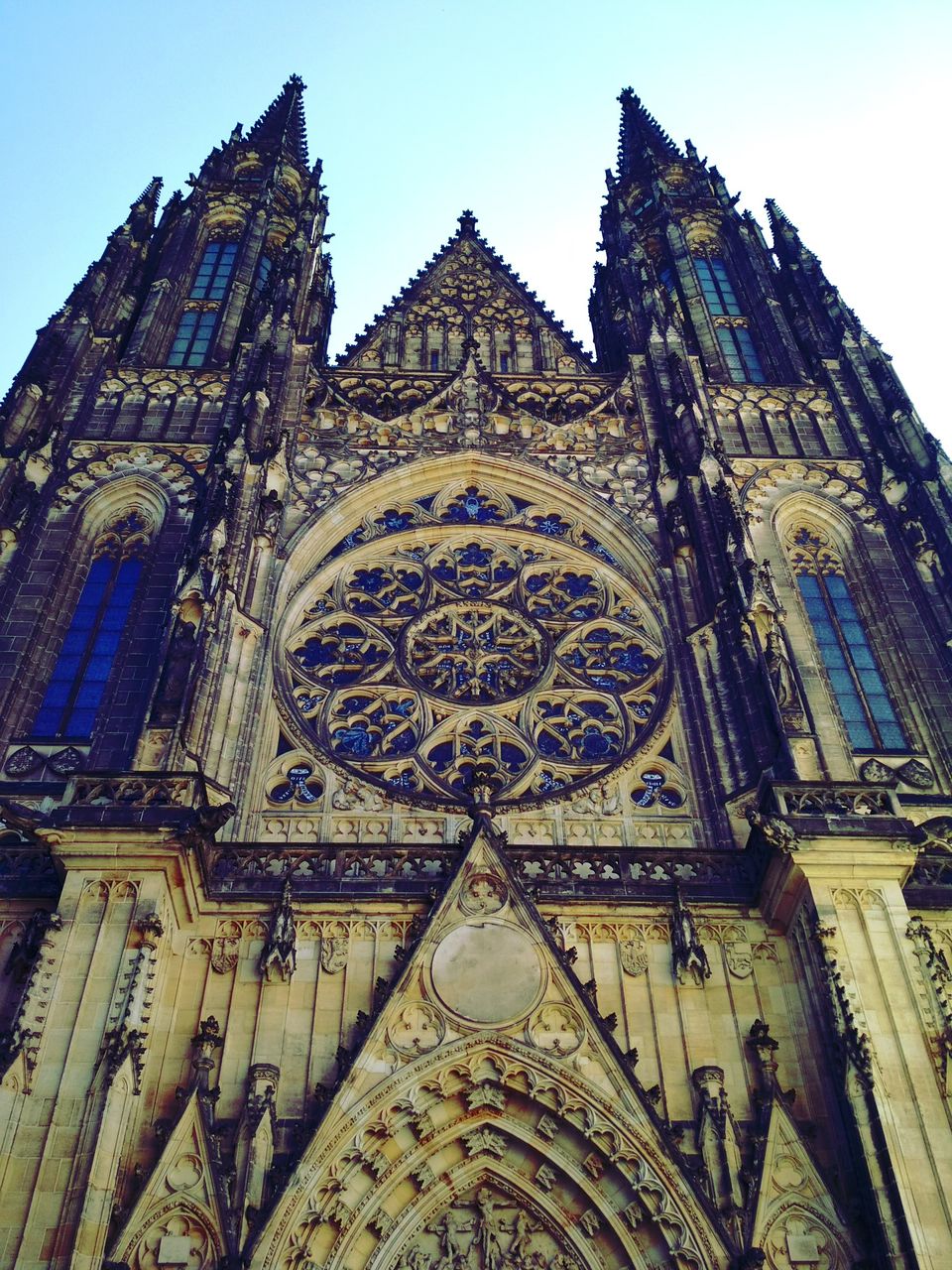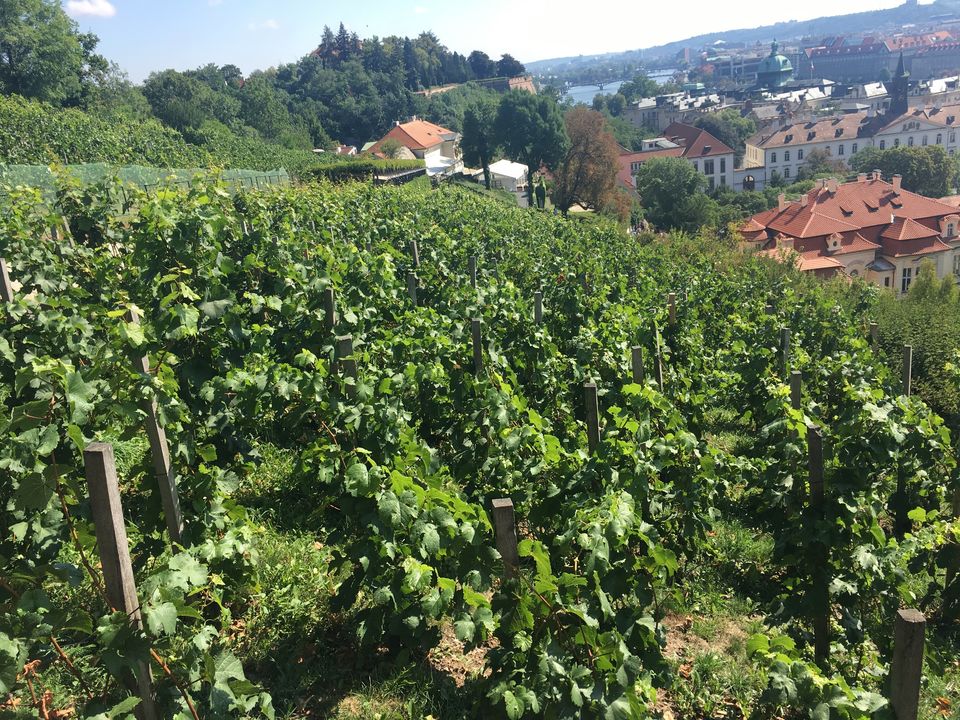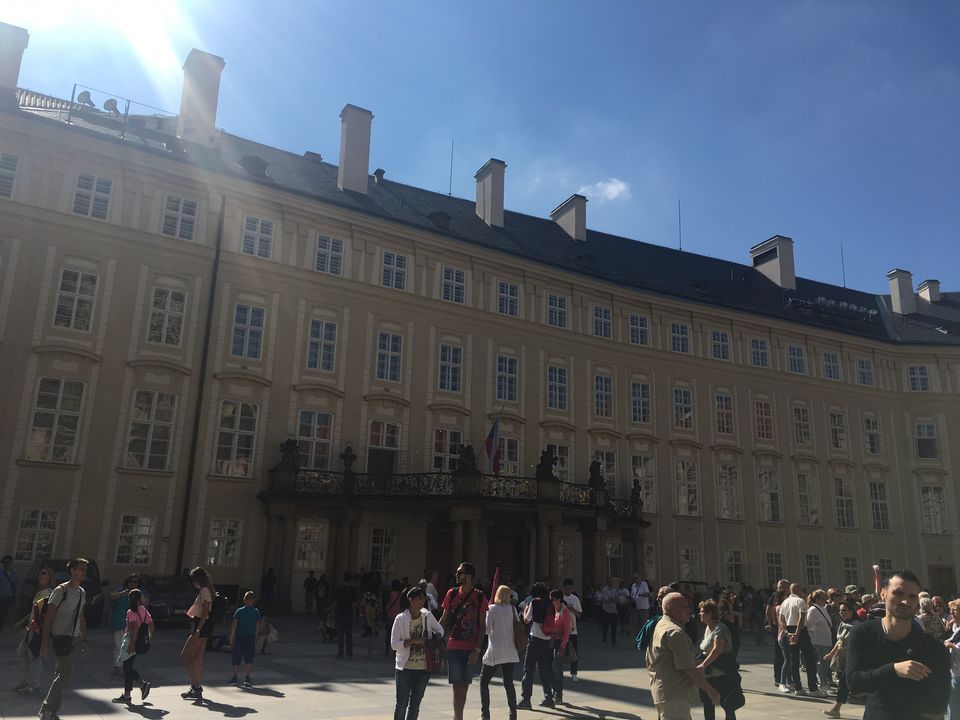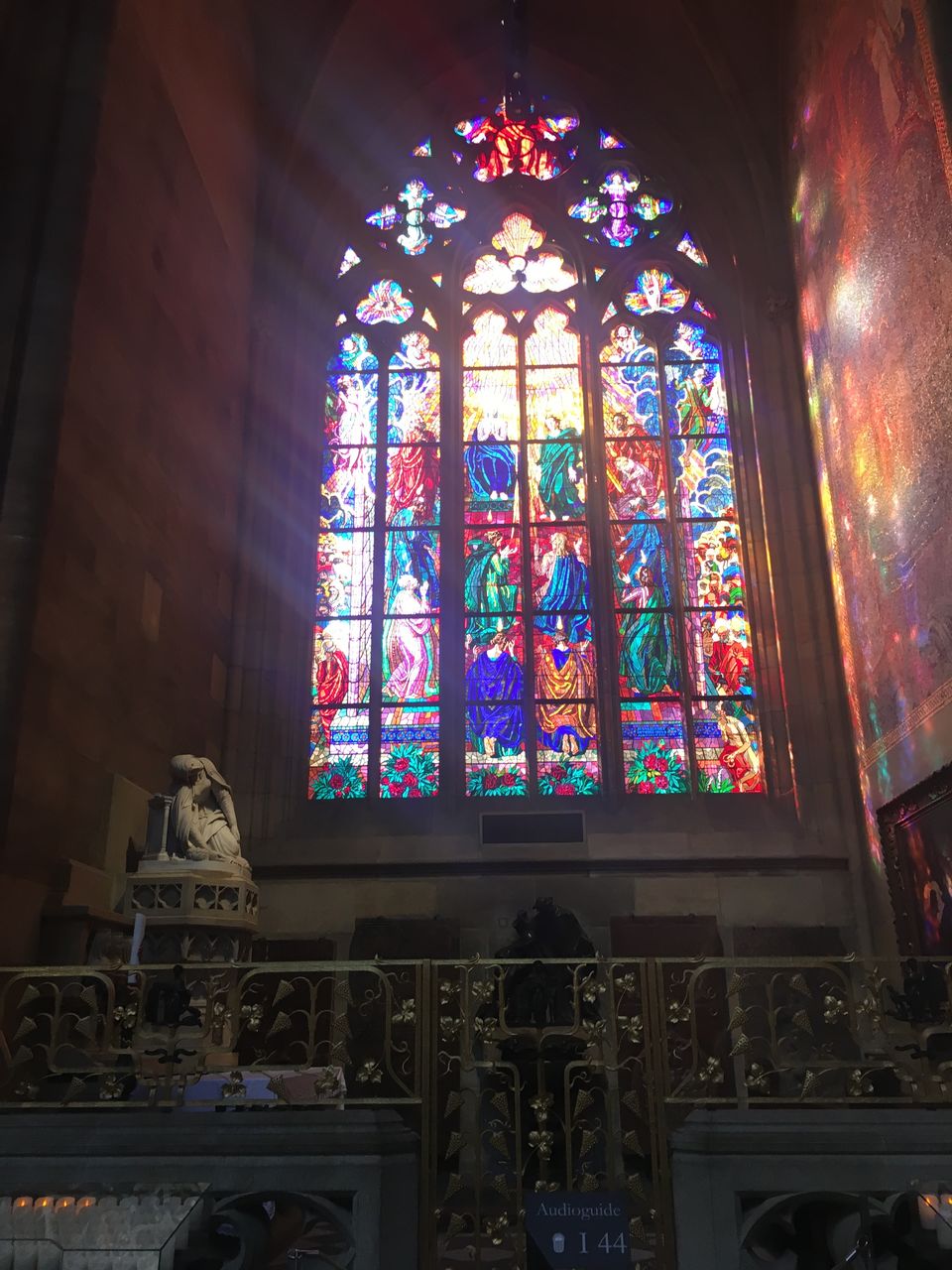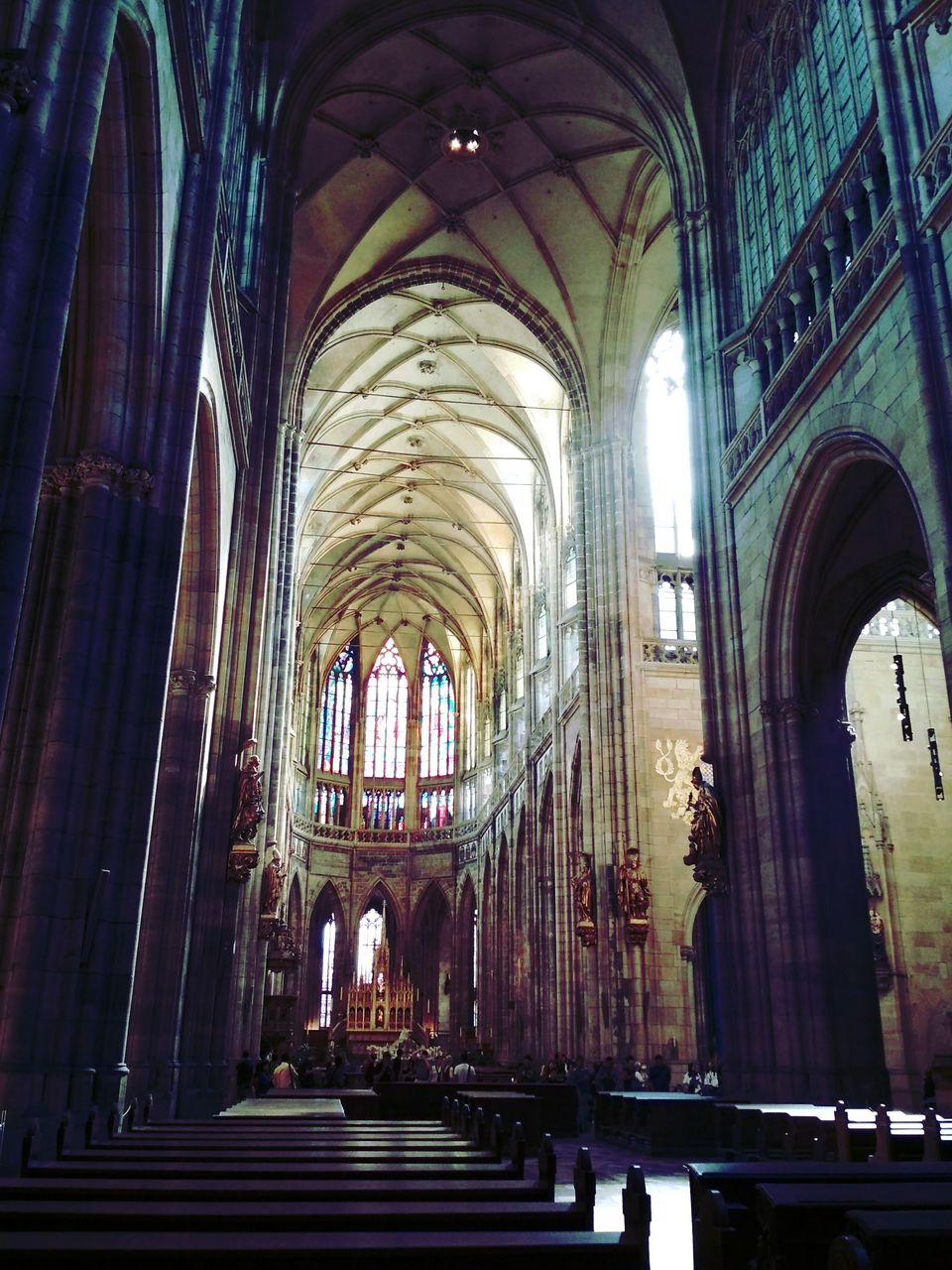 Day 4
We had our train at 6 AM to Salzburg. Left our apartment at 5:15 AM and 15 minutes' walk later we reached Praha hl., the main railway station.
Recommendations and Tips:
• Discovery tours offer free guided walking tours at various time slots each day which lasts for 3 hours. I highly recommend going for them on the day of your arrival as they are quite informative in terms of history and legend behind important places of interest, restaurants, local cuisines, etc. Check for their timings before planning your itinerary.
• Try including Karlovy Vary. It's a small town near Prague having picturesque valley landscapes
• Two entire days are enough to see all places of interest in Prague and 1 day extra in case you want to go for Skydiving or Karlovy Vary
• Use Google maps for navigating by any mode of transportation. It has all bus/metro/tram routes
• Entry to all churches and monuments is not allowed post 6 PM so plan accordingly
• There is lot of scam around currency exchange. Lot of shopkeepers will either charge higher commission or give lesser CZK for 1 euro. Therefore, check current exchange rate and exchange your euros only at those places which offers you the best rate. Don't exchange at railway stations/airports or the touristy places as they tend to charge higher
• Better get CZK currency since a lot of restaurants, ticket counters at Metro and monuments/churches do not accept euros
• We found Wenceslas Square a good destination for shopping and a few shops in Old Town like Manufaktura.
• You can watch Honest Prague Guide videos on Youtube for more information on Prague
• We found locals to be very rude and not at all helpful. Therefore, it is better to ask fellow tourists for any information
• Some more interesting places we missed exploring in Prague:
o Sex Machines Museum in Old town – I have never seen something like this in India and from its appearance in ground floor it seemed quite interesting.
o Spider Bar in old town – The ambiance is of old world cave serving wines and beers with swordsmen, jugglers, and belly dancers to entertain
o National Library (Clementinum) and National Theater (Rudolfinum) - We had seen their counterparts in Vienna which were simply amazing so we don't regret much on missing these out.
o The Absinthe Shop & Pub in old town and Malastrana
o Vysehrad castle which is easily accessible by metro
o The Beer Factory in Lesser town
Read on the following travelogues to know more about rest of our trip in Eastern Europe
Salzburg, Hallstatt, Innsbruck
The 2 most prominent monuments of old town square which cannot go unnoticed are Astronomical clock and Tyn church which is also known as Kostel Panny Marie Pred Tynem. The clock is full of interesting details. The astronomical dial also shows position of the sun and the moon. Be sure to visit here on top of hour so that you can see the "Walk of the Apostles" and the movement of hands. Tyn church is one of the first things that catches your eye as you walk towards Old Town Square. The outside façade is amazing. The spires give such a character. At night, it is lightened up and looks incredible. But, pay careful attention to timings of church before planning a visit here. It is closed on Monday. Even we were not able to see it from inside since we always reached here post 6 PM. Also, its entrance is little hard to find. Tucked between 2 outdoor cafes in old town square, down the alley you will find it's entry doors.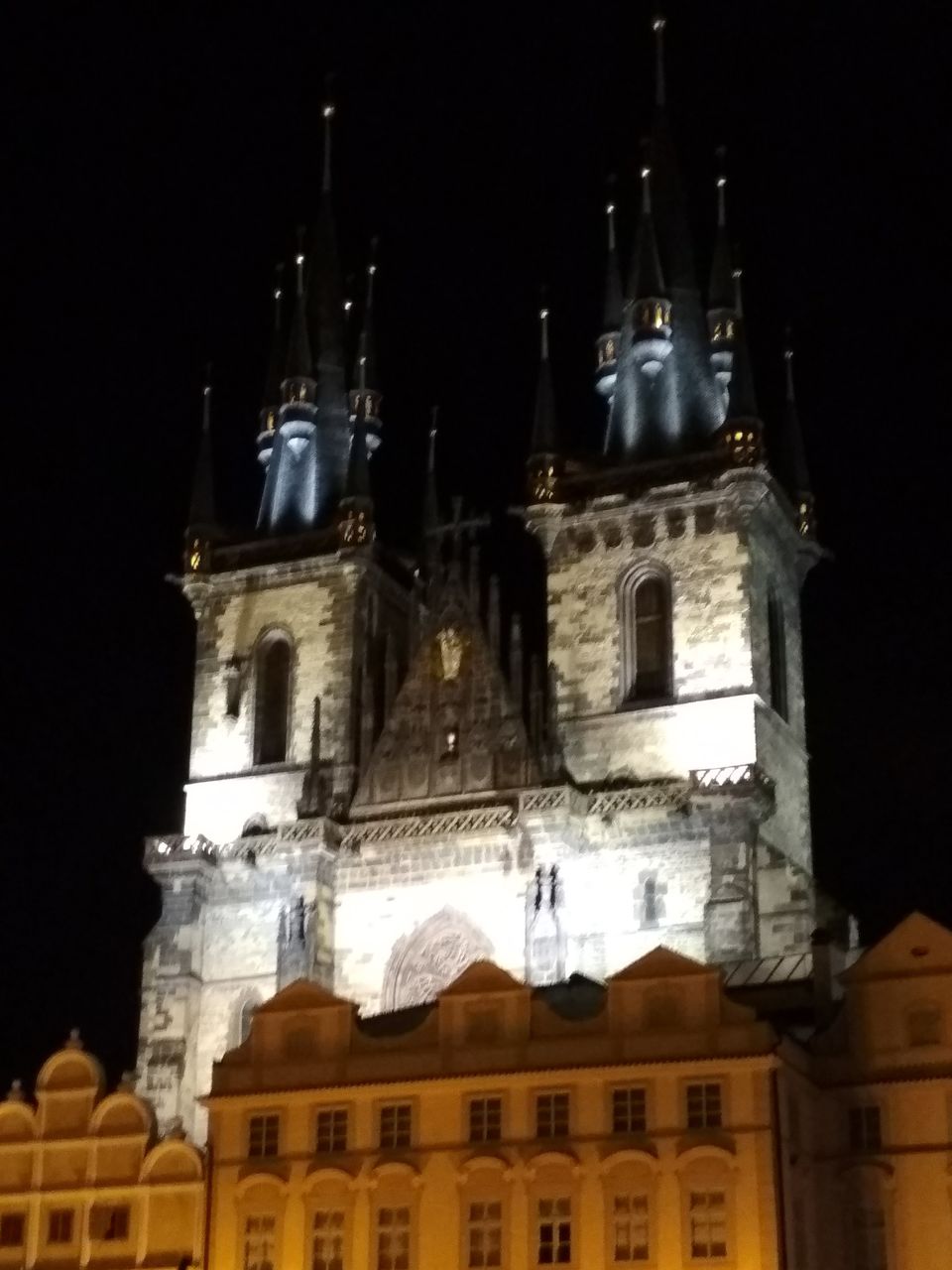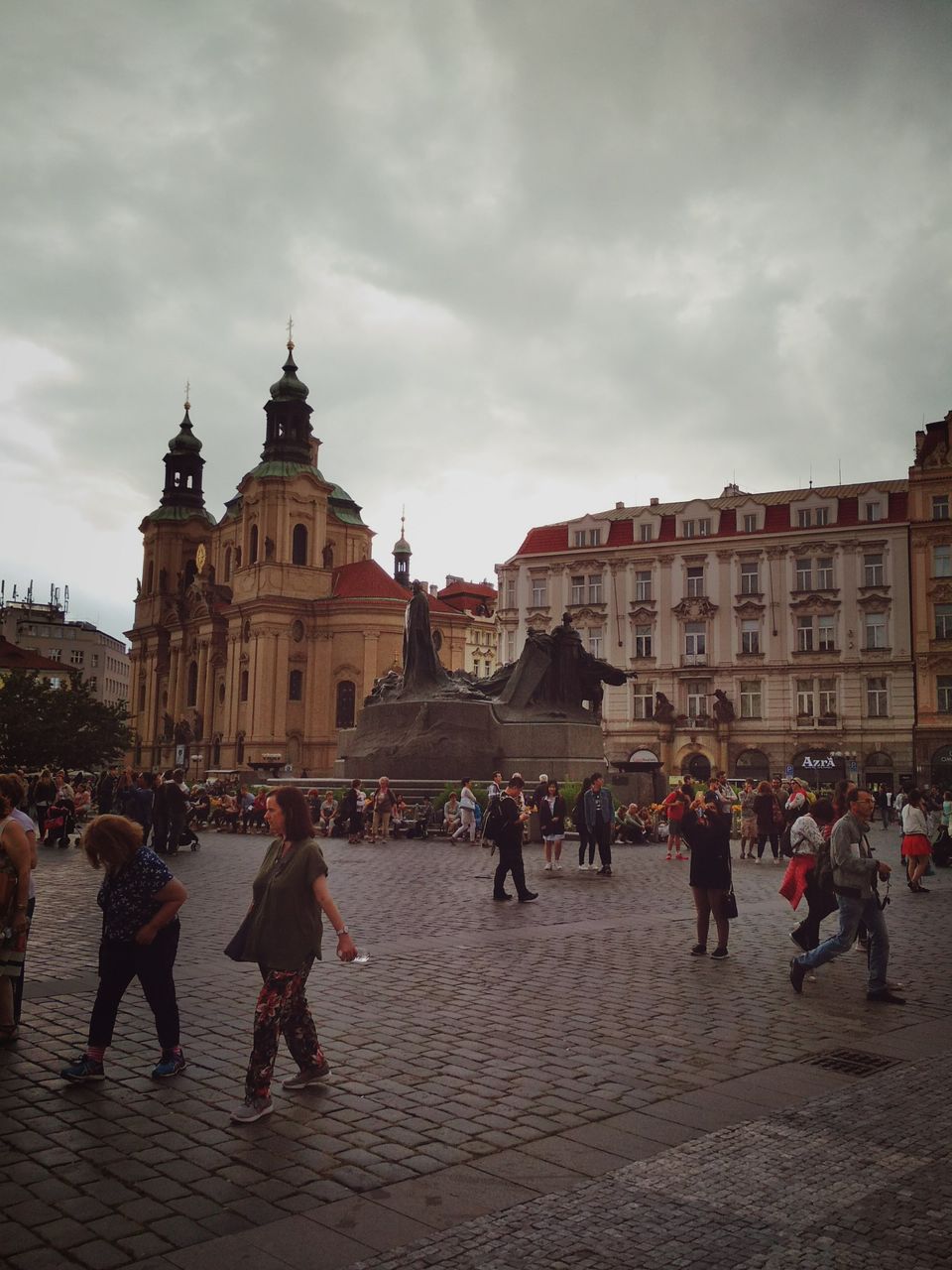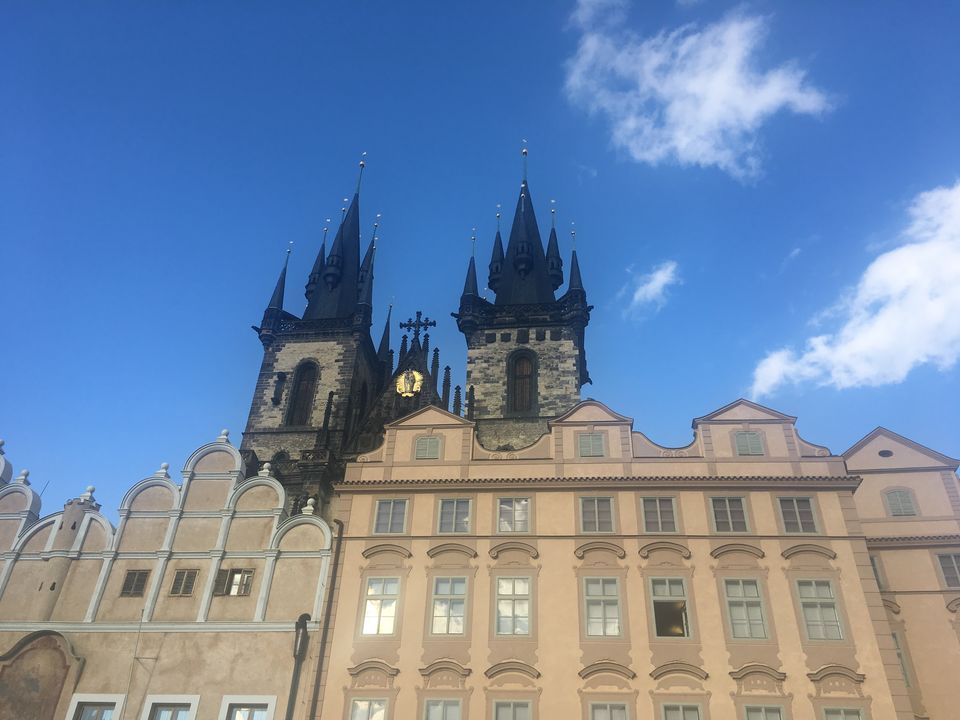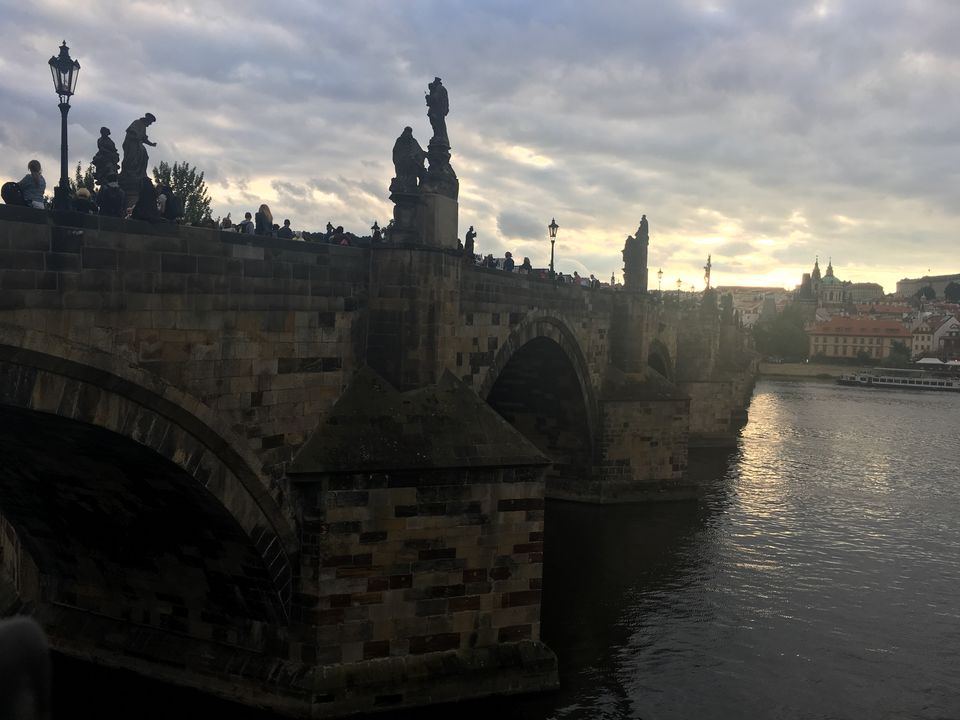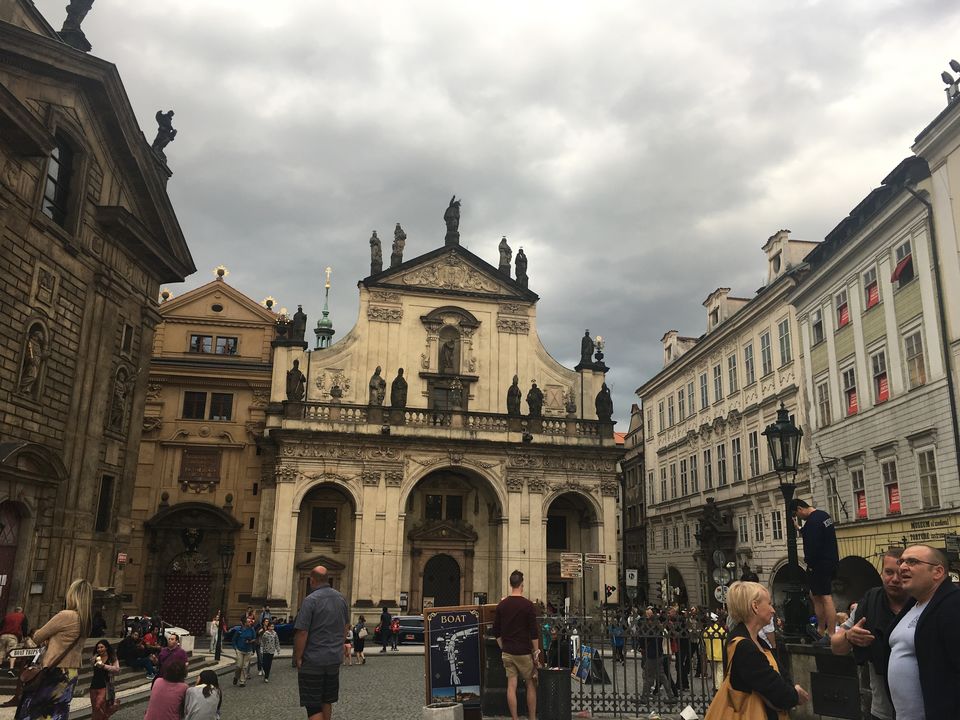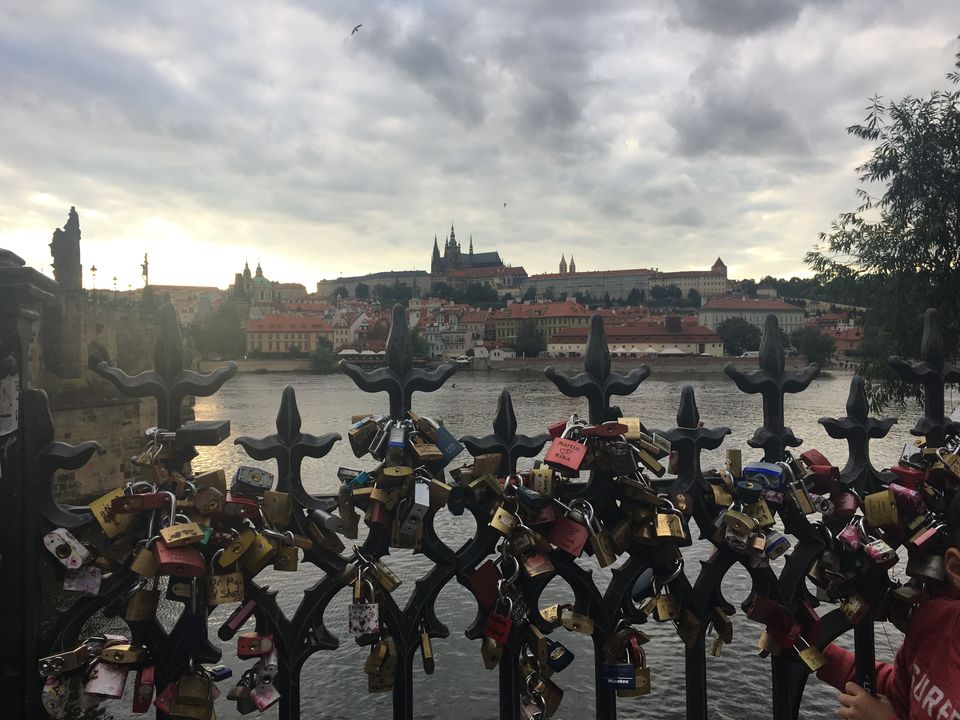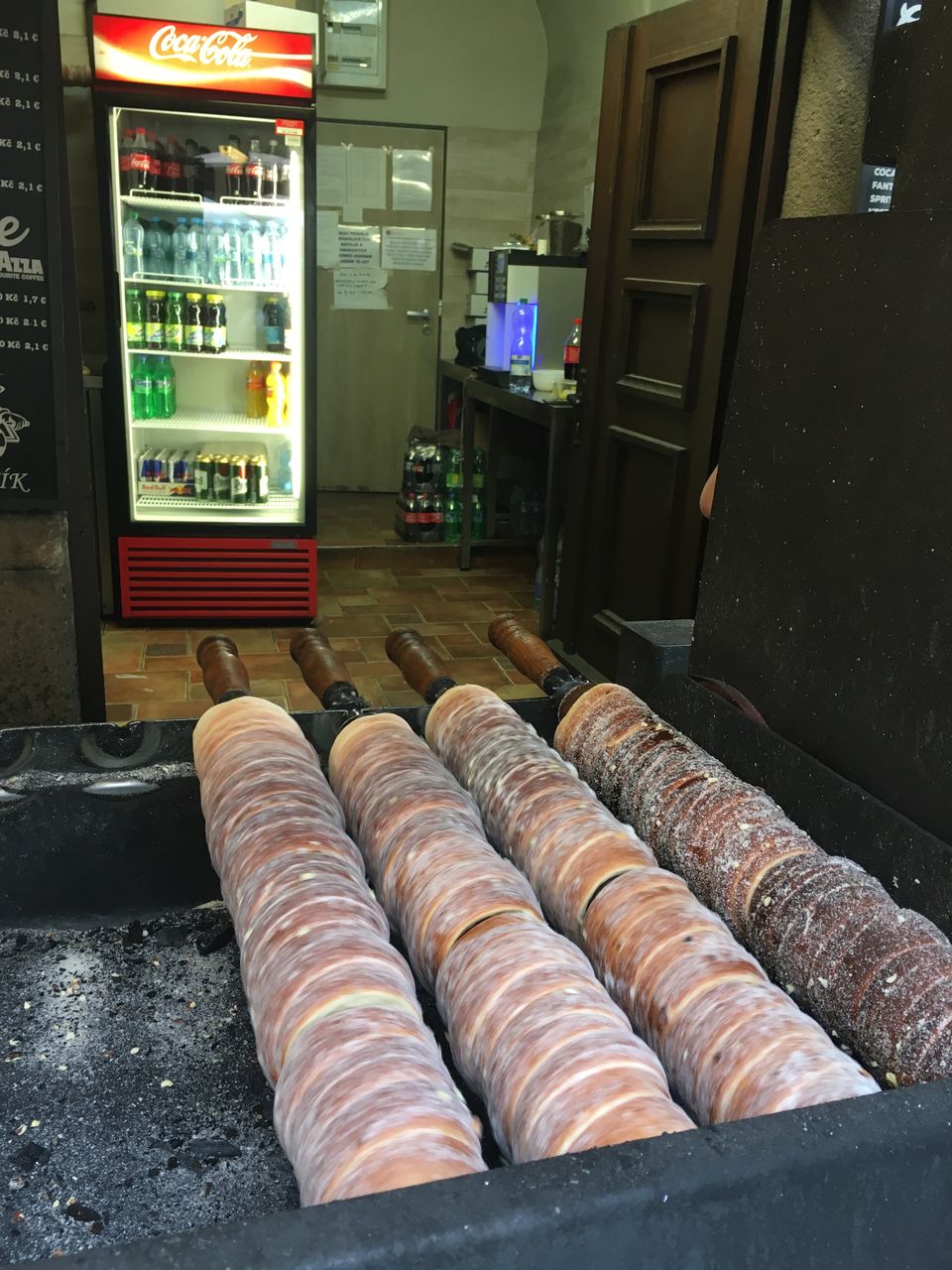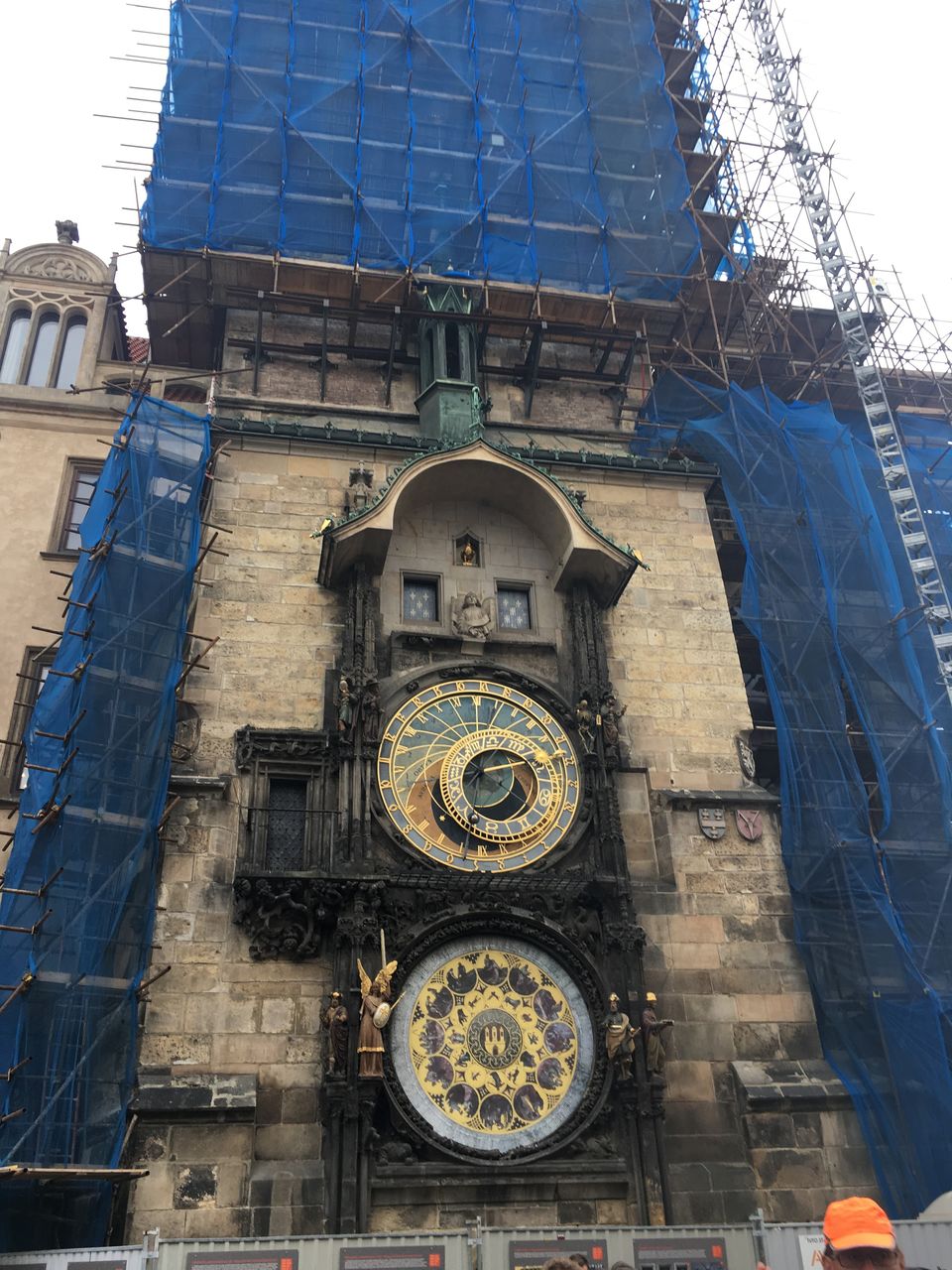 We had Trdelník, the sweet street food of Prague, at one of the local shops of old town square. It was simply delicious. I highly recommend tasting it. Strolling further and we reached Charles Bridge, one of the main attractions of Prague. This pedestrian bridge is full of painters, vendors and musicians whose performances are real treat to ears. It is an enchanting experience to just wander on the bridge and soak in its lively, cheerful and beautiful ambiance! We wanted to climb one of the towers of Charles bridge to witness top views of old town and river but couldn't since we did not have CZK currency for buying tickets but only Euros!!
While crossing old town square on our way back to apartment, we accidently came across Seven Foot Sigmund Freud, a seven-foot statue of famed psychoanalyst Sigmund Freud dangling from a ledge. It looks quite real and cannot go unnoticed!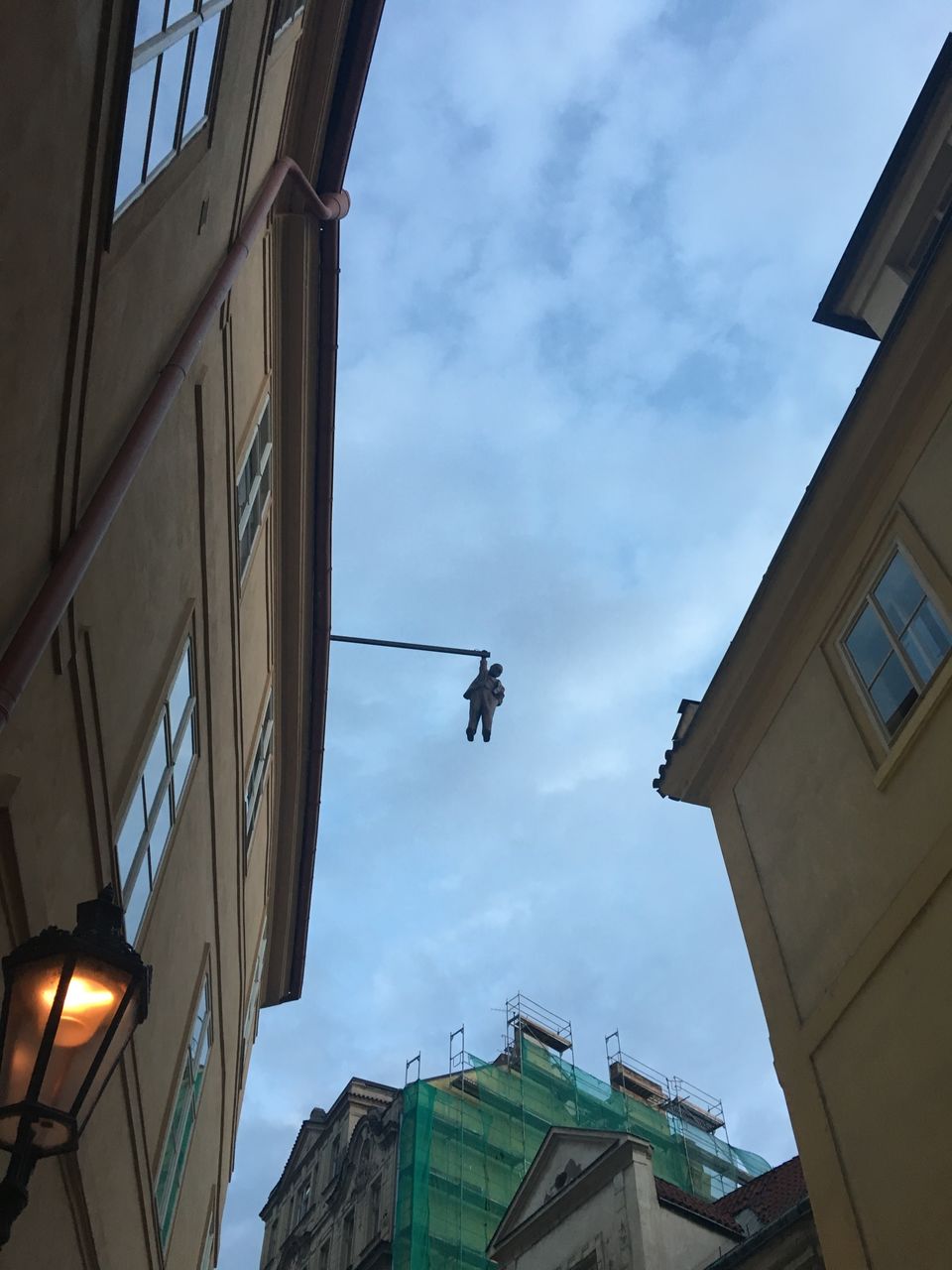 Office of Discovery Tours is in one of the narrow streets of Old town square. We collected our Pub crawl tickets from them. And that's when we came to know about their free walking tour wherein they cover old town, lesser town, new town and Jewish quarters. We decided to take this tour the next day. From here we went to St. Nicholas Cathedral, another church in Prague with same name located in Old town square.
Post having dinner we rushed to the meeting point of our Pub crawl scheduled at 8 PM. Dress up in your party attires and carry just a handbag and a jacket. They cover 5 pubs with last one being Karlovy Lazne. It is the famous 5-storey pub of Prague situated on the banks of Vltava river. In each pub, you will be spending 45 minutes with Vodka shots as free welcome drinks. Rest whatever you order is on your wallet! Only in 1st pub you get free unlimited drinks of your choice (local beer, wines and vodka). It is a unique experience but do it only if your company is as alcoholic and party animal as yourself otherwise you will end up getting bored! However, we skipped Karlovy Lazne since it was already 1 AM and we were dead tired and drunk!
Lobkowicz Palace is a museum which exhibits art collection of Lobkowicz family. Access is not free and priced at 350 CZK. We skipped it since not much interested in museums! We walked around Castle District for 2 hours and enjoyed mesmerizing views of whole Prague from South Garden. In the end, we went to Vineyards which are present just beside the staircase.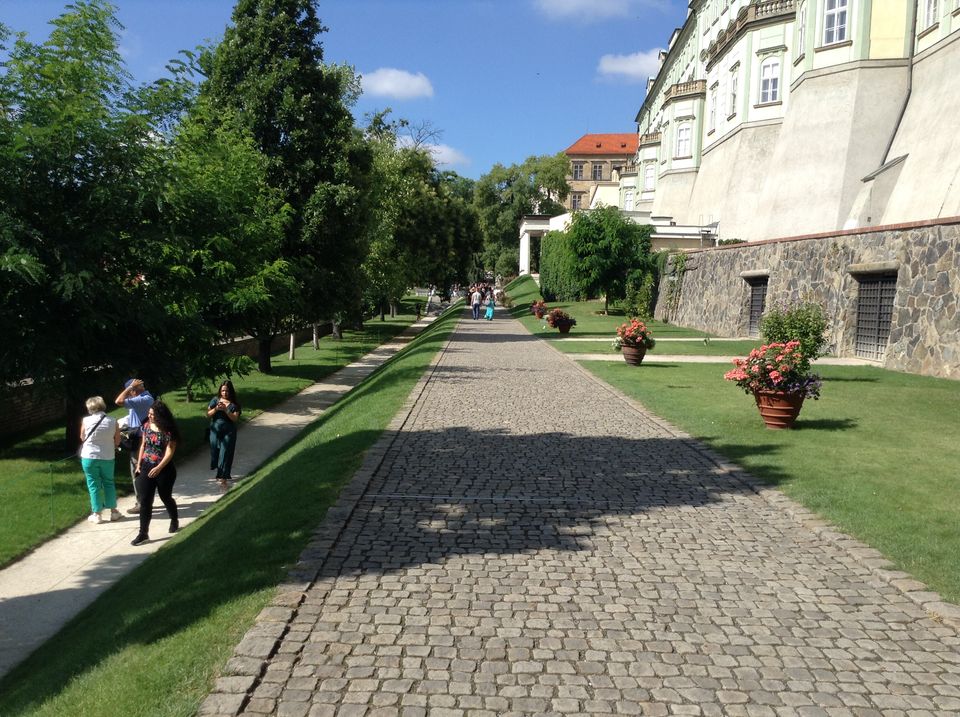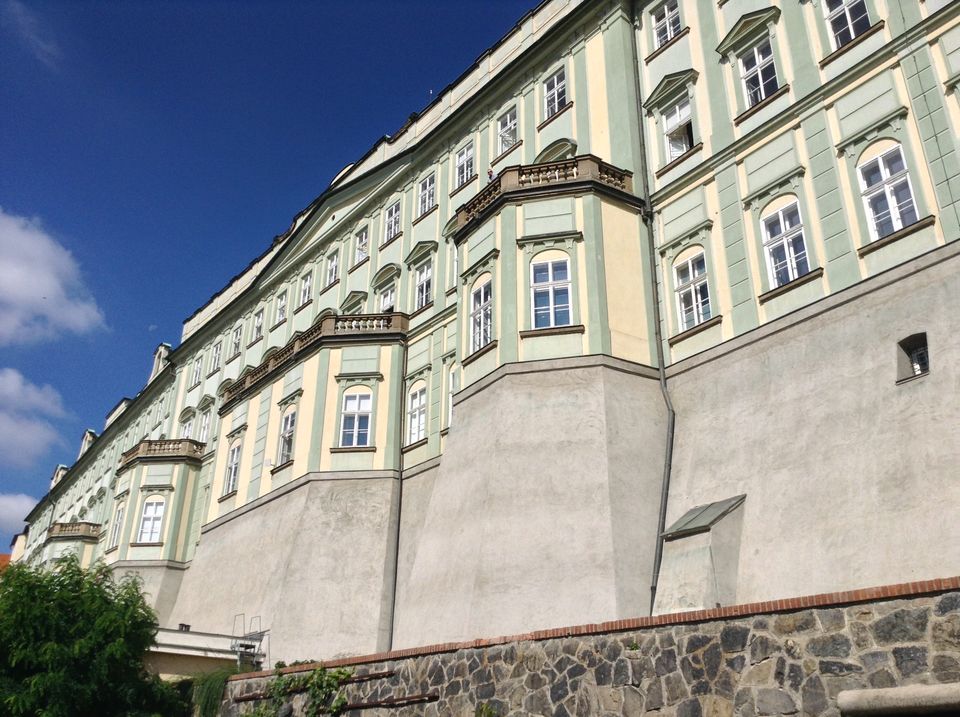 Post this we went to Old town Square for our free walking tour with Discovery tours. It was for 3 hours but we stayed with them only for 2 covering old town and Jewish quarters. Skipped New town since we already covered it with HOHO. It was very informative, telling about history of Prague and legends behind all important places of interests. I highly recommend it.
Next, we went to Jewish quarters/Josefov which houses synagogues and the oldest surviving Jewish cemetery in Europe. It is present very close to Vltava river. It deeply shocked me to think about the centuries old culture and traditions that have been wiped out within just a few years during Nazi occupation. The Jewish community in Prague was almost eradicated with more than 90% of the Jewish community falling victims to the Nazis. All the more should we cherish what is left of it!
We bought one admission ticket for 330CZK which covered Pinkas, Maisel, Spanish and Klausen Synagogues, Jewish Cemetery and ceremonial hall. The Old-New Synagogue is not covered in this ticket. Entry to this one is prized at 200 CZK. So, we skipped it. It is the oldest synagogue which has been restored to its present form.
We started with Spanish Synagogue. It is recently constructed and a part of Jewish museums in Prague. It is the most beautiful one out of all synagogues with incredible piece of art on display on its walls. It exhibits about Jewish culture, community, origin and their hardships. Just beside this, Kafka monument is located.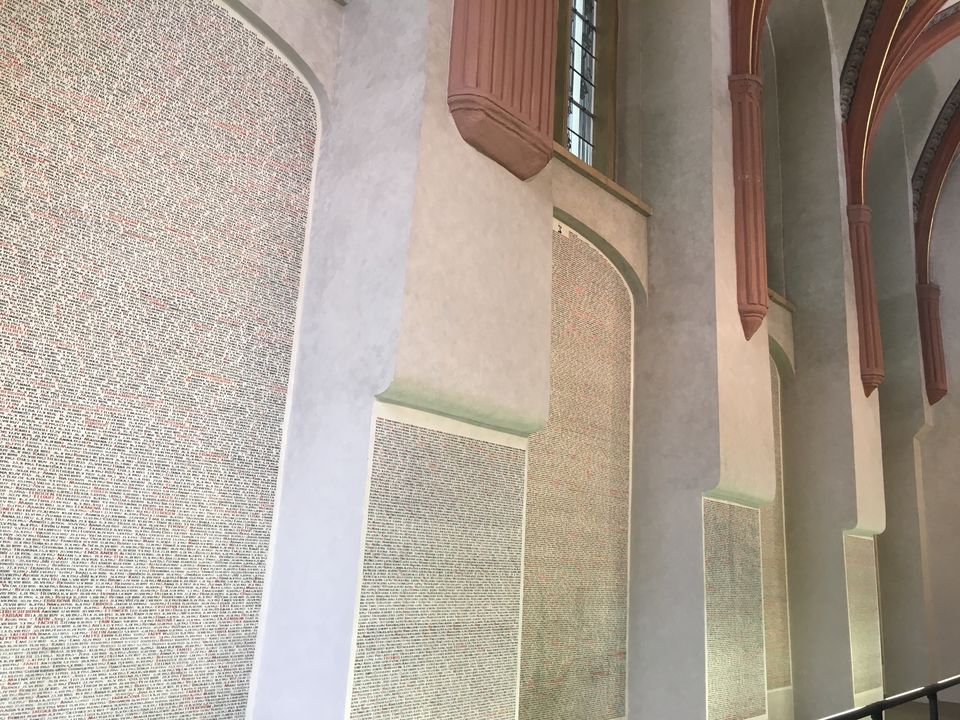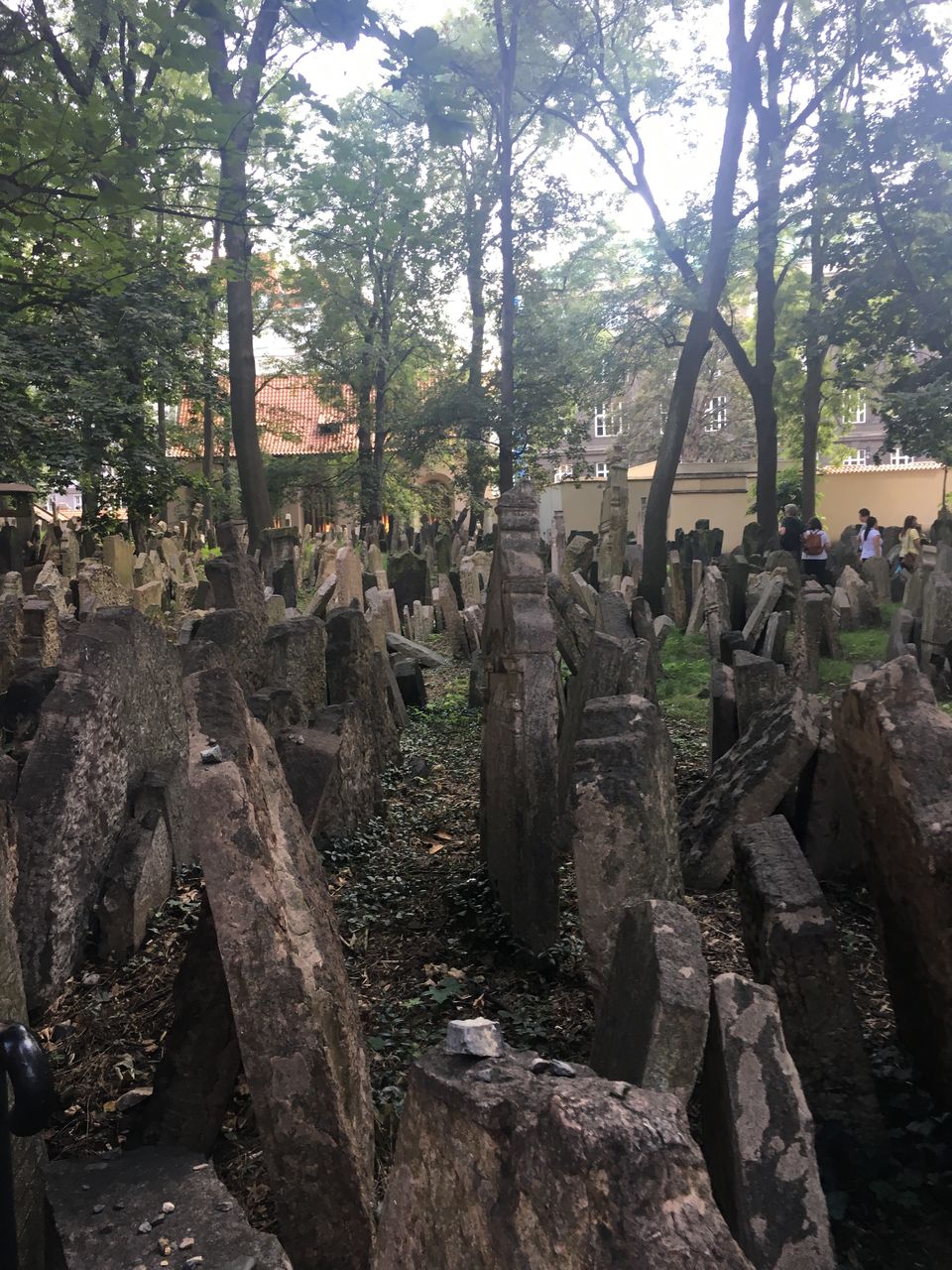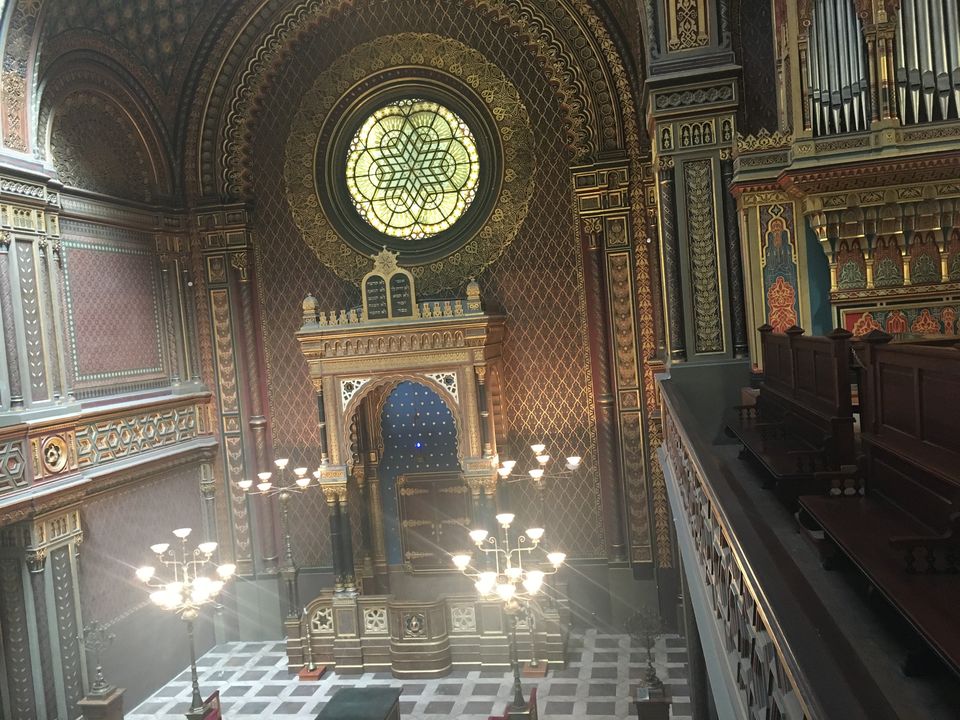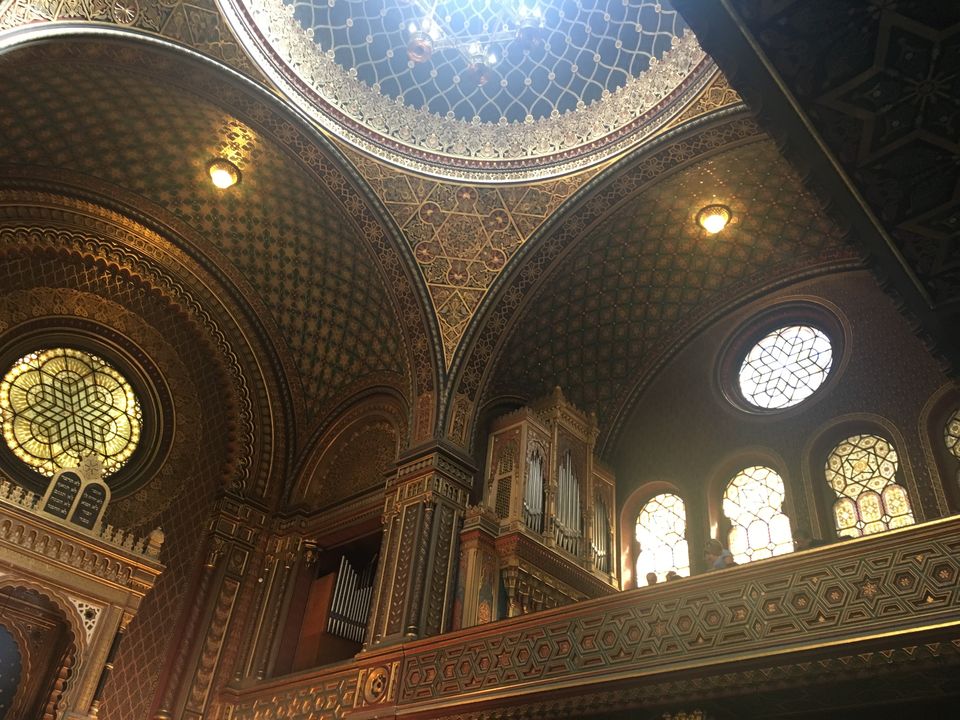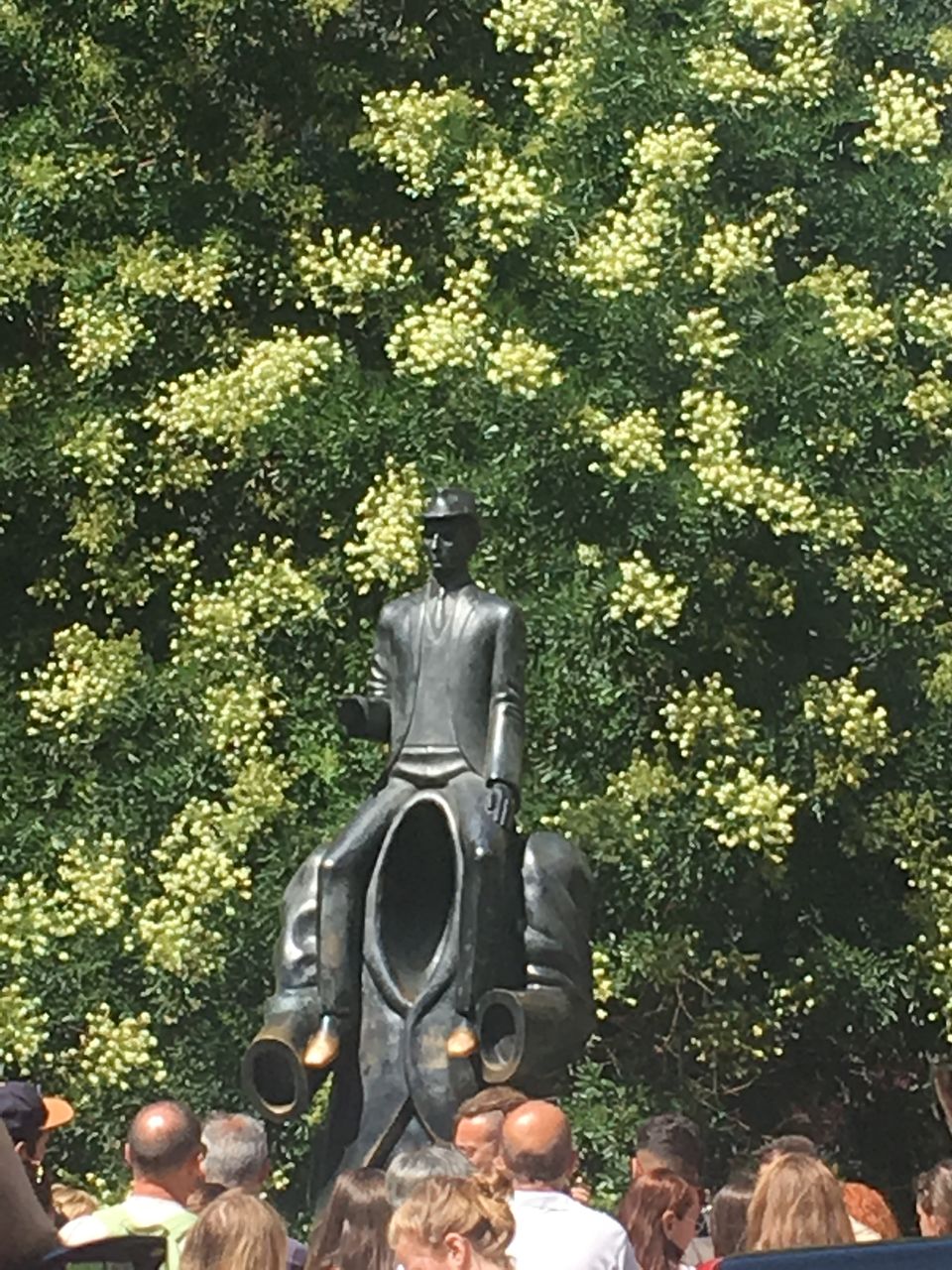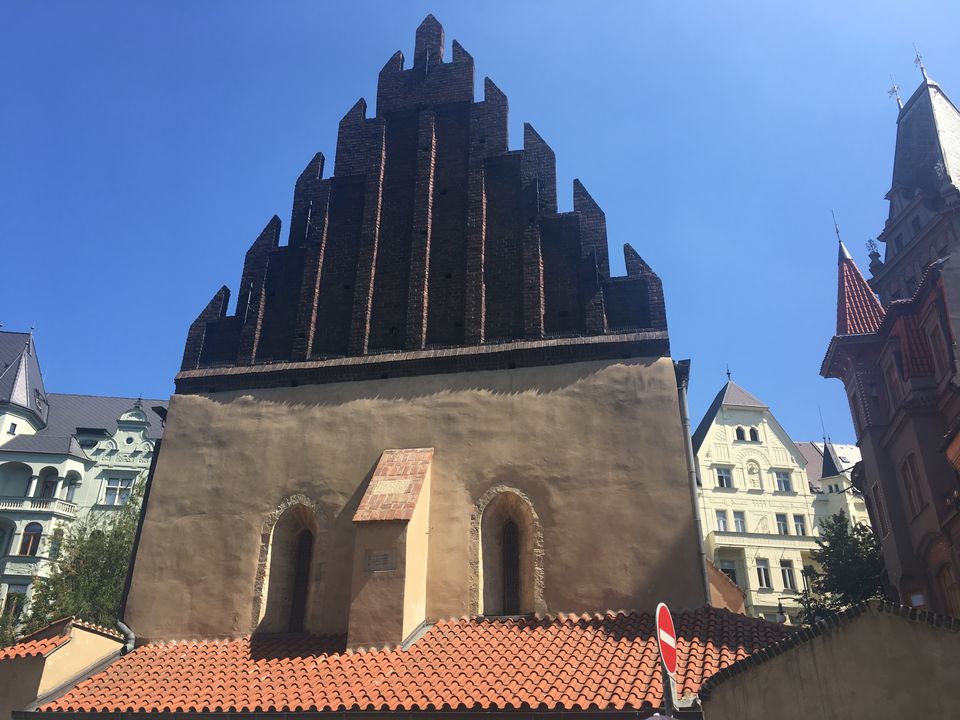 Further we went to Pinkas Synagogue and Cemetery. Both are located beside each other. Important: Visit Pinkas first and then the Cemetery. Once you exit from cemetery, entry to Pinkas will not be allowed on same admission ticket. Pinkas has been dedicated to 80,000 Jewish population of Czechoslovakia who died in Holocaust during World war 2. The names and dates of the Jews who died were painstakingly hand written on all the walls. Upstairs there is a room exhibiting paintings and drawings by children in Terezin concentration camp under the direction of teacher Mrs. Friedl Dicker. Before being sent to her death at Auschwitz, Dicker hid 4,500 of the works of art in a briefcase which were later found and moved to Pinkas. Its powerful to know that only 120 of the children sent Terezín survived. It is a very emotional and moving place. Jewish Cemetery is the oldest and largest one in Europe. It has approximately 12,000 tombstones, and around 100,000 Jews buried in up to 12 layers deep as there was not enough land area where Jews were allowed to be buried! Lastly, we went to Klausen Synagogue which exhibits about Jewish Religion.
We skipped ceremonial Hall and Maisel synagogues because of lack of time. Atleast 2.5 hours are required to cover everything in Jewish quarters peacefully.
Post this, we went for our free boat ride on Valtava river offered with HOHO tickets. You can take boat ride within 24 hours only since the time you purchased HOHO tickets and last one leaves at 4 PM!
Revolving statue of Franz Kafka, the Czech writer, was next on our list. It is located just outside Quadrio shopping center. You can reach here by metro/tram. Get down at Narodni Trida station and walk across the shopping center to find this statue. It is an interesting piece of architecture and quite fascinating as well! Then we had Indian cuisine in supper at Dhaba Beas present just opposite to this statue. I found it over-hyped place with pathetic food!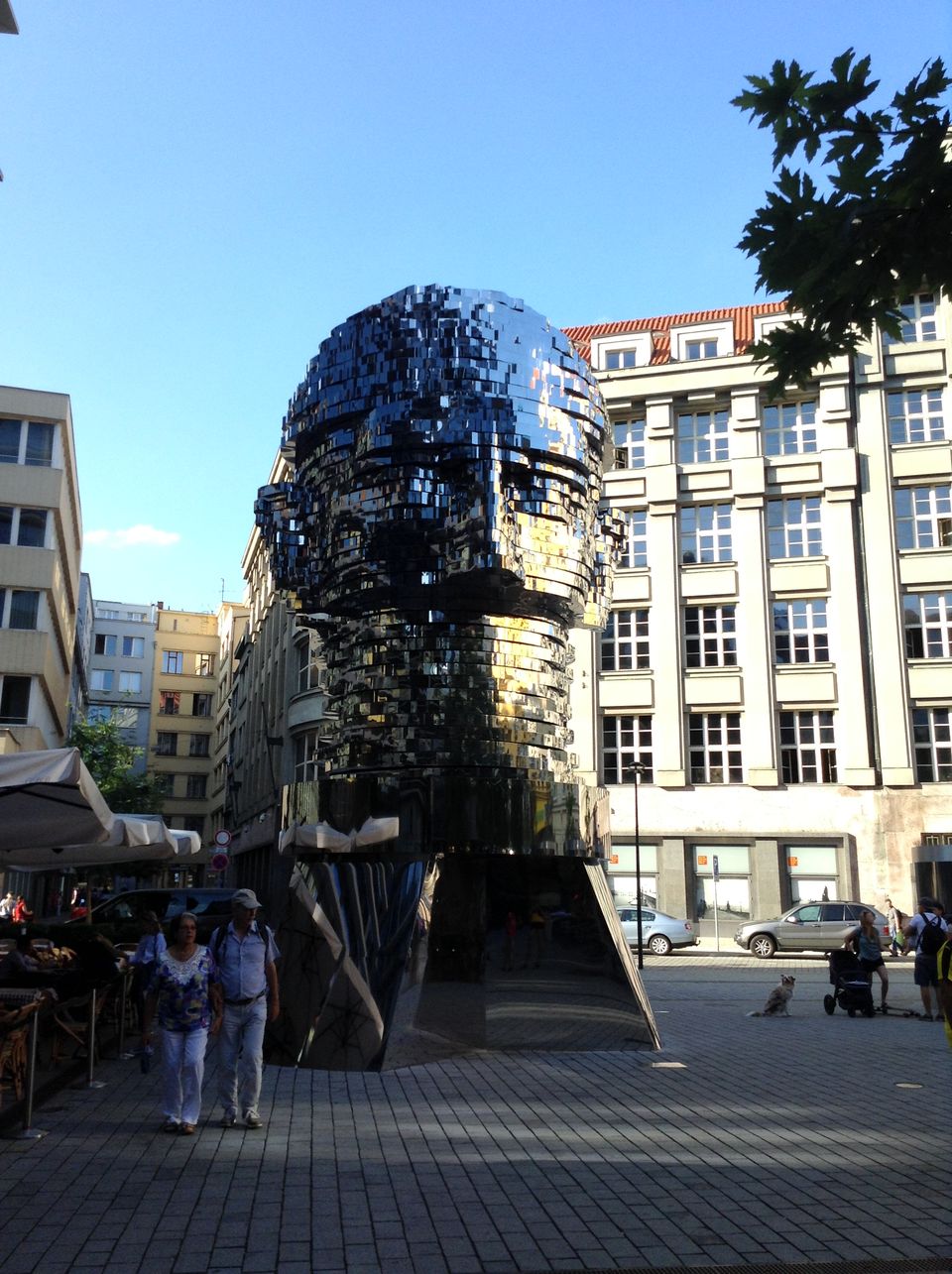 From here we went to see John Lennon wall. It is full of random graffiti. Nothing much enchanting about it! Now, remember access to Golden lane in Castle district is free post 5 PM? So that was the next and last stop on our list. But, keep in mind that rest every other place inside castle district will be closed now. It is perfect time to roam around the castle as not much crowd is there!