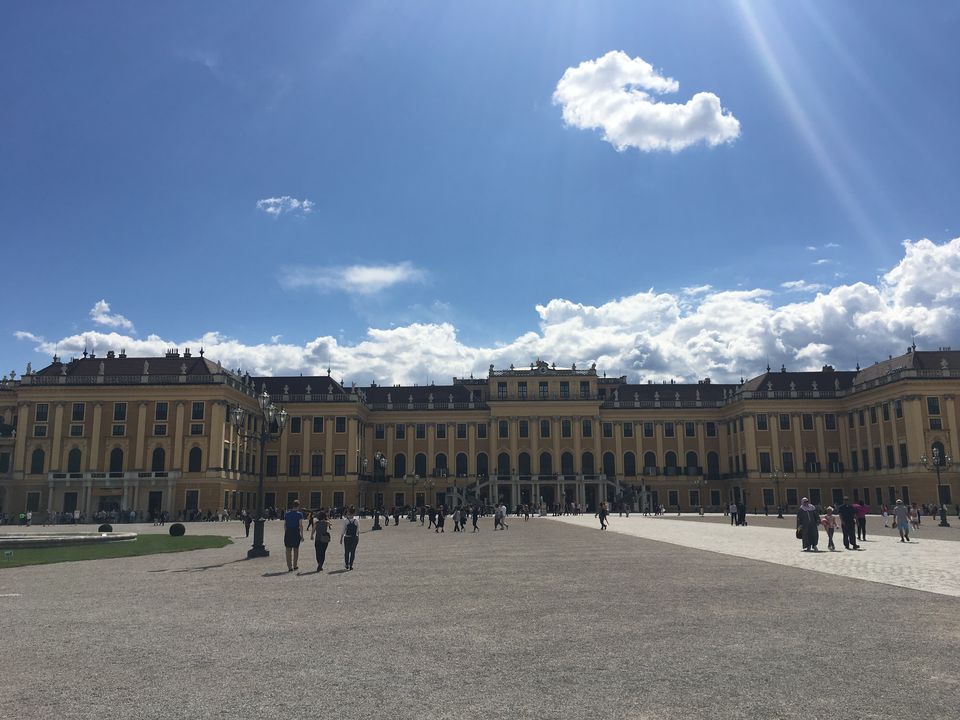 Day 7:

We reached Vienna at 10 AM from Salzburg. We booked train tickets 2 months before on OBB app. From railway station, we hired Uber taxi till Hotel Beethoven, our accommodation in Vienna. This hotel is located very near to Naschmarkt. Apart from this, we found nothing good about this hotel. Small rooms, bland food and above all bad customer service! Receptionists were totally incompetent in providing information to tourists. But good thing was that they have luggage storage facility. Since our check-in time was 2 PM and we had reached earlier, so we logged our luggage into their storage, freshened up in their guest washrooms and left for sight-seeing.
We decided to have our breakfast at Naschmarkt. But unfortunately, none of the few restaurants here had any vegetarian dish! So, we decided to have fresh fruits and other produces which this market is actually famous for and we did not regret our decision at all!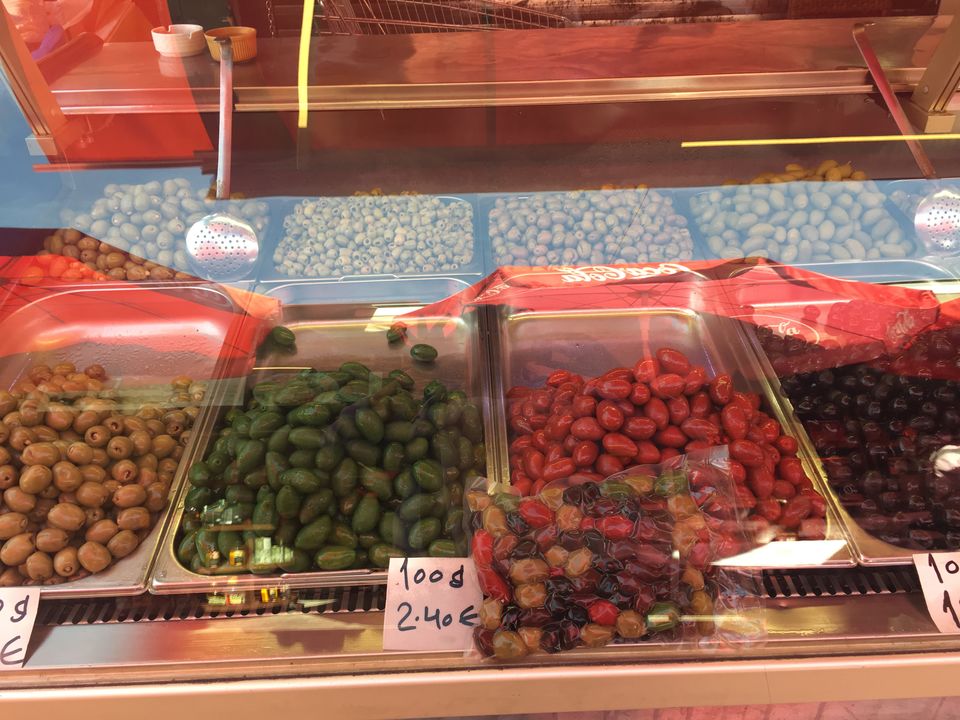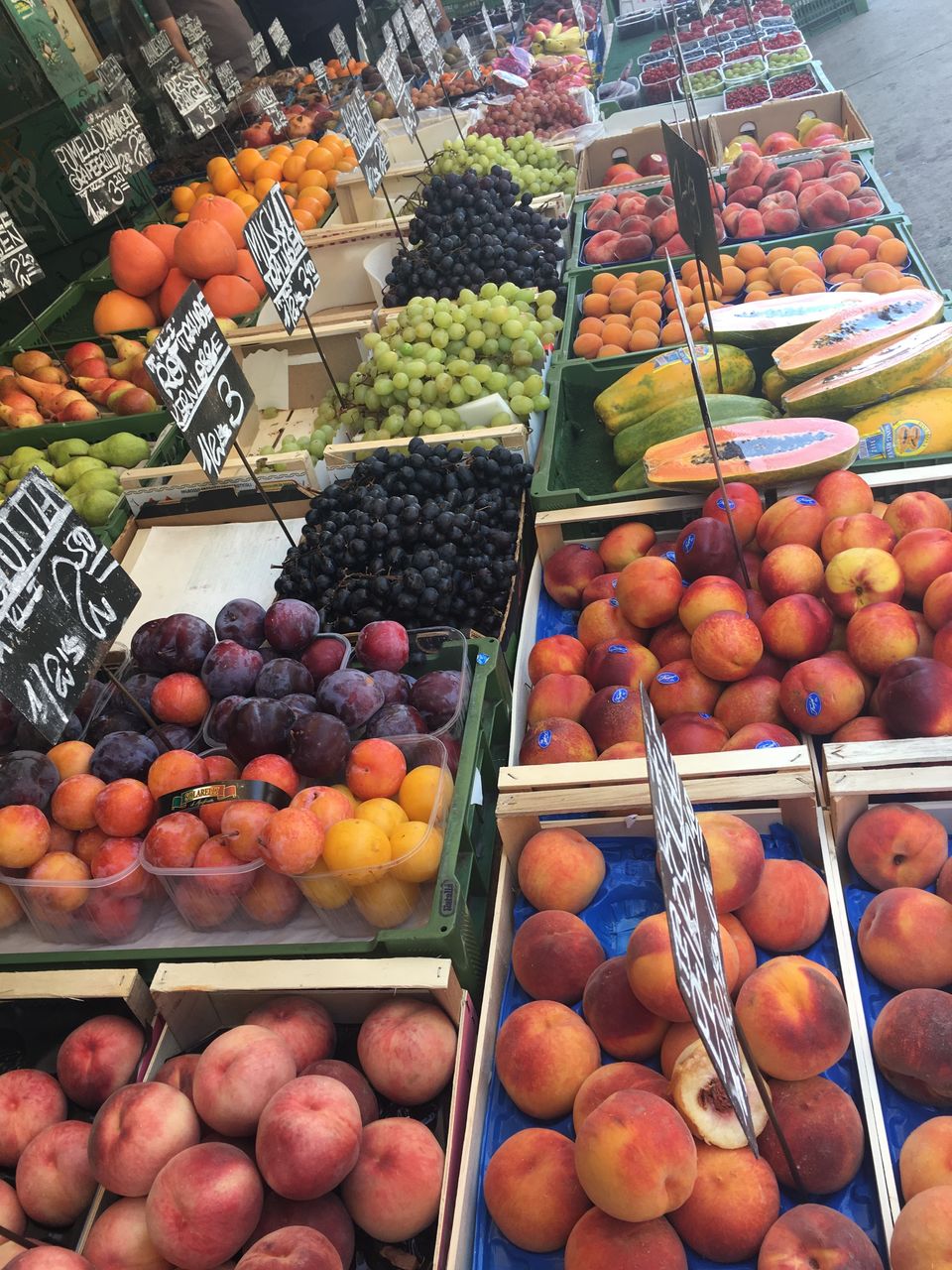 We went to Vienna State Opera first. To see it from inside and have taste of opera without sitting through 3-hour opera show or ballet, we bought standing tickets for a Mozart orchestra which was scheduled for 8:15 PM. Reach at the gates atleast half an hour before the scheduled time so that you get a better place to stand.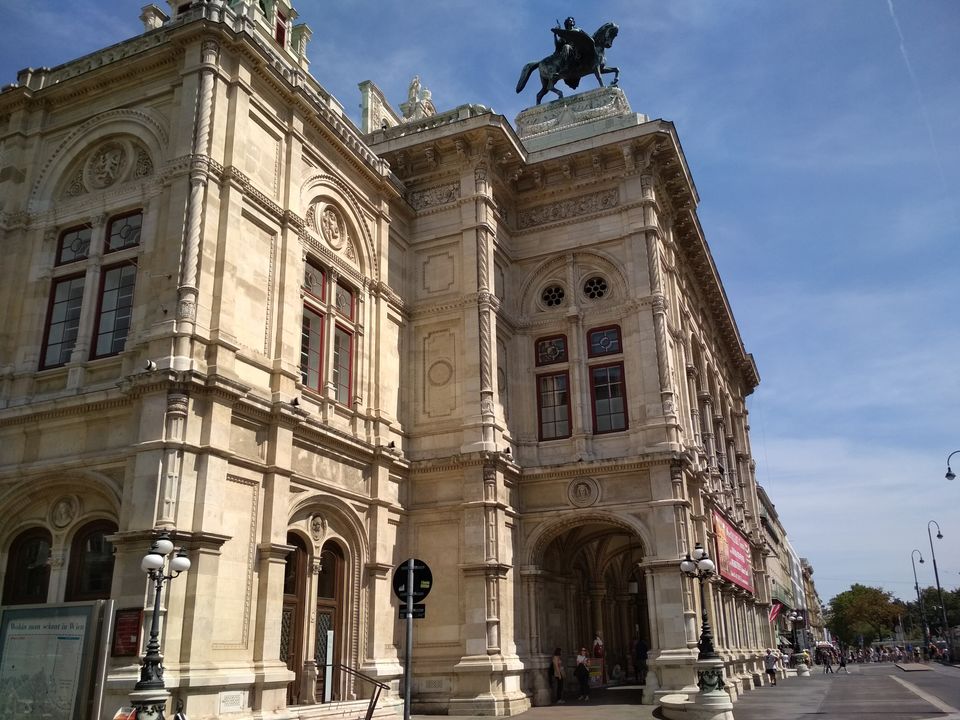 From here we walked down to Stephanplatz, the old town square of Vienna. It is named after St. Stephan Church. You can reach here by metro as well. Metro station is located right infront of the cathedral. This cathedral is huge and elaborately decorated. Its roof is unique and quite colorful. Tinted window panes of assorted colors provide colorful hues to the whole church. Entry is free but incase you want to climb up the towers to see beautiful city views then tickets are needed.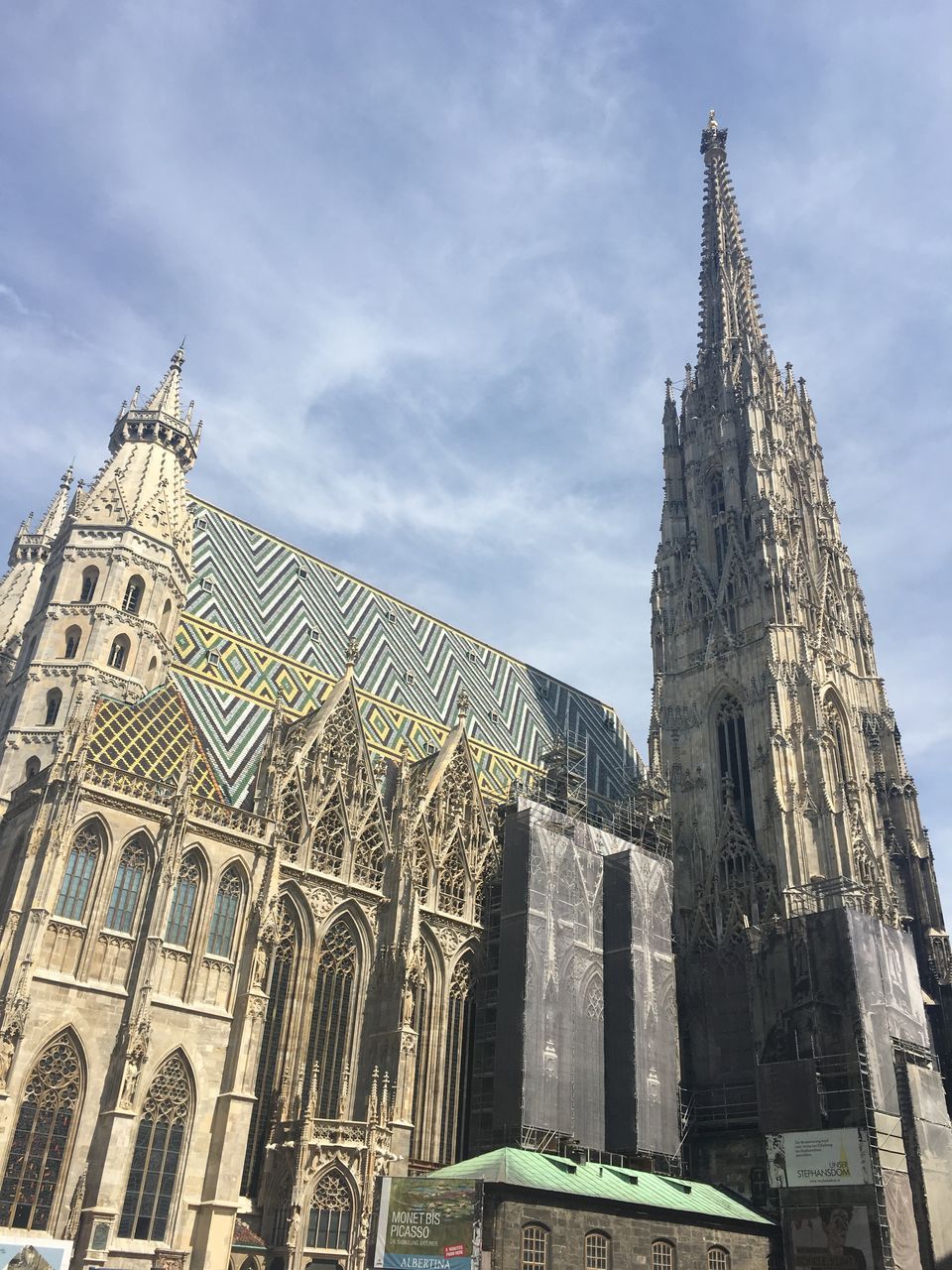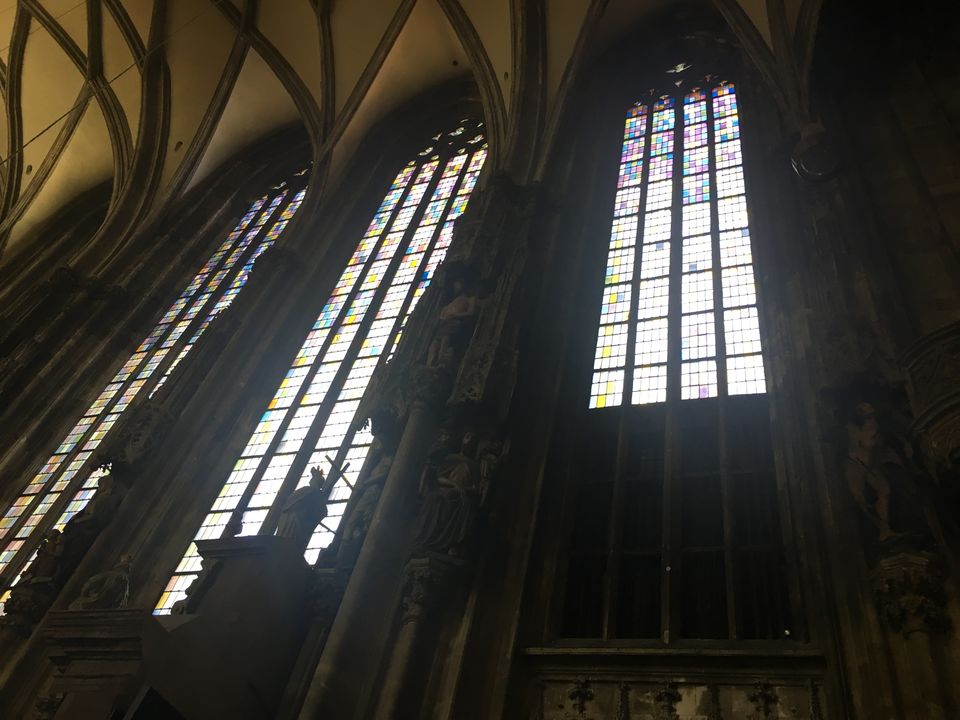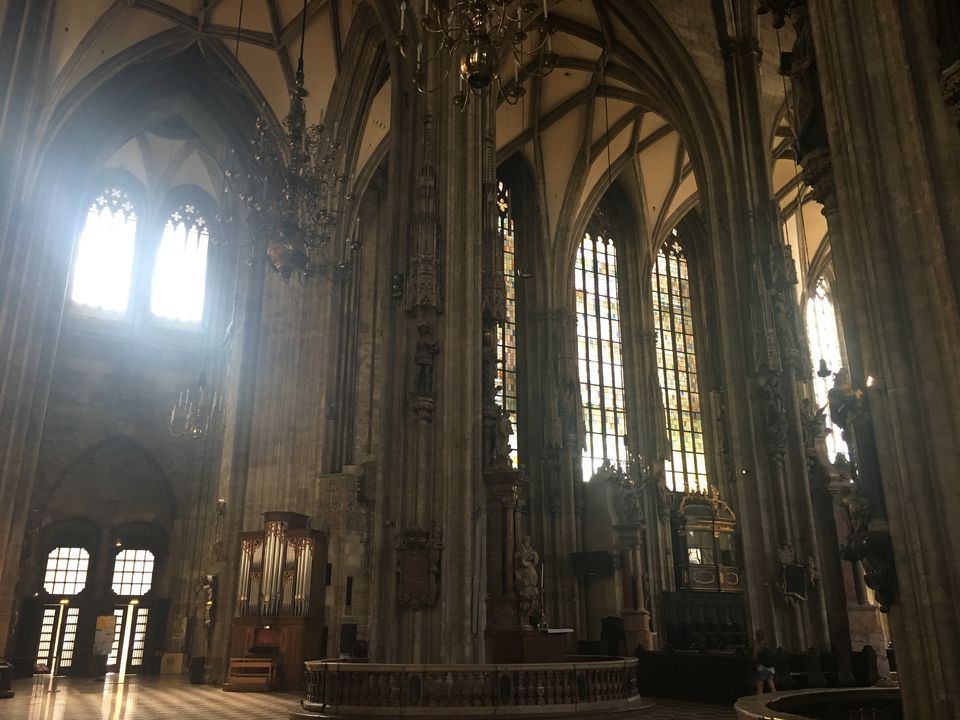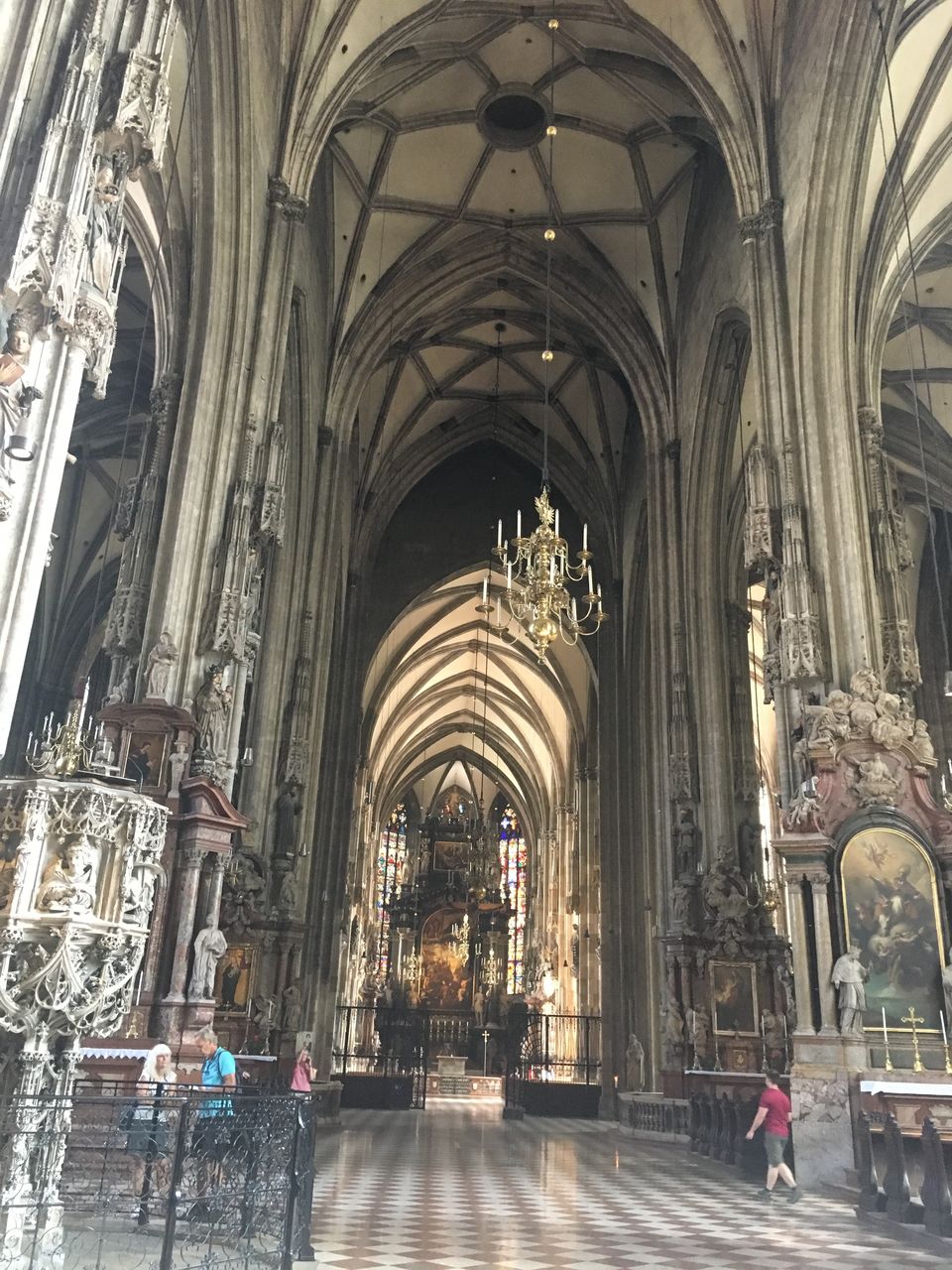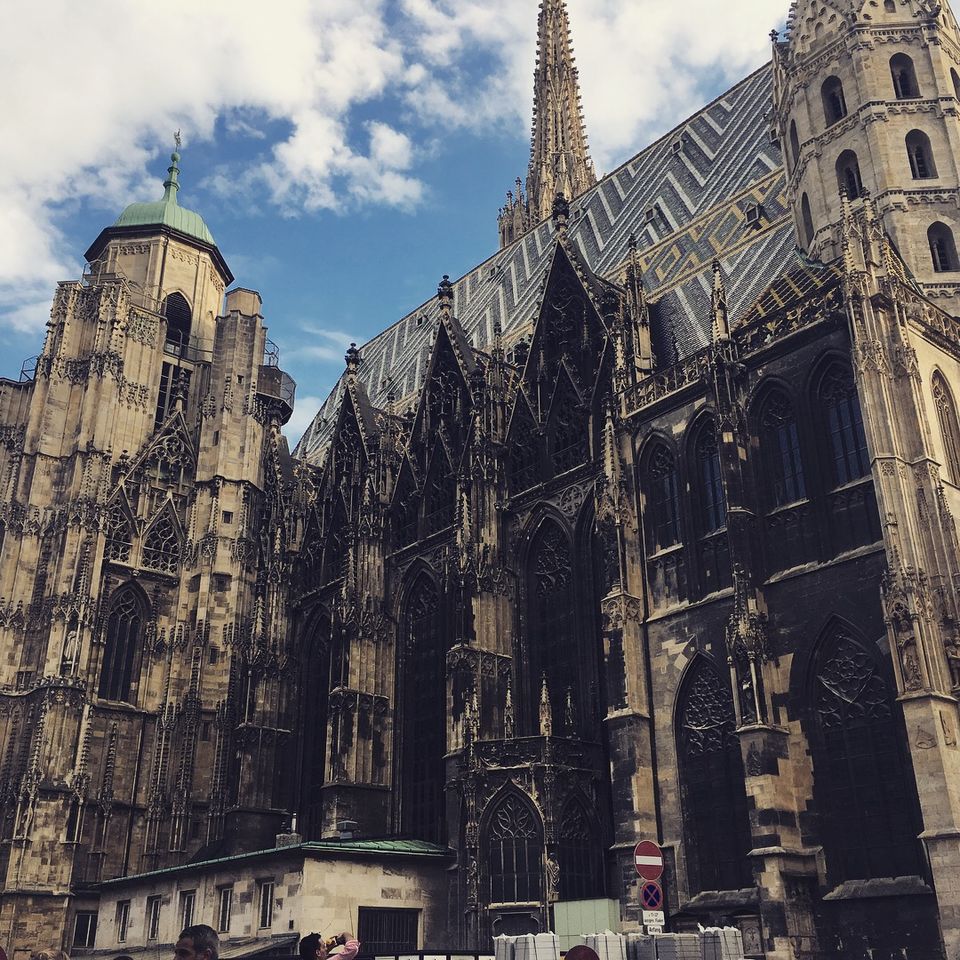 Next on our list was Hofburg Palace/Imperial Palace. It was the main center of Habsburg Dynasty. While walking around this gigantic complex you can still feel the majesty of Imperialism. The outside of this complex is beautiful, impressive and daunting while the insides offer so much in terms of displaying, preserving and showcasing what made the Austrian Empire great. This spawning muIti-wing complex seems like a little city in itself! It comprises of following:
1. Austrian National Library: Our first stop in this complex. One of the most stunning and old libraries of the world! Besides floor to ceiling bookshelves, frescoes on ceilings, arches and marble statues are exquisite. I highly recommend this place as I have never seen any library like this!! Entry is free with Vienna Pass (which we did not buy).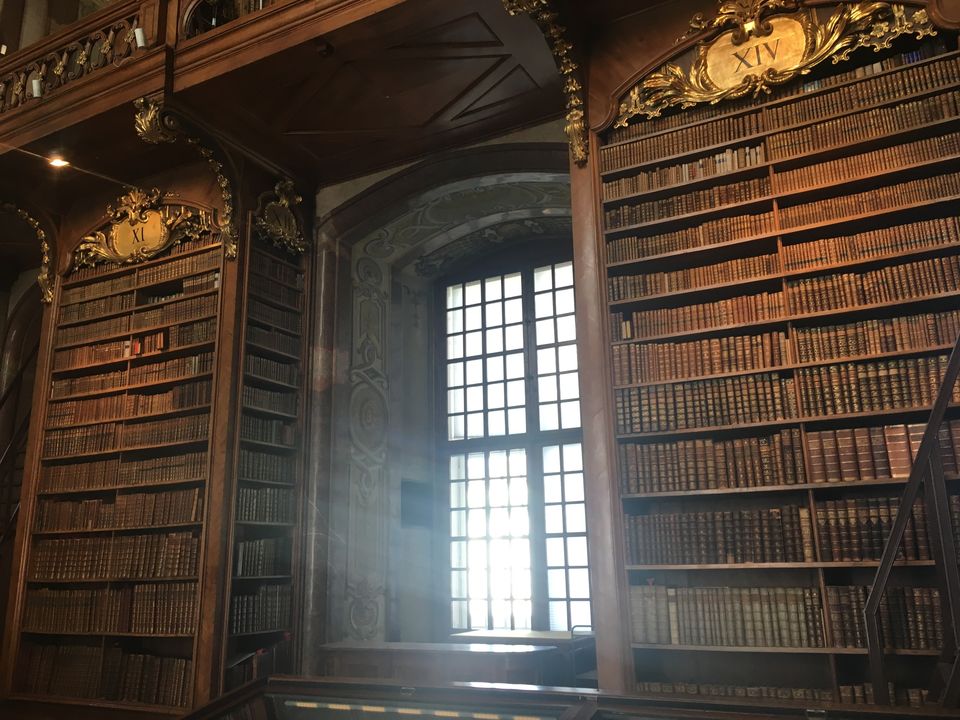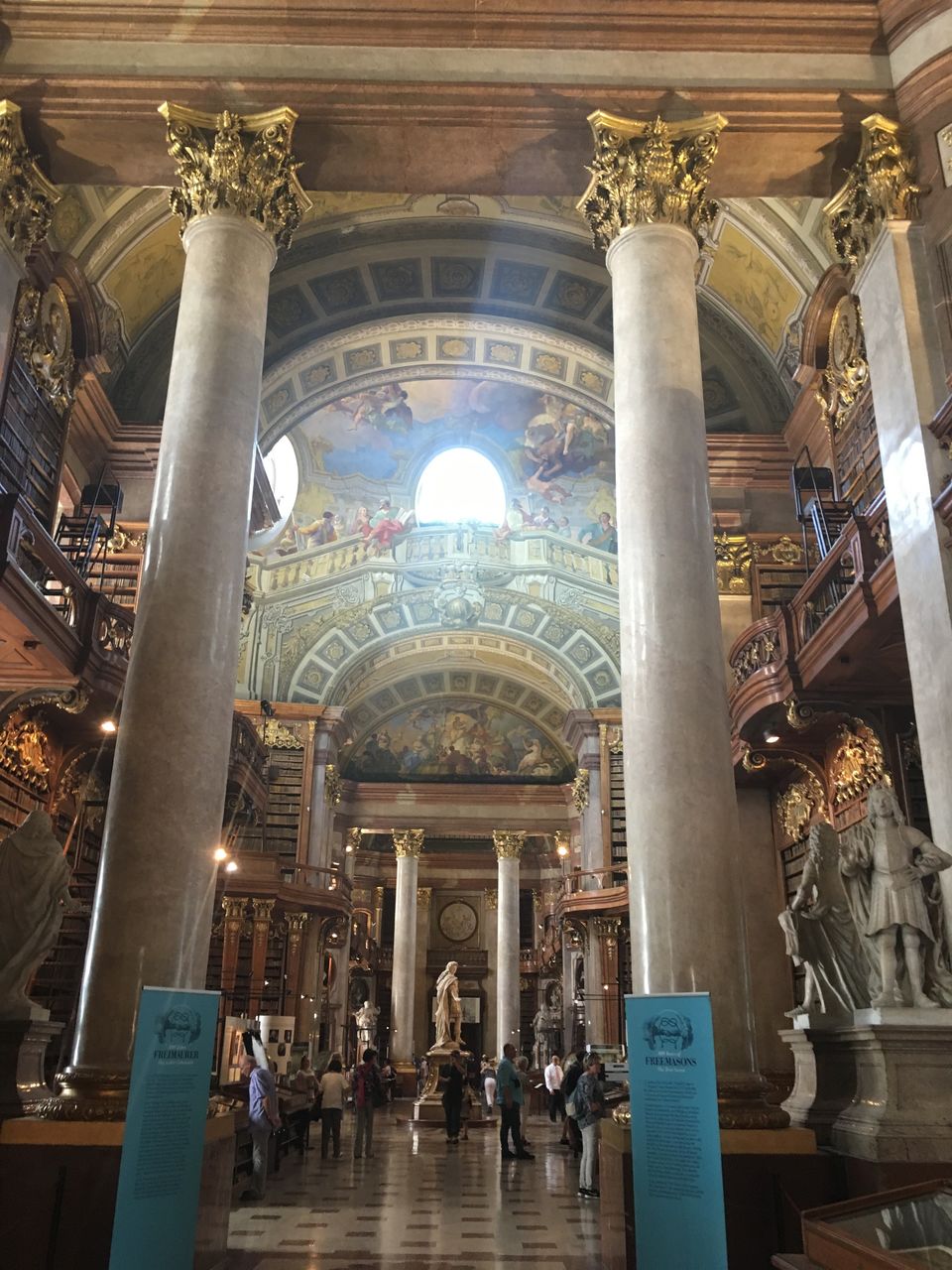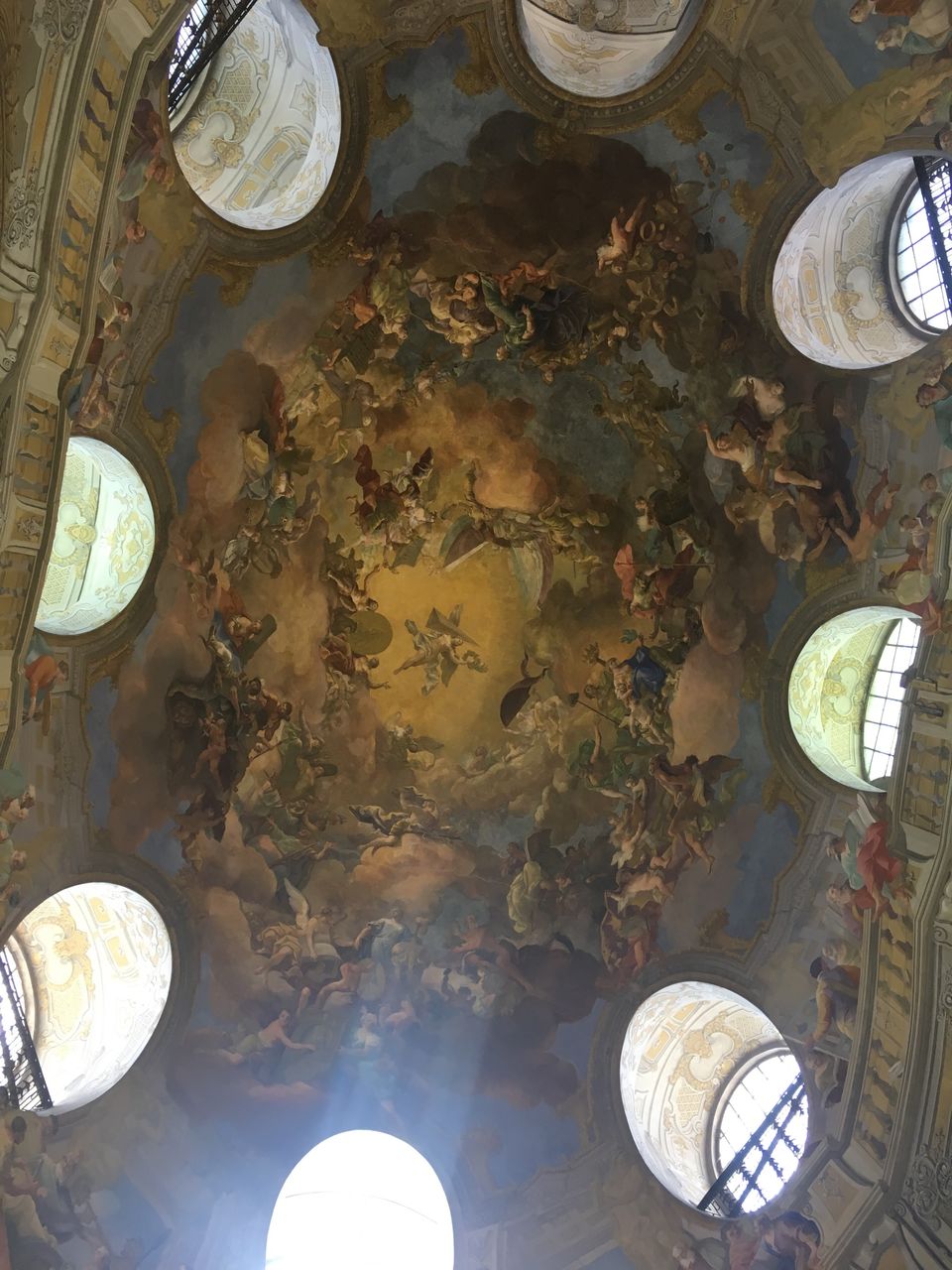 2. Joseph Square (Josefzplatz): As you come out of library you will enter this square. It has large statue of Emperor Joseph II in Roman clothing riding a horse. It has Augustiner Monastery in one corner which is a small and simple chapel.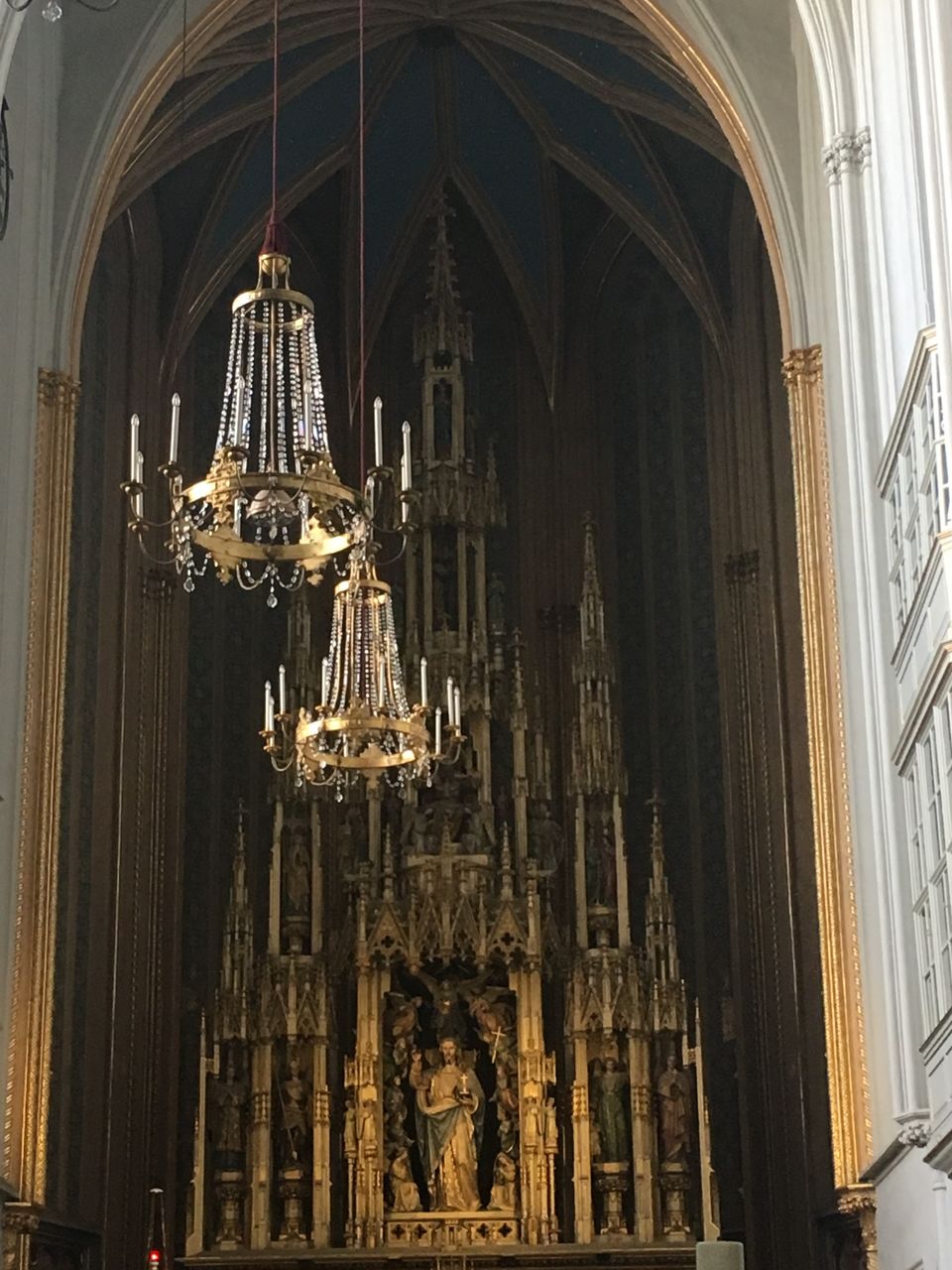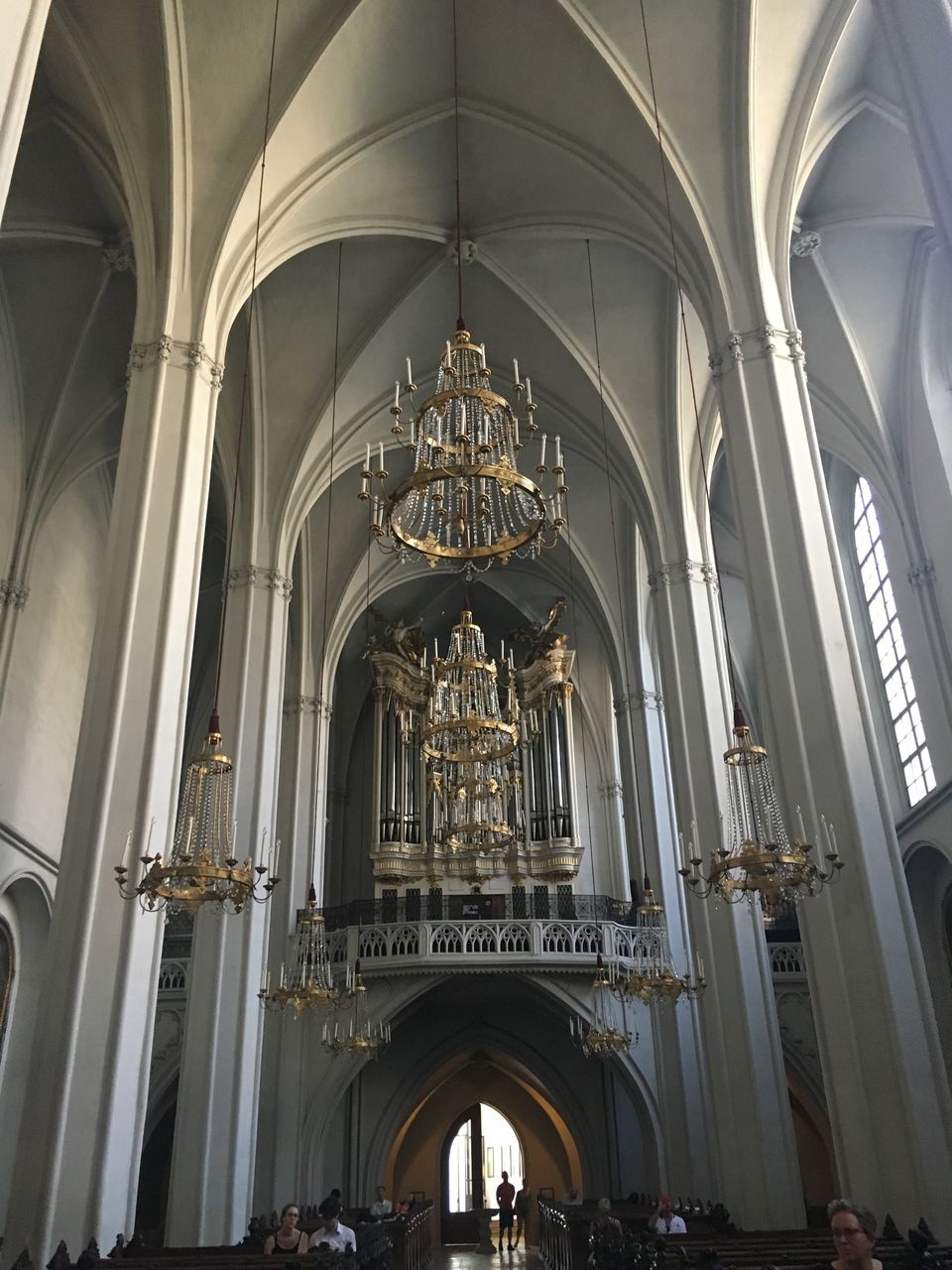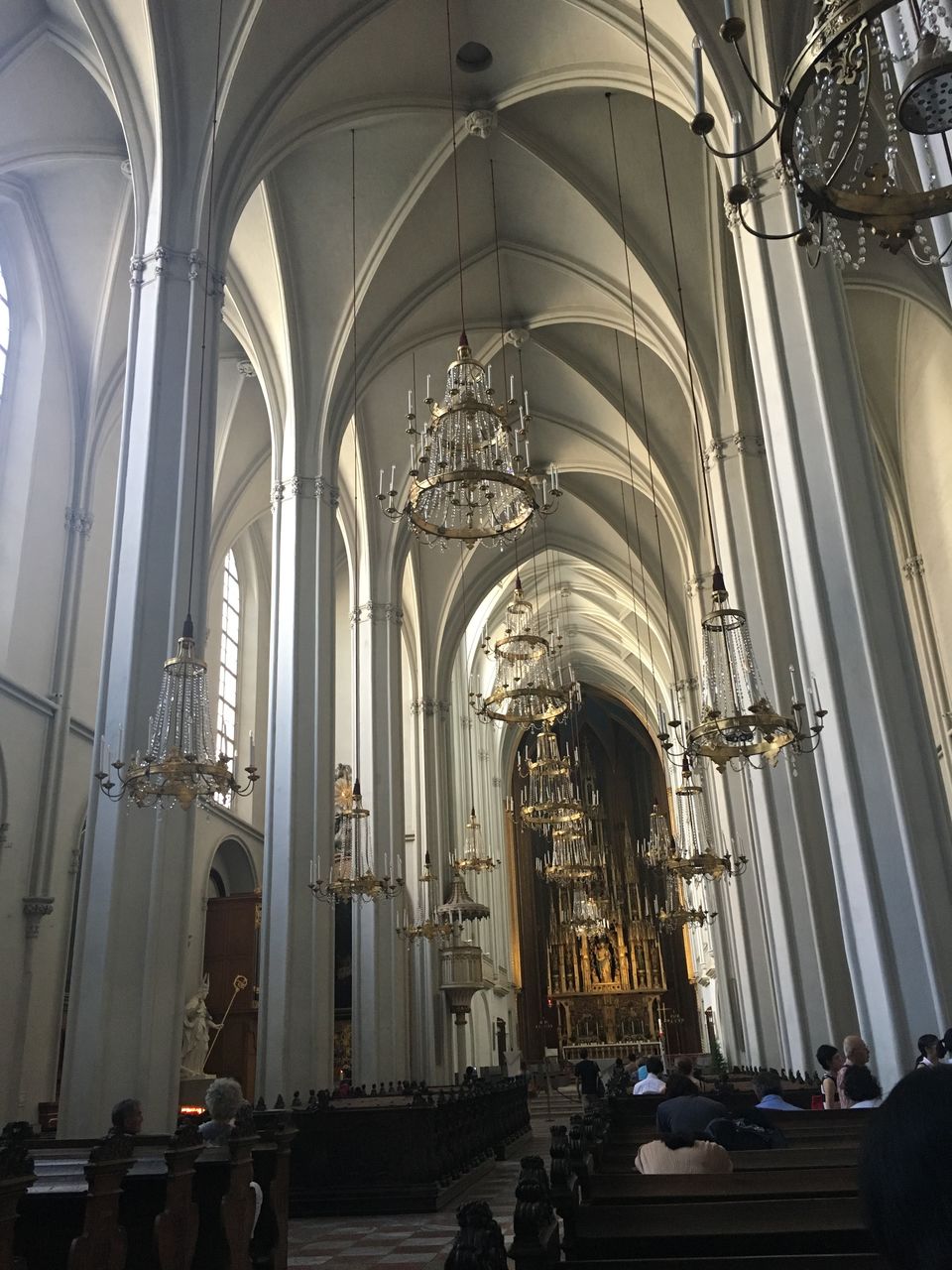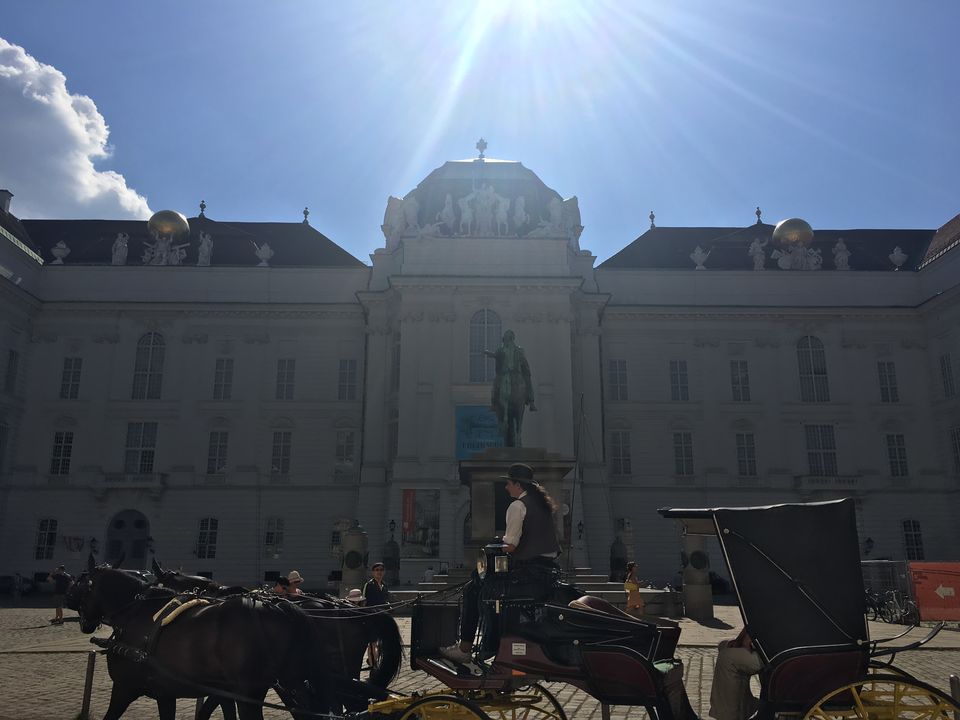 3. Imperial Treasury of Vienna: It has jewels of the Holy Roman Empire, including the Imperial Crown and the Holy Lance, gems including one of the world's largest emeralds, jewels and ceremonial clothing which are many years old. Separate entry ticket is required which includes audio guide as well. It has Imperial Music Chapel (Hofmusikkapelle) as well inside where the famous Vienna Boys Choir performs on Sunday masses. More information and tickets can be found here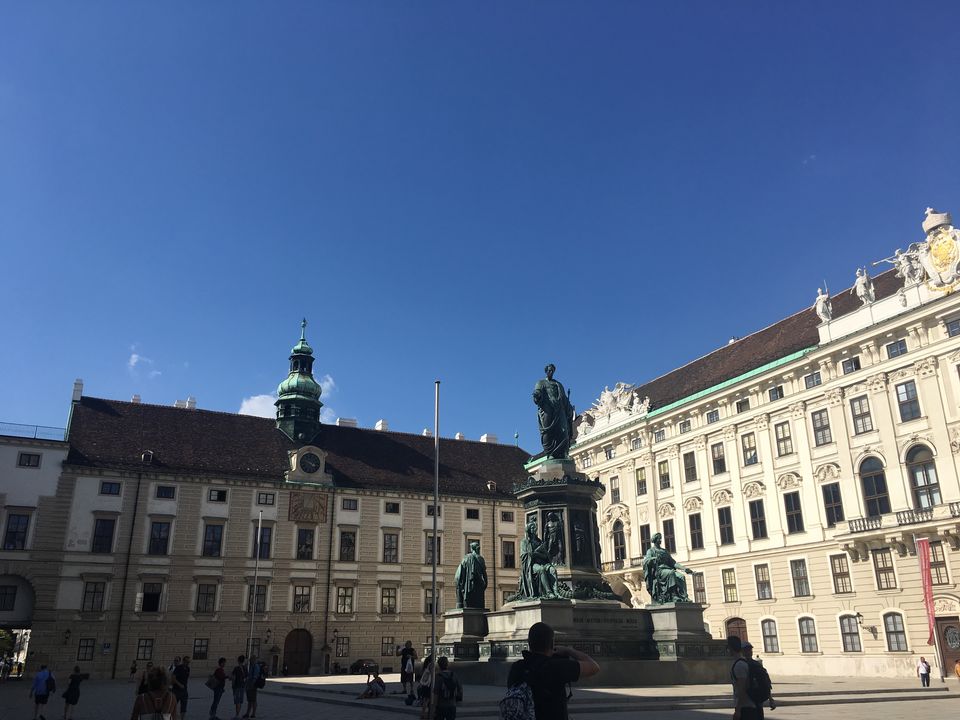 4. Hofburg Imperial Apartments: You will see 3 exhibitions here included in 1 ticket with audio guide.
a) 1st one is Imperial Silver Collection exhibition which showed all kinds of cutlery, silverware, glassware, crystals objects, china/porcelain cutlery, etc. that were used by the court. The most interesting part for me was the golden centerpiece spanning the entire length of the table.
b) The 2nd part is Sisi Museum. It tells the story of Sisi, Queen Elizabeth, wife of king Franz Joseph 2. Her life from a small child, through the pressures of being Empress, her struggle with maintaining beauty, to her unfortunate death. It displays some pieces used by her like lavish dresses, shoes, books, her own notes and a replica of her private chambers when she traveled by train.
c) 3rd part is Imperial Apartments where you will see rooms of Franz Joseph, Sisi, their kids, conference rooms, family dining rooms and many more with their original furniture, furnishings and decorations intact.
Highly recommend this tour! Important: Combined Ticket: The Sisi Ticket is the best deal as it includes Schönbrunn Palace, Imperial Furniture Collection, Hofburg with the Imperial Apartments, Sisi Museum, and the Imperial Silver Collection. More details can be found here.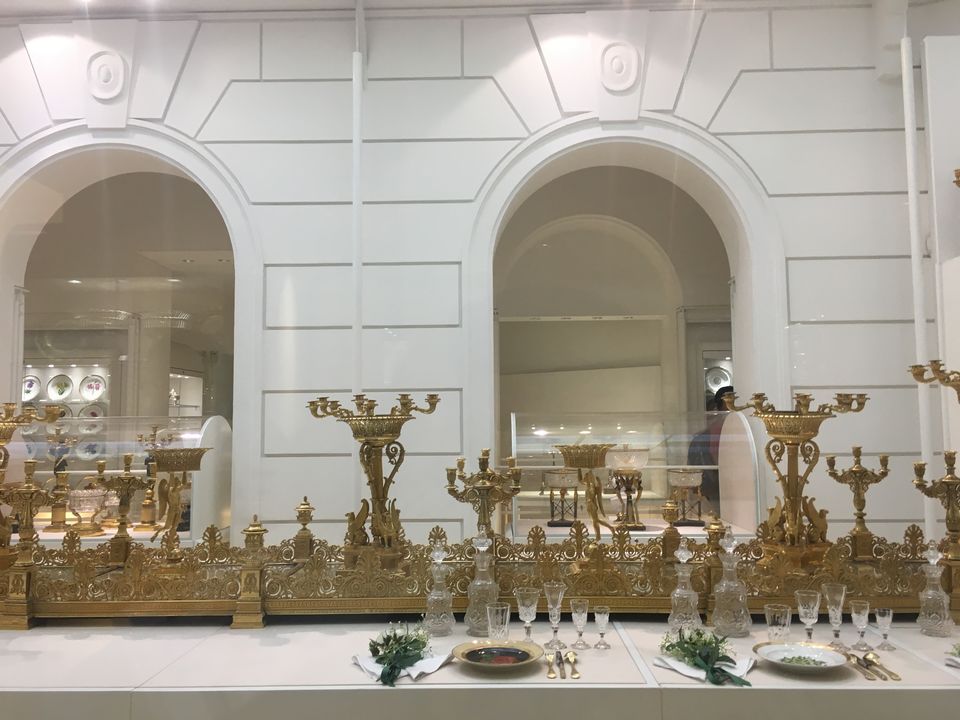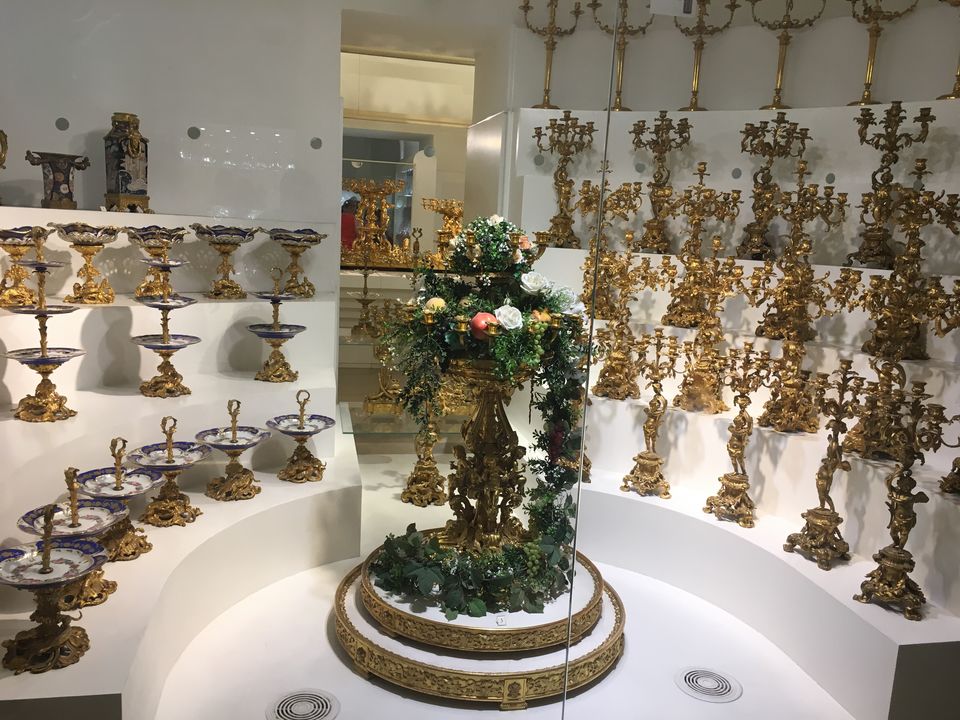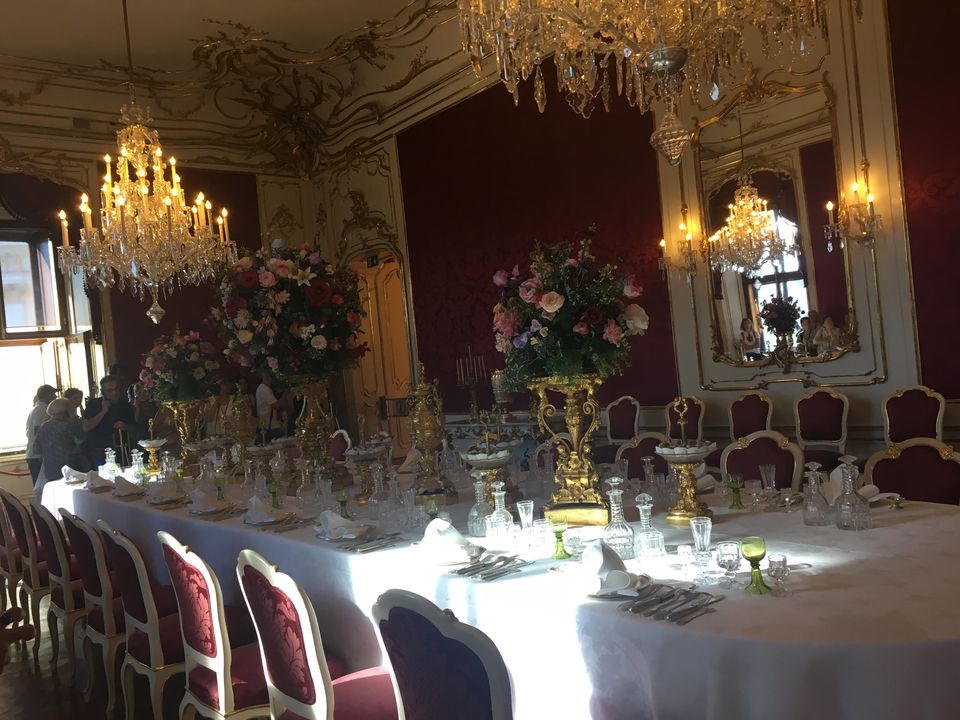 5. Hero's Square (Heldenplatz): This is a huge beautiful square having Neue Burg (New Castle) in background. Some part of it is a museum and rest is a government office. We skipped New castle. Infront of this square lies large exquisite gardens called Burggarten & Volksgarten.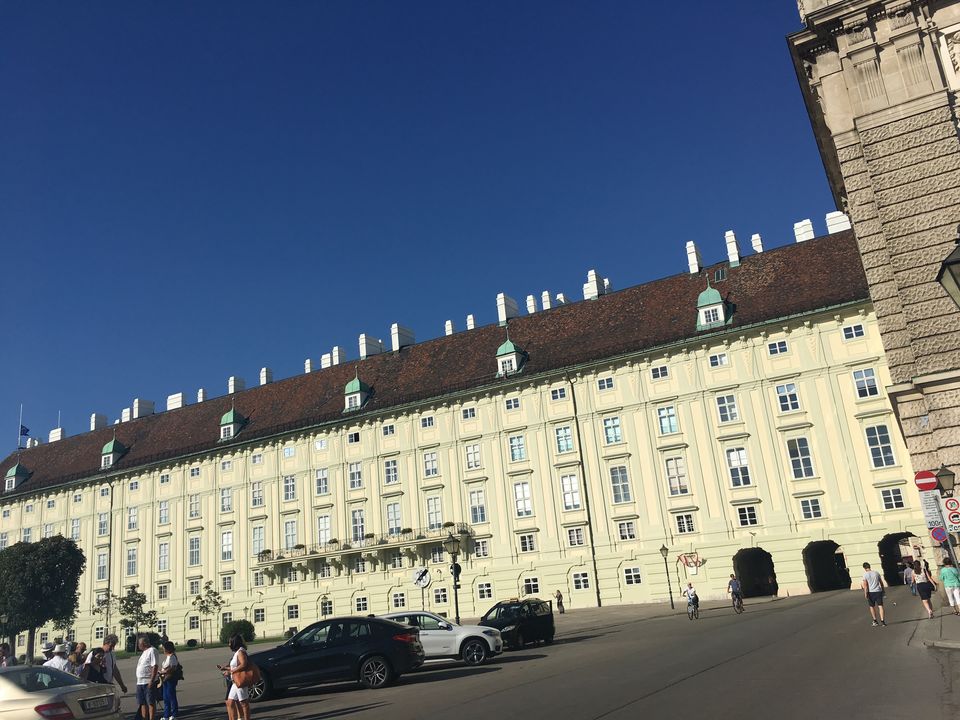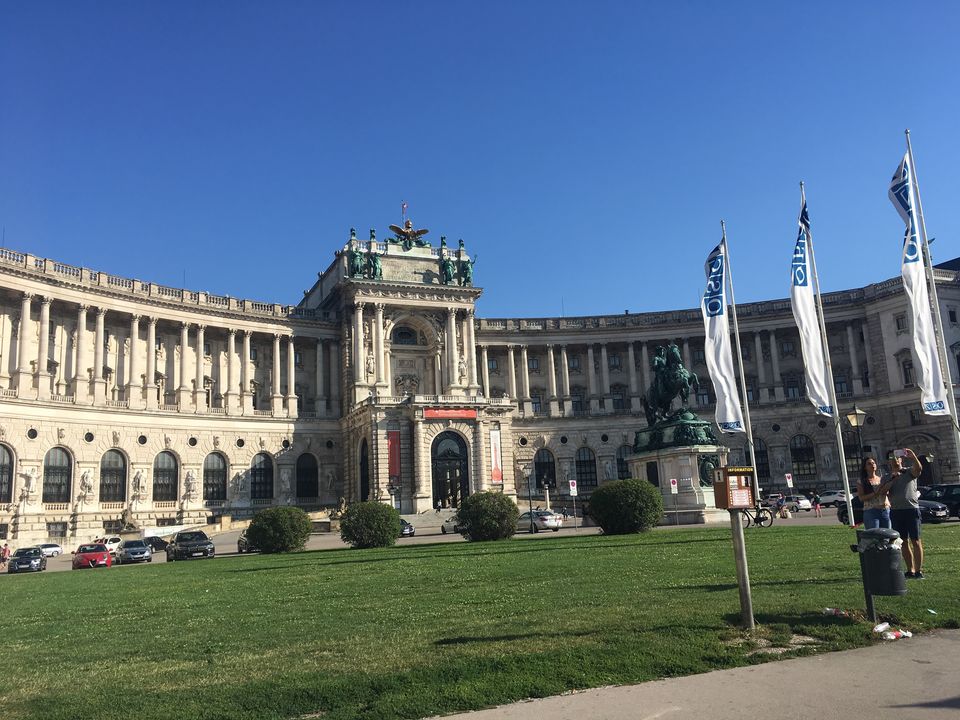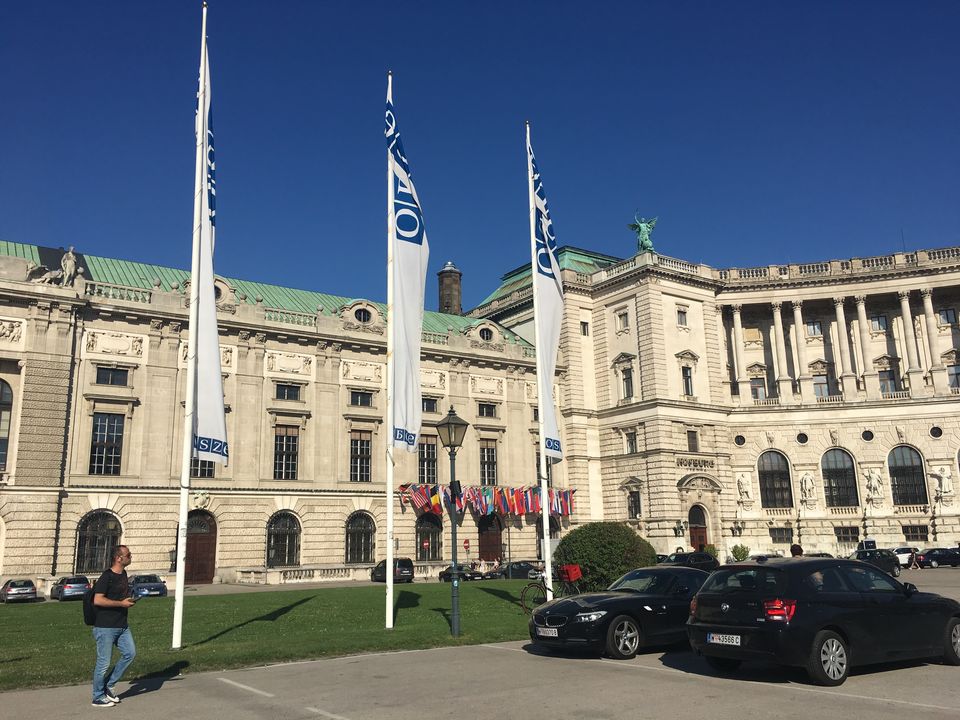 6. Spanish Riding School: We did not go here because of lack of time. This is the oldest horse riding school in world which gets its name from white Lipizzaner horses from Spain. You can watch Morning exercises here starting at 10 AM for which tickets can bought at its ticket center in morning. The full dressage show performances typically happen on Saturday and Sundays at 11am and can sell well in advance. More details and tickets can be found here.
Post this we went to Rathaus to grab some dinner. This is where City Town Hall is present. It's a magnificent building which actually looks like a fairy tale castle. At night when it is all lit up it looks even more mesmerizing. It has vast beer garden in front where multi-cuisine food stalls are put up serving food, beers and wines. It is always bustling with people. At night, full sized screen goes up and free outdoor movies are showcased with ample of sitting arena around and looks like an amphitheater. Free guided tours are conducted for those who wants see city hall from inside. More details can be found here. Also, one can climb up the towers to witness city views from top!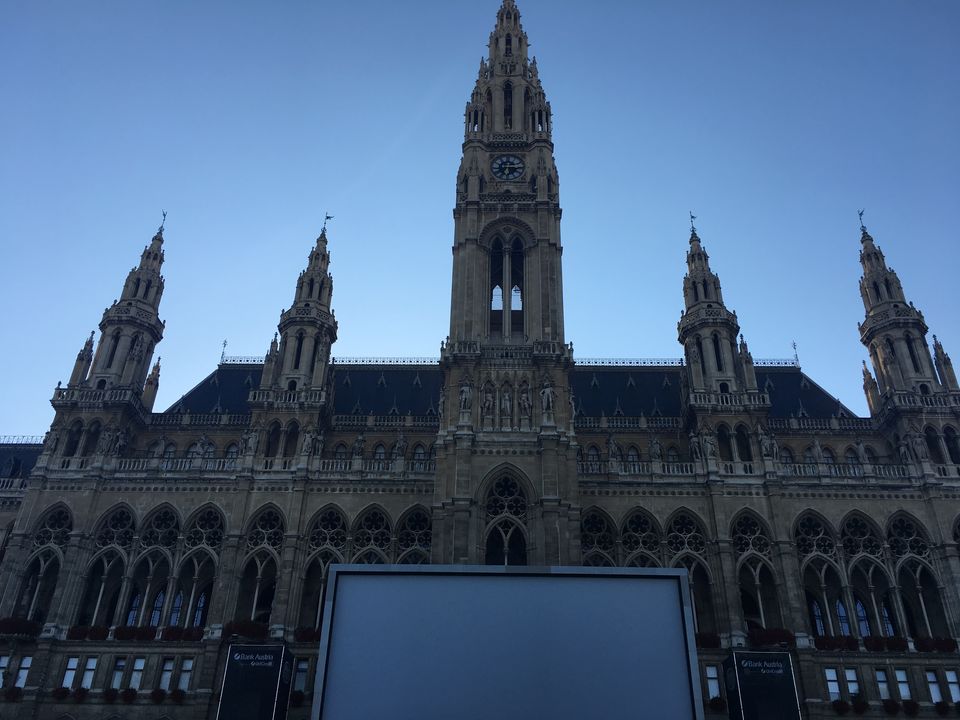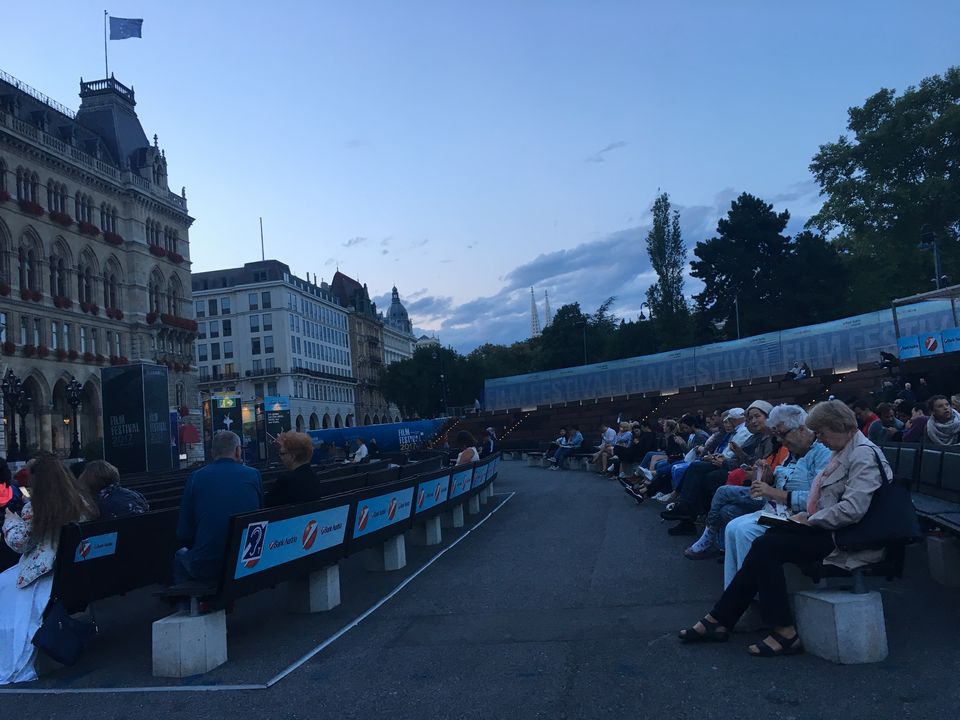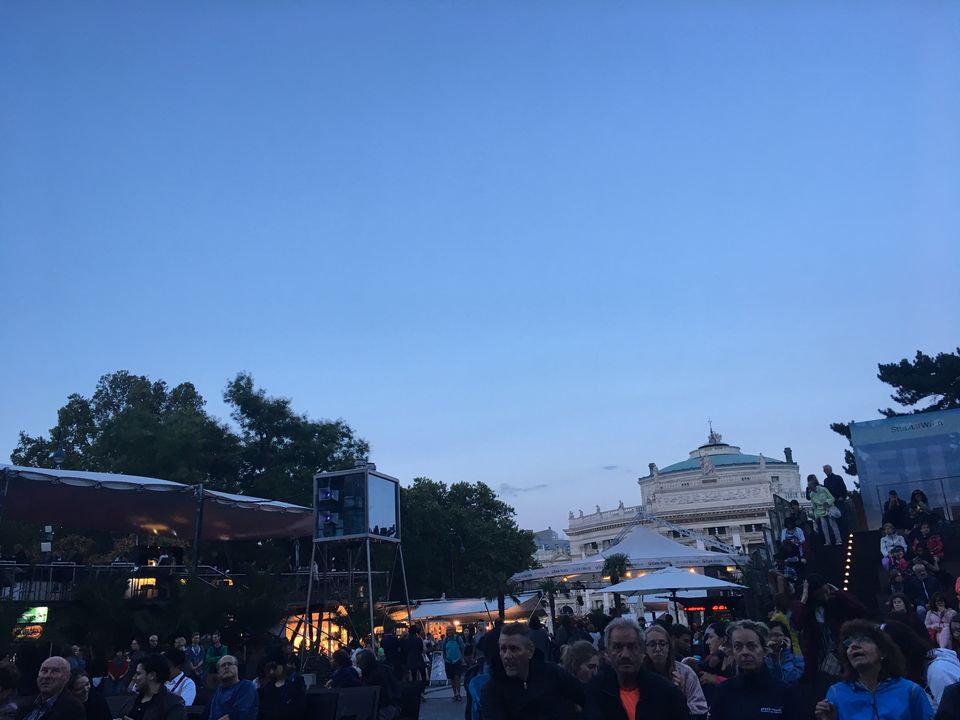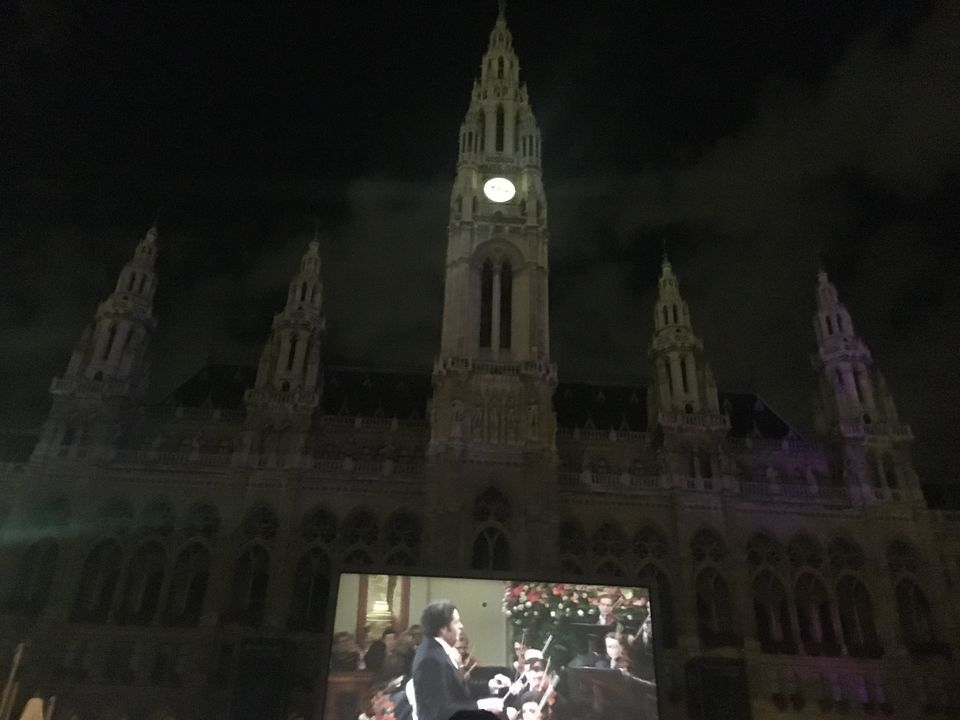 Our last stop of the day was Opera house to see the Mozart Orchestra performance for which we had already booked tickets in morning. Duration was 2 hours but we watched it only till interval and post that we wandered around the whole building to soak in its beauty. We had seen such a place and performance only in movies so it was a pleasant experience to witness this for real!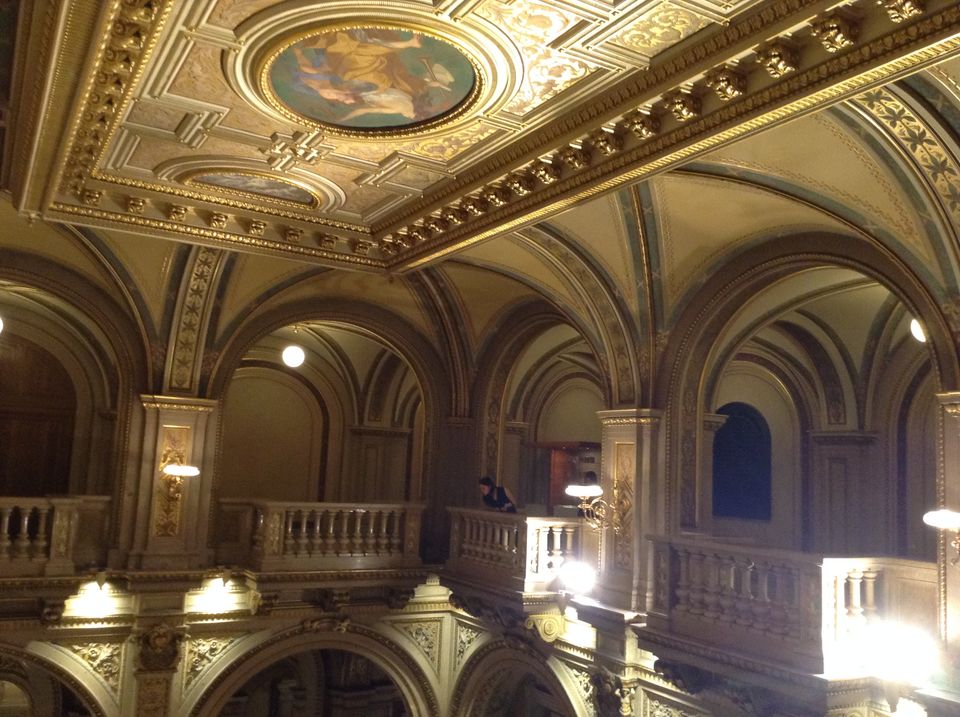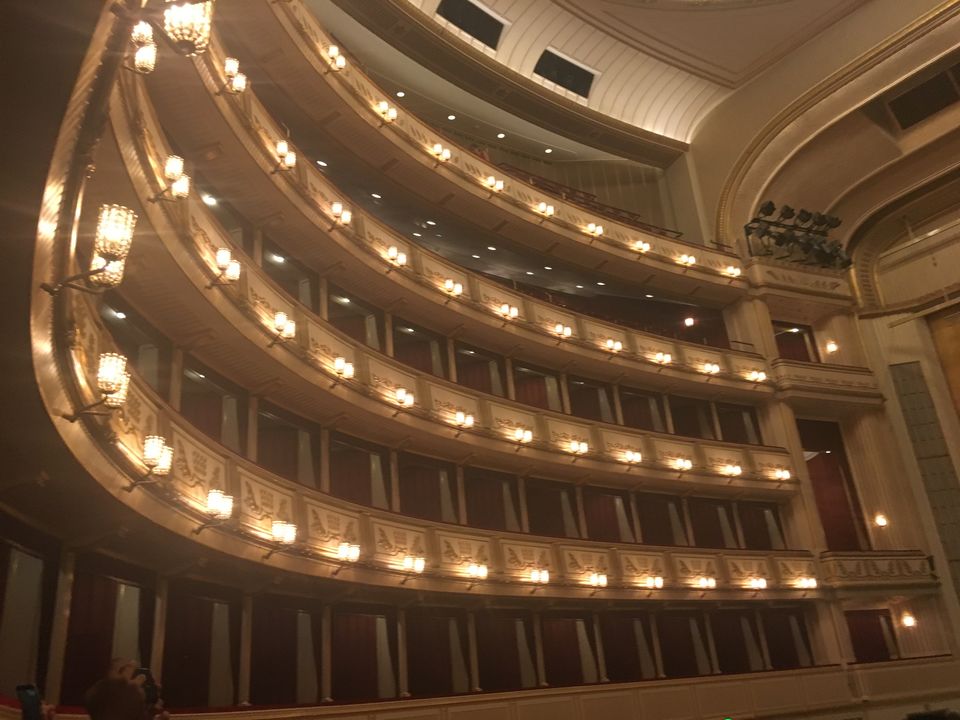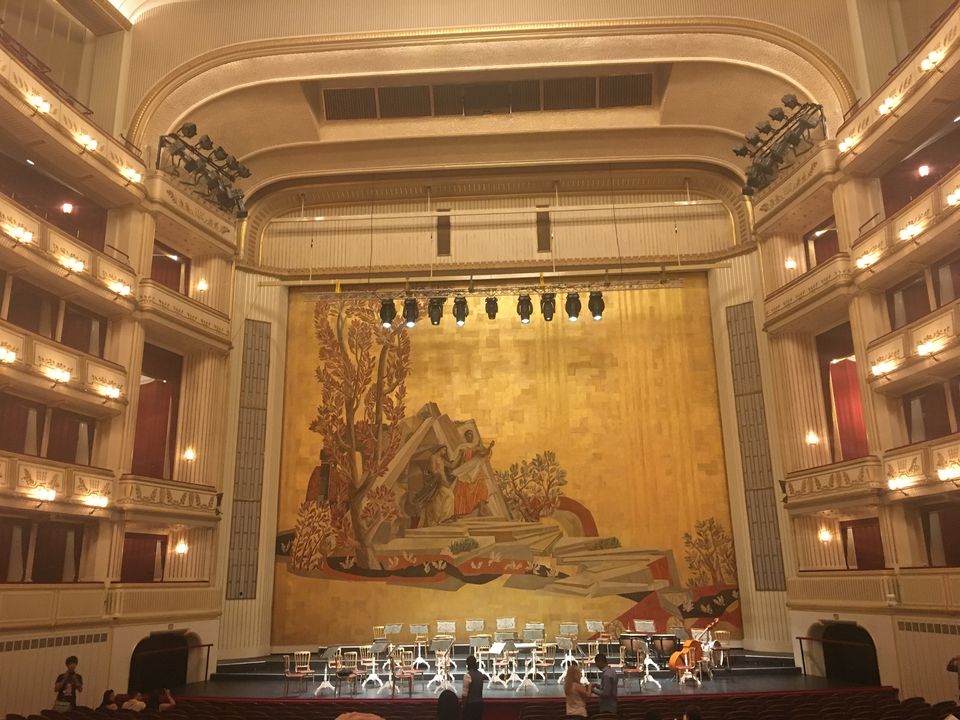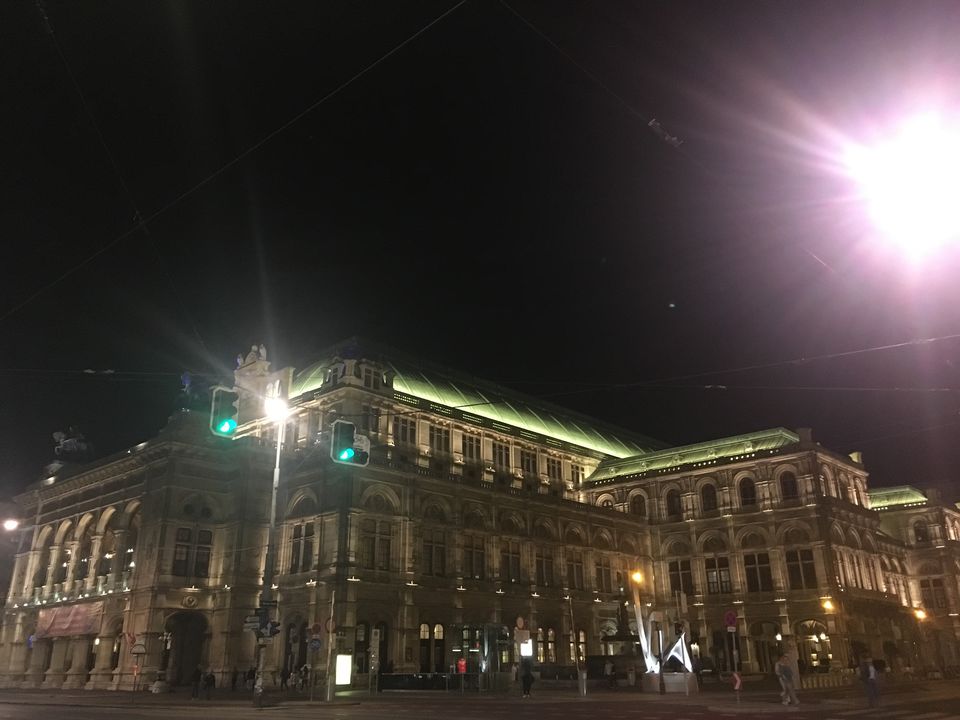 Day 8: We went to Budapest for a day leaving our luggage at Hotel's luggage store room. More details about our trip to Budapest can be found here.
Day 9:
We reached Vienna by 10:30 AM. We planned to cover Schönbrunn Palace today. We bought tickets for Imperial Tour at https://www.imperial-austria.at/schoenbrunn-palace.html for afternoon time slot. We took U4 metro to reach here. From metro station, it's a 10-minute walk. The palace showcases the Ritz and glitz of Habsburg dynasty. You get the audio guides and while touring you get to see 22 lavishly decorated rooms. Access to Schonbrunn gardens is free and you can walk up till Gloriette to witness some amazing views of gardens and palace. There is Tiergarten Zoo in the complex of Palace which is world's oldest running zoo but we skipped it! Museum of Carriages or Wagenburg is also located in palace grounds. We came to know about this later so couldn't check this out. Atleast 6 hours are required to cover everything this place has to offer!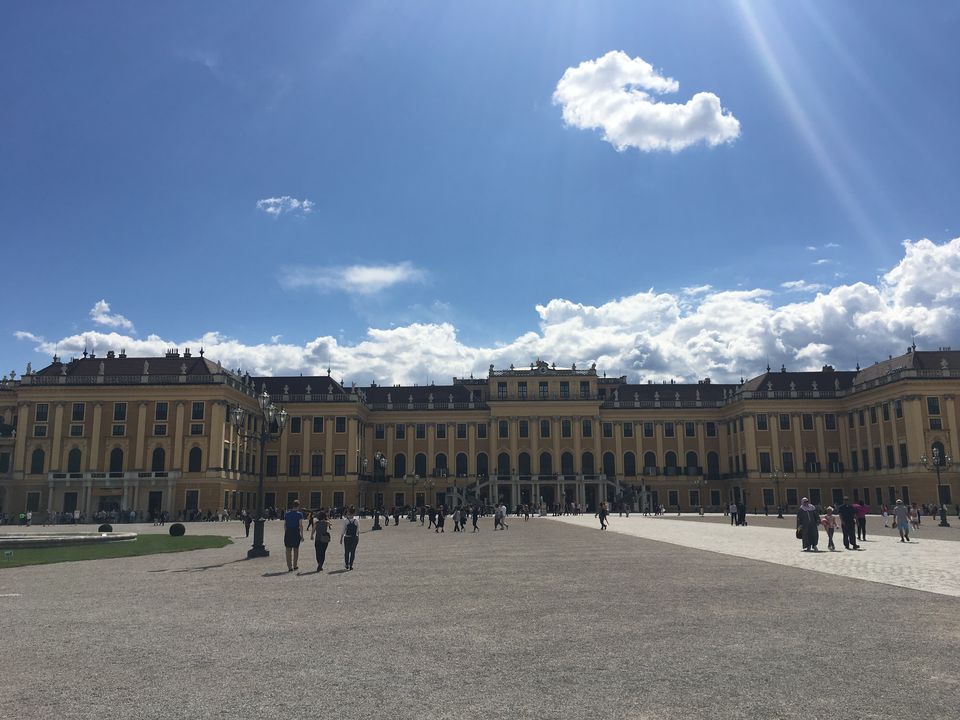 From here we went to Schwedenplatz to do Ringstrasse tram tour. It's a yellow color tram and a special ticket is needed to ride this tram for one time. You will get audio guides which narrates history of Vienna in general and all the important monuments it passes by. Last one leaves at 5:30 PM. It's a very short trip and we did not find it much useful! Austrian Parliament house is quite astonishing as it looks like some Roman Temple e.g. Pantheon in Rome! Free guided tours are available at the top of the hour Monday-Saturday at 11am-4pm.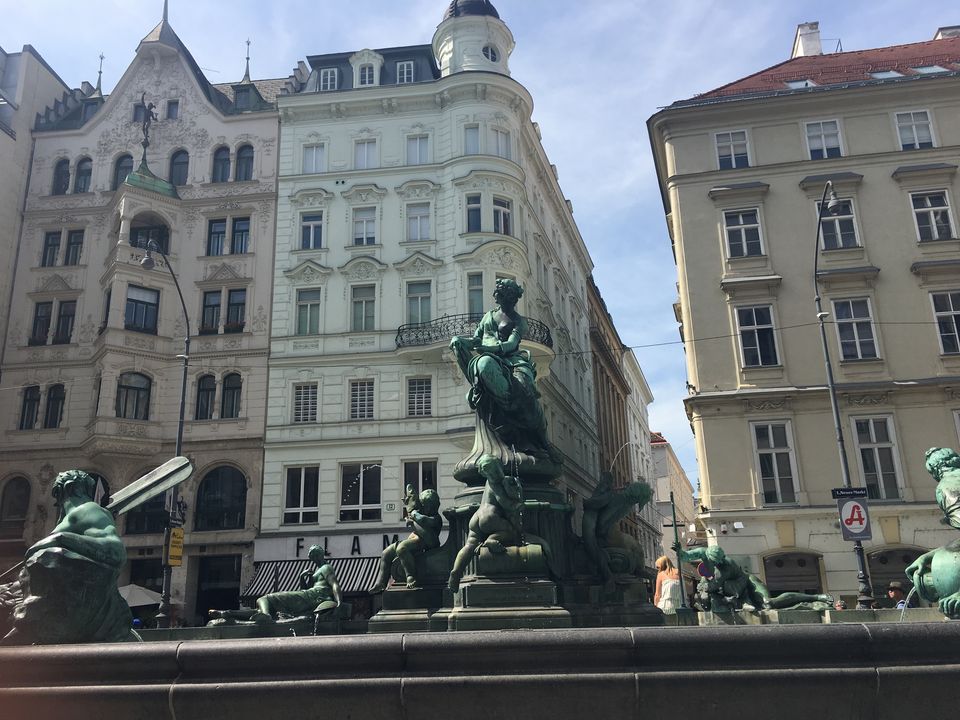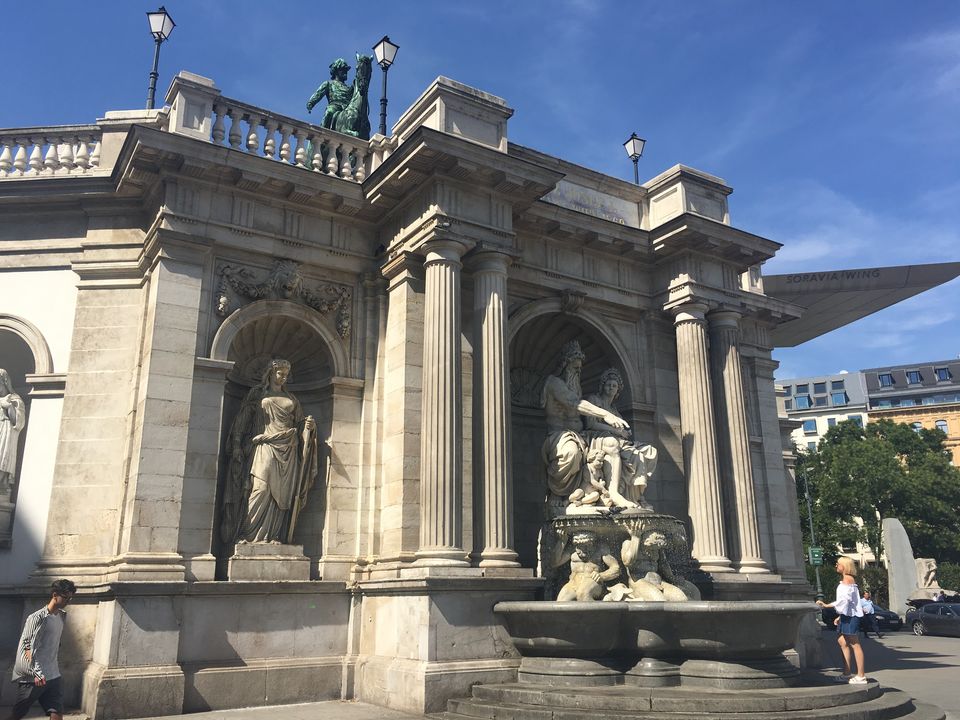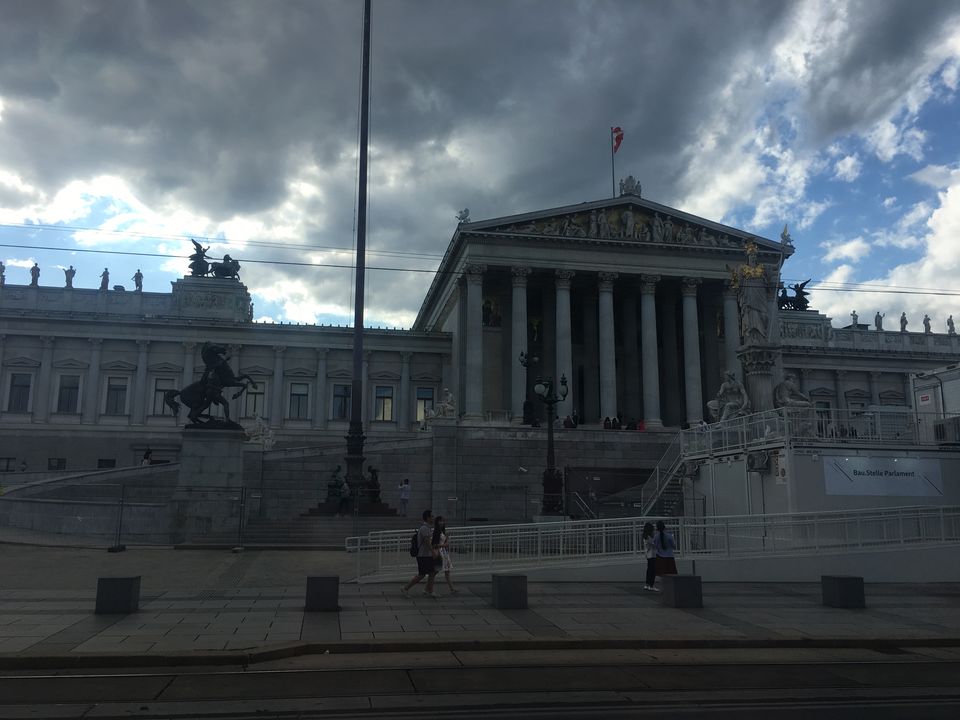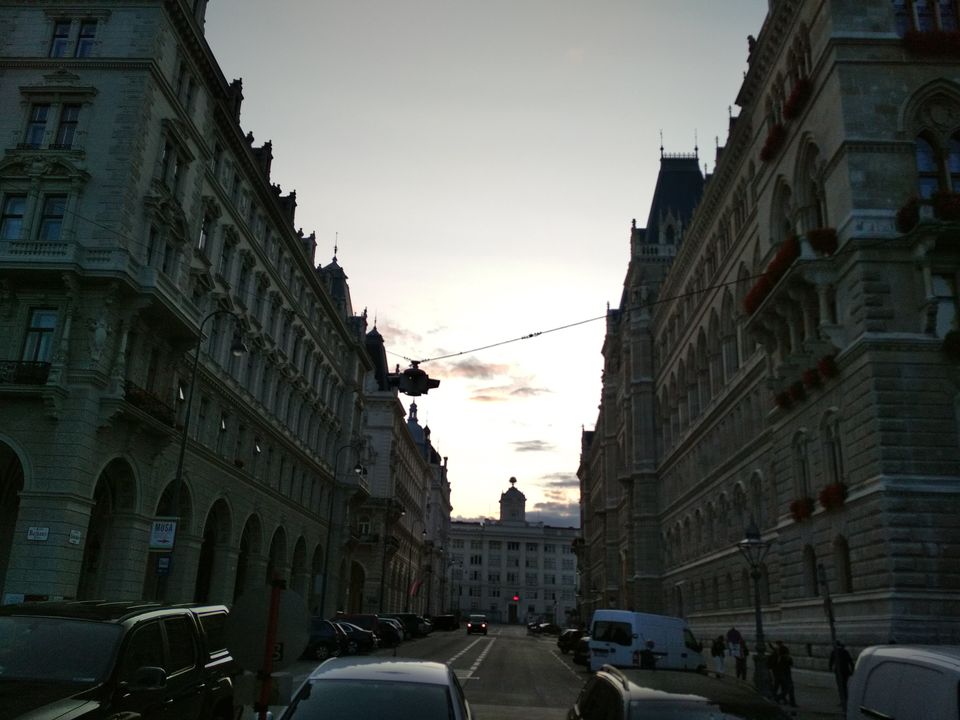 We spent rest of the day roaming around in old town of Vienna. It is crammed full of beautiful old buildings and never-ending architecture. you will find the famous café Sacher here. Well, we found its chocolate cakes to be over-hyped! Pedestrian and famous streets like Kärntner Strasse and Graben are lined with showrooms of luxury brands and various souvenir shops. Look anywhere and you will find amazing number of grand buildings, statues and wonderful squares.
Day 10:
Our 9-day trip to eastern Europe had come to an end. Our return flight to Delhi from Vienna was at 12:0 PM. We took Uber cab to reach airport from Hotel Beethoven.
Recommendations:
1. I will definitely not recommend the itinerary we followed for Vienna and Budapest. Vienna is rich in history, culture, art and architecture. It is astonishingly beautiful as well. Therefore, I recommend spending atleast 3 full days in Vienna to cover all important sightseeing places leisurely.
2. 1 additional day you should spend in taking guided tours to Wachau valley, Dürnstein - a UNESCO World Heritage Site, Melk's Benedictine monastery - Melk Abbey and wine tastings. There are many private tours which you can be hired from Vienna or can be booked online in advance on Viator.com. one of my friends took this tour from http://www.viennaexplorer.com/ and they thoroughly enjoyed it!
3. You must take free walking tours before you start exploring on your own. They will give extensive overview of Vienna in general and all important monuments. They generally last for 3 hours. One such can be booked here: https://www.goodviennatours.eu/
4. Because of lack of time we missed on following places which I feel are worth exploring:
a. Museum Quartier: This Complex holds 4-5 museums of which the most famous ones are Kunsthistorisches Museum which holds Vienna's greatest collection of paintings, Museum of Natural History (Naturhistorisches) which has significant collection of dinosaur skeletons, fossils and meteorites in addition to a large display of insects from around the world and Leopold Modern Art Museum
b. Upper Belvedere Palace

c. Churches like St. Charles church (Karlskirche) and Votive Church (Votivkirche)
d. Tiergarten zoo, Gloriette and Museum of Carriages in Schonbrunn Palace
e. Performances at Spanish Riding School
5. Vienna Pass: We did not take it but I guess if you are staying in Vienna for 3-4 days atleast and plan to cover all above mentioned places then may be it is worth buying.
6. Famous restaurants and cafes in Vienna: Demel Café for chocolates, cakes, etc., Palm Tree House and Café Sacher. We couldn't try 1st two and last one we found overhyped!
7. Google maps do not provide local public transport information in Austria. They tell only about regional buses which runs intercity. They have their own transportation apps.
8. All markets in Vienna are closed on Sundays
9. Buy chocolates and alcohol in Vienna. They are cheaper here than at duty free shops of airports.