"Once a year, go someplace you've never been before." – Dalai Lama
I am not a nomad, I am just a traveller, and I truly believe what Dalai Lama says. I love travelling, but not throughout the year. I love making a couple of trips a year and enjoy the little surprises that the journey offers. This trip was a gift from my husband to mark our second marriage anniversary. It was special in so many ways. We did a couple of things together for the first time. For the first time he rode a scooty with me as the pillion rider. For the first time we stayed in a homestay. And, for the first time we saw rainbow together. The memories of those three days are still strongly etched in my heart. Now, after almost two months, while writing this blog post, I miss our days in Pondicherry…
Pondicherry, officially known as Puducherry and affectionately called Pondy, is blessed with some amazing spots. Let me share the places we explored during our trip.
Day 1
Mahabalipuram temples
We boarded an early morning flight from the Kolkata Airport and reached Chennai at around 8.30 am. From Chennai airport, it takes around three hours to reach Pondicherry by car. Before reaching Pondy, we planned to visit the Mahabalipuram temples. It's a UNESCO World Heritage Site, beautifully nestled on the Coromandel Coast of the Bay of Bengal, about 60 kilometres south of Chennai.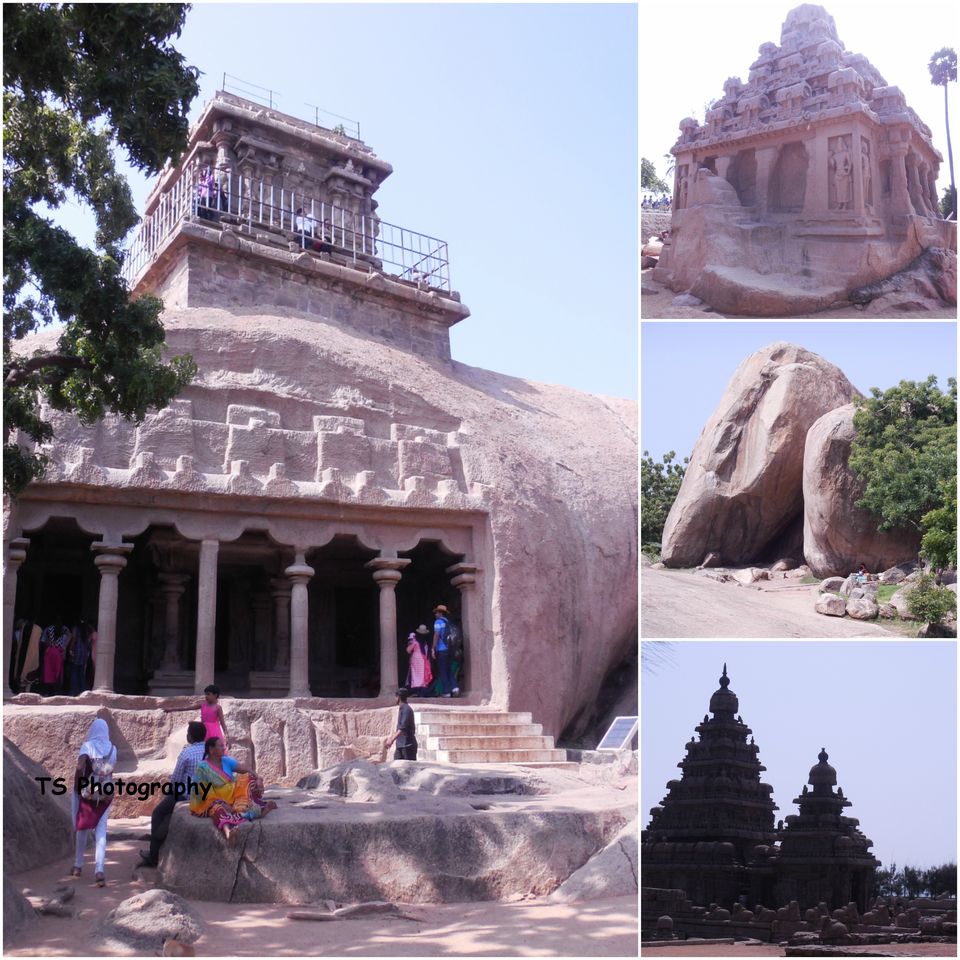 The religious monuments are spread over a massive area and it takes minimum two hours to cover all. First we visited the Shore Temple. It is nestled beside the sea in such a way that for a few minutes I was transported to my school days when we used to read the epic tale Mahabharata with illustrations. I don't know why, but that's what I was reminded of by the scenic view. The architectural temple was located with the sea in its backdrop and a huge green land in its front. I found it to be a fairytale like view. The five-ratha temples and cave temples were no less in their grandeur. It's a delight for those who love architecture and history. We braved the heat, had coconut water and visited all the monuments/architectural sites.
On finding our temporary abode in Pondicherry
We were super excited for the house that was going to be our address for the next three days. This was the first time that we chose a homestay over a hotel. We were given a spacious clean room with attached bathroom. We had to manage food from outside. Staying in a homestay was not a bad experience. And, our host was an interesting family. The mother is a baker, while her younger daughter is a singer, and they have rescued a squirrel, which has now become their family member. While my husband got to see the cute tiny creature once, I was unlucky. My wish to see a pet squirrel remained unfulfilled.
Rock beach
Post lunch, we headed to explore Rock Beach, the most popular beach in Pondicherry. It's a 10 minutes walk from our homestay. Staying outside the tourist hot spot, amongst the locals, we could literally feel the difference between staying in a para and in a tourist hot spot. The tourist spot was buzzing with travellers dressed in colourful attires with no furrow lines on forehead. Vibes of happiness was everywhere. The feel was simply rejuvenating, inspiring.
At this beach, one can visit places of attractions like the War Memorial, Mahatma Gandhi statue, B R Ambedkar Statue etc. We wrapped up our first day by enjoying sun set from rock beach while gorging on delicious ice creams from Gelateria Montecatini Terme (GMT Ice Cream).
Day 2
Blissful breakfast
The top priority of our second day was to enjoy breakfast at a sea side cafe. White Town and Rock Beach have some lovely cafes. You will be spoilt for choice. After taking a stroll on the beach, we settled at a sea facing cafe. It was early morning but there was no laziness in the atmosphere. The cafes were buzzing with vibrant tourists, hooked to menu cards.
My husband ordered continental, while I opted for cheese omelette, bread and a bowl of fruits. Ah, the breakfast was so blissful.
Museum
After satisfying our morning hunger, we visited the museum, located at White Town. The museum is home to bronze sculptures of deities, various swords and weapons, palanquin, bulockart, handicrafts and some specimens of Chola and Pallava art from Pondicherry and Karaikal.
Serenity Beach
Our next destination was Serenity Beach. It is located close to East Cost Roads. We took an auto to reach the spot. Upon reaching Serenity Beach, I felt we should have spent the entire day there. The sky was blue, painted with soft cotton like clouds, and underneath was the colossal blue sea, with cheerful waves dancing rhythmically. Just gazing at the sea and its waves made us feel happy and serene.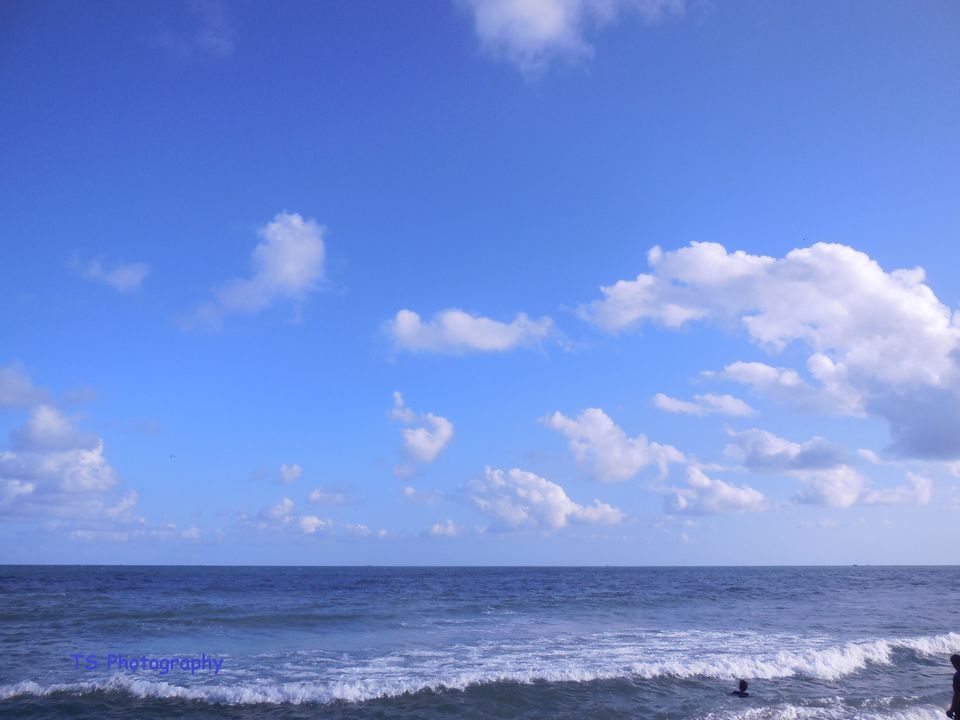 Serenity Beach is popular for swimming and sunbathing. The waves are apt for surfing, which is a very popular sport among the adventure junkies visiting the beach. However, while leaving the spot we noticed a board warning travellers from swimming there. The board also reported how some people lost their lives while swimming there. So, be careful and do not get carried away while indulging in adventure activities.
Botanical Garden
With heavy heart, we bid adieu to the Serenity Beach and left for Botanical Garden. The garden built by French colonists is home to more than 1500 plant species. Though I was not much impressed with the garden I quite liked the aquarium, which is well maintained. Home to various types of fishes and other marine creatures, the aquarium is certainly an amusing place for children who are fascinated with the idea of an aqua-world.
Last destination of the day- Church
Our last destination of the day was Our Lady of Angels. It is one of the oldest churches in Pondicherry. After spending some quiet time at the majestic building, we were back to Rock Beach to enjoy the night view.
Day 3
The fun Scooty ride
Our last day in Pondicherry was full with many fun activities. On this day, we took a scooty on rent, and I was so excited to ride pillion. I cannot ride a two-wheeler, but I have always enjoyed riding pillion. I find the experience thrilling; it gives me an adrenaline rush. While riding pillion, I again fell in love with my husband. With rain-laden clouds in the sky, I think nature too was in a romantic mood that day and wanted us to remember the moments, forever.
Matrimandir
After a few kilometres of ride, we reached the spot from where we had to hike to reach Matrimandir. On our way, I noticed almost every alternate woman- whether a 25-year-old or a 60-year-old- riding two-wheelers with élan. This is so interesting that in our country, at some place a woman stepping out of houses is a big deal; while at some other place riding Royal Enfield is such a common sight. I just loved the spirit; it was so progressive and inspiring.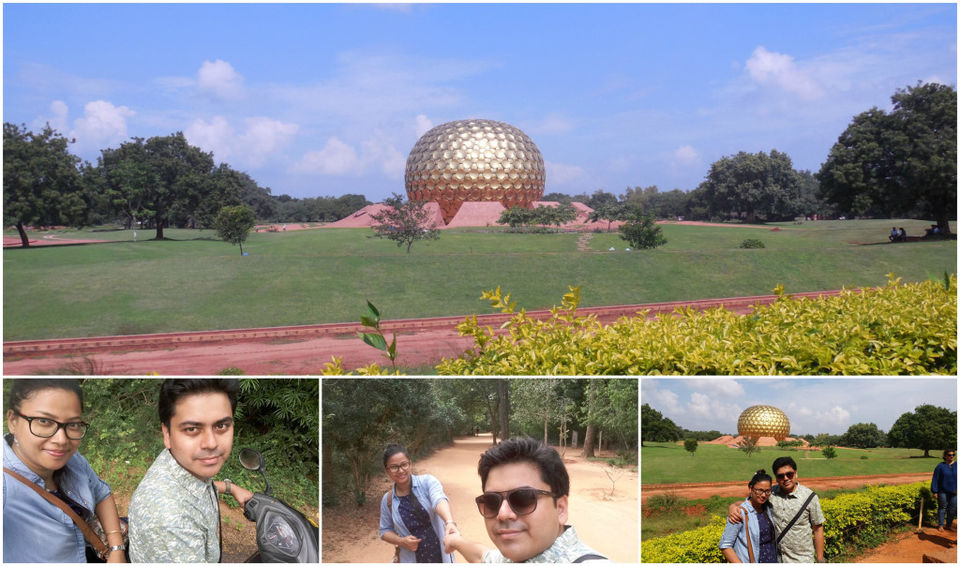 The ambiance around Matrimandir was peaceful, and serene. You can just sit and keep looking at the holy building and how time will fly you won't even realise. Such soothing places make one fall in love with silence. The way to Matrimandir itself is an experience worth remembering. After a small walk amidst greenery, you will reach your destination. It's a must visit place.
Chunnambar Boat House and Paradise Beach
I had no idea that the next experience was going to be so fascinating. Fascinating is an understatement. It was heavenly. Paradise Beach is an apt name. This beach is located along the Cuddalore Main Road, 7 km past Pondicherry. Paradise Beach can be accessed only from the Chunnambar Resort via boats.
So a boat took us to the beach, and on reaching, we couldn't stop admiring what we saw in front of us. It's a quiet beach, with very limited human interference. The sky dramatically met with the sea, the waves were restless and dangerously beautiful. As we were all soaking in the beauty of nature, the seven colours adorned the sky. I cannot explain how I felt to witness rainbow with him for the first time. Like me, every other tourist was excited to see rainbow, and soon it became the subject of photography for everyone.
Shortly it started raining, and we all got drenched and experienced the heavenly ambience around us. Gradually we took shelter in a shack nearby. On the other side, time was running, and as you know, nothing lasts forever, this beautiful experience and flood of emotions too had to end. We bid adieu to Paradise Beach. I hope she remains like this forever, devoid of extreme human interference.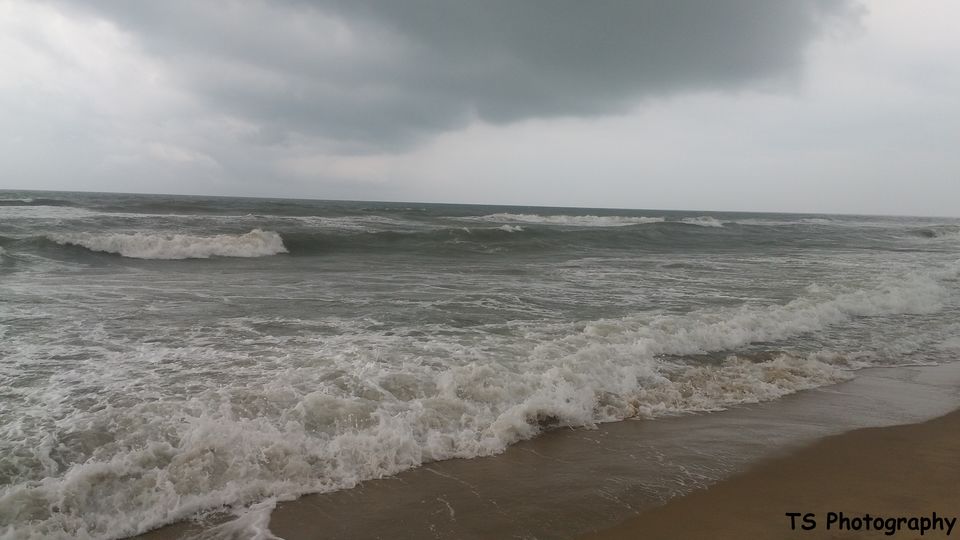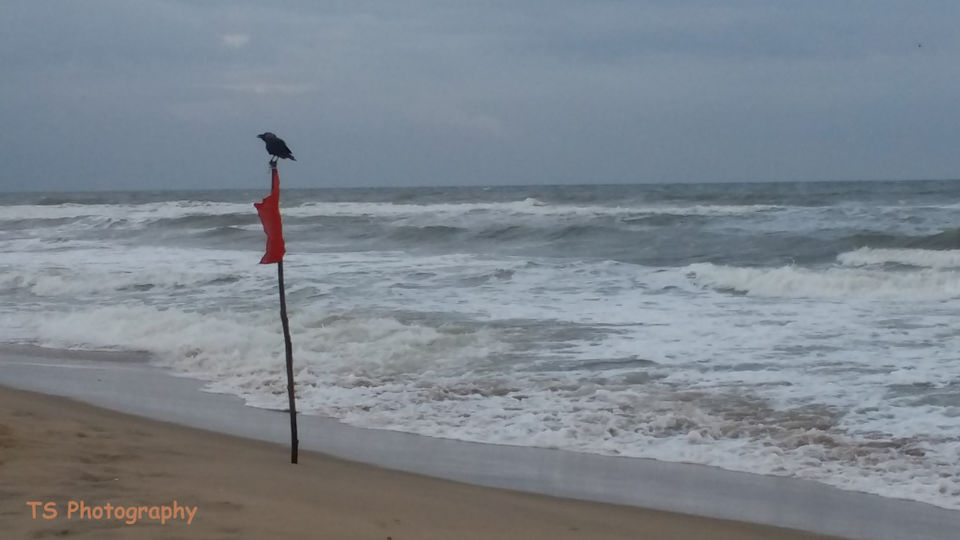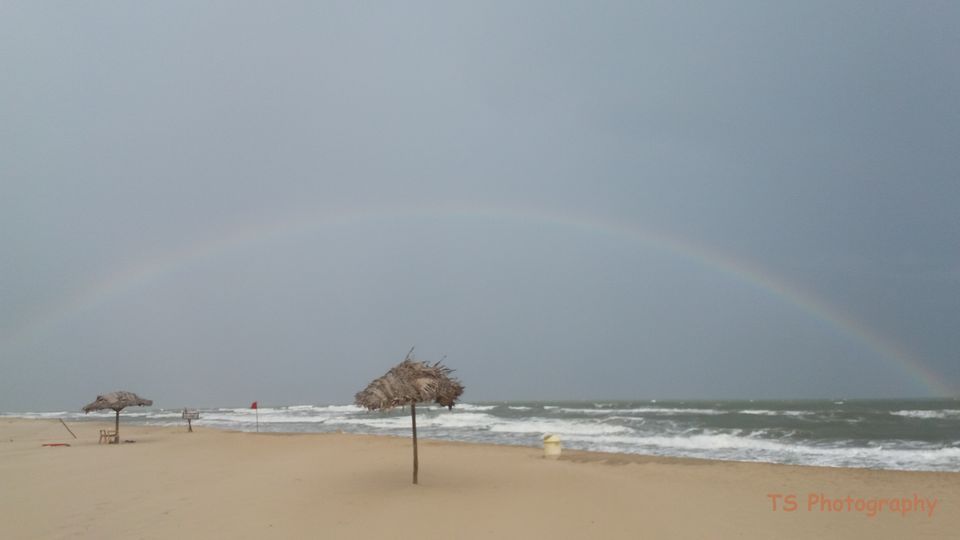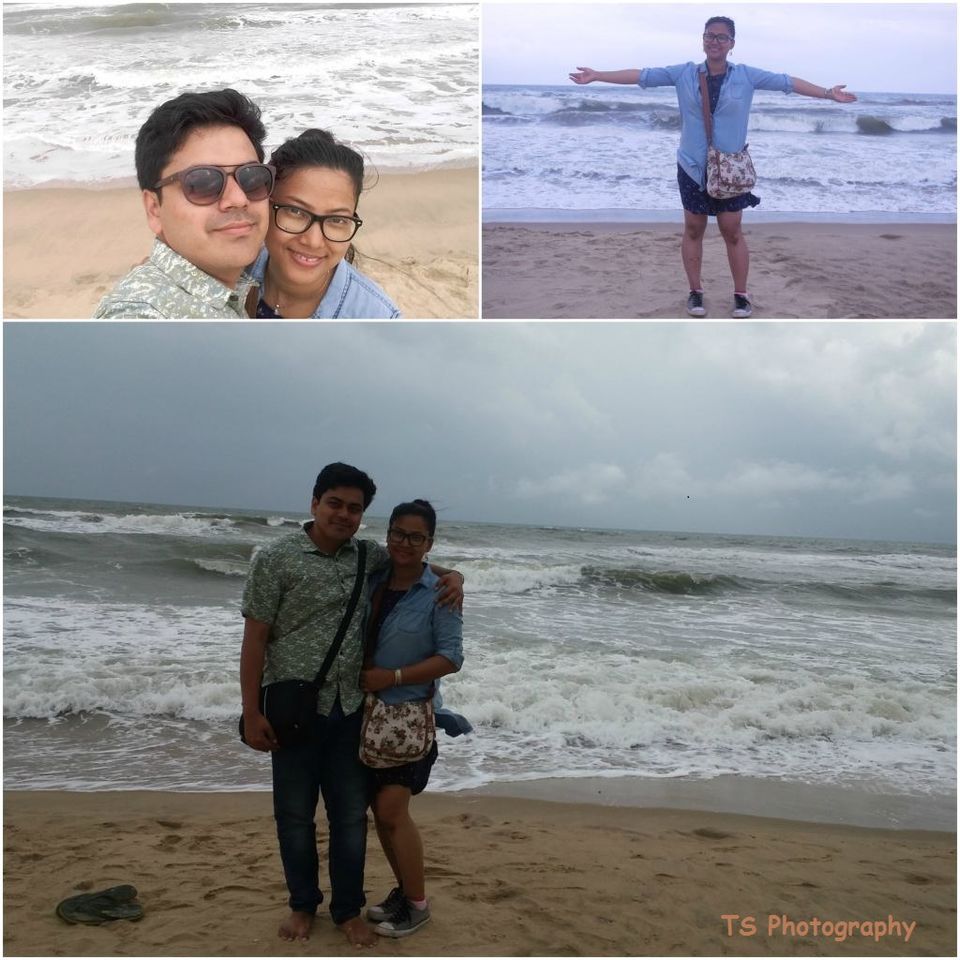 Our last evening at White Town and Rock Beach
From Paradise Beach, we returned to Rock Beach. Dusk was falling, and the sun was about to disappear, we tried to live in the moment as much as possible.
Soon the rain-laden clouds started melting, drenching everyone on the road. Some became upset, while some enjoyed the change of climate. Some started taking shelter at the food-corners, while some ran towards their hotel. The road became empty. We did not want to part ways with the beach and the scooty so early so; we kept wandering here and there till the clock struck 9 pm.
The last evening at White Town and Rock Beach became memorable in a different way. So, after painting our travel diary with colourful memories, we returned to our city the next day.
Some Tips
Stay at White Town if you want to feel like a tourist and enjoy rock beach the most.
Carry enough water while visiting Mahabalipuram.
Take a two-wheeler on rent. This will save you a lot of bucks because auto fare for tourists is quite expensive.
Frequent Searches Leading To This Page:-
pondicherry auroville Beach tour, dune eco village and resort pondicherry, dune eco village in pondicherry, dune eco village beach resort, pondicherry travel tour bus, pondicherry to andaman tour package , pondicherry tour agents.