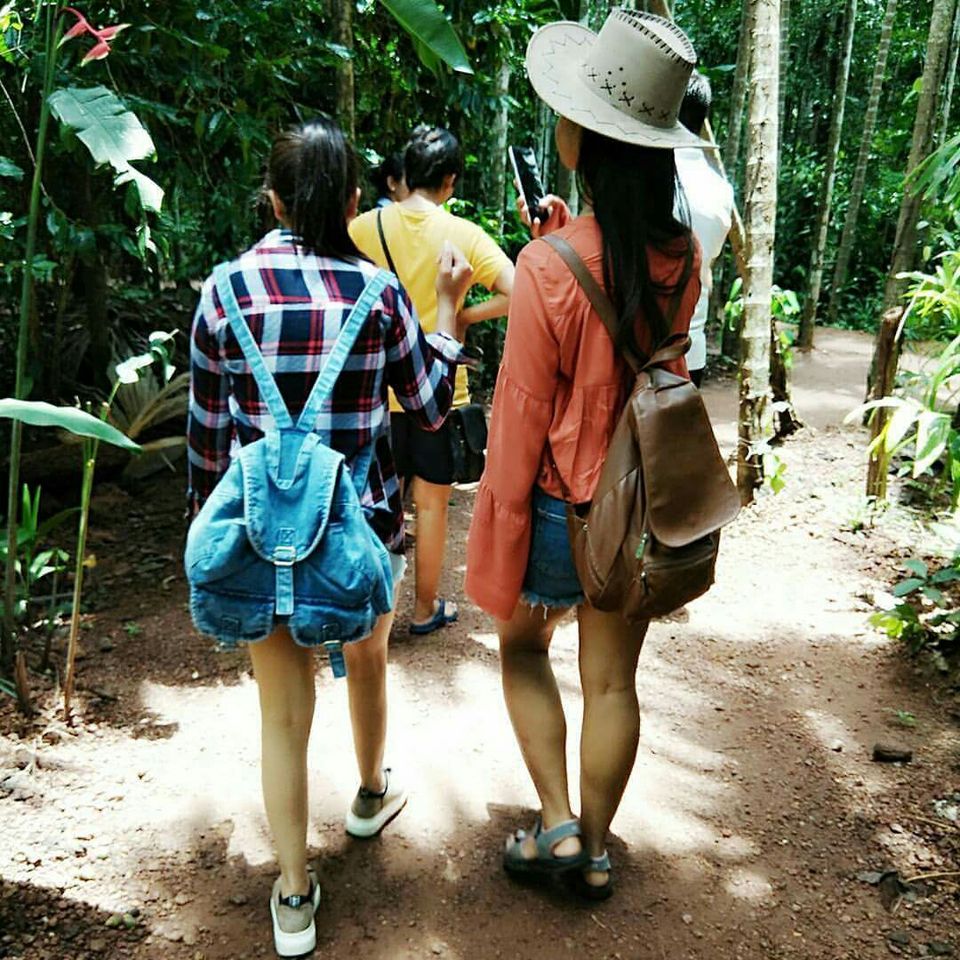 I read somewhere " if you don't travel you are only reading one page of the chapters of life" . And I am so stubborn to let that happen. Result is I never leave a chance to travel and see what the world has more to offer.
Goa, the plan was set from one month before since my brother was about to visit Pune. You know how difficult it is to get leaves , specially when you work in a 24/7 shift. But I do manage. When it comes to travel I had to . Because for me the time , the moment matters more than anything.
So, we made this plan to visit Goa for 2 days. 2 nights for traveling to and fro Goa -Pune. And one night stay at hotel. It is always convenient if you have your own vehicle , we booked a car for 2 days which was really good. Its a bit difficult to take public vehicles if you have very short time that too if the place is not familiar. We booked the car from a website. They have really good service. They delivered the car in bus stand itself. They will take full payment with deposits which will be returned at the end and a valid I'd proof will be kept by them. Car will be with you till the end. So it was easy.Google map was always helpful. And it's time saving. We had 2 days and the schedule was very tight.
Our FIRST day in GOA
We decided to visit chapora fort in the morning itself. We had check in time at 1 pm in the hotel. And we reached Goa by 11 am. Had no time to waste. We went to our first destination chapora fort. It's a big fort surrounded by ocean from two sides, from the top of the fort there is a really beautiful River view. Well no idea which river was that. Its a really high fort which will realize your energy while climbing. They have small stalls for water and cold beverages. We made the trip in JULY 2017, and the whether was hot. Raining in between ,but really humid climate. We already took our breakfast packed from home. Well it helped. By the time we reached the top of the fort it was started raining. Carry your umbrellas if you are not ready to get wet . We had ours. But it was a amazing feeling in the light rain.
From Chapora fort we went directly to our booked hotel. Well we booked a beach view hotel in Calangute for really affordable price. Awesome view of ocean in front. But I don't suggest that hotel if you have vehicles with you. Really small roads, hardly one car will pass. We did that somehow. We did give our bodies some rest , took bath and we are ready for the next destination.
First we had our lunch in a nearby restaurant. Nice food and service. Bought some stuffs in local shops. And we drove to Aguada Fort. This was another fort with beach view from 3 sides. It was very beautiful sight on the way to Aguada fort. Awesome fort and there was a light house. This fort has a history of being the ancient prison. And now they have some horror story famous. So they allow visitors only till 5 PM. We spent some time there exploring. And let's go to the next destination.
We rejuvenated our energy and headed towards baga beach. Its one of the famous beaches in GOA. It was almost dark by then. We could see the night clubs lighted up , getting ready for their start. Overwhelmed by the view, we decided to come again in the morning. After having an awesome beach view we visited a mall . It was a nice big avenue. We had our dinner on the way back hotel in a Punjabi dhaba. We were just satisfied by the peaceful environment of Goa. Goa is full of Nature. Off course it's famous for it's night clubs and casinos. Well we didn't had that in our list. Hope I will be able to make that next time. Hehe
On our second day in Goa , first we went to baga beach . We were waited for the morning view. It was just so beautiful . We spent some time in the beach. It was too hot by then and we headed for our next destination by 10 am . Well what we really needed was Breakfast. We stopped in a road side restaurant and thank you some much whispered my tummy .
It was so sunny whether when we started in the morning. Suddenly it started raining. Well better , cool now. Here we go to our next destination. Tropical Spice Plantation garden. This place was almost 1 hr journey from calangute. Google map jindabad. Driving through the long beautiful highways, crossing the beautiful mountains, rivers and green lands we arrived at our destination. This place was a must visit place if you get a chance. They have managed the whole place very beautifully , attractive for tourists. From the entrance it's like a big jungle. You have to climb down through the stairs and then there is a ticket counter. Well the ticket includes a guided tour through the garden, and also your lunch. Nice
You have to cross a small bridge made of bamboo to reach the entrance of their receiption. That was a great welcome by the hosts. With a Tika ( bindi) and flowers. Suprised and awesome feeling.
That was a real awesome view in the mid of Nature . We were offered lemon grass tea prepared traditionally in the restaurant . After a while a lady beautiful guide came and asked us to follow her for the tour of the garden. They have spice plantation as business and the garden was just a demo for the tourists. It has all the spices we need in our kitchen, from tarmeric to cardamom. She described how they prepare spices showing various spice trees . Really it was awesome. There I realized why spices are so costly in the market. Well it takes a lot of energy and time investment to get a very little amount. Great work. Indian spice has won the world, every year tons of spices were exported to foreign countries. And I will say that was a very good effort by them to make the world know about the traditional Indian spices. Thanks to the person behind the idea of this garden.
Lunch was served in traditional Goan style. Food was simple and nice. Beautiful place to spend some quality time.We took rest for a while after lunch and headed back as it was almost time.
On our way back we visited a church and a museum showing the history of Goa. All right we were just loaded with knowledge for the day.
Goa is a awesome place to visit in almost all time of the year. It has a lot to offer. After these two days bags full of memories we headed back to pune. And I am thankful for my two best roomies and my brother for making this trip a big success.
hope we will make more beautiful journey together in coming days. Cheer's to us
That's all for today, be happy and stay safe
-Arunima