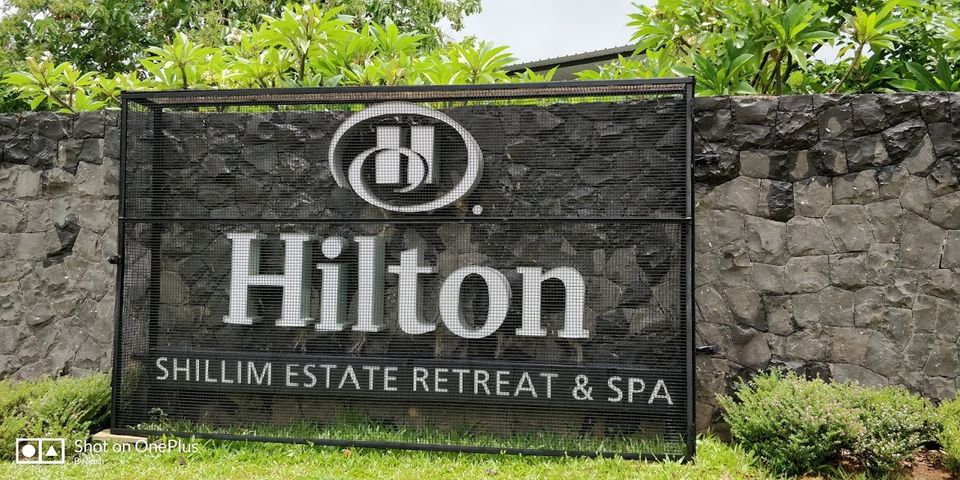 While searching for good hotels to spend a weekend with my husband, I came across this luxurious property and I just couldn't get off this which made me to go ahead and book this for 1 night stay over a weekend. I booked a King Deluxe Valley Villa in this property around 20 days before and got a very good deal from MakemyTrip website along with complimentary breakfast. As we had read about this in many websites, we found that monsoon & winter season would be perfect to enjoy the stay. Hence I was wishing that it should rain during our visit.
An escape from the heat and for a small break from routine life, my husband and myself were excited about the visit to Hilton. It was 9th June morning and we started from Pune by 10.30, its 60km drive which took us almost 2 hours to cover due to bumpy and uneven roads. It was a cloudy morning and we could enjoy the ride all the way, here are some good clicks while on way !!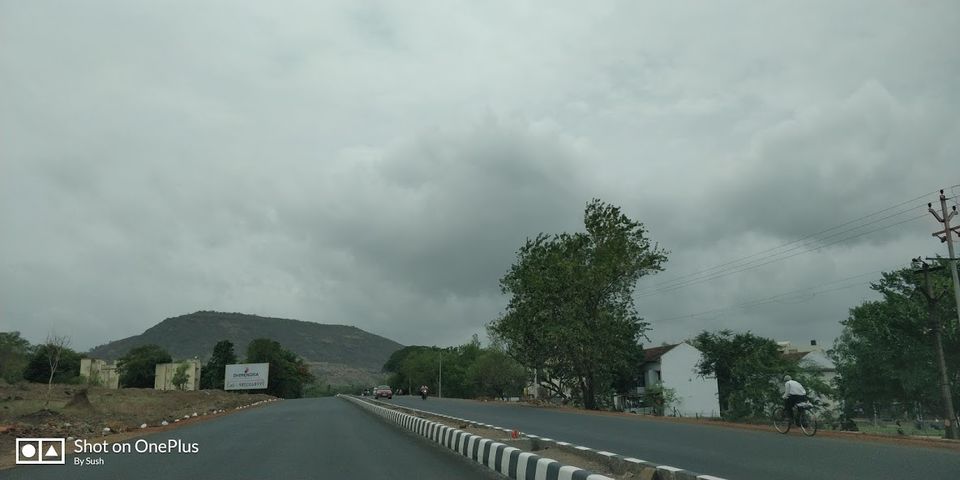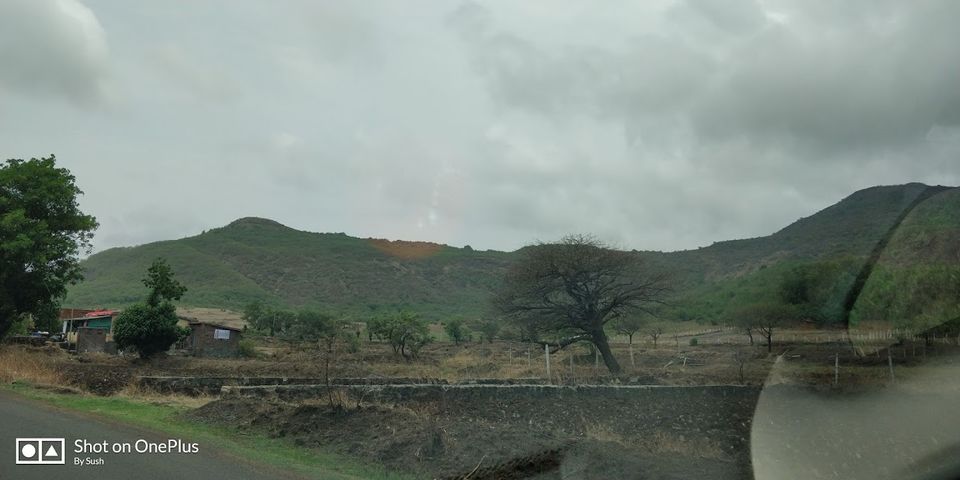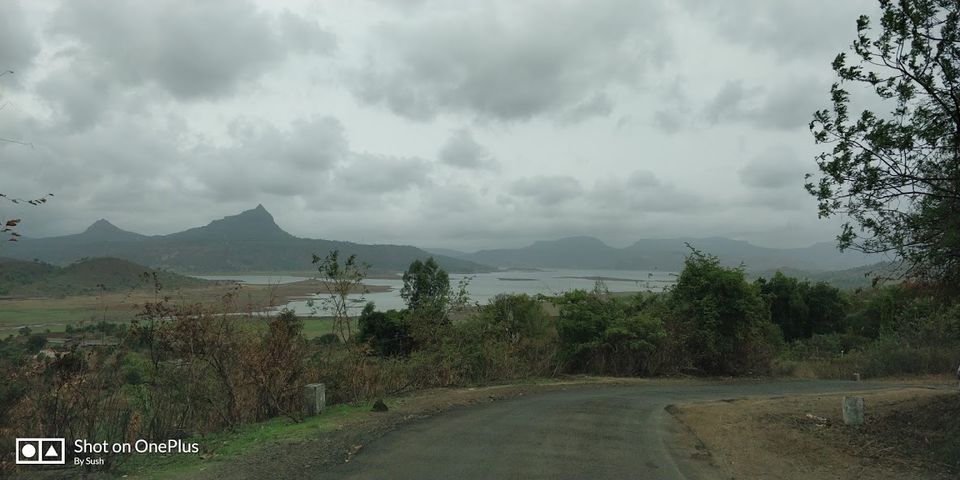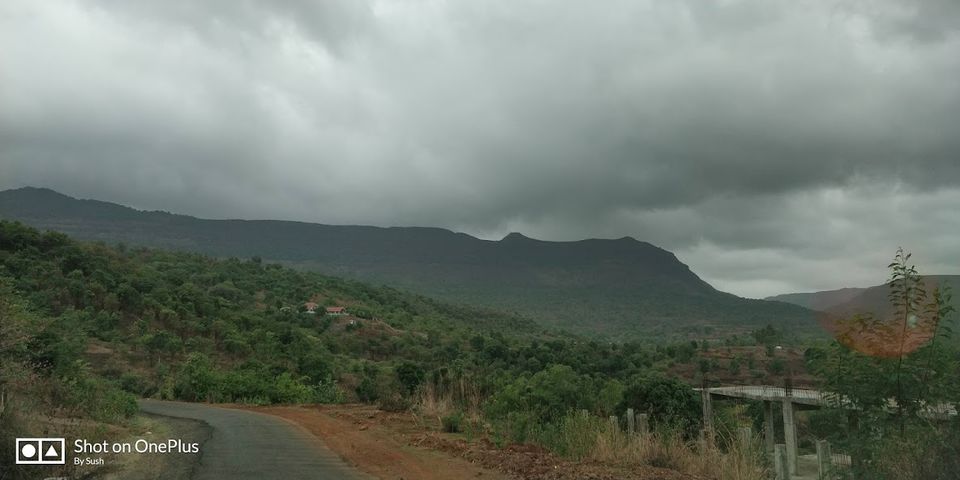 We took old Pune Mumbai highway, soon after crossing Somatane Toll there is a left turn deviation which also took us by crossing Pawna Lake. On further way, we also came across few small villages where the roads were really small & only one vehicle could go at a time.
Finally we reached the property at 12.40pm by following Google Maps and there was a huge board of Hilton. At the gate, the security team checked whether we had a prior booking in their list for the day, once that is confirmed they allowed us to enter in and our car was taken care by valet parking people. First sight of service itself impressed us a lot. The housekeeping team took our bags and asked us to walk towards the reception and our bags would reach the room directly.
We passed by an elegant lobby to reach reception, where I completed all my check-in formalities and the receptionist explained us about their 300 acre property. Reception lobby had a seating area in front of it. One more thing I noticed is that Reception area is called as Gate house in their terms and it was a single floor building, I could not see any rooms/villas nearby. I was wondering about the accommodation area. Meanwhile, we comfortably sat in lobby with open views of a vast expanse of lush green hilly terrain. There comes the most interesting thing about this property is, they have NANO cars and people have to use to go from one place to another. As the check-in was at 3pm and we had arrived early, we were told to wait for short time so a NANO car would drop us at a restaurant, we can have lunch & then we could get our villa.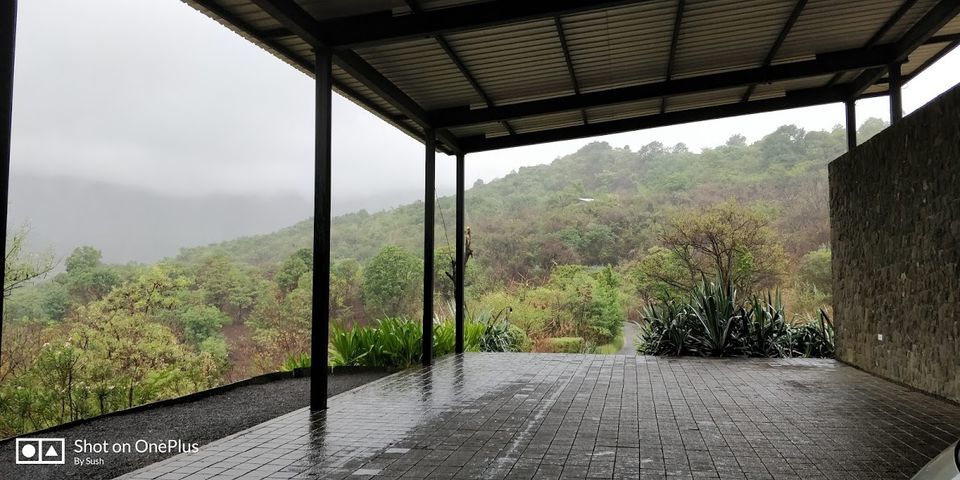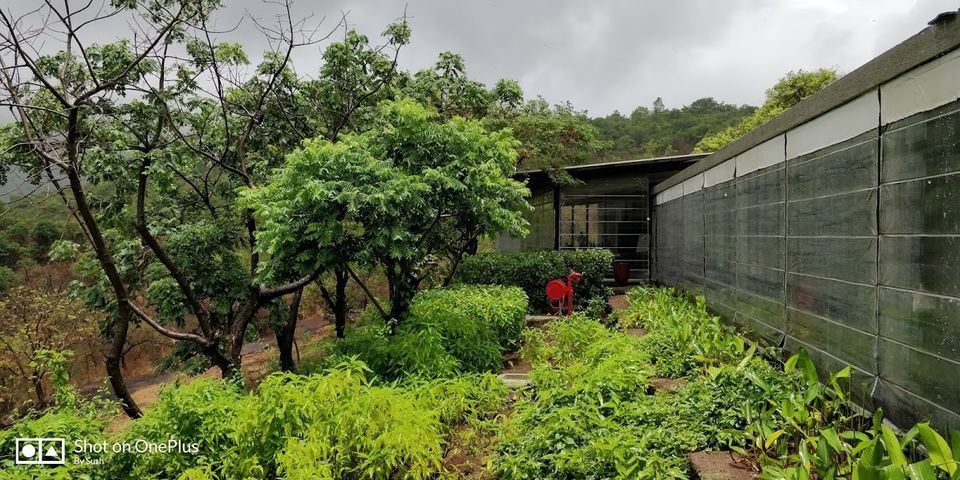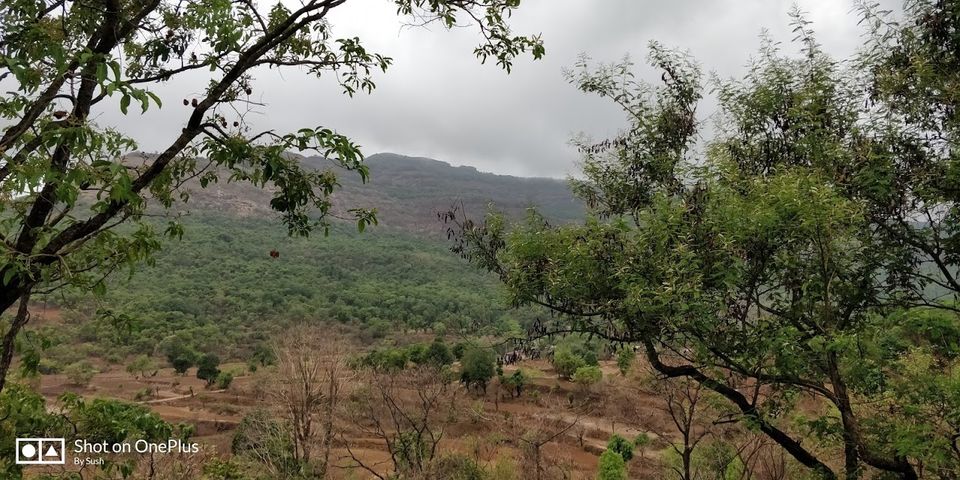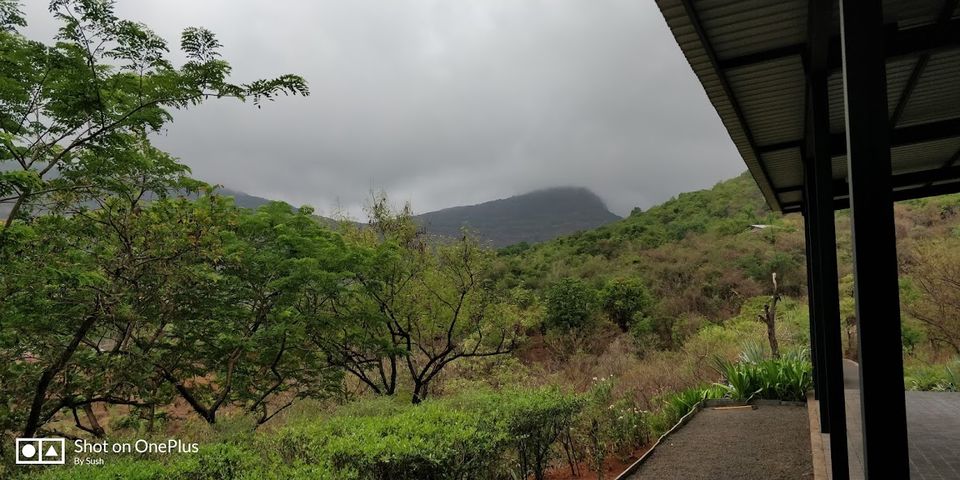 Within a span of 5-10 mins, one guy came to us & told our car was ready, we walked & drove up a winding path, along a steep hill, surrounded by unspoiled forest landscape. The car dropped us to a restaurant called - TERAZZO, one of the 3 restaurants in the property. Its all day dining restaurant and there was buffet lunch served at that time. We both were not in a mood to have buffet lunch and preferred to have a hot cup of coffee as it was drizzling outside. Besides this restaurant, they also have a library with valley view and a VALLEY BAR.
We asked for NANO car again to reach our next stop - MOUNTAIN BAR & BISTRO. They had 2 swimming pools here, 1 for adults & 1 for children, along with a pretty good seating area. We could see some families indulged in swimming and this bistro was more of fast food type with burgers, pizzas, pastas, wraps and fruit juices. First we thought of having some light food here and the check-in to room and then we thought lets checkout the third restaurant also and then decide where & what to eat.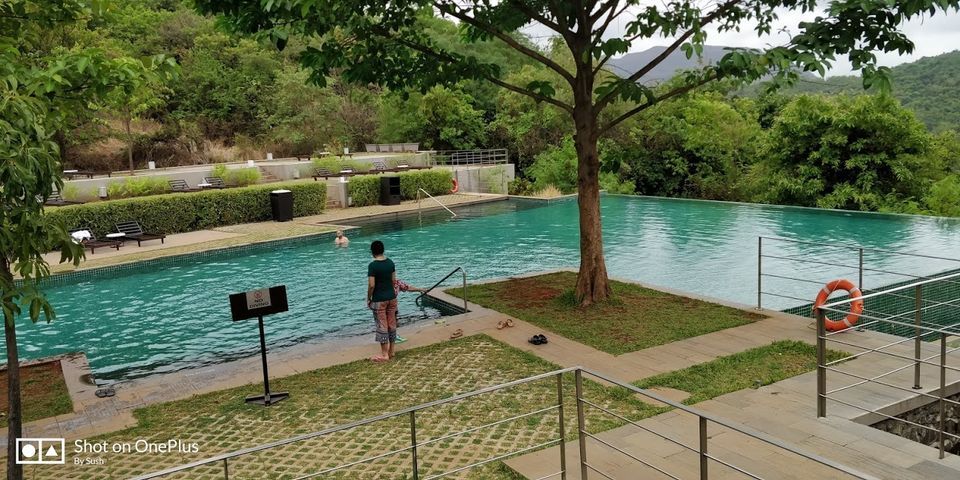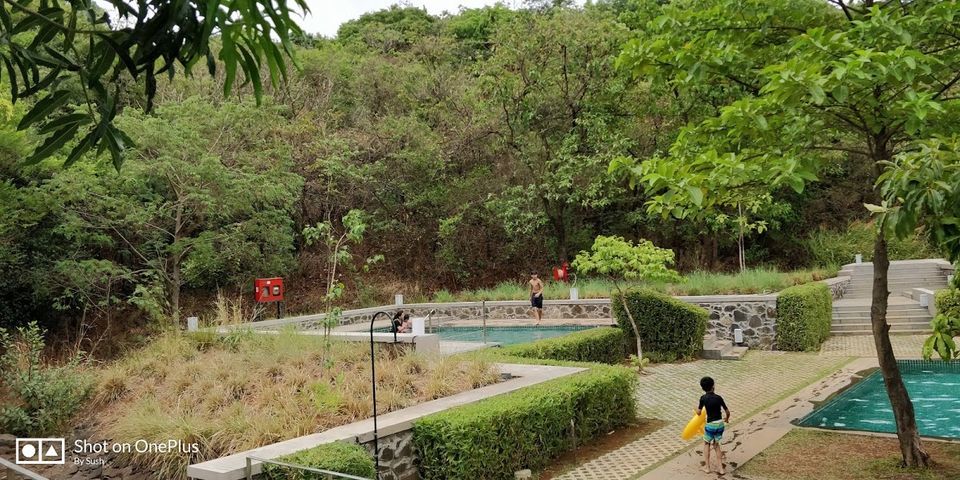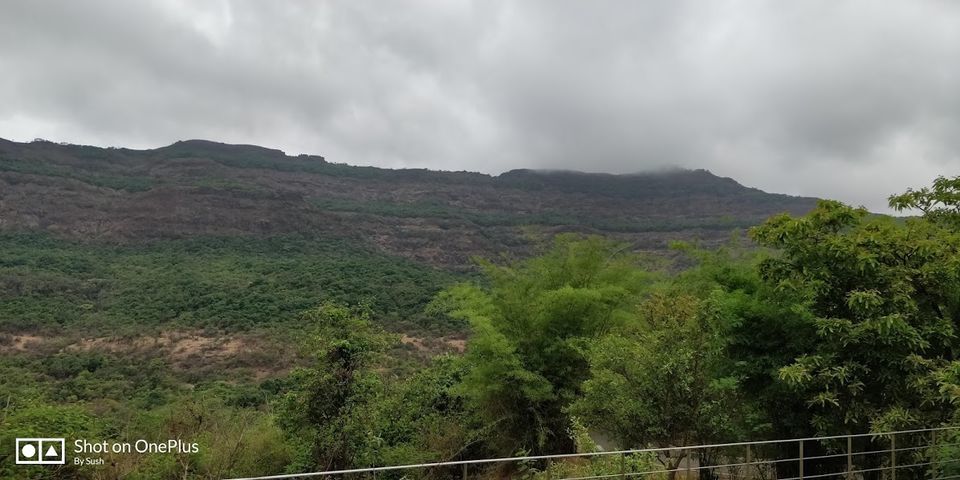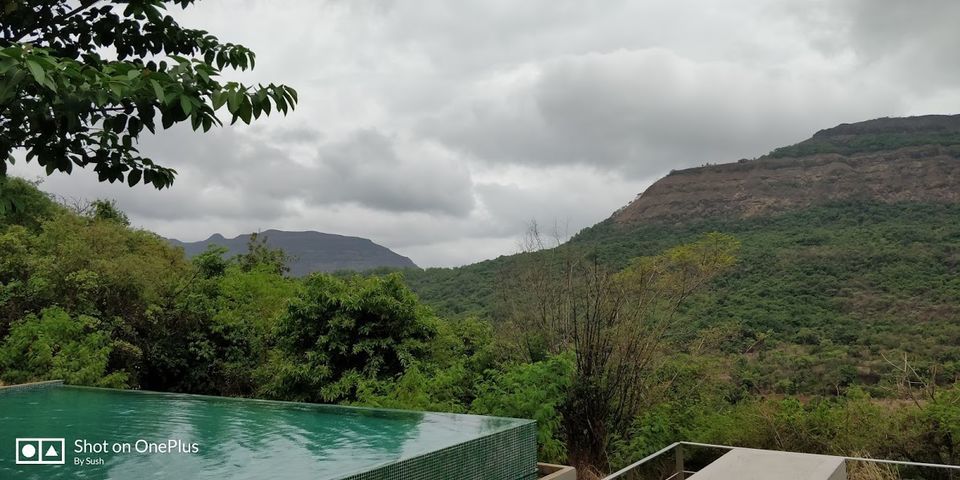 The third restaurant was GREEN TABLE. Specialty of this restaurant is that they serve Ayurvedic Thali cooked with organic vegetables. There will be a set menu for this. But the ambiance, surroundings gives a justice to the name of the restaurant. There was a small pond inside the restaurant with a valley in the back drop. What an amazing view !! One guy explained us the set menu and we were convinced to have our lunch here. Besides this restaurant, there is TEA HOUSE, which has various blends of tea available and you can book a tea tasting here or head here for high tea. They also do tea tasting on a chargeable basis. Every evening they also have a tea ceremony which is on the house.
Set menu was a welcome drink, a soup, a starter, main course with rotis, brown rice, curries, dal, home made pickles, dessert. This was good enough to fill our stomach.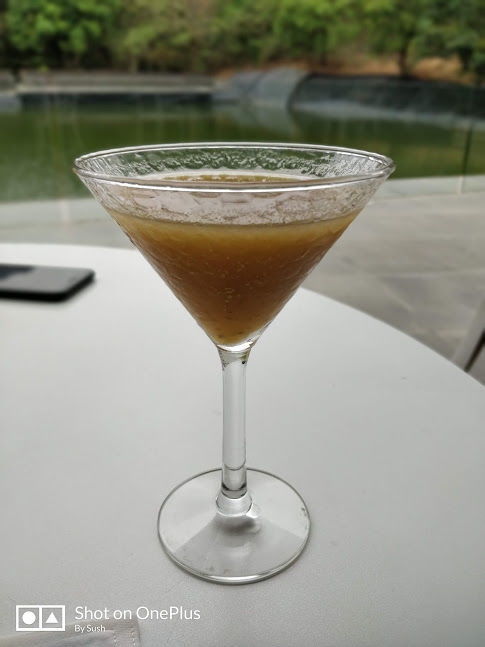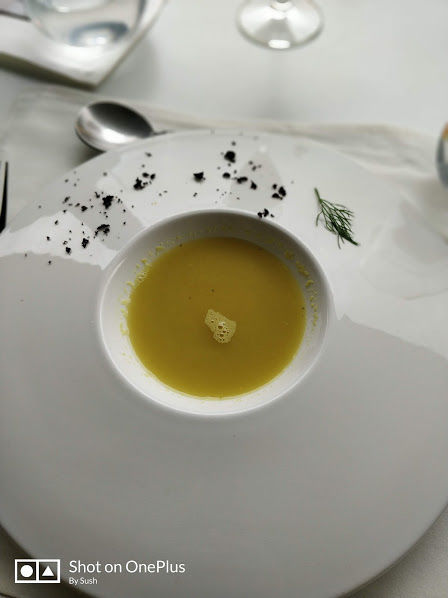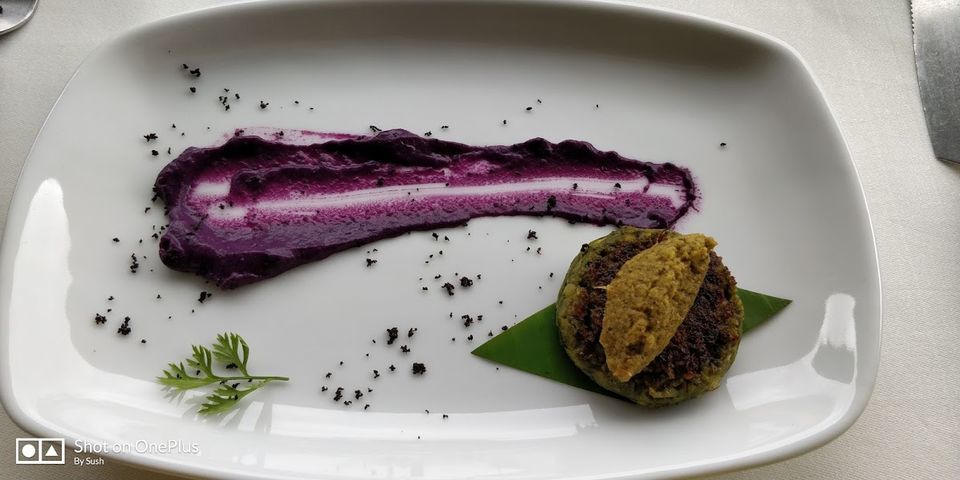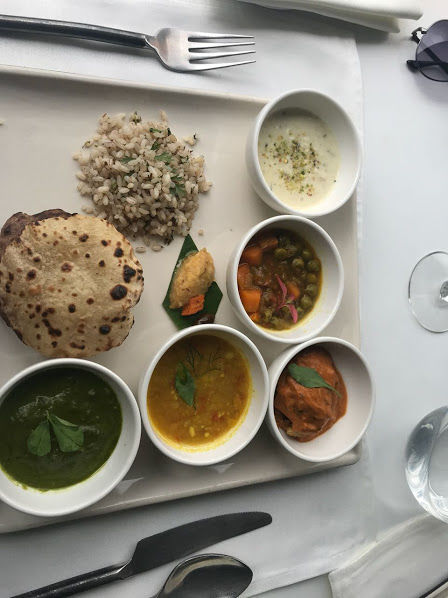 We thoroughly enjoyed the food and we were impressed by the presentation of food too. It was the first time that we had some healthy and organic food which was undoubtedly tasty food. We were done and almost about to leave our seats, chef RituRaj Poddar came had a chat with us, he asked for the feedback and improvements. He also explained how they prepare this ayurvedic thali and it's health benefits too, which was good to know. By now, we had got our villa keys and had no idea where the villas were located.
We waited for 5mins to get a NANO car and we were taken to villa # 522, where we would spend our next one day. The car dropped us just in front of villa. We had to get down through few steps, and once we opened the door, there was a surprise for us to see a huge balcony with breathtaking valley views. We took a tour of whole villa which was just stunning with spacious areas. Smile couldn't stop on our faces till we digest that its our villa for the day. The villa was huge with high ceilings, stone flooring, four-poster bed, antique fan, LCD TV, locker, bath tub, cupboards and most importantly the view. Each villa is private, calm and there is some distance from one villa to another which avoids the noise from neighbors too.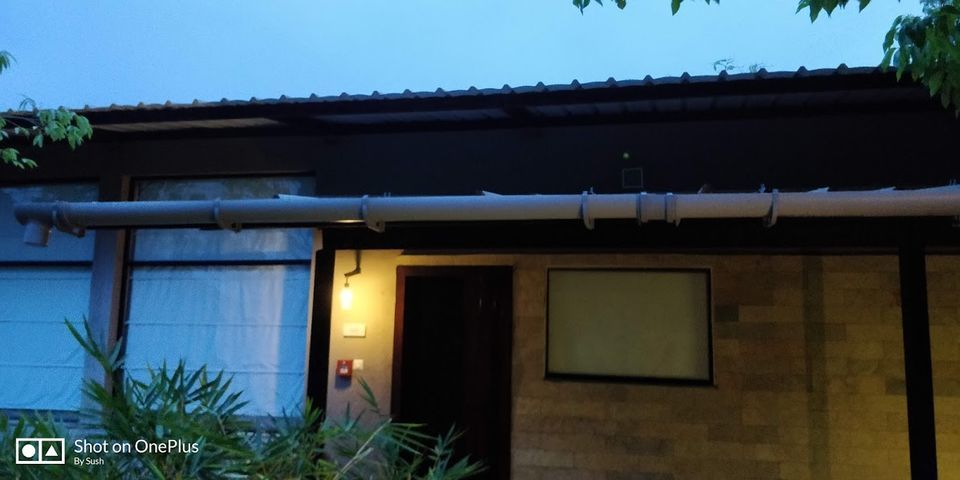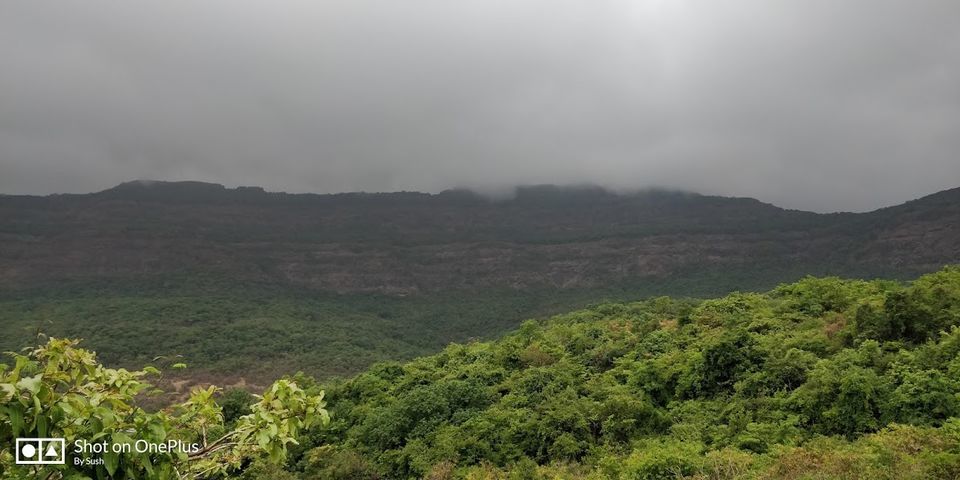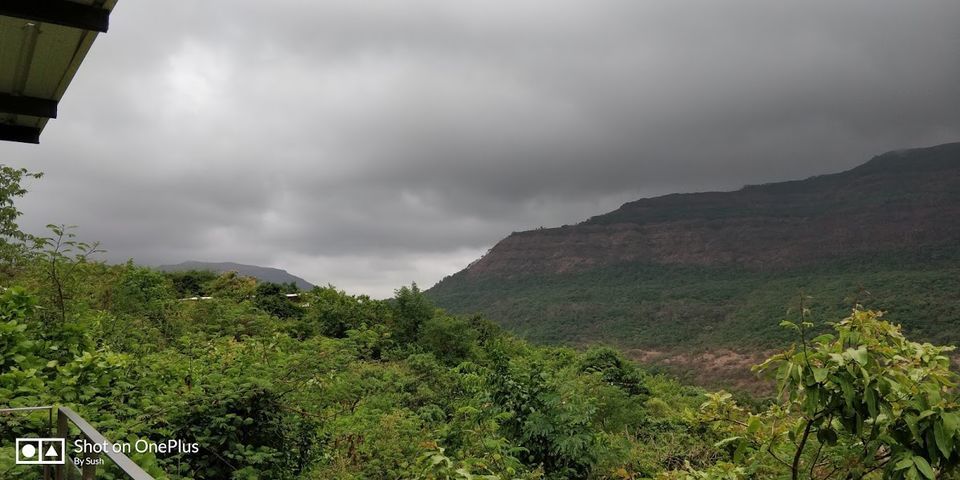 We spent a good time in the balcony from noon to early evening. We had a hot cup of coffee using in room facilities, by now it was raining and it had become so breezy and cold that we sat inside.
In the late evening we visited Mountain Bistro again to enjoy the cool breeze and the soothing lighting. There were just 3 couples including us in the bistro. We really enjoyed the scenic views, cloud touched mountains. We ordered a fruit juice and pizza to spend some more time.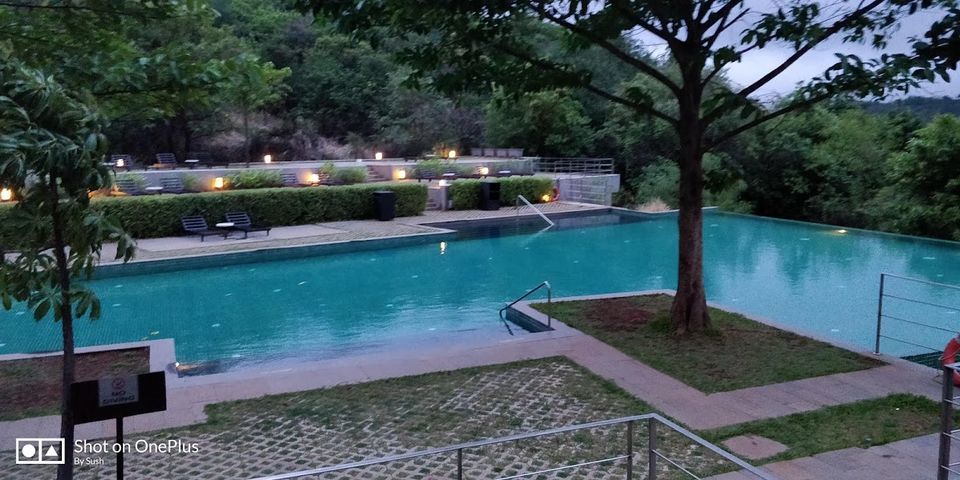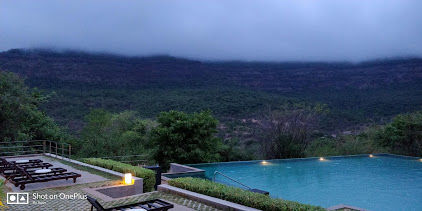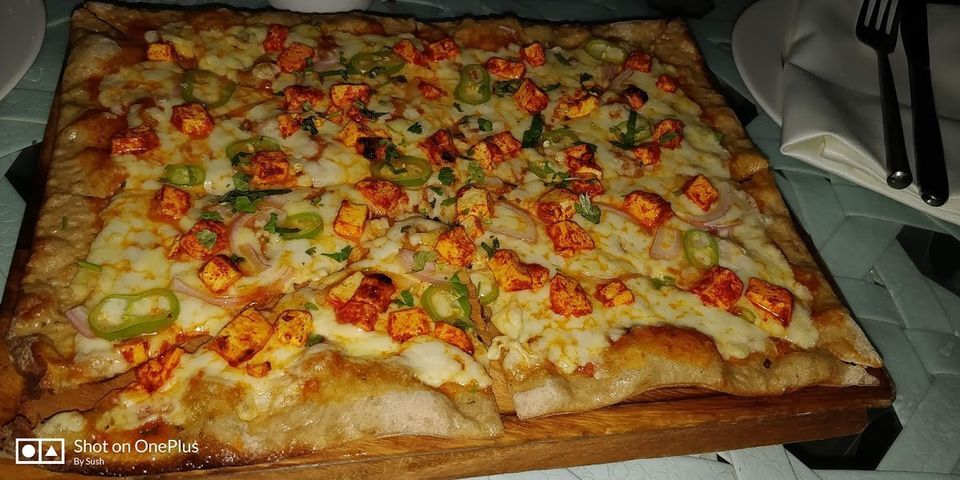 We returned to our villa by 8.45pm. The most scenic & beautiful balcony was now pitch dark with lot of insects attracting our balcony lights due to which we couldn't sit in balcony and hence we spent our time indoors. As it was raining outside and with cool breeze which made us feel more hungry, so we ordered Dal Khichdi, Mango ice cream using in-room dining. The food was very nicely presented as if it was given in an aircraft which was hot & tasty. Totally it was a day well spent.
It was a lazy Sunday morning, with heavy rains outside and breezy too. We woke up with this view and couldn't have asked for more !!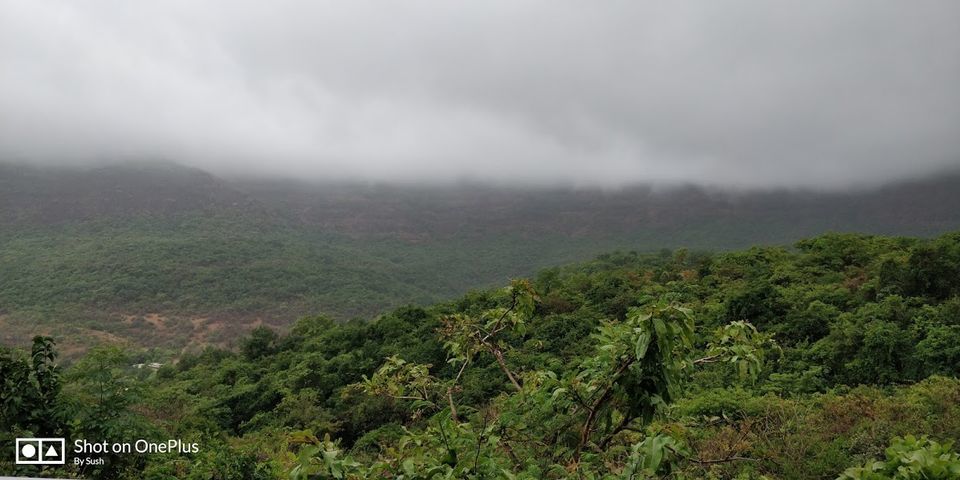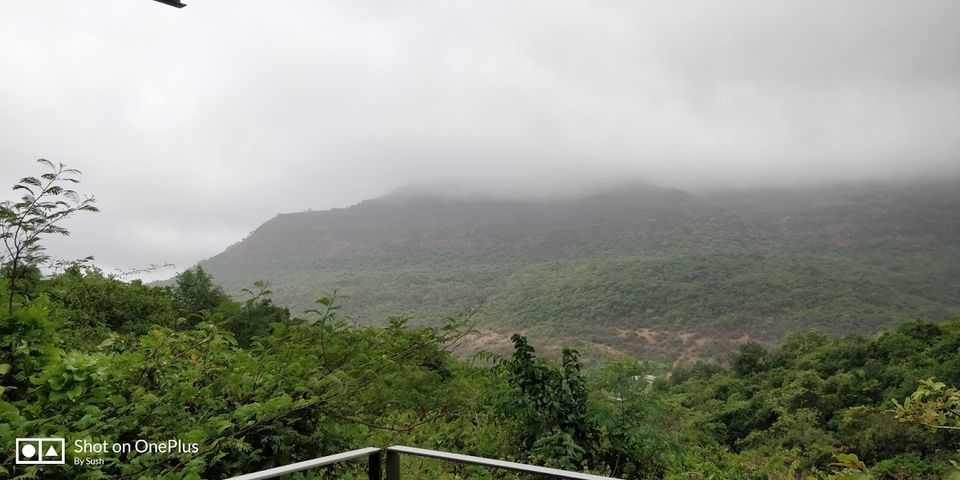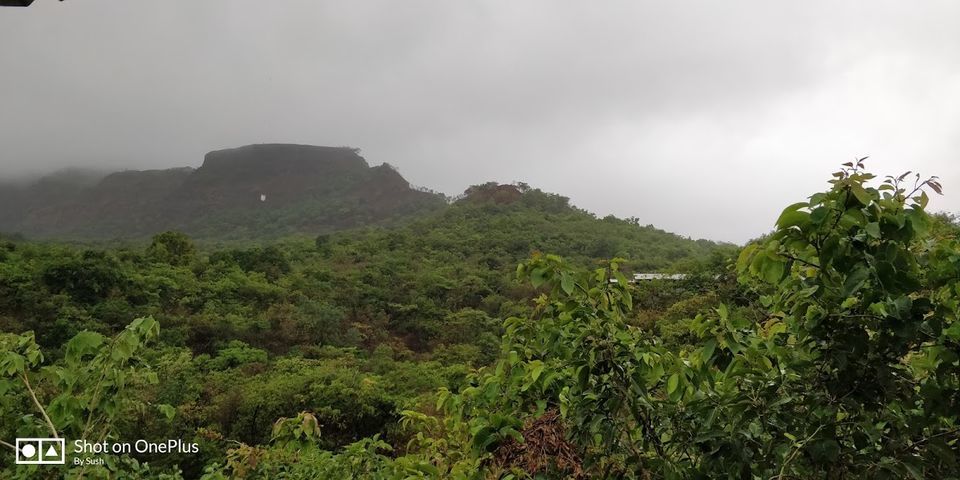 We went to TERAZZO resto to have breakfast. There was a huge spread, with all types of breads, juices, continental, american, indian kind of dishes. We had a really heavy breakfast and got back to our villa to get ready & check out by 12pm.
It was a short stay for us and there are lot many things in this property to explore and experience. Few activities include trek to the mountain peak to a sunrise adventure trail, canvas painting, mantra chanting, fitness workouts, aqua yoga classes, pranayama in the wilderness, forest walking, cooking classes and what not !! Some are complimentary & some are at extra cost.
One of the few main thing we could not try during our short stay was wellness and Spa facilities. But am sure it would be of great service to the customers. I would give full 5 stars to The Hilton Shillim Retreat and Spa for luxury, service, comfort, location, experience and fun. We both loved every bit of our stay and and wished we could have stayed on longer as there is so much more to be experienced at the retreat. It was worth driving all the way from Pune to fall in love with this place.
The retreat is built on the lines of an eco-resort. The beauty of the resort is it being around nature. While around nature, you tend to take things leisurely. The staff is generous, polite, helpful and they always go an extra mile to serve their customers. But maybe due to distance between the villas and restaurants, anything you need takes a minimum of 15 minute to 30 minutes.
Lastly, I wanna conclude this blog saying that the resort is in beautiful location. It's perfect for a retreat when you just want to get away from the daily hustle and bustle and relax. This getaway has given us more peace to our lives with a mind refreshing break.