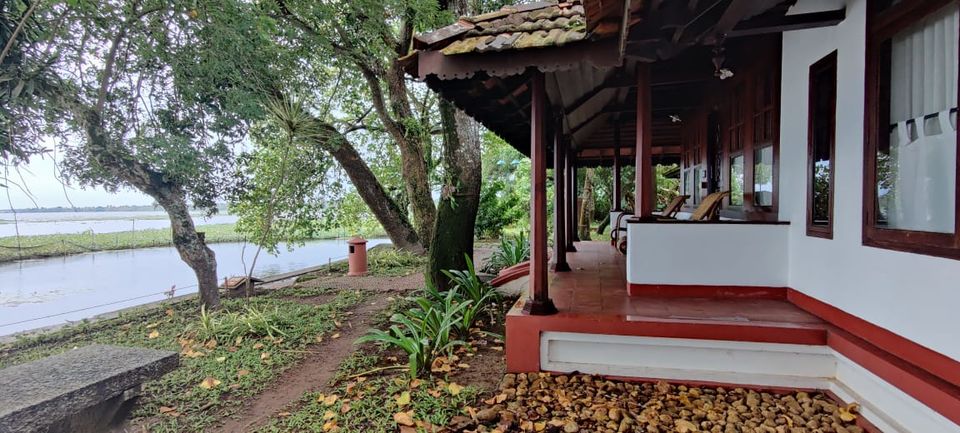 'HOME'- There is some kind of magic in these four letter word. No matter wherever you are, 'HOME' is the only place that welcomes us. 'Im always imperfect at my Home' - says the movie '#Home' which I have watched recently. Home is the only place where you feel loved, accepted, nurtured, pampered, and safe. I'm extremely attached to my Home and before the Covid-19 times, I used to visit my home once in every 4 months. After the Covid-19 pandemic, due to the flight ban and travel restrictions, I was not able to visit my home for around 1.5 years. I was going mad and my mood swings was at the extreme. I wished If I had wings, I could just flew and go back to my home. As soon as I heard that the flight routes are open, I booked my tickets, took PCR, completed all the quarantine formalities and went to Kerala. When I booked my tickets, first thing that came to my mind was I didn't travel together for the past 1.5 years with my family. At least once a year, go somewhere you have never been before- this is our family goal. Since the number of cases were still high, I didn't have the confidence to plan any trips outside Kerala with parents. So I thought lets go to Kumarakam. Kumarakam is located at Kottayam district in Kerala. Kumarakam is on our list of places which we wanted to visit. I searched for best hotels in Kumarakam and came across CGH-Coconut Lagoon resort. I have seen this resort in Instagram reels and the pictures and vibe was amazing. https://www.cghearth.com/coconut-lagoon
Immediately I booked our rooms via booking.com. I wanted to give my family a refreshing experience as they were also staying at home and bored due to this Covid-19. There are different type of rooms available- Lake Front Villa with Private Pool, Heritage Mansion, Heritage Bungalow. I have booked for Lake Front Villa with Private Pool. The 4 of us were all excited for going for a staycation after such a long time. We reached the resort by around 3.00 pm. We parked our car and walked towards the pick up point. The only access to this resort is via boat. There is a small pick up counter for this resort nearby the parking area and we entered the boat. This boat ride to the resort through the Vembanad lake was amazing. Vembanad also known as Punnamada is the longest lake in India, as well as the largest lake in the state of Kerala. We reached the resort and they welcome us by Fresh Coconut Water. We spoke to the reception and collected our keys. Since we were 4 and only 2 adults are allowed in a Villa, we booked 2 nearby villas. The staff gave us a quick tour about the resort and we reached our Pool Villas. Trust me, this is the room with the best view. You can sit outside the varanda area and simply look at the lake with all its beauty. We could see many lotus plants too. We took a quick tour of the villa and it was beyond our expectations. It was exactly as seen in the pictures. Private pool was amazing and we couldn't wait to enter the pool. There was also a small balcony area overlooking the paddy fields. Overall we loved the ambience and neatness. We took rest for sometime and as told by the guide, there is a complimentary tea arranged by the resort. There is a grandma who sells tea and garam garam vadas in a Floating Tea Shop. It was breezy and drizzling at that time. We got hot milk tea and Parippu Vada and sat by the corner. The tea was also yum. We clicked a few pictures and then simply walked around. There was a small swing nearby which reminds me of my childhood Onam days. Coconut Lagoon reflects the culture of Kuttanad with old Kerala homes constructed in 'Tharavadu' style, authentic local food and unique experiences. Guide has told us to arrive at the reception for the sunset ride. We reached the reception and went for the sunset ride. We couldn't see the sunset properly due to the clouds and rain, however the boat ride was relaxing. We went back to our room and couldn't wait anymore to enter the pool. It was fun and I tried to swim, unfortunately I couldn't. I thought maybe some day I will enroll for swimming classes as its a very goo exercise. We really had a great time, especially my brother loved the pool and was posing for his insta reels. After an hour of pool time, we got freshen up and went towards the restaurant side for our buffet dinner. There was a live instrumental violin and flute music played at that time which was very soothing. The diner was soo yummy and I had a heavy meal. After dinner, we sat sometime at the sit-out area looking at the pool and went to sleep.
We were informed by the guide that there will be nature walk and bird watching at 7:30am. So we went to the meet up point. The guided morning walk was amazing and informative, we could know about various types of birds, how they are hunting their prey, etc. It was fun. Then we walked towards the Butterfly garden where we could see a wide range of butterflies and flowers. Coconut Lagoon also has some 54 species of dragonflies and damselflies, all evidence of a thriving ecosystem. We sat there for sometime and relaxed for a while and went to the restaurant for having our complimentary breakfast. The menu for breakfast included all the main breakfast options in Kerala and it was soo Yummy. Steamed Idly, Sambar, Chutneys, Kadala Curry, Puttu was exceptionally tasty. After having a heavy meal, we took a walk and we could see the lotus flowers bloomed everywhere around the lake and the view was amazing. We clicked many pictures and went back to the resort. We spend around one hour again in the pool and prepared for the checkout at 12pm. We didn't wanted to leave this place as it feels soo refreshed and being with nature itself is blissful. We packed our bags and went for checkout. We could hear an old man playing flute at the reception. It was very soothing and we waved goodbye to the resort and waited for the boat to arrive. Finally we went back to the pick up point and went back to our Home. I felt very happy and satisfied that I took this chance to visit Kerala and spend time with family and took them for a staycation and they loved it a lot. Thankyou CGH for this wonderful experience, as the name indicates this is really an experience and I look forward to visit your other resorts someday. To my readers- If you want to go for a staycation to spend time with your family, good food, good ambience, nature vibes, Coconut Lagoon is the best choice. Happy to make those good memories and I really had a therapeutic staycation.
"Traveling in the company of those we love is home in motion"– Leigh Hunt.