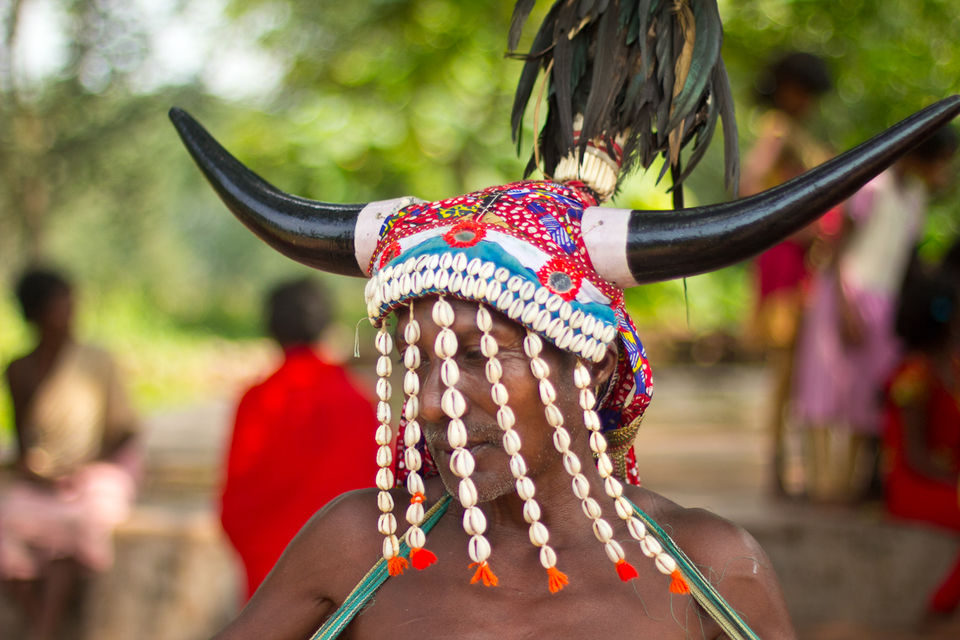 Bastar in Chhattisgarh is one of the oldest enclaves of India, inhabited by a large tribal community steeped in ancient traditions and lifestyle. The over 40 tribes who live here were mostly animists at one point of time, but still showcase the prowess of living off the jungle. They live with extremely rudimentary facilities but extremely sharp natural instincts. Their symbiotic life in the forests is almost incomprehensible to the modern world. To have an upclose peek into their world is the best way of understanding their culture and unique relationship with the environment.
I have been lucky to return to Bastar several times over the last decade. Of all the interactions that I have had with the tribal community and its vivacious culture, one of them sticks as indelible – a lunch with a Bison Horn Maria family. It wasn't the local dances, unique dresses, craft skills, lifestyle or ancient ceremonies that evoked a sense of curiosity and wonder. It was the opportunity to step into a local home, eat lunch with them and meet the entire family that struck me as a lifetime experience. The tribals of Bastar are a reticent lot, so their company was truly inimitable.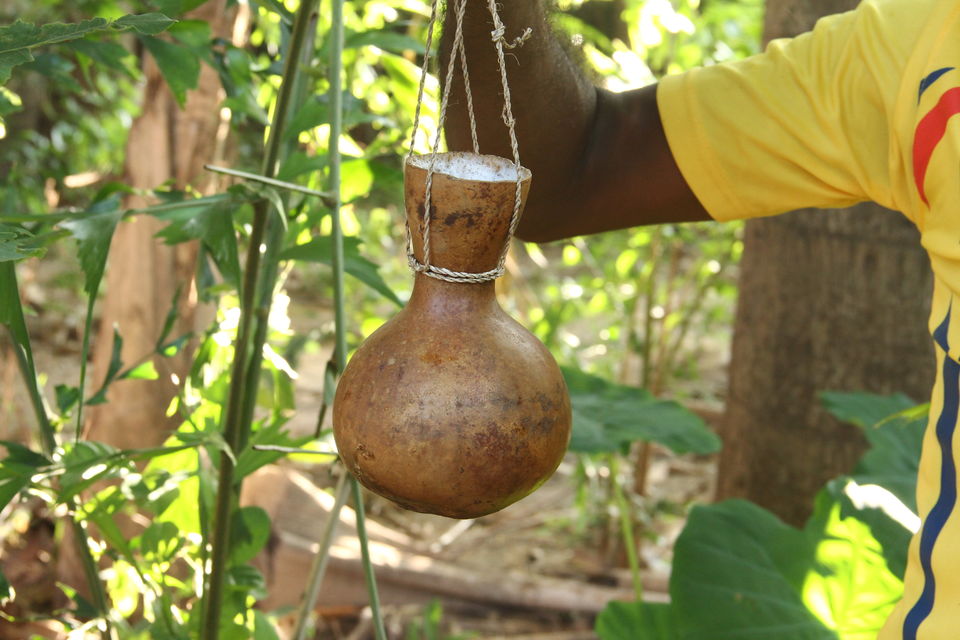 It was a stifling hot May afternoon of 2015 when we reached a dusty village, 20km north of Jagdalpur. Everything seemed to have winded down thanks to the soaring degrees, but for an excited rooster that ran wildly in front of the car. At that time, I had no clue that I was looking at my future lunch. Not a single person seemed to venture out from the cool shade of the mud-walled homes. I trailed Awesh, my guide for the day, to Jogi San's house. Enroute, pigpens, the flat stones dug into the earth to encircle a home and immaculately clean courtyards greeted us. The village head, Jogi, a dear friend of Awesh's had invited me for lunch. Since the tribals are usually painfully shy, I was ecstatic at the invitation. And the reward of bearing the heat was the world famous red ant chutney.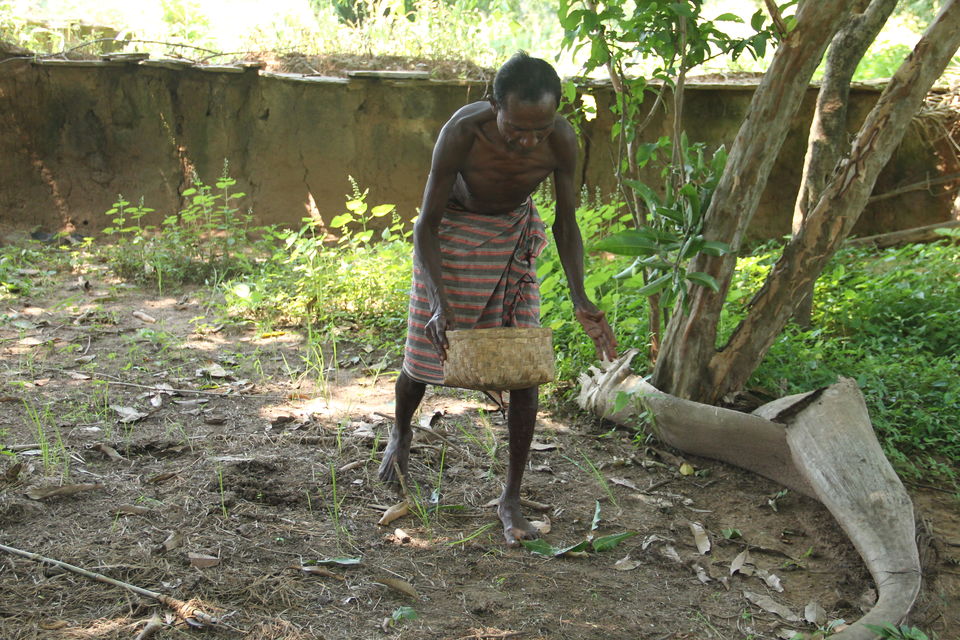 Head bent in a greeting, I entered Jogi's house. He smiled and got down straight to business. Jogi hollered for an assistant and picked up a basket and a long stick to take down a red ant nest propped high on a Mahua tree. Defying age (he is 70 years old) and gravity, propelling himself with bare hands with the agility of a monkey, Jogi was on top of the tree in minutes. Just a few jabs at the nest and down it came - eggs and all – right into the basket. But with that came a clutch of crawling red ants, raining down on the assistant, and many on them on Jogi's bare arms and legs. He casually brushed them and as they dug their teeth into him and jogged to his house, passing the baton to his wife. Ready with a sturdy stone mortar and pestle, the kneading began instantly. A dash of salt, ginger and chilli and the crunchy chutney was ready. The bodies of ants contain formic acid believed to have useful medicinal qualities.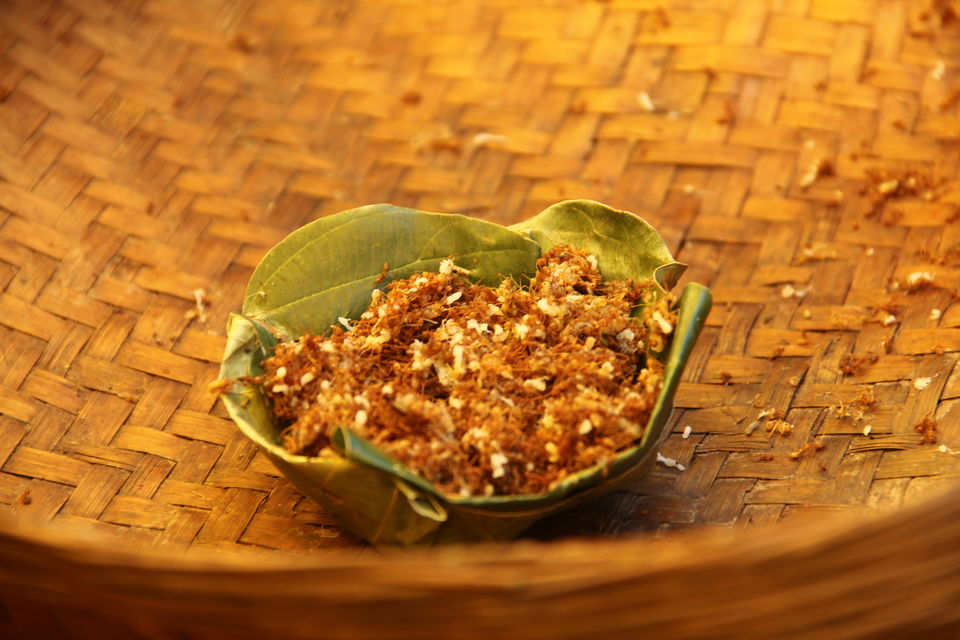 The next dish was still roaming near the home, when he was caught by his feathers and brought to the courtyard. A yank and a twist of the neck, and the chicken was half prepped already. Each feather plucked out, the full chicken was tossed in a leafy embrace, tied with a vine and left to cook slowly without oil in water. We waited under the cool brown dung swathed roof with eagerness. A quick makeshift container was sewn together with saal tree leaves and bamboo strips to serve the chicken. A cup of saige (watery soup), chicken and the chutney was the delicious spread for the afternoon. The lunch was accompanied by salphi and mahua (popular local brews), both extremely potent. Much to the amusement of the family, I was happy to have a few swigs and wolfed down the chicken with enthusiasm.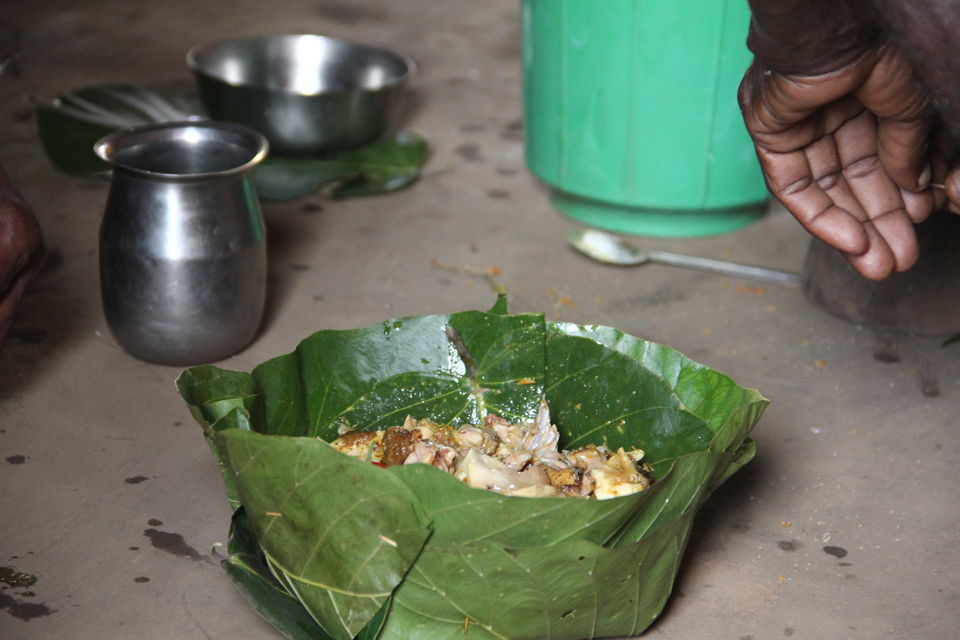 The conversations over lunch mostly consisted of smiles and a smattering of words I had learnt from Awesh. As any host would, the lady of the house insisted on filling up my bowl to the maximum, and kept a keen eye when I was almost done – only to scoop more paige or chicken and plop it on my leaf bowl. We finished lunch, bent our heads to say johar (thank you) and were on our way.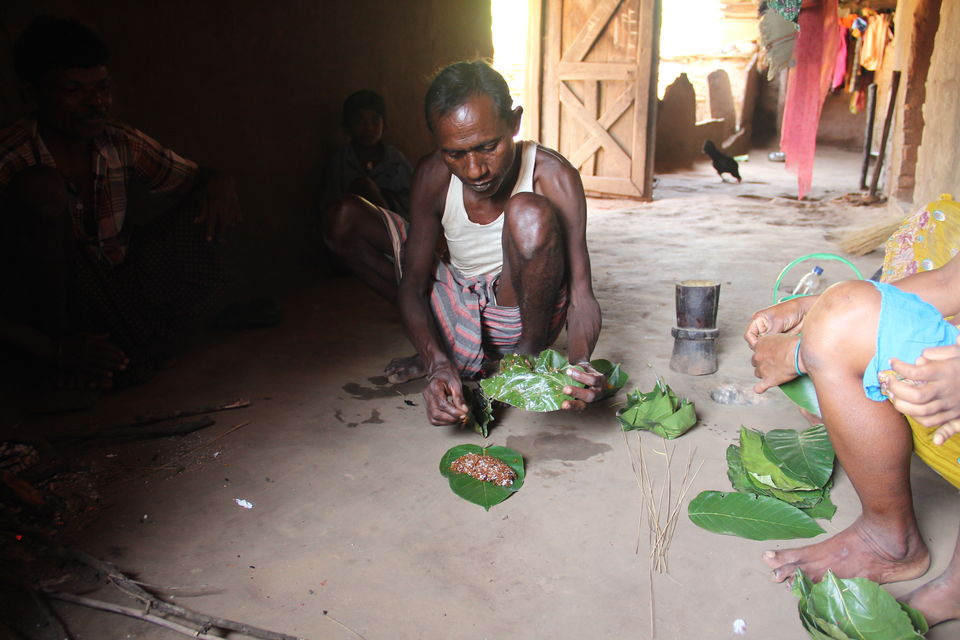 In a country obsessed with food to show hospitality, the experience seemed familiar. But when I thought about the village setting, the arduous climb for the red ants and the poor rooster that had gone under the bare hands, this culinary experience was unmatched.
Vitals
Getting There
Raipur, the capital city of Chhattisgarh, is connected by air, rail and road to major metros and cities of India. Jagdalpur, the springboard city to Bastar region lies further south of Raipur and the most convenient way to get there is by car. Mr. Jaspreet of Ice Cubes can arrange vehicles from Indicas to Innovas (starting from Rs 8/- per km, plus additional taxes and driver allowance). Book on +91 9303048400; www.icecubes.in. The other option between Raipur and Jagdalpur, and places in between, is Kanker Roadways (07713199099; www.kankerroadways.in) for air-conditioned and normal buses.
Guide
It is imperative to have a guide when travelling in Bastar, for local knowledge, translation and help you understand nuances. Mr. Awesh Ali (+91 9425244925; Rs 1500 per day, discuss cost is only consulting) is Jagdalpur based and has in-depth knowledge and association with the tribal community.