Ananta Udaipur - Luxury Resort & Spa is a perfect place for unwinding and relaxing, family holiday, couples getaway, or destination wedding.
Luxury holiday getaways are featured on most people's travel wish-list. For a few, it may be a matter of routine whereas for others it is an opportunity that seldom knocks their doors. There is no surprise that luxury holidays also feature on top of my travel wish-list. In the few years that I have been travelling (with family or friends), the hotels that we stay in has become as important to me as the place that I am travelling to. I strongly believe that one of the prime parameters of ensuring a good holiday is your accommodation. Of course, the type of accommodation would change depending on the nature of the holiday. But I believe after a tiring day running around town, a good meal and a sound sleep is all that you need to recharge your batteries for the next day.
As a family, we take many holidays together, which range from exploring new destinations for a longer durations to short weekend breaks to nearby destinations for quick relaxation and unwinding. Recently we subscribed to the membership program with The Ananta Hotels and Resorts. Currently, they have two functional properties, one in Udaipur and Pushkar respectively. A few of our group friends had previously visited the Ananta Resort in Udaipur and they were very happy with their experience. Ever since its opening, it has earned rave reviews about the location, services, amenities etc. Since we had a good three days to our disposal, this time we decided to take a short break to experience Ananta Udaipur - Luxury Resort & Spa for ourselves. (P.S. Read till the end for a visual treat)
Location & Overview
Spread across nearly 72 acres of lush hilly terrain, the Ananta Udaipur - Luxury Resort & Spa is like relaxing in the lap of luxury. The resort houses approximately 200 villa rooms along with a plethora of amenities. The resort overlooks the wide Aravalli ranges and even though its a short drive from the bustling city of Udaipur, all you will be able to see around this resort are tiny mountains engulfed in lush greenery. The road leading to the property is a little bumpy but it paves the way towards a luxurious resort where you are not likely to find any bumps.
The resort is spread across multiple levels over hilly terrain, each level is considered as a floor where cottage-style villa rooms are located. We were checked-in on level five in Room 524, and needless to say, the view from the room was breathtaking.
View from the Room
From any given point in the resort, you are sure to find views that delight your sight. Most of the amenities are located on the ground level or lower ground levels except the gym and spa which are on the top level. Also, one of the major points of attraction for me at this property was the stone-work architecture, which is also very typical of Rajasthan and commonly seen around places.
Services & Assistance
Since we had chosen a long weekend break to visit the resort, it was completely booked and we could notice the commotion of handling so many guests as we arrived at the resort. It was interesting to see that they had separate desks for guests checking-in and those checking-out. This ensured smooth transitioning for both sets of guests. The staff assisting us with the check-in was very prompt and quickly got us cleared with all the required formalities, there was no need for us to loiter on their heads over the check-in desk, we were asked to comfortably settle ourselves in the lounge while the staff ensured all the paperwork was in place. I must also take a moment here to applaud the patience of the staff who addressed to all our queries (some even silly) without once getting agitated. Given that the property is spread across a wide hilly terrain, you can't possibly walk up to your room especially while you check-in, hence you actually have car service that assists you with your luggage and escorts you till your room. The driver of the cab was also the bell boy that swiftly took us to our room driving through winding roads, and checked us into the room after placing our luggage securely on the luggage bench.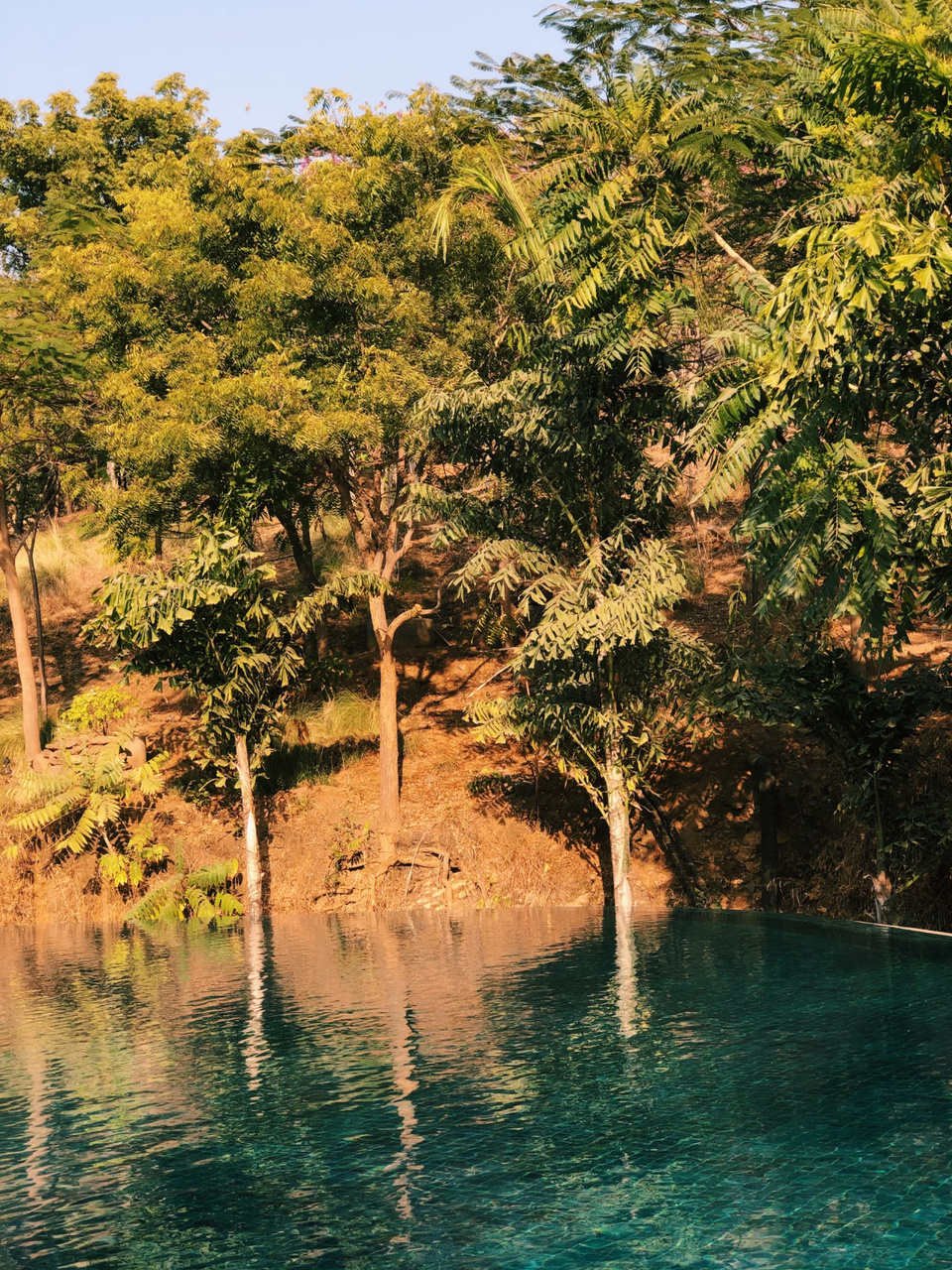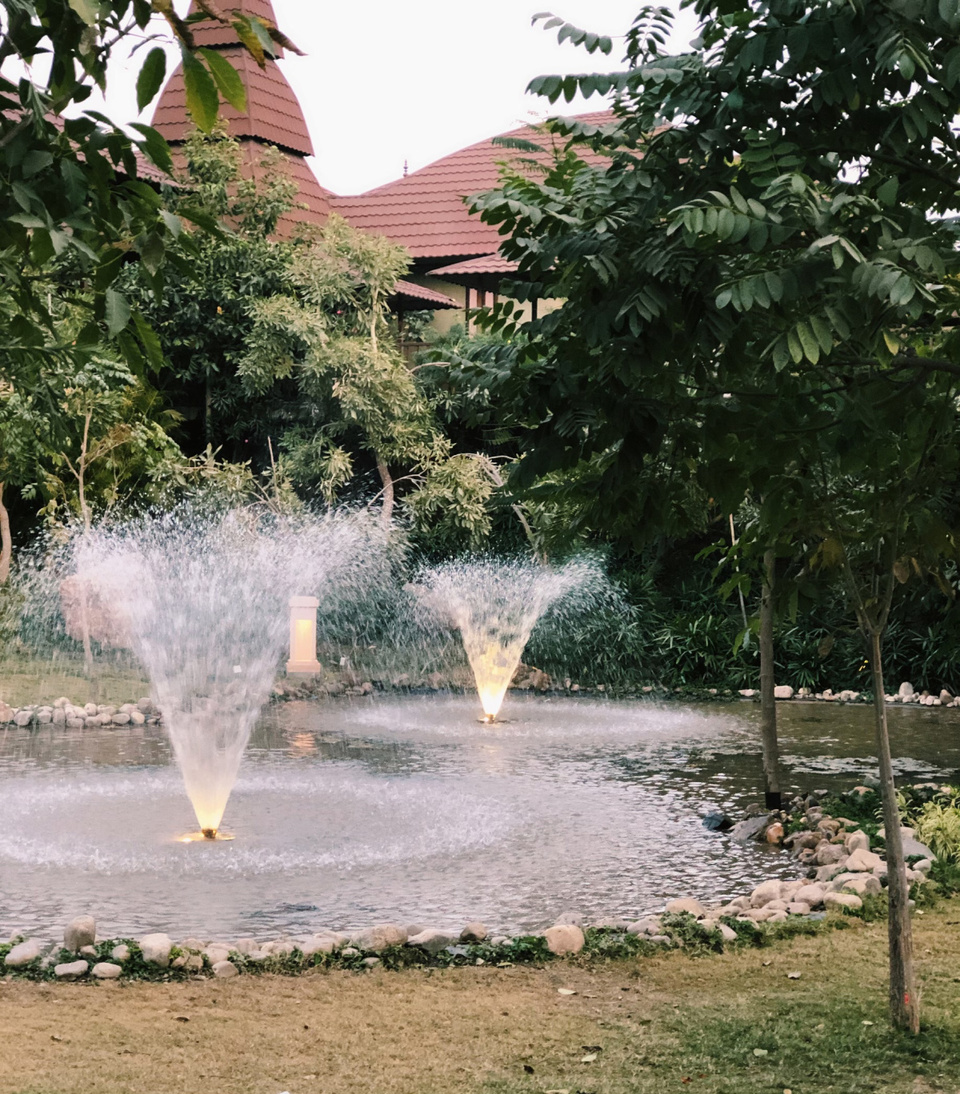 The staff across the resort be it the housekeeping, in-room dining service, the restaurant, were all extremely welcoming and available at our disposal. Given the area across which the resort is spread, we thought the room service might be an issue since they would need to cover a distance for getting us anything. However, the service was as good as any luxury hotel. No matter what time of the day you come across these staff members they always greet you with a smile, and also give you tips and ideas to explore the resort. Honestly, I found that really endearing, it makes you feel welcomed.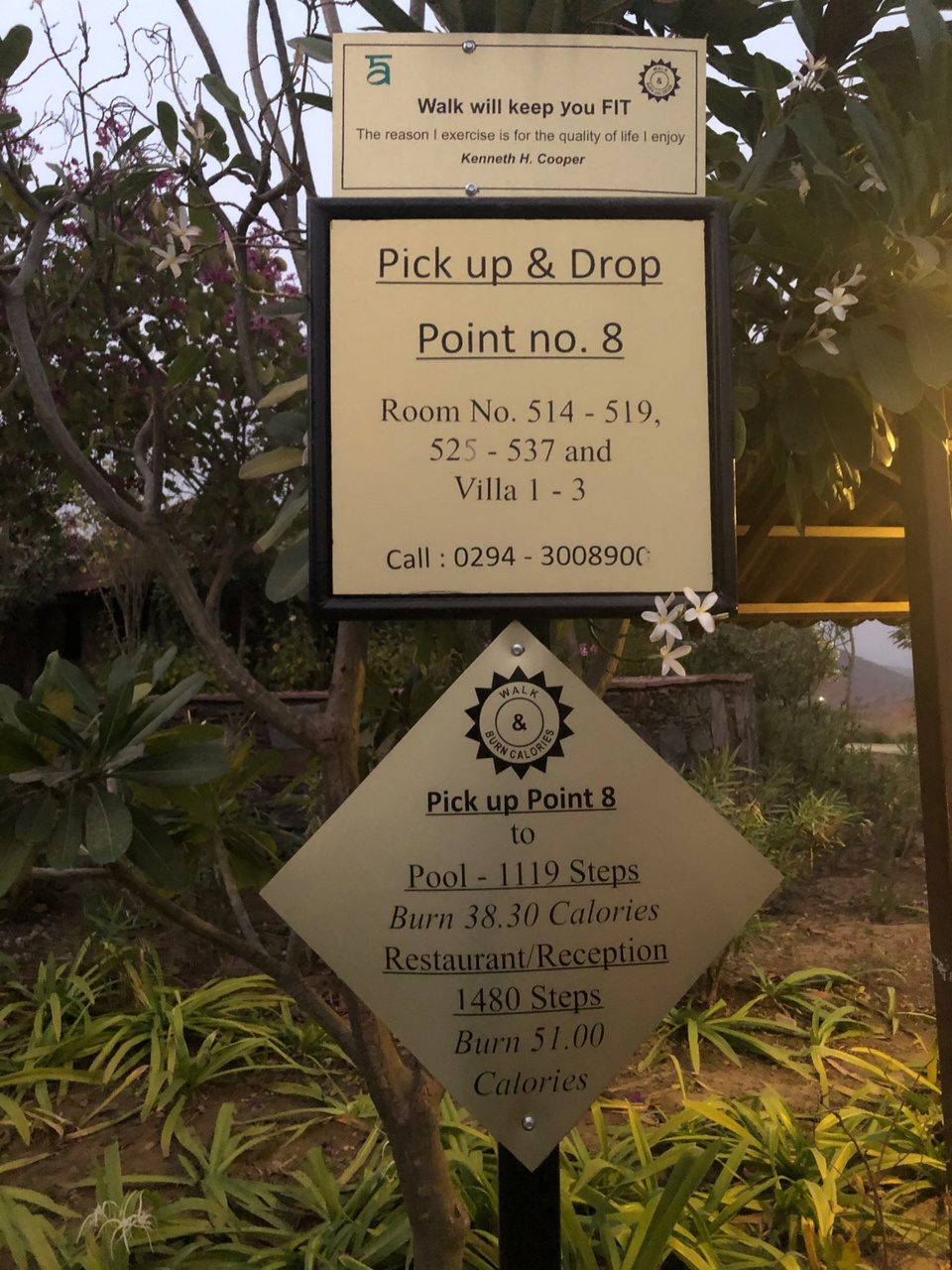 The resort surely encourages you to burn some calories, they have these hoardings posted near all pick up points and junction which was really interesting!
A point to note here is that whenever you want to move around in the resort you will require cabs unless you are into hiking or walking on slopes. It was really interesting to see that there were pick-up points at designated spots from where you can hail a cab to go to any other part of the resort. Of course, they also have the service of calling the cab right up to your room door if you so wish.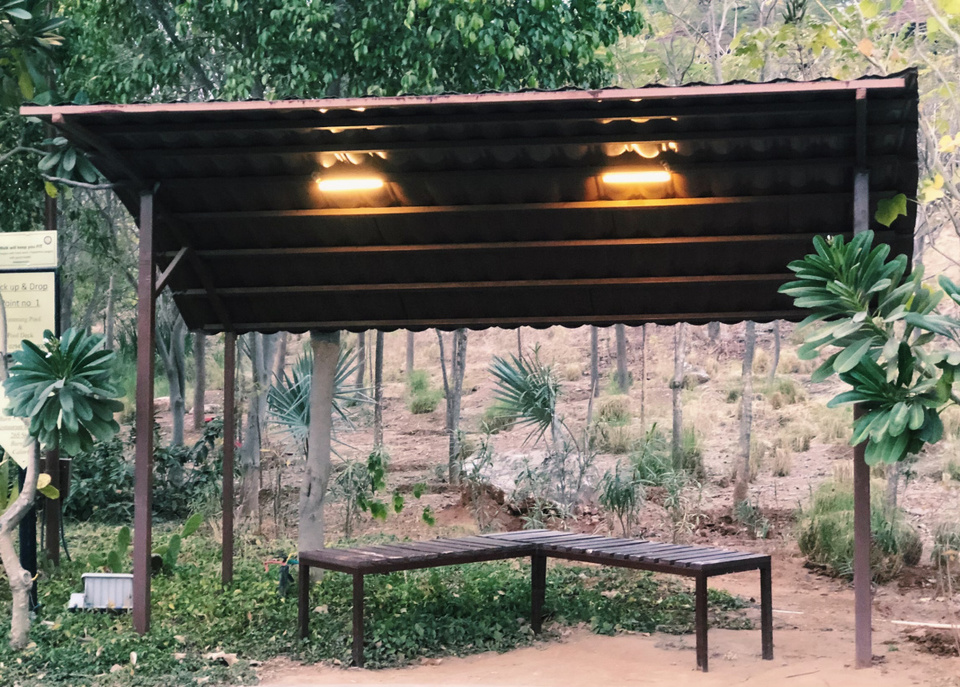 Pick up points for the car service, they had benches to rest till your car arrives
Rooms and View
They have three categories of rooms, deluxe rooms, junior suite, grand suite. We were booked in the room category - Deluxe Cottage, and as we entered our room I knew why it was called deluxe. I am sure many people would have stayed in rooms with more grandeur than this, but for me, this was really grand. A spacious room that can comfortably accommodate three people along with a host of other artefacts and amenities. The room leads to a beautiful and aptly spaced balcony with a nice seating area. Another interesting feature of the room was the spacious bathroom with just the correct lighting (all you girls out there, you know the importance of good lighting in the bathroom) and an 'Open Shower' safely hidden under the blossomed bushes of a tree. Although a note of caution, that shower only has cold water, so be careful before you step under it. The rooms are equipped with all basic necessities - a comfortable bed, soft pillows, bedside tables, television unit, minibar, tea and coffee station and bright lighting. One of the biggest highlights of this room that I was highly impressed with was a foot lamp for the night. I know it sounds silly but for someone like me who is supremely scared of darkness, this is like a boon.
Also, I am an extra-bed traveller, so no matter how good or bad the room is for me what matters the most is the extra bed. Although they provided a nice rolling bed, the mattress though was a nightmare for me. The mattress was very hard and really gave me a bad back-ache. This is one suggestion from the neglected third person in the room, that please provide mattresses that don't feel like you are sleeping on the ground. Apart from that, the rooms were perfect.
Follow the video link at the end of the page for a detailed room tour.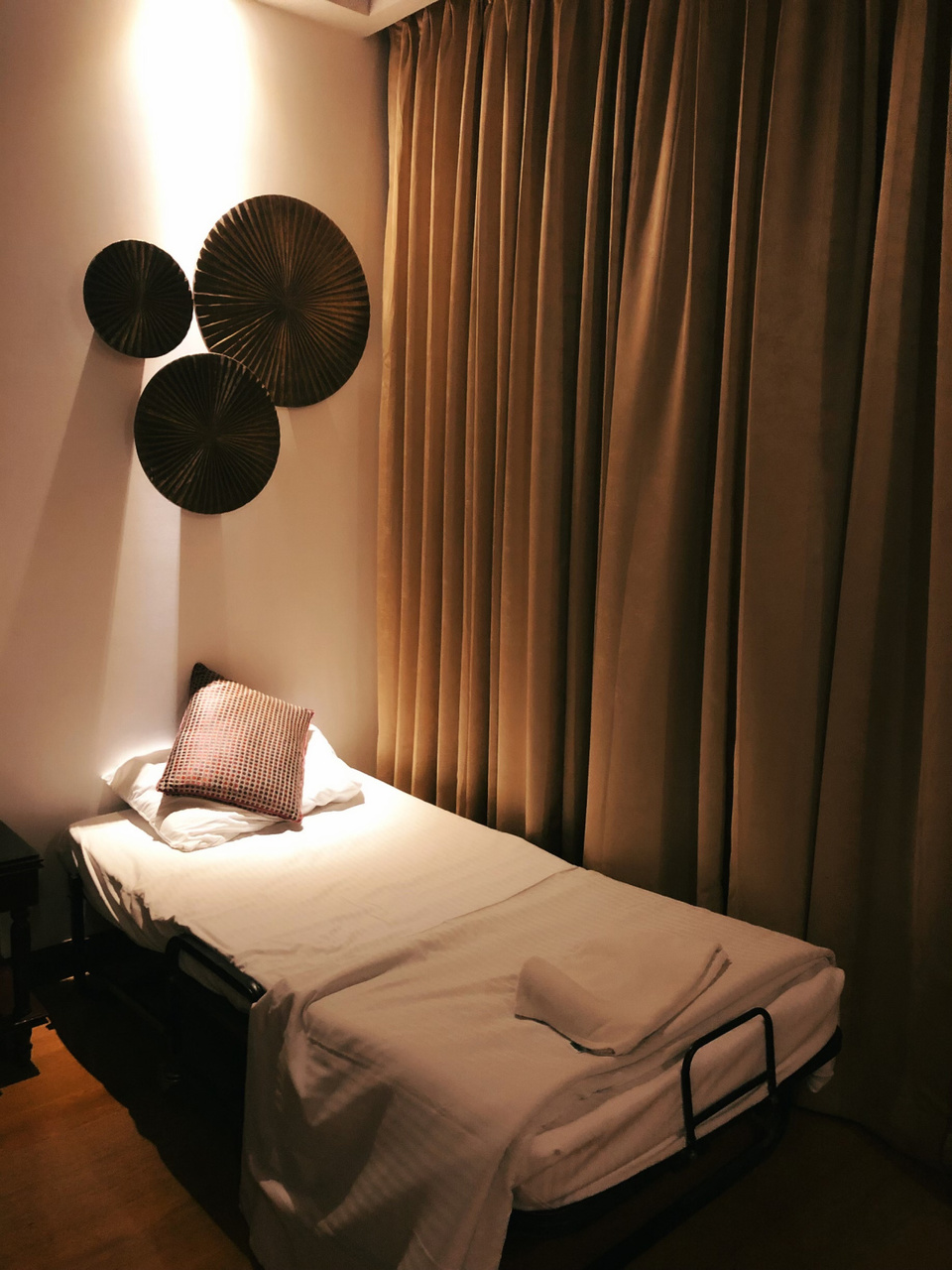 They provided good space where the extra bed could be placed
Activities and Amenities
Ananta Udaipur - Luxury Resort & Spa has predominantly earned appreciation and recognition for being an ideal luxury wedding destination. They do have all the amenities that one looks for in a luxury resort. They have huge lawns, a mini-golf course, a pre-built stage, banquet hall, gazebos, pool, spacious rooms, spas, gym, indoor gaming zone, outdoor gaming zone, a restaurant with perfect views, an open deck floating bar and an amphitheater. Honestly what more could one ask for?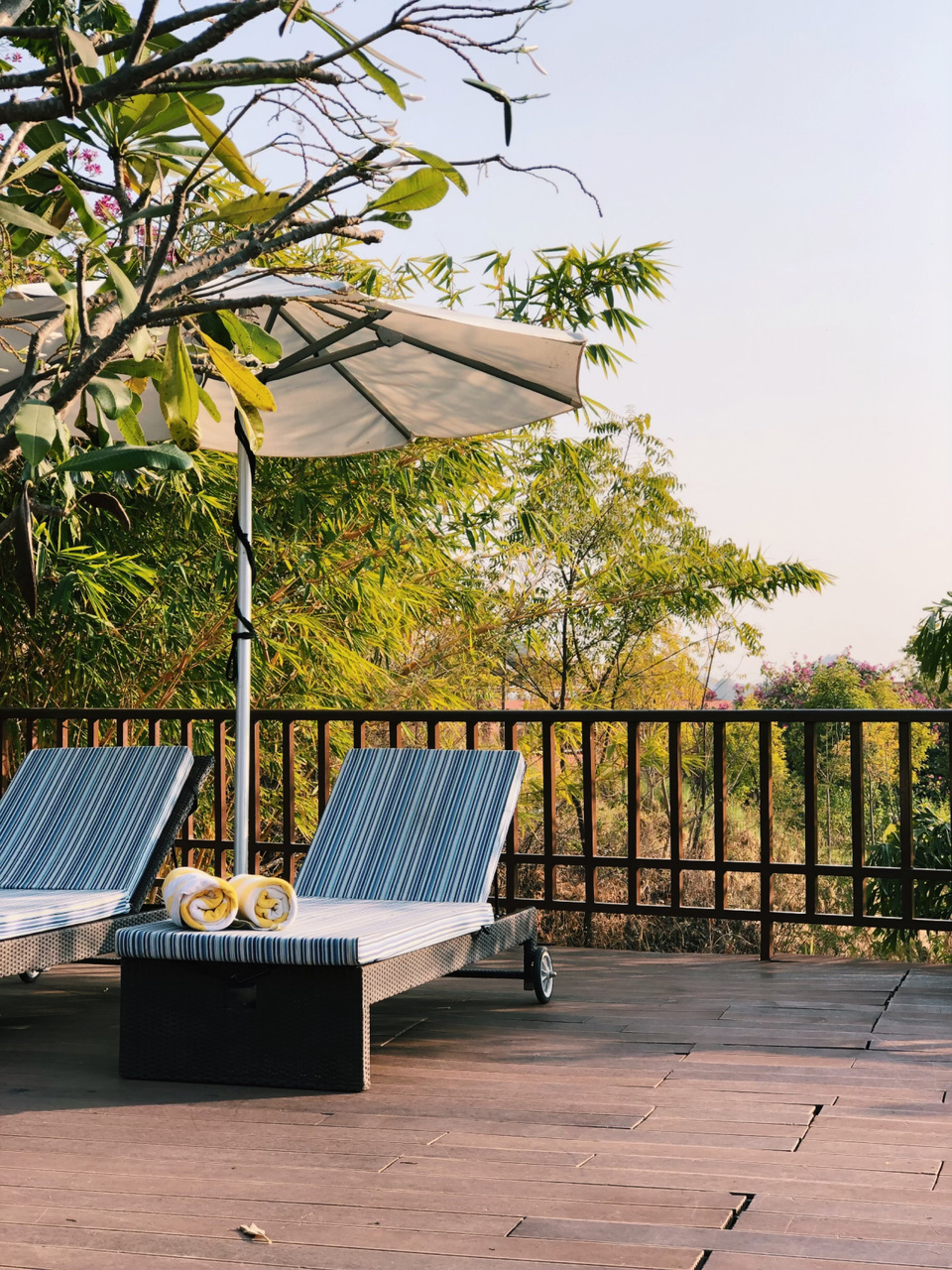 Poolside view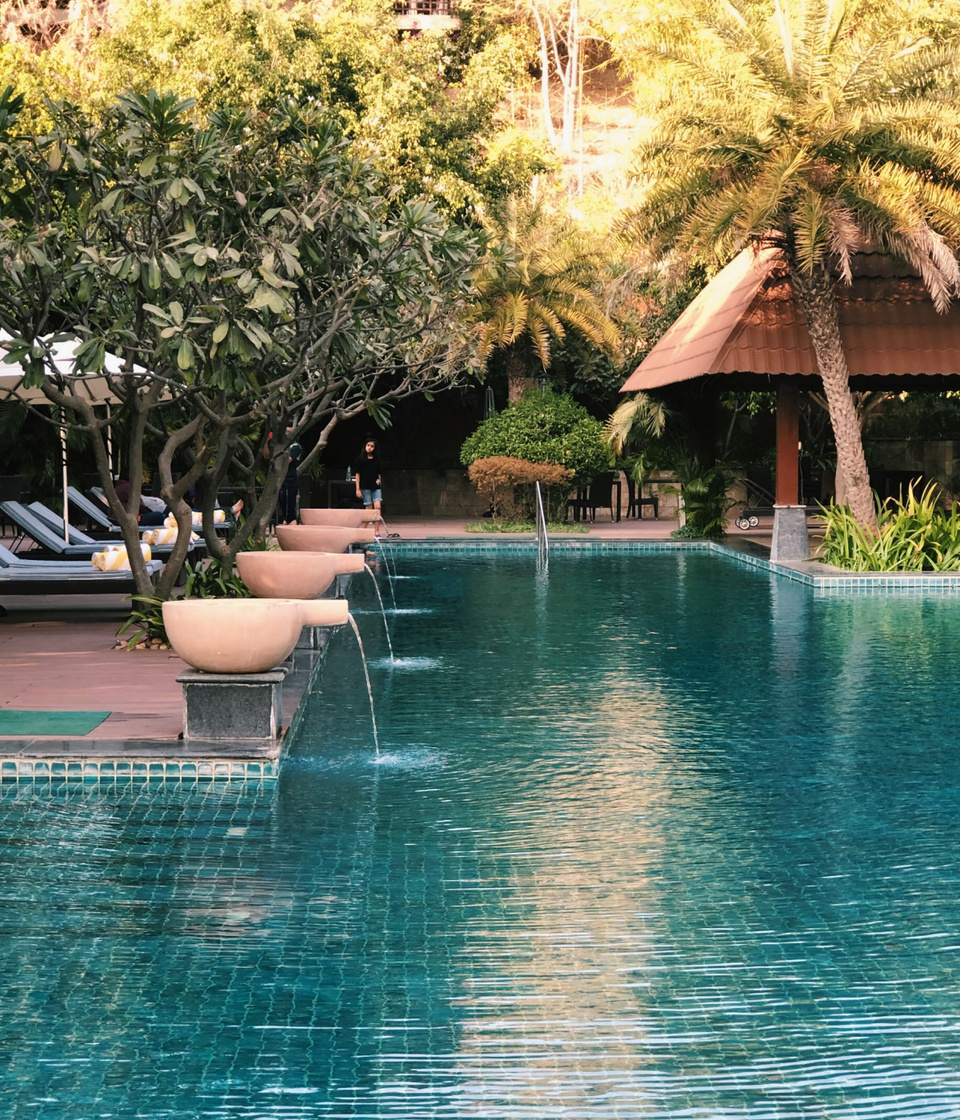 Swimming pool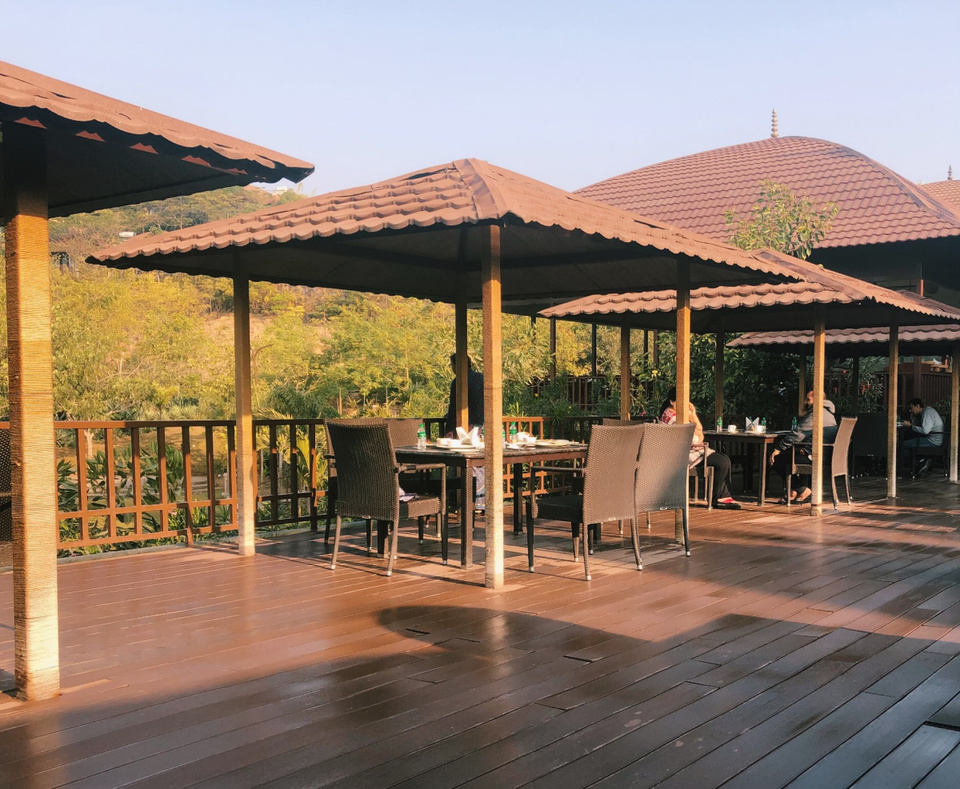 View of the Deck
Interestingly, they also have titled certain areas of the resort related to the wedding theme, like the Jaymala Gazebo, or the Great Indian Food Street (which is where they arrange the buffet for wedding celebrations). While there, anyone as stubborn as me felt like getting married!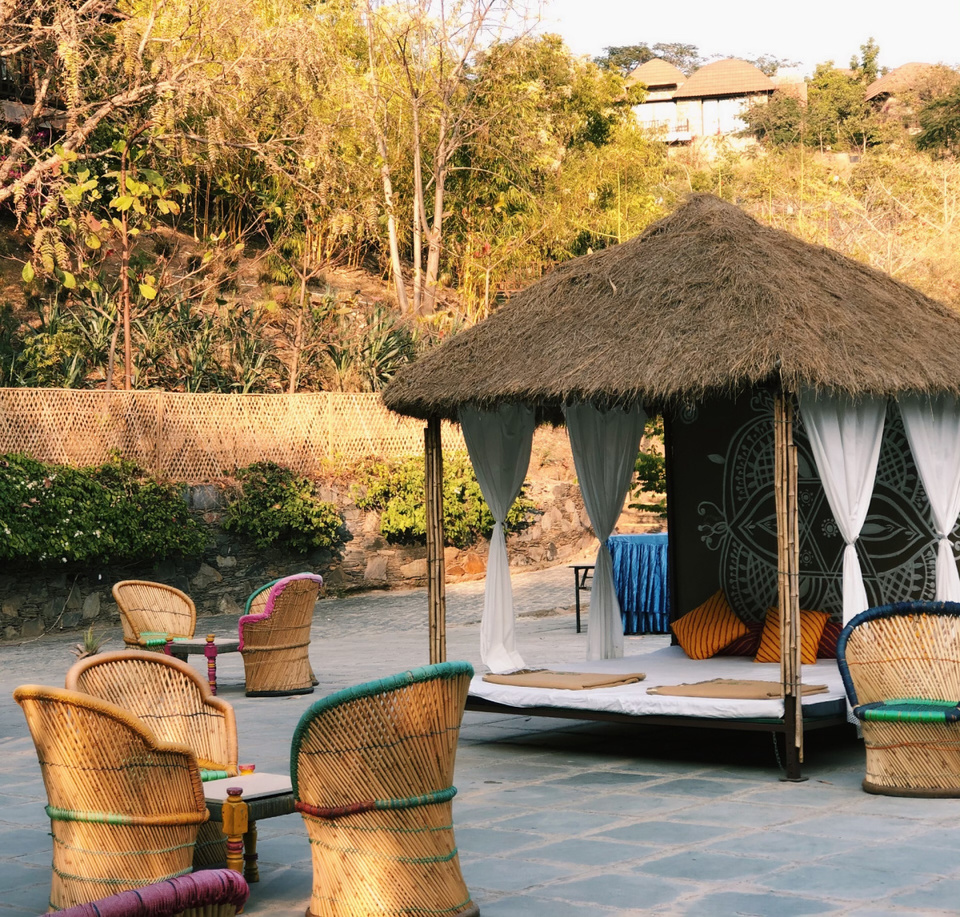 Jaimala Gazebo
Oasis restaurant at the resort offers a wide range of food options, so you are sure to consume quite a few calories, but worry not, they have a fully equipped gym to burn off those calories and they also have a spa in case you want to further relax those worked out muscles. There is also an open deck which is an extension of the restaurant which was my favourite place for enjoying breakfast while soaking in some bright early morning sun. The deck overlooks the well-landscaped garden with small fountains which are lit up in evenings and makes for a perfect photography backdrop. The property boasts of quite many picturesque landscapes and views, I literally spent hours walking around the resort stopping by at a few of these spots scribbling in my diary.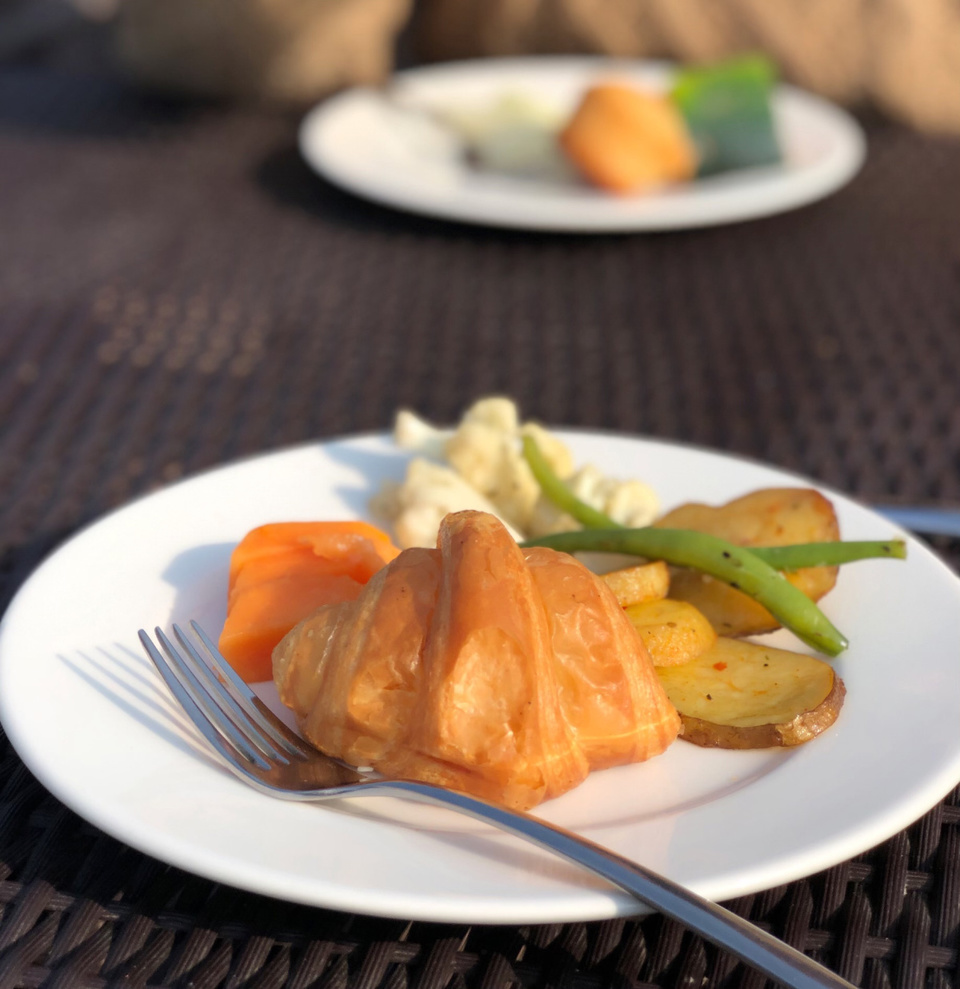 Breakfast at the deck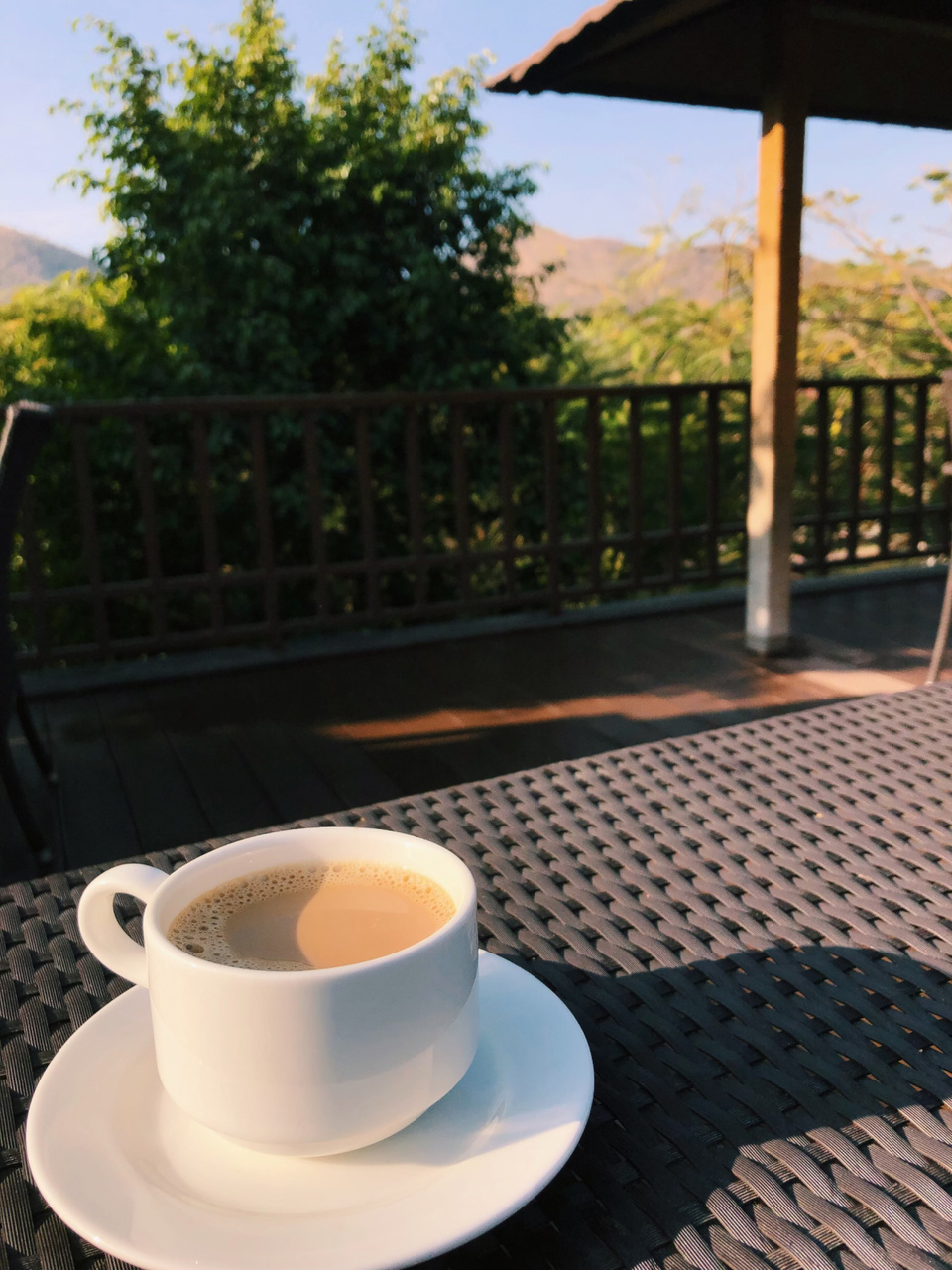 Coffee with a view
We visited the resort during Lohri and Uttarayan, and I was surprised to see that one night they had organized special Lohri celebrations for the guests and next morning they had got all essentials ready to celebrate the festival of kites. The til ke ladoo (sesame sweet balls) along with hot chai (tea) was the perfect way to spend a weekend morning at the resort lawns, flying kites, or in my case watch others fly kites.
Final Thoughts
Ananta Udaipur - Luxury Resort & Spa has a lot to offer and undoubtedly their services are par excellence. However, we did experience a few minor glitches which I believe were also due to the rushed season. During mornings or late at night it was a little difficult to find the cab from the pickup points or wait for long. Also, the restaurant was fully booked when we entered in at 9:00 p.m. so we had to wait out on the deck (in freezing cold) till a table was available. Even during breakfast, we chose a table on the deck but by the time we came back with our plates someone else had occupied the table since there was no managerial staff at the deck but only servers. These are minuscule things but still important to note, especially while one reviews a place.
I strongly recommend you to experience the hospitality of the Ananta group once, I am positive that you won't be disappointed.