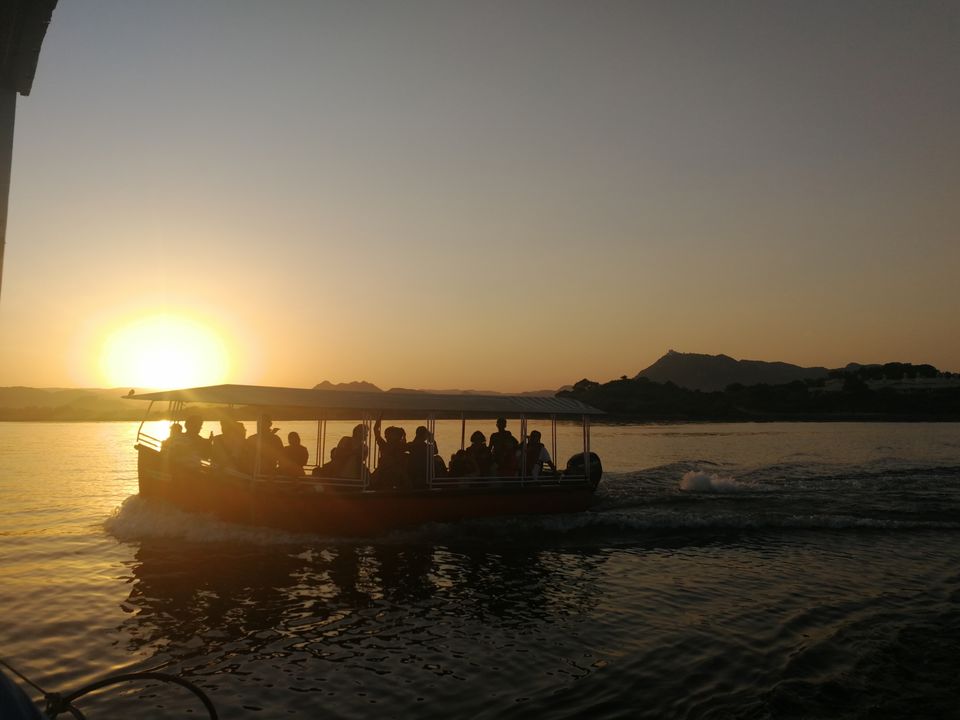 One thing that I am not proud of is how little I know about my roots. My ancestors hailed from Bikaner, Rajasthan and except for one visit when I was under 10 years of age, I never visited Rajasthan until very late. Two destination wedding in Jaipur is the only chapter of Rajasthan in my travel journey. A complimentary voucher of Lalit Laxmi Vilas Palace, Udaipur presented as an opportunity to put in gear my Rajasthan journey.
As a traveller, you belong nowhere, and you belong everywhere. However, there is a sense of déjà vu which I feel whenever I land in Rajasthan. There is an instant connection. You are cognizant of the culture, food, language, tradition. You need no explanation, you know what to order. I know I belong here. It is amazing that a place you never set your foot before can seem so familiar. I landed as a traveller but became a local. My husband being a non-Marwari ,I was thrilled to show him around and explain him my culture, traditions and food.
Weather --We landed Udaipur early morning @7 am and were welcome by a nice chilly weather. End of September we were expecting it to be hot. But the mornings and evenings were pleasant. The afternoon is hot and dry. If visiting during this time try avoiding noon.
How to travel – Uber is easily available. 400 INR from airport to the Old City. All the uber drivers I met offered to show us the city. If you are within the city,you don't need to hire them.Most of the attractions are walking distance from each other. For the ones outside(Monsoon Palace, Karni Mata Ropeway) you can hire rickshaws or uber it out.Within the city the rickshaws are available. Bargain .50-100 is what you will have to pay. The lanes of Udaipur are really small and winding. All the lanes are two ways so walking is the best way as a 10 min walk would take you about the same time or more in a vehicle.
In fact I would recommend to walk the by-lanes. You would get the vibes of the city. Check out the small European cafes or the Indian joints. Check out the various shops. Admire the French windows and the paintings outside the walls.
Where I stayed
Our stay for first night –https://www.airbnb.co.in/rooms/21157551 Devi Villa. It is a 150-year-old haveli, the haveli not in a great condition but the rooms are in excellent condition. The location is 15 mins away from all the main attractions and the rooms faces the silent side of Lake Pichola. It is perfect location for someone who wants to be near yet away from all the hustle-bustle. The family who owns the haveli are excellent hosts and the lady of the house is a great cook. The room is a steal for the price they offer.
If you would like to stay in the midst of all the attractions then there is Jaiwana Haveli. Search for hotels near Bagore ki Haveli (facing Lake Pichola).
Our second night – Lalit Laxmi Vilas Palace, Udaipur. It is opposite Fateh Sagar Lake .The property is beautiful .Two lake facing restaurants is the show stealer. The garden goes down till the lake and they have jogging tracks and kids play area too. Select the Lake View rooms . They have a puppet show and cultural dance in the evening. In the evenings come out and sit on the Porsche opposite the entrance and sip of the freshly prepared tea while soaking in the beautiful sunset views. They actually treat you like royals. The staff came in the evening to offer us the evening services which is rolling down the curtains ????.We were stunned for a moment and then politely refused.
What I saw
City Palace – If visiting during Summers, do this at noon. You will save yourself from the heat. Hire a guide to understand the history and the importance of the Palace. It took 400 years to build this palace as it stands now. Renovation and maintenance are still in progress. The palace is huge with beautiful architecture which is a mix of Mughals and Rajasthani. Walk through the palace and experience the royalty of the Rajputs. Get a view of Lake Pichola, Taj Palace, Jag Mandir and a bird eye view of the city as you walk through the palace.
Though we visited in off-season the palace was reasonably crowded. We had difficulty clicking pictures one due to crowd and second due to the sunlight. Somehow we did manage to get few decent clicks.
Jagdish Mandir
It is ok. Can be done, can be skipped. We reached during the aarti and the atmosphere they create with the bhajans(devotional songs) is what we liked.
Boat Ride, Lake Pichola - My suggestion take the last boat ride .We did at 5.45 pm .Must do.See the sunset, the palace being lit up. Enjoy the breeze.
Bagore Ki Haveli – We tried getting the tickets for the cultural shows but in vain. Just sit near the pier next to the Haveli and dip your feet in the cold water after a long tiring day.
Fateh Sagar Lake – Cleaner than Lake Pichola.We had a direct view from our room in Lalit. Boat rides are available here too.
We skipped Jag Mandir as the locals told us not worth visiting . Monsoon palace(Sajjangarh Fort) ,Karni Mata Ropeway, Saheliyon ki Baari are the other attractions you can do.
Where to shop –Udaipur is a shoppers paradise. Bargain is the keyword. We ended up buying clothes, accessories, home décor, return gifts
HathiPole – Good for traditional skirts, sandals, mojdi and kids stuff.
Clock Tower – Near clock tower you will find shops for home décor. Do check it out.
Malda Street – This is where locals shop. I got traditional bangles and sarees from here.
Where and What to eat –
Upre and Ambrai – We tried getting a reservation in both the places with no luck.We saw these places during our boat ride and the location is excellent. So if you manage to get a reservation do visit .
Shamiana – We searched Zomato for lake facing restaurants and found Shamiana. It is decent enough restaurant with good views . One thing in Udaipur is you are never away from Lake View.
Try the street food at HathiPole.There is one shop just near the entrance of Jagdish Mandir. We went there for breakfast.Value for money.Try the chaats, samosas, pyaaz kachori from the small shops.
To be honest being a Marwari,I was not really impressed by daal baati, gate ka pulav,gate ki sabzi and sangria ki sabzi which I tried at different restaturants.These are the traditional Rajasthani dishes and you can try if you have never eaten before or rarely get to eat them
Talk to the locals –
Udaipur people are truly wonderful.
Starting from our hosts who gave us a lot of local tips and some amazing mouth watering home cooked food to the shopkeepers who were than willing to help us find the right shop to meet our shopping list.In the scorching heat, everyone had a matka outside with glass for everyone to drink.I was standing with 2 bags full outside a shop waiting for my husband to arrive .The shopkeeper realising my husband will take long to come simply came out and gave me a stool to sit. Such gestures never fail to put you out of your misery (mine being standing in the unforgiving heat).
Lastly try the massages. Bargain and you can get a good deal. I got one for 500 for 1 hour ????.