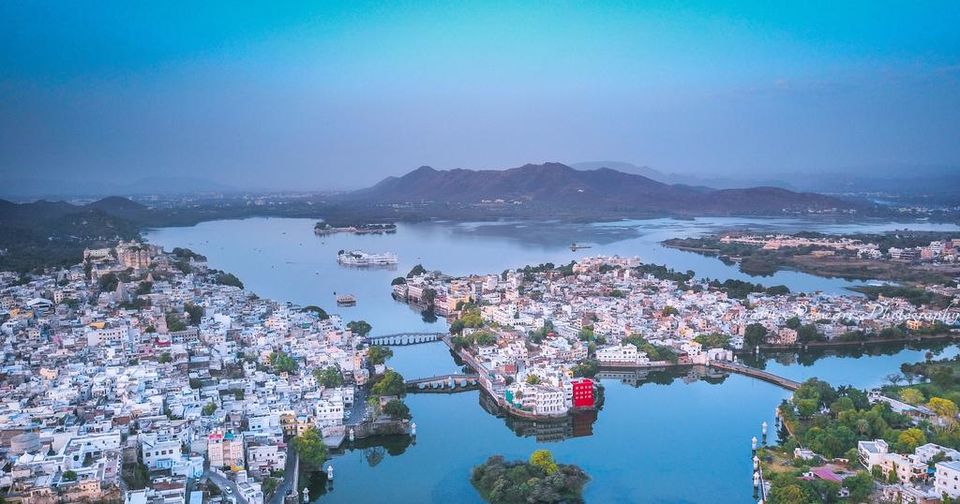 Udaipur has always attracted tourists from around the world for its unparalleled royal heritage and history. Every traveller has the city of lakes on his bucket list, but not everyone can afford to stay in the heritage resorts of Udaipur. However, you can choose to explore the city in more than just one way. The warmth of the people, colourful markets, finger-licking street food, timeless temples, grand havelis and serene lakes of Udaipur will entice you to make more than just one trip to this desert city.
Here is a list of things that you can do in Udaipur without burning a hole in your pocket.
Explore Rajasthan's largest palace
City Palace is an attractive tourist spot in Udaipur. Built on a lake in the 16th century, this palace is still the largest in the state of Rajasthan. Boasting of fine interiors and architecture, the lake palace is a conglomeration of 12 smaller palaces built by different rulers. Although the masterpiece is not a work of an individual architect, the palace-turned-museum still maintains uniformity in its architecture.
Entry fee: Rs 30
Take a boat ride
A boat ride on Lake Pichola is a must when you are in Udaipur. Lake Pichola is the most beautiful lake of Udaipur and has four islands on it, where you can make stops and spend time exploring. These four islands are Jag Mandir, Jag Niwas, Mohan Mandir and Arsi Vilas. Spend an evening in Lake Pichola and enjoy the amazing sunset here.
Ride charges: Rs 300 per hour
Timings: 9.00 am to 6.00 pm
Eat with a view
Mayur Rooftop restaurant
Eat your heart out at this multi-cuisine rooftop restaurant in Udaipur. This place serves an exceptional Rajasthani Thali. After a tiring day of exploring the city, Mayur rooftop cafe is the best place to unwind and relax. The place also offers an unhinged view of the light show of Jagdish Temple.
Cost: Rs 600 for two people (approx.)
Address: 76, Palace Road, Bhattiyani Chohatta, City Centre, Udaipur
Walk down the corridors of the Haveli
Make the most out of your stay in Udaipur, visit the historic Bagore ki Haveli. This haveli is a mansion converted into a museum. Built in the 18th century on the Gangori Ghat, the haveli has 138 royal rooms. The museum is home to some of the unique artifacts like the longest turban in history. Throughout the day visitors can see different folk dances and puppet shows.
Entry fee: Rs 25 per person
Timings: 10.00 am to 5.30 pm
Take a walk in the garden
Saheliyo ki Bari, which literally means Courtyard of Maidens, is a garden adorned with beautiful fountains, marble statues and trimmed lush lawns. These lush lawns are a great place to have fun for free. Go for a picnic with your friends or spend a day alone photographing nature.
Entry fee: Rs 5 per person
Timings: 9.00 am to 5.00 pm
Enjoy rope-way ride to Karni Mata
Enjoy stunning aerial views of Udaipur on a rope-way ride to Karni Mata Temple. The area is pollution free as no vehicles are allowed in the region.
Ride charges: Rs 80 per person
Timings: 9.00 am to 5.00 pm
Indulge in street shopping
Roam around in the traditional bazaars of Udaipur. Get your hands on some traditional handicrafts. There are several places like Hathi Pol Bazaar, Bada Bazaar and Jagdish Temple Street where you can head to for souvenirs. Practice your bargaining skills before coming here, you might get some great deals for local products.
Head to the Palace where Katy Perry got married
Jag Mandir is the palace where the international singer Katy Perry got married. Luxuriously built on one of the islands of Lake Pichola called Jag Mandir, the its royal interiors and medieval architecture will leave you mesmerised. This is a must visit site place for every traveller.
Entry fees: Rs 300 for adults and Rs 150 for children.
Coffee by the lake
The perfect way to light up your dull evening is by sipping on some coffee by the Fateh Sagar Lake. The cool breeze and the colourful skies make for perfect companions. The place is lit up and packed with tourists all the time. The lively atmosphere here will definitely make your day.
Eat that chaat