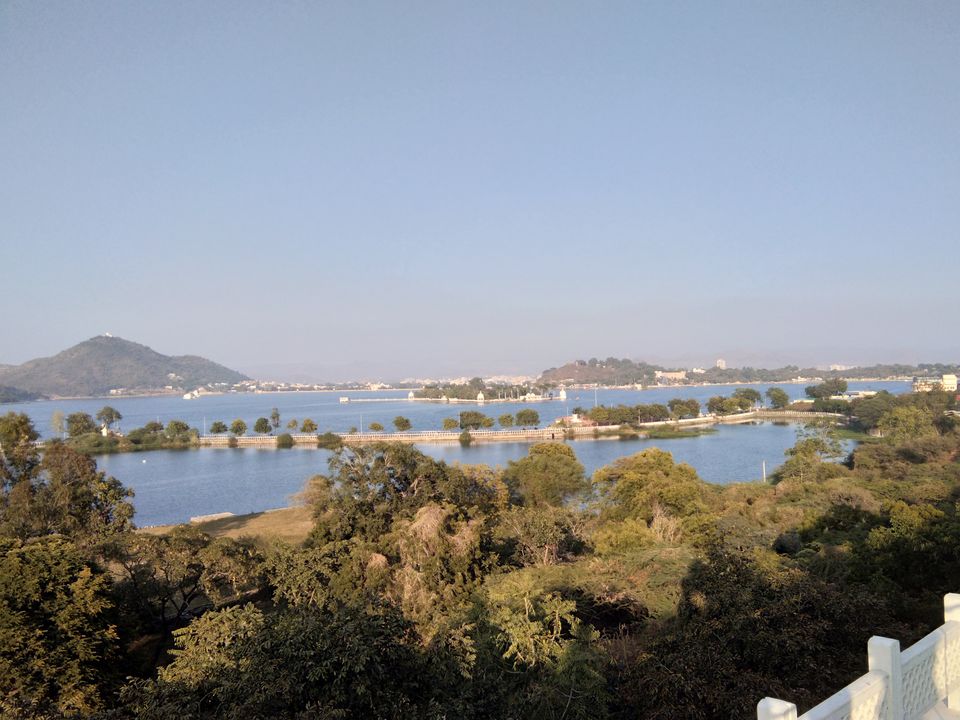 The Grandeur of Rajasthan can be better explained and experienced by its royal forts and associated history. Historical monuments, museums, architecture, Stories of Valour, colourful culture, gastronomy and traditions is extensively spread across Rajasthan.
This time my destination was one such jewel of Rajasthan, Udaipur- The Venice of the east, the city of lakes, the land of Maharana's most prominently known The Maharana Pratap Singh. The old forts, lakes, museums, gardens and temples are the major highlights of Udaipur's traveller's trails.
This was my second visit to Udaipur, however this time it was my first Solo trip and even words are not enough how ecstatic and liberating it turned out. In my earlier visit I had covered City Palace, Garden with fountains-Saheliyon ki Bari, some Local shopping etc.
Tips: City Palace is not to be missed. Worth a visit with good guide.
On my 4 nights solo trip, being a single woman travelling, my safety was top most concern, hence I decided to stay in good 5* hotel Radisson Blu Fateh Sagar Lake. I booked all my transfers and day trips with hotel concierge only and they were arranged to perfection. My chauffer Beru Singh was very courteous, helpful and looked after me very well. It was an added advantage being from travel fraternity.
After getting picked from airport, I headed to my hotel. Upon arrival it was a traditional welcome by a tilak. I kept the day at leisure to explore the property, area around and local hopping. In evening participated in Rajasthani folk performances organised by the hotel- Puppet show & Folk dance. I danced my heart out on rajasthani songs and picked up some iconic moves.
Day 2- Chittaurgarh Fort & Vintage Car museum
After an early sumptuous bfast I headed for my full day trip to Chittorgarh, duration 7-8 Hrs. It's the most sizable fort of India. Due to the ancientness of this fort, there are no clear evidences supporting the origin of the fort. There is however, a bunch of theories that are still subjected to debates. The most common theory states that Chitrangada Mori, a local Maurya ruler built the fort. However, it was occupied many rulers Mauryan, Bappa Rawal, Kumba of Mewar & Udai Singh II.
The entire fort is built in such a way that it makes it almost impregnable for the enemies to enter. The fort houses many palaces, like the Rana Kumbha Palace, the Fateh Prakash Palace, the Tower of Victory and Rani Padmini's Palace Mira bai temple where she was outcast. All these structures are significant for their Rajput architectural features.
The fort, when viewed from above, looks roughly like a fish. Spread across an area of 700 acres, the circumference of the fort alone covers an area of 13 kms. I was so mesmerized by the ruins, I found myself lost in that era. I believe the fort has witnessed many dramatic and tragic events during its time and if the walls could speak, they would have tales of love, tragedies, conspiracies, valor, deceit, loyalty to tell.
Tips: Always hire a good guide, you can negotiate as many are available on the site.
On my return I visited the Vintage car museum, the luxury and grandiose lived and managed by the royal families of Udaipur is worth seeing. Every individual is curious to peek into the lifestyle of royalty.
The Museum is home to 20 antique cars, to name few which includes four classic Rolls-Royce, Phantom, one MG-TC convertible, two 1939 Cadillacs, one Ford-A Convertible, one 1936 Vauxhall-12, rare models of Mercedes and some of the solar operated rickshaws and many other vehicles.
The museum houses some of the most exquisite collection of royal antique cars which make it a heritage site, it is a treat for all the automobile lovers, I was a novice though but thoroughly enjoyed myself. The ticket costed INR 400 pp.
Day 3- Kumbalgarh & Ranakpur temples
Yet another early start after bfast to Kumbalgarh Fort & Ranakpur Jain temples. Kumbalgarh fort, the birth place of Maharana Pratap has made its mark in world history as the second largest wall after the Great wall of China. The walls sprawls 38km in width and the unique feature is, its spiral and not even. The round and uneven architecture was to keep the enemy at bay and futile all warfare tactic such as Monitor lizards which were used to climb the fort walls, however the uneven and curved structures didn't allow the lizards to have a firm grip, thus making it self-contained in all respect to withstand a protracted siege. The fort is strategically located in Western Aravali Hills was built by Rana Kumbha.
There are magnificent Jain and Hindu temples of which the most picturesque place is the Badal Mahal or the palace of the clouds, the view is spellbinding; Neelkanth Mahadeo Temple with 6 Ft Lingam in black stone; Vedi Temple is a revered Jain temple Built in an octagonal shape, the temple stands on 36 pillars. The fort also offers a breath-taking bird's eye view of the surroundings.
The mammoth fort stands quaint but the silence speaks the volumes and the stories embedded in its wall.
Tips: Lot of steep walking and stairs up the fort. Start early by 8am for the tour.
After Kumbalgarh my next stop was Ranakpur Jain temples, the drive was 1-2hr through the forest area, a gem ensconced in the secluded valley on the western side of the Aravalli Range. The Temple is creditable for their splendid architecture consisting of more than 1400 exquisitely carved pillars supporting the temple. The temple is constructed in light color yellow marble and is four-faced
In the complex, there are several temples. Chaumukha temple is dedicated to Lord Adinath, who is the first 'Tirthankara' of the Jains. The temple ceilings are festooned with foliage scroll-work and geometric patterns.
To my astonishment the temple is a masterpiece of architecture and one will be surprised that each column is intricately carved and that no two columns have the similar design. The temple according to me is undoubtedly a wonder, I would recommend one should must visit this artistic temple and it will be a memorable experience of your journey.
Day 4- Temple Tour Eklingji, Nathdwara & Haldighati Tour.
Not so early start but it has become my habit to be an early riser and start my day. Today was relatively relaxed day, Though I am not a temple going person, with due respect I put my faith in Ek Onkar the only one Jyoti Swarup. All temples have timings of opening and closing by noon, so it was race against the time, my first stop was at Eklingji, it was easy zip in and zip out visit, I enjoyed the ambiance, the architecture and spent few revered moments connecting me the soul to my divine father. This 14th century shrine has been rebuilt, renovated and expanded from time to time. The Shiva lingam is five faced and of the deity it is made of black stone.
En route I visited Nathdwara, I had negotiated with a middleman for Quick, bypassing the long queue Darshan of the presiding deity Lord Krishna. The image in the form of a single black monolithic marble, where the lord is revealed with his left hand raised and the right hand made into a fist resting at the waist, with a large diamond placed beneath the lips. I made two rounds of darshan just to stare the shinning diamond.
Later it was time for my last stop and end of my sojourn in Udaipur, Haldighati. The name 'Haldighati' is believed to have originated from the turmeric-colored yellow soil of the area. It is a mountain pass in Aravalli hills. The historical significance is this is where the Battle of Haldighati, which took place in 1576 between the Kingdom of Mewar led by Maharana Pratap and the Mughal Army led by king Mansingh.
Maharana Pratap's beloved horse Chetak played a pivotal role in the Battle of Haldighati. Chetak was fatally wounded in this battle and died, Maharana Pratap erected a small monument for his horse at the place where Chetak fell. The cenotaph still exists at Haldighati.
A memorial which features a bronze statue of the Maharana astride Chetak has been constructed by GOI.
One can also visit the Maharana Pratap Museum, founded and owned by Mohan Shrimali, provides best possible information about the Great Legend Maharana Pratap. Events related to the Maharana life has been depicted by means of model displays & animation movie.
Tips: Udaipur ideally requires 5 nights stay to cover above and full day city tour including city Palace.
Day 4- Farewell. My heart was heavy as I bid goodbye to my incredible historical encounters and amazing liberating journey of my life. Life is full of goodbyes, People move on, we switch jobs, start or end relationships and then grow old. We have found many ways to say goodbye in our lives, in present turbulent times of great change, it is hard to find the words to express the strong emotions we all feel and or sum up a chapter of our life that's coming to an end. And even today as I write I just can't sum up all my emotions and experience in words, it's just ain't enough.
As it has been beautifully quoted "Life is a journey, not a destination." I the soul has many solo journeys to discover and find myself.