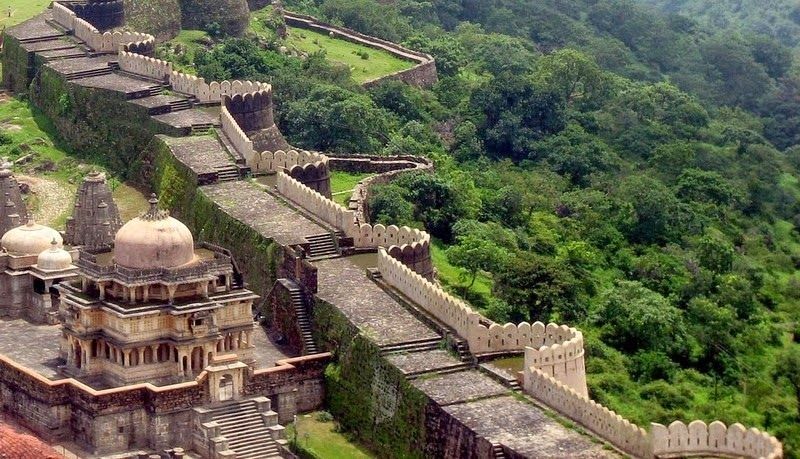 Udaipur is a well known destination and does not need any introduction. At one end surreal beauty of Udaipur never let you go away from its heart, on the other hand, it is surrounded by famous architecture and natural wonders which should not be missed by any traveler visiting the region.
Kumbhalgarh Fort & Sanctuary
Kumbhalgarh Fort is world heritage site and birth place of Maharana Pratap. It is built by Rana Kumbha during the course of the 15th century. With a wall over 38 km long, the fort is the second largest wall in the world after the Great Wall of China.
Kumbhalgarh is quite unique and interesting destination not only because of the fort but also for its massive citadel built 1443 A.D. and the wildlife sanctuary nearby. This sanctuary inhabits more than forty wolves in number. In the summers, one can easily find pack of wolves strolling around water sources in the sanctuary.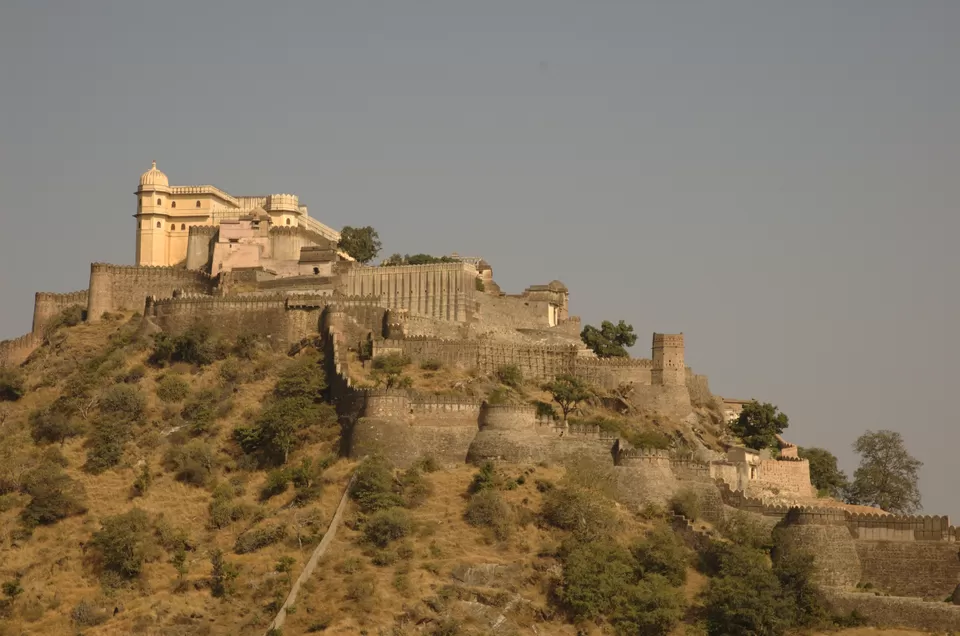 Kumbhalgarh is 86 Kms from Udaipur and a day trip to Kumbhalgarh and Ranakpur can be planned or you can spend a night listening to light and sound show also. There are few good resorts nearby where you can enjoy traditional rajasthani food cultural shows with your stay. Best available resort in the region is The Aodhi Hotel, it is a sanctuary-resort besides the hills crowning the majestic Kumbhalgarh Fort.
Ranakpur Jain Temple
An architectural marvel, The Ranakpur Temple is one of the most famous Jain temples in Rajasthan and dedicated to the first Jain Tirthankar of our time cycle, Adinath. It is a very big temple with ceiling around 7m high, constructed of white marble. The exterior is also striking. It has approximately 1440 exquisitely carved white marble columns, none of which are alike.It is also said that it is impossible to count the pillars. Also all the statues face one or the other statue. There is one beautiful carving made out of a single marble rock where there 108 heads of snakes and numerous tails. One cannot find the end of the tails.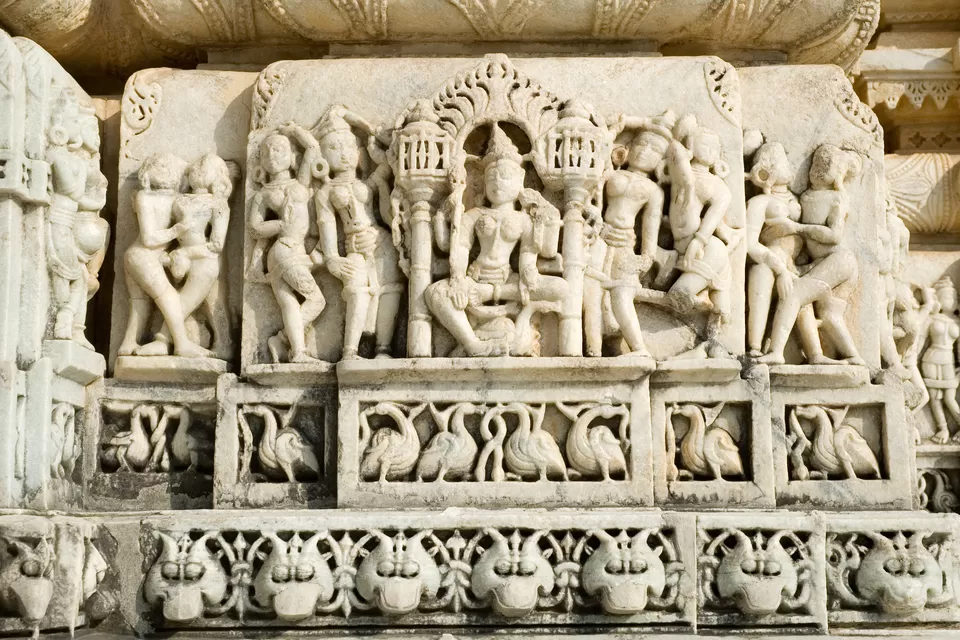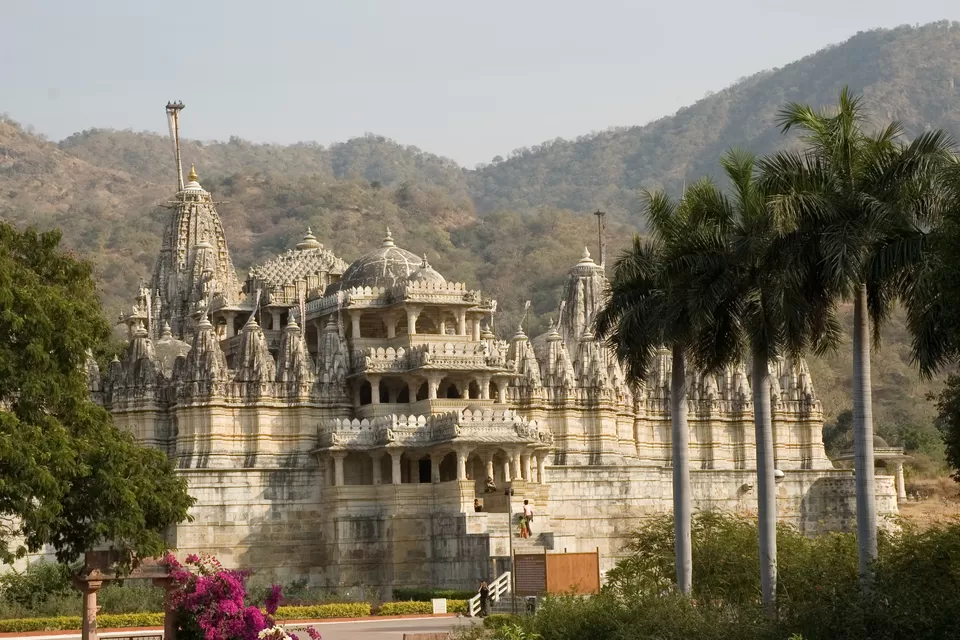 Ranakpur is 93 Kms from Udaipur and 33 Kms from Kumbhalgarh. Ranakpur Temple is open to tourists in the afternoon only. Mornings are reserved for prayers. Visitors are welcome from noon to 5pm. To enter the temple, you must be appropriately dressed. Women need to cover their legs well below the knee. Leather products, including belts, are not allowed. If you are carrying a camera you will need to "donate" 100 rupees for each camera. If you have a cell phone with a camera, you will need another ticket for that or leave the cell phone in your taxi. You can find number of resorts near Ranakpur also. Most famous are Hotel Maharani Bagh & Fateh Bagh Resort.
Chittor Fort or Chittorgarh
The Chittor Fort is one of the largest forts in India. It is a World Heritage Site, it was the capital of Mewar. The fort precinct has several historical palaces, gates, temples and two prominent commemoration towers. Chittorgarh remains replete with historic associations and holds a very special place in the hearts of Rajputs. The fort is famous for historical wars, seige and famous act of Jauhar performed by rajput queens preferring death to abduction and dishonour and committed (an act of self immolation by leaping into a large fire). Being most significant fort to Rajput state, it was attacked thrice by muslim rulers. Chittorgarh is also famous for its association with Meera Bai, the most famous female Hindu spiritual poetess.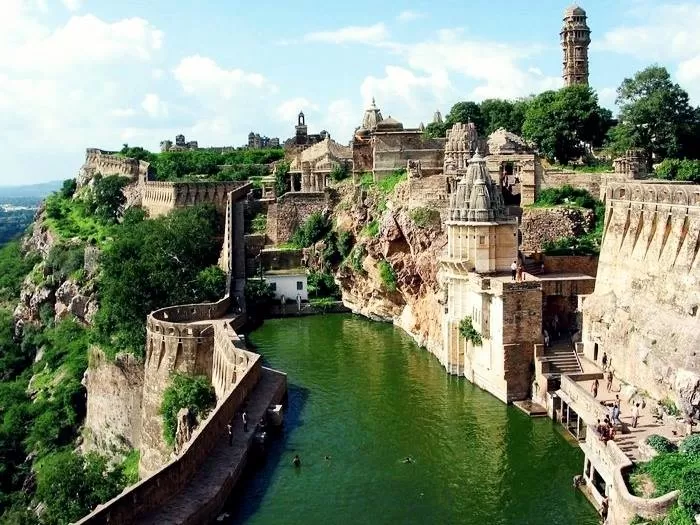 Chittorgarh Fort is a large space, and visitors may find it useful to compartmentalise the different sections; Victory Tower (Vijay Stambh),Kirti Stambh (Tower of Fame), Rana Kumbha's Palace, Padmini Palace & Meera Palace. Admission Fee is Rs 5 for Indian nationals, Rs 100 for foreign tourists, This ticket is NOT necessary to enter the fort proper or enjoy the most amazing vistas, but only to enter to a few specific monuments such as Victory Tower and the Museum. Distance from Udaipur is 110 Kms and it will not take more than 2 hrs to reach Chittaur.
HaldiGhati
An important historical site in the context of Rajasthan at a comfortable distance of 40km from the city of Udaipur. The term Haldighati has been derived from the yellow colored soil of the place that gives a sense of turmeric (in Hindi). It is a significant historical site that has observed the battle of 1576. The battle of Haldighati was a huge combat between Rana Pratap Singh of Mewar and Raja Man Singh, army commander of mughal emperor Akbar. At a distance of around 4 kms from the battlefield, a cenotaph is built in pure white marble. This cenotaph is dedicated to the gallant horse Chetak as a sign of respect and admiration, who breathed his last at this point after leaving his master to a safe place. At Maharana pratap museum, a documented video and model of battlefields is shown to tourists explaining the complete historical events.
Nathdwara Temple
Located 45 Kms from Udaipur, in the backdrop of the Aravali hills and on the banks of the Banas River, Nathdwara is a religious abode for Hindus. Being home to the Shrinathji temple, the second richest temple in India, this place is flocked by thousands of tourists year in and year out. Nathdwara town is also famous as the Apollo of Mewar. In the town of Nathdwara, Shrinathji temple is the centre of attraction, but the town is also famous for its 'pichhwai' paintings, handmade terracottas, ivory articles and milk-made sweets.
Jaisamand Lake
Jaisamand Lake (also known as Dhebar Lake) is India's second-largest artificial lake, located at a distance of 70 kms from udaipur. Jaisamand Lake was the largest artificial lake in Asia, till the time when Aswan Dam of Egypt was not constructed. Dhebar Lake has elegant steps leading to the water and marble cenotaphs on its bank with a small Shiv temple that marks the grace of the lake. you can enjoy boat ride in the calm waters of Jaisamand Lake too. Jaisamand Lake is close to the sanctuary that serves habitat to various types of birds, panthers, leopards, deer, wild boars and crocodiles. Once, these woods used to form the hunting ground of the erstwhile rulers of Mewar. Jaisamand Island Resort is a wonderful secluded resort to spend a night on the island surrounded by jaisamand lake.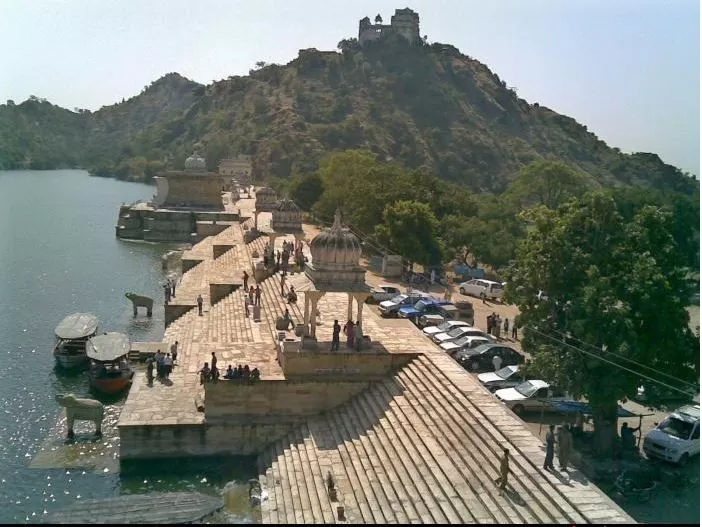 The historical state of Mewar is not only known for being the most prestigious Rajput state, it is also famous for its unorthodox architecture and ever lasting culture. You will find a different aura in and around the region. You will find men with big moustaches, multicolored pagdi, white dhotis, rough hard faces and women wearing choli and ghaghra, big nose rings and multiple piercing, faces covered with long chunri, you will still find the same rajputana culture among local people, dresses, food and language. The fort and the city of Chittorgarh still hosts the biggest Rajput festival "Jauhar Mela". It takes place annually on the anniversary of one of the jauhars, not the one by Padmini which is most famous. This festival is to commemorate the bravery of Rajput ancestors and all three Jauhars which happened at Chittorgarh. A huge number of Rajputs which include the descendants of most of the princely families do a procession to celebrate the Jauhar.