I always wanted to stay at the Taj Palace property. And on the occasion of our first wedding anniversary, we have decided to stay at Taj Jai Mahal Palace, Jaipur.
I was quite excited as staying at Taj was on my bucket list for many years.
Taj Jai Mahal Palace, Jaipur is 272 years old Grand Palace with 18 acres of landscaped gardens and has 94 rooms and 6 suites.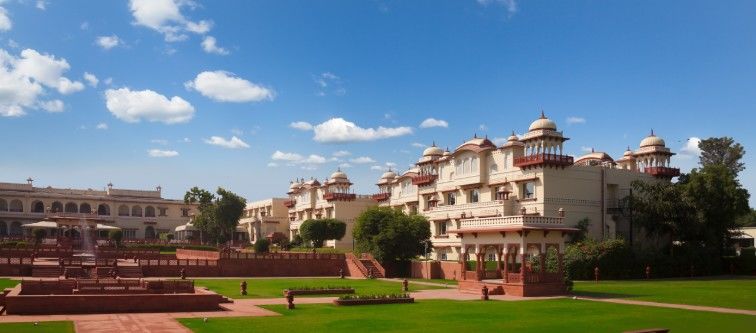 One day before our booking, I had received a call from the Reservation Executive of Taj for the confirmation of our stay.
Since it was a special day for us, they went the extra mile to ensure that we would get the best experience and informed me over a call that they are allotting us a higher category room.
Since then, I was on cloud 9.
Upon our arrival, we were greeted by a Security guard for the security checks.
I said I am Tanmay and before saying that we have booked, he wished us "Happy Anniversary
And after that, every staff member whom we encountered wished us well. We are overwhelmed with it.
As we reached the hotel, a lady from the front desk asked us for the ID cards for check-in purposes.
Till check-in was done, Mr. Akashdeep Mathur came to see us and gave us a small tour of the palace, and took us to the Marble Arch for a coffee. He is a caring and most attentive person from the property.
After our coffee, we went to our room.
Though I had booked the basic category: Deluxe room, we got a free upgrade and they allotted us a Luxury room with a bathtub.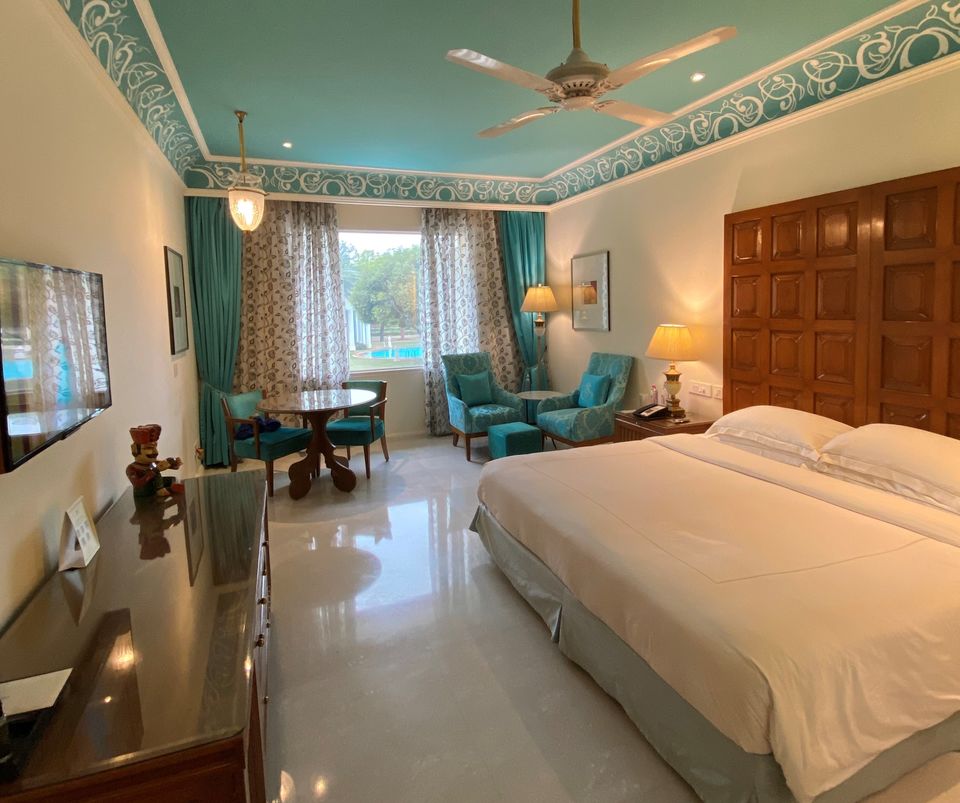 Our room was on the first floor overlooking the pool. The room was spacious enough, clean, and comfortable. After all, it's a Taj.
Entertainment:
They have badminton, pool table, table tennis, and indoor games in designated areas.
In the evening they arranged a puppet show and Rajasthani folk dance. Don't ever miss this as it was really good.
Restaurants:
The property has 3 main restaurants:
Marble Arch: Multi-Cuisine Restaurant
Giardino: Italian Fine dine Speciality Restaurant
Cinnamon: Pan Indian Fine dine specialty Restaurant.
Since we wanted to try all these restaurants, we had our lunch at Marble Arch, dinner at Cinnamon, and a quick dessert in the evening at Giardino.
Each restaurant was unique and perfect.
We liked Cinnamon more as it was a great experience to have dinner in gold cutlery.
Mr. Manoj and Eashak took good care of us. They reserved a perfect table for us, so we can have a private dining experience.
We opted for a set meal and the whole dinner was perfect and unforgettable.
Special thanks to Mr. Aslam from Marble Arch restaurant for great service and suggestions as per our palate during lunch.
Breakfast at Marble Arch is a treat indeed. Breakfast spread has everything one can dream of.
It was an amazing experience to sit outside and kickstart a day with a scrumptious meal with the soothing sound of live bansuri.
Room Service: In-Room Dining (IRD) service is prompt and available 24x7.
As we came from dinner, our room was cleaned properly by the housekeeping and a nice fruitcake was placed in the room.
They did not miss a single chance to surprise us.
Upon our check out, we were trying to book a cab for our next destination within Jaipur, but we could not get any. Mr. Akashdeep Mathur again showed up and asked me, is everything okay?
And after knowing all this, he arranged a Palace Luxurious car and thanked us for choosing the Taj property for our special day.
We had a great experience at Taj and we will visit Jai mahal palace and other Taj palace properties soon.