As Wikipedia page reads, Hṛṣīkeśa" (Sanskrit: हृषीकेश) is a name of Vishnu composed of hṛṣīka meaning 'senses' and īśa meaning 'lord', thus 'Lord of the Senses'. When you are at a place of divinity, you feel your soul and everything that is negative transforms into a positive thought. There are so many other such places of this significance then why to choose Rishikesh. So, the significance lies in the fact that it is a hotspot for adventure lovers as well. Can't believe it, right? Go on!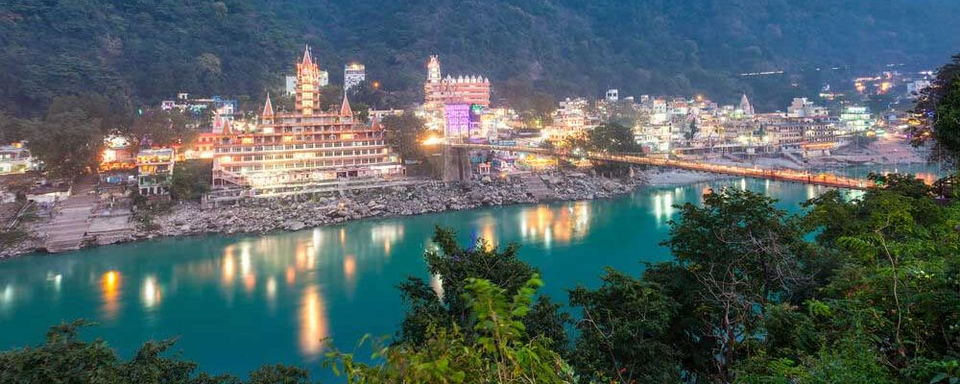 If you are not in the month of July and August, consider yourself lucky because this is the only time that is not pleasant to visit Rishikesh. Round the year, you can just pack your bag and go to explore this place designed by nature.
Destinations to hit while being in Rishikesh!
1. Dhanraj Giri Ashram - Dhanraj Giri was the bishop of Kailash Ashram, an ashram, which he established in 1880 at Muni Ki Reti, Rishikesh. It was one of the first large ashrams to be established in Rishikesh, prior to which it was mostly as a place for individual seekers, or pilgrims to stopover on the way to Char Dham temples pilgrimage.
2. Muni Ki Reti - This gateway to Char Dham pilgrimage is located near Rishikesh and is known for its divine ashrams, including Divine Life Ashram.
3. Ram Jhula - Initially people used to cross River Ganga via boats until this iron suspension bridge of length 3 KM covered the river from west to east and connected Muni ki Reti and another side of the river.
4. Lakshman Jhula - Lakshman Jhula is another suspension bridge that connects Tapovan on the west bank on the east to Jonk on the east bank of the river. This length of Lakshman Jhula is shorter than Ram Jhula and is 2 KM. Due to its deteriorating condition, it is only open for pedestrians and no vehicle is allowed on it. Also, a new bridge parallel to this one is being constructed.
5. Parmarth Niketan - Founded in 1942, this ashram is located in the lap of nature and provides comfort to its people by meditation, yoga, Ganga Aarti. Parmarth Niketan is the home to a 14 feet Shiva statue on the bank of the Ganges which provides a perfect view to the ashram.
Experiencing by doing-
1. Feel your breathe, Trek to Neer Waterfall - According to Hindu mythological tales at this place Lord Shiva drank the venom out of the 'Sagar Manthan' (churning of the ocean) in order to save humanity. He swallowed the venom compassionately which he restrained to reach his stomach thus, making his throat blue. This place can be discovered by trekking via an easy path. Dip yourself into the waterfall and cool yourself down. While coming down, cherish your existence by having a cup of tea and a plate of Maggi.
2. Conquer your fears, do Rafting - Rafting and white water rafting are recreational outdoor activities that use an inflatable raft to navigate a river or other body of water. This is often done on whitewater or different degrees of rough water. Rafting is not just an adventure sport, it is Teamwork. You cooperate, you sweat, you win. An experienced person goes on board with you on the raft. Take advantage of him.
Tip 1 - Wear comfortable, light, and synthetic clothes. Tip 2 - Refrain from carrying mobile phones with you.
3. Float in Air, do Bungee Jumping- Supported by an elastic cord, freely falling from a great height, alone, into the wild, doesn't it sound thrilling? Only if you get something like this in your surroundings, don't miss it! This modern-day sport is literally going to skip your heartbeat and you will cherish it for your lifetime.
4.Walk past everything, Hike - Easy, light walks down the trails of nature. Think, Imagine, and question anything. Coming out into nature is not just making memories but also clearing your head of daily Adhoc rush.
Located in the foothills of the Himalayas, it is known as the " Gateway to the Garhwal Himalayas" and " Yoga Capital of the World". When you are at such a place you get ample of peaceful time. Hindu sages and saints have themselves visited Rishikesh since ancient times to meditate in search of higher knowledge. The sites are mesmerizing. Cool Air, Deserted Forests, Aged Leaves.
In its vicinity lies some very unique tourist places which include Dehradun and Haridwar. Haridwar is one of the four sites of Kumbh Mela, the others being Prayag (Allahabad), Trimbak (Nashik), and Ujjain.
Is it safe for any age group to travel to this place?
Yes, being a pilgrimage destination, Rishikesh is quite safe to travel. Local people are humble and they make sure that tourists are safe and sound. Apart from this, you can even take some camping packages which will include your stay, food, some recreational sports and places to visit.
Best time to travel to Rishikesh and How do you plan it?
The best time to visit this magnificent place is from September to June when there is sufficient water in the river and heat from sunlight is not causing you to hide in your room.
2-3 days is a decent amount of time to explore everything with a budget of 4.5K which is average for many trips. Another So many things to do in this budget is not a bad deal at all.