March 25, the day I decided let Rishikesh be in Rishikesh. Its funny because I have been asked many time - Have you been to Rishikesh? (PS: People call me Rishikesh by name). I asked my friends and they politely accepted to join me.
Transportation: Trains, Flight (Dehradun Airport, approximately 35 kilometres away) and Buses, all mode of transport is available to reach here. We chose Bus because we couldn't get confirm booking in train. An AC sleeper bus cost each INR 500. You can save money by checking offers or doing pre booking. Bus normally takes 8 to 9 hours, so taking a night bus journey was a better option. We boarded our bus from Anand Vihar ISBT with the hope to see the gateway to heaven next morning.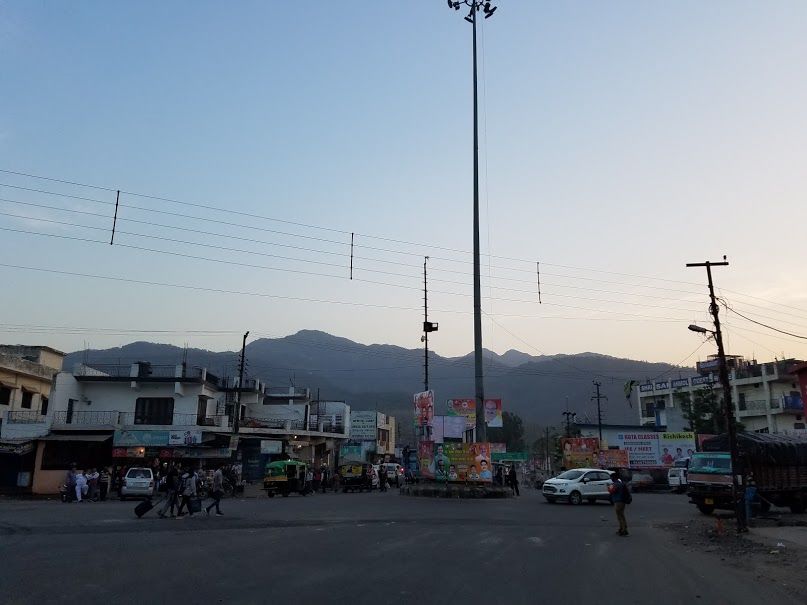 In that chilling morning, In the holy land of Rishikesh, our bus arrived by 6AM. Rishikesh is located at the base of the Himalayas and is blessed with the gorgeous, thundering river of Ganga, the popular trek friendly rugged terrains, challenging peaks, strenuous rapids and dense forests. I was finally at the "Yoga Capital of the World".
Rafting & camp booking: I was taken away by one of the broker at the bus stand. I had a chat with him regarding the price and including activities. After discussing this with my friends, I decided to gave it a shot. So I left for Palika Parking - Muni Ki Reti, a local bus stand where his office was. After a few minutes negotiation, we settle for INR 1450 fro each including 18km river rafting, lunch, snacks, dinner, next day breakfast, night camping by river side and off course transportations.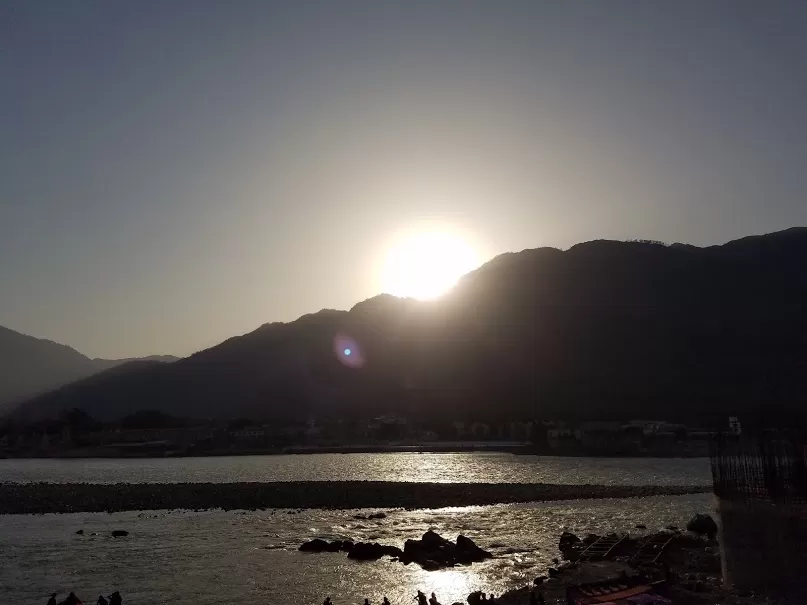 River Ganga passes through this place and I can clearly see Ram Jhula. there is a newly made public convenience at bus stand, so we got fresh there and had breakfast and tea at nearby shop. We had a change to witness the sunrise over the hill and by mother Ganga, words can't explain it. I felt like, I should stayed here forever.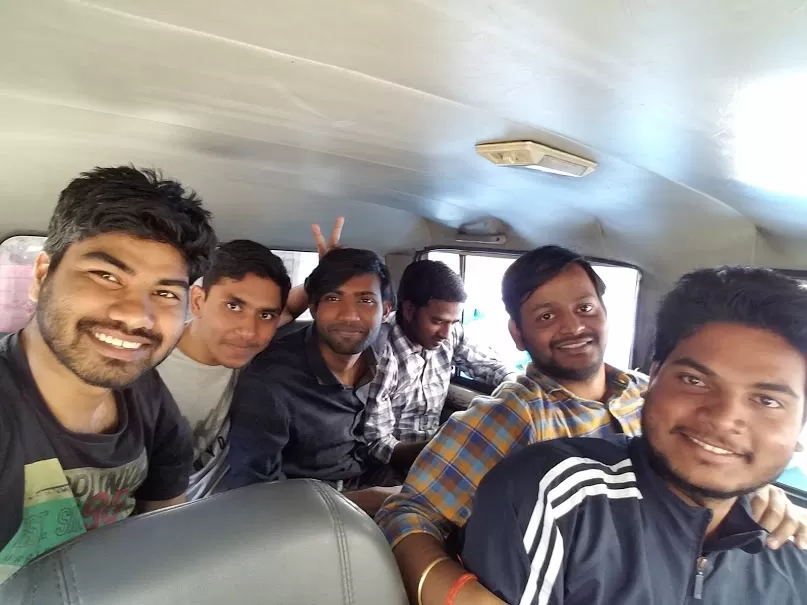 We left our luggage bag at booking office and went for river rafting. It was nearly 10AM by than. Free advice: wear loose cloths as it will help you in river during rafting. A cab took us to the rafting starting point, somewhere near Shivpuri. The guide gave us a brief instruction of safety before I could start my year long awaiting wish. We were accompanied by some other guys on the same boat.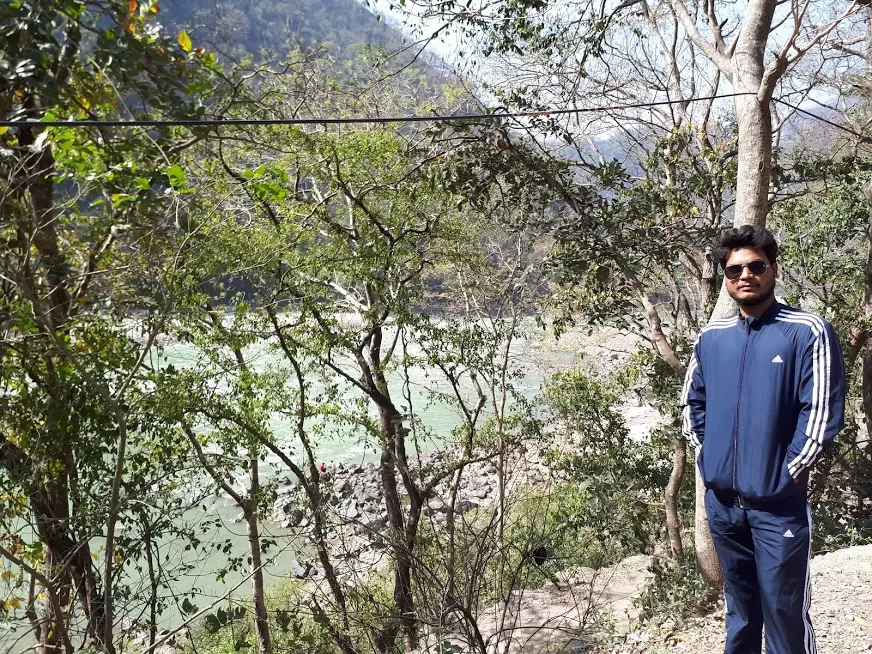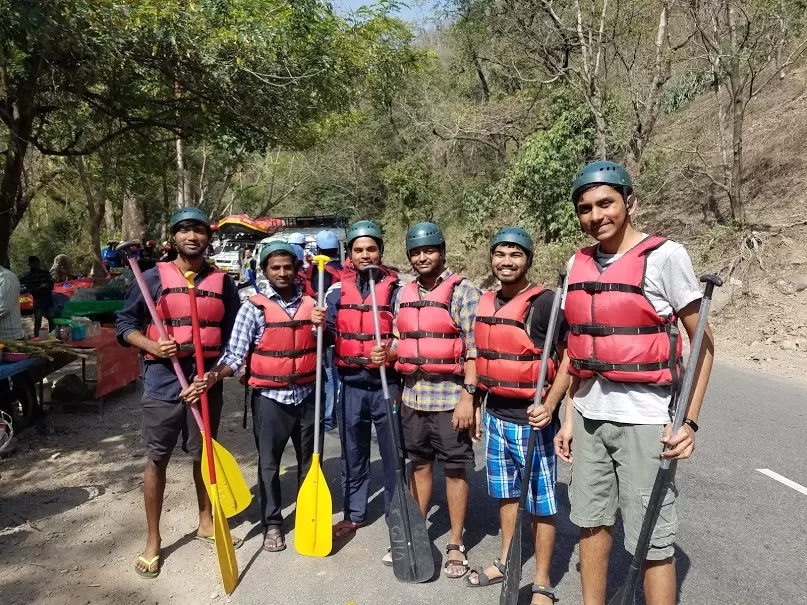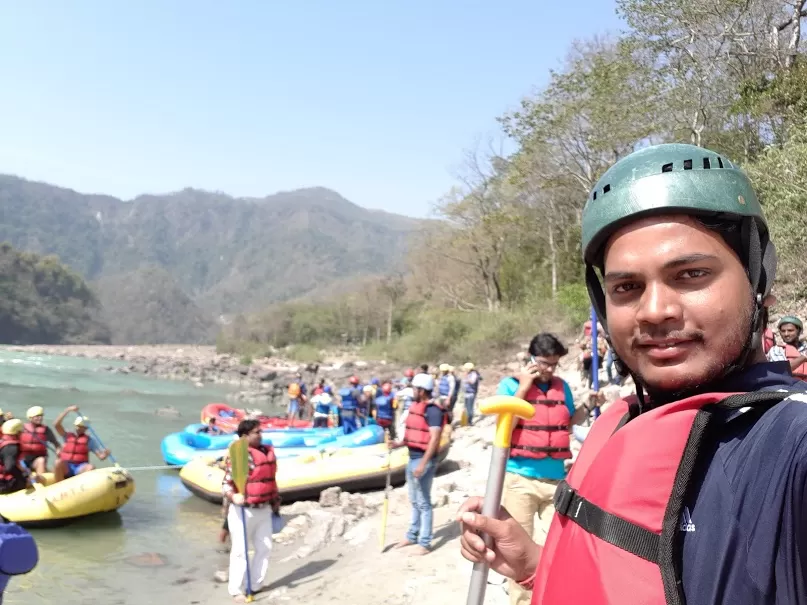 We cheered, "Ganga maiya ki jai" and started sailing our boat. We were excited as hell and the competition of overtaking our follow sailor, gave us energy. During the rafting journey, we got many chances to go down into the river for body surfing the water was very cold but being in it was amazing.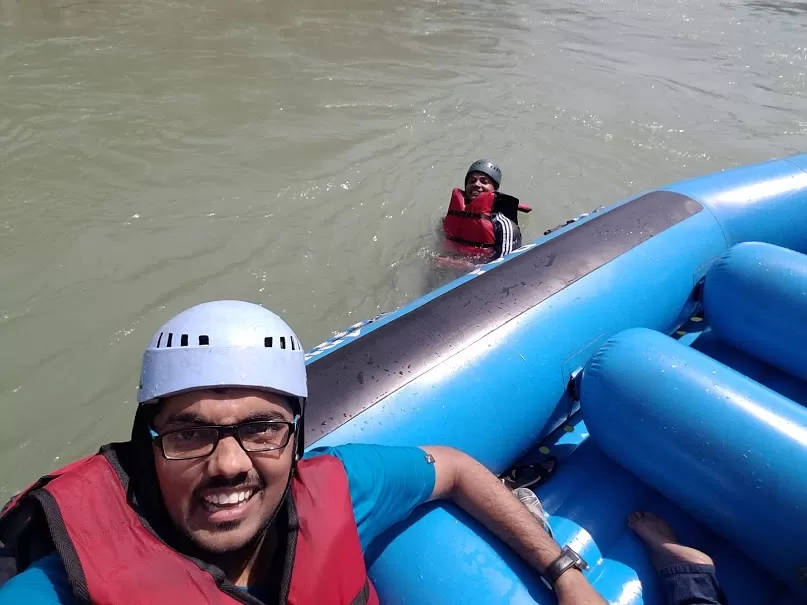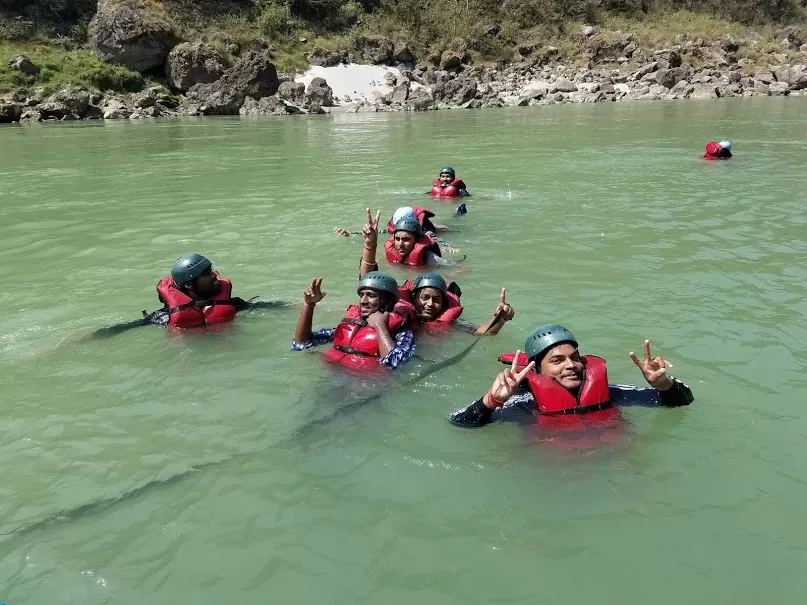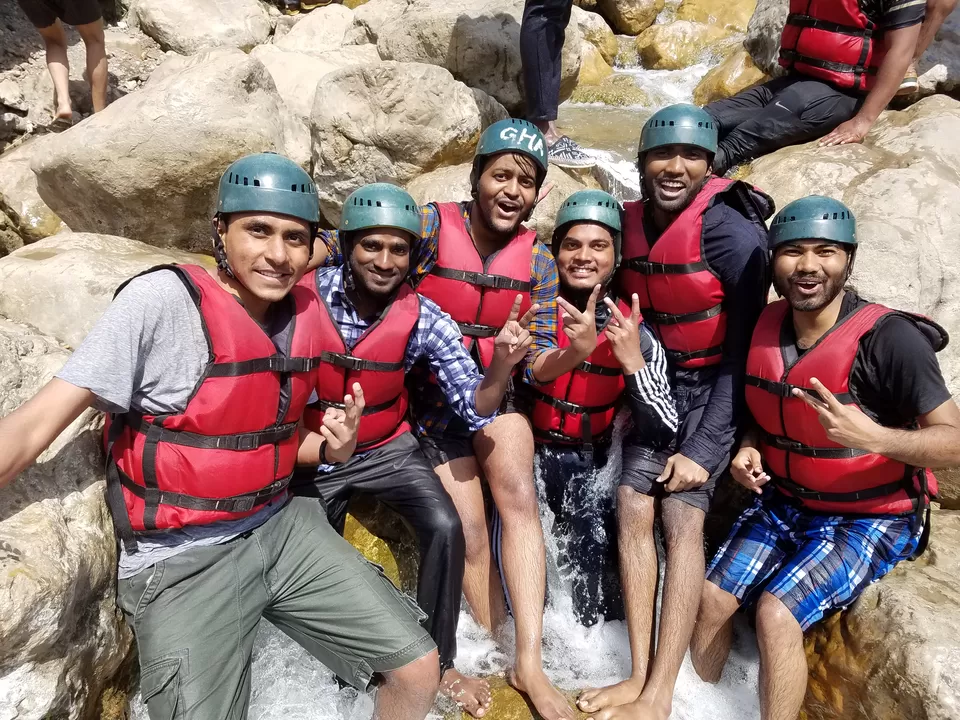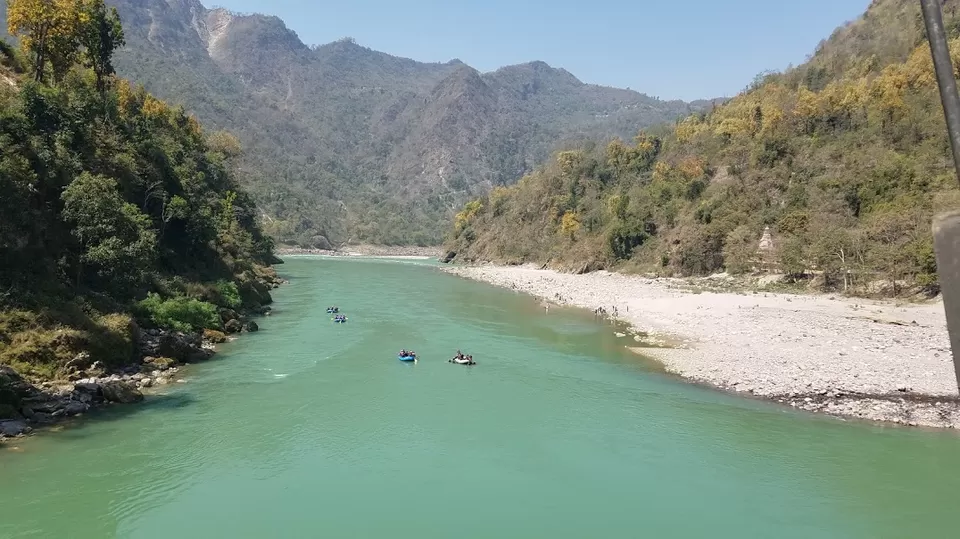 In the midway, there is a Cliff Jumping and maggi/tea point. Our boat halted and we were given only 20 minutes to return back to it. Maggi was being serve for INR 50. So unless you are hungry, its not a good deal. after having few jumps (I had 2 :D), I returned to boat for further journey. By the time, from where I can clearly see Laxman Jhula, we all were tired. But still the competition of overtaking our follow sailor kept us alive and motivated. This is entry point to city and Water is calm here. I stopped sailing my boat and was lost in the mesmerizing view of surrounding. Somewhere deep down in my heart, I was recalling - Mother Nature, you are beautiful. After sometime, our boat passed through Ram Jhula.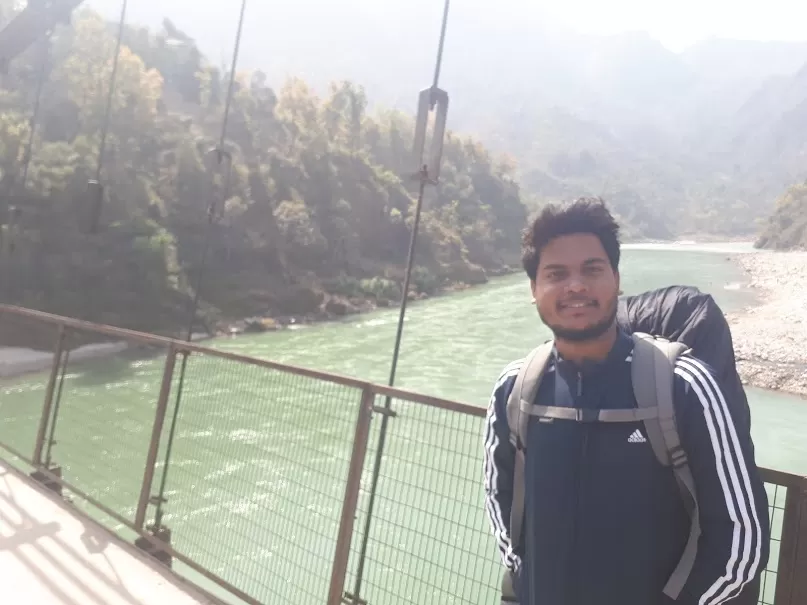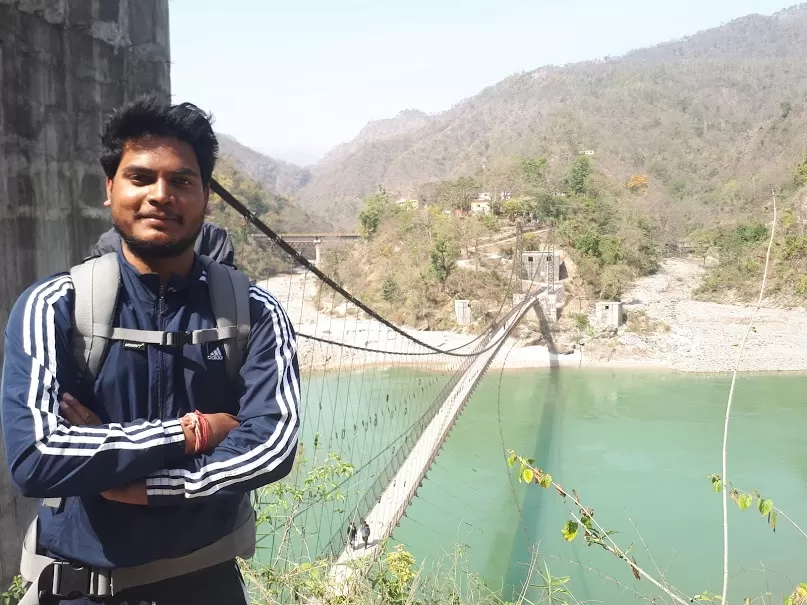 It was after noon by then and we were again at Palika Parking. We picked up our luggage bags and got into a cab, arranged by agency. Our cab left us to the camping site, Camp Ghughuti, Gular, Sirasu, approximately 20KM away from the city. We had to cross a bridge before reaching to camping site. It is located at the edge of river Ganga near a village and offer an spending view of mother Ganga and the hill. We had our lunch of the day and took some rest inside the camp.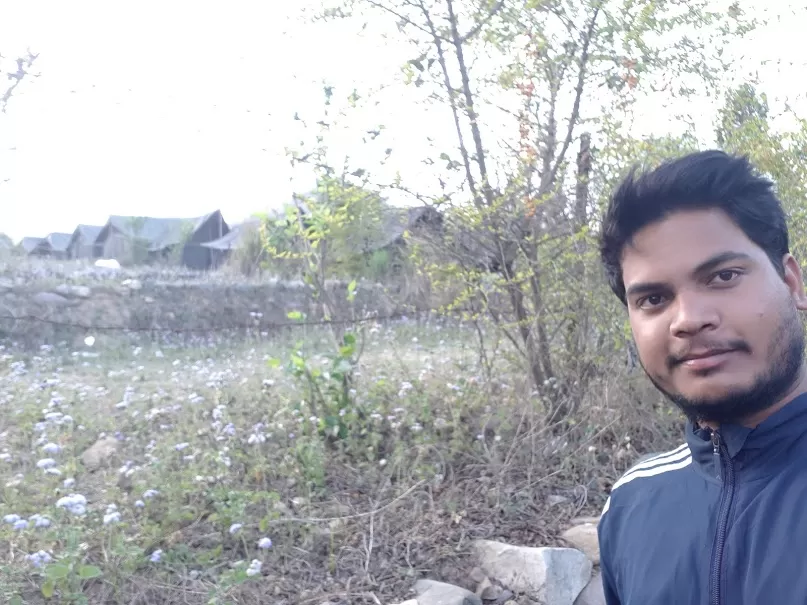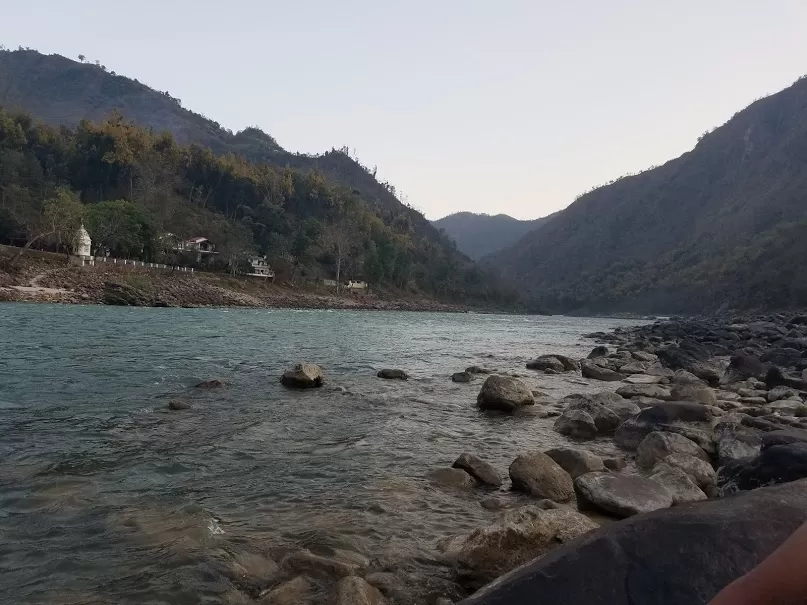 In the evening, We left for the city. The main daily event of the attraction in the evening is Aarti of Goddess Ganga(Maha Aarti). So, there was no better option than watching Ganga Pooja Arti at Triveni Ghat.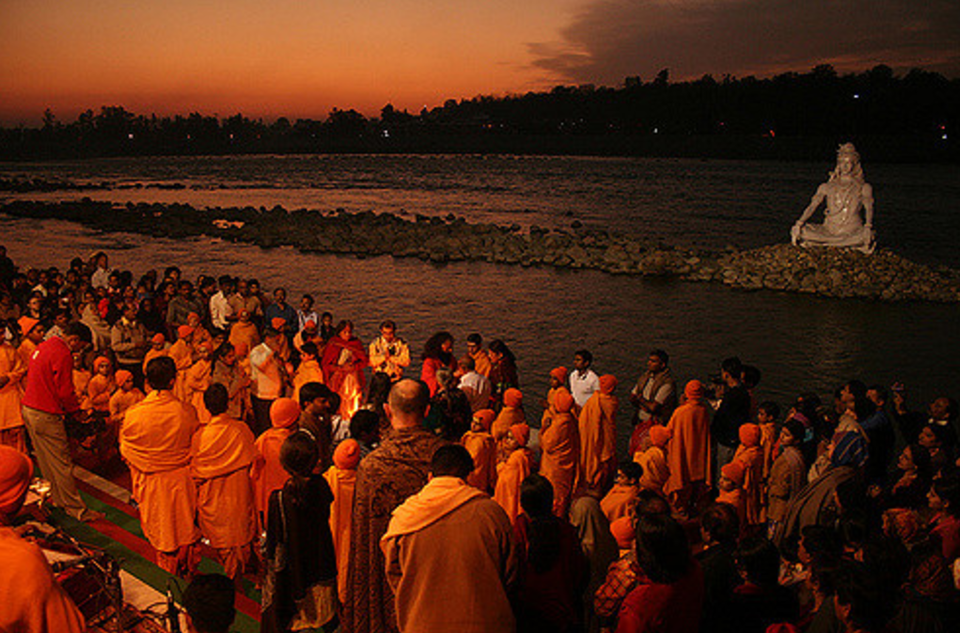 Devotees around the Country, offers prayer during aarti. It is of belief that those who take a dip in water at Triveni Ghat washes away all the sins and purifies the soul and will have salvation, a relief from all sins carried out. the water at Triveni Ghat has the power to purify them. We sat on the banks of the river and enjoy the cool breeze from the river and Maha Aarti.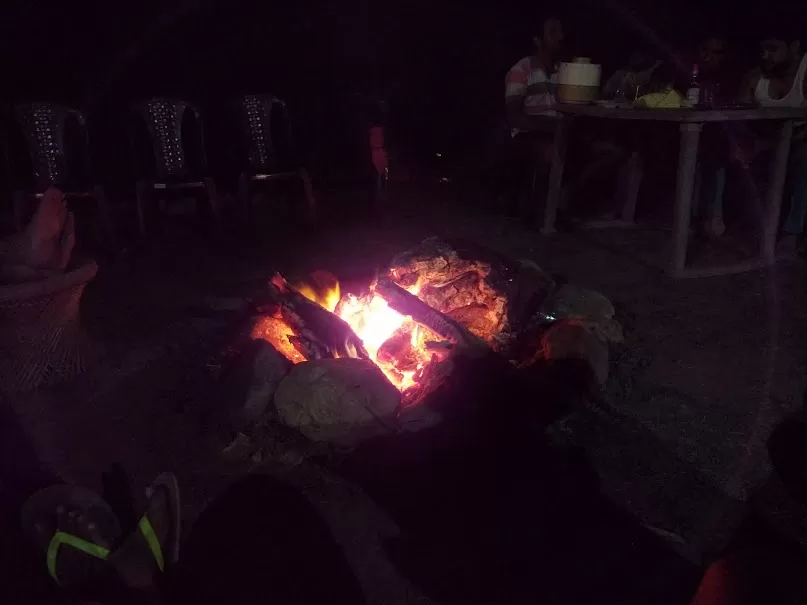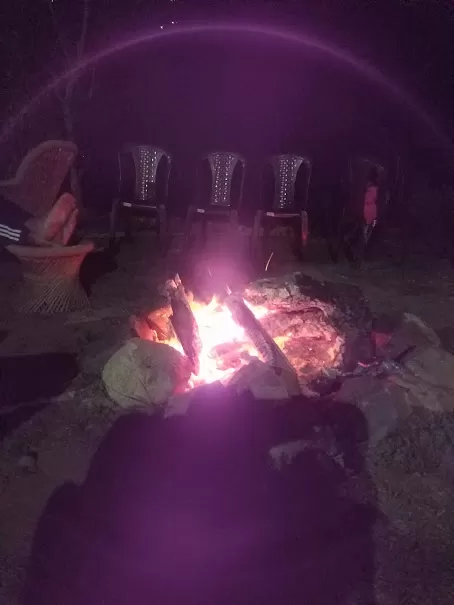 Back at Camp site, I played volleyball for a while. I am not a good player through. In the night we sat around the bonfire and the talk lasted till hours. A clean sky, surrounding hills and trees, bonfire, bunch of friends and snacks, what else one need to make an evening perfect? Our dinner was served by 10PM and we went straight to bad after a tiring day.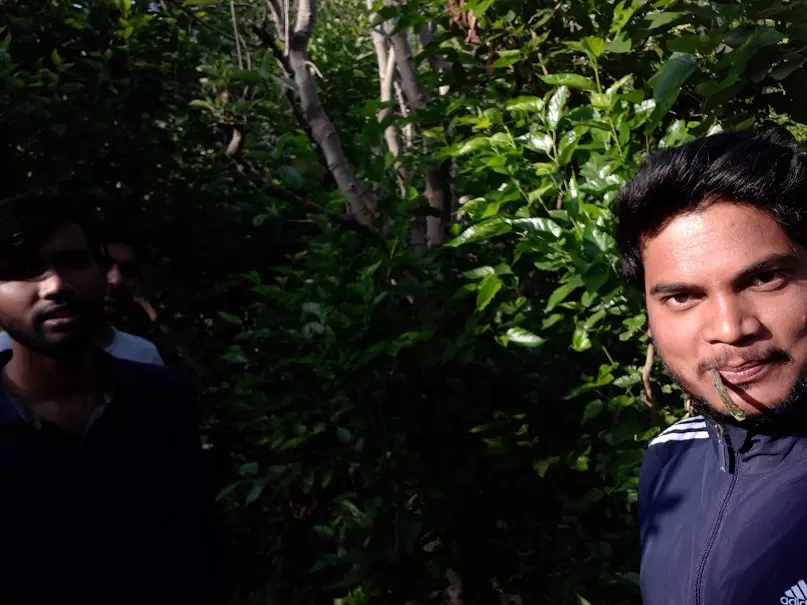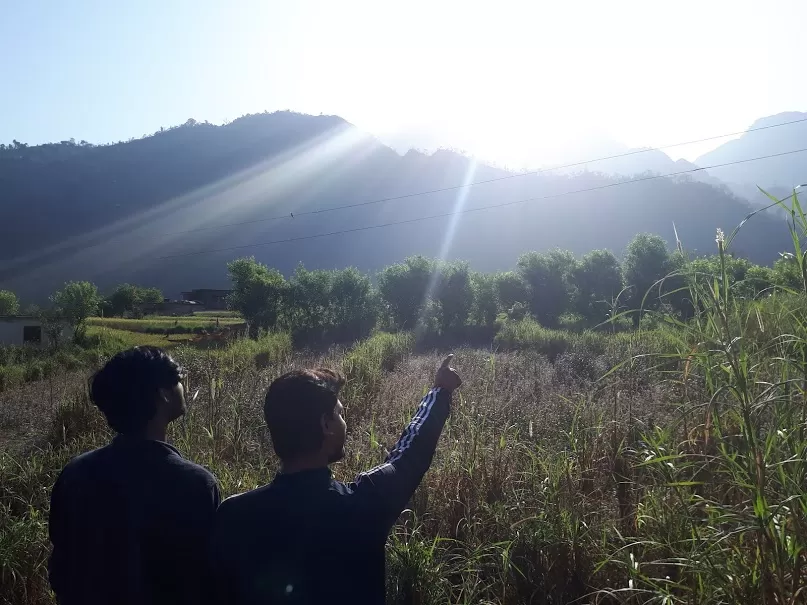 I woke up early next morning. it was nearly 6:30AM. I was surprised that I could be a morning guy. I decided to explore the village. I was accompanied by some of my friends. That morning was full of energy and the echo of birds and sun ray made if perfect.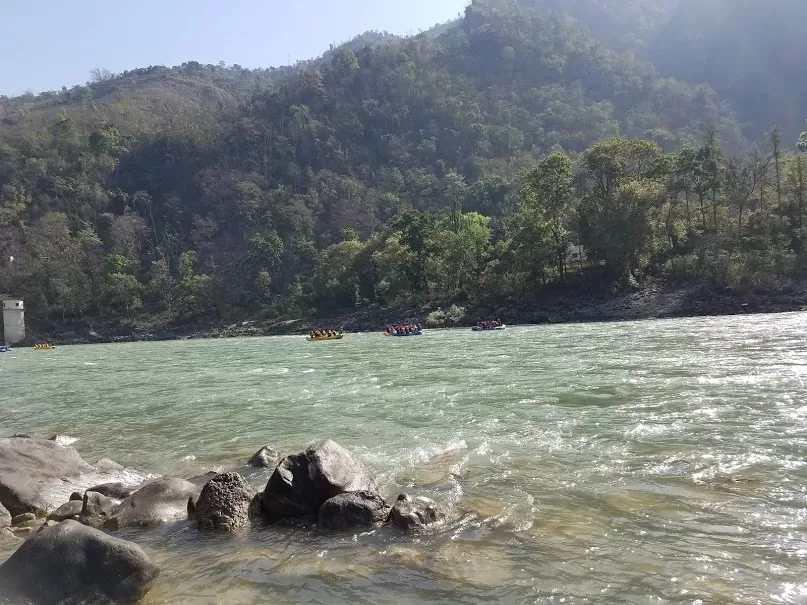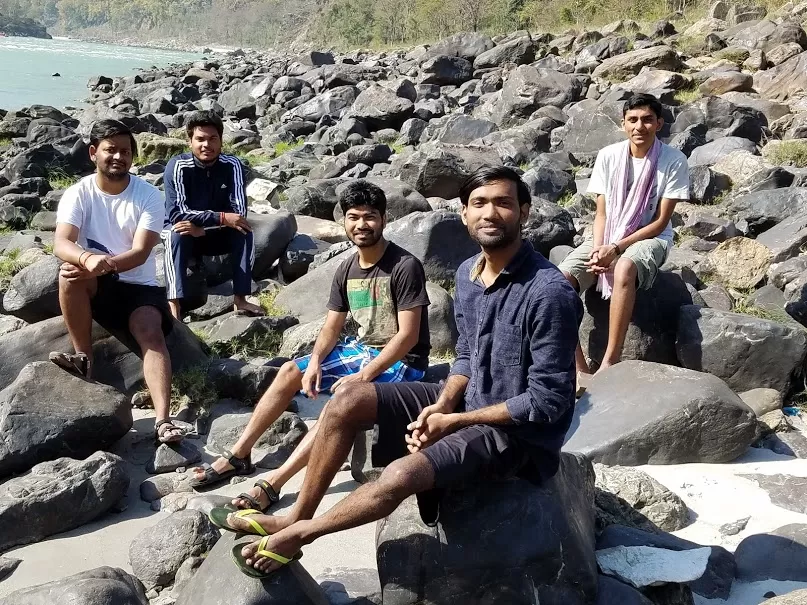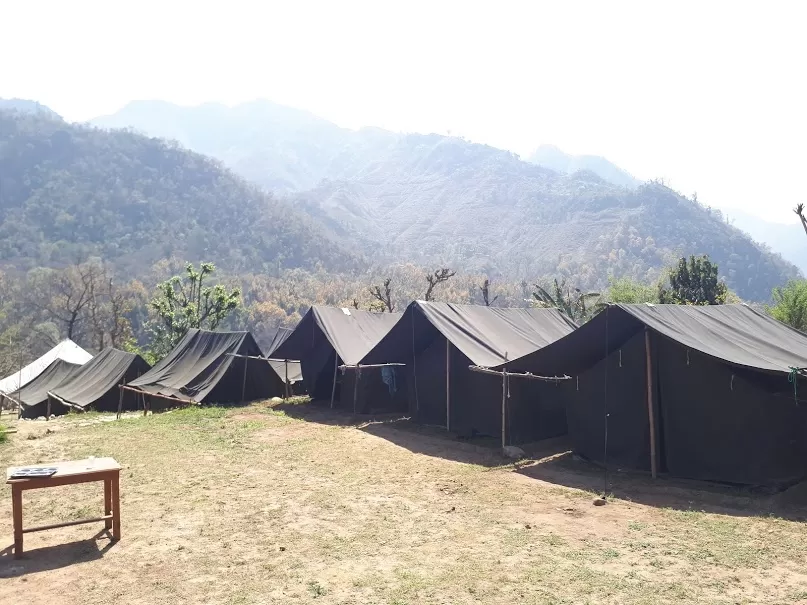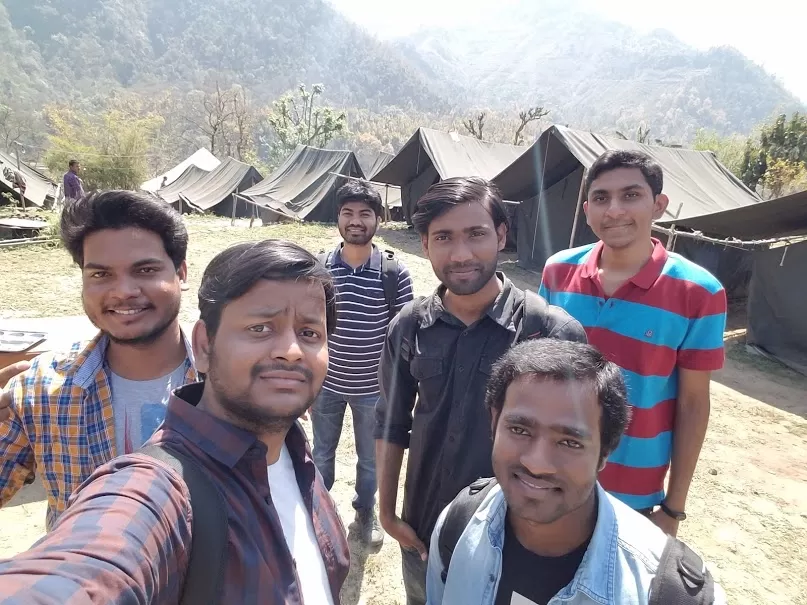 Later in the morning, I sat by river side. Other follow travellers were busy playing with guitar and singing. I took a dip in the holy water of river Ganga and enjoyed the sunbathe. after having breakfast, we left the camp by 10AM. It was hard to find a return cab to city. So We took lift from daily supply vans.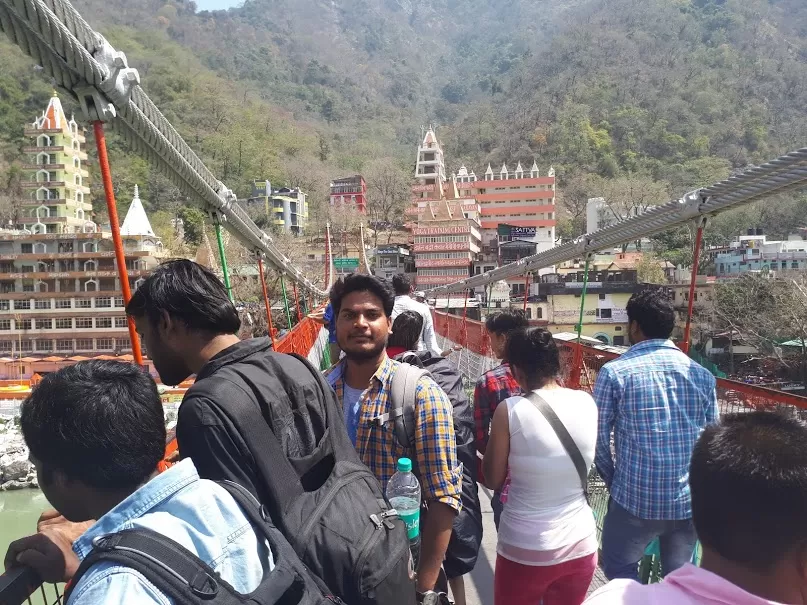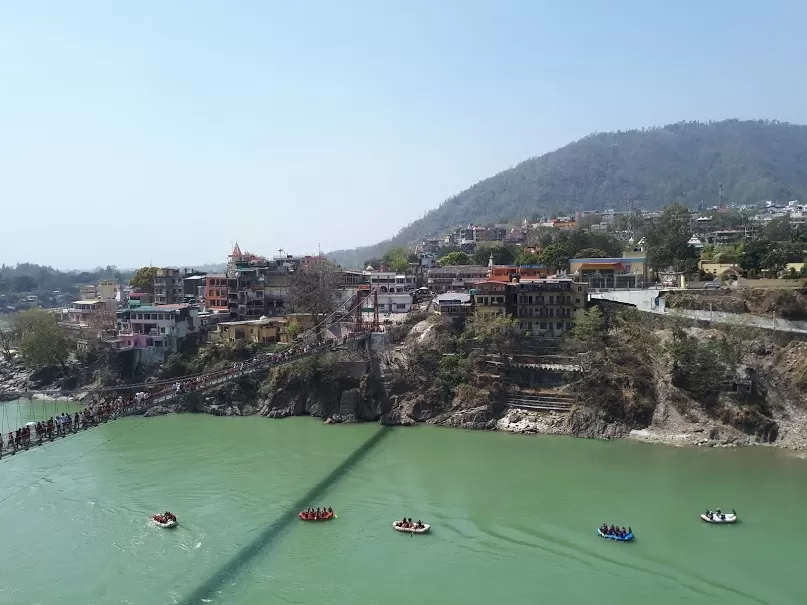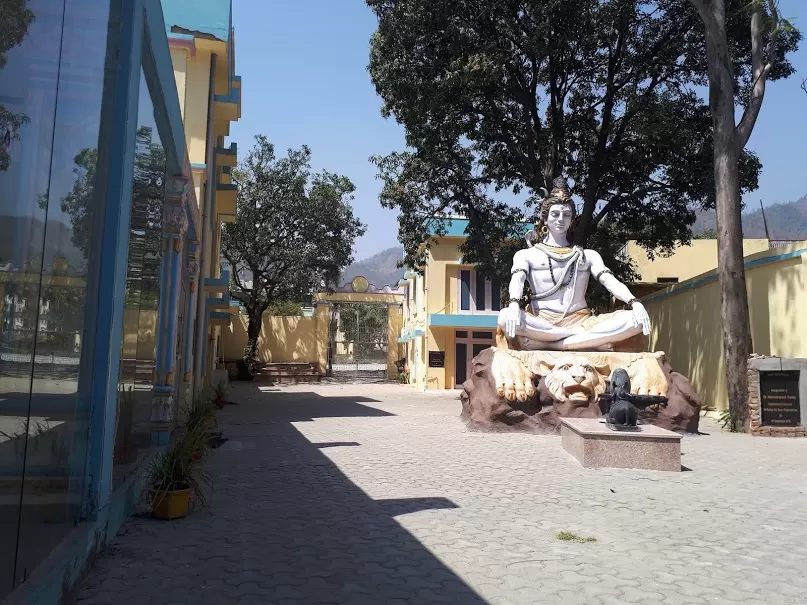 First stop was, Laxman Jhula. Built in 1939, Lakshamana Jhula is a suspension bridge With a length of 450 feet and at a height of around 70 feet from the river. According to Hindu mythology, this bridge is built in the same place, where Lakshamana once crossed the river Ganges on a jute rope.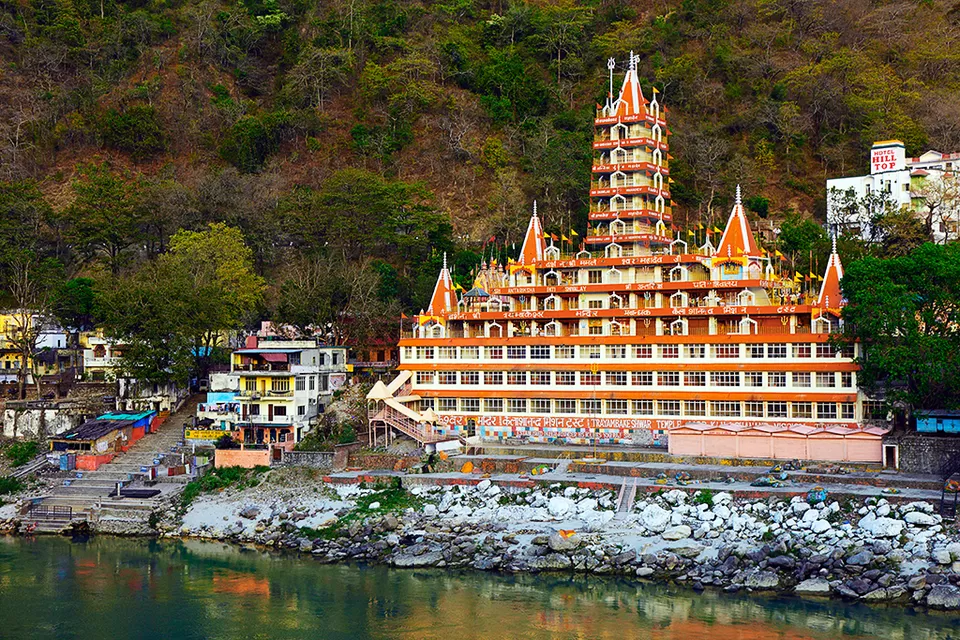 After crossing Laxman Jhula, there is a temple of Trayambakeshwar. This 13-storied building is considered as the abode of Lord Shiva as the name Trayambakeshwar means the same, 'The Abode Of Three-Eyed'. The temple is believed to be one among the twelve Jyotirlingas of Lord Shiva. Its top terrace offer bird eye view of the city. I couldn't afford to missed it.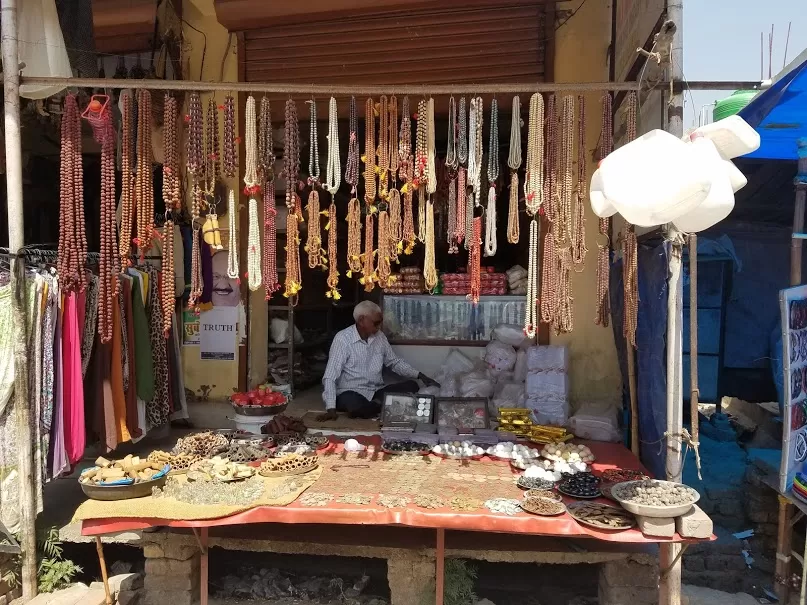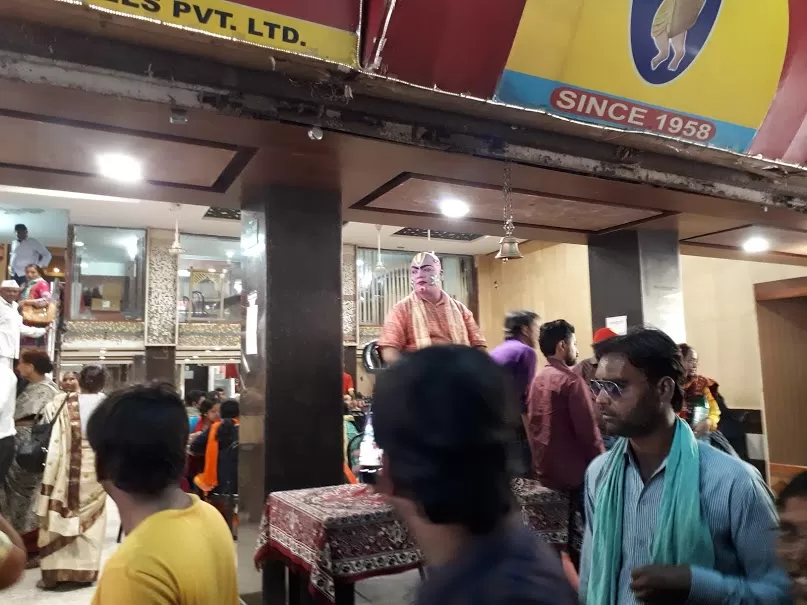 Next, We took a cab to Ram Jhula. Built in 1986, It is around 450 ft in height connecting the two famous ashrams, Swarg Ashram and Shivananda ashram. Ram Jhula has many ashrams in its proximity such as Gita Bhawan, Yog Niketan and Parmarth Niketan ashram, known for their spirituality and simplicity. Devotees and travellers specially come here to meditate and achieve spiritual knowledge. We spend sometime at one of the ghat of Gita Bhawan. this location offer route to both Beatles Ashram and Shri Neelkanth Mahadev Temple. We need to leave for Haridwar, So we escaped it.
Frequent Searches Leading To This Page:-
weekend holidays to rishikesh, weekend travel to rishikesh, holy trip to rishikesh, weekend trip to rishikesh, weekend holidays to rishikesh