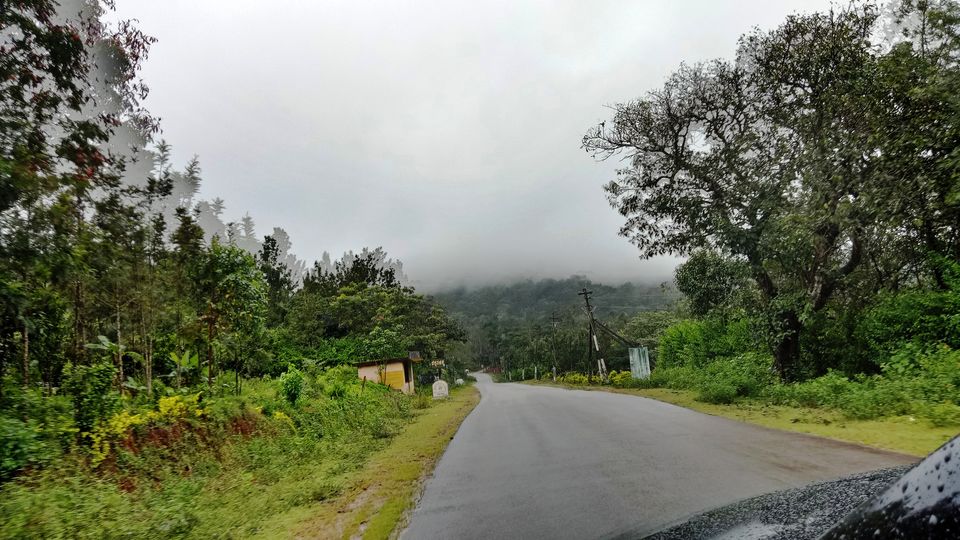 The month of October brings joy to many festivals, even if you decorate the pandals of the big Durga Puja, then there is a whirl of garba / dandiya. In Garba / Dandiya, we started playing Navratri early in our society. Apart from all this, there are also long holidays of Dussehra, meaning that the worm of the roam is awake time. I have rarely been in Bangalore in the time of Dussehra. Once Goa had gone and for the last two years we were on the journey of Uttarakhand these days. This time, there was not so much special idea to go anywhere, but seeing the holiday was definitely the heart. So in the last Sunday, the brother of Bangalore, who came to Bangalore, came to his house and there is so much vacation, together with the plan, and together with us, we decided to go to Sakaleshpur, located in the Western Ghats of Karnataka.
The plan was done in such a way that while traveling from Bangalore to Sakleshpur, the idol of Bahubali located in Shravanabelagola will be seen and the next day Sakleshpur local will be seen. In return, Belur will come to see Halbebudu. Accordingly, book two rooms for two days. But two days before the departure of the brother's office, some earning work came, then he started to say that you go, if my work is settled, then I will come next day but there is nothing definite that all work is over. So far our enthusiasm has cooled down. Then it felt as if the plan was already formed, then it is only going to go now.
Travel date-8th October 2016
The journey started with Late Lateefi and we came out from home after breakfast at 9.30 in the morning of October 8. Got Nice Road from Electronic City, reaching forty kilometers to Nilamangala and from here to the Bangalore-Mangalore highway. It is a toll road and it is very fiercely, although the condition of the road was also good according to the toll. In total, two hundred and sixty kilometers, two hundred ninety rupees were taken as toll tax. In Shark Food Court, 30 kilometers ahead of Neelmangla, we stayed for tea. Half an hour stops here After this, seventy-seven kilometers was to run on the Mangalore highway and to take a cut for Shravanabelagola at the place called Harisave. We reached Shravanabelagola in ninety kilometers in this road. A large rock visible from a place on the way and the fair of people climbing in the stairs built in it. We put the car in the parking lot and proceeded towards the rock. Place your sandals in a place wearing sandal slippers. It is said that due to sunlight, the rock becomes warm and it becomes difficult to walk bare feet. If you are not brought home, then there are many who sell socks in ten rupees.
Sravanabelagola situated in the Hassan district of Karnataka is one of the seven wonders of India, along with being Jain shrine. One of the biggest rock in Asia is Gomteshwar in the hill called Vindhigiri, which is also known as Bahubali, that is the twenty-eight feet high statue. Here are the small statues of many pilgrims. From here below, we see very good eyesight. A water pond is seen from the front, but it is very much fun to see from above but there are six hundred forty steps to reach here. Some of them are seen from the front and after climbing about three-fourths stairs, the rock has to move forward slightly by moving it. After this the stairs of the other stairs appear in hidden form. By the way, it is difficult to get the courage of those who come from below. After doing this here a bit, we turned down. It is always easier to climb than climbing but with a slight slope in the stairs, there was a slight slip because of some fluffiness, so there was a need of caution. After coming down, the turn of pet worship came and we reached a Marwari restaurant called Suranga Jain. It was good to eat here but later found that there is also a Jain mess in which food is available for free.
After this, we walked in the path of Sakleshpur, still there were ninety kilometers of our way, and now there was a little hill route to go to Single Lane Road. Though the mountains here are not high like Uttarakhand or Himachal but lightly curved, some greenery has started to appear, for which Sankleshpur is known. In this way we reached Sakleshpur at 6:30 in the evening.