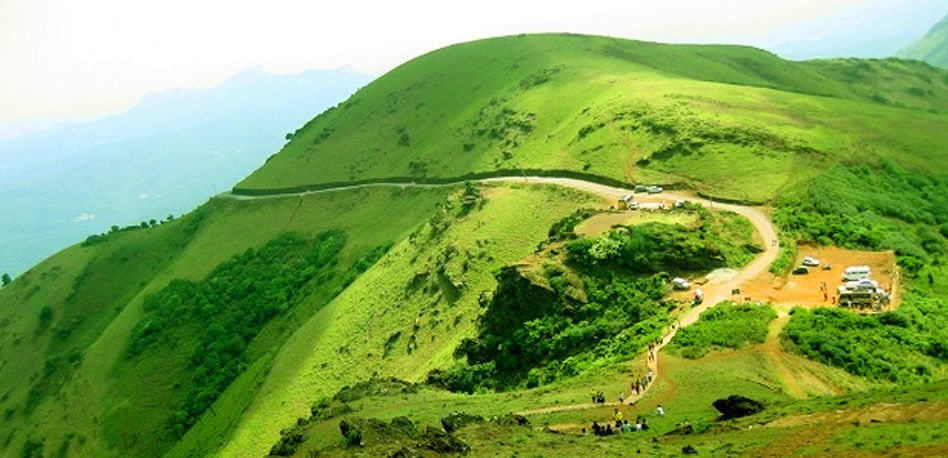 It was afternoon to see the architectural art of these famous temples of south India. By now the Sun God had probably come in a state of turmoil and the splendid courtyard with big stones had been so absorbed that it was difficult to keep the feet on the ground. Soon after this hot region we left for Chikmagalur, what was said in the hurry, even then twelve was ringing. There are many hill stations in South but for the residents of Uttarakhand, the hill station here is not as much of attraction, so far it seemed like it was just a hilly place to go.
On the way to Chikmagalur from Halidebu, there was no such impression that we were going to some hill station and neither did they turn down nor looked like spiral roads but greenery was abundant. It was the greenery that led to a great way. By the way, the whole path was amazing, but some of the places were special, where the mind was not considered uninterrupted. Just like in a place, it seemed like a beautiful grassland. A large grassland and chaos walking on it. Somewhere along with the cows I was playing goats also doing the same.
Taking three places on the way, we reached Chikmangalur at two in the afternoon, forty kilometers away from Halibedo. It is good to reach the city, Chikmagalur !! First impression is not so great. If Chikmagalur was not already involved in our journey then what was there to see and what was not there was no idea about it. Let's make a small introduction of this place first, then go on a walk here.
Chikmagalur, located in the state of Karnataka, is famous as the Land of Coffee in India. The story about the coffee plantation is so prevalent that Sufi saint Baba Wooden hides the seven seeds of coffee in his belt to cultivate and since then the cultivation of coffee which came to be known as the place to become a coffee farming place Added Now people come here to watch the coffee plantation here.
Chikmangalur in Kannada means that in the place of the younger daughter, there is also a fun thing behind this name; the thing is that a person with money was given this place in dowry and hence its name was given to the small daughter's land ie Chikmangalur done. This is done introduction of Chikmagalur, now let's see the sights here. Here are the main tourist attractions of Baba Budan and there are many opportunities for trekking lovers in Balayanagiri, and they can take a full day in both of them, if not this time, it will take at least three hours. For a while, they were confused in where they left and finally left the city and moved towards Baikonagiri, located about two kilometers away. We went ahead but still we had no idea what we are going to see. Once it seemed as if there was a climb like Shravanabelagola, it would have been our job. The whole time will be in the climbing of the stairs but now the job has come to Chikmagalur, then it is possible to see at least one famous place here. Just a little ahead, the cafeteria appeared, which probably would have been the center of the main attraction of the people because there were lots of people looking for trains. Here a statue of a beautiful woman has been made and under it is a small pond. The children's swing along the banks of the banks A lot of horses were roaming in the road, which was looking for tourists. We went ahead while not greeding to see this place, which would not be late for its destination. As the feeling of getting close to the moving mountains came closer. Now it seemed that we were in a hilly place. The streets started turning in a high turn and the green hills were visible from the front. It was a long time to see such a green place. At a two point point we stopped people On the other side, there was a deep ditch looking down on the high mountains and the fog cloud roaming over them. Frankly, the fog seemed to touch the clouds. Looking at the right left we were moving forward, now the roads were thin and the trenches were much deeper. Moving further on the road, we reached the place at Mulanagiri where the cars are moving and moving forward. People were demanding money for parking on there, then we thought that they were moving forward a little further, so in front of the green lakes were seen in which some people were sitting while some were climbing to that mountain. But when we see the link, we went ahead. Looking forward, the roads were visible between the hills and the little ones going on them. Seeing them, we go to where we can go. When we did this, we reached three kilometers above. Now the situation of the road was bad at which the carriage was not possible in any way. Looking at some people here, we turned our car on the reverse and there was no problem during the return.
Now we started walking from here and the mountains which were visible till now seemed to be due to high altitude due to the high fog and were seen with very dim blurred. The fog of the fog was dripping here, I was feeling like rain was due to fog. Small children were also able to understand the ice from the fog. For a while, I took a lot of photos here and started going down towards the lower side because the child was getting some cold, while the Monkey Cap was also taken along. It was decided in the mind, descending down, that those who were looking down hill would look up to the top. While taking photos, walking carefully along the road in the sloping road, we saw a way to go a little bit on the hills below the place where we were thinking of going to the top of the hill. There were two advantages of going through this path, one that was to be spent in climbing from top to bottom survived and if we start ascending from the bottom then do not know whether to go up or not. This way we found a short cut path to go to that top point. Some people were going on that path, so we also went along with them. This path was thin footprint and the bottom was seen deep trench. This place was made from such a distant view as if a wild animal was sitting in the other big hill and sitting in front of your face. There was a green hill and on top of it there was a rock coming forth. On the way, we reached this point / stone rock. There was a tremendous photo session of people here and why did not it even happen that there was something like this that the eyes stayed in one place only. Apart from all this, there was a thing that forced the thinking that today's youths do anything in the greed of selfies and photos. At first, a boy standing on the rock was photographed, under which half the base was missing. The mind was scared of seeing it, but these people do not even think of playing with their own lives for photographs. In a while, his companion came and sat upside down on that rock instead of standing the photo of standing. Well she came back to the tired photo tint. There were also two view points on this place, we went to them and then landed down and reached the hill below the car.
Soaking in the rainy season of fog, the sweet sweet cold had hit its head and the teas had been cordoned for tremendous tea. What is the blindness of two eyes, like we are in a small shop? Well, I thought four or five small shops would have been there but unlike hope, there was only one storey shop. There was not much choice for eating, just because of Murmur, there was Bhelpuri. Even that boy was putting crude oil in it. Now it was to take something or something, then take a plate of oil without murmura and two tea. It is hard to fill the mind with a cup of tea in small cups. So get two cups of tea and demand. After drinking tea, after trying to climb a little green grass mountain and not having the mind, at 4:30 in the morning we moved from here to Karakola Lake. Even after coming down in the hurry, we stayed with one of the two zones, and after that we got on the road to the lake. The way was a rugged one, a newbie came next to us, so that we were late for fifteen minutes. Although this fifteen minute delay is not so much at the time of day but in the evening it matters a lot as we had to go back to Sakleshpur. Here we saw the sunrise sky and the reflection of its falling in the lake. We did not have much time to apply here, and in early hurry we left for Sakleshpur. Still we had to go around eighty kilometers and even in the evening time, we thought of going to one shot, now it was about to stop now and until it was light, it was necessary to set as much distance as possible. We set targets for reaching Sakleshpur at eight o'clock and Belur was moving forward on Monday. But, on the way, the jaggery found that half an hour was wasted on the way, and after that there was a deserted forested road on the way. Often roads that look beautiful in daylight, they seem scary in the darkness of the night. There were very few carts in this way and those who were coming were getting away from the eyes soon. Then came a bike in a while, which gave us all to Sakleshpur and eventually we reached the hotel at 9.30 pm.