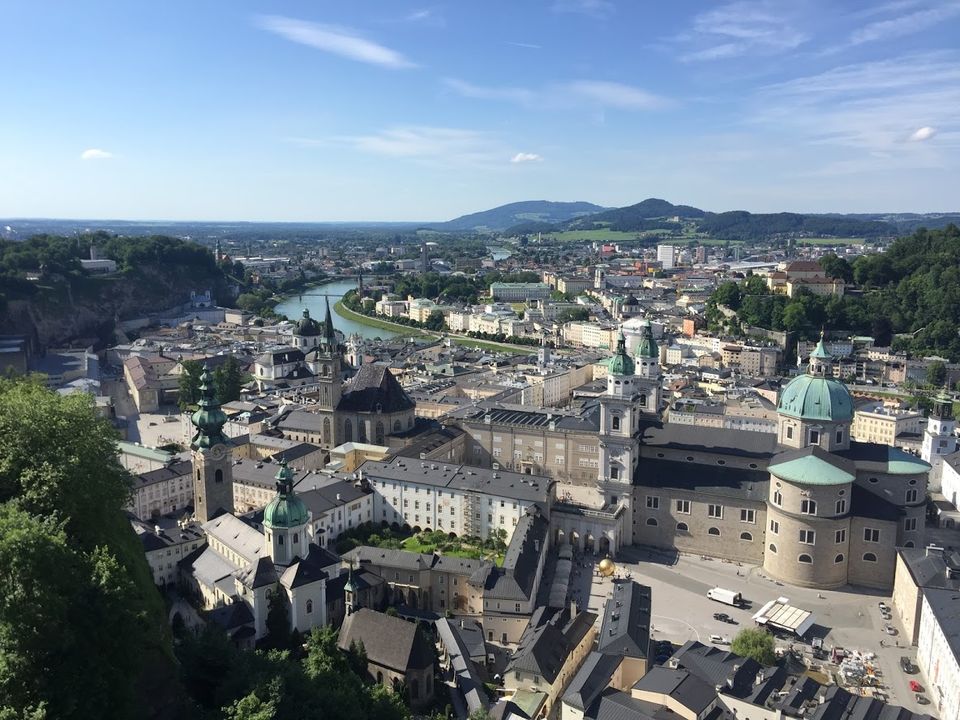 The Salzach cruise is something I really enjoyed and the special part here was the captain who was entertaining us with his witty comments and also by rotating the boat (literally 'Waltzing' it) on the tunes of music.
We got to see the extraordinary views of the city and the stunning mountain ranges in the background as well along with the information about these places being broadcast-ed on mic as well.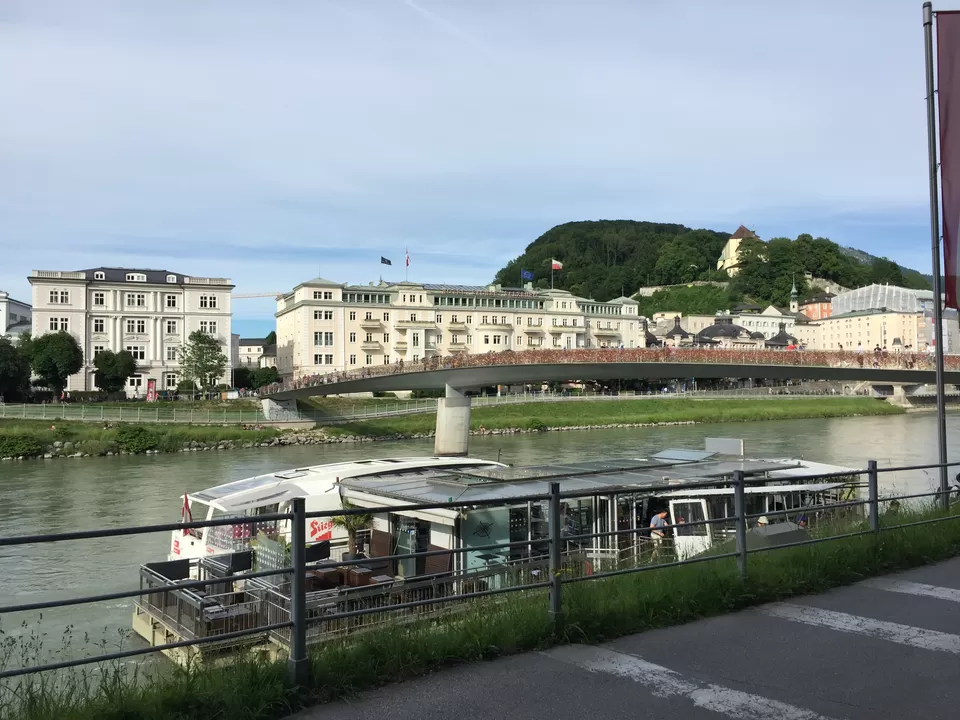 We next visited Monchsberg which is one of the 5 mountains in Salzburg. There is a lift which took us to the top of a hill where we explored a lot of different scenic trails along with old palaces and villas. There is a modern gallery from the terrace of which we saw some stunning views of the city . I remember while passing through different pathways and view points, I was astonished to see some numbers glowing in the middle of the woods .
What I saw next was a structure configured in the shape of an igloo with neon numerals in it forming the Fibonacci series . This was an artwork 'number in the woods'by an Italian artist Mario Merz who wanted to relate the eternal process of revolution with numbers. I was fascinated after seeing this unique artwork .
We spent some time sitting on a bench overlooking the city view.
The breathtaking view and the sun rays falling on my face amidst the beautiful woodlands and the peaceful surroundings is something which can only be felt and not described much .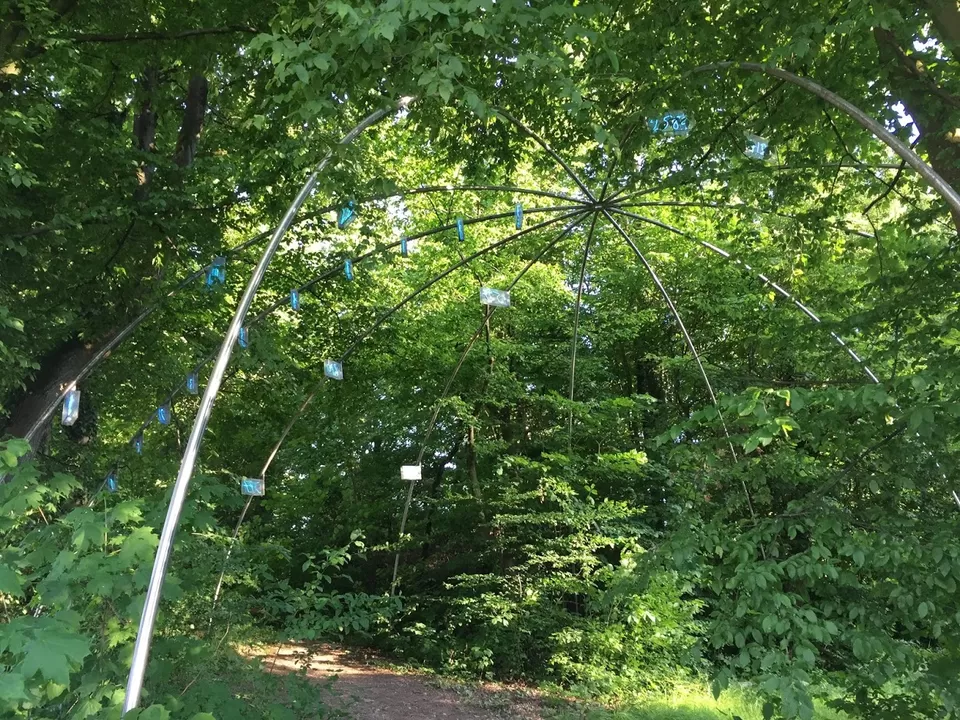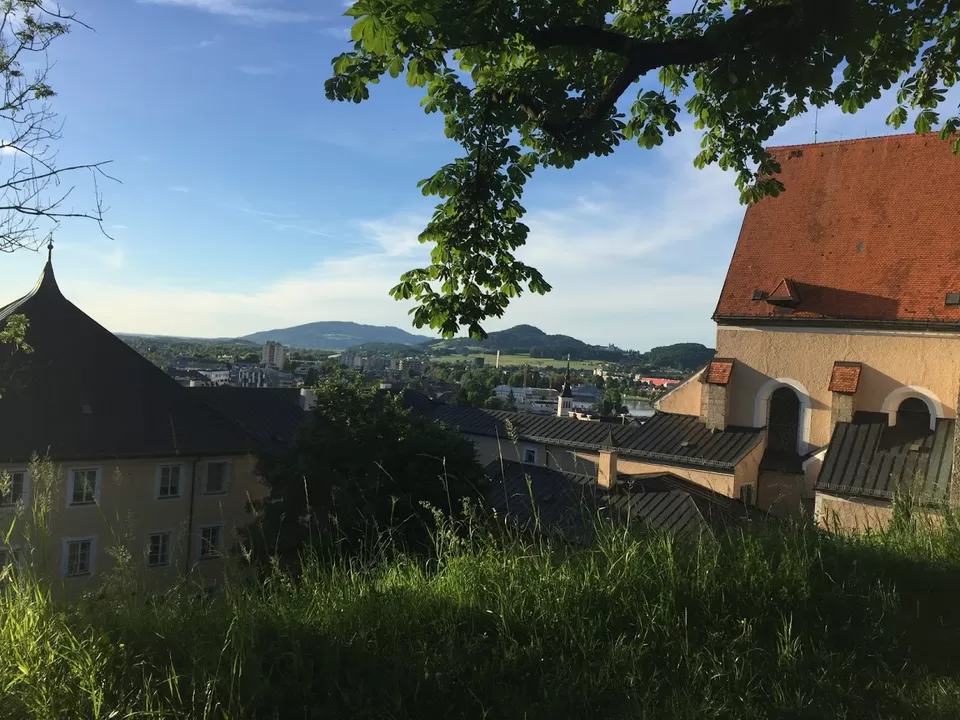 We decided to have lunch meanwhile and found a nice Chinese restaurant 'Uncle Van'. I got the menu where we had to write our table number and mark the dishes we want as well as there was an option to choose the ingredients you want in your dish.
We enjoyed our first delicious meal in the land of Austrian alps.
But, there was a surprise awaiting for us back in the hotel when we were told that this is not the hotel we booked. We again took our luggage and tried finding our way back to the 'right' hotel .
The public transport here is not as good as Prague, so it was bit of struggle to change buses and finally reach our hotel. The hotel was nothing compared to our other airbnb accommodations in Europe and was quite expensive as well. Anyways, there were not a lot of affordable and good options to choose from in Salzberg.
We got ready and decided to go for Salzach cruise as our first destination here.
Next day, We had planned a trek to Krimml waterfalls. We took a train to Krimml with an interchange in between.
The train journey was amazing with beautiful landscapes and small villages which actually didn't look like villages. The snow capped Austrian alps were visible in the background of these villages and added glamour to the enchanting views. There was a bus which we took to reach the base of the waterfall. From there, the trek began .
The waterfall has 3 stages and is the highest in Austria. The climb gets quite steep but when I saw people much older than me climbing and even people with kids doing this, I felt motivated . The lowest part is where we went closest to the waterfall to feel it's force and the water sprinkling on our faces.
I have a special memory here of friendly people volunteering themselves to take some wonderful pictures of us. We reached to the top of the waterfall but since the information was in German everywhere and there was no internet, we didn't understand till how far does the trek continue. We then figured out the meaning of the signboard by taking help from people there.
Most of the people here as well knew English which was again a savior in this place. We did go further in search of the hidden views of the alps and finally got to see the snow capped alps more closely. Since we had to take the train back to Salzburg the same day, we decided to return.
A journey is incomplete till we don't push ourselves to see the extraordinary and this place does complete justice to this .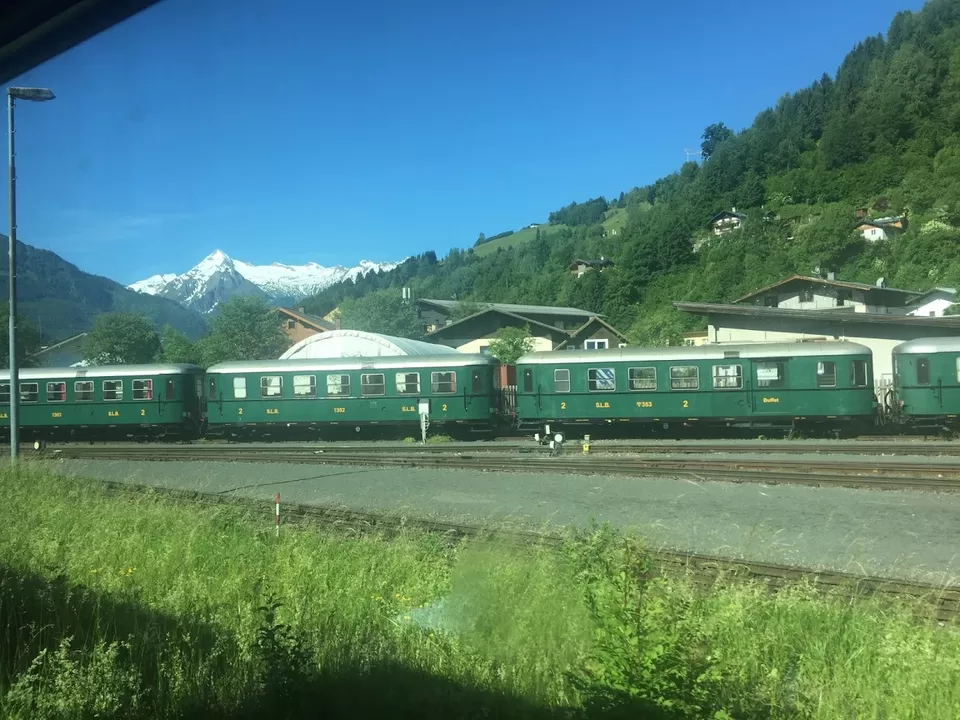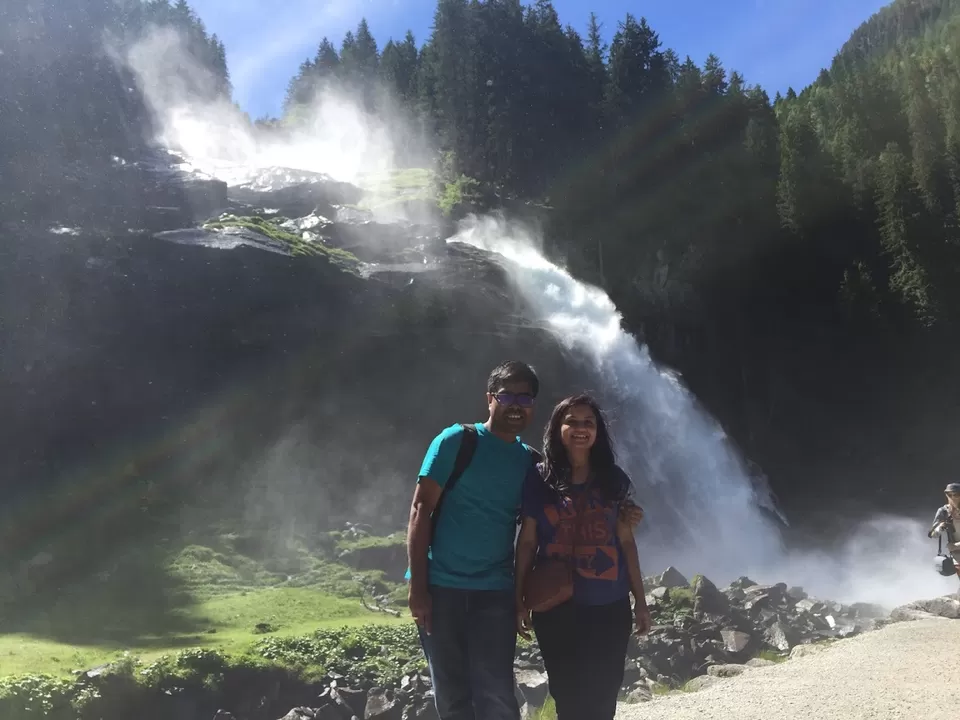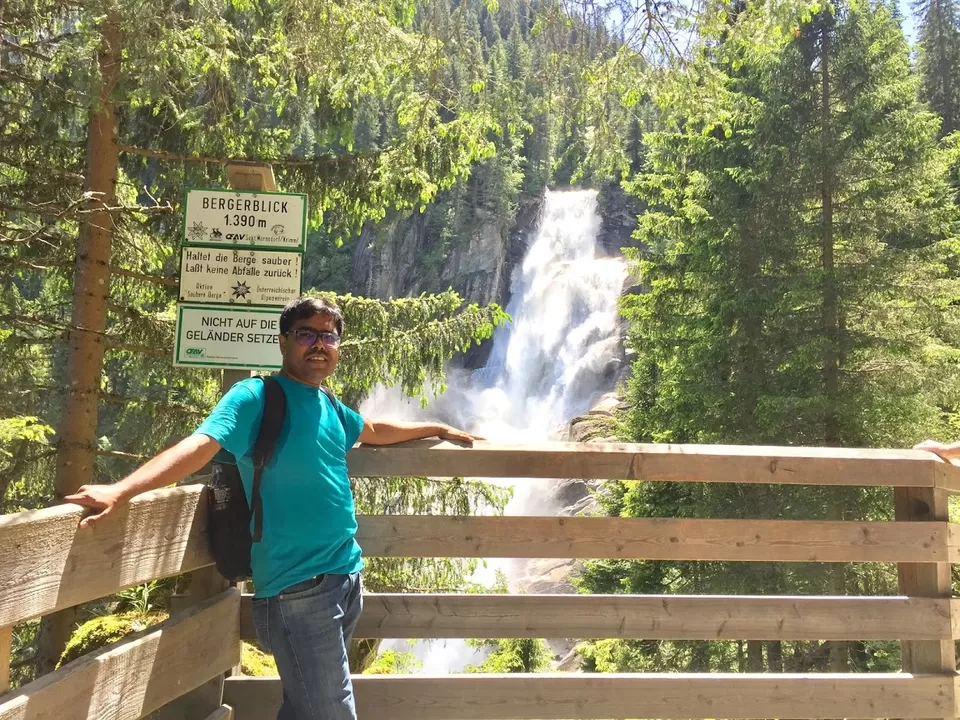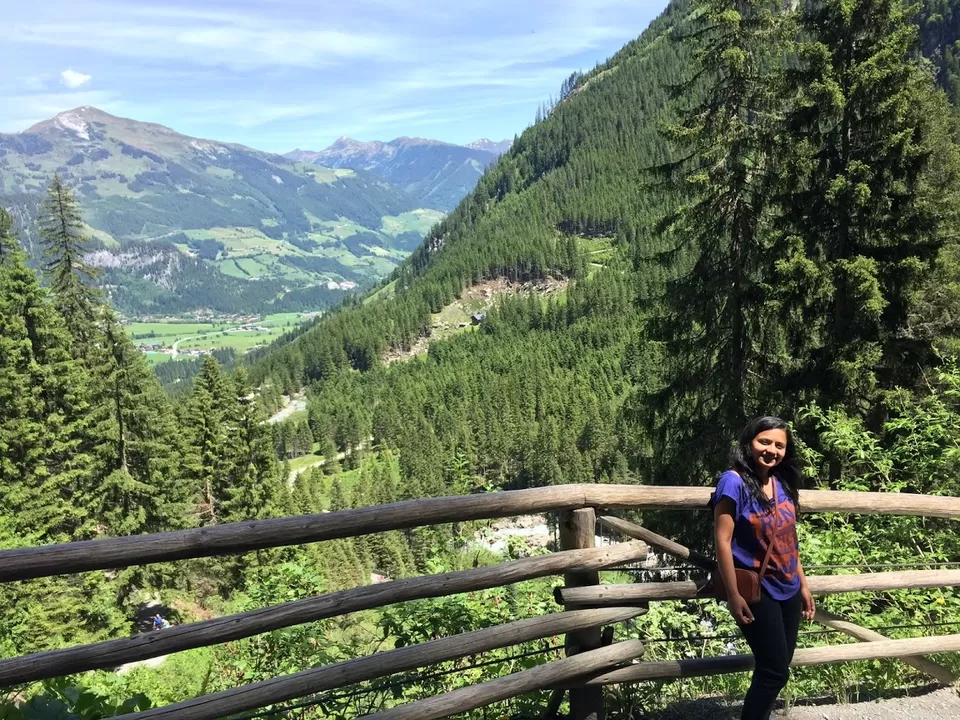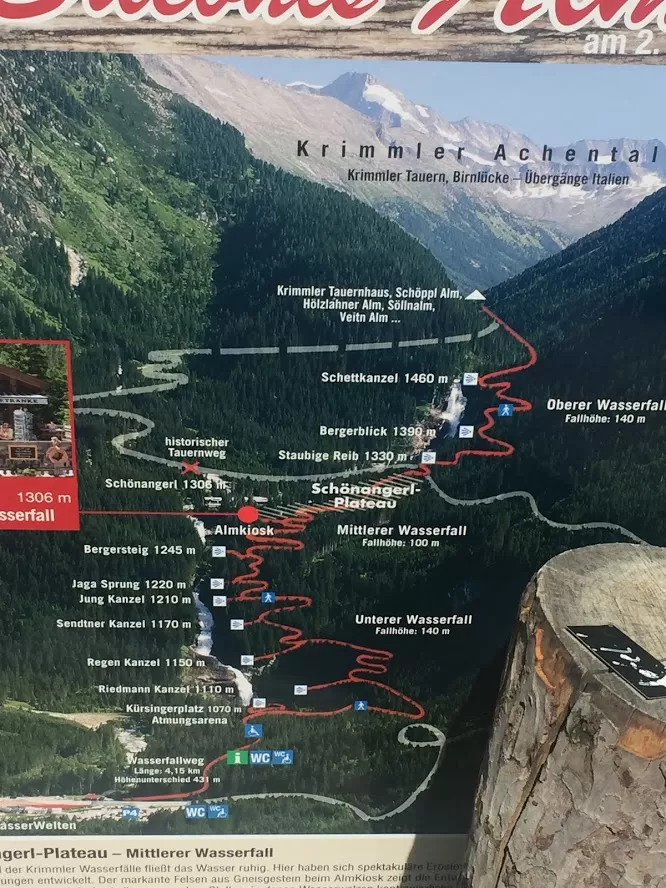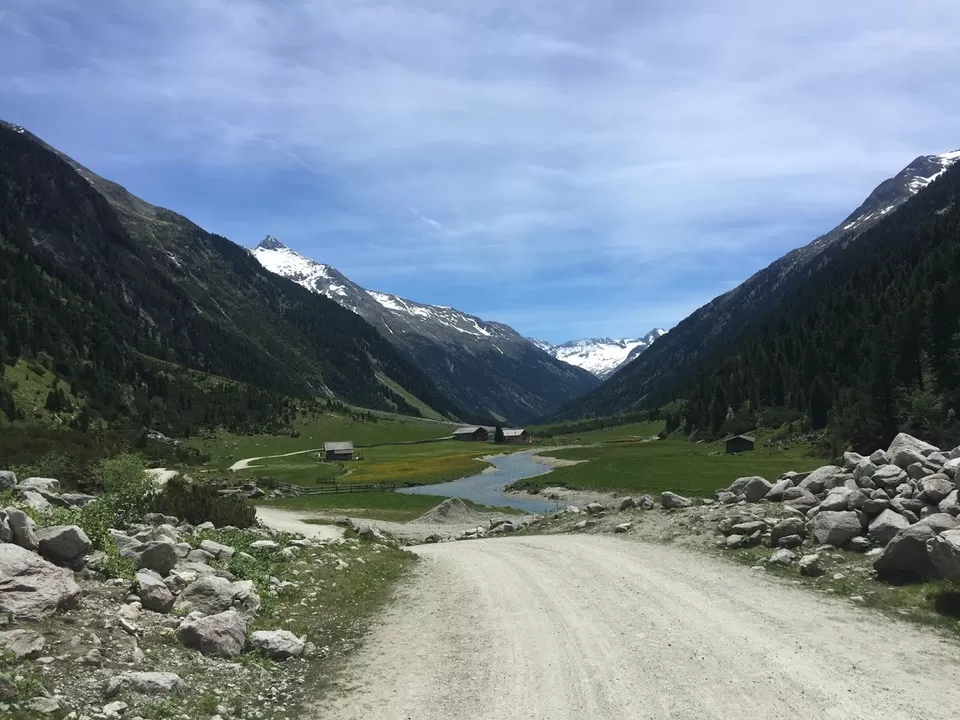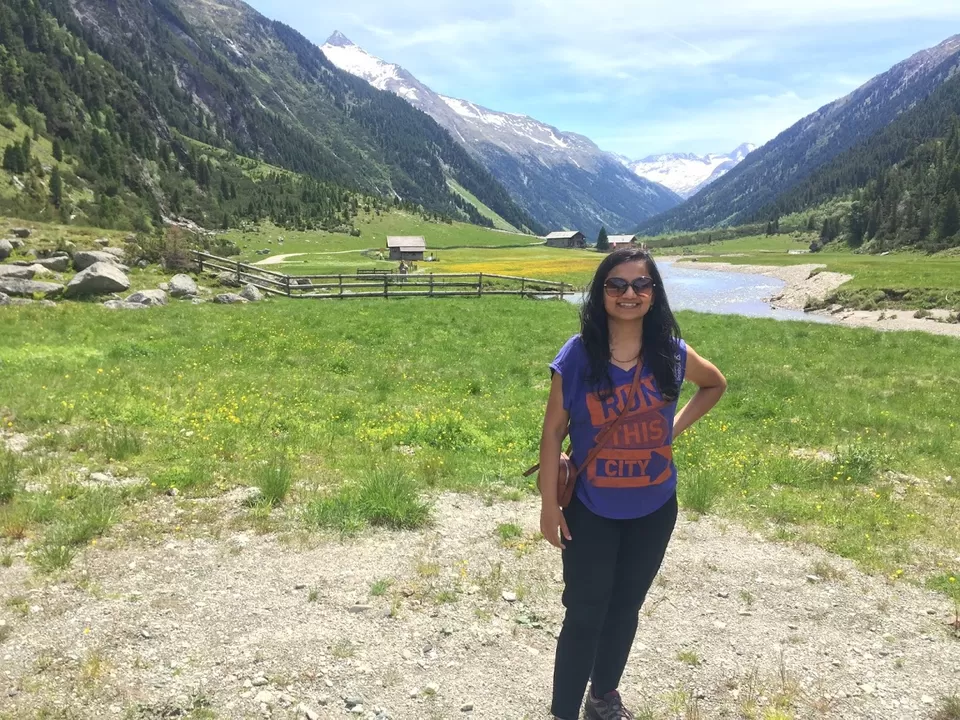 There was an Italian restaurant 'Toscana' attached to our hotel where we had delicious pizza for dinner, one of the best pizzas ever tasted till now and strangely, much better than the one I had in Venice.
We went to Untersberg next which is one of the five mountains in Salzberg. There is a cable car which goes up but the difference in height is astonishing. I actually felt my ears getting blocked like we feel in an aircraft. We reached the top and I am sure the views from here would have been amazing but due to bad weather, this place was covered with mist with no visibility at all.
Unfortunately, We were unable to explore this place because of the bad weather.
Our next stop was Hellburn palace, famous for its trick fountains. We didn't plan for it but since we couldn't spend a lot of time in freezing cold Untersberg, we had more time in hand.
I expected a usual palace with some fountains but I was taken by a surprise after visiting the guided tour of trick fountains here.
So here is how it began. There was a guide who was telling us about how the king of this palace had a very good sense of humor and loved water. I really liked the way in which the guide was explaining this to us. It was as if he used to tell us about an incident related to a place we were seeing and suddenly from nowhere there would be water sprinkling all around.
There were tiny invisible water fountains and would be turned on suddenly at us. We did get a little wet but it was sunny so it didn't matter much. There were lot of other toys and attractions which just work with water energy. This place was quite intriguing and fun filled.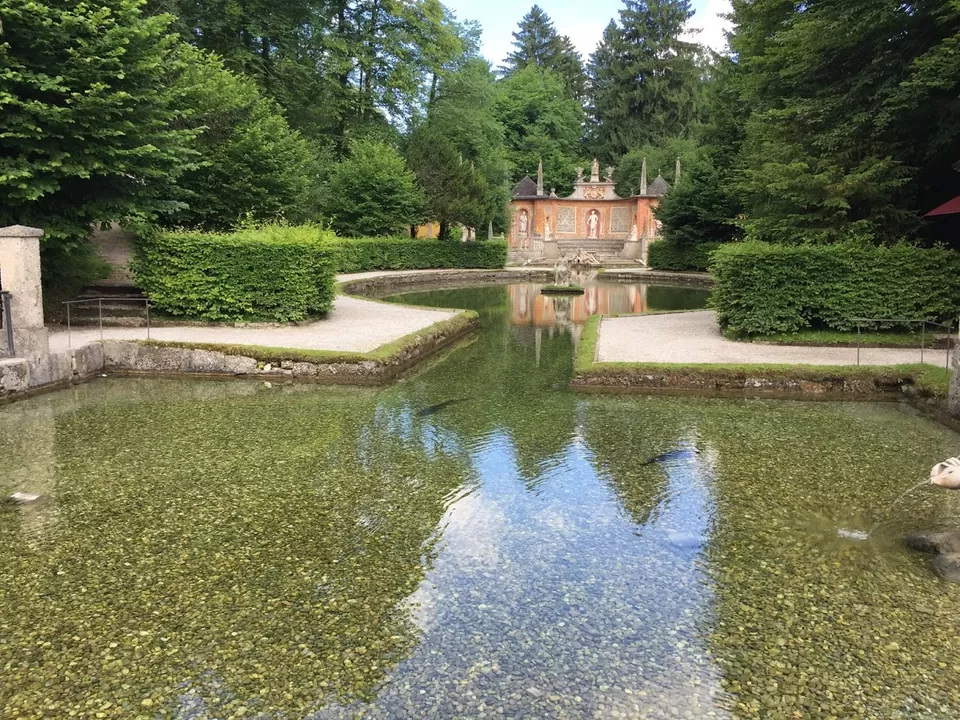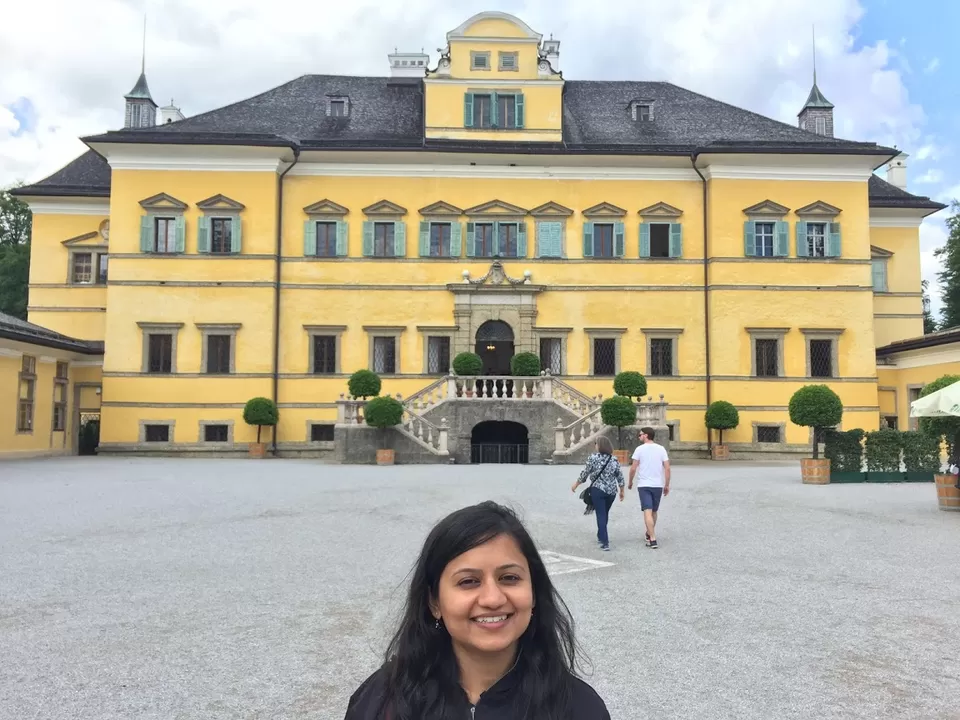 We spent the rest of our time going to the Mozart house and birthplace, where the audio guides provided us some cool info about this music maestro and how the city of Salzburg was captivated by it.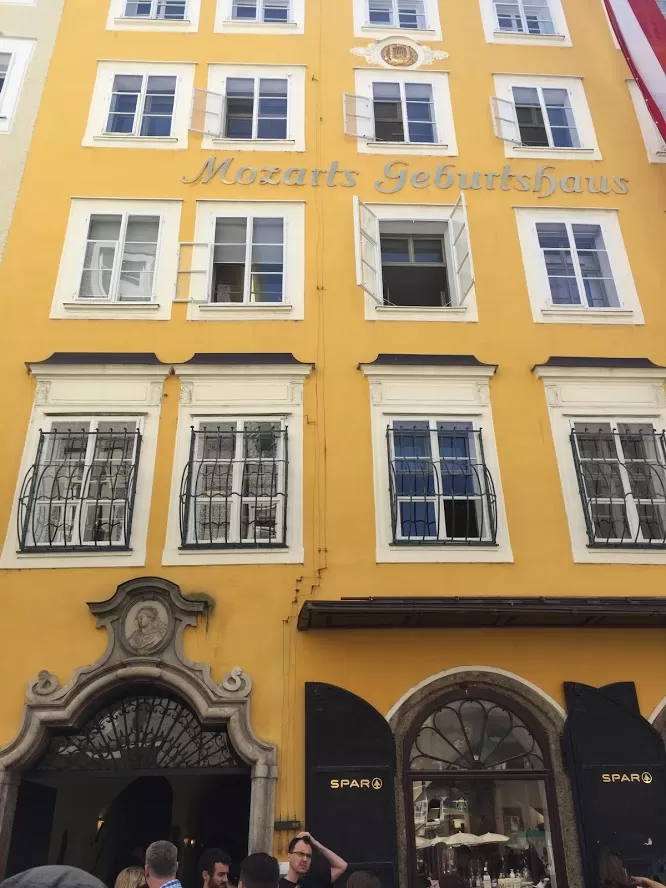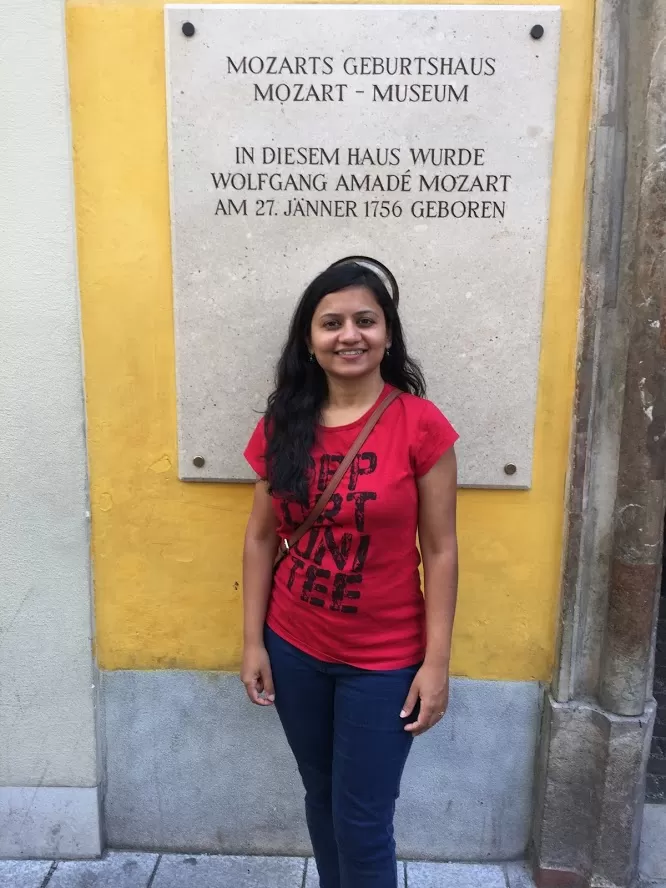 Then we went to the museum of Natural History, which essentially an enormous science museum, I was amazed that a small city like Salzburg in a small country like Austria had such an awesome science museum.
Our last stop was the Hohensalzburg Fortress, which cannot be missed if in Salzburg. We went for a guided tour of the museum and with audio guides which described the history of this place. The Fortress has some of the stunning views of the city of Salzburg, so even if you are not much interested in the history, the views will definitely make up for it.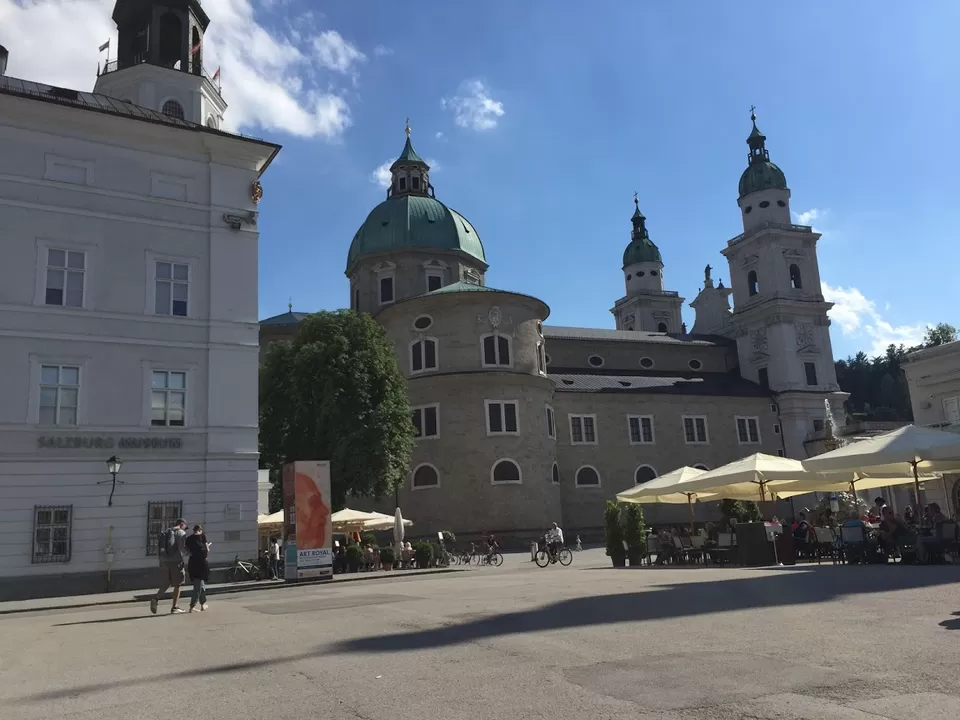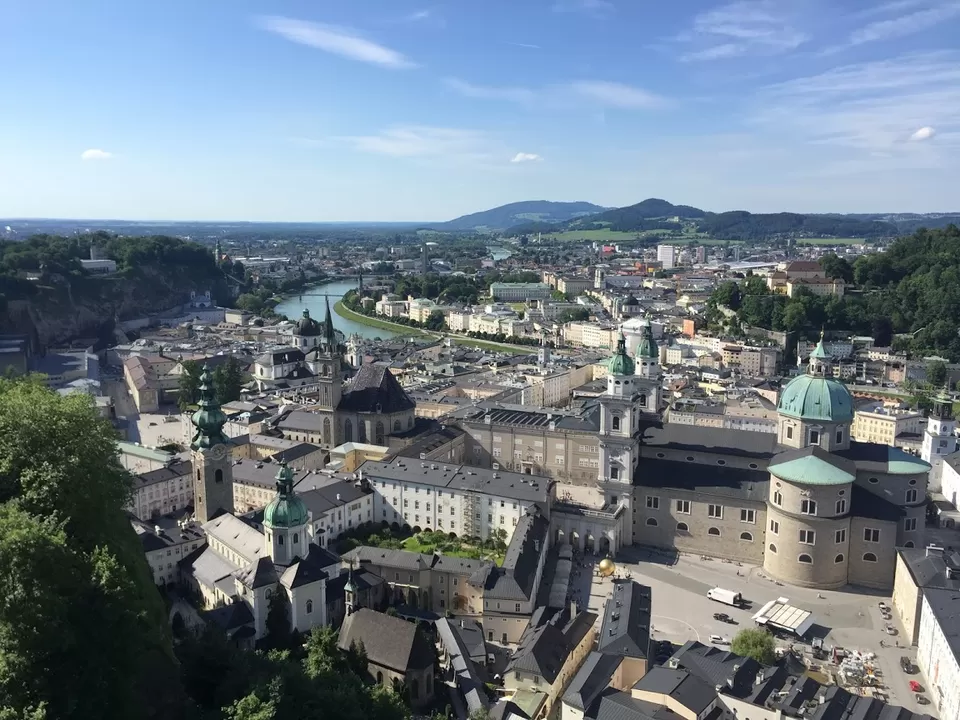 We boarded the train from Prague around 6:00 am in the morning to Salzburg which we had booked online in advance. The train journey took around 6-7 hours, and there is not a second of it which we didn't enjoy.
During the journey, We could suddenly see the change in landscape with beautiful Austrian alps in the background.
We purchased the Salzburg card online, which included public transport and free entry to many of the famous attractions. We took a bus to the hotel from the train station but somehow landed into another hotel with a very similar name by mistake. The hotel receptionist also didn't check and said that there is still an hour before the check in can be done.