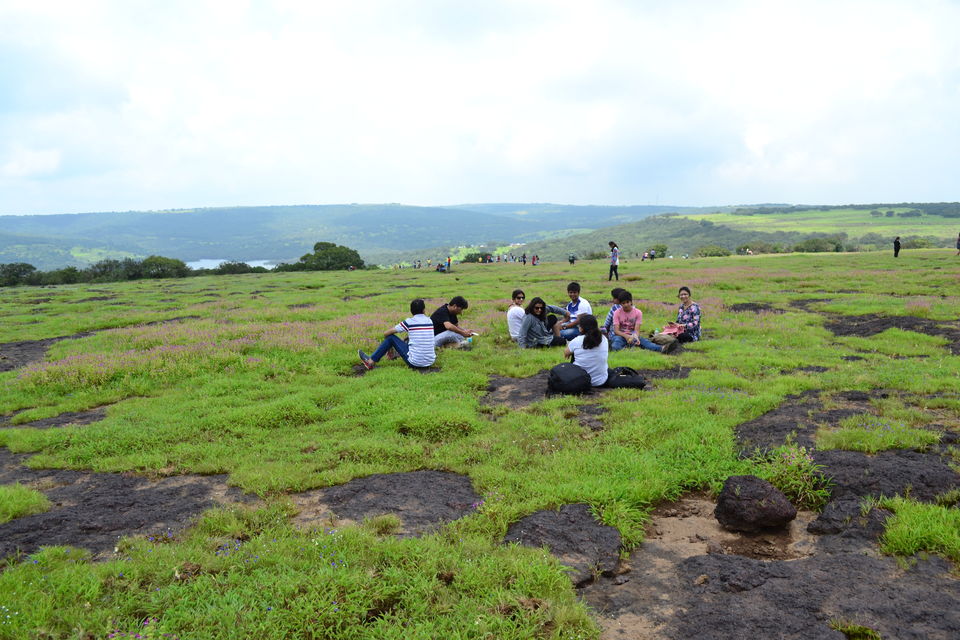 20 people, one bus, at 6:30 am we were on our way to Kaas Pathar - the Valley of Flowers.
The drive was for about 4-5 hours. From the eldest generation in Pune to the youngest generation we were all in one bus, playing, talking and listening to music. After driving for about 2 hours on an empty stomach it was bound that all of us started feeling hungry. To feed our hunger stricken taste buds we stopped at a small dhabba. There we had home cooked kheema freshly made by Nargis Bhen, with rotis and some superb chai.
Drive from there was quite soothing. Mostly people slept, but some of us were entertaining ourselves. After hitting the ghats, even if I wanted to I couldn't get myself to close my eyes. I switched my seat to that of a window one with Saqib, because I did not want a perfectly amazing view passing us by.
Every turn of the ghat made us shout out in awe (literally). Lush green mountains on one side and Kaas lake parallel to us on the other. The road could not have been better than this. I was excited, if the approach road was this amazing, where would my jaw be when we reach the destination!
After we reached the destination, because it was a little bit of a walk to the main plateau, I had to wait in the traveler because of my recent operation. Hahaha.. kidding you think I of all people would let my health affect the serenity my eyes were about to witness, never in 7 hells!! So to say my jaw was nowhere to be found because it was dropped dead at the scenes my eyes beheld. Wonderful lush green plateau on both sides what it lacked where flowers, I mean there were flowers but we were early in the blooming season to visit the plateau so there were not as many.
Tip: 1. If you have decided early in the year to go to Satara, make sure your trip is well planned and that your visit is not to late or early in the season.
2. Pre-book the tickets and parking spots through the internet so that there, you are not face to face with to too many problems.
3. If you are going all the way to Satara make sure it's a 2-3 day trip because first of all there is a lot to see in Satara than just Kaas, and second of all, it is too long a drive from any major city so might as well stay there for a while.
We walked for quite sometime, and in the end found a nice place to sit and start our photo shoot. 2 of us carried DSLR camera and I carried my possession, the Nikon digital camera (the photos on this page are from the same). After about an hour or so, hanging out in the lush green serene plateau, with the sun shining bright just above our heads, we decided to head out to the Kaas lake, where we had our delicious lunch. We had a very late lunch at about 4 o'clock or something. With our stomach full with multiple delicious dishes, for a little bit of relaxation we headed to the Kaas lake, which was walking distance from our lunch place. There were a lot of people inside the water so we decided against getting wet and for sleeping outside on the heated rocks for sometime.
There for sometime, with Tazeen's bag underneath my head, my legs stretched out and my complete body at rest, I closed my eyes and tried, amongst all those noises to make this journey a journey within.
As once a far off dervish called SHAMS OF TABRIZ said: " East, west, south or north makes a little difference. No matter what your destination, just be sure to make every journey a journey within. If you travel within, you will travel the whole wide world and beyond. "
And alas it did turn out to be a journey within, in a small way, but it did.
After the raindrops started to fall on our heads, we took that as an indication to head out and hit the road, and go back to Pune. The rains in the end made a perfect ending to a perfect day.