Kaas plateau or kaas pathar is a valley of flowers. Which is situated at 25Km from satara. It comes under UNESCO world natural heritage site. This place has more than 850 types of flowering plants and the best time to visit this place is august and september and rest of the month there won't be any flowers. This plateau is a vast place measuring more than 10sq km. Came across this place in a blog. Searched about this place and finalized this place for the next ride. The next thing to do is to ask my friends for the ride. Few agreed and few were dicey. And the plan was made.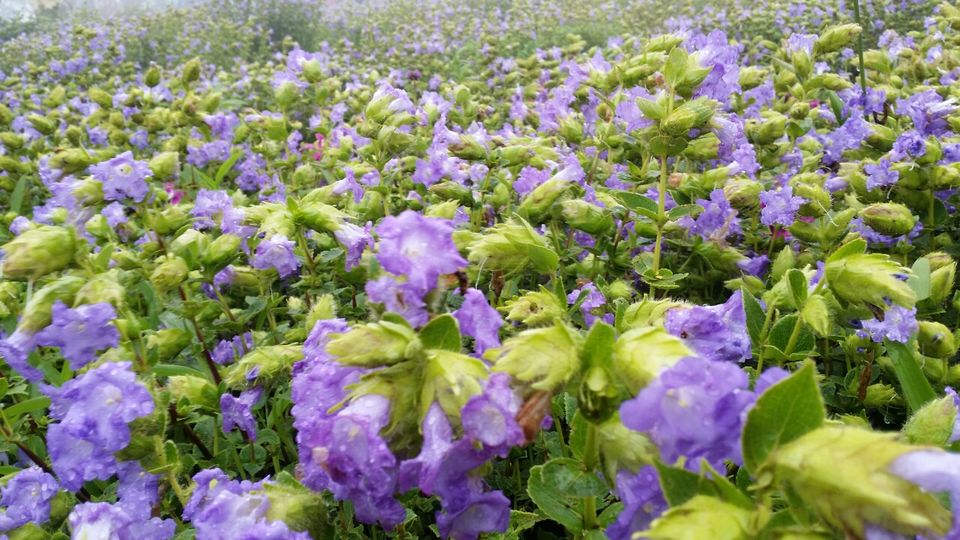 Day 1:-
It was decided that we won't take off on weekdays instead we will ride on Sunday. But kaas plateau is nearly 300km from mumbai. To and fro would make it 600km. Which would have been a difficult task for me as well as others . Also we had no knowledge about the road and traffic conditions . So i suggested that we leave by Saturday evening and reach satara by night and stay there for the day and leave for kaas plateau next day morning which is 25km from satara. This sounded good according to everyone . So it was decided that while going as we will be leaving in evening we will take the old pune highway till satara and while returning will take mahabaleshwar-mahad route as this route was a bit tougher route. Office gets over by 6:00pm so we decided to leave by 6:pm sharp. We came prepared to the office in the morning with all our gears and it was about to get 6pm one of the colleague got an additional work which extended till 7:00pm another colleague informed that he will meet us at nerul by 7:00pm turned up by 8:15pm. By this time the calculation of time was badly hit as we were running behind schedule. We started our ride and reached panvel by 9:00pm refueled our machines and by the time we got a call that another colleague in on the way to join us. And he reached panvel by 10:00pm. By this time my mood was totally out and thought of cancelling the plan. But wanted to complete this ride. Till Friday there was no sign of rain. But it started to rain on Saturday from morning and there was no sign to stop. We rode through rain in those dark roads were there was no lights. Riding in rain requires additional attention on road and on top of that it was dark, so we had to be more careful. When we crossed khopoli and entered the ghat section the fog was waiting for us. Now it was curveous road, darkness, fog and rain altogether. Somehow crossed lonavla and entered the old pune highway. It was raining continously and it was 1:00am in the night. We were planning to reach satara by 4:00am, but it seamed impossible . By this time our eyes and mind was ready to sleep , so we stopped for some tea. It was 2:00am now. So we decided to take some room and stay for night and get up early in the morning and proceed towards kaas plateau. Found a decent lodge within few kilometers away from pune and checked in and went to sleep.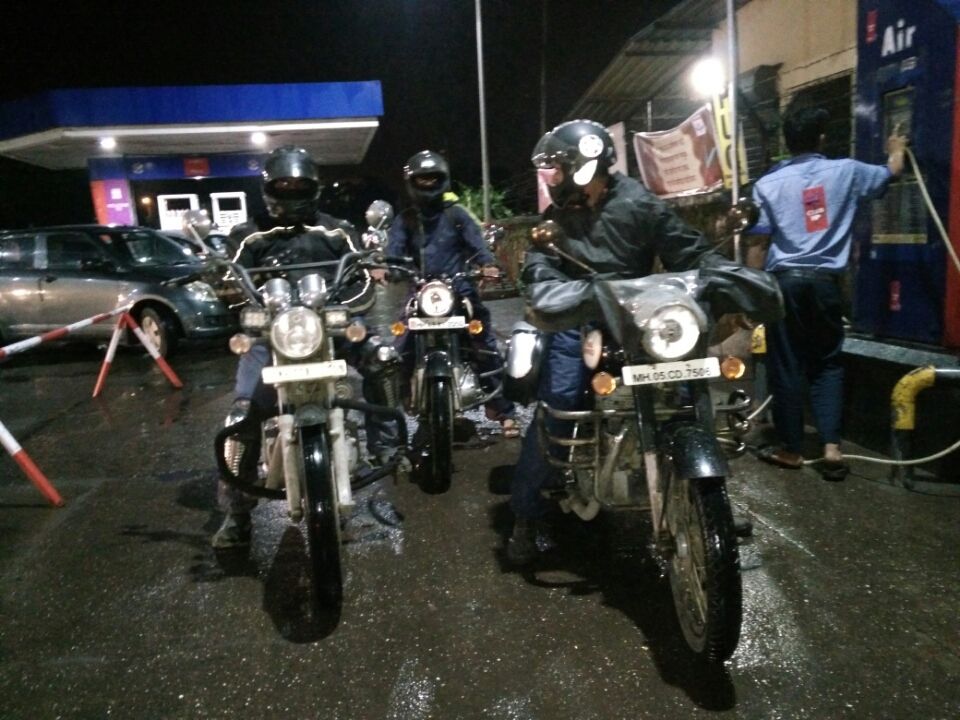 We slept by 3am and got up 7am. By 8:30am we were ready for the ride. Just had a tea and started our ride. Till now the sky was clear but the moment we started our machine, it started raining. It was as if the rain was hiding and waiting for us to come out . We continued our ride and reached a place where there was a hotel joshi vadewale, we had our breakfast and continued our ride. Rains were lashing . One of our colleague's who had Pulsar RS, his front disc pads were worn-out . We found a bajaj service center on the way and asked him to replace the brake pads and rest of us continued to ride asking him to join us on the way. After some time we reached satara and within few minutes he also joined us. Kaas plateau was still 25km far . Slowly we made our move. The route from satara to kaas plateau is so scenic . Hilly roads with green carpets and lakes. We stopped at few places to click some photos. At some places where we were about to take photo, fog used to ruin our photos. There was traffic for 7km before kaas plateau and due to rain the mud and water got mixed together and created a slush . Cars were find it difficult to move as there was traffic and due to slush its tyres used to rotate freely as there was very less grip and also people who were walking had removed their shoes. Many used to fall. It took nearly an hour to reach kaas and the parking was another 2km ahead. We parked our bikes at the parking and came few steps ahead we realized that we have to walk for 2km in slush, so we came back and took our machine till the kaas entrance . We just entered the place it was full of flowering plants. It was so vast. You could only see flowers all the way. It was fun to click photos. As there were many types of flowers . Clicked so many photos . It was already past 5:00pm and we had to reach mumbai. We started from kaas and reached satara by 6:00pm. Refueled our machines and started for mumbai. Our plan was to reach mumbai before it's too late in the night. So we asked each other to maintain the same speed and follow each other in a line. The ride was steady and this time there was no rain and we took our first stop before pune. Then resumed the ride with the same pace. Within 30km we reached lonavala and took another break. The moment we crossed lonavala and came to khandala, there was dense fog. It was so dense that nothing was visible. Luckily a land rover was moving ahead of us at 10kmph speed. We followed it till we exited khandala. After which there was no fog. From there it took some 1:30hours to reach our respective home . And reached by 12:30am. The tiresome ride came to an end with a lot of memories and good photos.