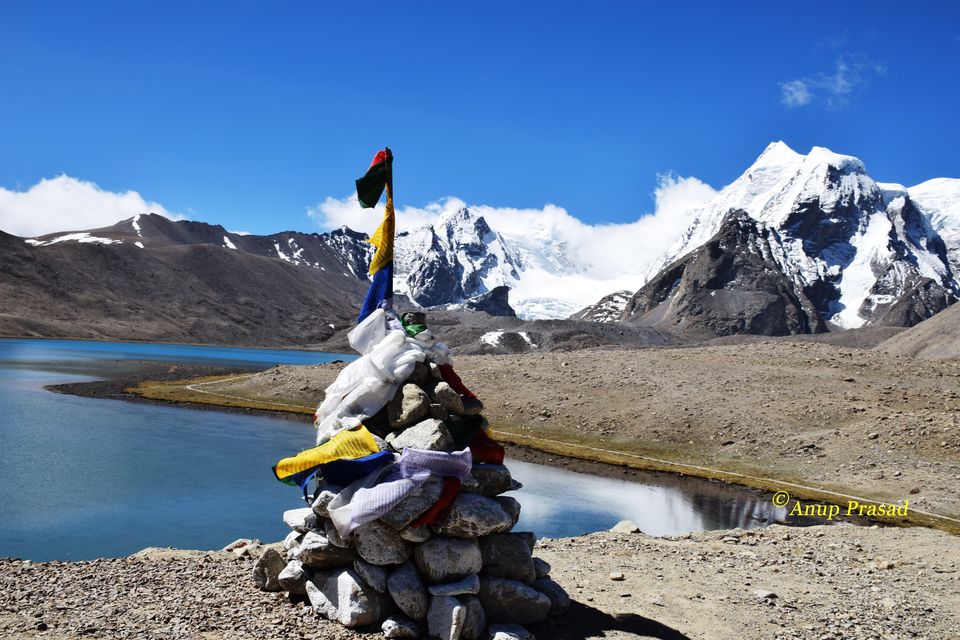 Snowy mountains, curvy roads, valley of flowers, highest lakes of India, lush green valley with countless waterfalls, pristine white water gushing in rivers and people always willing to serve and help you with a smile; that is what a visit to Gurudongmar Lake offers. What else can you ask for your dream destination.
Sikkim is a small state surrounded by high peaks of the Himalaya; sharing its international border with Nepal, Bhutan and China. With 40% of the total area surrounded by forests, it offers a surreal escape into the wilderness, much like a dream than to reality.
North Sikkim is a district of Sikkim known for the exotic locations, mountains, waterfalls, rivers and home to highest Lakes of India.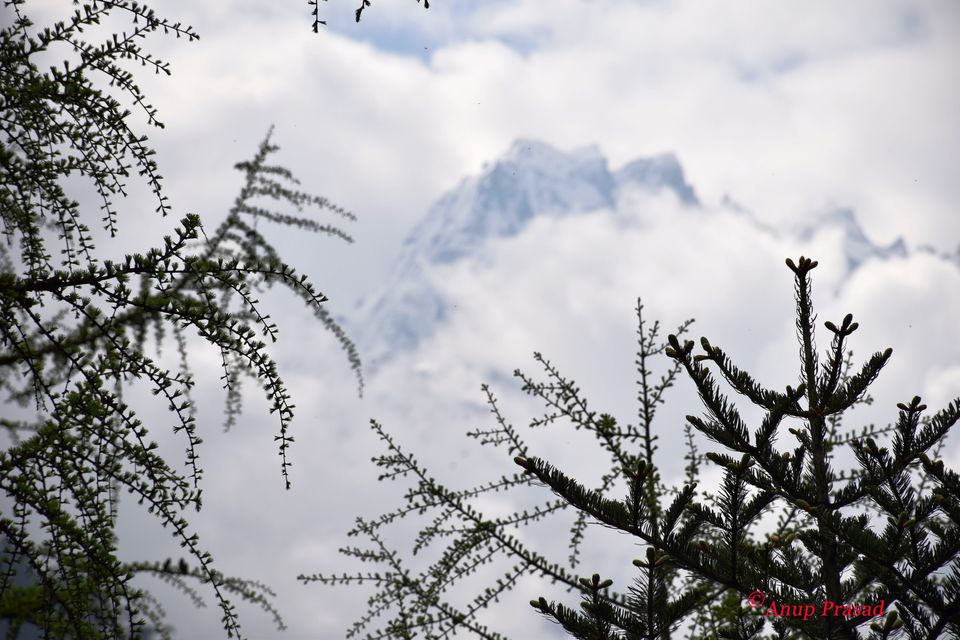 How to Go
Unlike rest of India, reaching North Sikkim requires a proper planning, permission and physical strength.
To reach North Sikkim, first you have to reach capital city, Gangtok.
How to reach Gangtok
By Bus
Buses ply till Siliguri (West Bengal), 115 Kms from Gangtok. From here, you have to share a cab/Jeep (Rs. 300/person) or you can hire your own cab at Rs. 2,500/, which will take another 4 hrs to reach Gangtok in normal traffic.
By Train
Trains will also stop at New Jalpaiguri, near to Siliguri. From here again, you have to take car/ Jeep.
By Air
The nearest airport is Bagdogra which is around 15 Kms from Siliguri. Either you can hire a direct cab from Bagdogra to Gangtok (2500-3000/) or you can go to Siliguri Tenzing bus stand for shared taxis.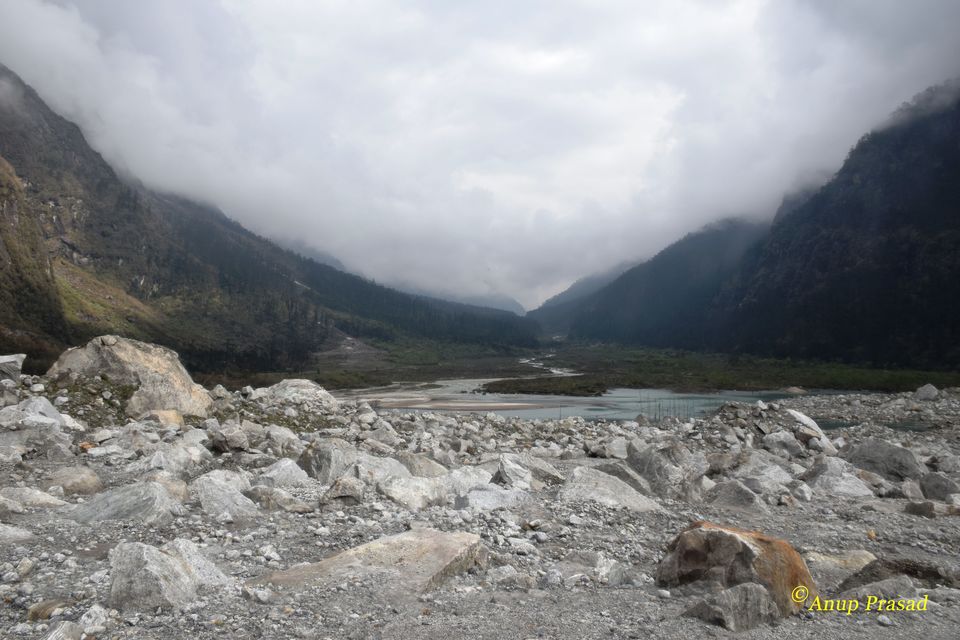 Permits
Because of close proximity to China and Tibet Border, Inner Line Permits are required to visit North Sikkim. Indians are allowed to visit Gurudongmar Lake while foreigners are restricted till Chopta Valley and Yumthang Valley.
You need to obtain the permit only in Gangtok, before a day of starting the journey. Plan your journey in advance as permits are specific to the traveller, number of days and vehicle.
For obtaining permit, you need to submit copies of your photo ID and two recent photographs in tourism office. This, you can submit in any authorized tour agency and they will get your work done.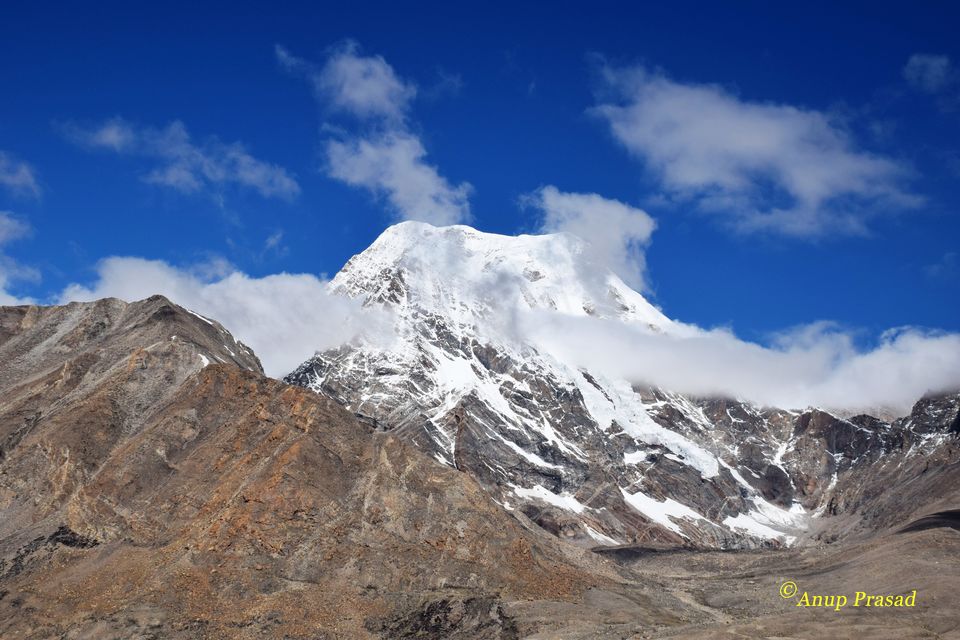 North Sikkim Tour Package
Tours generally operate in packages in North Sikkim. It is very difficult to explore this with your own vehicle because of rugged terrain and permit issues.
Two types of tours are operated from Gangtok to North Sikkim. You can opt for hiring an entire SUV (Rs. 30,000- 35,000/ per vehicle for two nights) or you can share an SUV with another nine fellow travellers (Rs. 4000-4500/ per person for two night). This cost also includes your accommodation and basic food.
Tour and travel agency generally operates two kinds of tours in shared SUVs:
1. Two days one night
Day 1
Gangtok- Chungthang- Lachung (Stay overnight at Lachung)
Day 2
Lachung- Yumthang Valley – Gangtok
If you want to visit Zero point, you need to pay extra to the driver
(Rs. -300/person).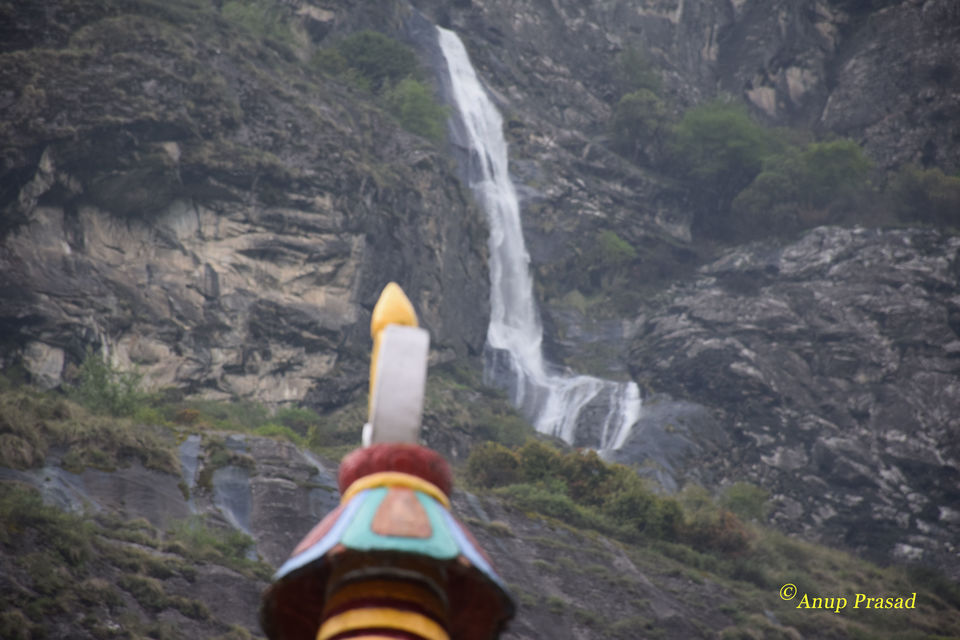 2. Three days two nights
Day 1
Gangtok- Chungthang- Lachen (Stay overnight at Lachen)
Day 2
Lachen- Chopta Valley- Gurudongmar Lake-Lachung (Stay overnight at Lachung)
Day 3
Lachung- Yumthang Valley – Zero point - Gangtok
If you are hiring an SUV for your own, you can customize it according to your plans and number of days.
What to Eat and Drink
Chicken Momos, Noodles, Thukpas, Maggie, Masala Tea
Best Time to Visit
February-June (For experiencing multi hued beauty of nature),
October- January (For experiencing white beauty of nature)
Things you should know before the start of the journey
• The most important thing you should take care of is permit. Reach at least one-two days prior to your actual journey date so that you could arrange permits easily.
• Come here with heavy woollens. Even in May –June, you will require heavy woollen to enjoy North Sikkim. It can be rented also in Yumthang Valley and Lachen.
• The information available on Google map and GPS may not be correct completely for hotel location and travel time.
• This place is prone to landslides in rainy season.
• Acute mountain sickness (AMS) is common at such high altitude, so acclimatize yourself well and take medicines with you.
• Keep GINGER AND CAMPHOR with you to avoid high altitude sickness.
• Sudden rainfalls are quite common, so be prepared.
• If you are going to hire the whole SUV, be prepared to burn a hole in your pocket.
• If you are going to share a taxi, be ready to understand and adjust with 9 other people. Initially, it looks like a tedious task, but after knowing all of them, it will be more fun than adjustment.
Day 1
We started by 1 pm because of some delay in obtaining permits by our tour operator. The road from Gangtok to Lachen is rugged yet beautiful. We encountered 'n' number of waterfalls. In every 500m or so, we became the witness of pristine water coming from the mountains and crossing the roads in thundering speed. As we reached nearer to Lachen, number and height of waterfall, both increased. En route, we witnessed Seven Sister Waterfall and Naga Waterfall, but we cannot overshadow the beauty of numerous unnamed waterfalls.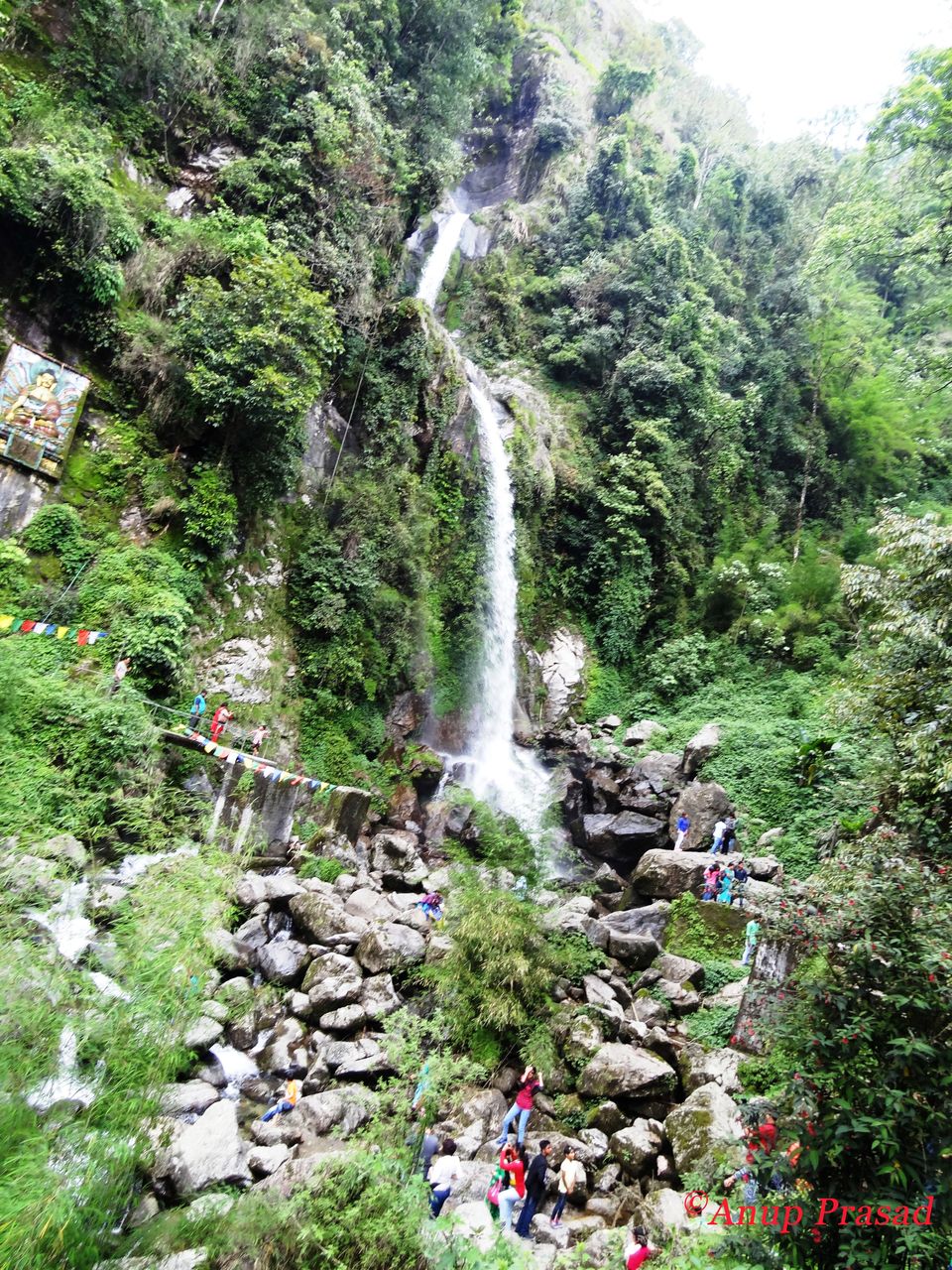 The tour was nothing but a visual retreat to our eyes, where we did not even wish to blink the eyes.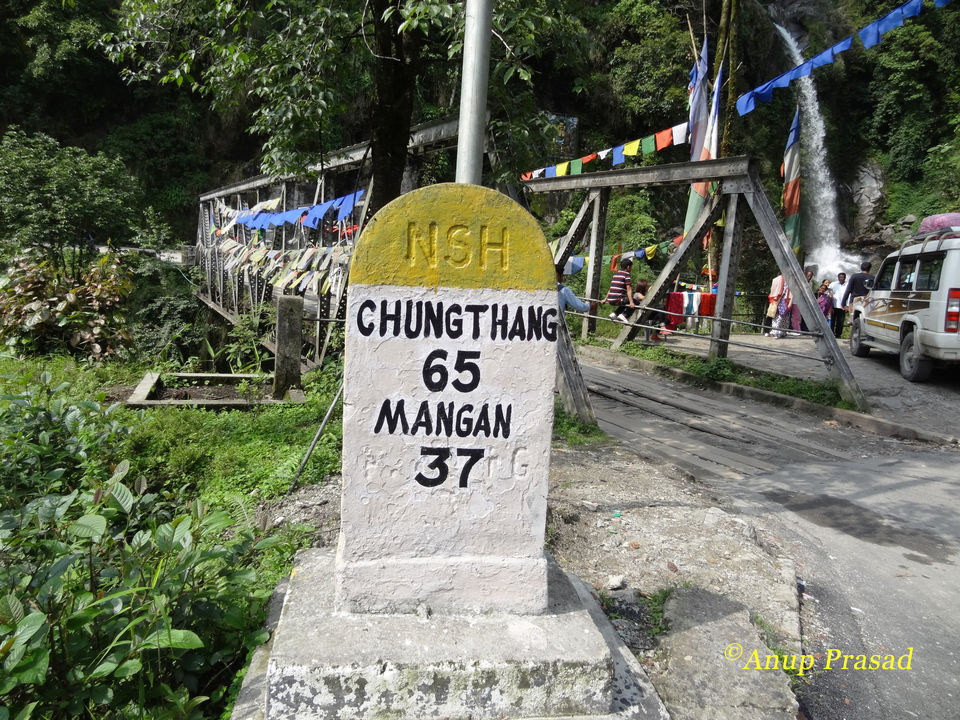 Lachen
We reached Lachen by 7.30 in evening. In between, we had lunch in Mangan, capital of North Sikkim. Lachen is a small, remote village in North Sikkim, serving as a base camp for upcoming journey to the Gurudongmer Lake and Chopta Valley.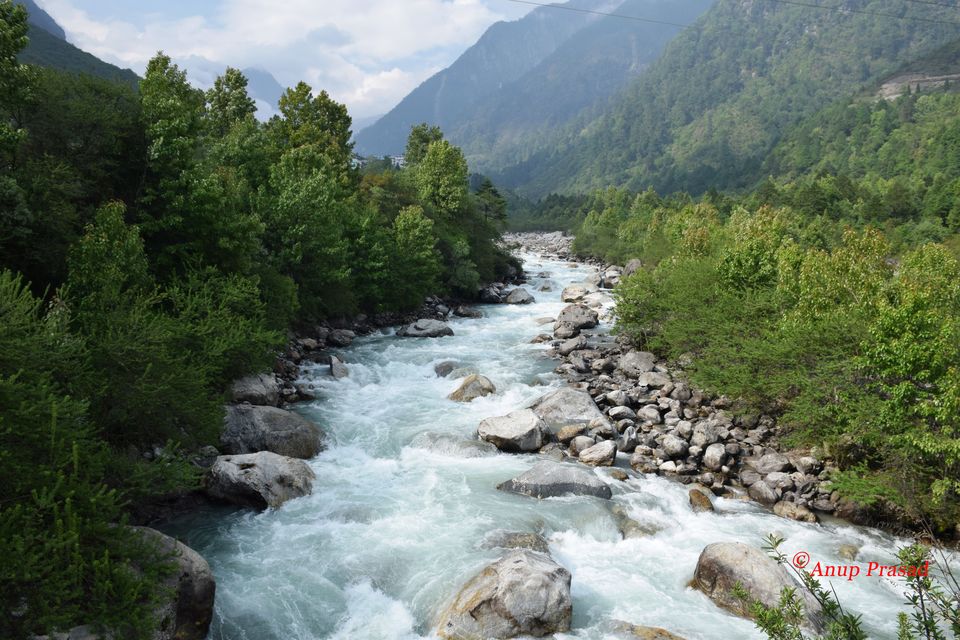 A picture perfect village surrounded by snow covered mountains, thundering waterfalls and river Lachen flowing nearby. What else to be asked for a perfect panoramic vista??
After such a tiresome journey, we had dinner and went to sleep early as next day we had to start as early as 4:00 in the morning.
Day 2
Chopta Valley
Ideal place for adventure seekers and trekkers, this valley falls on the way to Gurudongmar Lake. Road conditions are pathetic but the view around will make you fall in love with this place.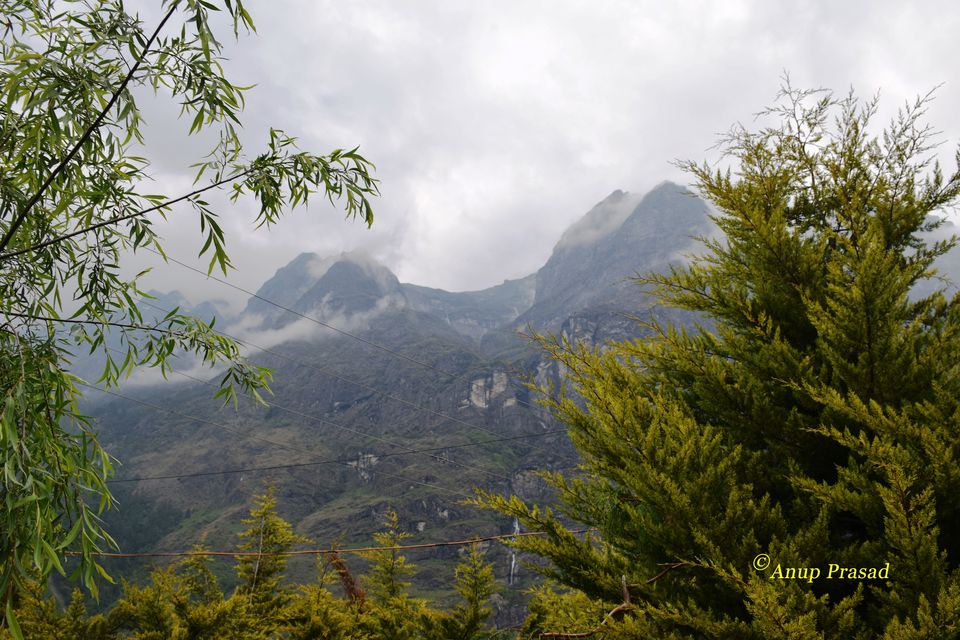 The Valley changes its colour in every few Kilometres. Meandering river in between, surrounded by pine forests, tinted with waterfalls gives this virgin valley an undefined beauty.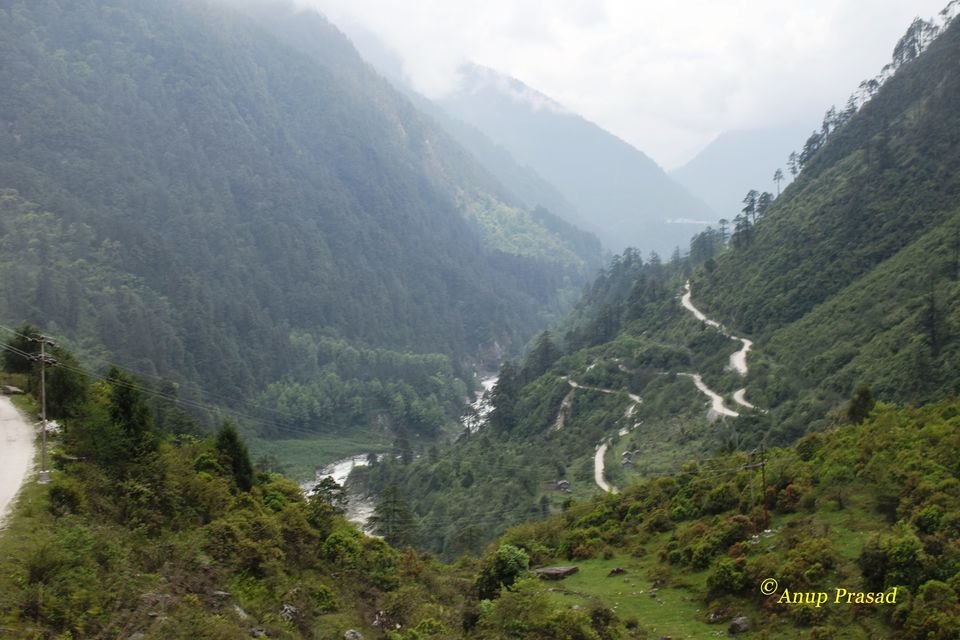 As you will move further, greenery will be overcome by vegetative pasture land which in season turns into valley of flowers.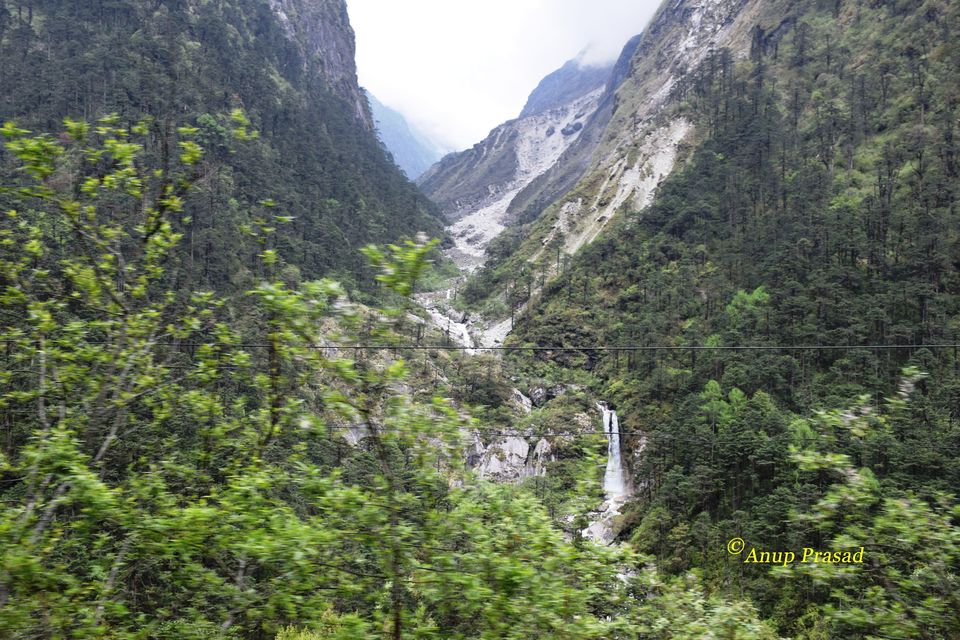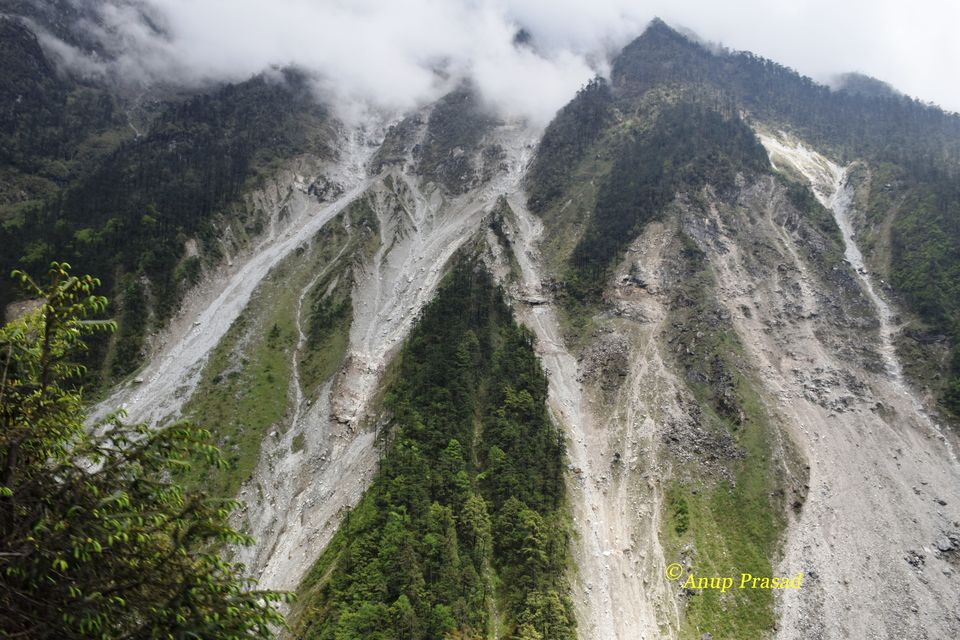 As you will reach near Gurudongmar Lake, the valley will leave you mesmerized with its barren beauty.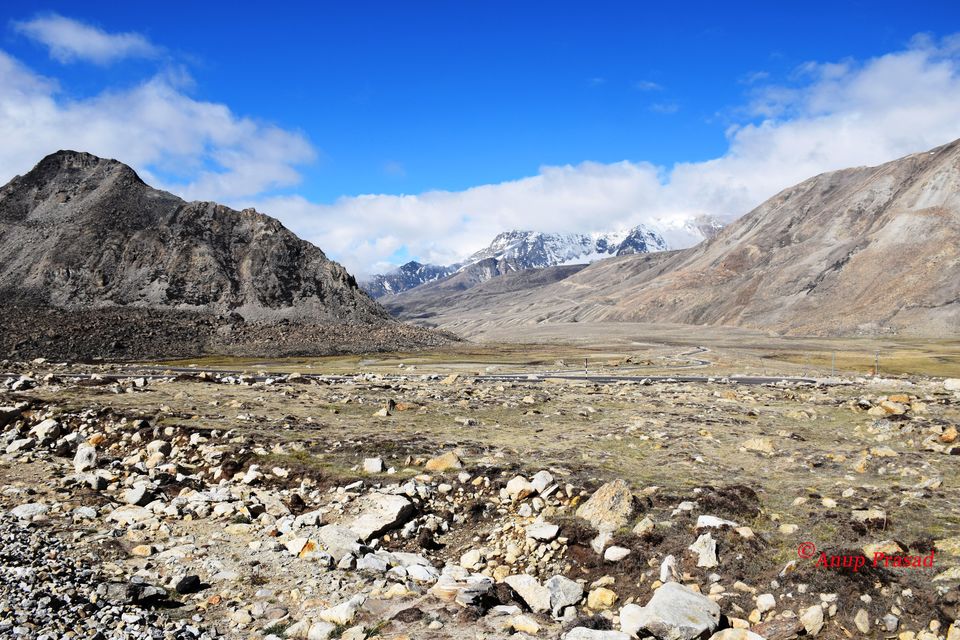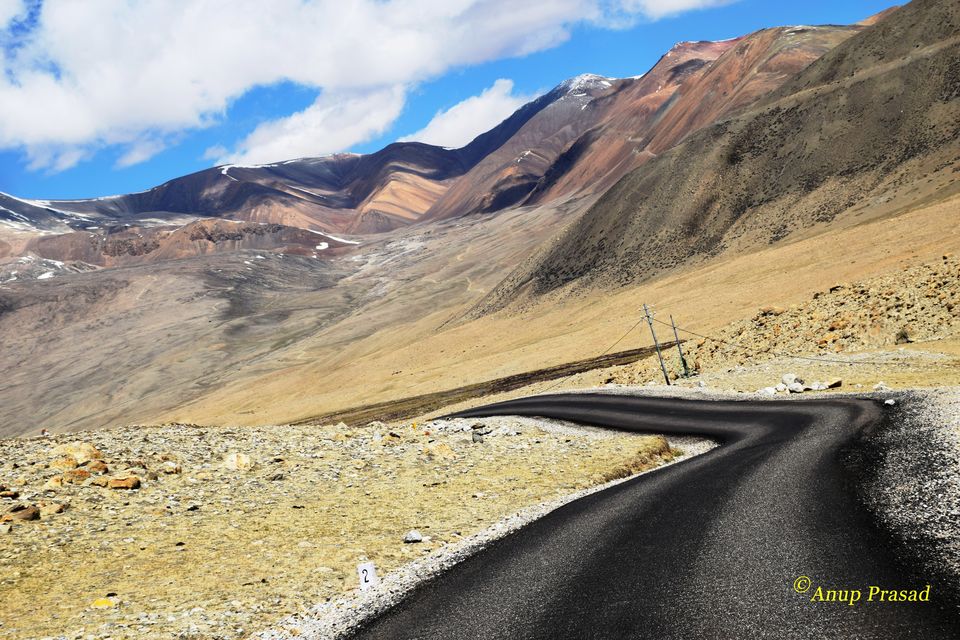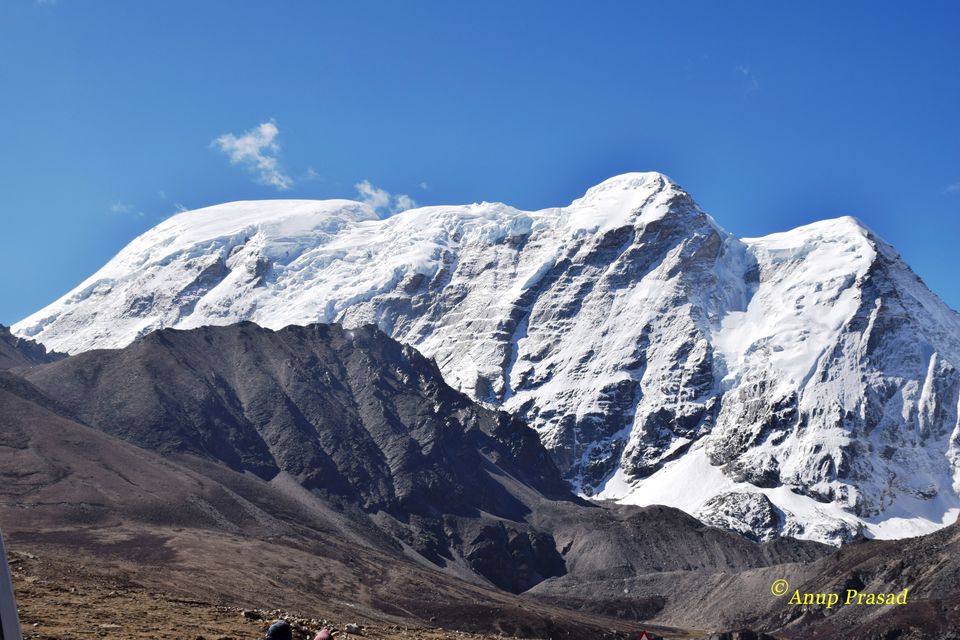 Thangu Village
We started our journey from Lachen at 4.30 in morning and reached Thangu village at 8.30.
A picturesque hamlet, Thangu is the last village on the way to Gurudongmar. Here, we had maggie and masala tea to keep us warm. After this village, you will not find any human settlement except the Army bases.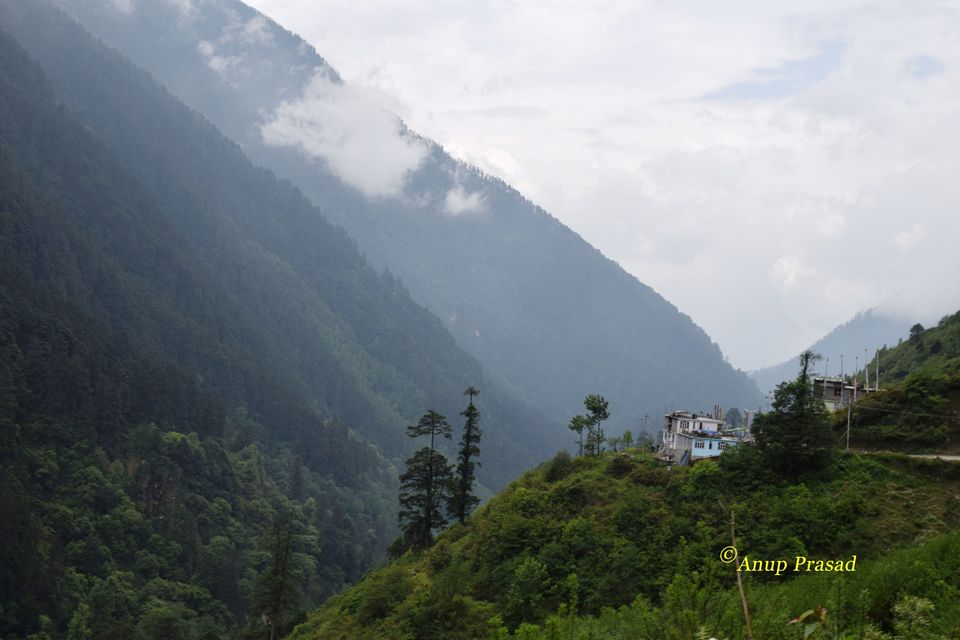 Gurudongmar Lake
After the last Army check post, both road conditions and scenic beauty changed drastically. While the roads were so smooth for last 14 Kms, the green Sikkim has vanished turning into a mountain dessert with different shades of colours.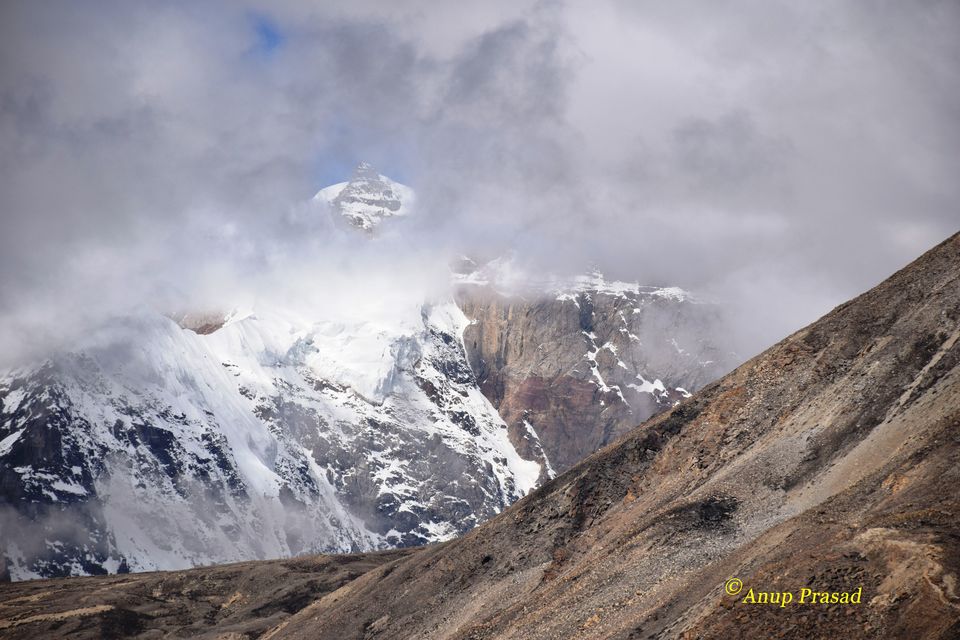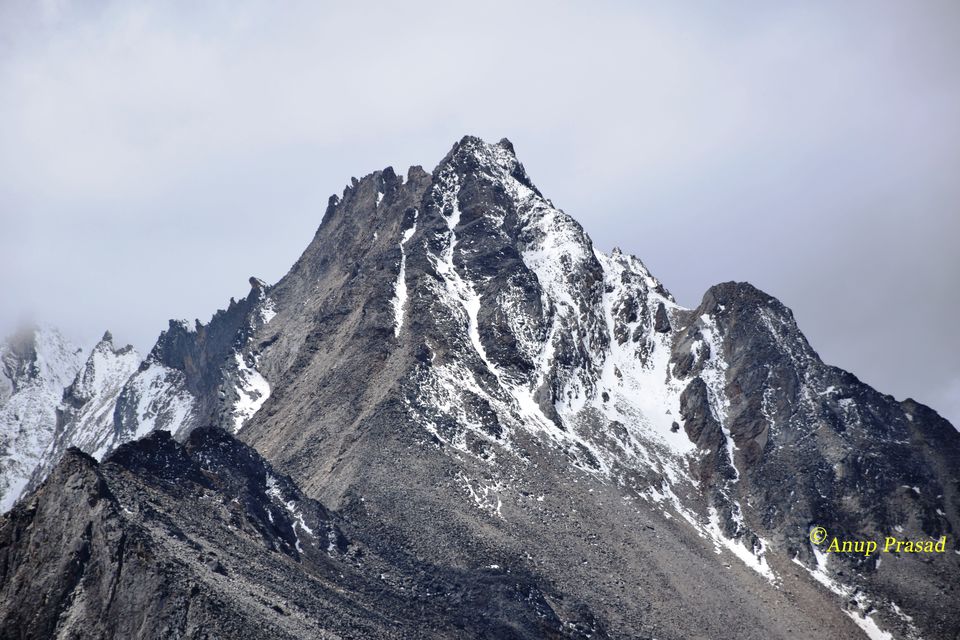 It felt like a road leading to heaven, and at last, we reached heaven 'the Gurudongmar Lake'.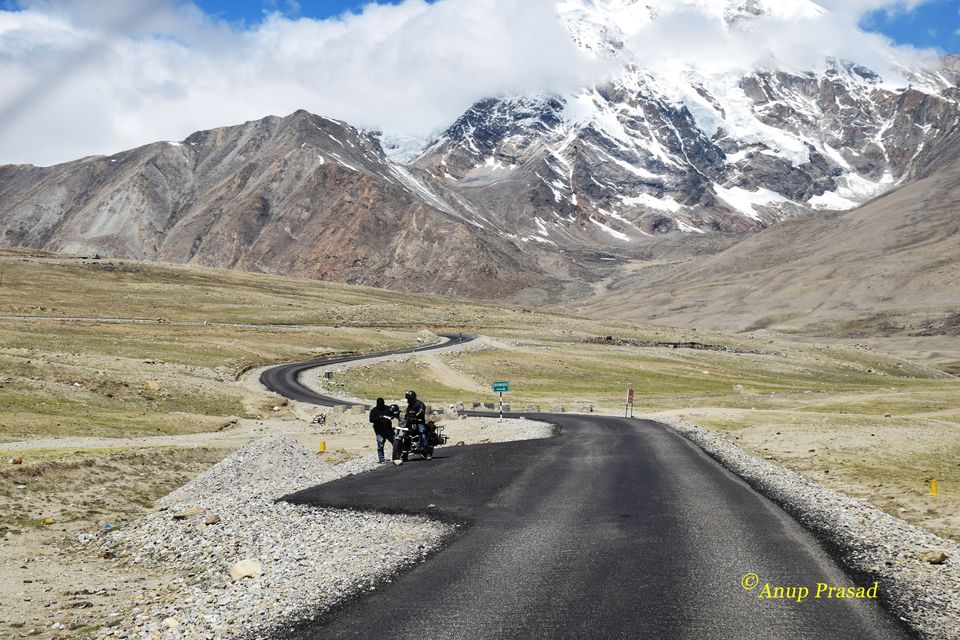 The surreal beauty of the lake is beyond any description. Crystal clear blue water surrounded by snow laden mountains at one side, and barren mountains hugging the lake from another side is one of the experiences to watch on this planet.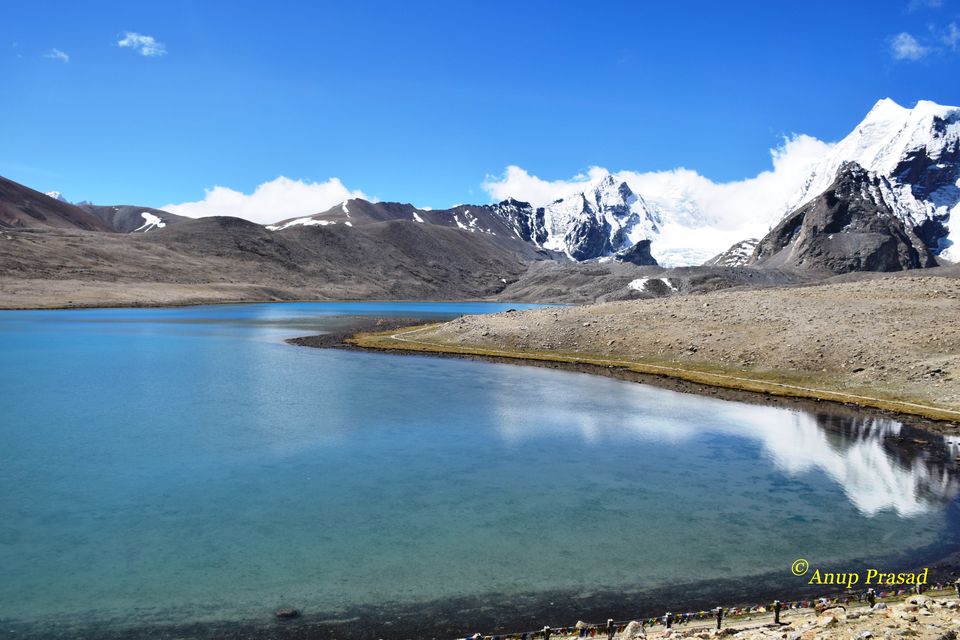 As oxygen level is low here, it is not recommended to exhaust yourself. Keep calm and enjoy the beauty of nature!!!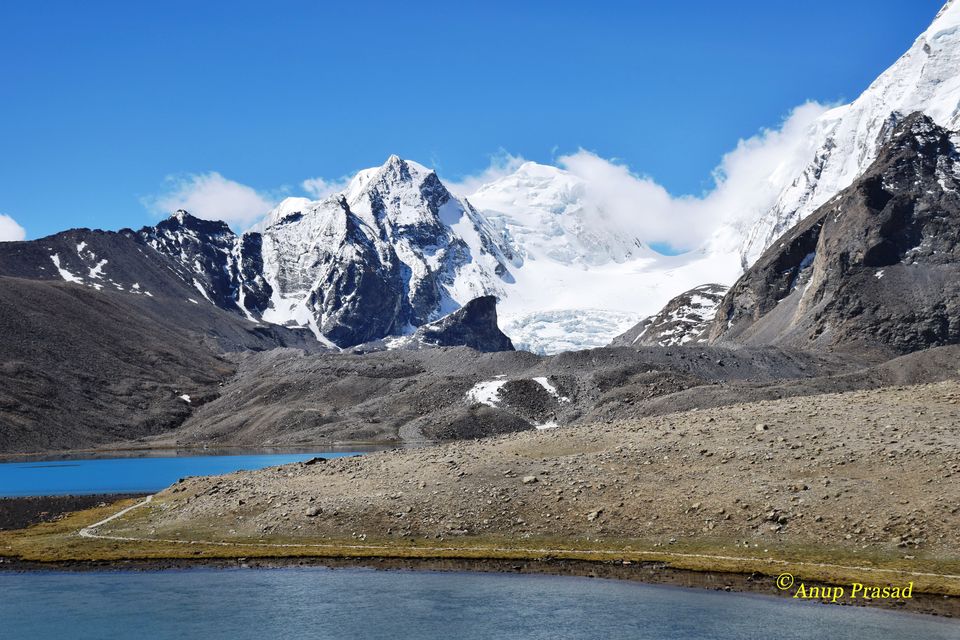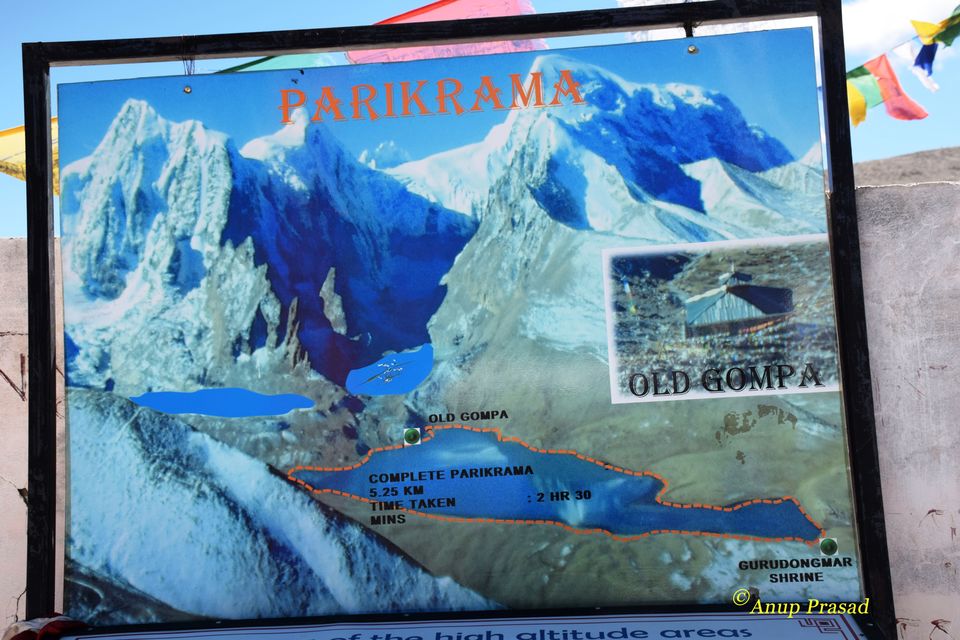 Because of freezing temperature, low oxygen pressure and high wind velocity, it is better to leave the unparalleled beauty of nature early and not to stay here for more than 30 mins.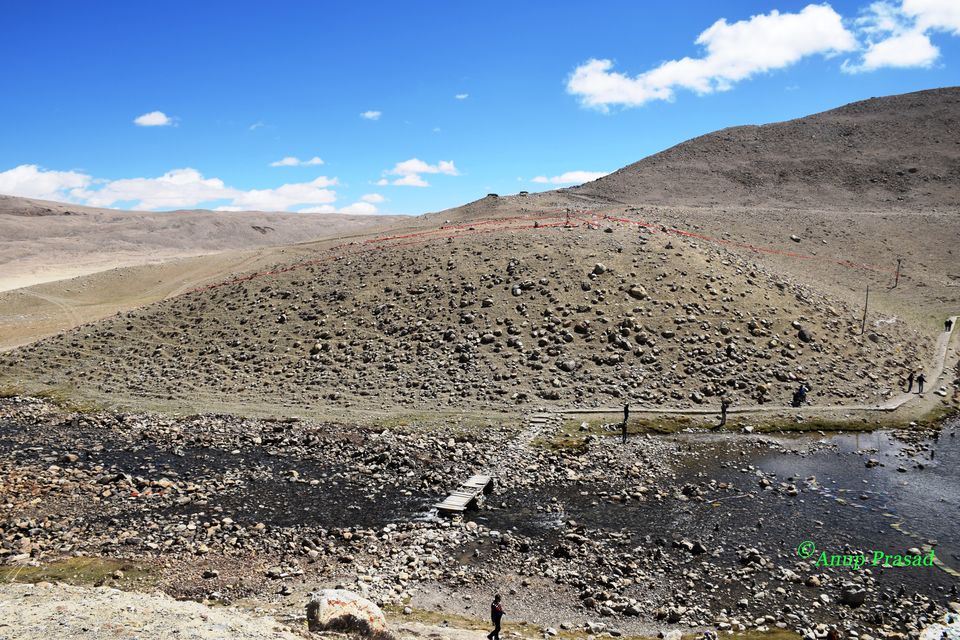 We came back to Lachen at 1.30 pm, had lunch and then proceeded further to Lachung, 'one of the most beautiful villages in India.'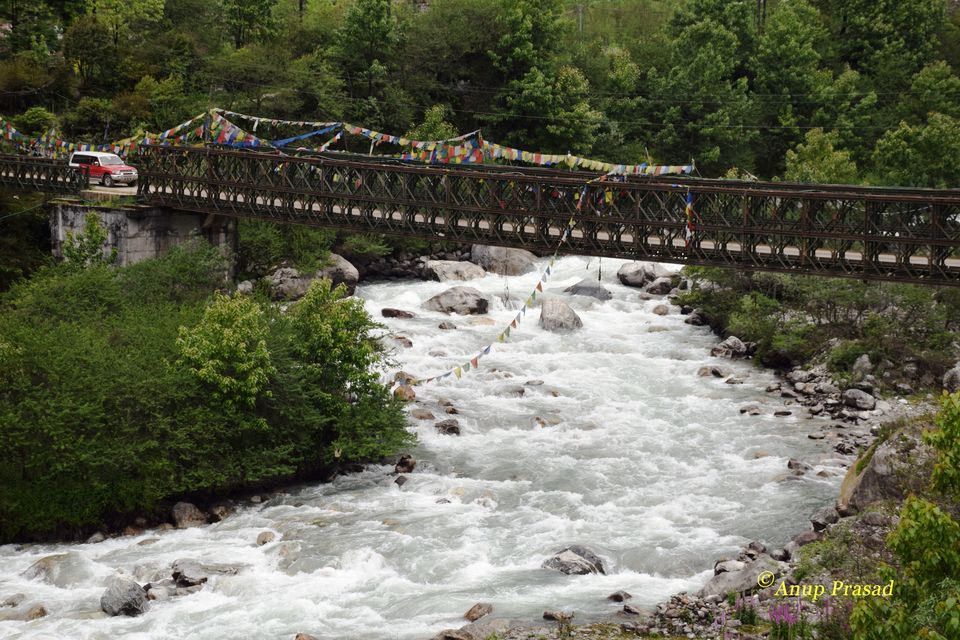 Lachung is another picture perfect village of North Sikkim. Any random click here will give you a perfect snapshot.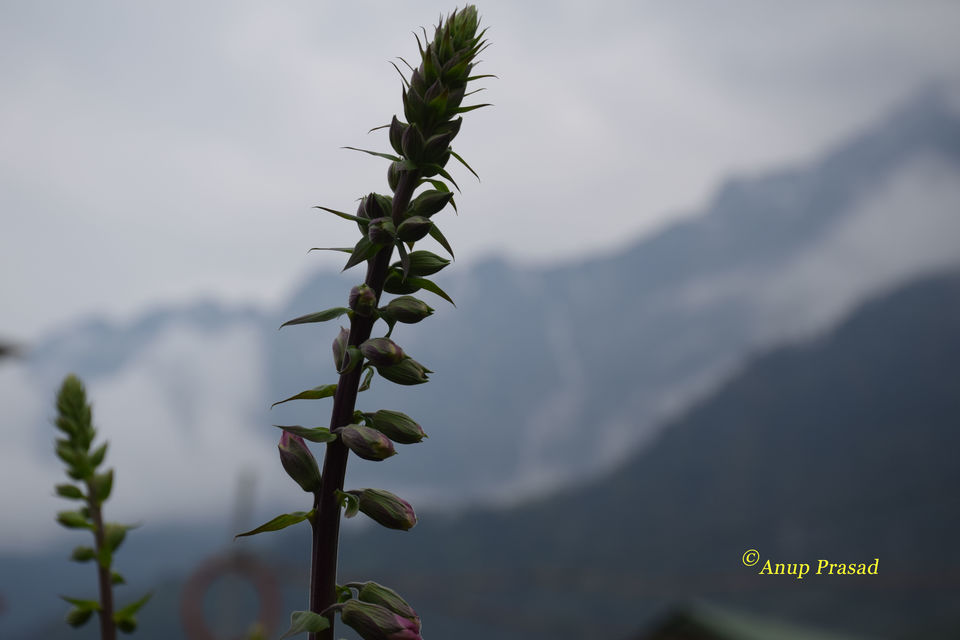 With beautiful river, waterfalls, mountains, flowers and people with beautiful heart, this place is worth forgetting everything apart from nature.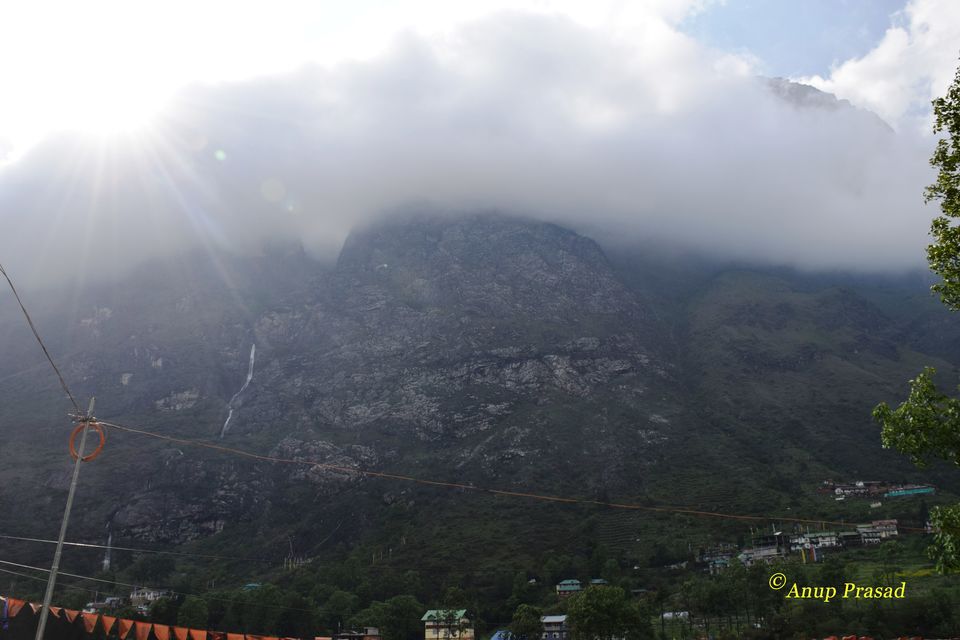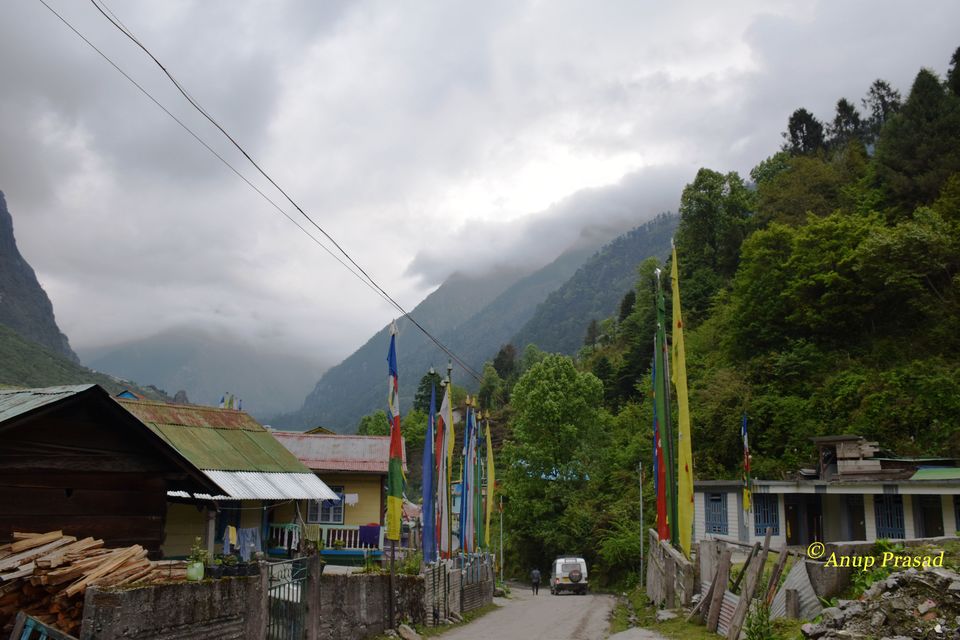 Day 3
Yumthang Valley
Early in morning at 6 am, we started our journey to Yumthang Valley. This valley turns into 'valley of flowers' in April to spread the aroma of countless beautiful flowers.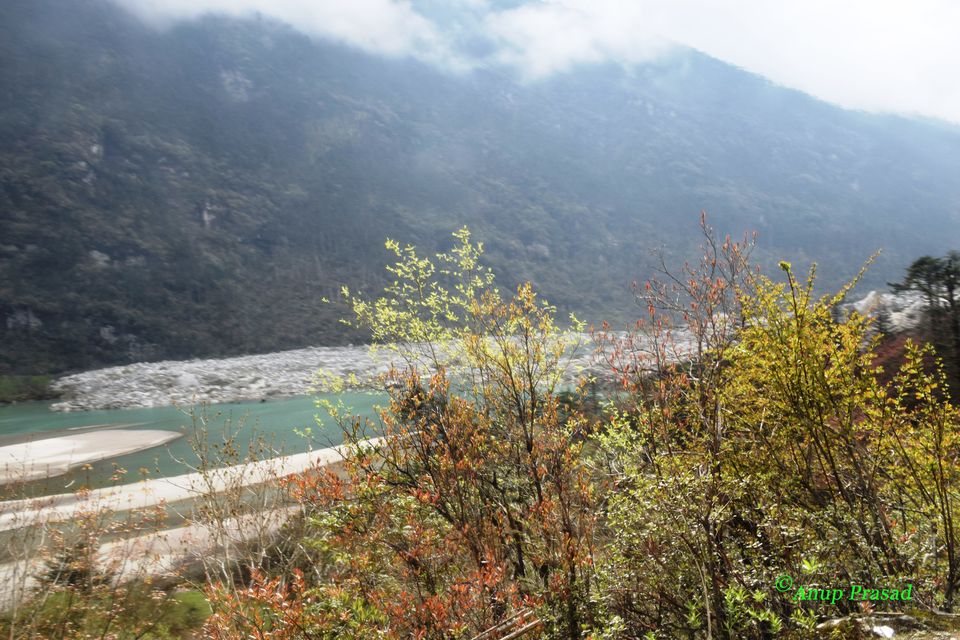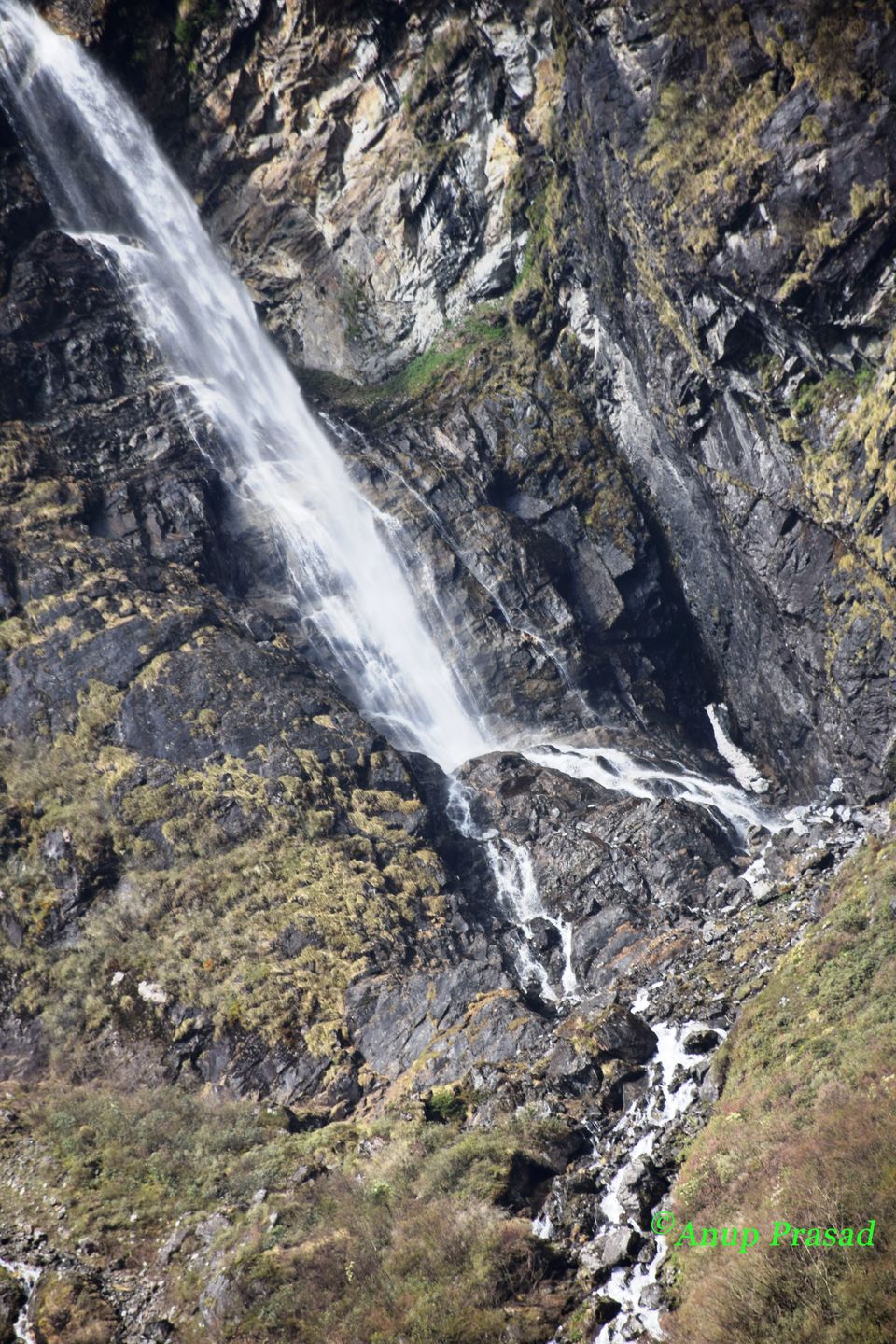 En route, we also witnessed Singba Rhododendron Sanctuary, with variety of Rhododendrons covering the route as multihued rainbow.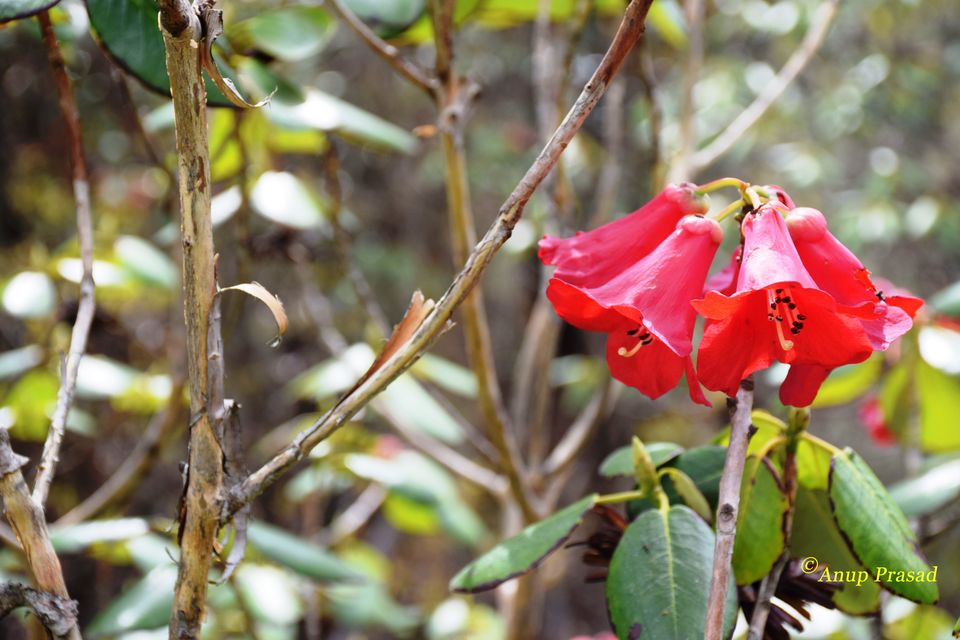 The road to Yumthang Valley will show you the ruminant of devastating earthquake and huge landslides as well as glimpses of paradise on earth in the form of calm blue river, very high waterfalls and gorgeous snow peaks in backdrop.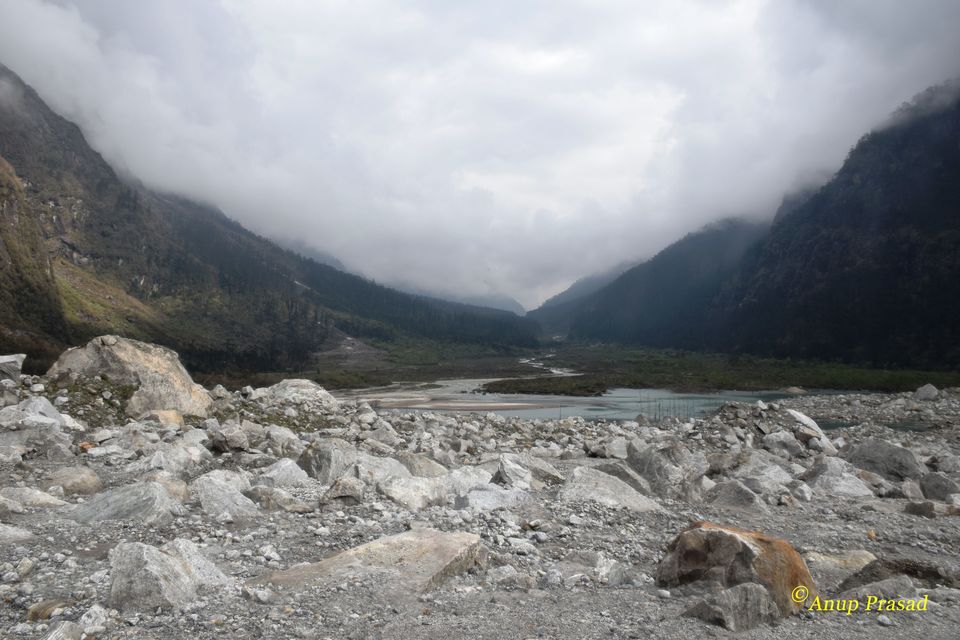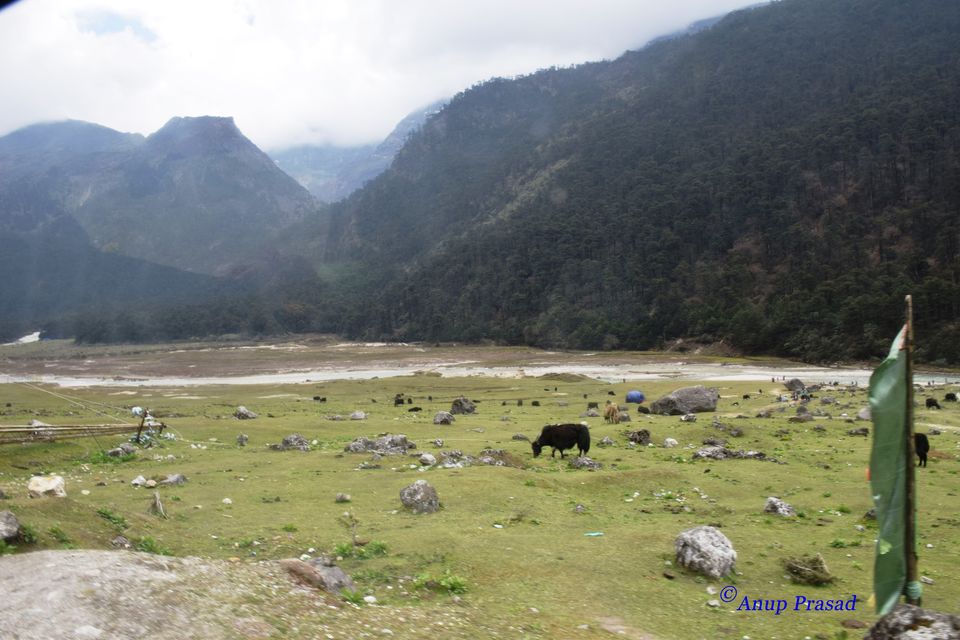 Yumesamdong (Zero Point)
From Yumthang, we proceded further towards Yume Samdong (Zero Point) to embrace snow laden mountains tightly. The roads are curvy and not so well maintained, but who cares of road, when the reward is so mesmerizing.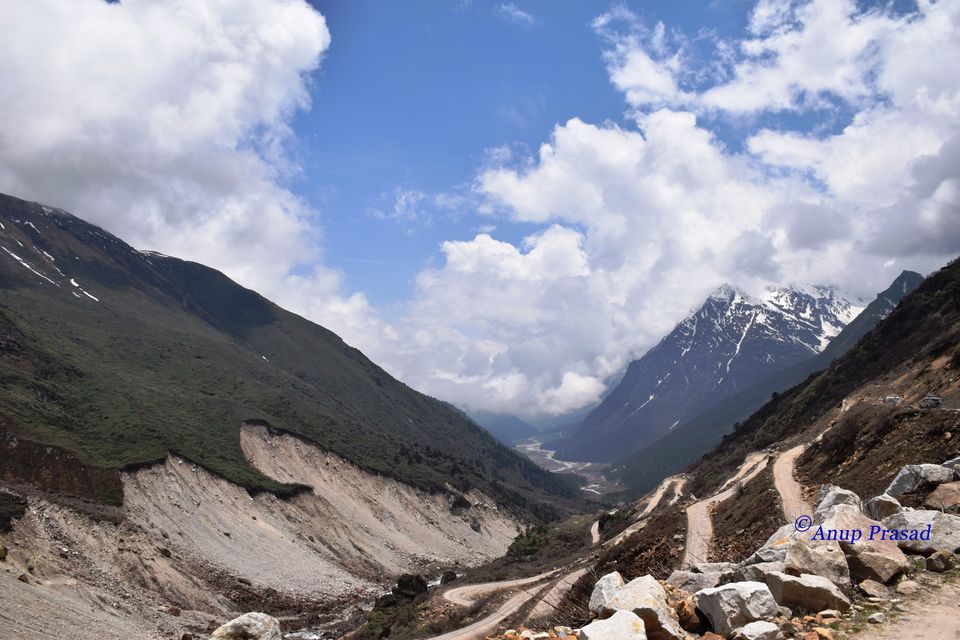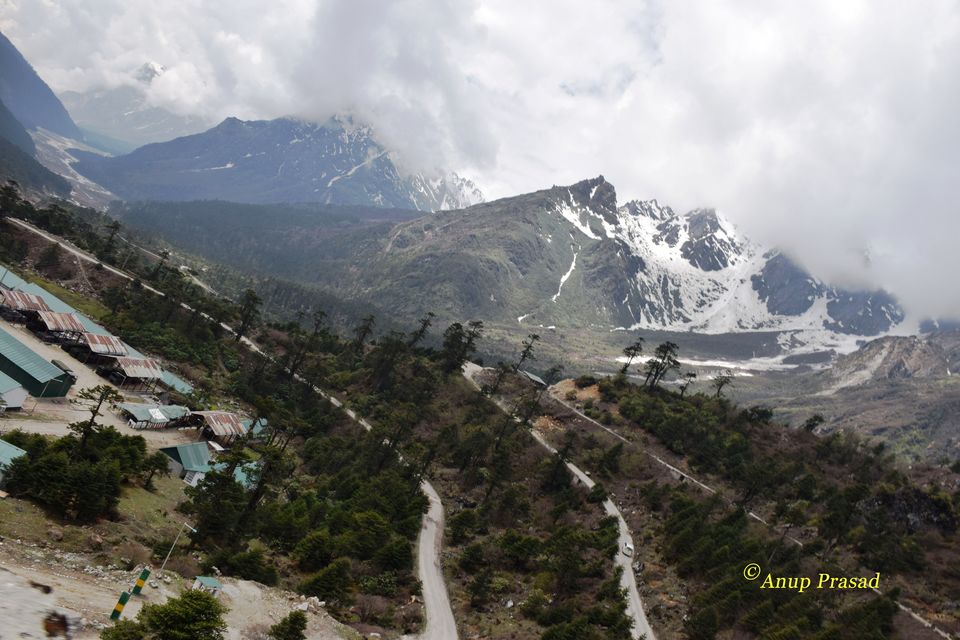 Zero point is all about snow capped mountains, small frozen lakes, Teesta meandering in deep gorges, carpet of bloomed flowers and silence to be heard.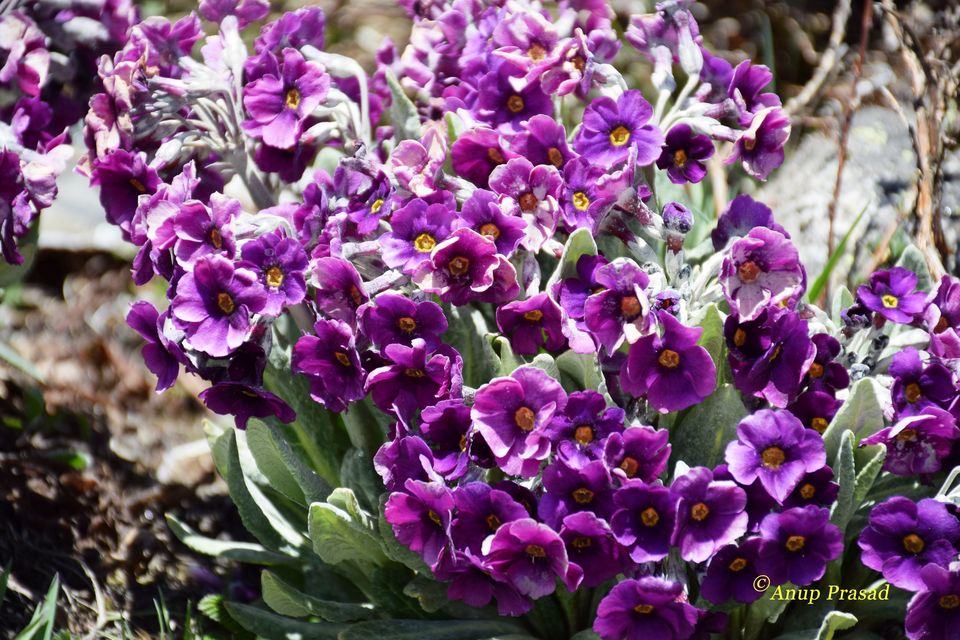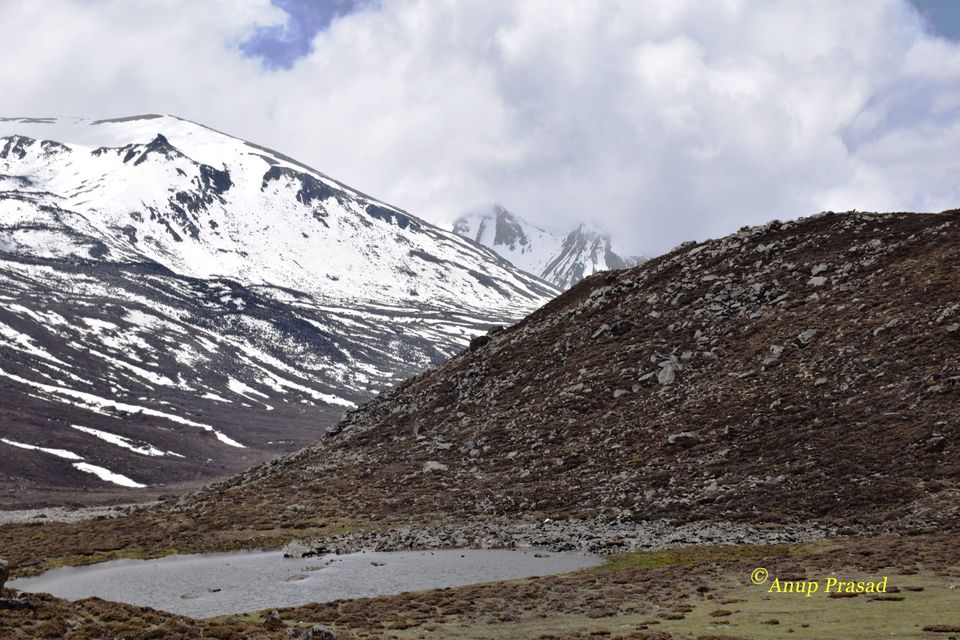 Zero point is like a meeting with nature, where we get to know, how insignificant we are as compared to divine nature.
Back to Gangtok
With loads of beautiful memories and experiencing divine, we returned back to Gangtok.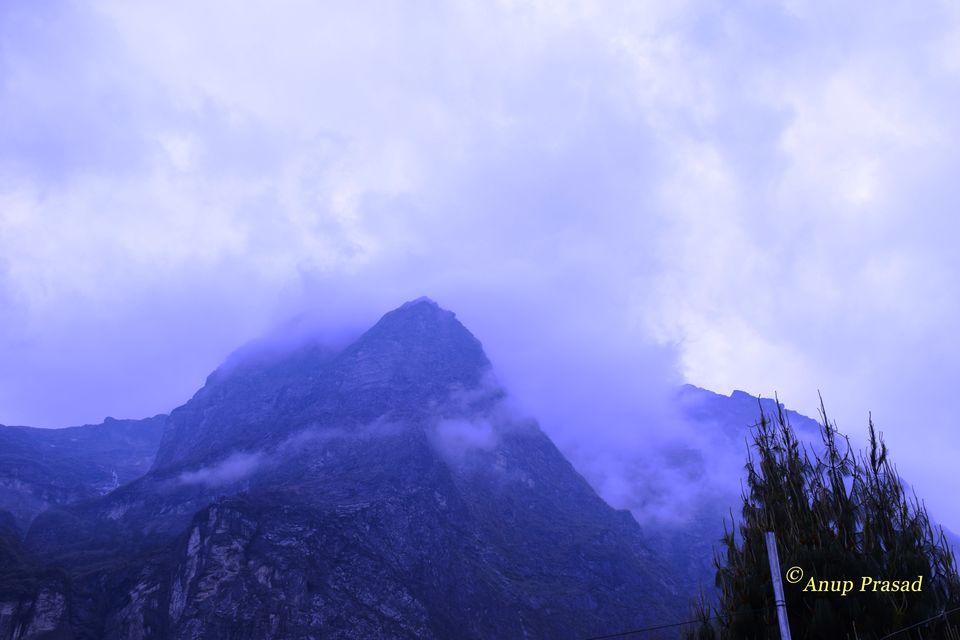 Frequent Searches Leading To This Page:-
transparent lake in sikkim,North Sikkim Tour Package,High Altitude Lake In Sikkim,the highest lakes in the world,the highest lakes in India