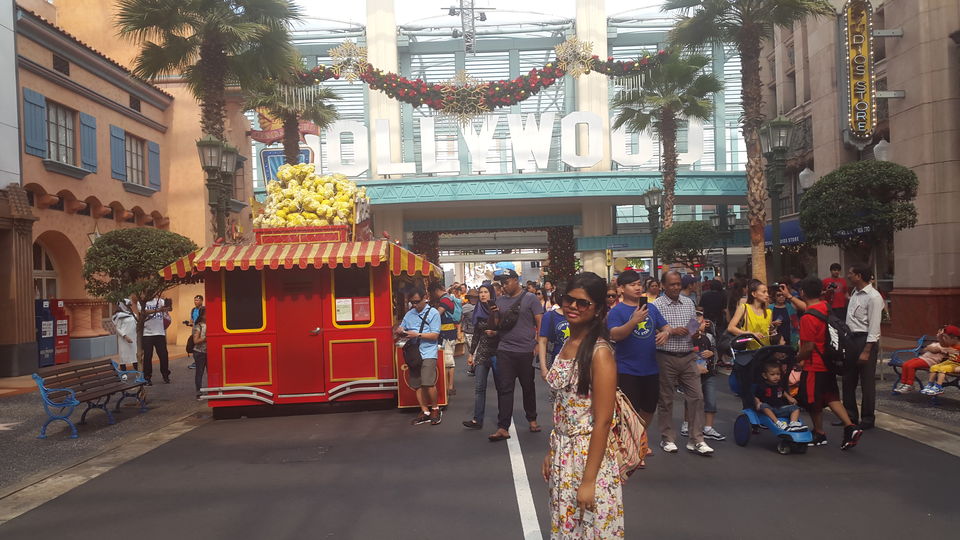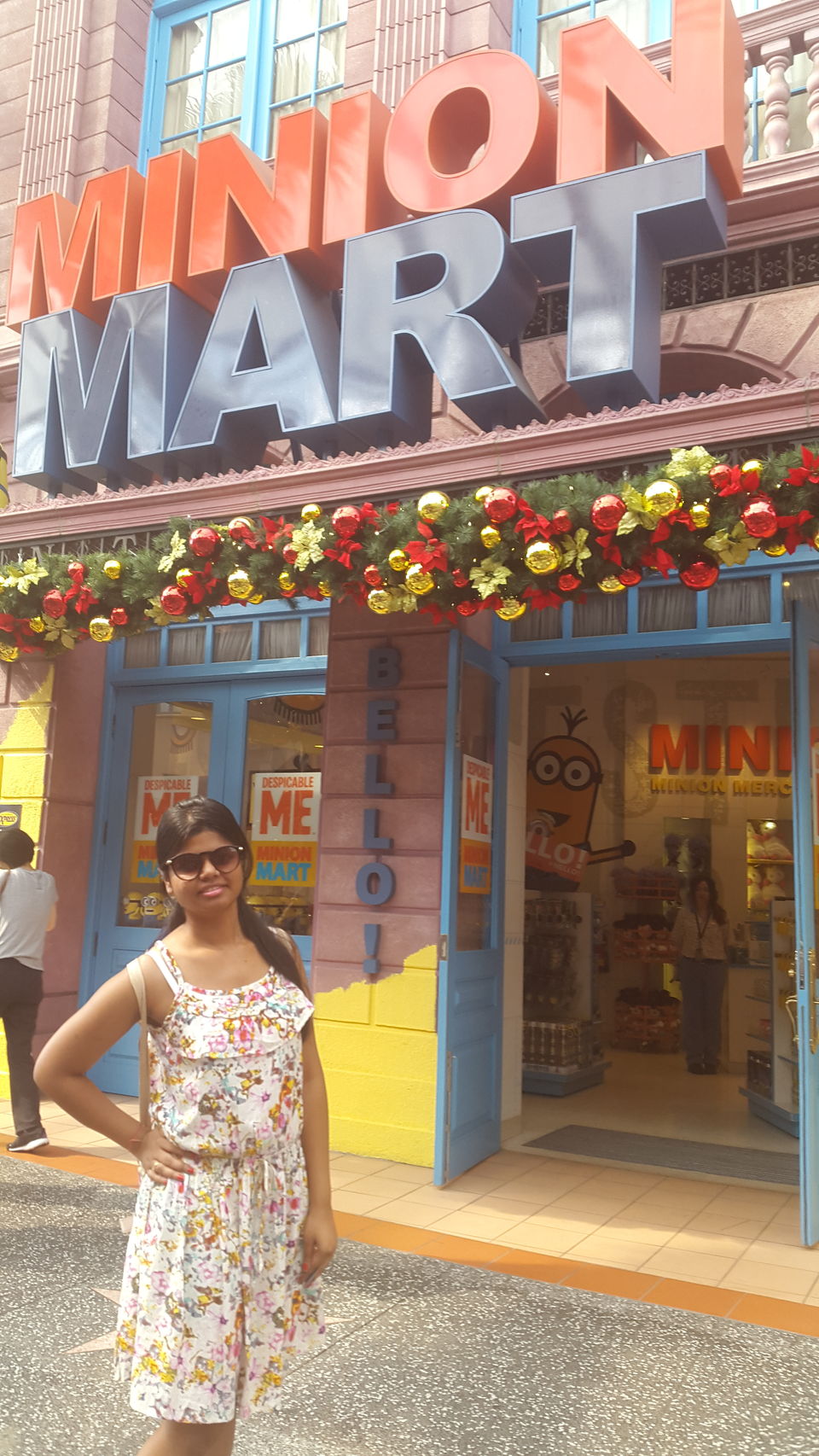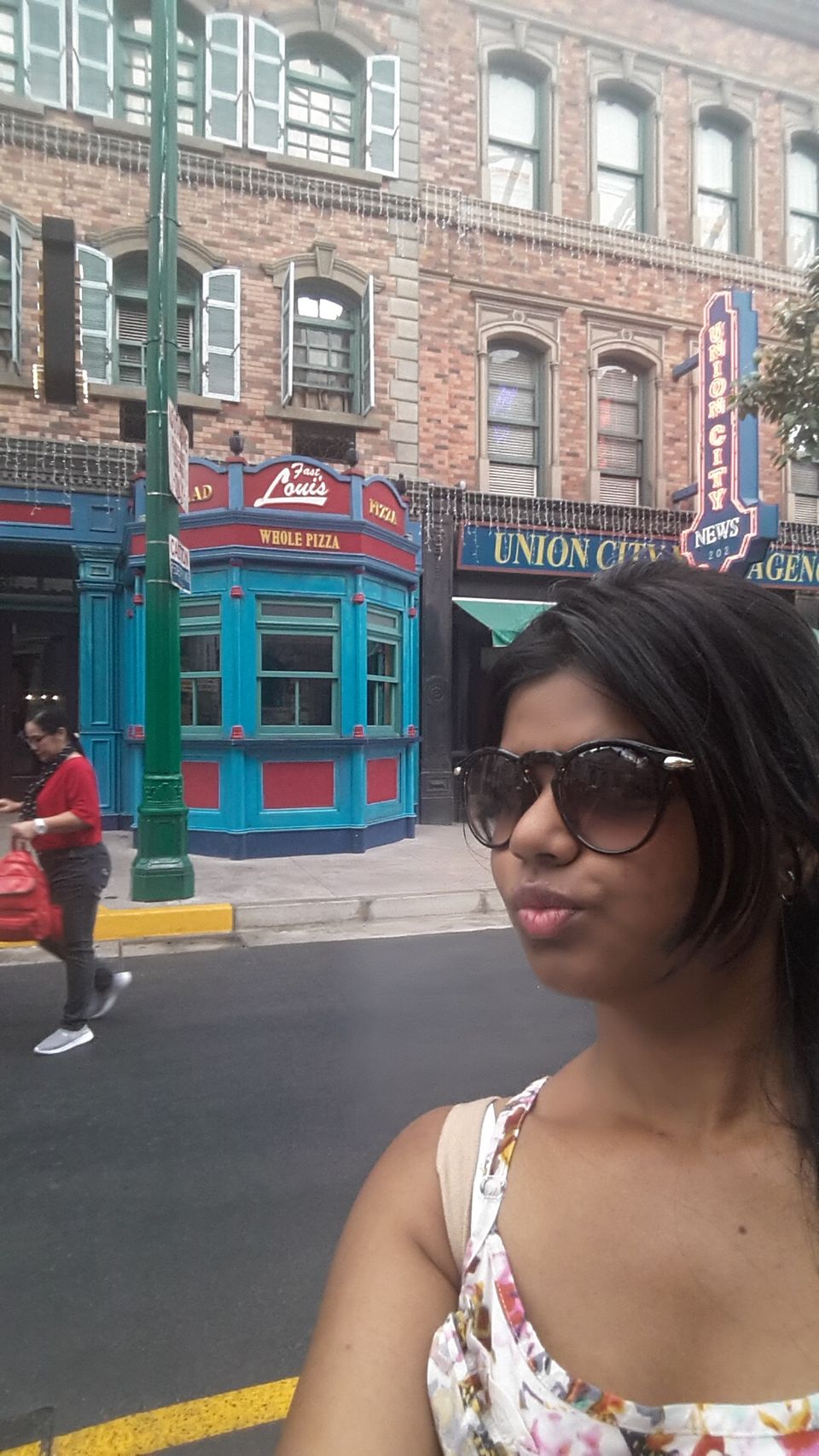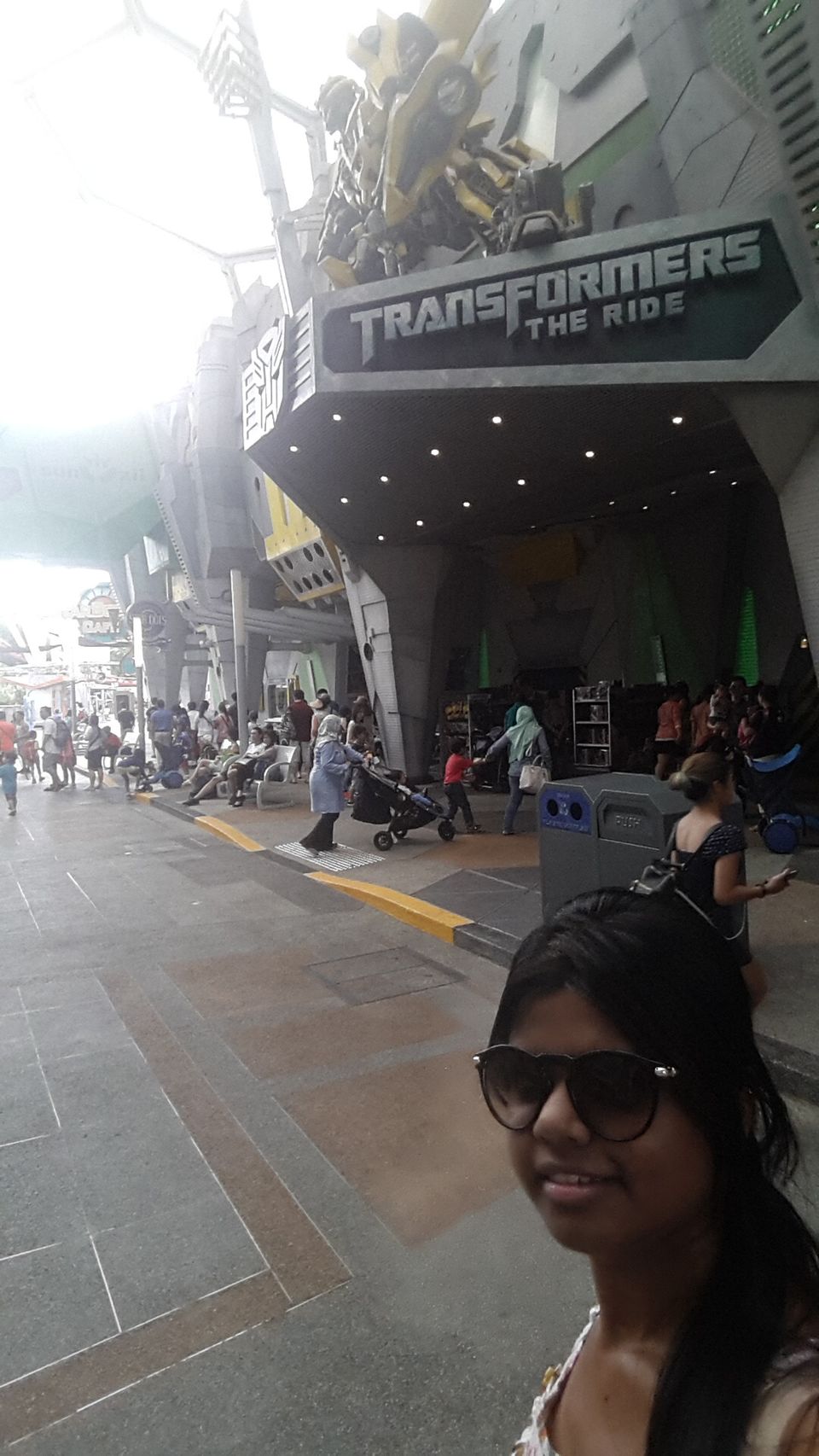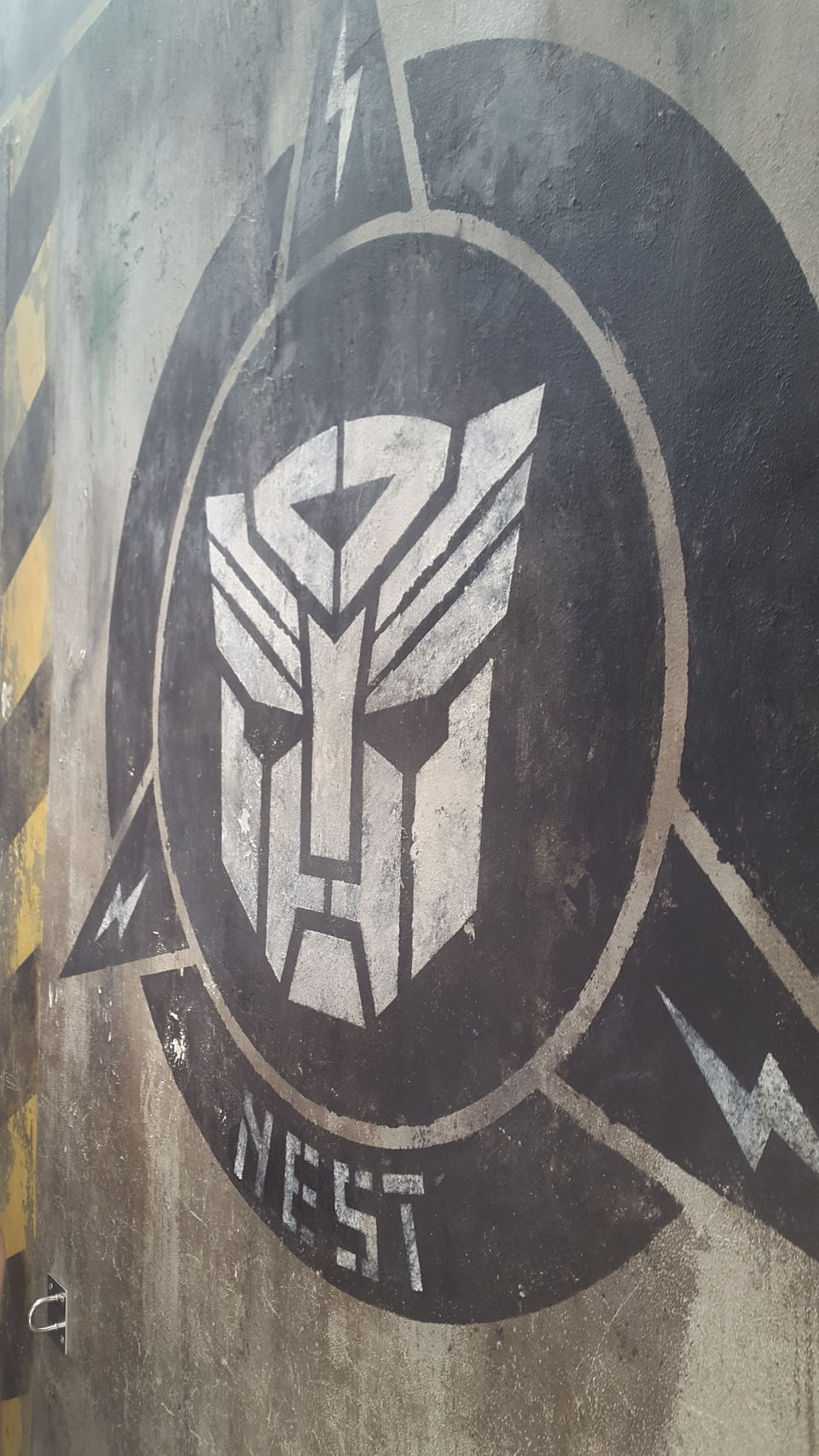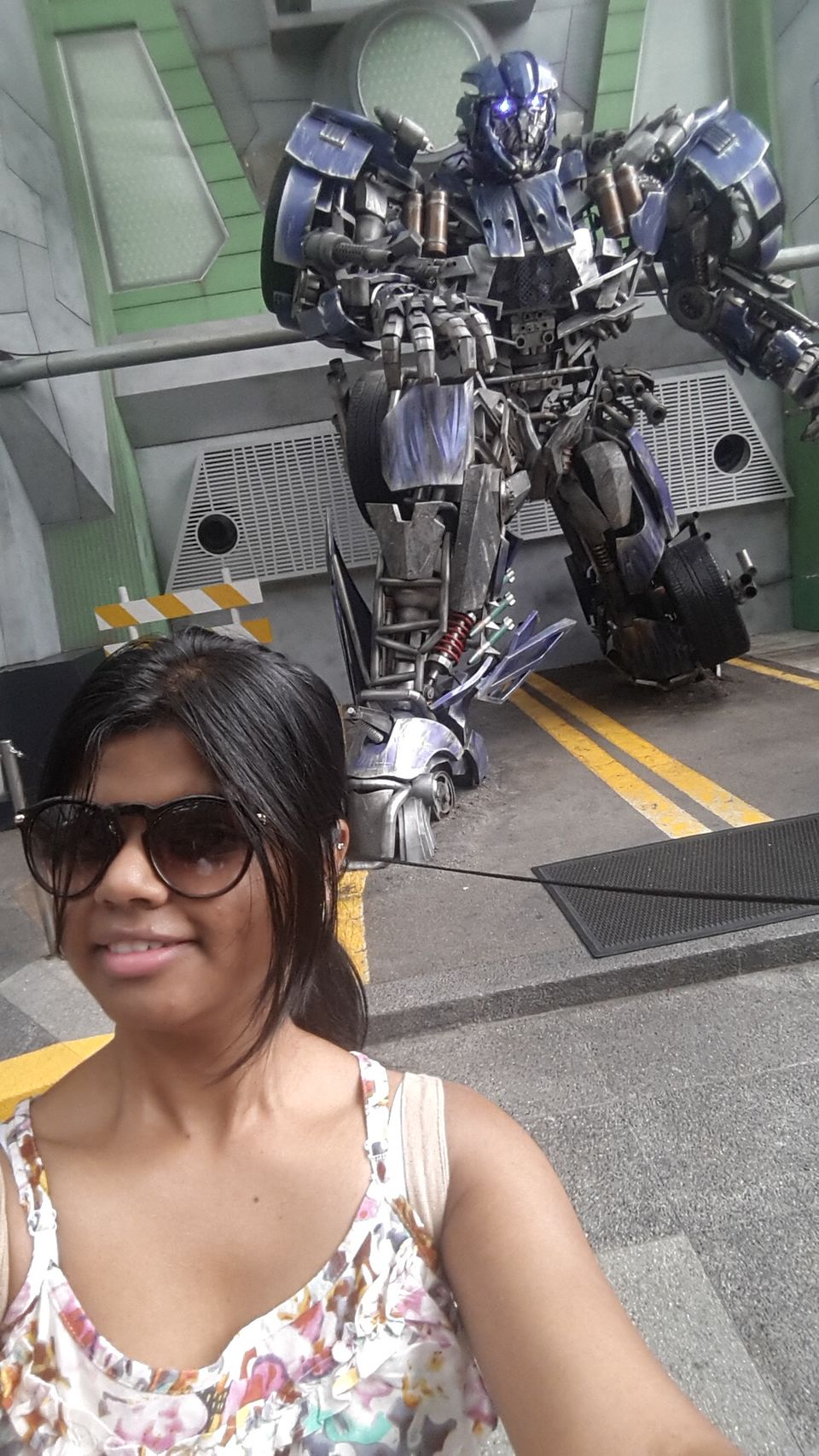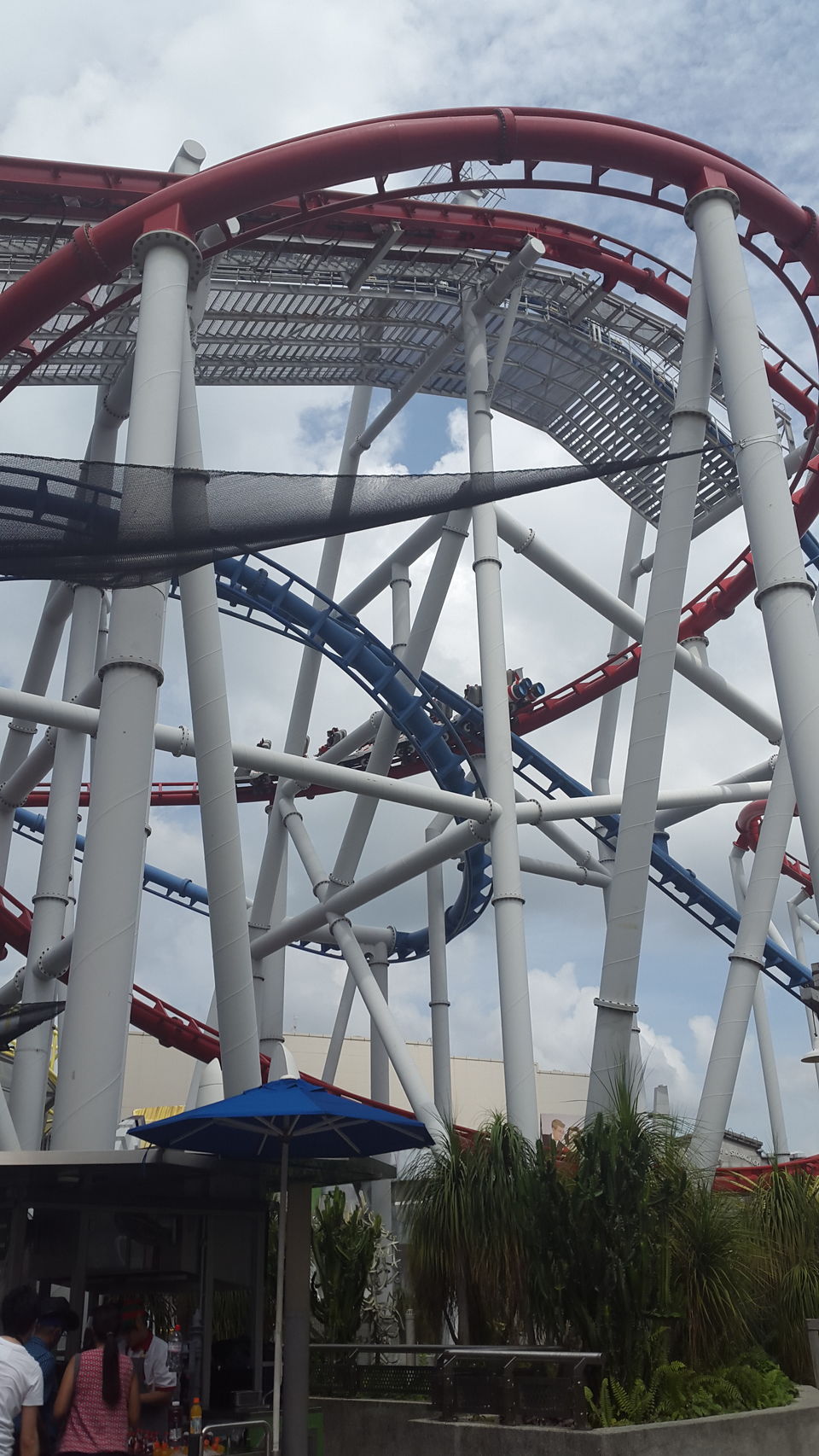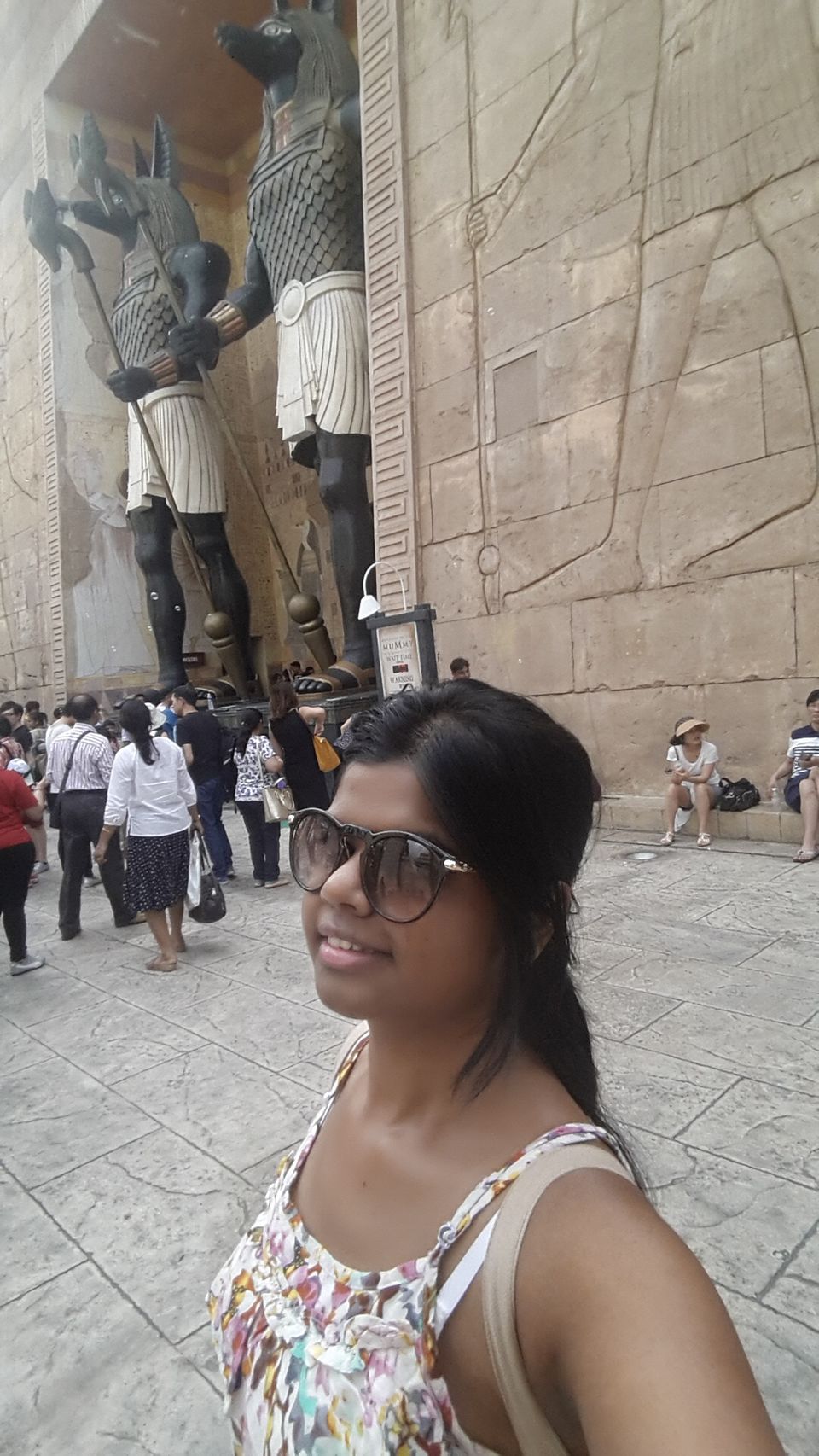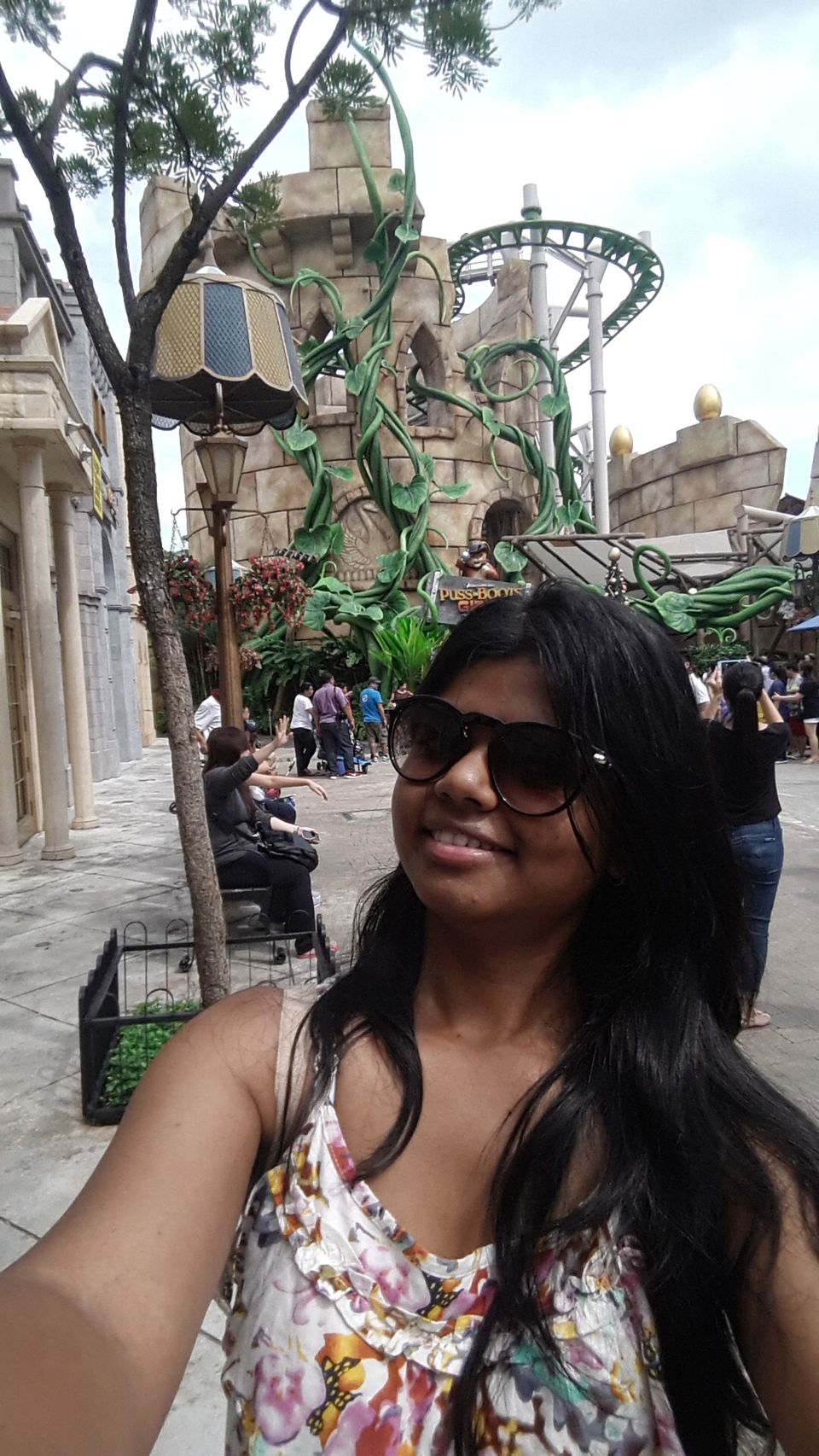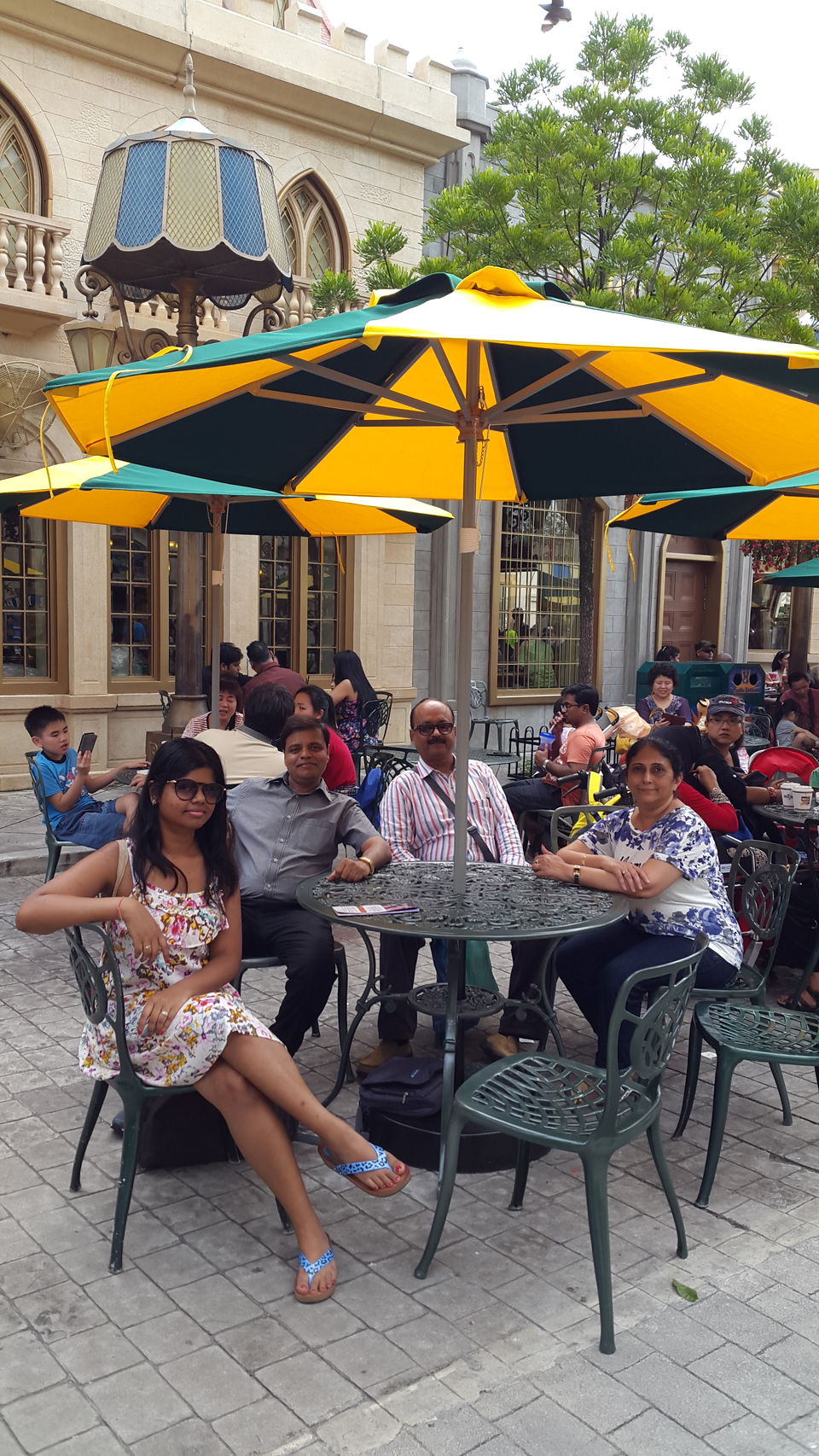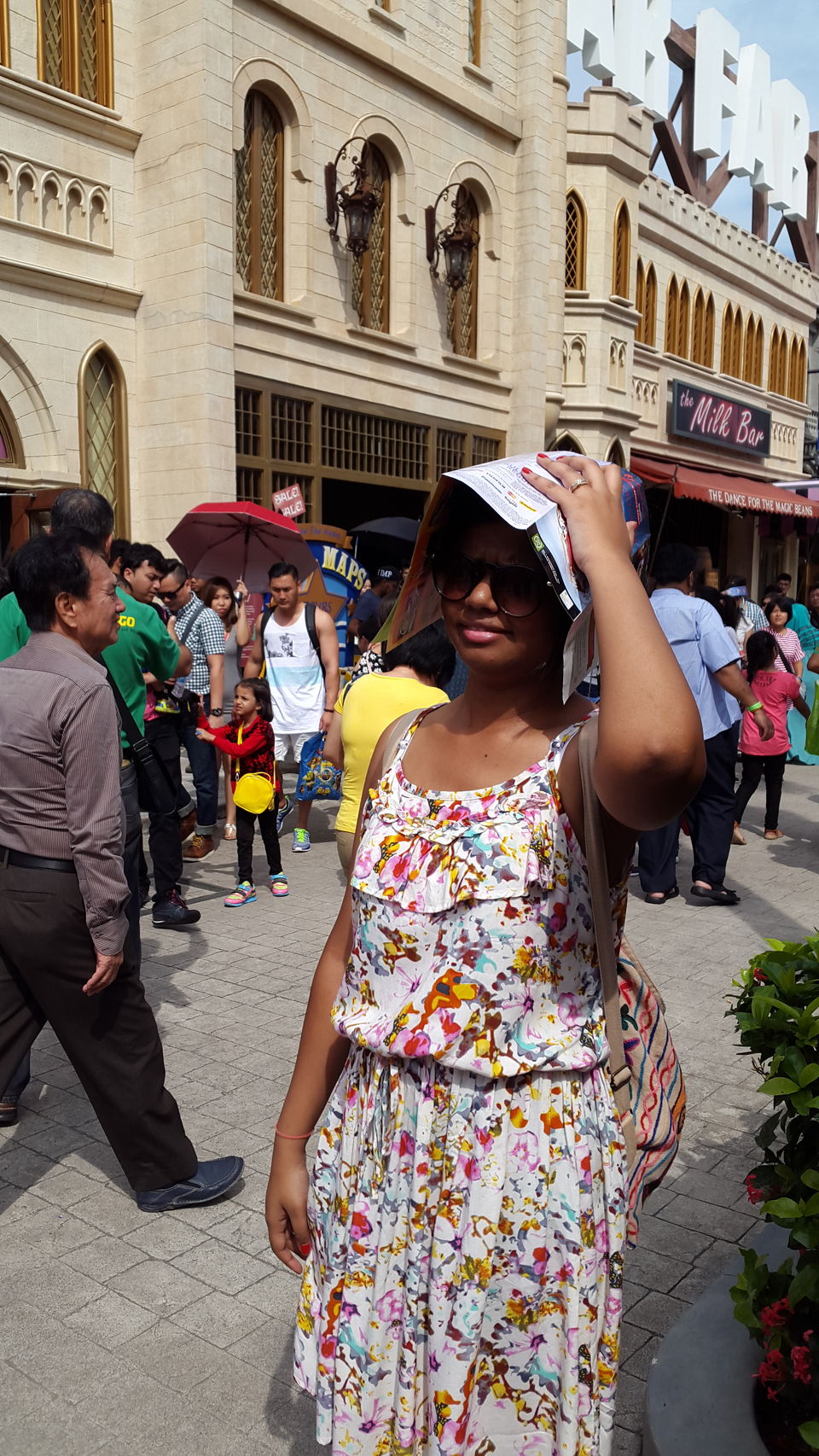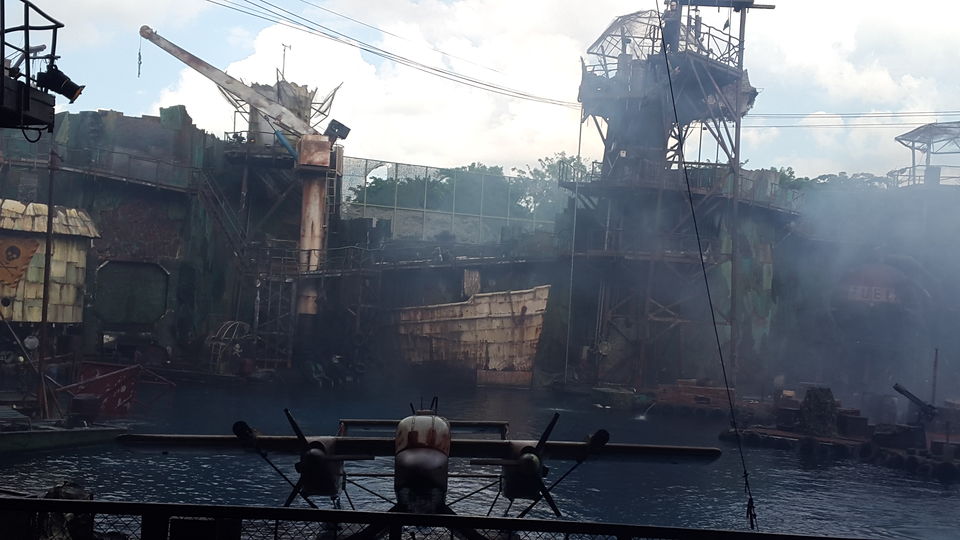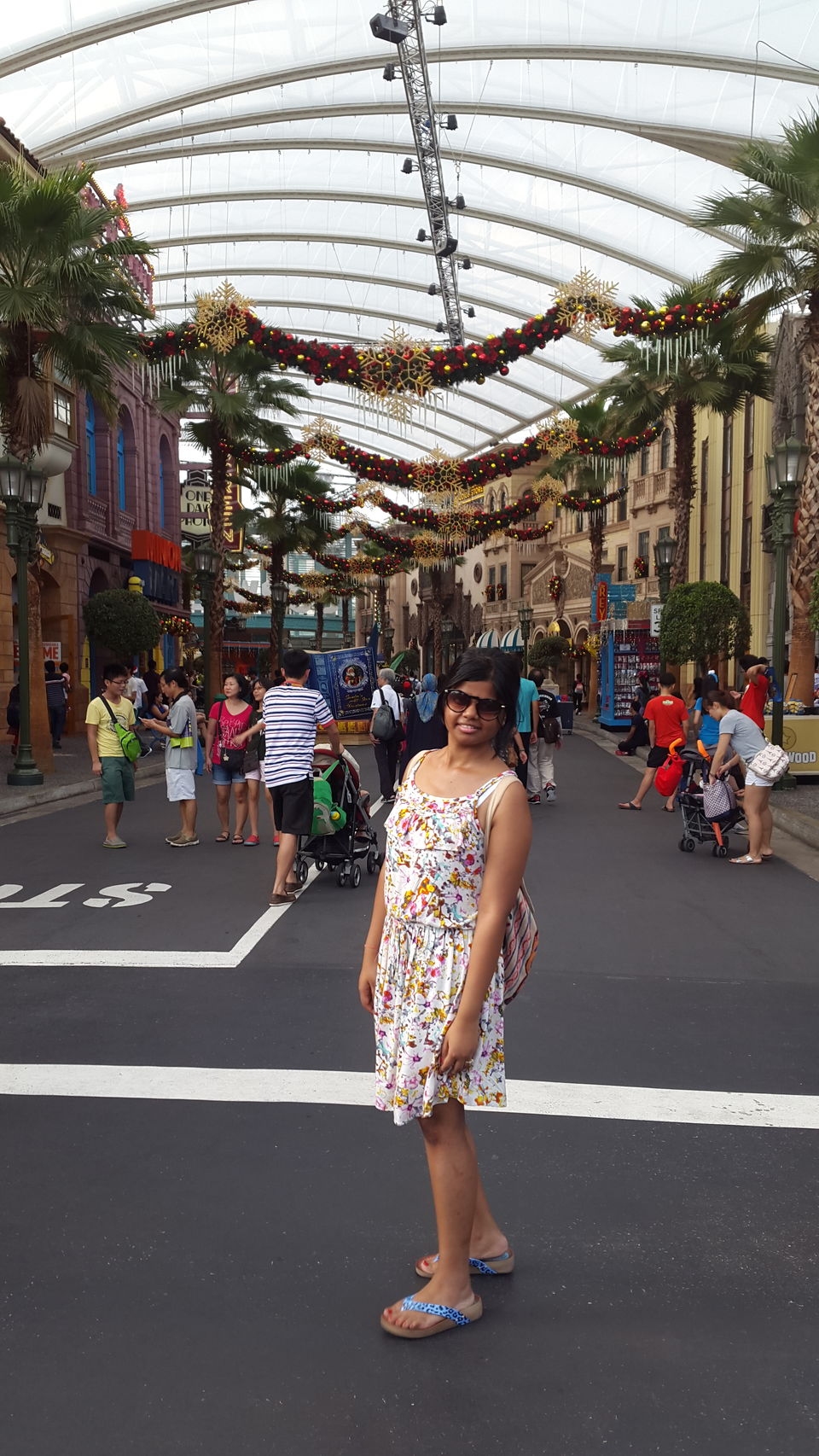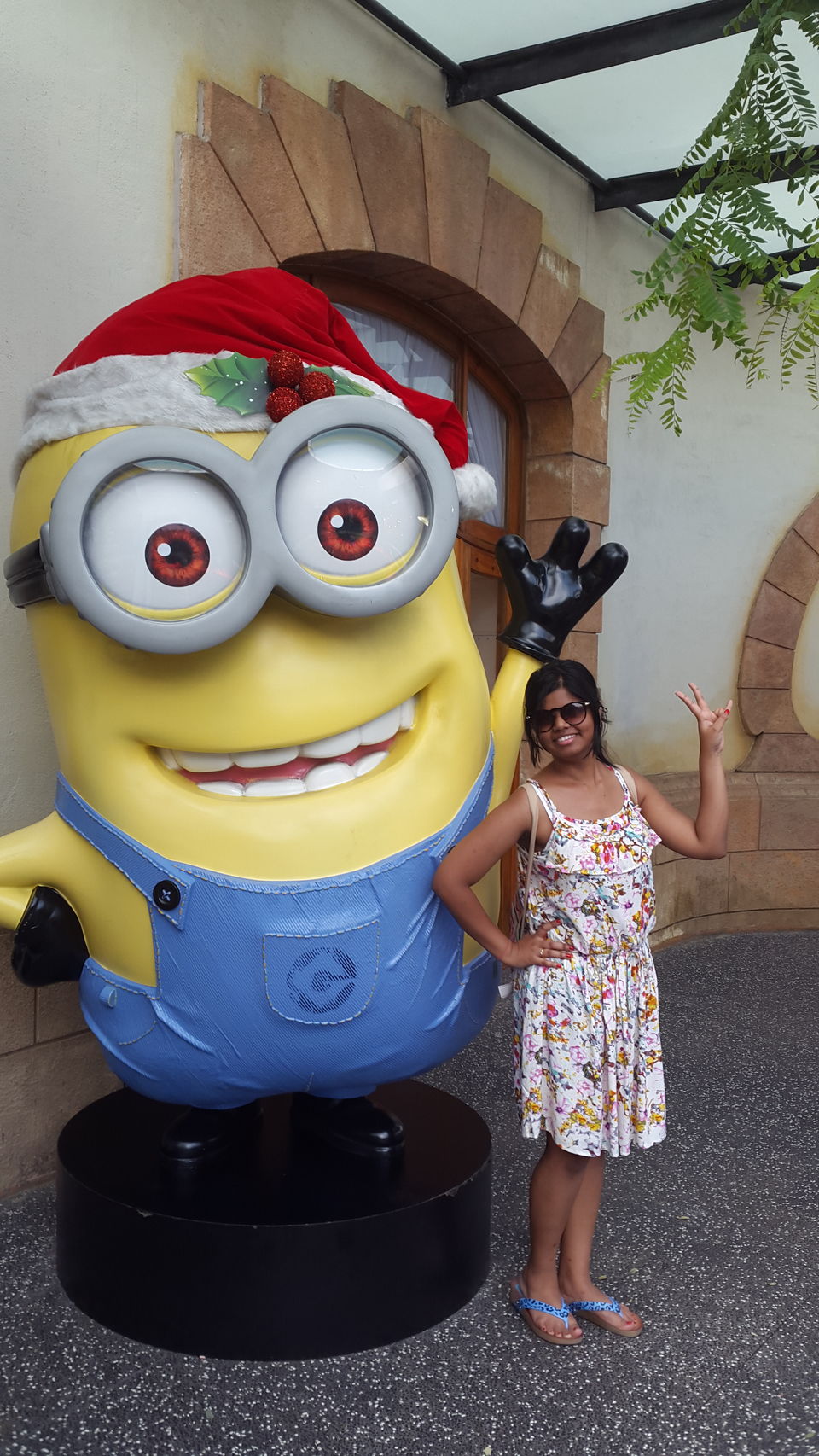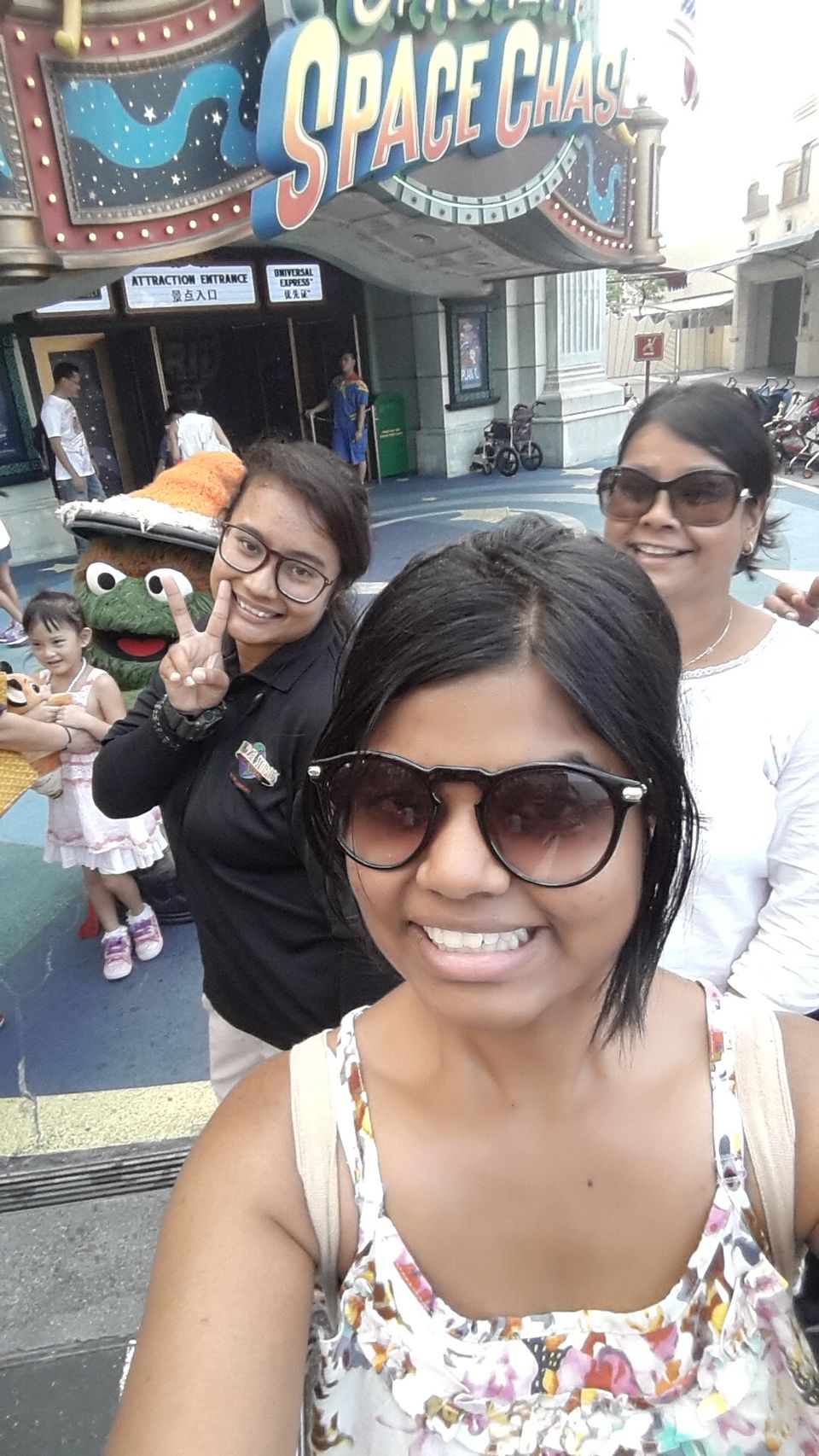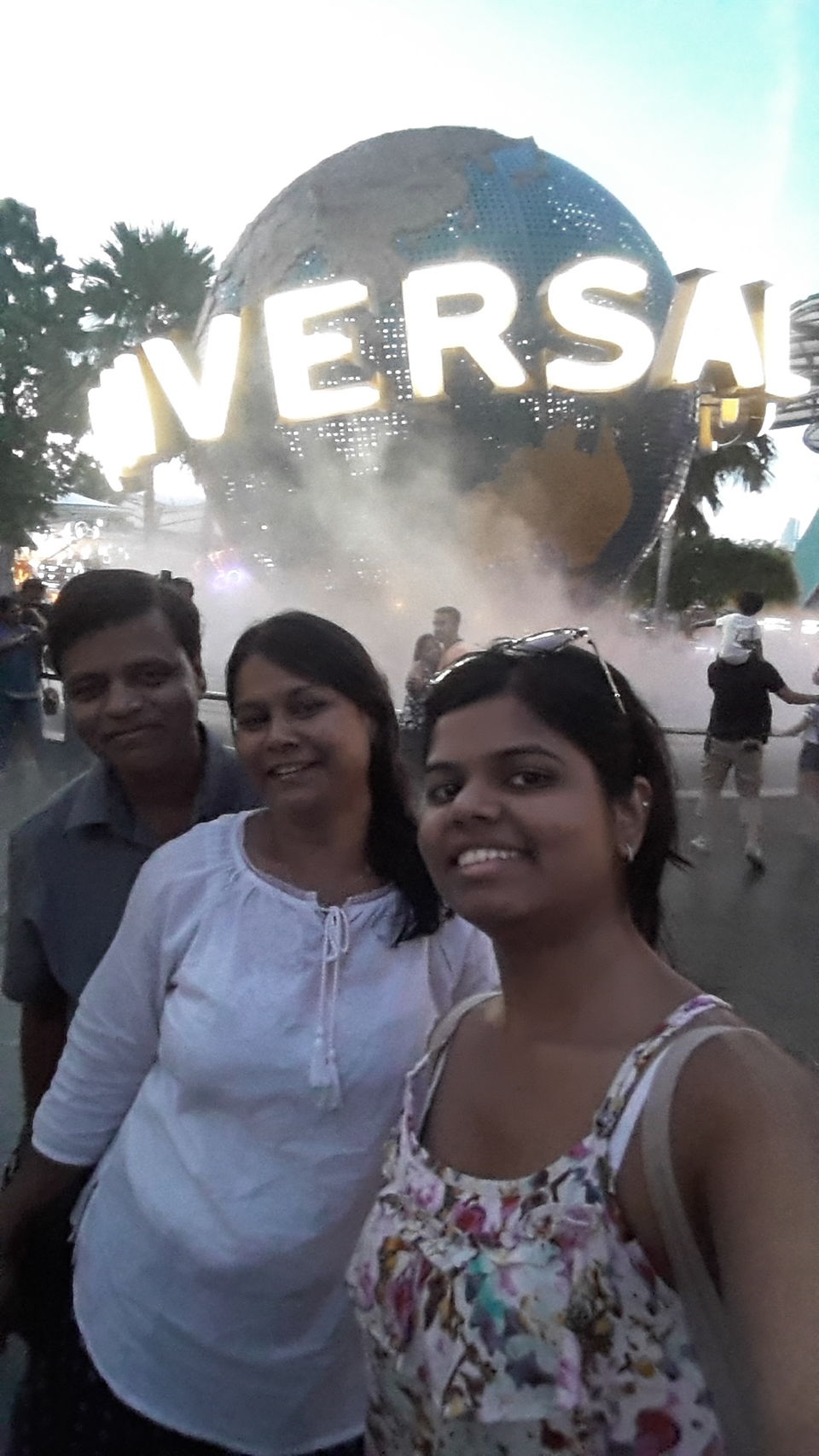 Entering the gates, all draped in red and green, balls and flowers, bells and lights, I felt like a child lost in a Christmas wonder land. But this wonder land is different, it's Universal Studios Singapore!
Built by the famous Universal studios, a theme park in Sentosa islands Singapore, this 49 acres huge, circular park with a ticket of S$74, is craziness at its best. A one of its kind theme park in Asia, held its grand opening on 28th may 2011, and since then all remains history.
I landed in Singapore on the Christmas weekend, so the town was all dressed up in santa colours, making it all christmassi. I had only listened about how fantastic is universals but, you can't believe until you see!
The bus drops you down in parking and guide instructs you, enter from right side of the globe. Now the epic globe, how do I describe it! A revolving empty blue and green globe with UNIVERSAL written on it in bold white lights. All going mad to take one pic, with UNIVERSAL and they coming in one same alignment, even I went crazy! Coz its breath taking and in night it turns magical.
After a photo spree in front of the globe, starts a selfie spree, it's time to enter inside the UNIVERSAL STUDIOS.
A note, please do take a selfie stick and if you don't have, buy it! Coz I missed it!
Some information time, Universal studios is divided into 7 sections, if you start from your right it starts with Hollywood, Sci-Fi city, Ancient Egypt, Lost world, Far Far Away and lastly Madagascar, all Universals classics. All sections have rides and shows which I will recreate here.
Now starts the wonder land, when you enter, you enter the Hollywood Street. You in front and Hollywood at your back, feels like a superstar walking the road. Ok, main attraction remains Broadway-style theatre, several restaurants and a variety of flagship shops specially Minnion Marts! The broadway theater is now showing the Sesame Street. I saw the show which was about saving Christmas, a 5.40pm show. Seeing Elmo, Grover, cookie monster, Abby, I felt like I am six again. Dancing and singing Christmas was saved and santa got his red nosed rein deer. And yes I got a selfie with hamburger too!
Moving on, my first ride was in Sci Fi city, the TRANSFORMERS ride. An epic movie and a much more epic ride, I would say a star attraction. It is a 4D, not a rollercoaster, but a rollercoaster ride. The drama starts when you enter the NEST Lab. All around you are metal doors, caution signs and the Optimus Prime. Its theme is, you a NEST fighter and have to save the world with Optimus Prime. Nothing is disclosed until you be seated in the car of 12. Now when the car starts, glasses on, and optimus in front, the adrenaline gushes into your body. The car goes front and back, up and down, at once bullets are coming and next you are falling from a high rise building. The epic moment is when the boom explodes and you literally feels the heat. Incredible is the only word I have.
After completing the mission Transformers, we head to the Giant Gelactica. Now, it is a rollercoaster and a 360 degree rollercoaster. Now before going just wait and watch the ride and then decide, because for weak hearts like me that big giant gives gitters. So the verdict was a NO Gelactica, but for more strong hearted people, it's a thumbsup!
Next on the list was Ancient Egypt. The sound of snake charmers and belly dance were all around. With mummies and their guardian soldiers welcoming you, you feel the Ancient Egypt. Now there is not much here, two rides one café and a retail outlet. The star Attraction is Revenge of Mummy Ride. At first I thought it would be a show, coz it didn't have the map, but entering a queue of 10 min waiting, a read the board and it said, a high speed rollercoaster! Now I had two choices either to go forward or run away. But this time, I took a deep breath and went forward. The enclosure of ride is actually like a pyramid, an excavation site, gold coffins, mummy all around, dim lights, dust ropes and the Book of Treasures to be found.
After 10 min comes my turn. I sat down on the coaster and the seat gets locked. The coaster starts, at first straight in front, and then demon comes a curse us, and suddenly we are dragged back! Now that was heart in your mouth moment! Awesome I would say. And then I don't know, it went in all the directions here and there bottom up, back and forth. And at last we find the Book of Treasures. Bottom line is, the ride is compulsory for all!
In Ancient Egypt there one more ride the Treasure Hunter, it's a simple jeep safari of excavation site, as I went there on a Christmas Sunday the wait time was 70 min, so to experience others I had to skip it.
Next comes the world of Jurassic Park, the Lost World. The park area is based on the Movie Jurassic Park. When you enter the familiar theme song of the movie comes around and you feel like you are ten again. Big sized dinos or rather all types from tyrannosaurus Rex to Stegosaurus, I felt like coming to real lost world. For me lost world started with the star attraction, Jurassic water Rapids. Now it is a water raft ride. The caution board says, you get wet, and possibly be soaked! This creates a lot of anxiety as I can put, in people, as to they will get soaked. But you will not, I would say a little bit but that you can manage.
The ride had a waiting of 90 min and after that 90 min comes our turn. A circular raft that turns all around the artificial river with dinos all around. Moving around, attacking you, just like we saw in movie. The dinos do nothing but would shower water on you, its kind a scary when you in a dark room and an elevator comes drags you up and the Rex is up waiting for you, with all its jaws open!
Till this time you are just wet. But as you complete the zig zag ride, they soak you in water! A worth it dino world. Other rides include a canopy flyer for bird eye view of the park and some retail outlets.
Near to lost world is the Water world show. Now there are two shows that are currently running, 4pm and 6.15pm, so manage your time accordingly. I went for 4pm show. The experience of this show is kinda difficult to put in words coz it has drama, action, romance and water splashes! I would not tell you the story coz then all the suspense goes out. Would tell you just that it's the best live show I have ever ever seen. A must watch.
After a thrilling experience of water world show, it was time for Far Far Away, a fantasy land of universal studios. The most recent addition being of Puss in the Boots and the classic Shreks. The rides include Puss in the Boots' gaint journey, a suspended roller-coaster ride, which will give you feel of anti-gravity. Actually it is the only ride there, others include a 4D sherk movie, donkey live show, all happening around the day. So select what you wanna do.
Next we went for Madagascar. Now you know Madagascar, the movie is itself so fascinating that its park was a treat to explore for. Madagascar has only two rides and both are a must. One is a carouse ride called, king Julien's beach party go around. It goes up and down round and round, awesome.
And the other is Madagascar: a creative adventure, it's a boat ride, a basically it tells you the story of Madagascar movie with four heroes Alex, Marty, Melman and Gloria but with a twist of effects and falling water. It's like experiencing the fighting with the heroes together. Both the rides will give you a different and an unforgettable experience that would come in your dreams too!
Lastly one more, it's not a ride but its Lights Camera and Action, with the legend himself Steven Spielberg. The 10min show tells you how the scenes are created in Hollywood or any film industry in a closed studio. How sound and effects comes together to create magic of two and half hour movie! A must to watch!
When I was about to leave, the Hollywood dream parade started, and my pretty little Minnions danced. Ohh they are so cutie. With them all other characters Alex, Gloria, Puss, Sheks, all came to life. Just Spectacular!
Universal studios is a universe within a universe. It's a fantasy come true for freaks like me, who can run around all for from Transformers to Minnions and from Madagascar to Marline Monroy. It has it all. The feeling cannot be expressed in words more than I have, it's an experience, an experience of a life time. Go and have it all!
Frequent searches leading to this page:-
Singapore and Malaysia package, Singapore tour packages from Mumbai, Singapore Malaysia tour packages 5 days, Singapore tour package with cruise, Singapore family tour package with airfare, Singapore Malaysia tour package with cruise