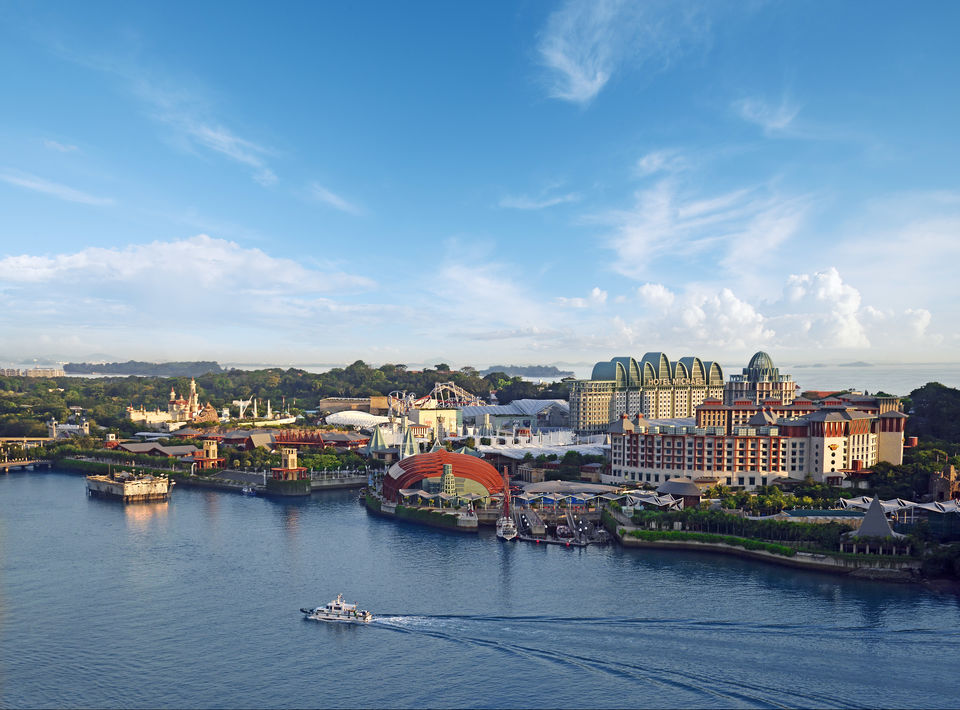 The beautiful island country of Singapore is replete with fun activities for both young and old encompassing charming heritage from its unique blend of cultures, mouth-watering cuisines from all around the world, attractions that rekindle wonder and a shopping scene that never disappoints—making it the perfect destination for all kinds of travellers. Singapore was on the cards for my family as soon as it opened up for Indian tourists.
We all excitedly drew up bucket lists of the places we wanted to visit. As for me, I have always wanted to slide down the spiral ride in the water park at Adventure Cove Waterpark™ and explore one of the world's largest aquariums, the S.E.A. Aquarium™ with more than 100,000 marine animals as well as watch my favourite childhood movies come to life in Universal Studios Singapore! My Pinterest board was overloaded with the best Instagram picture spots at the Resorts World™ Sentosa, Singapore. With so much fun and adventure on offer, it was the perfect place to spend several sunny, fun-filled days with our family.
Without further ado, let's dive into this thrilling account of our vacation at Resorts World Sentosa.
Our Three-Day Adventure in Singapore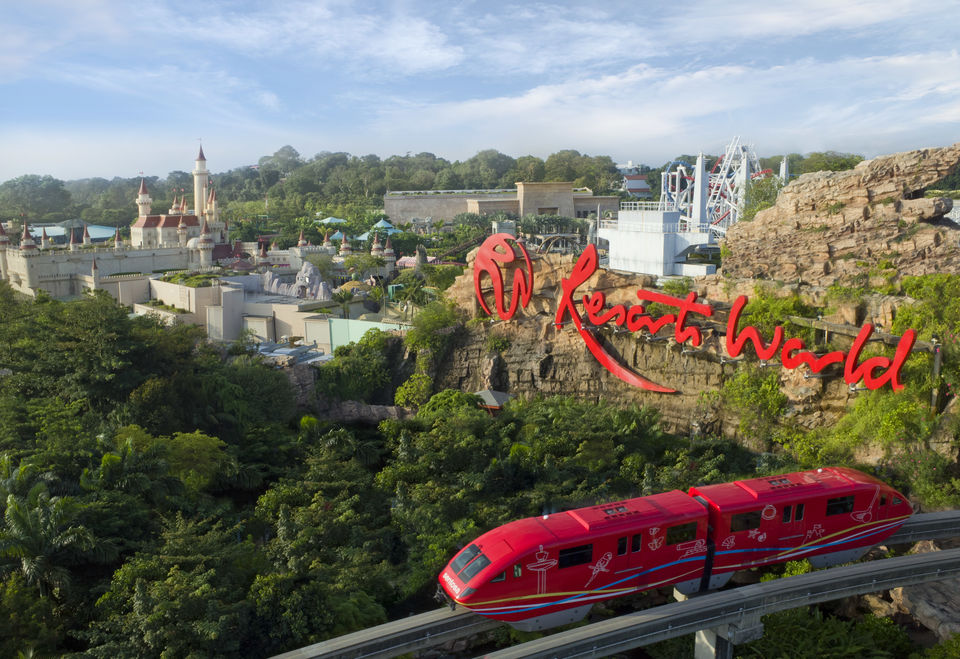 Resorts World Sentosa is located on Sentosa island, a gorgeous waterfront location in Singapore which is only a short ride away from the airport. On our way to Resorts World Sentosa, we took the Sentosa Express monorail which takes you from mainland Singapore to the integrated resort. Aside from the sheer convenience, the view was just mesmerising, with the harbour on one side and the glamorous resort destination on the other. Upon checking in, we relaxed and walked around, soaking in the sights and sounds that the resort had to offer.
A World of Adventure at the Universal Studios Singapore – And It Begins!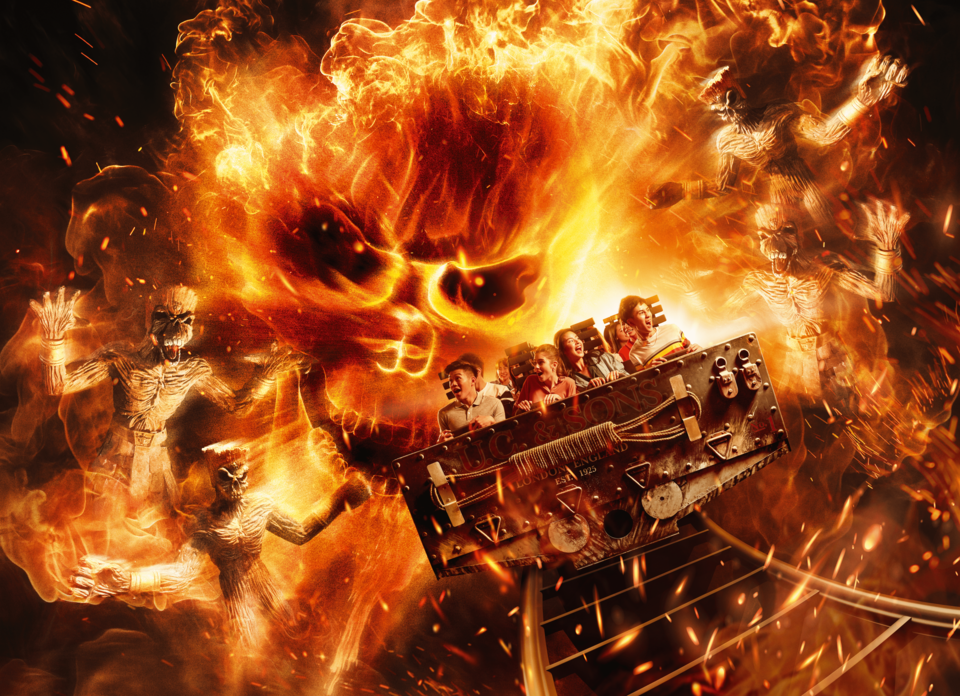 And the much-awaited day was here!
After a well-rested night, we all woke up early on our first morning and relished breakfast from a buffet spread within the hotel. With mounting excitement we raced to Universal Studios Singapore, where the theme park is divided across several zones - Sci-Fi City, Ancient Egypt, New York, The Lost World, Far Far Away and Hollywood. We commenced with none other than the Sci-Fi City - home to adrenaline-inducing rides and a futuristic metropolis for starters. My parents were excited about the live shows, but my cousins and I raced right to the rollercoasters!
If you are someone who isn't scared of heights, I highly recommend going on Battlestar Galactica: Human vs. Cyclon, a high-speed roller coaster with twists and turns that'll leave you feeling exhilarated. As they say, you should face your fears, and this ride was worth it. We created hilarious moments with my cousins as we screamed at the top of our lungs.
With several history buffs in our group, the next zone we explored was Ancient Egypt where we clambered on the 'Revenge of the Mummy', an indoor roller coaster. If you love surprises, this ride will not disappoint with fireballs, scarab beetles and warrior mummies emerging from the absolute darkness that surrounds you. Next on the list was the one the little ones were eagerly awaiting to enter, Jurassic Park - The Lost World. We witnessed the hatching of a baby velociraptor, as Dr Rodney, a palaeontology expert at Jurassic Park explained to us the different stages of dinosaur hatching from 75-million-year-old DNA!
And once all our adventure rides were ticked off, we decided to rest our feet. My parents wanted to rest for a while indoors so we decided to immerse ourselves in the fairytale honeymoon adventures of the 'Shrek 4-D Adventure' show set in the land of 'Far Far Away' with green ogres, the gingerbread man, an evil fairy godmother and a goofy donkey. With sensory effects like seat jumps, water sprays and air blasts, we felt like we were a part of the adventure! Our last stops were New York and Hollywood, where we strolled around the Walk of Fame and snapped photos with characters from Madagascar.
During our fun-filled day at Universal Studios Singapore, we mindfully took small breaks in-between rides to walk around, shop for souvenirs, take a lot of pictures and grab quick snacks. Ending our first evening with a spectacular sunset, we relished some food at Oasis Spice Cafe taking our pick across several biryani sets.
Our feet were tired from exploring the vast Universal Studios Singapore, but we were still excited for what was in store on our second day.
Gazing Around in Awe at the S.E.A. Aquarium™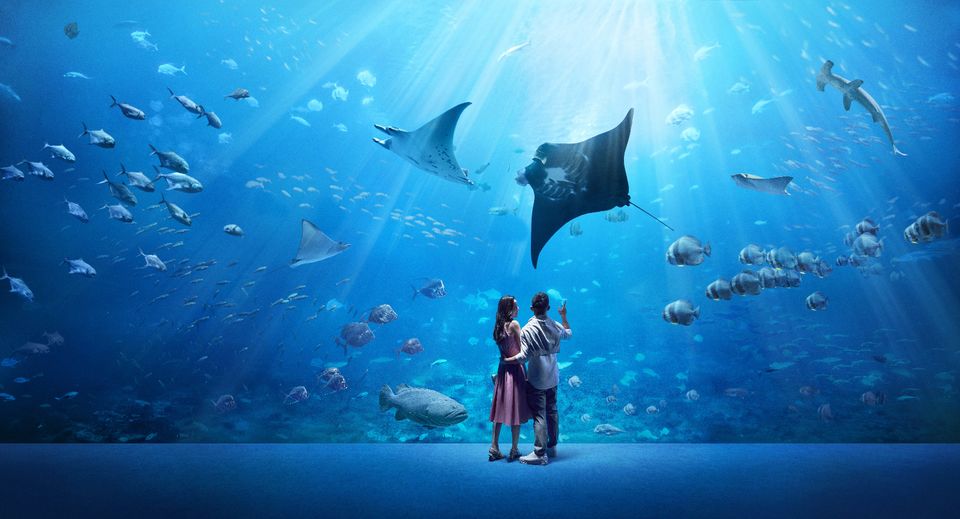 After an amazing start to our holiday, the second day called for some relaxing vibes. I was excited for my parents to finally experience something we had only seen on travel shows. After a quick breakfast, we made our way to the S.E.A. Aquarium™.
You can only gaze around with wide-eyed wonder at this massive aquarium with over 100,000 marine creatures in their unique habitats. It was a treat seeing my mother's face light up as we entered the Open Ocean Habitat, the centrepiece of S.E.A. Aquarium, where we got to observe over 40,000 marine creatures through one of the planet's largest windows to the ocean with a floor-to-ceiling viewing panel. We joined a guided tour aptly titled Behind the Panel and were all left spellbound upon finding out how much care goes into the well-being of the marine animals! From manta rays, giant groupers, scalloped hammerhead sharks and leopard whiprays to Javanese cownose rays, seeing all the fascinating marine life was a novel experience for us. Standing in front of the massive viewing panel, without batting an eyelid for a few minutes, our very noisy group of cousins and intrigued elders just observed the magnificence of the marine world in silence.
As we made our way to Shark Seas, we spotted over 100 sharks from 12 species as they swam over our heads while we travelled through an underwater tunnel. You know what the best part was? Getting close to sand tiger sharks, black-tipped reef sharks and sneaking a peak at the tasselled wobbegong!
Having a Splash at the Adventure Cove Waterpark™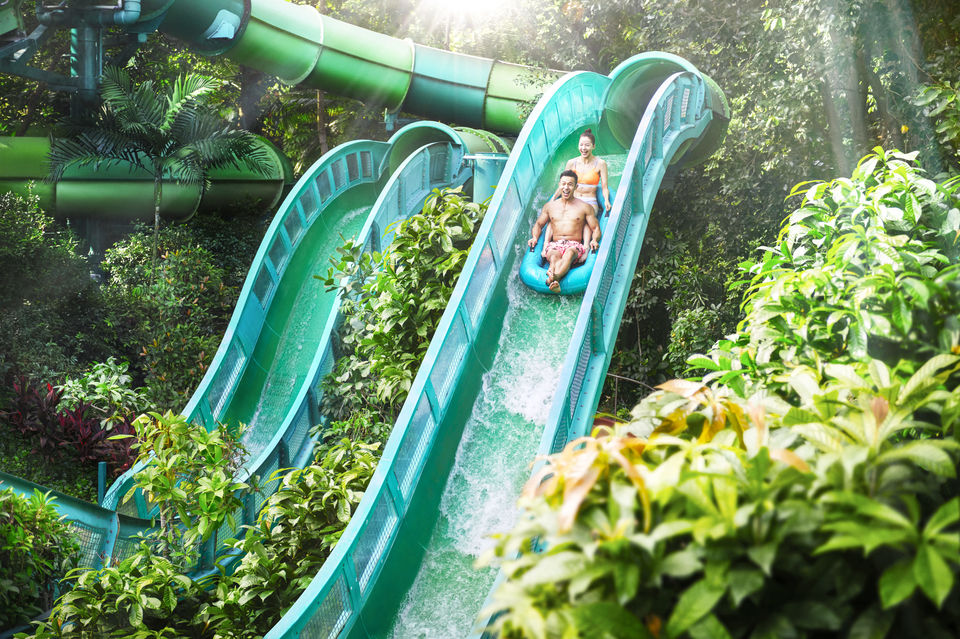 After an awestruck morning at the S.E.A. Aquarium, the rest of the day was devoted to turning into water babies! I loved how my father and I bonded while snorkelling at the Rainbow Reef, pointing out thousands of colourful fishes. Snorkelling was a first for both of us, making it an unforgettable moment on this trip.
We made some big splashes in the Riptide Rocket which is Southeast Asia's first hydro-magnetic coaster, and the Dueling Racer, a dual-lane water slide. The dual slides were perfect for some lighthearted competition between cousins to see who came down fastest and screaming as we splashed loudly into the pool of water below! However, the most marvelous experience at the Adventure Cove Waterpark was to drift along the Adventure River, a 620-metre-long lazy river which takes you through a jungle garden, an underwater tunnel with a sea of marine life swimming above you and a mysterious grotto cave!
Making New Friends at Dolphin Island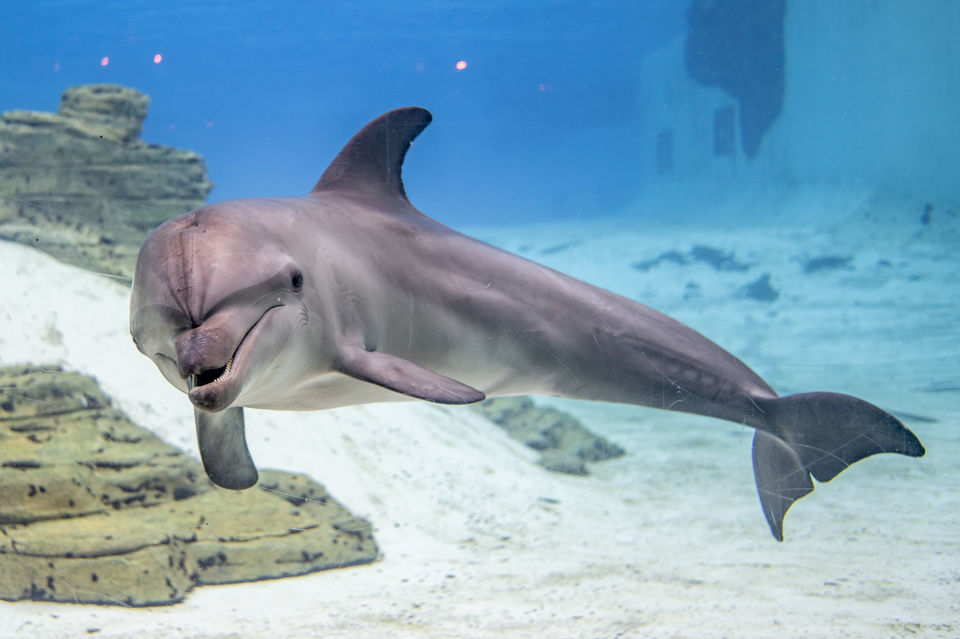 It's not every day you get to meet and interact with friendly dolphins! During our experience at Dolphin Island, we witnessed the commitment towards making guests achieve a deeper understanding of marine life through experiential and engagement learning. There are a range of programmes to choose from. My cousin, who is a proficient swimmer, chose to interact with the dolphins in deeper water through the Dolphin Adventure programme. The rest of us opted to stay dry and enjoy the Dolphin Encounter programme where we learnt about these wondrous mammals from the edge of their lagoon. The trainers also shared information on the dolphins, their anatomy, diets and how to stimulate the dolphins' cognitive and physical functions!
Marking An End To Our Trip at The Malaysian Food Street!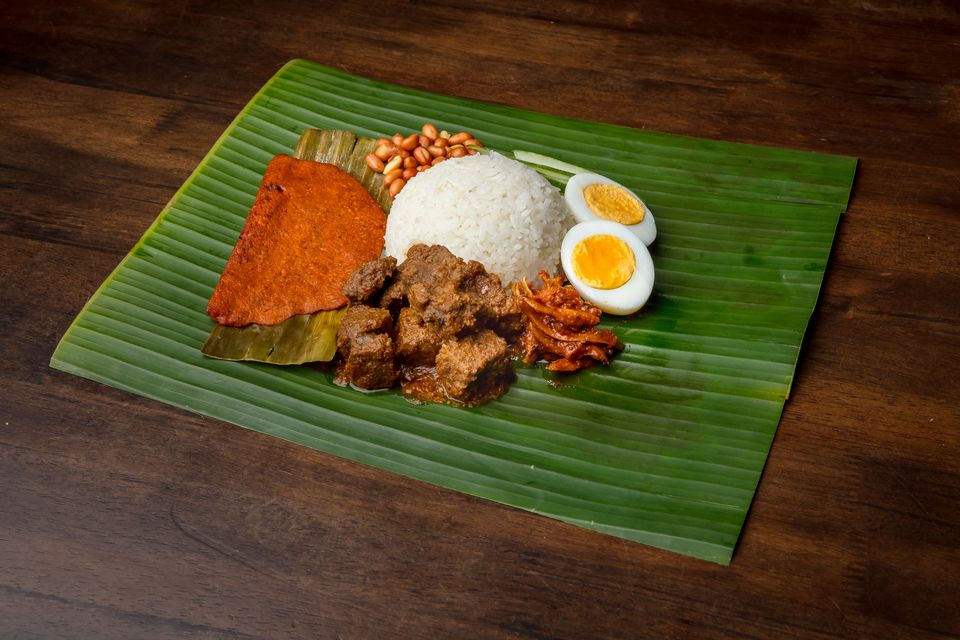 After a day packed with discoveries underwater and sliding through some of the biggest water slides, we all were famished. Yearning for something spicy, yet not Indian, we tried the Nasi Lemak set with an addition of some spicy chicken curry at the Malaysian Food Street.
As we sat eating and talking about our day, we all discussed our favourite attractions. My mother loved watching the majestic manta rays swimming across the Open Ocean Habitat in the S.E.A. Aquarium while my dad was amused by the movie-themed zones in Universal Studios Singapore. I was pleasantly surprised at how much fun the elderly folks in our group had. The best part for my cousin and I was walking around and meeting movie characters like the Minions as well as taking Instagram-worthy pictures of our beaming family in Adventure Cove Waterpark.
From luxury hotels, delicious food and relaxing views for the elderly to an array of adventurous rides for the younger souls, Resorts World Sentosa, Singapore is a must-visit for all kinds of tourists.
How To Get to Resorts World™ Sentosa Singapore
By train: After our flight, we took an MRT to Harbourfront Station (NE1/CC29) and hopped on board the Sentosa Express Train to get to Resorts World Station in a matter of minutes.
By Car: One can take a direct taxi from Changi Airport
Where To Stay in Resorts World™ Sentosa Singapore
There are many hotels located inside the Resorts World™ Sentosa Singapore offering the utmost comfort and luxury. We stayed in the Deluxe room at the Equarius Hotel. Our hotel was surrounded by a tropical rainforest, offering the most luxurious experience we needed on our holiday.
Location: 8 Sentosa Gateway, Equarius Hotel, Singapore 098269
Places like these bring all generations closer and thereby create priceless memories. Take this chance to bond with your family and go on a fun holiday. Whether you want to relax, experience adventures or explore a movie set, there is no better way than experiencing everything at the one and only Resorts World Sentosa, Singapore.
Plan a holiday to Resorts World Sentosa, Singapore with your family for a world of fun!
In association with Resorts World Sentosa, Singapore
Ready to travel for free? Earn credits and redeem them on Tripoto's weekend getaways, hotel stays, and vacation packages.
Watch travel stories come to life with Tripoto on Youtube!