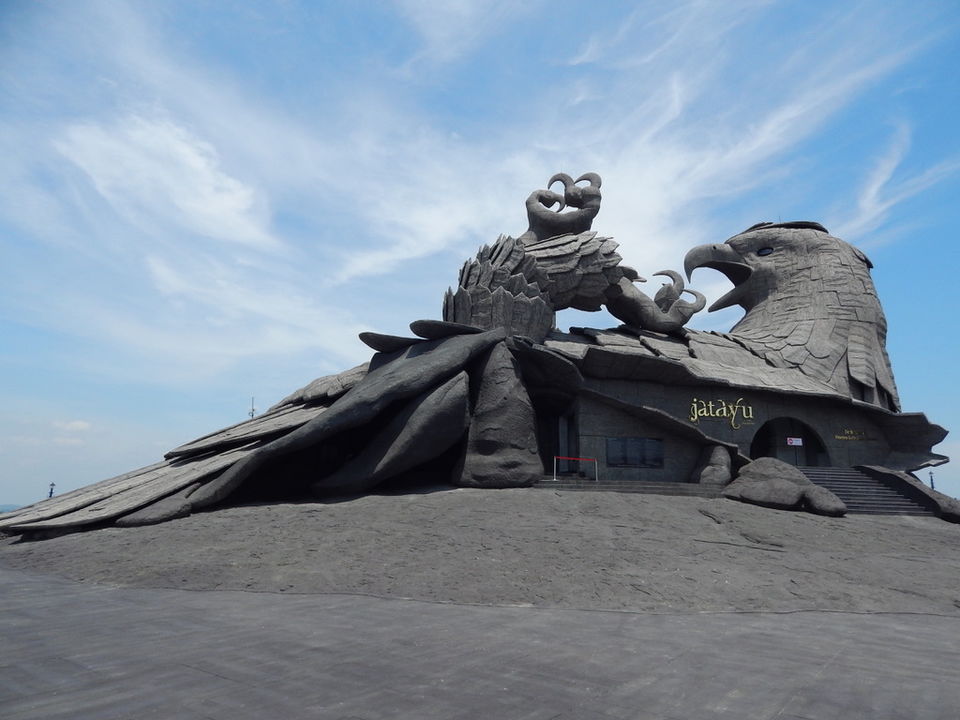 Indian folklore, dance, drama and other art forms are deeply influenced by mythological beliefs and they play an important part in creating India's cultural imagination. The oral tradition of folklore being narrated and local drama troupes enacting stage plays have declined since the 1980s with the advent of television media. As a child of this generation, I religiously watched Indian epics like Ramayana and Mahabharata on TV every weekend. The grandiose settings, flaming arrows and the mighty Hanuman enraptured me. My first glimpse of Jatayu's Earth's Centre evoked nostalgia and awe. The world's biggest bird sculpture is now in God's Own Country and is dedicated to Jatayu who laid down his life trying to save Sita.
What is the story behind the Jatayu Earth's Centre?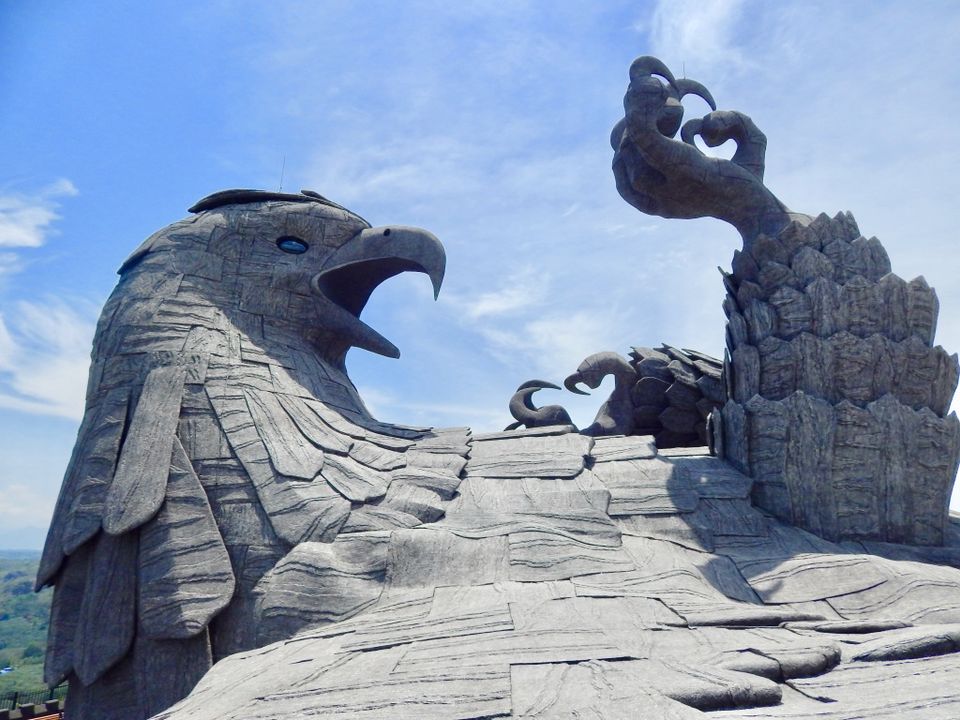 Ramayan is an Indian mythology which tells us the story of Ram and Sita. It is a tale of their journey through hardships and their ultimate victory over Ravan. In one part of the tale when Ram and Sita are in exile in the forest, Sita is kidnapped by Ravan. During this time, Jatayu, a vulture tries to rescue Sita from the clutches of Ravan. Despite fighting bravely he was unable to rescue her and was grievously injured during the clash. He fell on the foothills of what became known as Jatayupara. It is said in the Ramayan that Jatayu narrated the event to Ram before breathing his last. Upon seeing Jatayu nearing his end, Ram granted him moksha (emancipation) before resuming his search for Sita.
A statue has been made at the Jatayupara hills to mark the bravery of this bird.
Jatayu Earth's Centre: Getting there
Located about an hour and a half away from Trivandrum, Jatayu's Earth's Centre is an environment-friendly sustainable tourist destination. Enroute to the destination, I spotted several homestays promising the best view of this grand bird sculpture.
On buying your tickets, you will be given a wristband that gives you access to the centre. After a quick security check, you can move towards the cable cars that will take you to the sculpture.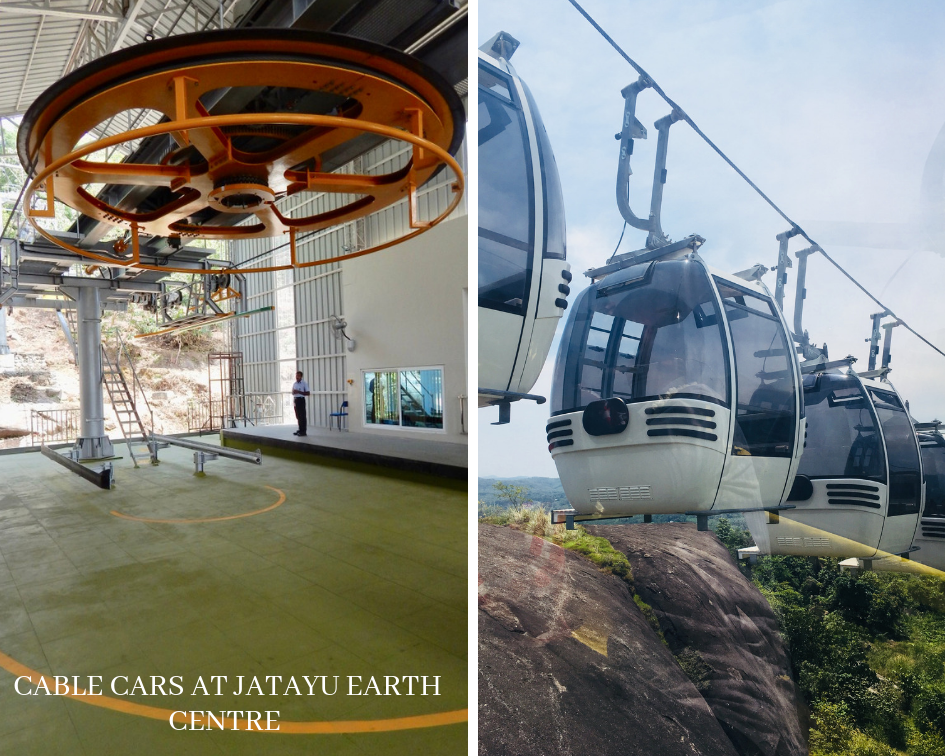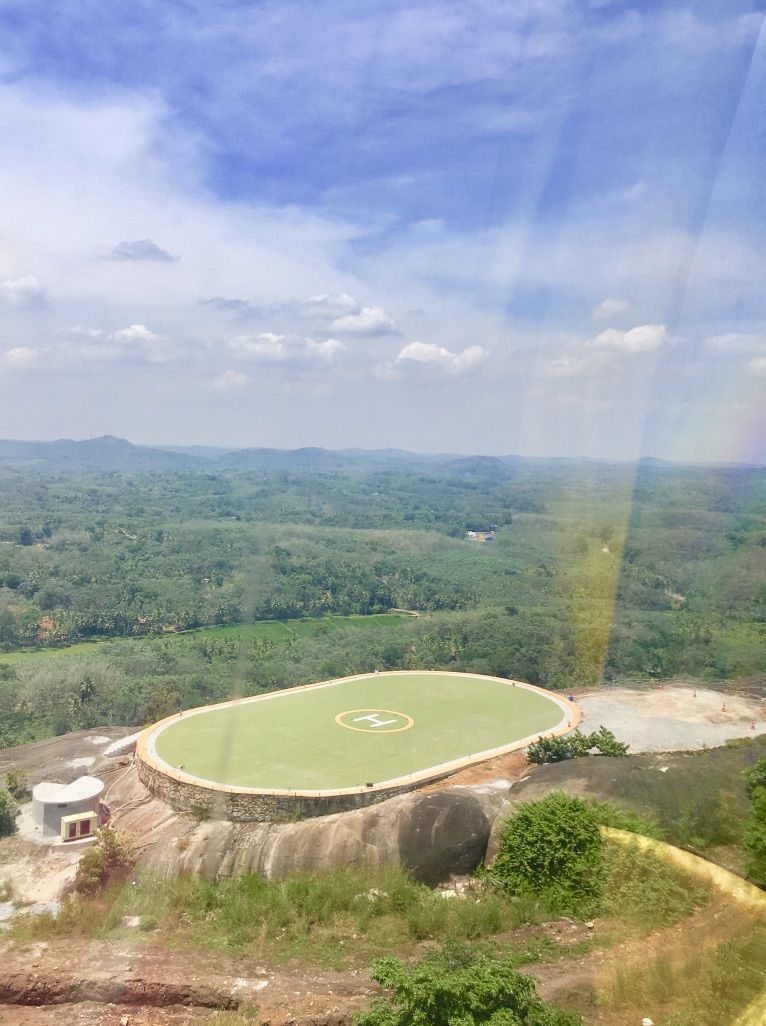 Since I visited on a weekday, there were very few people around. On weekends, I am told, one has to wait in a queue. To prevent overcrowding, a limited number of people are allowed at a time. This is something that I appreciate as you get a good time to explore the place as well get good pictures!
Jatayu Earth's Centre: First Look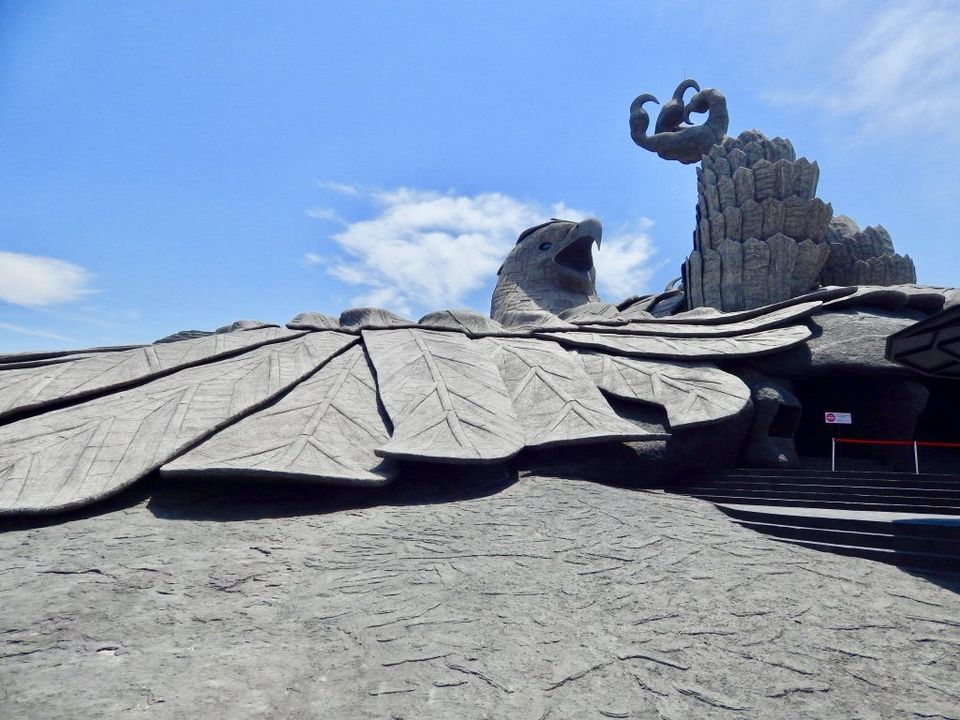 Jatayu's sculpture is built at an altitude of 1000 feet is 200 feet long, 150 feet wide and 70 feet tall has been entered to the Guinness Book of World Records. You will catch its first glimpse as the cable car slowly climbs up. The view from the cable car is incredible and you will be able to appreciate its magnificence once you step out.
A joint venture by Kerala Tourism and Mr Rajiv Anchal, Jatayu's Earth's centre is the fruit of decade-long hard work. During my first visit, I was fortunate to meet him for a short time.
"Jatayu may be the first mythical bird who laid down his life to save the honour of a woman.", says Rajiv Anchal. Taking a cue from that he has dedicated the sculpture as a symbol of women empowerment.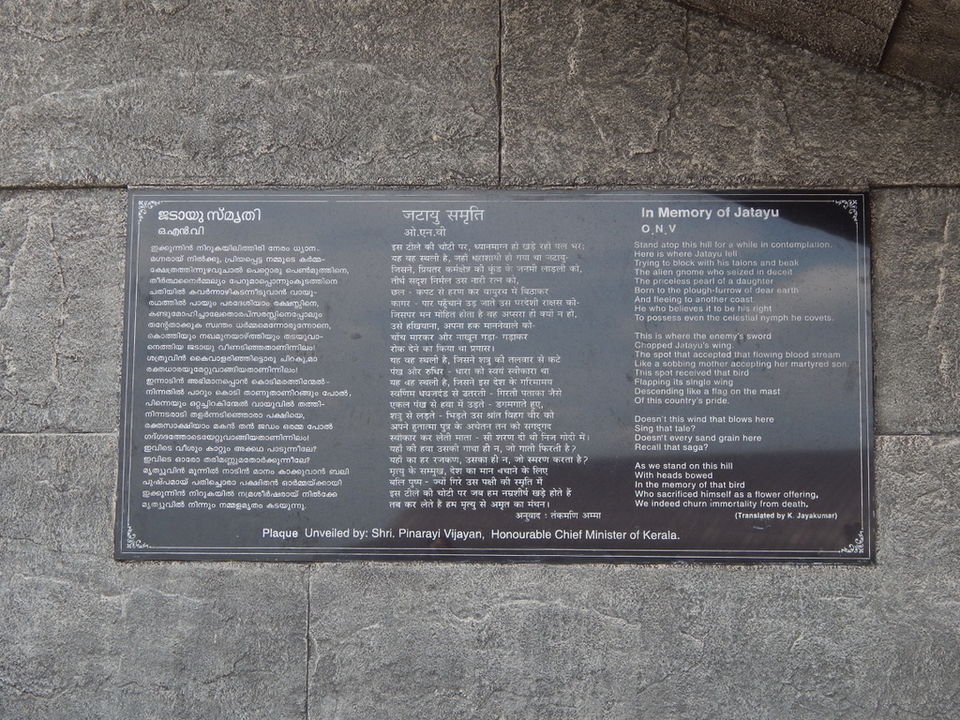 A beautiful poem on Jatayu's bravery can be read right at the entrance. It is fascinating to listen to Mr Anchal describe how he managed to get labourers and the material to build this concrete sculpture.
When I asked, "Why concrete?" He replied that in the years to come concrete will give the sculpture a unique look and besides that, it was the only practical material for a sculpture this big.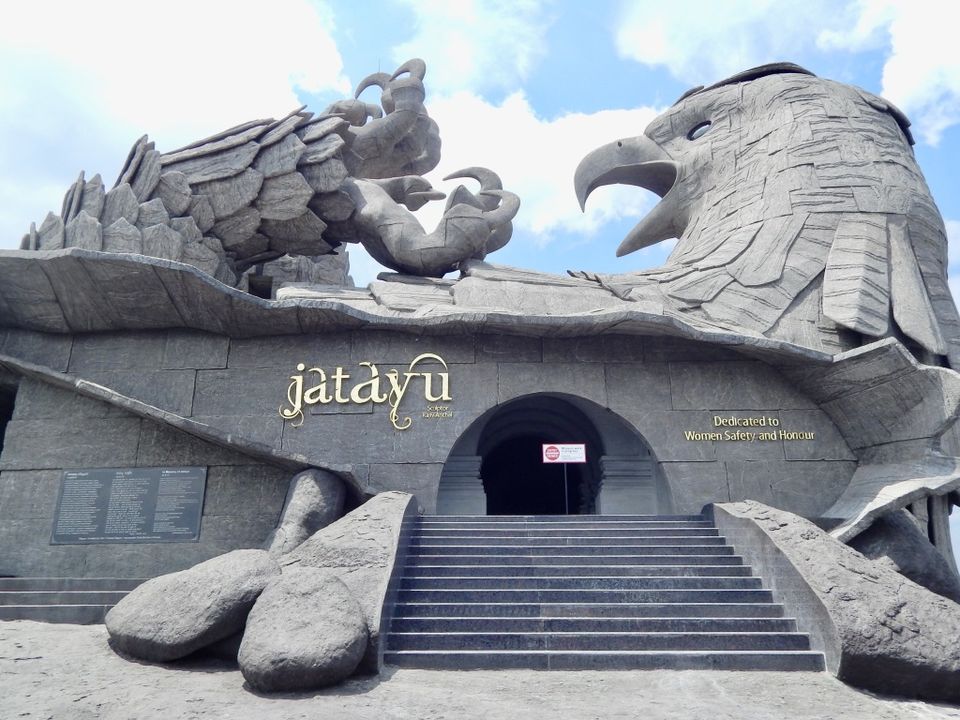 Along with the sculpture, the area has been developed for adventure sports enthusiasts. A luxurious resort and the museum will be constructed in the next few years.
Jatayu Earth's Centre: For Adventure Sports
Jatayu Earth's Centre is a sustainable tourist destination that has a range of activities for everybody.
Hill 2 Adventure Rock Hill: After visiting the sculpture, you can make way to the Adventure Rock Hill that has activities like rappelling, rifle shooting, archery, rappelling, bouldering, vertical ladder, zip-line, and much more.
Hill 3 Elephant Rock Hill: Sky cycling, campfire, moonlight dinner and sleeping under the stars; the Elephant Rock Hill is the perfect destination to rekindle your romance. This place will also offer live music and performances.
Hill 4 Kitchen Rock Hill: Traditional Siddha in natural caves with luxurious accommodation facilities is what Kitchen Rock Hill has to offer. It is currently not functional yet but will be launched in the second phase of this project. It will also offer a heli taxi to all the guests and spectacular views of Jatayu.
Jatayu Earth's Centre: Cost
The cable car ride and the visit to the sculpture costs about Rs. 450 including taxes. The Adventure Centre is open for groups of 10 people and more and will cost you around Rs. 3500 per person. Larger groups are offered discounts.
Jatayu Earth's Centre: Final words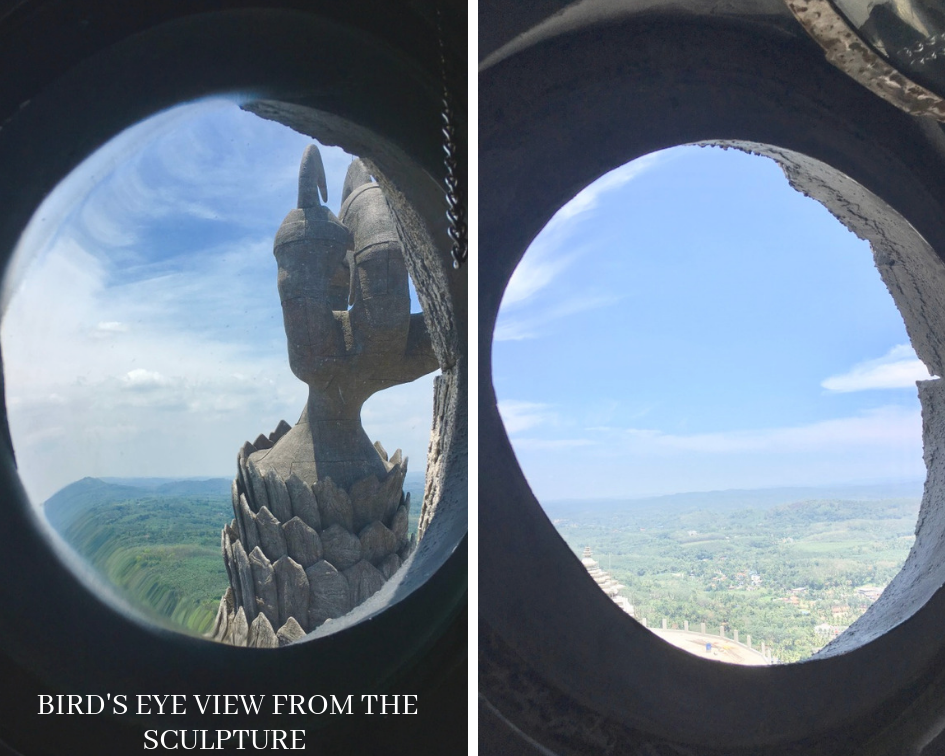 Jatayu Earth's Centre is a unique destination that is an amalgamation of myth and modernity. The majestic bird sculpture and the bird's eye view literally from Jayayu's eyes is unique. The adventure centre is perfect for large groups and corporate gatherings.
I look forward to visiting this place a year from now to experience the Heli ride and the museum first hand.