Sri Lanka is not the first overseas destination for most us in India. It should be. Proximity, currency, air fares are enough to make a case. I never knew SL was such a popular travel destination till I went there myself recently in February.
Dec-Mar is the best time to visit south and central SL as this time the monsoon is on the east coast. On the other hand, May-Sept is the time to visit the east coast.
There is only one international airport in SL i.e. in Colombo so south SL is easiest to reach especially since there is an expressway connecting Colombo to the cities along the southern coast. The drive from Colombo to places like Kandy, Nuwara Eliya in central SL is longer as there is no option but to take the regular highway. Destinations on the east coast like Trincomalee are even further and would involve an arduous road trip. Chances are you will end up in a Toyota car because in SL, Toyotas are everywhere especially the Prius!
The train network is not extensive and the existing trains will remind you of the India Railways. Since we don't enjoy long road journeys, we decided it was best to visit places along the southern coast.
There are plenty of destinations along the southern coast – Bentota, Hikkaduwa, Unawatuna, Galle, and Hambantota (in ascending order of distance from Colombo) are the most popular. The others are Beruwala, Ahangama, Weligama and Mirissa. They are not far from each other and not very different either so the way to decide, I suggest, is to pick your accommodation and let that determine your destination. Hikkaduwa is known to be hippie whereas Unawatuma is known to be trendy. It's probably a good idea to be close to Galle and Mirissa as there are points of attraction in both these towns.
Thaproban Beach House, Unawatuna
We picked this smallish hotel in Unawatuna recommended by a friend who had visited the previous year. Its located smack bang on Unawatuna beach. As the name suggests, it's really a beach front house converted into a hotel rather than a full service hotel. It provides all the basic comforts and no frills, just what we needed.
They have a beach restaurant that serves a lot of sea food which is not only their specialty but also that of the region. If you're not a sea food lover, no problemo. Within a few minutes' walk from the hotel are plenty of cafes and restaurants which serve not just lunch/dinner but breakfast as well. The hotel doesn't have a buffet breakfast but it's made to order which is just as well. They prepare a local breakfast for you if you place a request the previous evening.
Apart from cafes and restaurants, other tourist related infrastructure and paraphernalia is also available easily. It is recommended that you stay near Unawatuna beach rather than a hotel in Unawatuna but along the highway (there are some). I didn't find any currency exchange so best you do that before you get there (unless you don't mind hotel rates).
Unawatuna is known to be a good surfing destination. SL itself is a big surfing destination and attracts a large number of surfers. It has even hosted international level competitions. If it is your interest, surfing schools are available.
The beach and the waters are clean but are teeming with westerners sun bathing.
https://www.tripadvisor.in/ShowUserReviews-g644047-d1221459-r562482384-Thaproban_Beach_House-Unawatuna_Galle_District_Southern_Province.html
Cinnamon Bey, Beruwala
After spending most of our time in Unawatuna, we spent 2 nights in this resort.
https://www.tripadvisor.in/ShowUserReviews-g11913562-d3443680-r562483174-Cinnamon_Bey_Beruwala-Moragolla_Beruwala_Western_Province.html
Beruwala is adjacent to the more popular Bentota. The beach at Beruwala is distinct from that at Unwatuna – smaller crowds and fewer restaurants, making it a lot more relaxed. Prior to the tsunami, there were resorts one after another but now only a few are operational. There are a couple of nice beach restaurants here.
Galle
We didn't stay in Galle but you don't really need to. Galle is only about 15 minutes from Unawatuna. You need to visit Galled for sure! The historic Galle Fort will make you feel like you're in a European village. Also, there are plenty of trendy cafes and restaurants targeted at the travellers. Many colonial buildings are now hotels and provide a charming experience. However, my recommendation still is to stay in Unawatuna and make the short ride to Galle. Autorickshaws are easily available and you don't even need to rent a car.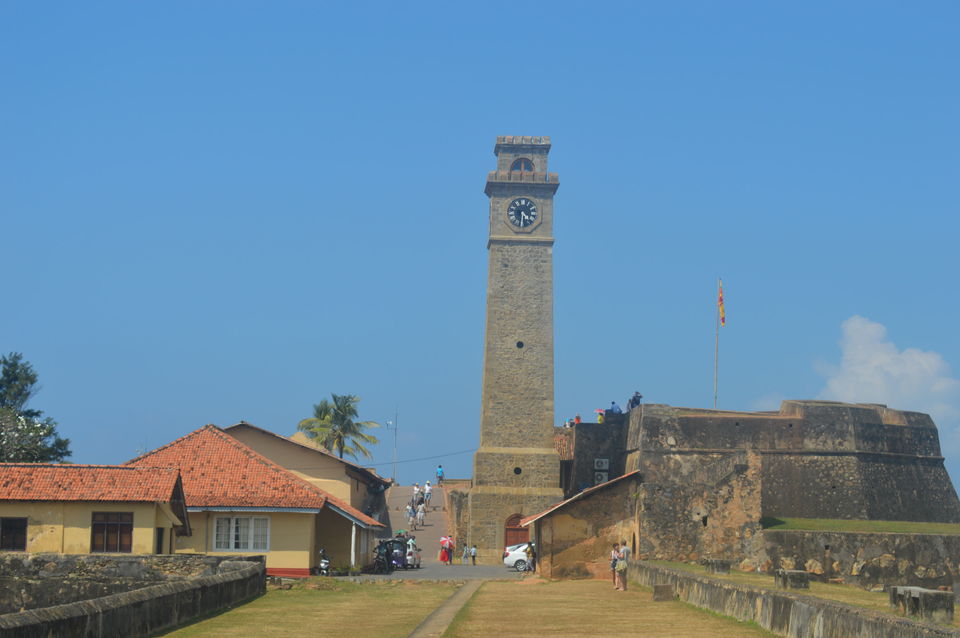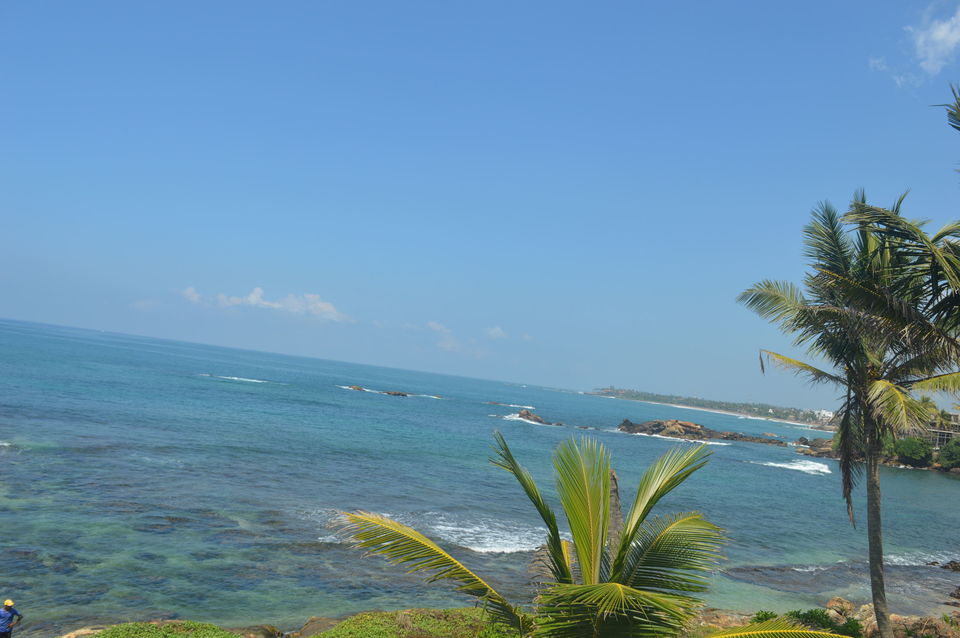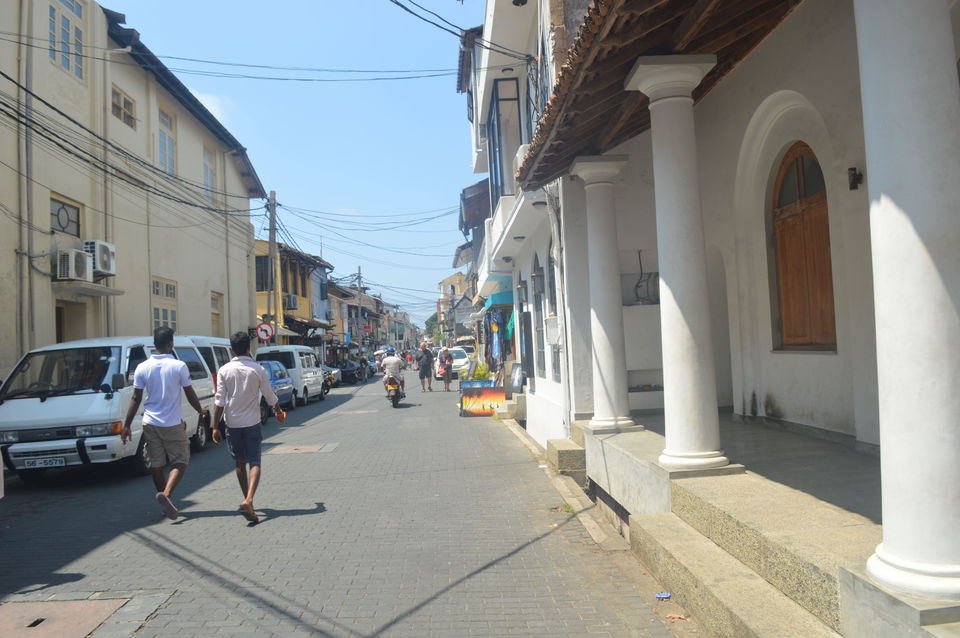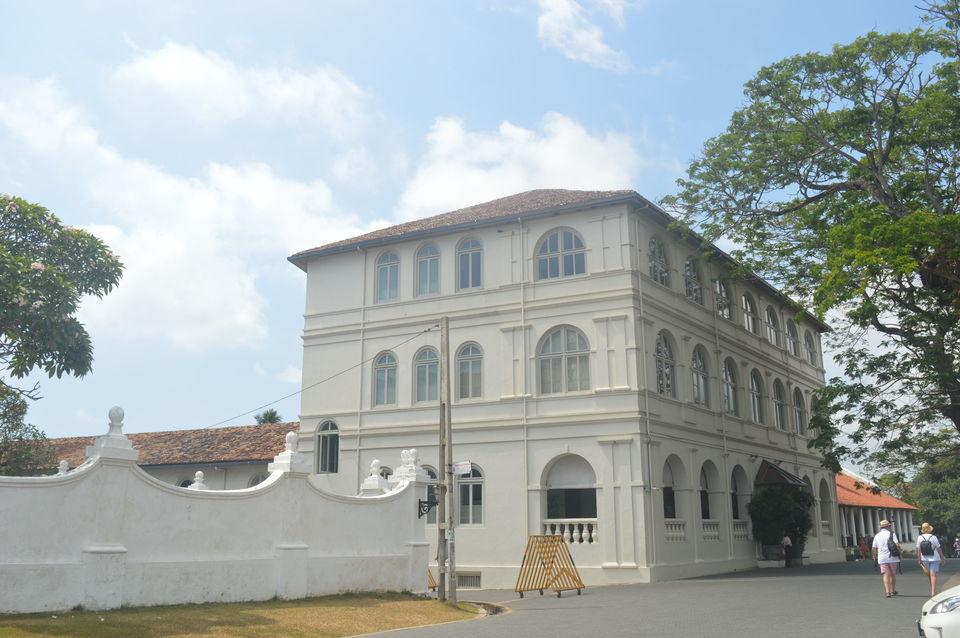 Mirissa
Mirissa is further south from Galle. I'm writing here about Mirissa because it will provide one of those never-to-be-forgotten experiences - whale and dolphin spotting!
The India ocean off Mirissa is home to plenty of dolphins and whales and if you happen to be there during the season, this is something you should definitely not miss. You can find further details below:
http://www.whale-watching-mirissa.com/
Keep in mind that this requires a very early morning start so you may be tempted to give it a miss but you would be missing an opportunity of a lifetime! Further, you do about 15 nautical miles into the ocean and the water is choppy. The crew hands out sea sickness pills for those who need them!
A tip before I sign off - when you drive along the southern coast, you may see the stilt fisherman on beaches. These are fisherman who fish while sitting on what is practically a stick hence also known as stick fisherman. I was told that they are all actors looking to make a buck. The actual fishermen are found at Kogalla Lake and not on beaches!