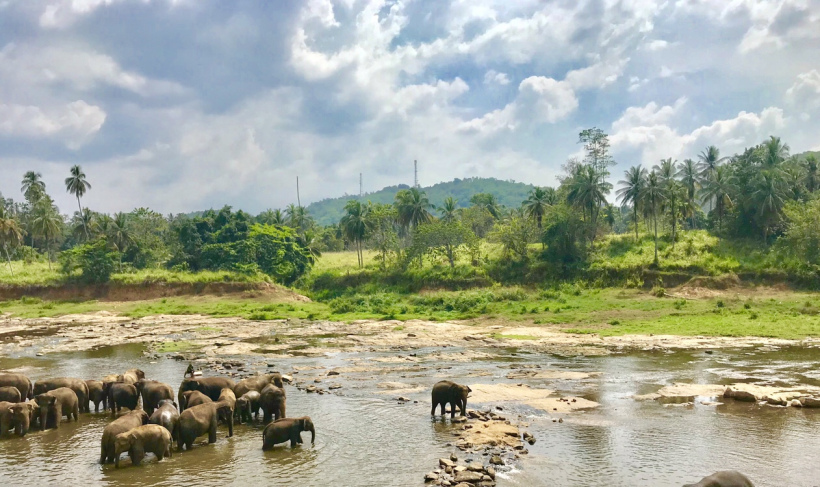 What's more exciting? Planning for the trip or the trip itself. The topic is debatable but I would be tilted towards planning to some extend, although my partner in crime would disagree, but I get to live the whole experience beforehand. Does that make me too much of a planner, may be, but that is how we like our vacations to be, not denying for a minute how much we love surprises.
Some of the things that came to our mind when we thought of exploring Sri Lanka (SL) were Elephants and lots of them, Civil war and hence an underdeveloped nation with no amenities, extremely hot weather, a country with lot of inhibitions and so on, but most of these notions were about to change after a weeklong stay in a place they rightly call the Wonder of Asia.
New Delhi -Colombo (Bandaranaike International Airport)
We took a morning direct flight and after 3:30 hours we landed in Colombo, Bandaranaike International Airport. It is a small airport, nothing like the Terminal 3 airport at New Delhi, the thing which surprised us the most was there was no Wi-fi at the airport and thus we couldn't book an UBER to our beautiful homestay- Gower House.
Keep in mind- Uber only works in Colombo in SL. Nevertheless, we took a Taxi from just outside the airport (lot of vendors available). The drive from the Airport to our stay in Colombo was lovely via the beautiful long highway; we could already experience the scenic beauty of the country with lakes surrounded by coconut trees on our way.
We reached Gower house, a villa that was being operated as a homestay, it was a beautiful property with lot of trees planted in the garden. We had 2 British boys staying in the same Villa and we had a great time listening to their stories of how they planned to spend whole two months in SL trying different activities such as surfing in Hikkaduwa. We were in Colombo just for the night and decided to have dinner at this beautiful restaurant which is a must visit called as Gallery Café. It was a very nice place with sumptuous food and great variety of cocktails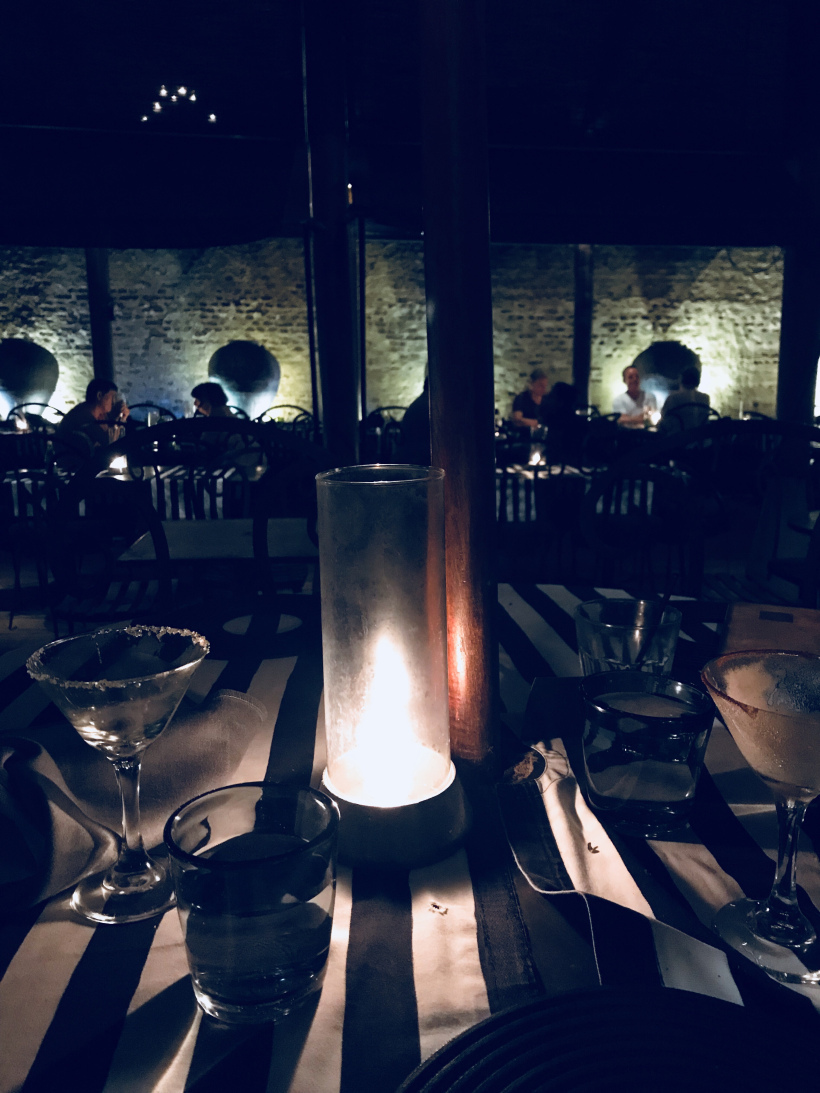 Colombo-Kandy (Via Pinnawalla Elephant Orphanage)
We were up early for our journey to the hill city- Kandy after a very delicious and authentic breakfast at Gower House. We were served Indiappa (String Hoppers) and some vegetable curry. We love to try the local cuisine as much as we can when we are at a new place and Sri Lanka has lot of delicacies to offer.
We had pre-booked our cab from second day to the end of the trip from MySL Travel. The cab driver suggested a visit to Laksala, a government owned shop for some local shopping before heading to Kandy.
Colombo to Kandy is a pleasant drive with lot of scenic beauty enroute, similar to Kerala. We planned to stop at Pinnawalla Elephant Orphanage which is on the way. It is advisable to visit Pinnawalla in the morning as it gets very hot in the park in the afternoon. The best place to watch the elephants is when they are taken to bathe at a nearby pond surrounded by restaurants which offers the best view over some beer and lunch. After our lunch we again started for Kandy, our cab driver stopped at one of the places where we enjoyed coconut water (Yellow in colour) and Bhutta (Maize). And finally after 2 hours we were at our new home for 3 days- 390 Villa Vista.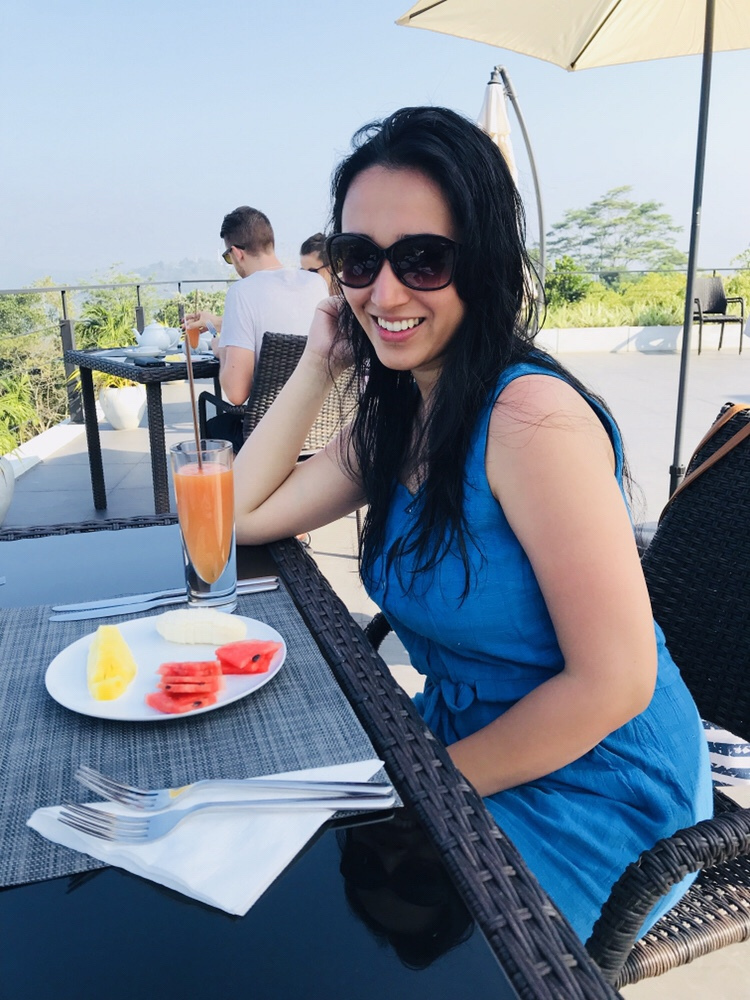 Kandy to Dalawella Beach (Mirissa/Unawatuna)
After hills, it was time to explore the famous Sri Lankan beaches. Southern part of SL has some of the most beautiful and clean beaches with green and blue waters. Some of the more famous ones are Bentota, Mirissa, Unawatuna and Hikkaduwa. We started our southern journey with 3 days stay at Dalawella Beach. Dalawella ?
So we were looking for a beach resort in this part of SL which was less crowded with clear waters and thus we zeroed down on Dalawella beach (next to Unawatuna Beach), a place which is not frequently visited by tourists and hence is unexplored. We were able to spot a lot of small turtles on the shore and it was a unique and wonderful experience. Do ask your guide/driver for some delicious local cuisine, we were treated to some amazing variety of Sri Lankan food- Kottu, Rice and fish curry at dirt cheap prices.
We visited the famous Mirissa beach (40 mins drive) for a meal at Kama Mirissa one of the days and we weren't disappointed. The beach restaurant had lovely white and blue setting with good variety of cocktails. Please note eating out in SL at fancy places is not very cheap, unlike local restaurants which are reasonable.
Mirissa was by far the best beach of our vacation and is a must visit, we plan to stay in Mirissa next time we visit SL. People who enjoy surfing and other water sports should definitely visit Hikkaduwa beach. Hikkaduwa has the best night life in SL, keep in mind that SL is not a very party kind of place, unlike Goa, but there are a lot of decent dining options with good music and drinks. There are some nice beach restaurants in Unawatuna, we happened to visit Kingfisher and Black & White and both had good vibe and were pretty full.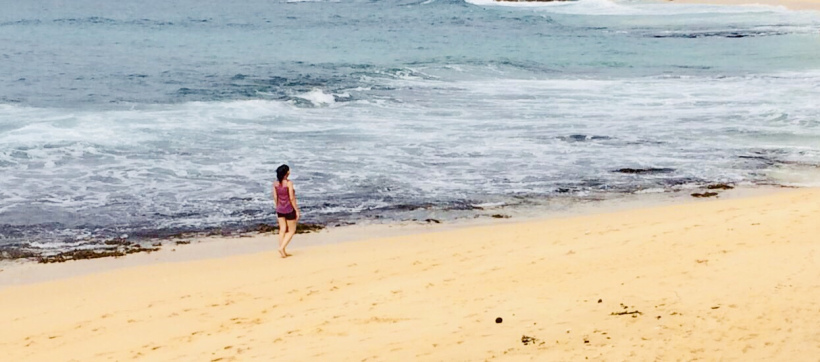 Do yourself a favour and stay at this place whenever you are in Kandy. Did we tell you that this was one of the best places we stayed in SL, best value for money (see pics to judge). You will be spoilt for choice when you book your accommodation in Sri Lanka but you need to have an eye for detail when choosing a place, and we landed a jackpot when we booked 390 Villa Vista.
Our room's balcony had an uninterrupted view of the hills and an infinity pool. The bath area was as big as the room itself with a nice bathtub. The property owner was one of the warmest and gracious hosts that we have ever met. He left no chance to make us feel at home. For breakfast we had an amazing dish- Egg Hoppers which are bowl shaped pancakes made from fermented rice flour and coconut milk with cooked egg at the bottom.
One of the days, we visited the Kandy Lake from where you get a beautiful view of the entire city, then went to the Temple of Sacred Tooth and had lunch at the Empire Café, which is located on the temple road itself. We wanted to get back to our Villa in time to watch the sunset as the property was located on a hill and provided the best view. We loved the property so much that we wanted to spend as much time in the property as we could.
Finally after 8 days of Sri Lankan magic, we were off to Colombo airport via the scenic southern highway and after a 3 hour drive we were at the airport. After shopping for souvenirs at the airport shops we were set for our flight. We were happy tourists with lot of memories and a changed attitude towards SL to take along and to cherish for the rest of our lives.
**********************
Key Points to note:
**SL has a lot of places to explore, please do not try to cover everything if you have limited time. One of the famous cities is Nuwara eliya, and the very talked about train ride. There are few national parks that one can visit but remember if you have paucity of time plan your holiday according to what you enjoy and not just for the sake of visiting more places.
**Cheapest way to travel between cities is trains, but it is not a very developed network and you need to take the tickets from the station, no online booking. Tuk tuk is the way to travel in the city, but remember to haggle.
**Visa/ ETA Tourists coming to Sri Lanka need to get an Electronic Travel Authorization (ETA) or VISA which is valid for a period of 30 days unless you are a national of Singapore, Maldives, or Seychelles. It is a very simple process which can be done online on their official website. You can either apply as an individual or as a group. The visa process is as fast it gets, you receive the ETA on the email within minutes.
All SAARC member countries (India is a SAARC nation) need to pay US$20 and all other countries need to pay US$35 as ETA fees. Please note children under 12 years of age are exempt from the ETA fees. ( https://eta.gov.lk/etaslvisa/etaNavServ)
**Currency: Important for SL The more you read on the web, the more you realize that SL is more of a cash based economy, so less use of cards. Our personal experience was mixed. All the famous restaurants accepted cards but you never know which one doesn't. We booked our stay online and beforehand and for one of them we had to pay in cash directly to the hotelier.
So, short point, carry some cash from your home country (either SL rupee or US$) and if you get SL rupee try and spend all of it there as very few agents are willing to buy back or give you a very bad exchange rate.
FOLLOW US @travelwithasvi on Instagram for more updates.
Frequent Searches Leading To This Page:-
Best beach holiday destinations in Sri Lanka, Top Sri Lanka tour package for family, Best Sri Lanka honeymoon packages from Delhi, Sri Lanka honeymoon tour packages
Dalawella to Bentota Beach (Via Galle)
It was time to finally go to the famous Bentota beach, our last destination. So from down south, Mirissa and Dalawella we were going up north 75 kms, so that we come closer to Colombo, exit airport.
We visited the famous city of Galle on our way and were surprised to see how the city had recovered from the infamous Tsunami that had badly impacted the city. Galle has a lot of historical sites- The Dutch Fort, Galle Lighthouse, National Museum. There are a lot of nice restaurants/cafes around and some shopping complexes as well. After a short visit to Galle, we again started for Bentota.
We stayed at Thejan Beach Cabanas at Induruwa beach, 10 mins drive to Bentota, coz we wanted to stay at a beach property away from the hustle bustle of the famous tourist spots, at the same time accessible if we wanted to explore the famous spots.
Thejan Beach Cabanas boasts of a beautiful beach bar and restaurant, sea facing cabanas and rooms and an open air restaurant. It has to be a memorable stay when you get to spend some quality time on a private beach, sip on the some fizzy cocktails, and watch the beautiful sunset in the evening. The bartender shared some amazing stories of his stints in bar world over on the dinner table.
After spending 6 days in the southern part of SL, we finally realized that we are more of beach lovers. So for people who want to experience the sanctity of beaches, crystal clear blue water, you should definitely visit this part of the world.