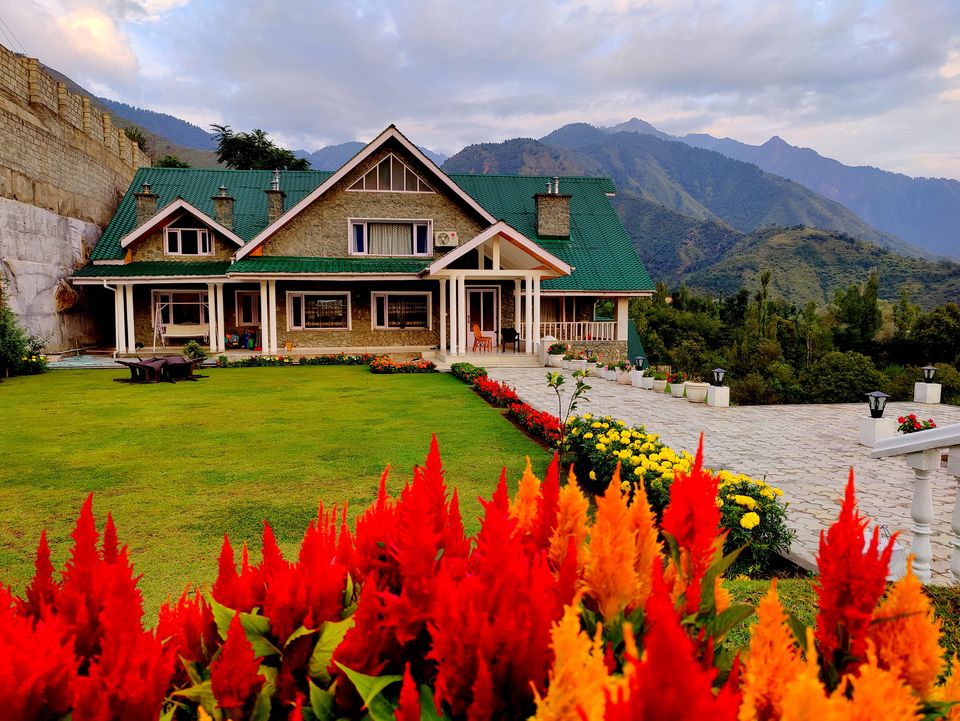 Before you scroll ahead and read about this place that looks straight out of the pages of some fairytale book - let me warn you!
The photographs of this place might appear alluring, but what you'd experience once you land up there is something that's unparallel and can't be captured through lenses.
From the soothing melodies of azaan that echoes in the valley to the constant chirping of birds, and the fragrance of apple blossoms that lingers in the air to the hues of dusk that paints the sky - everything here would conspire to make you fall in love!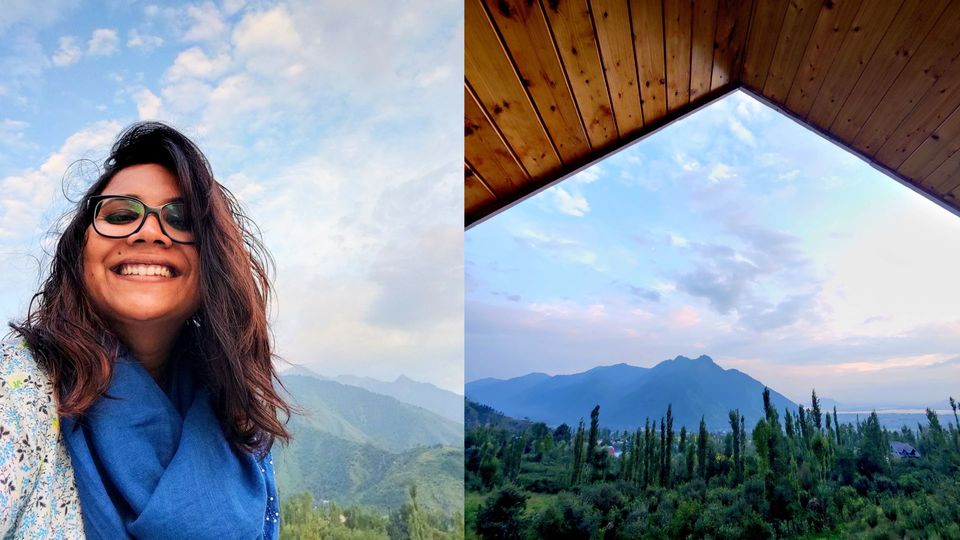 About the property:
Located away from the hustle & bustle of the main city on a startlingly beautiful elevation, The Greystone is undoubtedly that 'home away from home' which would welcome you with warmth, and leave you enchanted with its mystical surroundings.
We landed up here on a rain-drenched afternoon, and the hospitality of Shehzad & his family left us overwhelmed. As we walked down the porch and stepped into the living room on the ground floor, we found ourselves in a cozy Kashmiri setting - with gorgeous carpet-laden floors and wooden pieces of furniture arranged in perfection. There's one guest room on this floor, and the host family resides here as well.
Our attic-styled suite room was on the first floor, with a fireplace and huge windows that overlooked the entire Srinagar city and the magnificent Dal Lake. However, it was the balcony, that opened into the valley surrounded by the mighty Himalayas, which stole the show!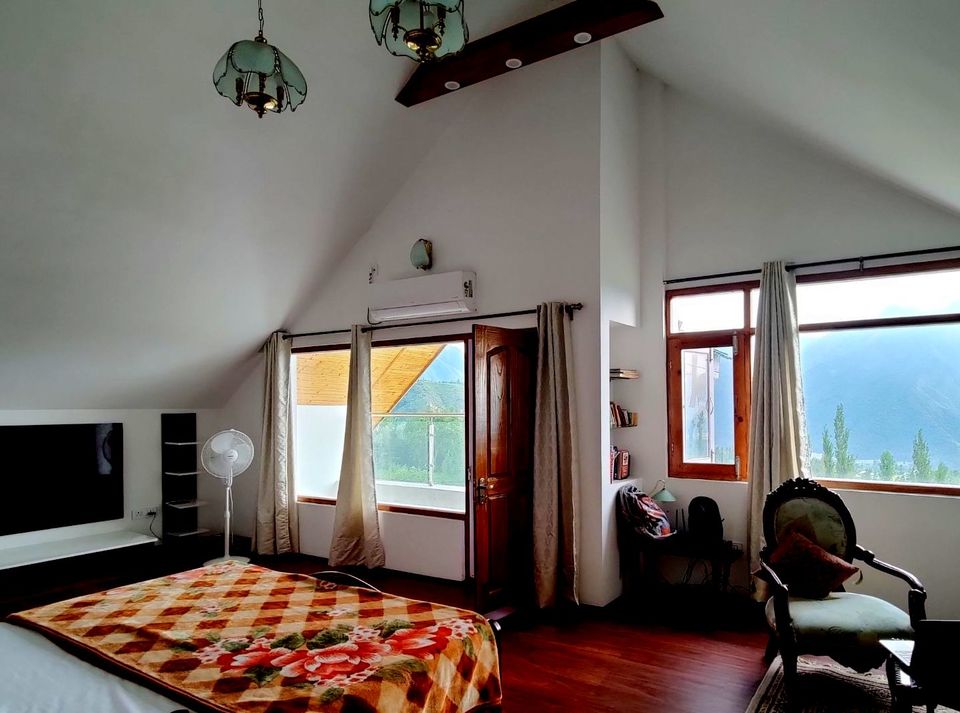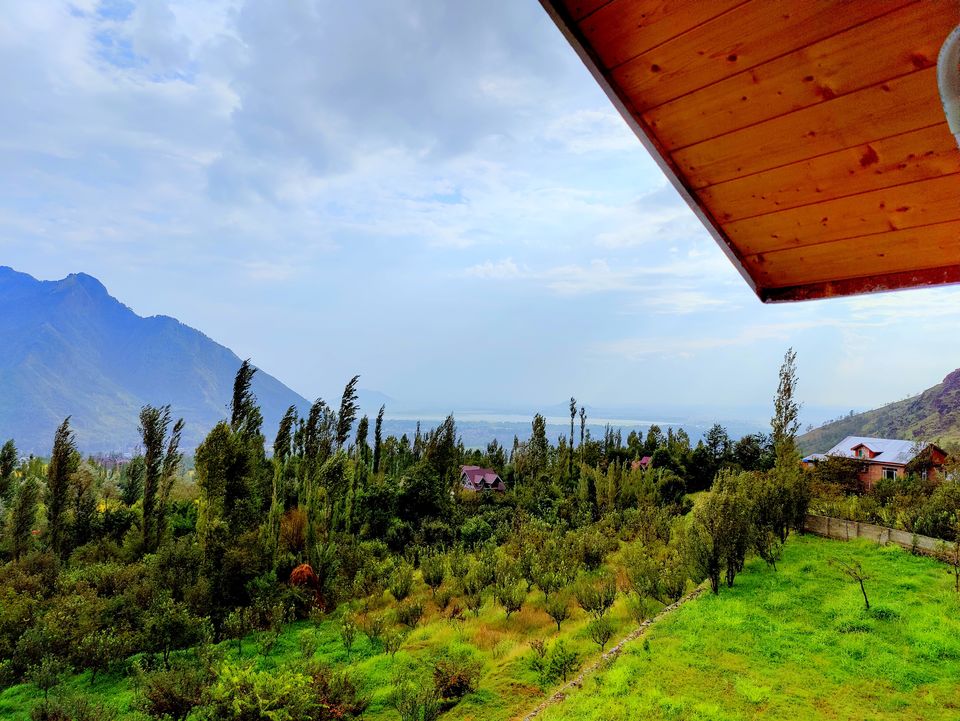 Freshly-cooked meals were served for lunch, dinner and breakfast (with both vegetarian & non-vegetarian dishes). We were absolutely in love with the chocolate walnut cake that was served with kahwa after dinner - it left us drooling for more!
All the food is cooked by the lady of the house, and you'll surely sense the flavours tickling your tastebuds.
Ideal for:
Well, this is a boutique property which can be a perfect getaway for families and couples, who are keen to experience an offbeat staycation away from the city chaos.
However, if you're a solo traveller who's planning to go for a workation in Kashmir, this would be the ideal place to work from. It can also serve as a great retreat for artists, writers, and musicians who are looking for some serenity, to concentrate and come up with a masterpiece!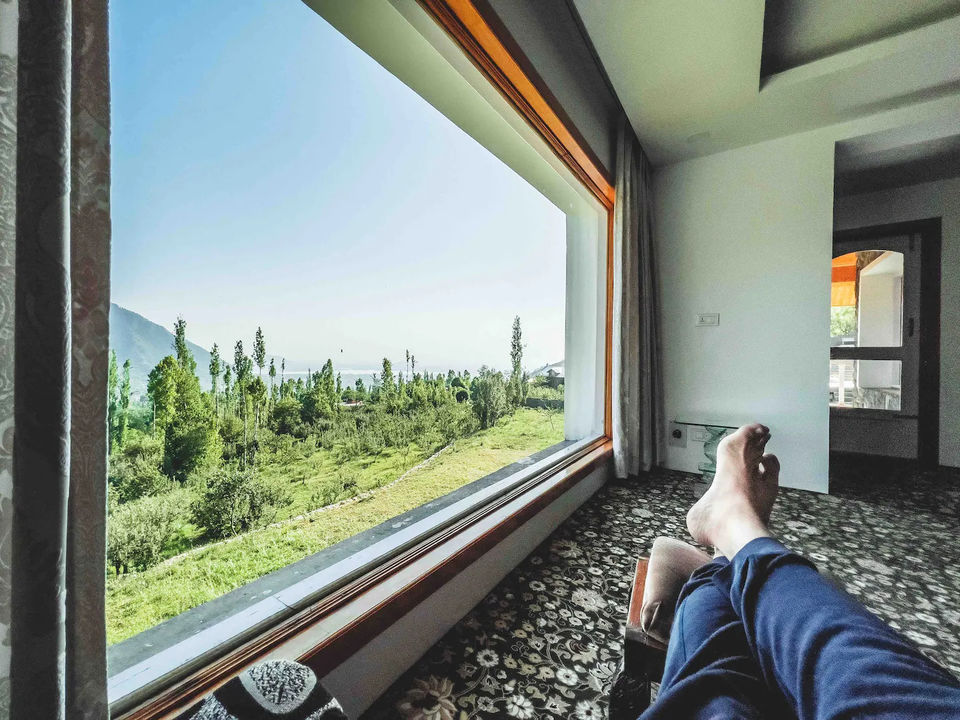 Vibe Check:
If you enjoy reading like me, you can just spend hours sitting in that balcony, sipping freshly brewed coffee or enjoy a cup of aromatic kahwa, while flipping through the pages.
Explore Dachigam National Park during your stay at The Greystone:
There are plenty of things to do in Srinagar - from exploring the Mughal Gardens to floating on the Dal Lake, soaking in the beauty of Char Chinaar and savouring the authentic Kashmiri delicacies. But if you're looking for an offbeat experience, then you must add this to your bucket list!
From the property, Dachigam National Park is just about 5 km away (10 minutes by car) and you'll find yourself amidst lush green forests trails. Take a walk down the stream that flows through the park, listening to chorus of the crickets that'd keep buzzing in your ears.
The park is home to various species of birds and animals like Himalayan Stag, Himalayan Weasel, Jungle Cats etc., and a couple of snow leopards and black bears are sheltered for rehabilitation.
Entry Fee: 25 INR, tickets are available online. You can ask the host to arrange for a car, if you're planning to visit the national park.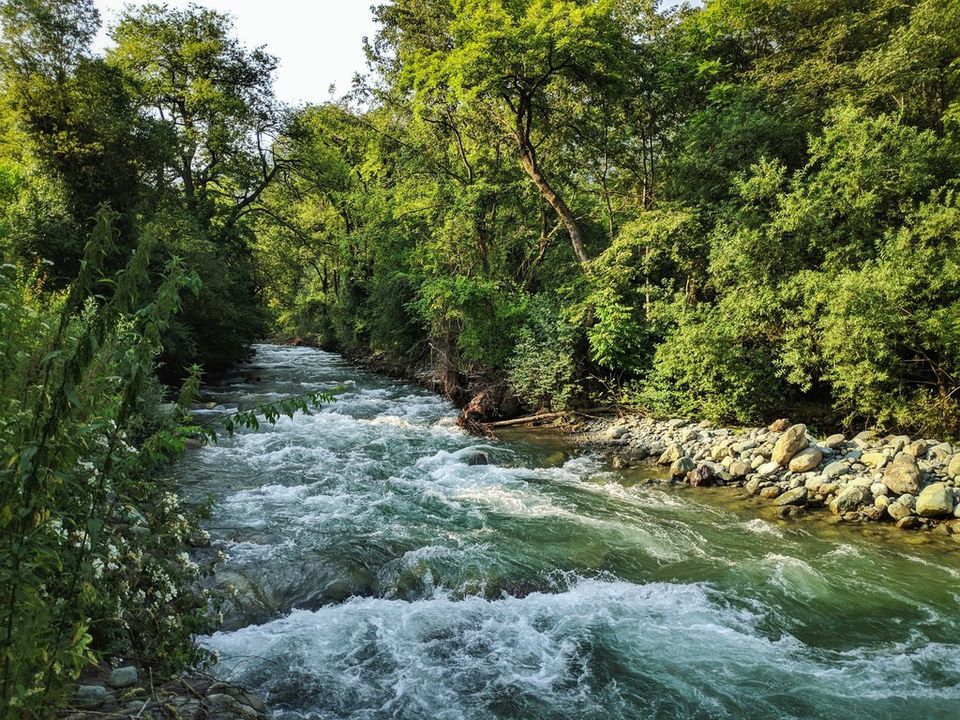 You can check out Disha's article to know more about the offbeat places to explore in Srinagar.
How to reach The Greystone?
The property is located in the outskirts of the main Srinagar city, close to Dachigam National Park. If you are taking a flight to Srinagar, you can easily book a cab to The Greystone, or you can ask the host to arrange for a pickup.
Crossing the city with the Dal on one side the markets on the other, you'd hit a point called Dara, from where a steep road leads up through apple orchards. You can ask anyone about the directions to Fakeer Gujri, and they'll show you the roads to this property.
Address: PMGSY Road, Srinagar, Jammu and Kashmir. Pin Code: 191121.
Best time to visit:
Kashmir is beautiful throughout the year - and as we got to know from Shehzad, the colours of the valley keep on changing throughout the year!
While we witnessed the rain-drenched valley painted in profuse shades of green in month of September, it's expected to turn reddish golden by the beginning of November, before all of it gets covered in a veil of snow with the onset of winter in December. It's really difficult to say what exactly would be the best time to visit this place, where every season sprinkles magic!
If you're planning to travel to Srinagar, and looking for a place to stay - then here's your best pick!
Cost: 6,500 INR/night for 2 persons. Check the property & to make your reservations, click here.
Ready to travel for free? Earn credits and redeem them on Tripoto's weekend getaways, hotel stays, Mindful Retreats and vacation packages.