Taki, O Taki, O Taki Taki Taki Re is not just a famous Bollywood song.
Taki is a place too, a beautiful tourist spot in West Bengal.
Hasnabad local from Sealdah takes you there in just a couple of hours.
Since we boarded the local train from Barasat station which comes after a few stations from Sealdah, we reached Taki in just over an hour. Taki is actually, just one station before the destination of that local train, Hasnabad.
We took a Toto from Taki Station. Toto drivers charge anywhere between INR 900 to INR 1200 to show all important tourist spots. In the Toto stand itself, visitors can see a huge poster showing the places around that will be covered within a few hours.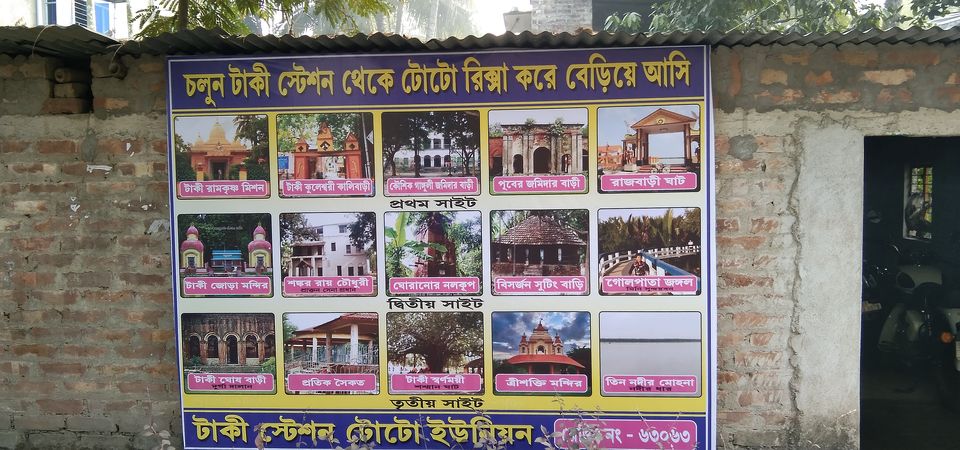 What is written here loosely translates to this - Lets take a toto ride from Taki Station to travel around! Toto is the best option there. I am not sure, if one comes here by car, if it will be easy for them to navigate around, on their own. Almost every toto driver is a bit of guide too.
In fact, our driver not only had insights about the places we visited, he also guided us to keep photocopies of our IDs ready to visit certain spots, shops from where we could purchase sweets that Taki is famous for, homes that prepared and sold jaggery. We could literally watch the process of how the jaggery gets prepared.
Our first spot was Ramakrishna Mission
We spent a few minutes here. Frankly I was not aware of this spot. We met a teacher in the local train who was doing a solo trip just before her school opens after winter holidays. She joined us and we both were very clear, we do not have the time to cover all spots because we had to return back to our respective homes the same day. Many choose to book lodges and cover all spots leisurely in two days. We both, however did not find it necessary to stay.
Many come to Taki around this time - winters - for picnic as there are quite of few spots for such family or friends gatheings
One of my favorite spots was Jora Shib Mandir just beside a natural water body.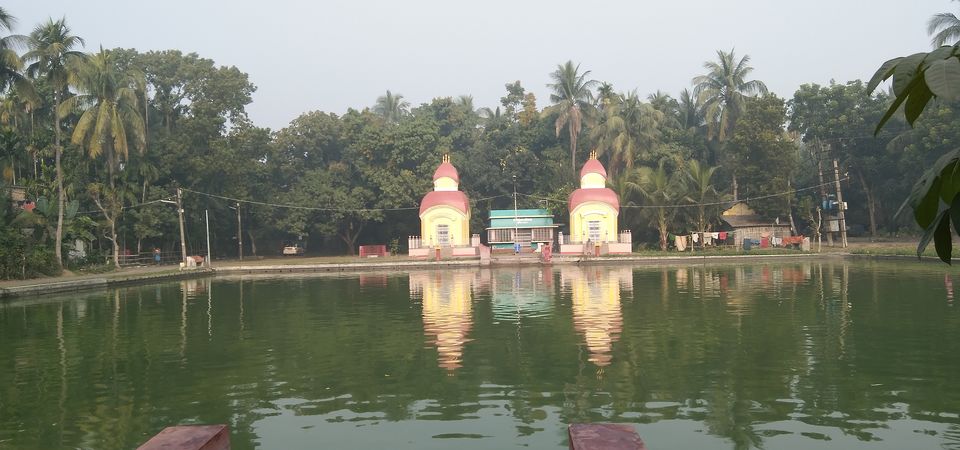 The atmosphere around was so peaceful. We then headed towards a few shooting spots
The film Bishorjon, that won the best Bengali film at the 64th National Film award, was one of the most aesthetically done films, almost like poetry in motion with subtlety, layers much like the waters of the Icchamati River that separates the two Bengals – Bangladesh and WestBengal!
A significant part of the film was shot here which was actually just a mud house before Amphan hit.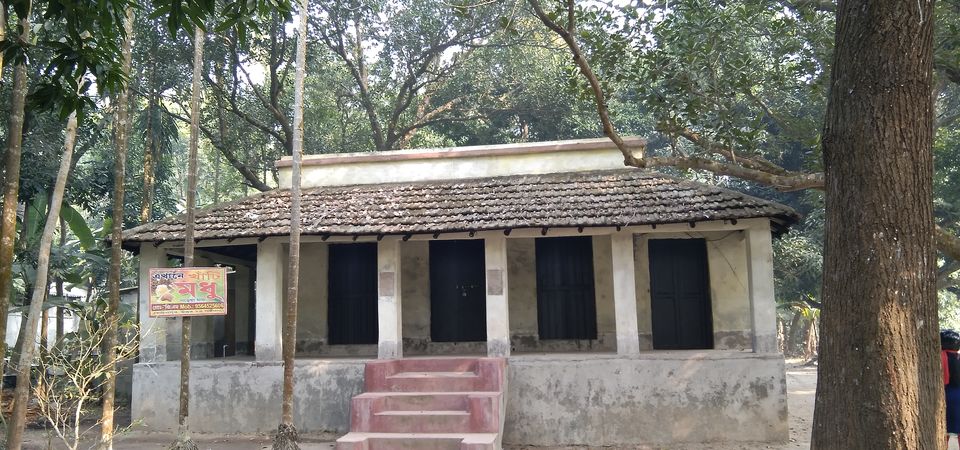 Watching the Icchamati River and this house so close felt like being part of history and part of future! Kaushik Ganguly could imagine a story line around communal faith, political agenda, geography, one big festival – a mud home and a river!
A neat creative collaboration between Kaushik's imagination and actress from Bangladesh JayaAhsan's subdued performance portraying the lives of people in a border village! And that is how an ordinary mud house becomes the most sought after tourist spot. Frankly I want to Taki just to see this house, the Ichamati River and what I could see of Bangladesh from here! In short for the film.
Just before entering #MiniSundarbans in #Taki we have to submit our ID to the authorities.
After concluding the formalities, we walked a few metres to get into a vehicle when the security officer came running holding my phone which I had dropped at the counter. I sincerely thanked her for being so alert even with constant inflow of people.
2022 has been full of such beautiful moments that restores faith in people, in humanity and I have hell lot of gratitude for each of those experiences.
Cost, timings, details of Mini Sundarbans, also called Golpata Forest will be shared soon.
We left home around six in the morning and were back home before tea time, around three in the afternoon.